SweetSpot:

Harmon Killebrew
May, 17, 2011
5/17/11
3:07
PM ET
News broke about the death of Hall of Famer Harmon Killebrew just before we taped Tuesday's
Baseball Today podcast

. In addition to a well-done tribute by Tim Kurkjian, here are other reasons you should listen to the show, co-hosted by myself and Keith Law, or KLaw to his pals:
1. Kansas City Royals pitcher Vin Mazzaro had a really bad Monday, for more than the 14 reasons (the runs he allowed) than you might think. We each feel bad for the kid, but why?
2. The David Wright back injury doesn't only mean the New York Mets will be missing their best player for awhile, but also impacts the moves they might make down the road.
3. I watched Albert Pujols play third base Monday night, and while I know Tony La Russa's flawed reasoning behind it, I still don't really buy it. Luckily, neither does KLaw. We explain.
4. Who really is the top pitching prospect for the Atlanta Braves, and is this really reflected in who they promoted for Wednesday's start?
5. Is Miguel Tejada the reason why Tim Lincecum stunk up the Coors Field joint Monday night? We delve into the Miggy matter.
Plus: Excellent emails, more discussion about rivalries, which Cleveland Indian might be "pulling a Posada" and keeping a close eye on Francisco Liriano and Ubaldo Jimenez. All this and more on Tuesday's Baseball Today!
May, 13, 2011
5/13/11
1:11
PM ET
When I was a kid, I thought Harmon Killebrew had the coolest baseball name ever. I mean, he hit all those home runs, his name was Killebrew, they called him "The Killer" ...
of course
he was a power hitter. No mere singles hitter would be named Killebrew. I'm convinced that if his name had been Harmon Fillebrew he would have settled in as a utility infielder.
Because of that nickname I always pictured him as monstrous, behemoth of a slugger, somebody built more like Dave Winfield. But Killebrew wasn't that big -- he's listed at 6-foot and 195 pounds in the official records. But what the kid from Idaho did was take a big swing. He hit 573 home runs in his career and led the American League six times. He won the 1969 AL MVP Award when he hit 49 home runs and drove in 140, leading the Twins to a division title. He finished in the top four of the MVP voting five other times.
[+] Enlarge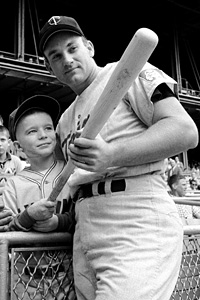 AP Photo/Harry Harris, FileHarmon Killebrew, who hit 573 career home runs and was named the 1969 AL MVP, is entering hospice care.
Killebrew announced today that
he's ending his fight against esophageal cancer
and will enter hospice care.
There's a quote attributed to Killebrew where he says, "My father used to play with my brother and me in the yard. Mother would come out and say, 'You're tearing up the grass'; 'We're not raising grass,' dad would reply. 'We're raising boys.'"
With that quote, you can vision Killebrew playing ball in the small town of Payette, about 60 miles northwest of Boise near the Oregon border, and maybe breaking a neighbor's window or two. As legend has it, U.S. Senator Herman Welker, from Payette, recommended the hometown kid to Washington Senators owner Clark Griffith, who sent a scout to check Killebrew out. They outbid the Red Sox to sign him, but under the "Bonus Baby" rules of the time, Killebrew had to remain in the major leagues for two years.
The
back of his first baseball card recaps his first season
, as he played just nine games. The rule ruined or stagnated many careers and Killebrew played sparingly in 1955 as well. He was finally allowed to get some seasoning in the minors in 1956, but didn't become a big league regular until 1959. He led the league with 42 home runs that year.
The Senators moved to Minnesota in 1961 and Killebrew kept hitting home runs while becoming a beloved Twins icon. He topped 40 home runs eight times -- a number equaled by Alex Rodriguez, Barry Bonds and Hank Aaron ... and exceeded only by Babe Ruth.
Follow David on Twitter: @dschoenfield. Follow the SweetSpot blog: @espn_sweet_spot.