January, 14, 2012
1/14/12
2:11
PM ET
It's easy to get ensnared in the information overload, analyzing players until they become a line of statistics, pitch F/X data or economic asset or liability. There's nothing wrong with that. For many of us, the numbers illuminate the game on a deeper level and make us smarter and more invested fans.
But at its heart, baseball remains an emotional attachment. We get addicted to the big hits, the dramatic rallies, the steady drone of a meaningless July game on television in the background as you read a book or eat dinner. Or we grow devoted to a 22-year-old rookie right-hander who throws 98-mph fastballs and ferocious sliders and pitches with the confident savvy of a veteran All-Star.
[+] Enlarge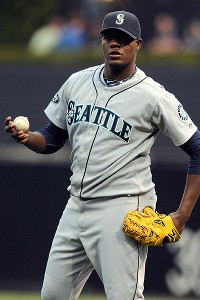 Christopher Hanewinckel/US PresswireThe Yankees are getting a jewel in Michael Pineda.
Last season was another miserable one for the
Seattle Mariners
. For this fan — or, at least, trying to remain one while living 3,000 miles away and rooting for a team that posted the lowest batting by an American League team in the DH era —
Michael Pineda
was the bright spot of the 2011 season.
Ichiro Suzuki
looked like an aging, skinny singles hitter rather than a magician;
Dustin Ackley
showed promise but the rest of the offense was execrable; even
Felix Hernandez
seemed bored and indifferent at times.
But we at least had Pineda to look forward to once every five or six days. A beast of a kid at 6-foot-7 and 250 pounds or so, he was all arms and legs in his delivery, an explosive pitching machine who pounded the strike zone and crushed right-handed batters in particular with that nasty slider. He was a great story, a kid who entered spring training likely headed for more seasoning in Triple-A but he earned a spot in the rotation and dominated out of the gate, winning four of his first five starts and posting a 2.65 ERA through June. While he tired a bit in the second half, he still finished the season ranked second in the American League in strikeouts per nine innings, fifth in hits per nine innings and eighth in WHIP.
He was a prize; he was
our
prize. Power pitchers who throw strikes, excel as rookies and show obvious ace potential don't exactly fall out of trees.
And now he's gone.
So my first reaction to the trade that sent him and Jose Campos to the Yankees for
Jesus Montero
and
Hector Noesi
was an emotional "No!!!!!" I thought of Pineda's fastball and composure and then thought of overhyped Yankees prospects like
Joba Chamberlain
and
Phil Hughes
. I thought of the comparisons to
Miguel Cabrera
and knew that at age 21 Montero was repeating Triple-A while Cabrera had hit .294 with 33 home runs in the majors. I knew many were skeptical about Montero's ability to remain a catcher and that his eventual position is probably DH.
You can read assessments of the trade.
ESPN Insider Keith Law breaks it down here
and Pro Ball NW has takes
here
and
here
.
I'm coming around on the deal. The Mariners obviously needed a hitter; they have three Grade A pitching prospects in the minors in Danny Hultzen, James Paxon and Taijuan Walker, with Hultzen and Paxton close to big-league ready. They still have room in the budget to sign a free-agent pitcher for 2012, if so desired, maybe a guy like
Edwin Jackson
to slot in alongside Hernandez,
Jason Vargas
, Japanese import Hisashi Iwakuma and perhaps Noesi.
But I'll be honest: It will take me a while to warm up to Montero. I'll be skeptical until I see him launching home runs.
But I'll be rooting for him. That's what we do as fans: We cheer, we hope, we develop new attachments.
And when Yankees fan start watching Michael Pineda pitch, they'll understand this. Enjoy him, New Yorkers. You got a good one.
December, 3, 2011
12/03/11
12:48
PM ET
By
Javier Maymi, ESPNdeportes.com
| ESPN.com
Former Arizona Diamondbacks and Oakland Athletics slugger Erubiel Durazo is in the midst of one of his best winter league seasons, playing with the Hermosillo Naranjeros of the Mexican Pacific League. Through his first 40 games, Durazo has hit seven home runs with 30 RBIs while batting .267 with an on-base percentage of .324.

Once a promising and powerful left-handed bat, Durazo's career was slowed by an array of injuries. In his last full major league season in 2004, he hit .321 with 22 home runs and 88 RBIs for the A's, earning him votes for American League MVP. His biggest highlight, however, came in 2001 when he hit a two-run homer off Tom Glavine in Game 5 of the National League Championship Series to help the Diamondbacks into the World Series. He was traded to Oakland in 2002.

Injuries kept Durazo to just 41 games in 2005, which led to his release by the A's. He has since signed minor league contracts with the Rangers, Twins, A's and Yankees, who released him in 2007. He has played in the Mexican summer league ever since.

At 37, Durazo said recently he would not mind returning to the majors and would consider an invitation to the Caribbean Series should his Naranjeros not win the MPL championship.

Peguero's bat comes alive in the Dominican

Carlos Peguero, one of the Seattle Mariners' outfield prospects, is currently leading the Dominican League in home runs, doubles and runs scored and is among the leaders in average and RBIs. Playing for the Cibao Gigantes, the left-handed hitting Peguero is batting .310 in 31 games with nine home runs and 24 RBIs to lead the Gigantes into playoff contention.

The Gigantes have also received a pleasant surprise from Erick Almonte, who eight years removed from his last major league game returned to the big leagues in 2011 as an outfielder with the Milwaukee Brewers. Almonte is batting .314 but his power numbers are way below pace with just six extra-base hits and only 16 RBIs in 124 at-bats.

Meanwhile, Yankees pitcher Hector Noesi continues to impress while pitching for the Licey Tigres as he earned Player of the Month honors in November with a 3-1 record and a 2.22 ERA over 28 1/3 innings.

Altuve tearing it up

Fresh off his first half season in the majors, Houston Astros second baseman Jose Altuve is in the middle of a monster season with the Magallanes Navegantes in the Venezuelan league.

The 21-year-old Maracay native is hitting .378 with an on-base percentage of .409 through 38 games, good enough to be among the league leaders in average, at-bats, runs scored, hits, doubles, triples, total bases, extra-base hits and slugging. Altuve is trying to make his case for the starting job with the Astros where he is projected to compete with Matt Downs.

Aviles to play the outfield in Puerto Rico

Aware that the Boston Red Sox have a gaping hole in right field, third baseman Mike Aviles will be joining the Ponce Leones this week to work on his outfield skills in hope that he can compete for the right field job in spring training.

Aviles, who hit .317 in 38 games with Boston last season, has experience in all four infield positions, but did not play the outfield in his first three seasons with the Kansas City Royals. He did play five games -- one in left and four in right field -- for the Red Sox.

Leones general manager Frankie Thon -- the brother of former Astros infielder Dickie Thon -- said Aviles should join the team this week and play for the remainder of the regular season.