SweetSpot:

Hector Santiago
July, 22, 2014
Jul 22
1:48
AM ET
By
Christina Kahrl
| ESPN.com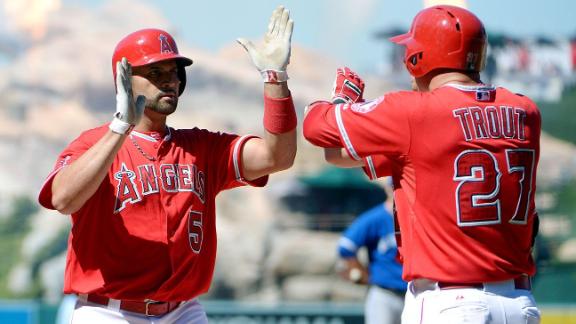 The Angels are the second-best team in baseball. Win or lose going into Monday night's game against the AL East-leading Orioles, they were going to be the second-best team in baseball after the fact. They lost, missing the chance to move within a game of the A's in the AL West race. But it's July and there's still plenty of time, so there's no reason to sweat, right?
Certainly not, at least not if you look at the big picture and the projection models at
FanGraphs
or
Baseball Prospectus
, which say the Angels have a 98 or 99 percent shot at the playoffs. Slam-dunk sure thing? Sounds like it.
But there's a problem with that: It doesn't mean all that much in the era of the one-game play-in wild-card "round." The Angels' shot at winning the AL West is calculated as much less of a sure thing, from
the 20 percent range according to analyst Clay Davenport
, to the 30s for FanGraphs, or the 40s for Baseball Prospectus. These are roughly the same as the chances of the Blue Jays coming back to win the AL East and then also not having to sweat a one-or-done scenario despite probably being 10 games worse than the Angels at season's end. Saying the Angels' shot at playing their way into the one-game coin-toss of the wild card is around 60 or 70 percent is like saying their chance of their season ending a day or two after the regular season is still astonishingly likely.
[+] Enlarge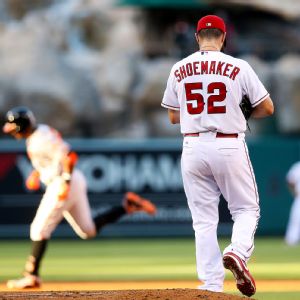 Stephen Dunn/Getty ImagesMatt Shoemaker's loss was the latest tough start for the Angels' non-Richards rotation regulars.
Unless they beat the A's and win the West. Unless they make their math problem now into Oakland's math problem tomorrow. That's their challenge, and losing games like Monday's will only make it harder.
To pull this off in the long weeks to come, they're going to have to find a happier answer in their rotation than the ones they've found so far. While the trades for
Jason Grilli
and
Huston Street
may have shored up their bullpen, there's the larger problem of how good their rotation really is outside of newly minted ace and All-Star
Garrett Richards
. Assuming that
Jered Weaver
's back is sound all the way down the stretch, he hasn't overpowered strong teams' lineups, seeing his OPS jump 50 points and his WHIP increase by 0.3 facing teams that are .500 or better; unsurprisingly, his FIP is 4.12, which suggests sturdy mediocrity, not the ace he once was.
C.J. Wilson
won't be back from his DL stint for a sprained ankle until after the trade deadline; even if he's sound, his 4.29 FIP doesn't suggest he's a solid No. 2, either. And the back-end trio of
Hector Santiago
,
Tyler Skaggs
and
Matt Shoemaker
have put together just 15 quality starts in their 38 turns.
To catch the A's, the Angels are going to need not just one guy but several guys to step up down the stretch. Not just because you can't count on a league-best offense to crank out five or more runs every night, but because the Angels need to have somebody else besides Richards to use in those potentially scary end-of-year situations. What if Richards has to pitch in the last weekend series against the Mariners but the Angels don't catch the A's then? What if they have to play a tiebreaker? Who pitches the wild-card game? Where does that leave them in the ALDS? They'll need some of the non-Richards starters to step up, not just to keep up with the A's and their shored-up rotation, but to be able to win October games when they don't put five or six runs on the scoreboard.
That was why Shoemaker's start against Baltimore was a little more important than just another late-July turn. Barring a trade, somebody is going to be bumped once Wilson comes back from the DL. Even on a night when he struck out a career-high 10 batters, seeing Shoemaker get beaten deep twice by
Adam Jones
was the sort of thing that won't keep the rookie ahead of Skaggs or Santiago, not that either of them is owning his slot.
To be sure, the Angels should be grateful things are this close. Thanks in large part to early-season bullpen problems of their own, the A's are four games worse than you'd project from their runs scored and allowed, which is a big part of the reason they are within striking range for the Angels, even after Oakland went 20-10 in its past 30 games. All it took was the Angels going 22-8 in their past 30 before Monday, no easy thing to do with a rotation that may struggle to match the A's made-over,
Jeff Samardzija
-enhanced rotation in the last 60 games.
If Wilson or Weaver, Shoemaker or Skaggs steps up, things will be that much more interesting all the way down to the wire. If not, the Angels may be one of those great teams that, like the 1993 Giants, wind up getting to brag about how great they were without getting much of an opportunity to prove it come October. Those Giants were caught from behind by the Braves, San Francisco winning 103 games for the second-best record in baseball … and no October invite. The Halos have to hope they'll earn something more than one game better than that -- but more than hoping for it, they'll have to do it.
Christina Kahrl writes about MLB for ESPN. You can follow her on Twitter.
December, 28, 2013
12/28/13
10:30
AM ET
By
Christina Kahrl
| ESPN.com
You might think sabermetrics is merely the pursuit of joyless predictability, but a big part of my enjoyment of sabermetrics doesn't come from the results that match our expectations but rather is derived from the guys who totally upset them, guys whose results defied prediction or anticipation. The trick is that most of them can't sustain that kind of surprise. The 2013 season gave us our fair share of guys who broke out, but here's a group of five who will have a hard time topping what they did last season, not just in 2014, but ever.
Let's start with third baseman
Josh Donaldson
of the Athletics. Starting off as a hot-corner conversion project to help the A's paper over their lack of a viable alternative, the former catcher busted out big, ripping 64 extra-base hits and finishing fourth in the AL MVP race. He put up an 8.0 WAR season, good for fourth in the major leagues, a better year in that regard than the ones put up by
Miguel Cabrera
and
Robinson Cano
. Donaldson's .883 OPS wasn't just unexpected, it was totally out of character from everything we'd already seen from him, 50 points higher than his
minor
league career rate. His walk rate also significantly outperformed his minor league numbers, and his .333 BABIP was significantly better than anything he'd done in any full season in the minors.
[+] Enlarge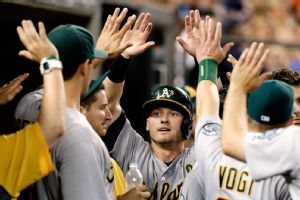 AP Photo/Paul SancyaJosh Donaldson had plenty to celebrate in 2013, but can he deliver again next year?
If you can set aside any reservations you have about WAR, eight-win players don't just manifest out of thin air. Among
the 115 guys who've had eight-WAR seasons since the start of the divisional play
, the only guy who might be more surprising to see there than Donaldson was Bernard Gilkey and his big year back in 1996.
So, where did that Donaldson leap come from? Was it the benefit of finally not having to deal with the wear and tear of catching? Or perhaps a classic case of a guy busting out in his age-27 season? A mere BABIP aberration? Whatever it was, that was followed by some postseason shaming at the hands of the Tigers, creating questions. However,
that's the best rotation in the league
, and Donaldson didn't face especially weak competition (ranking
53rd out of 107 AL batters with 400 or more plate appearances
according to Baseball Prospectus), so it wasn't merely a matter of clobbering weak opponents.
As fun as it was, it's hard to see Donaldson sticking around at this level of production consistently, if only because it would be unprecedented. The Bill James Handbook forecast a 77-point tumble in OPS, and other projection systems are going to be similarly predictably skeptical, anticipating a drop-off because that's how they generally work with players with histories like Donaldson's. On the half-full side of the glass, though, if you had told A's fans a year ago that they could have a third baseman who could put up a .780-.800 OPS with good D and durability, they'd have offered you their firstborn in exchange. It might all be downhill from his 2013, but Donaldson should remain an asset for a contender. Not many guys can shed 100 points of OPS and still say that.
Moving over to pitchers, one easy exercise in separating actual performance from what you were supposed to get given a pitcher's peripheral numbers such as strikeout and walk rates is to subtract a guy's ERA from FIP:
Presto, you have a leaderboard of surprise pitchers
you might want to bet against. I'll start with
Hector Santiago
because he's someone who just got dealt and the Angels are banking on, but he's also someone who's likely to see his ERA jump by a run if FIP is any guide.
As promising as Santiago's arm is because he's a southpaw with low-90s heat, a big part of the problem is the huge number of people he's putting on base. Only
Jake Arrieta
and
Jason Marquis
put more people on first base via unintentional walks and hit batsmen than Santiago's 13 percent clip last season. The hit batsmen -- 15 last season alone -- might partially be a function of Santiago's need to work inside, which he had to do to survive pitching at U.S. Cellular Field, the best home run ballpark for right-handed hitters; as HotZone reflects,
he struggled when he let righties get good extension
. Getting out of the Cell should spare him many of the penalties of making a mistake in the zone, but, if his command isn't just a function of that environment -- and he was still putting guys on first base at a 12 percent clip on the road last season-- you probably can expect his ERA to go up as much as FIP suggests.
Joe Kelly
of the Cardinals is another name in that ranking of pitchers to worry about who might surprise you after the role he played in their pursuit of the National League pennant, posting a 10-5 record and 2.69 ERA. Add in a fastball that sits around 95 mph and what's not to love? Approached analytically, the problem is the absence of strikeouts, where FIP "expects" more whiffs. In the real world, Kelly works hard at being an effective sinker/slider guy as a starter, pounding the bottom of the zone, which produces an exceptionally poor strikeout rate (4.8 K/9). That plus a lot of run support (almost six runs per nine last season) produced the contrast between the gaudy win total and ERA against a 3.98 FIP and the expectation that run support comes and goes. What you're left with is a guy who still looks pretty good if you're talking about your team's fifth starter, his lot with the Cardinals, but if you were banking on big win totals and an ERA under 3.0 in a full season of rotation work -- don't.
Because I set my cutoff at 70 innings, Rangers reliever
Tanner Scheppers
is easy to pick on because of the distance between his expected and actual performance: A 3.77 FIP versus his 1.88 ERA. There's a pen man like that any given season; it's always harder to sustain that kind of fluky discrepancy over a larger number of innings. But, as a sinker-slider guy, Scheppers is a defense-dependent ground-pounder, which is why he profited greatly from inducing an MLB-best DP rate of 24.5 percent in double-play situations. If he can continue that kind of execution, that's great, but can you bank on it? Even a slip back to something closer to league average will mean a bunch of runs allowed in tight late-game situations for the Rangers, as well as a big jump in Scheppers' ERA.
Finally, let's talk about outfielder
Marlon Byrd
. A 30-something slugger who owes a big chunk of his power production to Texas' home park leaves after 2009, has two disappointing seasons with the Cubs, then falls over a cliff in his age-34 season. And that's it for him, right? Not at all: Byrd's big bounce-back in 2013 after earning a job with the Mets in spring training made him a key stretch pickup for the Pirates. His combined .511 slugging percentage made him this winter's quick addition to the fast-acting Phillies for two years (or three if a 2016 option vests) at $8 million per annum.
There are all sorts of "that won't be easy" warning signs about Byrd's 2013. Can he repeat a career-high .220 Isolated Power clip as a 36-year-old? Or a .353 batting average on balls in play, his best mark since his breakthrough 2007 season with the Rangers? Or a career-best 11.1 percent clip of homers on fly balls? It's notable that Byrd has become a significantly different, more aggressive batsman with age, striking out a career-high 24.9 percent of the time last season while his unintentional walk rate plummeted to 5 percent, while also becoming a more pronounced fly-ball hitter.
That would be a tough act to sustain for people with considerably stronger track records than Byrd's. Tip your cap to Byrd for earning another multiyear deal in his 30s, but don't be surprised when this turns out as badly for the Phillies as it did for the Cubs.
Christina Kahrl covers baseball for ESPN.com. You can follow her on Twitter.
September, 25, 2012
9/25/12
11:59
PM ET
One year ago -- 368 days to be exact --
Freddie Freeman
batted in the bottom of the 13th inning with one out and grounded a 3-2 pitch from the Phillies'
David Herndon
to first base.
John Mayberry Jr.
started a 3-6-3 double play and the Braves' season was over in a 4-3 defeat, the final gut-punch in a horrific final month that saw Atlanta go 9-18 in September and lose its final five games to miss the playoffs by one win.
So maybe it was fitting that Freeman was the player who launched the Braves into the 2012 postseason, hitting a dramatic game-winning two-run home run in the bottom of the ninth on Tuesday night, an arching blast over the 400-foot sign in dead center that gave Atlanta a
4-3 win
over Miami.
Maybe it was fitting that
Craig Kimbrel
, the closer who blew a ninth-inning lead in that 162nd game a year ago, pitched a scoreless ninth to pick up the win.
It certainly was fitting that
Chipper Jones
, who went 0-for-5 with three strikeouts in the 2011 finale, started the rally with a leadoff double. Old man Chipper, still stinging line drives all over the place.
And needless to say, it was no surprise that
Kris Medlen
, the Braves' good-luck charm, started the game. He didn't get the decision and even proved human -- allowing three runs! -- but the Braves have now won 22 consecutive games he's started, going back to 2010, tying the all-time mark with Whitey Ford's Yankees and Carl Hubbell's Giants.
"We are shooting for the stars," Jones said after the game. "It makes it all worth it. I'm happier for these guys because they worked hard."
What did we learn on this evening? That maybe the Braves should start Medlen in the wild-card game ... and Game 1 of the Division Series ... and Game 2 ... and ... OK, we learned that Braves fan can finally breathe. No collapse this year. And we learned that Medlen is still the hottest pitcher in the game -- 7 innings, 5 hits, no walks, 8 strikeouts -- and continues to give Atlanta ace-level performance.
Here are a few other things we learned:
Anibal Sanchez puts the pressure on the White Sox
Sanchez delivered one of the dominant outings of the season with his fifth career shutout, a
10-strikeout, 3-hit, 105-pitch
gem. His Game Score of 90 was just the fourth of 90-plus by a Tigers starter since 2010 (some guy named Verlander had the other three) and just the 17th such start in the majors in 2012. More importantly, it moved the Tigers into a first-place tie with the White Sox, who
had lost earlier
in the day, their sixth loss in seven games.
Is it panic time in Chicago? Robin Ventura announced that he'll start
Hector Santiago
on Wednesday, pushing
Jake Peavy
back to start the series opener against the Rays on Thursday. Peavy hasn't been the dominant pitcher in the second half (4.20 ERA) that he was the first three months, so maybe an extra day of rest is a smart move, especially since he got roughed up in his previous start. Still, the sinking Sox turn to a rookie making just his third major league start. Things are starting to look gloomy in ChiTown.
David Price might have locked up the Cy Young Award
Umm, remember the
Tampa Bay Rays
? The Little Team That Could before the Orioles and A's became the Little Teams That Could. They were declared dead after getting swept in Baltimore, losing two of three to the Yankees and then two to the Red Sox, but here are they are, winners of six in a row after Price struck out a season-high 13 in a
5-2 complete-game win
over Boston. Price improved to 19-5 and leads the American League with his 2.56 ERA.
The Rays are hitting .346 over this six-game stretch and trimmed another game off their deficit to the wild-card-leading Orioles after they were
blanked by the Blue Jays
. Is this right time to remind Orioles fans that the Rays and O's finish the season with a three-game series in Tampa? Not that right time? I mean, the Orioles -- after all this, after finally earning respect -- they're not going to blow it, are they?
Johnny Cueto had an important outing for the Reds
You don't want to read
too
much into mini-slumps this time of year, but the Reds' ace had been a little shaky his past few outings. Cueto quelled concerns with seven terrific innings (7 IP, 5 H, 2 R, 0 BB, 5 SO) to
beat the Brewers
for his 19th win -- the first Reds pitcher to win that many since Danny Jackson in 1988 and first right-hander since Jack Billingham in 1974. More good news for the Reds:
Aroldis Chapman
also pitched his second game since his 12-day layoff and threw 10 fastballs in a 1-2-3 inning -- 100, 100, 99, 98, 98, 98, 97, 97, 96 and 95.
Don't be alarmed by another Nationals loss
The Nationals are now 4-7 over their past 11 games. Davey Johnson has said he's more concerned with resting players than beating out the Reds for the top seed in the National League. Should Nationals fans be worried about this little slump? Not really. Late-season hot streaks or cold streaks are overrated. I looked at the World Series champs since 1996 and looked at how they played during the entire season, over the final month (September or September/October) and over the final 10 games.
Season: .586 winning percentage
Final month: .575 winning percentage
Final 10 games: .587 winning percentage
This is why you shouldn't pay much attention to what happens down the stretch. World Series winners haven't been any "hotter" down the stretch than they've played all season. Mixed in those World Series winners are the 2006 Cardinals (12-17 the final month, 3-7 in their final 10 games); the 2002 Angels (4-6 their final 10); the 2000 Yankees (13-18 and 2-8); and the 1997 Marlins (12-15 and 3-7). Yes, the past four World Series winners went a combined .667 the final month, but that doesn't tell which other "hot" teams didn't win the World Series. Plus, the Nationals are still 13-10 in September. They're fine.
Brandon Moss might have saved the A's season with a spectacular catch
The situation: bottom of the seventh, bases loaded, two out,
Sean Doolittle
versus
Elvis Andrus
.
Then Moss does this
.
Jorge Coutares is Dominican, right?
No? What, he's Greek? His name is spelled
George Kottaras
?
He just won a big game for the A's?
Have they even invented sticks and balls in Greece yet?
Angels tie record with 20 strikeouts in nine-inning game
Zack Greinke
fanned 13 in five innings against the Mariners but had to leave after throwing 110 pitches.
Ernesto Frieri
struck out
John Jaso
for the final out in a
5-4 victory
. Amazingly, the Mariners tied only their own club record. The Angels remain just two games behind the A's. If Oakland goes 3-5 over its final eight games, the Angels have to go 6-2 to pass them. Good news for the A's: The Mariners send King Felix to the mound on Wednesday ... which means he won't start against the A's over the weekend, making his final start Monday against the Angels.
PHOTO OF THE DAY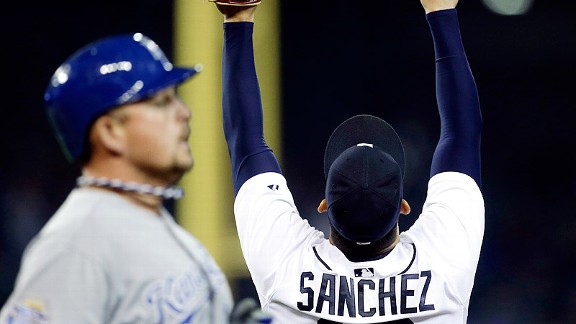 AP Photo/Paul SancyaJust ask Anibal Sanchez: 'Tis the season for more than a little
rational
exuberance.
July, 29, 2012
7/29/12
1:14
AM ET
Kenny Williams never seems to get a lot of respect.
During his tenure as
Chicago White Sox
general manager, which began after the 2000 season, he's built two division winners, including the 2005 World Series champions. Maybe the most impressive aspect of his reign is that the White Sox are always competitive. They've been under .500 just three times, but two of those were 79-83. He's done this despite lacking the monster payrolls of teams such as the Yankees, Red Sox and Phillies; despite only once having a pick better than 12th in the first round of the draft; despite never having a franchise superstar like Barry Bonds to build around or pitchers like
Tim Lincecum
and
Matt Cain
, like Brian Sabean has had with the Giants; despite a farm system -- in part because of ownership's unwillingness to spend in the draft and because of that lack of high picks -- that usually ranks near the bottom (Keith Law and Baseball America both ranked the White Sox system 30th heading into the season).
What I like about Williams is he never gives up. He's always trying to win, to build the best team he can given his resources. He never craters, never commits to a complete teardown and embarrassing on-field product, such as the one you're seeing from the Astros, Williams' 2005 World Series opponents.
This is why trading for
Francisco Liriano
is a typical Kenny Williams move -- high risk, perhaps mocked, but one with a potential nice payoff. Liriano's season numbers with the Twins look terrible -- 3-10, 5.31 ERA -- and his last start (against the White Sox, of all teams) was a rough, seven-run blowup. But after an awful April and temporary trip to the bullpen, Liriano pitched very well in a 10-start stint from May 30 though July 18, posting a 2.84 ERA with 77 strikeouts, 28 walks and 38 hits in 63.1 innings (a .171 average allowed). That stretch included back-to-back starts of 15 strikeouts and 10 strikeouts against the A's and Orioles on July 13 and 18, respectively.
In other words, there's a good chance Liriano will outpitch
Zack Greinke
the rest of the way, even though
this trade
will receive much less fanfare and required much less in prospect value: light-hitting infielder
Eduardo Escobar
and left-handed pitcher
Pedro Hernandez
.
In fact, despite the much-maligned farm system, the White Sox have received contributions from several rookies, most notably on the pitching staff with
Jose Quintana
, closer
Addison Reed
, and relievers
Nate Jones
and
Hector Santiago
. With Quintana still the big surprise in the rotation, Liriano presumably takes the place of
Philip Humber
, who did pitch well in a
5-2 victory over the Rangers
on Saturday, but that strong start barely got his ERA under 6.00. With the hope that
John Danks
might return from his shoulder issues, the White Sox now have rotation depth and options in case of injury or if they want to conserve
Chris Sale
's innings.
The White Sox also have a lot to gain from a deal such as this; with a 2.5-game lead over the Tigers, winning the division title is obviously huge. There is a reason you're seeing teams contending for a division title making moves, while teams further back in the playoff chase -- such as the American League East wild-card contenders -- are more conservative. The reward for winning one of the two wild cards is essentially half as valuable as last season, with the one-game playoff plus the possibility that you've burned your best pitcher. But the payoff for the White Sox winning the division is worth taking a chance on Liriano.
As for the Rangers, they don't need to be as desperate as their division rival Angels, who gave up three good prospects to acquire Greinke. Yes, acquiring Greinke would have helped, but the Rangers have to ask: Do any of the other available pitchers make the team that much better? I agree with Jim Bowden:
Probably not

.
The top three starters in a playoff series right now probably would be
Matt Harrison
,
Yu Darvish
and
Derek Holland
(who has had a disappointing season but lately has
looked more like the pitcher
who threw so well in the second half and postseason a year ago). The fourth spot might be open as
Neftali Feliz
rehabs, but among Feliz,
Scott Feldman
,
Roy Oswalt
and maybe even
Alexi Ogando
, the Rangers have options. Do you want to give up Mike Olt or another top prospect for what might be just a minor upgrade in
Josh Johnson
(having his worst statistical season and would be expensive to acquire) or
Ryan Dempster
(who is unlikely to approve a trade to Texas anyway)?
Plus,
Josh Hamilton
and
Mike Napoli
are impending free agents, and there's no guarantee they'll be back, even though the Rangers have entered the upper echelon of payrolls. Maybe the Rangers will let one of those guys walk, spend some of that money elsewhere and give a starting position next season to Olt (with super prospect Jurickson Profar waiting in the wings).
The Rangers have options, but their best chance at holding off the Angels and surging A's might lie within: Namely, Hamilton and
Michael Young
finding their strokes. Hamilton was given a mental day off Saturday to clear his head. Since June 1, he's been one of the worst hitters in the league, batting .190 with a .274 on-base percentage. He's hitting .145 in July with 21 strikeouts in 19 games. Young is eating up at-bats at designated hitter and first base despite an empty .270 batting average. His OBP is less than .300, and he hasn't homered since May 7.
For all the talk of needing a starter, Young is a gigantic hole in the lineup right now. Kenny Williams filled one of his holes. We'll see whether Rangers GM Jon Daniels plugs his.
PHOTO OF THE DAY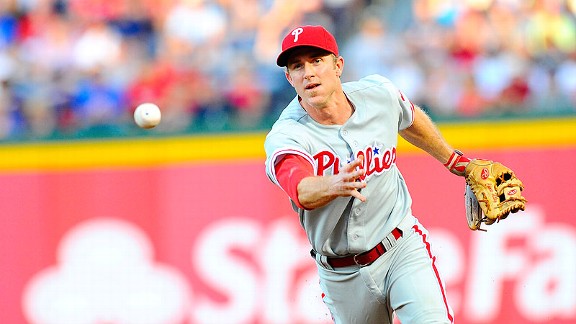 Dale Zanine/US PresswireAs quick as Chase Utley is to the ball, he's not so quick he'll beat the ball to first base.