SweetSpot:

Henry Rodriguez
May, 16, 2012
5/16/12
6:58
PM ET
You know,
Fernando Rodney
has never really been that good. He had 44 good innings for the Tigers in 2005 and he was tough to hit in 2006, when he had a 3.52 ERA. But from 2007 through 2011, he posted a 4.42 ERA, hardly impressive for a relief pitcher, and allowed a ton of baserunners (1.50 WHIP) as he always walked too many batters (5.2 walks per 9). He lucked into 37 saves for the Tigers in 2009 despite a 4.40 ERA and other uninspiring numbers (41 walks, 61 strikeouts, eight home runs in 75.2 innings).
Rodney
So of course the Angels gave him $11 million, and then were surprised when it turned he was wild and ineffective.
And then the
Tampa Bay Rays
signed him. The Rays are always in search of power arms for their bullpen. Sure enough,
Kyle Farnsworth
gets hurt, Joe Maddon decides to sort of make Rodney his closer, he starts throwing strikes for the first time in his career and now he's 2-0 with 11 saves, no blown saves, no extra-base hits allowed and a .232 opponents' OBP, more than 100 points below his .342 career mark.
Can he keep it up? Look, I've learned never to bet against Maddon, but we have a long track record of wildness from Rodney. I doubt the Rays were the first team to tell him, "Throw more strikes."
Anyway, it's been an interesting season for closers, with nearly half the teams in baseball needing to replace their projected closer since spring training began. Of 33 relievers to record at least three saves, only 16 of them have an ERA under 3.00. We have 46 starting pitchers with an ERA under 3.00. Fifteen closers have an opponents' OBP under .300; 52 starters do. (Yes, there are more starters than closers, but still ... shouldn't the guy pitching three innings a week be a little more dominant?)
While Rodney has been perfect, closers have struggled:
And so on. Let's just say you know it's a strange season when we're singing the praises of Fernando Rodney.
April, 12, 2012
4/12/12
2:14
PM ET
Will the
Boston Red Sox
win another game this season? This was one of the debates on Thursday's
Baseball Today podcast
as I was joined by SweetSpot blogger/editor David Schoenfield. We also heard from producer Jay Soderberg and the awesome bias cat!
1. The Red Sox are struggling, but didn't this happen last year as well? Dave and I preach patience.
2. Former Boston star
Johnny Damon
is back in the news, and he might have found a new home. Is it a good fit?
3.
Josh Johnson
and
Tim Lincecum
each struggled on Wednesday, but which ace worries us more?
4. Speaking of aces,
Jamie Moyer
is on the mound Thursday against a foe that wasn't born when Jamie made his big league debut. I love stats like that. What are realistic expectations for Moyer?
5. Our emailers need answers about
Ruben Tejada
,
Joe Nathan
and why an RBI groundout can hurt a player's batting average.
So download and listen to Thursday's memorable Baseball Today podcast, because this Schoenfield kid and me, we've got synergy.
April, 12, 2012
4/12/12
1:52
AM ET
By
Christina Kahrl
| ESPN.com
At first blush,
Stephen Strasburg
's overpowering start for the Washington Nationals might seem like good news for a club trying to get itself taken every bit as seriously as the Miami Marlins in the National League East's "Division of Death" this season. But two outstanding starts into the season, Strasburg's work brings up a couple of interesting things about this Nats club that bear watching as we head deeper into the 2012 season.
First, there's the question of his workload. In the broad strokes, worrying about this now would definitely qualify as a case of too much, too soon. Even if Strasburg is limited to starting in a five-man rotation, in which nobody's turn gets skipped because of scheduled days off, his total starts and innings are going to pile up. Even if Strasburg gets the odd extra day of rest between turns, he's going to have around 17 starts by the All-Star break. As a 23-year-old. Coming back from elbow surgery. With the second half to look forward to. If he fends off a (perhaps unwanted) All-Star Game invite, he'd be on turn to lead off the rotation in the second half, same as the first.
That might not seem like a big deal. Davey Johnson probably isn't going to overwork his young stud starter in individual ballgames, after all. But as dominating as Strasburg was Wednesday against the New York Mets, he still racked up 108 pitches against 24 batters in just six innings. Eighteen pitches facing just four guys per inning? That's life when you're striking people out, and that's going to get you run out of games early, even when you're going well.
But the real problem about the ideal of watching the kid's workload and giving all due care to the logistical tedium of managing top talent carefully is where it might run up against the Nats' bid for contention. That might sound silly to talk about in April, but various projection tools have the Nationals winning 80 to 82 games, and perhaps nobody in the NL East reaches 90. That makes the Nats a contender, on paper or in projections, admittedly, but a team that will be in the running.
Now, what does that mean for how they manage their best starter's workload down the stretch? Is a buzzer going to go off when Strasburg makes his 24th start at the end of August, and general manager Mike Rizzo rings up Davey in the dugout and says, "Bad news, skip, the kid's got just two starts left this year"? An incredulous Johnson might look at the standings and see that his team's just four out and wonder what the point of the first five months was if you have to pull up and watch the Braves or Phillies or Marlins race on ahead.
That becomes even more difficult to swallow with the new two-wild-card setup for the postseason -- if you're the Nats, and you might squeak into a one-game playoff to move into the NL Division Series, wouldn't you feel pretty confident about your chances if you've got Strasburg in the fold?
Happily for the Nats, Johnson has a roster set up with more than a few compensations to deal with a young ace who's going to have to be handled carefully early in the season, so maybe the issue becomes academic. First, you can skip worrying about who's getting saves for the Nats, whether it's
Drew Storen
or
Brad Lidge
at whatever point of the season. The real relief the Nats can look forward to comes from the relative no-names who will be pitching in the sixth, seventh and eighth innings, starting with
Tyler Clippard
-- the NL's most valuable non-Braves reliever last year, according to WAR -- and
Henry Rodriguez
's triple-digit gas, and
Craig Stammen
's ground-pounding sinker. That's the kind of talent that will keep hard-hit balls from happening, usually with strikeouts. They won't notch saves, but they'll allow Johnson to hook Strasburg earlier than a previous generation's skipper might have, and that might help keep the kid in the mix to the very end of the season.
Second, Johnson's an old hand at getting the best from his lineups, to the point that he'll eke out runs by cheating on defense. Witness Wednesday's lineup behind Strasburg: With lefty
Johan Santana
on the mound, it becomes relatively affordable to put the towering
Jayson Werth
out in center field. Why? Because Strasburg generates so many outs at home plate that Johnson can risk a few adequate (or worse) defenders on the field. Against the Mets, Strasburg got half of his outs at home with those nine K's, got three ground-ball outs, and got a fly-ball out per inning.
There's nothing very newfangled about this: Back in the 1980s, Johnson was willing to play sluggers such as Howard Johnson or a young Kevin Mitchell at shortstop when he had an extreme fly-ball/strikeout pitcher such as Sid Fernandez on the mound. And with more strikeouts happening today than ever, it makes even more sense now.
So maybe that's the formula that gets Strasburg deep into the season: Better run support thanks to tailored lineups, a bullpen that can cover three or four frames per game, and not just pitch counts. If the Nats stay in this thing the way you could think they might, we'll see what they decide about Strasburg's workload then.
PHOTO OF THE DAY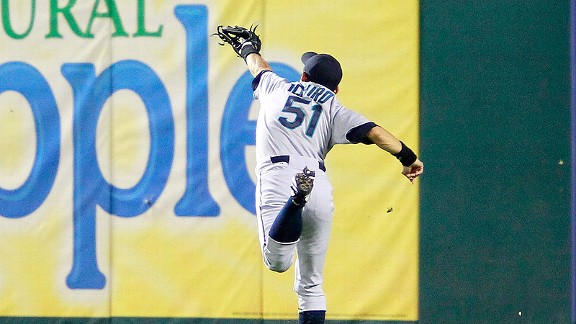 Rick Yeatts/Getty ImagesIchiro might be getting up there, but he can still get on his horse and ride.
Christina Kahrl covers baseball for ESPN.com. You can follow her on Twitter.
March, 26, 2012
3/26/12
4:10
PM ET
With
Washington Nationals
closer
Drew Storen
battling elbow inflammation and possibly not ready by Opening Day,
Davey Johnson said
Brad Lidge
or
Henry Rodriguez
would serve as closer -- and not setup man extraordinaire
Tyler Clippard
.

"It's hard to replace what he does," Johnson said. "What he did last year is at least as important, if not more important, than your closer. You want to avoid weakening two positions."
Let's pause and give Johnson a quick round of applause for subtly acknowledging this. In absence of a team's regular closer, most managers simply move their main setup guy to the ninth.
Storen and Clippard were both excellent a year ago. Here's a breakdown of their overall percentages of batters faced in various situations described as high, medium and low leverage (via Baseball-Reference.com).
Storen
High leverage: 163 PAs (53.4 percent)
Medium leverage: 73 (24.1 percent)
Low leverage: 67 (22.1 percent)
Games entered with runners on base: 6
Games entered with score tied or +1: 36
Clippard
High leverage: 145 PAs (44.1 percent)
Medium leverage: 113 PAs (34.3 percent)
Low leverage: 71 PAs (21.6 percent)
Games entered with runners on base: 26
Games entered with score tied or +1: 35
So while they were used similarly as far as the score of the game, there was a big difference: Clippard entered more often with runners on base. Storen entered 29 times with a two- or three-run lead, with most of those coming with the bases empty. Johnson would prefer to keep Clippard entering in those tight situations with runners on base and leaving those bases-empty, three-run leads to a lesser pitcher like Lidge or Rodriguez. Granted, those two are good options since Lidge has closing experience and Rodriguez throws 98 mph, making Johnson's decision a little easier.
Still, he made the right one. Other managers would be wise to heed Johnson's thought process.