SweetSpot:

Hisanori Takahashi
April, 13, 2012
4/13/12
1:06
AM ET
For all the consternation and criticism dished out over the Boston Red Sox's 1-5 start, another expected American League power is off to a sluggish opening week as well: The
Los Angeles Angels
are 2-4 after
coughing up 20 hits and an eighth-inning lead
in losing 10-9 to the Minnesota Twins on Thursday.
There is one obvious difference between the two starts: The Red Sox have been outscored 38 to 22 while the Angels are even-up 30 and 30. On the other hand, the Red Sox have played the Detroit Tigers and Toronto Blue Jays while the Angels have faced
Bruce Chen
,
Luke Hochevar
,
Jonathan Sanchez
,
Nick Blackburn
,
Carl Pavano
and
Francisco Liriano
. Not exactly Maddux, Glavine and Smoltz there.
Actually, based on ESPN.com's preseason predictions, maybe it's not fair to label the Red Sox an "expected power." After all, 34 of 50 voters predicted the Red Sox to miss the playoffs. Only one -- fantasy expert Matthew Berry -- picked the Red Sox to win the American League East. Meanwhile, 25 of the 50 picked the Angels to win the AL West and 46 of 50 picked them to make the playoffs.
The Angels were easily the most popular World Series pick as well, with 18 of the 50 selecting them to win it all -- 36 percent, a pretty amazing total since last time I checked there are some other pretty good teams around. Only one voter (Karl Ravech) picked the Red Sox to win the World Series.
OK, those are just predictions and as our SweetSpot network blog affiliate says, you can't predict baseball. Still, since ESPN's panel of experts did essentially declare the Angels the World Series favorite, it seems like a fair time to ask:
What's wrong with the Angels and why aren't their fans ready to fire the manager, whine about overpaid left fielders and complain about the bullpen?
Well, it's Los Angeles, for one thing. No less enthusiastic, but perhaps slightly less pessimistic. Still, we can't get all crazy about the Red Sox and just ignore the Angels getting bulldozed by a mediocre Twins lineup.
True fact: In 2011, the Red Sox had a run differential of plus-138. The Angels had a run differential of just plus-34. As good as
Albert Pujols
and
C.J. Wilson
are, and as good
Kendrys Morales
may prove to be, that's still a lot of ground for the Angels to make up.
So, in the spirit of early-season panic, here are some things that could go wrong with the Angels.
1. Jered Weaver doesn't repeat his career season.
Weaver is a terrific pitcher. He has increased his innings each season he has been in the big leagues, peaking at 235.2 last season, when he ranked fifth in the league. It's not a knock against him to say he might not be quite as stingy with the runs as in 2011. But check his basic numbers in 2010 and 2011:
In some regards, he actually pitched better in 2010, most notably in strikeout rate. His walk rate, home run rate and hit rate were all pretty similar, thus his Fielding Independent Pitching runs per nine was basically identical. So why did he allow 18 fewer runs in 2011? A couple primary reasons: 15 of his 20 home runs were solo shots as opposed to 15 of 23 in 2010; he allowed a .195 average with men on base in 2011 versus .236 in 2010. In other words, if you consider hits to be randomly distributed, they worked in his favor last season. Also note: After a hot start in 2011, his second-half ERA rose from 1.86 to 3.21 as he surrendered 15 home runs in 95.1 innings. He's off to a great start in 2012 in one regard: 17 strikeouts and just one walk. But he's allowed five runs for a 3.21 ERA. Random distribution, my friends.
2. Potential bullpen issues.
Mike Scioscia left
Rich Thompson
in to allow four runs in the eighth inning on Thursday, the first two on
Justin Morneau
's go-ahead two-run homer and then two more that proved costly when the Angels scored twice in the ninth. Now, Scioscia would have loved to have had lefty
Scott Downs
face
Joe Mauer
and Morneau, but Downs had rolled his ankle the previous inning in a collision with
Denard Span
. Fellow lefty
Hisanori Takahashi
had already been used since starter
Dan Haren
lasted only five innings.
But put of the reason Thompson was in there was that ancient relievers
LaTroy Hawkins
and
Jason Isringhausen
were apparently unavailable to pitch since both had thrown the night before, Hawkins for 16 pitches, Isringhausen for 10. Seems odd, since neither had pitched on Tuesday. But why not extend closer
Jordan Walden
for five outs? Thompson is a guy who is homer-prone, so why let him face the meat of the Twins' order? Plus, isn't it a bad sign if two-sevenths of your bullpen can't pitch two days in a row? "We're going to need to get our starters maybe over that little hump and then try to get our roles in the bullpen a little more nailed down," Scioscia said. "Our guys tried. We just couldn't shut the door when we needed it."
3. Vernon Wells.
It's early, but he's hitting .217 with no walks and five strikeouts. Stay tuned.
4. Will we get good Ervin or mediocre Ervin?
Ervin Santana
had a career-low 3.38 ERA last season. He has been pretty consistent the past two seasons, but he has been plagued by minor injuries in the past, a reason his ERA rocketed up to 5.03 in 2009 and 5.76 in 2007. Just something to keep in mind.
5. Is Peter Bourjos' bat for real?
Bourjos is a supreme defender in center and he exceeded expectations last year with a .271/.327/.438 batting line. Scouts had doubts about his bat coming up through the minors and he did strike out 124 times against just 32 walks in 2011. While his .338 BABIP may be repeatable -- he is one of the fastest players in the majors, after all -- Dan Szymborski's ZiPS system projects a .261/.309/.412 line, with some regression due to a lower BABIP.
6. Mark Trumbo's defense at third.
I've written about this before
. The early returns aren't good; yes, it's early, I realize that. It's also true that since 1950 only Enos Cabell has successfully converted from first base to third base at the major league level. We don't know yet how determined Scioscia will be to keep Trumbo's bat in the lineup, but playing him at third is likely to be a liability, especially since Trumbo's low OBP means he isn't really much -- if any -- of an offensive upgrade over
Alberto Callaspo
.
7. Howie Kendrick also coming off his best season.
Kendrick posted a career-high .802 OPS in 2011, 50 points above his career mark, fueled by a career-high 18 home runs. It's possible that power growth was real, as he appeared to sacrifice a few more strikeouts -- a career-high 20.4 percent K rate -- for a little more power while maintaining his usual .285 or so batting average. But there's also a chance it was simply his best season and he's not quite as good.
8. Maybe Albert Pujols won't be better than he was in 2011.
Hey, that's still pretty awesome, if also somewhat more mortal compared to his previous decade of production.
Look, it's only a week. The Angels should still have one of the best, and maybe
the
best, rotations in the league. They have a lot of depth and versatility in the lineup, although it remains to be seen who will be a second and third big bat behind Pujols.
The larger point is this: This isn't a perfect team in my book, certainly one that shouldn't rate as such a landslide favorite to make the playoffs and win the World Series.
So, yes, I just managed to slam 49 of my ESPN colleagues. This is what the first week does to us.
PHOTO OF THE DAY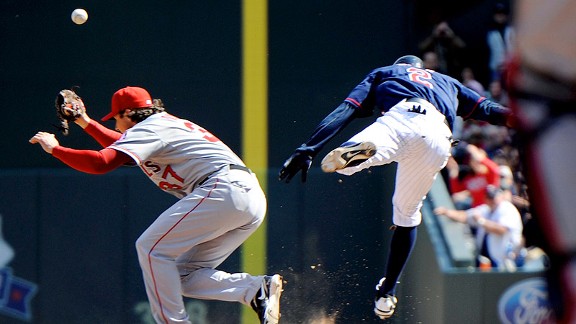 Hannah Foslien/Getty ImagesAngels pitcher Scott Downs collides with Minnesota's Denard Span, injuring his ankle in the process.
February, 9, 2011
2/09/11
1:55
PM ET
By
Evan Brunell
| ESPN.com
The Angels and
Jered Weaver
are headed to arbitration on Wednesday; the ace has requested a salary of $8.8 million while the team is countering with $7.375 million.
For those bad at math, the difference between the two salaries is a mere $1.425 million, with $8.09 million as the midpoint between the two salaries. It's a pretty small gap that shouldn't have been very difficult to bridge.
[+] Enlarge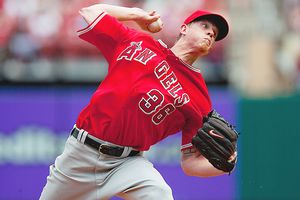 Dilip Vishwanat/Getty ImagesAfter shelling out $86 million for Vernon Wells, the Angels are now in arbitration with ace Jered Weaver.
Except the whole arbitration hearing being scheduled for Wednesday clearly indicates the two sides can't come to an accord, which is rather baffling. The Angels just shelled out $86 million (or $81 million, depending on what you believe) for the rights to slot a declining
Vernon Wells
in left field over the next four seasons.
But the Angels can't bridge a gap that essentially amounts to $1 million for their ace? A guy, you know, you might want to keep happy?
You'll have to forgive me for pointing the finger at the Angels. The culprit in all this could very well be Weaver, who could be holding out for the $8.8 million and refusing to settle. But after the curious offseason the Angels have had, it wouldn't come as a surprise if L.A. was suddenly crying that they don't even have two pennies to rub together.
Wells' trade has been exhausted at this point, so no need to recap it. It may have improved the team on the baseball side of things -- even that is in doubt -- but it destroyed their financial ledger. The Angels will top $130 million in payroll this season and already have $75 million on the books for 2012.
Then you have the bizarre rantings of owner Arte Moreno, who excoriated the Red Sox for the cash outlay given to
Carl Crawford
. Never mind that the Angels were poised to offer a similar amount and that Crawford was as perfect a fit for the team. Instead, he acted shocked at the sticker value for Crawford and ran into Toronto's open arms, taking Wells for the same age that apparently bothered L.A. about Crawford.
After losing Crawford, L.A. licked its wounds by handing
Scott Downs
a three-year, $15 million contract. This after giving fellow lefty reliever
Hisanori Takahashi
two years for $8 million. Yes, relief pitchers were vastly overpriced on the market, but the Angels didn't need to go commit those kind of dollars to middle relievers. (And all the more oddly enough, GM Tony Reagins appeared to be serious when he characterized the signing of Takahashi as a splash.)
After shelling out $23 million for two middle relievers and losing out on Crawford, what did the Angels do before striking for Wells? Sat on their hands while
Adrian Beltre
went to a division rival. They again chose to lowball a player that made too much sense for the Angels, who had a wide-open spot at third waiting for Beltre. But hey,
Alberto Callaspo
.
In the Reagins regime, the Angels seem to have made one misstep after another. In the process, everything the Angels have stood for in previous years have been wiped out. The team is increasingly getting older, lacking playmakers and playing station-to-station baseball.
Earlier this offseason, someone said that it felt the Angels were negotiating as if they were the only team in baseball. This has stuck with me all offseason as it rings all too true.
And so that brings us back to Weaver and arbitration. Like I said, this could all be Weaver's doing, but it would not surprise me to learn that the Angels were negotiating as if the player and arbitration hearing didn't matter.
Evan Brunell runs the SweetSpot Red Sox blog at Fire Brand of the American League.