February, 24, 2014
2/24/14
7:42
PM ET
A pretty good pair of birthdays for Feb. 24, plus a 200-game winner (Wilbur Cooper), a four-time All-Star (Mike Lowell), a guy nicknamed "Suitcase" because he was traded so often (Bob Seeds) and guys named Steamboat, Bugs, Stubby, Bubba and Pinky.
Honus Wagner: Born 1874
In the first Hall of Fame election in 1936, Wagner received the same number of votes as Babe Ruth. The eligibility rules weren't well defined then (Ruth had played in 1935), but I suspect the vote totals tell how much the writers of the time respected Wagner. These days, Wagner is almost as famous for the rare T206 baseball card he appeared on --
one sold last year for $2.1 million
-- as for being the greatest shortstop of all time.
How great was Wagner? Earlier today, I ran a list of Derek Jeter's
annual rankings
among all major league shortstops via WAR; Jeter ranked No. 1 in one season and in the top three in three other years. Cal Ripken, by way of comparison, ranked as the best shortstop in five seasons and in the top three in five other seasons. Wagner? Here are is annual rankings among
all
position players, not just shortstops, beginning with 1899, when he played for Louisville (he moved to the Pirates in 1900 when the Louisville franchise was folded):
1899: 5.8 WAR, 4th
1900: 6.5 WAR, 1st
1901: 7.1 WAR, 3rd
1902: 7.2 WAR, 1st
1903: 7.6 WAR, 2nd
1904: 8.2 WAR, 2nd
1905: 10.1 WAR, 1st
1906: 9.3 WAR, 3rd
1907: 8.9 WAR, 1st
1908: 11.5 WAR, 1st
1909: 9.1 WAR, 3rd
1910: 5.2 WAR, 8th
1911: 6.6 WAR, 3rd
1912: 8.1 WAR, 6th
Wagner fell out of the top 10 in 1913 and 1914 and ranked ninth in 1915 -- of course, he was 41 years old then. That's one of the most amazing things about Wagner's career; he was one of the greatest old players ever. In his first year in organized baseball in 1895 he was already 21 years old and played for five different teams in three different leagues. Ed Barrow, a former newspaper reporter, was part-owner of the Wheeling (W. Va.) franchise in the Interstate League that year, one of the leagues Wagner played in, and saw Wagner play. When Barrow and a partner bought the Paterson team of the Atlantic League for 1896, he signed Wagner and thus is often credited with "discovering" Wagner. Barrow would later gain fame for managing the Red Sox to the World Series title in 1918 and turning Ruth into a full-time position player. He left the Red Sox after 1920 and became the business manager of the Yankees (or the general manager as we would now label the position), helping build their dynasty of the 1920s and '30s and eventually get elected to Hall of Fame.
Anyway, Barrow would sell Wagner to the Louisville Colonels of the National League in 1897. Wagner looked awkward, with his heavily muscled upper torso and bowed legs, but he was a tremendous athlete. His first year big season with Louisville came when he was 25 and he didn't become a full-time shortstop until 1903, when he was 29. Nonetheless, in his 30s he averaged 8.0 WAR per season. Like Ty Cobb, he hit with hands split apart, a conventional style of the day. He led the NL eight times in batting average, four times in on-base percentage, six times in slugging percentage, five times in RBIs and five times in stolen bases. Imagine a player today who was the best hitter in the league, the best baserunner and played a good shortstop. I think Hans would make a pretty good living.
Wagner's best season was 1908, when he towered over the rest of the National League. In a season dominated by pitchers, he hit .354; only four others hit .300. He had a .542 slugging percentage; the No. 2 guy was .452 and only three others reached .400. He led with 109 RBIs; the No. 4 was already all the way down to 71. He led the league in hits, doubles, triples, total bases and stolen bases. It's on the short list of best seasons ever.
According to his
SABR bio
, Wagner had "retired" after the 1907 season, saying he had made enough money and was happy hunting, fishing, raising chickens and opening an automobile garage where he loved tinkering with the engines. But Wagner also hated spring training, often holding out or reporting late. Maybe it was just a ruse to get a larger salary; if so, it worked. (He signed for $10,000, becoming the highest-paid player in the game.)
Wagner's biggest moment probably was the 1909 World Series, when the Pirates faced the Tigers and their young star Cobb. Wagner hit .333, drove in six runs and stole six bases while Cobb hit .231 and stole only two bases. The Pirates won in seven games.
In the SABR bio of Wagner, Jan Finkel writes,
Honus Wagner was no angel or saint. Some opponents thought him a fine fellow off the diamond but overly rough on it. Most umpires thought he "kicked" too much. He affected to dislike formal affairs, but he really hated the next morning. Yet he also embodied the American dream as the son of immigrants who rose from humble roots to greatness. Frailties aside, he was one of baseball's first heroes, a basically gentle, hard-working man, a loyal friend and teammate who treated young players kindly.
I sometimes get asked, "Who would you like to see play that you didn't?" I'm not sure Wagner is No. 1 on my list but he'd be right up there.
Eddie Murray: Born 1956
My favorite fun Eddie Murray fact: He was a teammate at Locke High School in Los Angeles of Ozzie Smith. I'd say that was a pretty high school infield.
So my friend Victor doesn't think Murray is a Hall of Famer. His argument has always been, "Did you ever pay money to go see Murray play?" I try to tell him for a few years there Murray was one of the best -- and dare I say, feared -- hitters in the league. From 1980 to 1985, Murray finished sixth, fifth, second, second, fourth and fifth in the MVP voting with the Orioles. He also finished fifth in the 1990 NL vote while with the Dodgers (it's easy to forget those Dodgers years ... or those Mets years).
Was Murray a star? I thought I'd run the Jeter test on Murray as well, and see where he ranked among all major first basemen and the overall leader that year:
1977: 3.2 WAR, 8th (Rod Carew: 9.7)
1978: 4.3 WAR, 6th (Jason Thompson: 5.6)
1979: 4.9 WAR, 3rd (Keith Hernandez: 7.9)
1980: 4.4 WAR, 3rd (Cecil Cooper: 6.8)
1981: 3.8 WAR, 3rd (Hernandez and Cooper: 4.2)
1982: 5.2 WAR, 2nd (Cooper: 5.6)
1983: 6.6 WAR, 1st
1984: 7.0 WAR, 1st
1985: 5.6 WAR, 2nd (Don Mattingly: 6.4)
1986: 4.1 WAR, 6th (Mattingly: 7.2)
1987: 3.8 WAR, 9th (Jack Clark: 5.4)
1988: 3.2 WAR, 9th (Will Clark: 6.6)
1989: 2.0 WAR, 16th (Will Clark: 8.6)
1990: 5.1 WAR, 4th (Cecil Fielder: 6.6)
That was it for Murray as a top-10 first baseman. He did have one last big year in 1995 while DHing for the Indians, hitting .323. Still, that 1979-1985 run was a pretty solid peak.
Truth be told though, Murray
was
a bit of a compiler. His triple-slash line of .287/.359/.476 is basically the same, for example, as Kent Hrbek's .282/.367/.481. But Murray hung around long enough to get 3,000 hits and punch out 504 home runs and drive in over 1,900 runs. He was a plus with the glove and, like Jeter, remarkably durable, playing 150-plus in 15 of his first 17 seasons.
They called him "Steady Eddie" and that fit perfectly.
April, 30, 2013
4/30/13
3:25
PM ET
I found this edition of Mint Condition interesting. Robert Edward Auctions has an item up for bid it claims is possibly the bat Roger Maris used in 1961 to tie Babe Ruth's then-record of 60 home runs. But the Hall of Fame in Cooperstown claims
it
has the bat Maris used to hit home runs 59, 60 and 61. Which is the real bat? There's probably no way to ever authenticate, but the one in the video comes from an Orioles clubhouse attendant and is signed and dated by Maris with the day he hit his 60th home run. What I'm confused by: Maris hit No. 60 in New York (he did hit No. 59 in Baltimore a few days prior), so how did the visiting clubhouse attendant from Baltimore get this bat?
Here's the
full story
of the bat's history. That post says studies of photographs from 1961 show that Maris likely used different bats for Nos. 60 and 61, so it's possible the Hall of Fame does have the record-setting bat but not the record-tying one.
Anyway, the bidding is up to $15,000, so you'll need at least $16,000 if you want to own it.
August, 30, 2012
8/30/12
11:59
AM ET
It's a very special edition of SweetSpot TV as Eric Karabell and myself discuss Mr.
Derek Jeter
. At the age of 38, Jeter is having a terrific season at the plate, hitting .321 and leading the American League in hits. We raise the question: Is Derek Jeter the greatest shortstop of all time?
One point of comparison with Cal Ripken: Even though Ripken has outhomered Jeter 431 to 254, Jeter has a big offensive edge. Jeter's career oWAR (offense Wins Above Replacement) on Baseball-Reference.com is 91.1 compared to Ripken's 72.8, a nearly 20-win advantage. B-R's defensive metrics, however, give a huge edge to Ripken, as Jeter rates below replacement level at minus-8.3 wins compared to Ripken's plus-34.5 wins. That defense gives Ripken a huge edge in career WAR. Do you believe Ripken was 40 wins better on defense over the course of their careers?
Also, check out Dan Szymborski's Insider story on
Jeter's chances of reaching 4,000 hits
and catching Pete Rose's career total.
March, 6, 2012
3/06/12
12:52
PM ET
We've moved on to the second round of the
Greatest MLB Season Ever bracket
. All top-10 seeds advanced, but there were three upsets; interestingly, all involved shortstops.
Alex Rodriguez
lost to Ken Griffey Jr. in a Mariners death duel (got destroyed, actually, 87 percent to 13 percent); Hank Aaron defeated Robin Yount, 61 to 39 percent; and Jimmie Foxx creamed Cal Ripken, 71 to 29 percent. Maybe I'll have to write up a post on the value of positional scarcity.
[+] Enlarge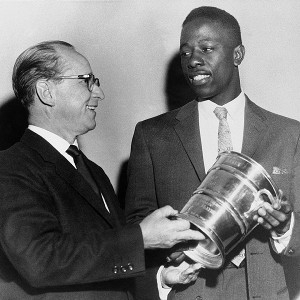 AP File PhotoThe Milwaukee Braves' Hank Aaron was named the NL's MVP in 1957.
I'm not surprised about Rodriguez; even though I chose one of his "pre-steroid" seasons, he's not exactly a fan favorite. Griffey has no PED stain on his reputation, a huge advantage in a popular vote like this. I was surprised Ripken lost so easily to Foxx, despite Foxx's awesome power numbers in 1932 (58 home runs, 169 RBIs). Ripken remains one of the most beloved players ever, and while his raw numbers in 1991 might not immediately impress (.323, 34 home runs, 114 RBIs), those were tremendous numbers for that season and especially tremendous for a shortstop in the pre-Rodriguez/Jeter/Garciaparra era.
But here's what stands out to me: Baseball fans still show great respect for the old guys. Foxx beat Ripken. Aaron over Yount. Stan Musial over George Brett. Joe DiMaggio edged out
Albert Pujols
in the closest first-round vote, 52 to 48 percent. Ty Cobb easily outvoted Rickey Henderson. In fact, in every matchup in which there was a sizable generation gap, the older guy won. Now, some of these weren't necessarily surprises -- it's not surprising that Mickey Mantle would beat Mike Piazza, for example -- but could you imagine this happening in other sports? No football fan thinks Bronko Nagurski was better than Walter Payton or Emmitt Smith. Sammy Baugh wouldn't outpoll Peyton Manning. George Mikan wouldn't beat out Shaquille O'Neal. Bob Cousy doesn't beat out Magic Johnson or even a more modern guy such as Dwyane Wade.
But in baseball, we cling to the past. Yes, the sport has been around longer, so the framework of the game hasn't changed dramatically like it has in football or basketball. I always wonder why people will argue that football and basketball athletes have improved, but not baseball players. Of course, baseball players in 2012 are bigger, stronger and more athletic than the players Babe Ruth faced in 1921. Pitchers throw harder. Outfielders cover more ground. Infielders have stronger arms. That's the way sports evolve.
* * * *
OK, a quick look at Round 2 in which the matchups get a lot tougher to decide:
Babe Ruth 1921 versus Joe DiMaggio 1941: The Babe remains the overwhelming favorite to win the tournament, but Yankees fans will be torn here. DiMaggio had the historic 56-game hitting streak and should get a boost from playing a brilliant center field.
Carl Yastrzemski 1967 versus Honus Wagner 1908: Two guys who utterly dominated their leagues. Fans respect the old guys, but Wagner's stats were compiled in the dead ball era and might not impress the voting public.
Ty Cobb 1911 versus Joe Morgan: I've made my case for Morgan. Not that Cobb was a slouch. Note that while Cobb hit .420 to Morgan's .327. Their OBPs were essentially identical (.467 to .466). And while 1911 was the dead ball era, consider this: The OPS in the 1911 AL was .696; the OPS in the 1975 NL was .696.
Rogers Hornsby 1922 versus Mickey Mantle 1956: The Mick won the Triple Crown, but Hornsby hit .401 with 42 home runs and 152 RBIs. I expect a close vote.
Barry Bonds 2001 versus Ken Griffey Jr. 1997: The most intriguing matchup of the second round. Bonds beat out Johnny Bench 65 to 35 percent, and while it was a decisive victory it's also clear that many voters held PED usage against Bonds. With a tougher second-round matchup, it will be interesting to see how he fares.
Stan Musial 1948 versus Willie Mays 1962: What makes this even more interesting is that Musial played a lot of center field in 1948. Not saying he played it as well as Mays, but it makes his season more impressive than at first glance.
Hank Aaron 1957 versus Lou Gehrig 1927: Two MVP winners, two beloved players. Both World Series champions as well. I'll say Gehrig pulls it out.
Jimmie Foxx 1932 versus Ted Williams 1941: No matter the era, 58 home runs and 169 RBIs are impressive. But so is .406. I'll predict Teddy Ballgame rolls on.
March, 5, 2012
3/05/12
1:30
PM ET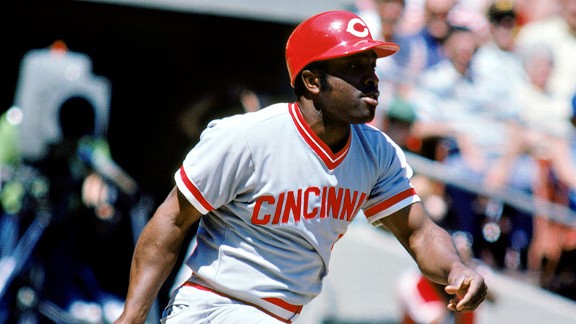 Rich Pilling/Getty ImagesIn the mid-1970s, Joe Morgan was the best all-around player in baseball -- by a large margin.
In 1975, Joe Morgan hit .327 with 17 home runs and 94 RBIs. Those traditional statistics may not seem impressive, but Morgan's season ranks as one of the best in the game's history.
As we begin voting Monday on the
greatest individual season of all time
, consider Morgan's value that season:
He drew 132 walks, giving him a league-leading .466 on-base percentage (the highest figure, by the way, in either league between Mickey Mantle in 1962 and Wade Boggs in 1988).
Because of his ability to get on base, he created a lot of runs --about 145, 17 more than the No. 2 hitter in the league, Greg Luzinski. But he created his runs in an efficient manner. He used up 354 outs; Luzinski, by comparison, used up 443 outs. So Morgan created more runs while using up 89 fewer outs.
He stole 67 bases in 77 attempts. Factor in his speed, and he was one of the best baserunners in the league.
He was an outstanding defensive second baseman, not only winning a Gold Glove but also ranking as the third-best overall defensive player in the National League in 1975, according to Baseball-Reference.com.
He did all this in an era when second basemen usually produced little at the plate. In 1975, National League second basemen hit a collective .267/.330/.353 (BA/OBP/SLG) -- with just 80 home runs. Morgan hit nearly one quarter of all home runs by National League second basemen. In 2011 terms, that would be akin to a second baseman hitting close to 50 home runs.
The Reds won 108 games, Morgan was the near-unanimous MVP winner, and he even drove in the winning run in the ninth inning of Game 7 of the World Series.
Add it up, and you end up with a player who was the best hitter in the league and one of the best defenders and baserunners in his league, and he did so while towering over other players at his position and playing on a championship team.
The wins above replacement statistic attempts to capture all this. In 1975, Morgan's Baseball-Reference WAR was 12.0, the best of his career and easily the best in the National League. During his 1972 to 1976 peak, Morgan rated as the best player in the NL four times, at least acording to Baseball-Reference.
In 1975, Morgan was a full five wins better than Mike Schmidt, an astonishing total. Only 12 times since 1901 has a player recorded a bWAR of at least 4.5 wins higher than the No. 2 position player in his league:
1921 AL: Babe Ruth (14.0) over Ty Cobb/Tris Speaker (6.6)
1924 AL: Babe Ruth (11.9) over Harry Heilmann (6.2)
1956 AL: Mickey Mantle (12.9) over Yogi Berra (7.3)
2002 NL: Barry Bonds (12.2) over Jim Edmonds (7.2)
1975 NL: Joe Morgan (12.0) over Mike Schmidt (7.0)
1924 NL: Rogers Hornsby (13.0) over Frankie Frisch (8.0)
1967 AL: Carl Yastrzemski (12.2) over Al Kaline (7.3)
1946 AL: Ted Williams (11.8) over Johnny Pesky (6.9)
1923 AL: Babe Ruth (14.7) over Harry Heilmann (9.8)
1926 AL: Babe Ruth (12.0) over Goose Goslin (7.2)
1922 NL: Rogers Hornsby (10.7) over Dave Bancroft (5.9)
1948 NL: Stan Musial (11.5) over Johnny Mize (6.9)
For what it's worth, only three of those 12 seasons ended in a World Series title -- Morgan, Mantle and Ruth in 1923.
So maybe Joe Morgan didn't hit 73 home runs or drive in 191 runs or bat .400. But his 1975 season ranks as sleeper candidate for greatest individual season of all time.
* * * *
It wasn't easy picking the 32 best seasons. I had two rules: Only one season per player, so we'd end up with a bracket of 32 different players; and I considered only seasons since 1901 (sorry, Ross Barnes fans).
It was important to get a diverse list of eras as well as positions. I did put a little more emphasis on more recent decades; basically, the quality of the game has improved over time, thus making it more difficult to post seasons with huge WAR totals like Ruth put up. Here is the breakdown by decade:
1900s -- 1
1910s -- 3
1920s -- 3
1930s -- 2
1940s -- 4
1950s -- 3
1960s -- 2
1970s -- 3
1980s -- 3
1990s -- 4
2000s -- 4
And by position:
C -- 2; Johnny Bench, Mike Piazza.
1B -- 3; Lou Gehrig, Jimmie Foxx, Rod Carew.
2B -- 4; Eddie Collins, Rogers Hornsby, Jackie Robinson, Joe Morgan.
3B -- 2; George Brett, Mike Schmidt.
SS -- 5; Honus Wagner, Ernie Banks, Robin Yount, Cal Ripken, Alex Rodriguez.
LF -- 6; Babe Ruth, Ted Williams, Carl Yastrzemski, Rickey Henderson, Barry Bonds, Albert Pujols. (Ruth played left field in 1921, and Pujols primarily played left in 2003.)
CF – 8; Ty Cobb, Tris Speaker, Hack Wilson, Joe DiMaggio, Stan Musial, Mickey Mantle, Willie Mays, Ken Griffey Jr. (Musial started at all three outfield positions in 1948 but played the most in center.)
RF -- 2; Hank Aaron, Sammy Sosa.
So there are our 32 players. I didn't necessarily pick each player's highest WAR season. In some cases, a player's iconic season -- like Ted Williams' .406 year or Hank Aaron's 1957 MVP campaign -- was selected. In some instances, maybe a player had other things in his favor that would help him to potentially fare better in the voting, like a big RBI total. Certainly, WAR is a good baseline to use because it helps us adjust for differences in eras, but it shouldn't be the only factor in determining the better season between two players. Was what Williams accomplished in 1941 more impressive than what Morgan accomplished in 1975? Is Yount being the best hitter in his league while playing shortstop more impressive than what Babe Ruth did in 1921 against an inferior brand of pitching? Maybe you prefer the all-around brilliance of Mays or DiMaggio over the pure hitting dominance of Rogers Hornsby or Lou Gehrig.
Which seasons just missed the cut? There were seven players who had a bWAR season of at least 10.0 who didn't make the bracket -- Lou Boudreau, Jason Giambi, Ron Santo, Adrian Beltre, Home Run Baker, Norm Cash and Matt Kemp. Sorry, guys. (Just noticed there are three third basemen there; too late now to change the final 32, unfortunately.)
So get to the bracket and start voting
. We'll do one round per day this week, culminating in the final matchup on Friday.
Let the debates begin.
Follow David Schoenfield on Twitter @dschoenfield.
January, 2, 2012
1/02/12
8:30
AM ET
There are a lot of misunderstandings about the Hall of Fame and its voting procedures and results, beginning with the little fact that baseball was not, of course, actually invented in Cooperstown, N.Y., in 1839 by a future Civil War general named Abner Doubleday.
For example, many voters and fans divide themselves into "big Hall" and "small Hall" camps. This seems like a reasonable split of opinion. There, is however, a problem with those who advocate for the small Hall premise: the Hall of Fame is not -- and has never been -- a small Hall of Fame, a shrine memorializing only the elite of the elites.
The first Hall of Fame vote was conducted in 1936, when Ty Cobb, Babe Ruth, Honus Wagner, Christy Mathewson and Walter Johnson became the initial five inductees. The next year, a special Centennial Committee elected some 19th-century pioneers and executives. An Old Timers Committee in 1939 elected Cap Anson, Old Hoss Radbourn and others. Throughout the 1940s, the Old Timers Committee elected many more players from the 19th century and early 20th century, some obviously strong candidates and others of far less quality. Meanwhile, the Baseball Writers Association essentially stopped electing anybody; between 1940 and 1946, it voted in only Rogers Hornsby.
[+] Enlarge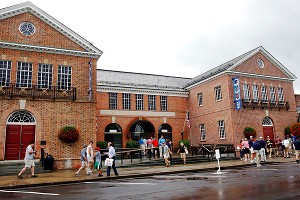 AP Photo/Mike GrollWith baseball writers stingy with their ballots, the Hall of Fame has sought ways to get more members in.
This eventually led to the two means of current entry into the Hall of Fame: the annual Baseball Writers vote, in which a player must obtain 75 percent of the ballots cast; and the Veterans Committee, which considers players bypassed after 15 years on the regular ballot, plus managers, umpires, Negro Leaguers, executives and owners. At the actual Hall of Fame in Cooperstown, there is no distinction made between means of enshrinement, no mention of vote percentage or years spent on the ballot. All Hall of Famers are equal, with a small plaque in the main gallery of the museum, ordered by year of election.
And thus the reality is that we have a large Hall of Fame, one encouraged by the board of trustees with its various incarnations of the Veterans Committee through the years. In so many words, it's saying to the writers, "You're not electing enough Hall of Famers; you're too tough and we believe in a big Hall, so we want another means to elect players you missed." When the Veterans Committee failed to elect any candidates from 2002 to 2007, the Hall revised the committee in attempts to get more inductees.
Despite this, the small Hall versus large Hall debate persists. The writers -- and there were 581 who voted last year -- collectively hold a small Hall mindset, not surprising considering the 75 percent threshold. The writers have essentially averaged between one and two players elected per year for six-plus decades:
2010-2011: 3
2000-2009: 17
1990-1999: 15
1980-1989: 18
1970-1979: 13 (plus Roberto Clemente in a special election)
1960-1969: 6
1950-1959: 15
While this may
appear
to establish a level of consistency, in reality it suggests a toughening of standards -- the number of teams (and players) has increased through the years since baseball's first expansion in 1961, so the writers are electing a lower percentage of eligible players than 30 or 40 years ago. (A near doubling of teams would indicate a doubling of Hall of Famers.)
So the writers have been tougher in recent years; ironically, this span coincides with some of the
weakest
Hall of Fame selections by the writers -- Andre Dawson (2010), Jim Rice (2009), Bruce Sutter (2006) and Kirby Puckett (2001) would all rank near the bottom of the 108 BBWAA Hall of Famers.
That doesn't even get into the inexplicable psychology in Hall of Fame voting. Why does Rice receive 29.8 percent of the vote in his first year, remain stuck at 29.4 percent by year five, languish in the 50 percentile for six years and then ramp up to 76.4 percent and election over his final four years on the ballot? Why does Don Mattingly begin at the same place as Rice -- 28.2 percent -- and slowly slide backwards from there? Why does Sutter start at 23.9 percent and later gain momentum and enshrinement after 13 years on the ballot, but Lee Smith start at 42.3 percent and after nine years remain at 45.3 percent?
It doesn't make sense. And that's why Hall of Fame debates are contentious, spirited, sometimes mean, sometimes logical, sometimes emotional ... but always fun to read and argue about.
Over the next week, leading up to next Monday's 2012 Hall of Fame announcement, I'll be examining some of the players on this year's ballot.
We'll start with Barry Larkin
.
May, 6, 2011
5/06/11
4:09
PM ET
To go with our Willie Mays package today, SportsNation worked up a list ranker with 30 of the greatest players of all time. Don't agree with me that
Willie Mays was the greatest ever
? Then
Click here to vote
yourself.
Here's my quick list without spending too much time thinking about it:
1. Willie Mays: He could hit, hit for power, run the bases and field with the best we've ever seen. Could have won as many as 10-11 MVP Awards.
2. Barry Bonds: If he had played center field instead of left, I'd consider him for No. 1.
3. Babe Ruth: I'd like to see him hitting 95-mph fastballs on a regular basis.
4. Hank Aaron: A testament to longevity, consistency, durability and greatness.
5. Stan Musial: Won three MVPs and finished second four other times.
6. Ted Williams: Maybe the greatest hitter of all time, but I give Musial the slight all-around edge.
7. Albert Pujols: Barring injury, he's this good.
8. Roger Clemens: We don't know what he did and if it helped. But we know what he did on the field. Greatest pitcher of all time.
9. Mike Schmidt: Dominated the mid-'70s to the mid-'80s. Eight-time home run champ and one of best fielding third basemen ever.
10. Walter Johnson: Could have dominated in any era.
11. Honus Wagner: Won batting titles, ran the bases and hit for power in the dead-ball era.
12. Lou Gehrig: Only strike against him is he didn't play a premium defensive position.
13. Alex Rodriguez: You can't deny the numbers.
14. Lefty Grove: The most underrated great pitcher of all time. Won nine ERA titles.
15. Mickey Mantle: If only he had stayed healthy.
16. Ty Cobb: Would love to go back in time and bring him back to 2011.
17. Josh Gibson: They say he hit 'em longer than the Babe.
18. Joe Morgan: The most underrated great position player of all time. Did everything well.
19. Rickey Henderson: The object is to score runs and nobody has scored more than Rickey.
20. Greg Maddux: 355 wins, fourth-most starts, more pitches painting black than anyone.
21. Cal Ripken: Overrated as a hitter, underrated as a fielder.
22. Tom Seaver: Mets fans still can't believe they traded him.
23. Pedro Martinez: At his
peak
, the best ever. Four pitches that made batters cry.
24. Frank Robinson: And to think he was only third-best NL outfielder of the early '60s.
25. Johnny Bench: Knees gave out, but those first 12 seasons were amazing.
26. Satchel Paige: Was he even the best Negro Leagues pitcher?
27. Rogers Hornsby: No denying his hitting numbers. Too low? Maybe so.
28. Pete Alexander: Won 94 games over one three-year span, impressive even for the time.
29. Cy Young: Yes, you can say I'm disrespecting the 19th century.
30. Sandy Koufax: A little bit of a product of his time and a huge home/road splits, plus short career for this list.
Follow David on Twitter: @dschoenfield. Follow the SweetSpot blog: @espn_sweet_spot.
March, 5, 2011
3/05/11
11:30
AM ET
One of my baptismal moments as a baseball fan came when I was about 9 or so, and I had a new baseball card that was one of those historical tributes, this one to Walter Johnson. Riding in the back of our '76 Plymouth van, I quizzed my dad on how many career strikeouts the Big Train had, thinking there was no way he would get the exact four-digit number. When Dad said "3,509," I was flabbergasted. How could he possibly have known?
[+] Enlarge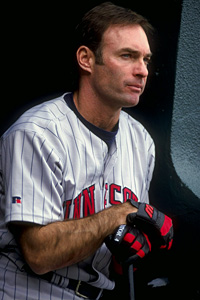 Doug Pensinger /AllsportHall of Famer Paul Molitor, who retired in 1998, is the last player to crack the top 10 in all-time hits.
Soon enough, I learned the joy of losing myself in baseball's career stat leaders. In that long-before-the-Internet era, you would pore over the Baseball Encyclopedia or the Street and Smith's annual preview. We never saw Johnson or Ty Cobb play, but through those numbers (which later proved to be subject to correction by baseball researchers), they began to gain a purpose. They began to gain an identity.
Things change. Johnson, who was No. 1 in career strikeouts when I was a boy (in fact, was the tops from 1921 through 1983), is No. 9 today. Steve Carlton passed him first, then Nolan Ryan leapfrogged Carlton and obliterated the mark, finishing with 5,714. Besides Johnson, just one pre-World War II pitcher is left in the top 20. That's Cy Young, resting in 20th place with 2,803.
With marriage and three children, I'm forced to live much more in the present than maybe I'd like to, especially from a baseball standpoint. It's been years since I've luxuriated in the career tables like I did in the past -- one of life's simple pleasures lost to a much more complex existence. And so when I turned my attention to the career strikeout leaders today, it didn't surprise me much that so much change had occurred.
But when I looked over at the career hit leaders, I was taken aback -- by the utter stability of it all. It was as if it were frozen in time, but the truth is, that top-10 list is a boulder that would not be moved.
It was just as I left it as a single man. The most recent player to break into the top 10 was Paul Molitor, whose major league career began before my 11th birthday and ended back in 1998. Carl Yastrzemski was the only other top-10er to play into my teen years.
I mean, I don't know what I was expecting -- and those of you with healthier attention spans will think me a fool for being the least bit surprised, so forgive me -- but how wonderful, how glorious, how … viscerally energizing it was to see these names hold up over time. Rose and Cobb and their angry, cantankerous 4,000-plus hit careers. The classy Hammerin' Hank and Stan the Man holding strong in third and fourth. The classic old-timers -- Speaker, Cap Anson, Honus Wagner -- in the meat of the lineup at 5-7. At eight and nine, Yaz and Molitor, young whippersnappers even as they court the AARP demographic.
And then … this was my favorite. No. 10, with 3,315 hits: Eddie Collins. To my utter shame, I haven't given Eddie Collins a nanosecond of thought in years. My mind has been too polluted by extraneous, worthless details like work and family to give Collins the time of day -- and yet there he sits, steady as granite. Mays couldn't catch him. Murray and Ripken couldn't catch him. Yount and Gwynn, Winfield and Biggio, Henderson and Carew, Brock and Palmeiro and Boggs … all playing in the 162-game era, many with the designated hitter rule in their right pocket, and none could touch Collins, born in 1887, christened in 1906, retired by 1930. When he passed away in 1951, he was fifth all-time in hits. Sixty years later, he's lost only five spots.
Soon, Collins might finally face his top-10 eviction notice.
Derek Jeter
has 2,926 career hits, more than any ballplayer at age 36 since Yount, two decades ago. By July, Jeter will probably break 3,000 and (with all the subtle media coverage of a moon landing) become the 28th man to reach that milestone, leaving him perhaps no more than two years away from Collins. Behind Jeter looms
Alex Rodriguez
, barely 600 hits from Collins and Molitor at age 34.
After that? Maybe 36-year-old
Ichiro Suzuki
has more than 1,000 hits left in him to catch Yastrzemski. Quite possibly, 30-year-old
Albert Pujols
, who has 1,900 hits in his first decade, picks up close to the same in his second, knocking out Wagner.
And so maybe that stability on the all-time hits list is headed by the wayside. Hours ago, I wouldn't have known what I missed. But now I wonder … I miss Walter Johnson in that No. 1 spot. Is it that crazy that I might miss Eddie Collins at No. 10?
If it is, all I can say is that's the same kind of crazy that made me the baseball fan I am today.
Jon Weisman writes about the Dodgers at Dodger Thoughts for ESPNLosAngeles.com. Follow him on Twitter.
August, 20, 2010
8/20/10
12:09
PM ET
It's always a bit disorienting when "outsiders" enter
our insulated little world
...
Production crew members from PBS' "History Detectives" were in Cooperstown this summer to try to uncover another mystery.

For this investigation, one of the hosts, Tukufu Zuberi, visited the National Baseball Hall of Fame to try to clear up one of baseball's uncertainties: Was Pittsburgh the site of integrated Major League Baseball before Jackie Robinson became a Brooklyn Dodger?

The answer will be revealed on the show at 9 p.m. Monday.

While in Cooperstown the crew interviewed National Baseball Hall of Fame researchers and baseball fan Jason Mishelow from Milwaukee. Mishelow said he found a scorecard from a game between two unusual teams: The Majors' All Stars and Robinson's All Stars. Robinson's team was made up of both black and white players, yet this game appears to have occurred before Robinson became the first black major leaguer.

Could this game have been a test to find out how America would react to integrated baseball? To find out the answer, PBS said to tune in to the PBS show "History Detectives," which is in its eighth season.
Umm, there's not much of a mystery here.
I've done a fair bit of research regarding barnstorming in October 1946, and I've found references to five games games pitting Jackie Robinson's All-Stars again Honus Wagner's Major League Stars.
Wagner's Stars didn't actually have many (if any) stars. Robinson's All-Stars, on the other hand, included four future Hall of Famers: Monte Irvin, Roy Campanella, Larry Doby, and of course Robinson himself. But -- and here's what makes this team more than just a little interesting -- there were at least three white players on the team, too. One of them, pitcher Mike Nozinski, had been Campanella's teammate on the Nashua, New Hampshire club (New England League) that season. The other two, Al Campanis and Marvelous Marvin Rackley, had been Jackie Robinson's teammates with Montreal (International League).
According to contemporary reports in The Sporting News, Robinson's All-Stars played Wagner's All-Stars in Cincinnati, Youngstown, Pittsburgh, Chicago, and Cleveland. I've not been able to find further proof of the games in Cincinnati and Cleveland, but I do have box scores for the other three games.
This is a story that's never really been told. I've combed through every book that's been written about Jackie Robinson. There are a lot of them, and somehow not one mentions this quick barnstorming tour. But the historical significance seems to me negligble. Robinson did lead an integrated team through a few Midwestern cities, where integrated teams -- integrated teams featuring top talent, anyway -- probably hadn't been seen before.
But by the fall of 1946, integrated teams were nothing new. For the previous five months, Nashua and Montreal had been playing integrated baseball throughout the Northeast. The only thing different about Jackie Robinson's All-Stars was that this time, the white players were in the minority. And it's a real stretch to suggest that those games constituted "Major League Baseball."
Still, I'm looking forward to seeing the show.