August, 5, 2014
Aug 5
2:13
AM ET
By
Christina Kahrl
| ESPN.com
One ballgame does not a four-game, home-and-home, crosstown series make -- not when the Angels are in what figures to be a two-month race yet to run against the other AL West candidate for best team in baseball, the Oakland A's. But on Monday, the Angels provided a few quick reminders for why folks might want to think about them as baseball's main feature, and not just in La-La Land.
Start with
Garrett Richards
, best young righty in the league using almost any metric you might want to turn to. He was already among the top 10 AL pitchers in WAR before Monday's complete-game shutout, allowing just seven baserunners and whiffing nine in his 17th quality start in 23 turns. His ERA is in the top 10, but turn to
Baseball Info Solutions' Component ERA
and you'll find that the only pitchers in the league doing a better job of keeping runs off the board than Richards' 2.02 ERC are
Felix Hernandez
(1.54) and
Chris Sale
(1.82). Now boasting a 12-4 record on a team that might wind up with the best record in baseball, it's easy to suggest he might be in the Cy Young mix no matter who comprises this year's electorate from among the BBWAA's members: young or old, sabermetrically savvy or new-data indifferent and old-school.
It would be safe to say that wasn't what most people expected from Richards at the start of the season, but the Angels are simultaneously balancing the proposition that you can be baseball's best ballclub and nevertheless conjure up answers on the fly, because nothing works out exactly the way you expect. Success isn't just a matter of getting great years out of great players or enjoying a breakthrough as big as Richards'; it's also about managing around the problems that arise in-season and coming up with your best combinations as you figure out what works. Richards is one big in-season development; shoring up the bullpen with closer
Huston Street
and former closer
Jason Grilli
is another.
But another thing that's happened along the way is that the Angels' lineup is finally taking shape along the lines manager Mike Scioscia and general manager Jerry Dipoto might have envisioned on Opening Day. That's because they've finally gotten all of the big names back from the DL while also being able to discard what hasn't worked.
[+] Enlarge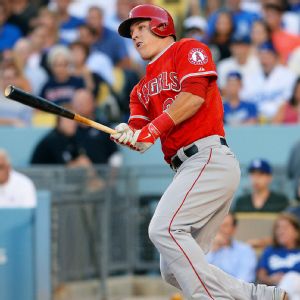 Jayne Kamin-Oncea/USA TODAY SportsMike Trout wasn't Superman on Monday, but on this Angels' team, he doesn't need to be every night.
In Mike Scioscia's front-stacked lineup featuring power-hitting
Kole Calhoun
leading off with
Mike Trout
,
Albert Pujols
and
Josh Hamilton
behind him, you could argue that the Angels are doing the best possible job of punting on old-school lineup design by trying to put speed or bat control up top, instead concentrating the most at-bats in their best players. They didn't have the benefit of having that all season, not when both Calhoun and Hamilton got hurt in April, but now they have one of the best front fours in any lineup all active at once.
As a result, Trout can afford to turn in workmanlike Clark Kent nights like this -- when he kept his Superman thing relatively muted, "just" doubling in a run and scoring another in the Angels' four-run first -- because everyone else did plenty to remind folks that they're not just Mike Trout and Troutettes. Instead, ex-famous people such as Albert Pujols and Josh Hamilton provided reminders that they still have plenty left in the tank, doubling and homering, respectively, off
Zack Greinke
.
They still afford themselves their former World Series-winning conceit of hard-contact, ball-in-play types who don't strike out -- guys such as
Howie Kendrick
and
Erick Aybar
-- but they're down in the order, behind the big thumpers. The bottom third of the order is where Scioscia gets to play around with combinations, such as professional hitter
Efren Navarro
and power prodigy
C.J. Cron
sharing regular at-bats between the first, left and DH slots, or
Chris Iannetta
and
Hank Conger
combining to contribute an OPS around .740 from the catchers' slot. When the worst player in your regular lineup is
David Freese
, you're probably going to score runs, and it's why the Angels rank second in the league in runs scored per game.
The front half of the season also provided answers as well as absences. Giving
Raul Ibanez
a chance as their DH wasted their time and left runs unscored, but that's no longer their problem down the stretch. Now, it's a matter of keeping Hamilton and Pujols in the lineup and injury-free through scheduled rest and sporadic DH starts. If both are contributing behind Calhoun and Trout down the stretch, it can be the kind of lineup that keeps cranking out five runs a night.
That's no small thing in this low-scoring age. Instead, it's about as decisive an edge as you could ask for, even on the nights when Garrett Richards doesn't pitch. And as the Angels look forward to scoreboard-watching night after night to see if this is the night they've caught the A's, the Angels will take both the benefits of the contender they designed and the assets that they've added along the way.
Christina Kahrl writes about MLB for ESPN. You can follow her on Twitter.
July, 27, 2014
Jul 27
10:17
PM ET
Huston Street
is one of those closers who, when he comes in to face your team, always makes you think your boys have a chance for a comeback. Listed at 6-feet, he's not an intimidating presence and doesn't throw smoldering fastballs or wipeout splitters or bat-breaking cutters. He has that funky delivery when the bases are empty, in which he takes a big step to the side with his left leg and sort of drags his right plant leg across the rubber, like he's drawing a starting line in the dirt, and then taps his toe before going into his windup. He kicks his knee up and sort of scrunches his chin down and his shoulders together, like a dog curled up for a rest.
It's a form of deception -- maybe working to hide the ball just a little or present a motion batters aren't used to seeing -- enough to help his stuff play better than a scouting report would ever suggest. His fastball has averaged 89.4 mph this year -- his fastest has been a mere 91.8 mph -- velocity that hardly screams "closer."
But that's what Street has been in the major leagues since the A's made him a supplemental first-round pick out of the University of Texas in 2004. He was closing a year later and won American League Rookie of the Year honors with 23 saves and a 1.72 ERA. At his best, he leaves batters guessing, confused and probably shaking their heads in frustration as they head back to the dugout.
Take, for instance,
Miguel Cabrera
on Sunday. Brought in to protect a 2-1 lead in the ninth for the Angels after
David Freese
had homered in the eighth off
Joba Chamberlain
, Street retired
Austin Jackson
on a fly ball to center and
Ian Kinsler
on a grounder to first. That left Cabrera. Street is basically a fastball/slider guy, who mixes in the occasional changeup (his breakdown on the season: fastballs 50 percent, sliders 33 percent, changeups 17 percent). That ratio hasn't really changed much in recent years. Two fastballs for every slider; two sliders for every changeup. His two-seam fastball has some sink, though he tends to pitch up in the zone with it. He's been prone to home runs at times, especially in 2013, when he allowed 12 in just 56.2 innings with the Padres.
On this day, however, it was nothing but fastballs and sliders. He threw Jackson five straight sliders before finally getting him with a fastball. He started Kinsler off with a slider before retiring him on a 1-1 fastball. Cabrera swung through a first-pitch slider on the outside corner and then took a fastball for a strike, a pitch that might have been just off the plate. The 0-2 pitch was another slider, off the plate and in the dirt, but Cabrera read or thought fastball and flailed harmlessly for strike three.
This is exactly why the Angels acquired Street -- for those tough saves in one-run games against good clubs. It allows Mike Scioscia to stretch out his bullpen. Underrated
Joe Smith
is back in a setup role and pitched a perfect eighth inning. Rookie
Mike Morin
, a 12th-round pick in 2012 out of North Carolina, struck out three in 1 2/3 perfect innings and lowered his ERA to 2.50. Throw in the recently acquired veteran,
Jason Grilli
, plus
Kevin Jepsen
(1.84 ERA, .164 average allowed) and lefty
Joe Thatcher
, and the Angels' bullpen suddenly looks like a strength, not the weak spot it was the first two months of the season.
It's been a complete bullpen makeover for the Angels. Look at how the bullpen stacked up coming out of spring training:
Closer:
Ernesto Frieri
Setup: Smith
Middle: Michael Kohn, Nick Maronde (L), Fernando Salas
Mopup/long relief: Jepsen, Matt Shoemaker
Only Smith and Jepsen remain from that original group (Salas was just optioned to Triple-A Salt Lake), with Shoemaker now doing a solid job in the rotation. Give credit to general manager Jerry Dipoto for making some moves, but it's also a reflection of the often volatile nature of bullpens. Who could have predicted Morin's rise (he was Baseball America's No. 14 prospect for the Angels heading into the season) or Jepsen having the best year of his career? Bullpens can go up and down from year to year -- or, often, within a year.
This group reminds me a bit of what happened with the Cardinals back in 2011 on their way to a World Series title. That club had bullpen issues much of the season, as eight different relievers saved games, and two closers (
Ryan Franklin
and Salas) lost their jobs. Franklin, like Frieri, didn't last the season with the club. The Cardinals picked up
Octavio Dotel
and
Marc Rzepczynski
at the trade deadline and signed
Arthur Rhodes
. By the time
Jason Motte
finally became the closer, the bullpen had turned into a strength and was key as the Cardinals beat the Rangers in seven games.
If you need more evidence of the rising strength of the Angels' bullpen, check out the following monthly totals:
April: 4.37 ERA, .239/.343/.397, 2.02 K/BB ratio
May: 4.46 ERA, .225/.308/.362, 2.21 K/BB ratio
June: 4.00 ERA, .251/.334/.400, 2.55 K/BB ratio
July: 1.90 ERA, .205/.248/.259, 5.20 K/BB ratio
Expect Mike Scioscia to lean even more on this group over the final two months, like he did Sunday when he pulled
Hector Santiago
after 85 pitches in the sixth inning. Santiago had allowed a one-out hit to Jackson, but with Kinsler and Cabrera up, Scioscia wanted a right-hander to face the meat of the Detroit lineup. Morin, who has held righties to a .157 average, got the call. Morin throws 90 to 94 mph with his fastball but has a very good changeup and developing slider. He struck out both Kinsler and Cabrera on changeups.
A lot will still depend on Street, however. Maybe he's not cut from the prototypical closer mold. But he's been getting major league hitters out for a long time. He has depth in front of him. The Angels are looking good.
If you're the Oakland A's, I'd be very worried about the team breathing down your neck.
July, 19, 2014
Jul 19
3:22
PM ET
By
Christina Kahrl
| ESPN.com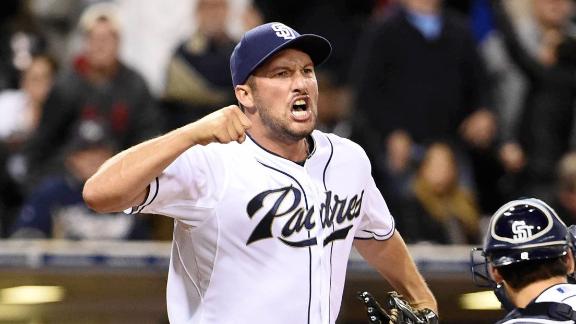 After all of the hue and cry over the Angels' bullpen woes, you'd have to think that the decision to trade for closer
Huston Street
after already getting
Jason Grilli
from the Pirates would answer their needs. Angels manager Mike Scioscia was second in the league in relievers used (behind Cleveland), sorting through answers to a relief crew that, per Baseball Prospectus,
was second-worst in the league
at preventing inherited baserunners to score, allowing 6.1 more runs than you'd expect (with the Tigers owning the dubious honor of being even worse, with 10.3 runs more than expected allowed on inherited baserunners).
My quick takeaways from general manager Jerry Dipoto's decision to go after Street?
1. Getting Grilli and Street is comparable to the Marlins' midseason bullpen overhaul in 2003.
The Marlins had a similarly lousy pen in-season, but they fixed all that when they stopped getting hung up on Braden Looper's virtues and went out and got
Ugueth Urbina
and
Chad Fox
, bumping Looper, their erstwhile closer, forward into earlier in-game situations. Guess what's going to happen with
Joe Smith
? Which is not a bad thing for anyone concerned, because Joe Smith joining Grilli,
Kevin Jepsen
,
Fernando Salas
and
Mike Morin
in the mix in the seventh and eighth innings sounds like a very good thing.
But wait, aren't all of those guys right-handed?
[+] Enlarge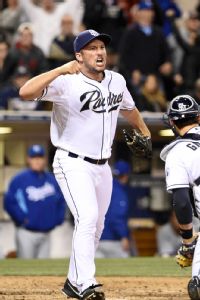 Denis Poroy/Getty ImagesHuston Street should be as fired up to join the Angels as they are about adding him.
2. Not enough lefties? No problem.
The one thing the Angels haven't done in the course of their bullpen makeover is get an awesome lefty, settling for adding veteran
Joe Thatcher
as a token southpaw. Thatcher probably won't get entrusted with lots of leads, but as Scioscia demonstrated quite effectively while winning a World Series in 2002, you don't
have
to have even one top-shelf situational lefty in your pen; he kept
Scott Schoeneweis
around as his lone token lefty threat, but he relied on
Brendan Donnelly
,
Ben Weber
and
Francisco Rodriguez
to protect leads and set up closer
Troy Percival
. In 2004, Scioscia got exactly two innings of lefty relief on the season; the Angels nevertheless won 92 games and the AL West. In 2005, he ramped it all the way up to just 31 ⅓ relief innings from lefties; the Angels won 95 games and the AL West.
Now, no doubt some of you La Russa groupies might quail at this prospect, but Street is exactly the sort of asset whom Scioscia can use and win with. As Stats & Info
pointed out last night
, Street has been essentially indifferent to handedness of late, in that he can beat people on either side of the plate by hitting low-and-outside spots with machine-like consistency. And Grilli has been similarly effective against lefties over time, holding them to a .293 slugging percentage across the last three seasons.
So the Angels may be good to go with just these two, although I'd anticipate that if there's something else Dipoto can pick up cheaply between now and Sept. 1, you can bet he will. But there's the rub, because…
3. Much like the A's deciding to trade away Addison Russell in the Samardzija and Hammel deal, this may be the Angels' last major move.
The Angels (like the A's) don't have much in the way of ready-now farm talent they could call up, and after this trade, they don't have a stock of farm talent to deal from. Per
Keith Law's preseason rankings of one of baseball's worst farm systems
(ranking 29th), Dipoto just dealt three of the Angels' top 10 prospects in second baseman Taylor Lindsey (third in Keith's rankings, No. 1 over at Baseball America), shortstop Jose Rondon (fifth, per Keith) and righty R.J. Alvarez (ninth).
Unless the Angels start dealing players at the major league level, potentially robbing Peter to pay Paul, this may have to be it for them. But a relief quintet of Street, Grilli, Jepsen, Salas and Morin might be more than enough to get it done for the Halos down the stretch. Credit Dipoto for working within his limited means to trade from, and giving a win-now Angels team a great shot at not just catching the A's, but having the kind of relief talent to win with in October.
Christina Kahrl writes about MLB for ESPN. You can follow her on Twitter.
June, 11, 2014
Jun 11
12:00
AM ET

PHILADELPHIA -- San Diego Padres closer Huston Street's biggest strength -- other than the ability to throw three pitches with impeccable control -- is his willingness to subjugate his ego for the ultimate goal.

As long as the day ends with a congratulatory handshake with the catcher, he can live with all the doubts people might harbor over his 89.3 mph fastball.

Combine middling velocity, a losing team and lots of saves when it's 1 a.m. on the East Coast, and Street tends to work in a publicity vacuum. But that's about to change. Baseball's non-waiver trade deadline is seven weeks away, and Street is a prime candidate to cross the border to Human Trade Rumor Land.

When Joe Nathan and Joba Chamberlain endure another hiccup in Detroit, Street's name surfaces as a potential alternative. Over the coming weeks, he could just as easily be linked to the Baltimore Orioles or another team with injury issues or uncertainty at the back of its bullpen.
[+] Enlarge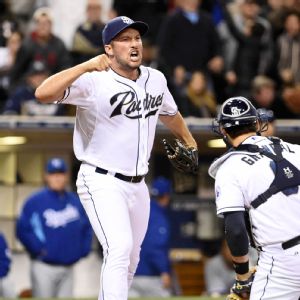 Denis Poroy/Getty ImagesHuston Street's heat reliably shows up on the field, if not always on the speed gun.

He heard the trade static last summer only to remain with the Padres, so he's prepared for whatever might come his way this year.

"It's a part of the game," Street said Tuesday from Citizens Bank Park. "It's not going to distract me. I'll give the same answer I have year after year: I have no control over it. I don't have a no-trade clause, so there's nothing for me to consider.

"If the phone rings and they say, 'Hey, we shipped you,' then you just put on a new uniform and try to get to know your teammates and go to battle for a new team."

In the absence of a ring, a text message or an email, he'll keep plugging away in anonymous one-inning increments.

"My job is to throw fastballs down and away and spot sliders," he said.

It's all good on that front. Street, 30, is putting together a run that's likely to land him in his second career All-Star Game next month in Minnesota:
He's converted all 18 save opportunities this season -- the longest active streak in the majors -- and has cashed in on 103 of 110 chances since 2011. His 93.6 percent conversion rate in that span is the best in baseball.
Lefties are hitting .132 with a .451 OPS against Street this season, while righties check in at .146 and .425. In three years as a Padre, Street has allowed 73 hits in 120 2/3 innings.
He also has been equally effective at Petco Park and on the road, where he has yet to allow a run in 11 innings and is holding opponents to a batting average of .086 (3-for-35) this season.

As a 6-foot right-hander with a sub-90s fastball, Street fits the classic "pitch to contact" stereotype. But he has 570 strikeouts in 567 career innings, and this year he has a swing-and-miss rate of 12.9 percent. Although that's not as otherworldly as Aroldis Chapman, Craig Kimbrel and some elite closers, he's in the conversation.

Street's skills are probably best appreciated when watched on a daily basis. He's resourceful enough to throw from different spots on the rubber to give hitters a variety of angles, and he has a knack for knowing when to attack and when to back off in the course of navigating the ninth inning. Most important, he has a time-tested ability to throw his fastball, slider and changeup to precise locations.

"He throws every pitch with conviction," said Padres setup man Joaquin Benoit. "Every time he takes the mound, you expect him to hit his spots. It's like Greg Maddux. He works on it every day. I've seen a couple of videos of him, and he was the same guy when he was in college [at Texas]."

San Diego general manager Josh Byrnes is ultimately going to have to determine when it's time to enter the seller's domain. The Padres are 28-36, but they've yet to lose contact with the top wild-card contenders despite an offense that gives new meaning to the word "anemic." They're last in the majors in runs (197), OPS (.623) and numerous other categories, and they didn't show any signs of improvement in a 5-2 loss to the Phillies on Tuesday.

If Chase Headley, Will Venable, Yonder Alonso or anyone else starts giving Seth Smith some help, the Padres have enough pitching to put together a nice month. If not, well, how about those Chargers?

Street is signed for $7 million this year, and the Padres have a $7 million option on him for 2015. That's a reasonable salary for team in a race, but he's also cost-efficient enough that the Padres don't feel a burning desire to move him. San Diego had a $90 million Opening Day payroll (21st among the 30 MLB teams) and $13 million of that is tied up in Street and Benoit. But when the Padres are actually able to build a lead, manager Bud Black is pretty comfortable they'll maintain it.

"We realize that having a good bullpen is important, because we play a lot of tight, low-scoring games," Byrnes said. "When we do get the ball to the Benoits and the Streets, that's a good thing."

A lot of questions have to unfold for Street's future to be resolved:

Will the field of suitors expand through attrition in the next month? Is there a scout out there who'll pound the table for an undersized righty with underwhelming velocity? And even if a contender is interested, can the Padres acquire an impact bat for Street?

Byrnes already traded reliever Luke Gregerson to the Oakland Athletics for Smith in December, and he can only go to the well so often.

Street lived through an emotionally difficult offseason after his father, James, the former University of Texas quarterback, died of a heart attack in September. But he arrived in spring training as his typically focused-yet-free-spirited self.

One of his main agendas has been getting the notoriously intense Carlos Quentin to have more fun. Toward that end, Street started a ritual called #spyoncarlos on his Twitter account (@HustonStreet). If it means hiding out in the laundry room or springing into action on a charter flight, he's poised to take photos of Quentin and share them with the world. It's all part of the emotional attachment he's formed with San Diego since 2012.

"I don't want to be traded," Street said. "I like my group in here. I think we can definitely hit better, and I think all the guys in here would say that. If we do, we've proven that if we score three to four runs, we'll win a lot of games.

"To me, it's really a question of, 'Does the organization think we can win?' I believe we can win. That's why I signed back here."

Radar gun readings notwithstanding, Street continues to do his job and perform like a dominant closer. If his fellow Padres want to keep him around, they might want to start giving him a few more leads to protect.
May, 20, 2013
5/20/13
12:00
AM ET
A quick warning about
Jurickson Profar
's call to the majors to
replace
the disabled
Ian Kinsler
: Do not expect
Mike Trout
; do not expect
Bryce Harper
; do not expect
Manny Machado
.
Yes, the performance of those three wunderkinds has, unfortunately, raised the expectations for
all
prospects, especially one deemed the best in the game entering this season.
In time, maybe Profar joins them as generational talents (I can see the corny nickname already: "The Four Tops"), but it would be unfair to believe Profar will hit like they have, at least right off the bat. Remember, he's only 20, and, while he held his own in Triple-A, hitting .278/.370/.438 with four home runs, HE'S ONLY 20 YEARS OLD. Most 20 year olds are still learning how to hit curveballs in the South Atlantic League.
That said, I'm excited to see the kid play for a couple weeks. While Profar didn't start Sunday and Ron Washington said he'll split time with
Leury Garcia
, I'm not sure the Rangers recalled Profar to play three games a week. Profar has a good approach at the plate, particularly for a kid so young, drawing 21 walks in 37 games at Round Rock, so that's a good sign that he'll come up to the majors and not get in trouble by being overly aggressive. And, as Washington likes to say, "He's not afraid of the game."
Kinsler had been one of the best players in the league so far, hitting .302 with seven home runs, 20 RBIs and 24 runs, so the Rangers will miss his production from the leadoff spot. But they have a comfortable lead in the AL West and there was no reason to push him through the injury.
Profar is likely headed back to Triple-A once Kinsler's DL stint ends. Of course, who knows, maybe Profar hits so well he leaves the Rangers no choice but to find a regular spot for him. I don't think that will happen, but I wouldn't be that eager to bet against him, either.
REST OF THE WEEKEND

Three stars
1. Matt Joyce, Tampa Bay Rays.
Down 4-0 after one inning to the
Baltimore Orioles
on Saturday, Joyce hit a two-run homer in the third to get the Rays closer and then hit a two-run, go-ahead double in the ninth. On Sunday, Joyce's homer provided the insurance run in a 3-1 win as the Rays swept the O's.
2. Dexter Fowler, Colorado Rockies.
The Rockies had many heroes in winning three of four against the
San Francisco Giants
at home, but Fowler jumpstarted the offense all weekend with 10 hits and seven runs scored. Not a bad four days: He raised his average from .252 to .286.
3. Justin Masterson, Cleveland Indians.
Masterson tossed his second consecutive scoreless start, striking out a season-high 11 in seven innings against the
Seattle Mariners
on Sunday in a 6-0 victory. Masterson improved to 7-2 while lowering his ERA to 2.83. This is a different Masterson than we've seen the past couple seasons, with a much higher strikeout rate (25 percent versus 18 percent last season) but still keeping the home runs to a minimum (just three). While he's struggled in the past against left-handers, he's held them to a .226 average this season with a 36/19 K/BB ratio compared to 72/56 in 2012. And it's not all batting average on balls in play (BABIP), which is a fairly normal .285 so far. If he keeps getting lefties out, he's going to keep winning games.
Honorable mention star of the weekend
Have to mention
Joey Votto
for getting on base all six times in Saturday's win for the
Cincinnati Reds
-- he went 4-for-4 with two walks, a double and a home run. Only two players had a "6-for-6" day last season --
Aaron Hill
of the
Arizona Diamondbacks
and
Neil Walker
of the
Pittsburgh Pirates
. Both went 5-for-5 with a walk and, like Votto, doubled and homered.
One more honorable mention star of the weekend
The Diamondbacks beat the
Miami Marlins
on Saturday as
Brandon McCarthy
pitched the three-hit shutout (no save!), but he had a lot of help from
Gerardo Parra
, who led off the game
with this
on the first pitch and
then did this
in the bottom of the first. Parra has one of the better arms in the majors, but his bat is a big reason the D-backs are in first place, as he's hitting .320/.385/.494 with 28 runs (11th in the NL). That batting line, combined with his outstanding defense, has Parra leading the NL in Wins Above Replacement (WAR), tied with
Matt Harvey
and
Clayton Kershaw
, at 3.1. Justin who?
Clutch performance of the weekend
Atlanta Braves
rookie
Evan Gattis
keeps finding a way to get himself into the highlights. On Saturday, he pinch hit in the eighth inning against hard-throwing
Kenley Jansen
of the
Los Angeles Dodgers
with the Braves down 1-0 and a runner on and
did this
on a 2-2 fastball. The best part of the highlight is
Freddie Freeman
's "I don't believe that" reaction in the dugout.
The Dodgers bullpen, meanwhile, continues to implode. They followed Saturday's loss with another one on Sunday, giving up four runs in the eighth in a 5-2 loss. It has 13 losses, three more than any other team, and its 4.61 ERA is better only than the
New York Mets
and
Houston Astros
.
Unclutch performance of the weekend
Aroldis Chapman
, step on down. Chapman entered with a 2-1 lead on Sunday and walked
Delmon Young
with one out. That was bad enough, but
Cliff Lee
pinch ran for Delmon (yes, a guy who plays the outfield regularly got run for by a pitcher) … and got picked off for the second out of the inning. Game over, right? Nope.
Erik Kratz
homered on a 3-2, 98 mph heater. And then
Freddy Galvis
-- Freddy Galvis! --
hit the dramatic walk-off home run
off a 95 mph fastball.
Best game
OK, it's pretty difficult to top that one. There were some wild games this weekend -- Tampa beat Baltimore 12-10 on Friday, the Indians gave up two home runs in the ninth to Seattle on Saturday only to win in the bottom of the inning -- but Friday's
Washington Nationals
-
San Diego Padres
game was a tough one for San Diego.
Adam LaRoche
homered twice off rookie
Burch Smith
, but the Padres tied it with two runs in the bottom of the ninth off
Rafael Soriano
-- with the help of another
Ryan Zimmerman
throwing error. (A situation that's becoming a serious problem for the Nationals, as that's nine errors for Zimmerman with his fielding percentage a
Mark Reynolds
-like .897.) Anyway,
Chad Tracy
hit a
pinch-hit homer
off
Huston Street
in the 10th to give the Nats a 6-5 win. That's already six home runs allowed for Street, whose trade value is shrinking with each home run.
Hitter on the rise: Jason Kipnis, Indians
He had a three-run,
walk-off home run
in the 10th inning on Friday and two hits on Saturday and Sunday, giving him nine in his past four games, all Cleveland victories. The Indians are 17-4 since April 28 and Kipnis has hit .305 with seven home runs and 21 RBIs in the 20 games he's played. He won't start the All-Star Game with
Robinson Cano
in the American League, and the AL is loaded at second base with Kinsler,
Dustin Pedroia
and
Jose Altuve
, but it wouldn't surprise me to see Kipnis at the All-Star Game.
Pitcher on the rise: Jeff Locke, Pirates
I'm not necessarily buying, but the lefty is now 4-1 with a 2.73 ERA after tossing seven scoreless innings on Sunday against the Astros
in a 1-0 win
. His K/BB ratio is a pedestrian 32/22, but opponents are hitting just .219 off him, thanks to a .230 BABIP. With that number likely to rise, Locke will need to record a few more whiffs to maintain success close to this level. Still, that's three scoreless outings this season and one did come against the Cardinals. Even though he's not
this
good, if he can give the Pirates 175 solid innings as a No. 4 starter, they'll take it.
Team on the rise: Pirates
The Pirates took two of three from the Astros to improve to 11-6 in May and 26-18 overall. They're second in the majors in ERA, and it's not necessarily a huge fluke as they're third in strikeouts. One thing to keep an eye on: Only the hapless Astros have needed more innings from their bullpen, so while the Pittsburgh crew has been outstanding, the workload is a possible concern down the road.
Team on the fall: Dodgers
The two bright spots this week were
Zack Greinke
's return and
Matt Kemp
's great catch
on Saturday, but three losses in Atlanta reiterated that this isn't just a team ravaged by injuries: It's a bad team with a bad bullpen that finds ways to lose. Manager Don Mattingly said not to blame the bullpen. "You add on a run here or there, it takes a lot of pressure off a guy that you can't give up one hit that changes the whole game. I think we have to take this all as a group."
OK, then, we'll call it a team effort of a team on the fall.
May, 13, 2013
5/13/13
1:55
AM ET
In April,
Jose Bautista
had turned into a three true outcomes type of player: home run, walk or strikeout. He hit seven home runs and had a slugging percentage over .500, but was hitting just .200.
Was he just finding his stroke as he returned from last year's injury problems? Or was he no longer the MVP-caliber hitter of 2010 and 2011, when he hit 54 and 43 home runs, drew walks, and hit .260 and then .302?
He hit his first two home runs of May on Sunday in a
12-4 pasting of the Red Sox
to raise his overall batting to .246/.360/.544 -- respectable, if not quite 2011-level Bautista. And the Blue Jays need 2011-level Bautista if they have any hope of recovering from their awful start.
I'm not quite sure he's there yet. While Bautista can crush any fastball -- he's hitting .333 with six home runs in 51 at-bats ending with a fastball this season -- it was his production against "soft" stuff that allowed him to hit above .300 in 2011. Check out these two charts on his batting average against soft stuff in 2011, and then the past two seasons: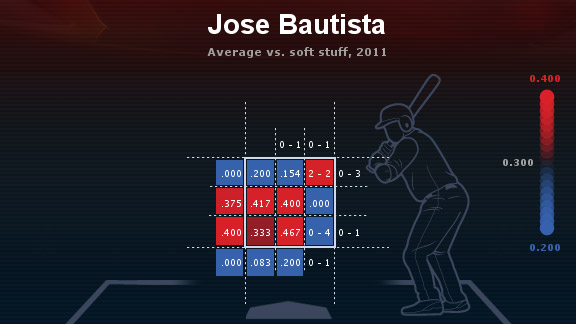 ESPN Stats & InformationIn 2011, Bautista hit .291/.415/.591 with 16 home runs against soft stuff.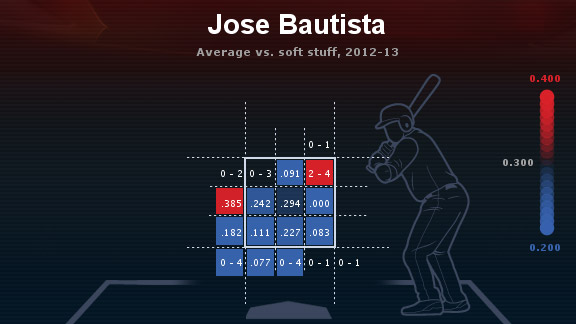 ESPN Stats & Information Over the past two seasons, Bautista has hit just .180/.326/.365 against soft stuff.
As you can see, that's a lot of red (hot) in 2011 and a lot of blue (cold) since. This year, he's 7-for-51 (.137) with three home runs against soft stuff. He split his home runs on Sunday -- one came off a first-pitch
Ryan Dempster
fastball, the other off an 0-1 83 mph slider from
Clayton Mortensen
. Bautista is a dead pull hitter -- only one home run to center and one to right-center over the past two seasons -- which can leave him vulnerable to breaking stuff on the outside part of the plate.
I haven't seen enough evidence that he's going to punish those pitches like he did a couple years ago, so I would guess he'll be prone to ups and downs throughout the season. He's still a huge threat at the plate, but not the MVP bat of 2011.
REST OF THE WEEKEND

Three stars
1. Shelby Miller, Cardinals.
One hit. Twenty-seven down. In a
3-0 win over the Rockies
on Friday, the St. Louis rookie became the fifth pitcher since 1961 to allow the first batter to reach base and then retire 27 in a row, joining
John Lackey
(2006 Angels), Jerry Reuss (1982 Dodgers), Jim Bibby (1981 Pirates) and Woodie Fryman (1966 Pirates). Miller had the Rockies guessing wrong -- or merely looking -- all night long, as he got 30 called strikes, the second-most by a starter this season. Eight of those closed out Miller's 13 strikeouts. Just a dominant performance. In fact, for all the attention given to
Matt Harvey
this year, compare the two young right-handers:
Miller: 5-2, 1.58 ERA, 45.2 IP, 29 H, 3 HR, 11 BB, 51 SO, .179 AVG
Harvey: 4-0, 1.44 ERA, 56.1 IP, 27 H, 3 HR, 14 BB, 62 SO, .142 AVG
2. Adam Wainwright, Cardinals.
Not to be outdone, Wainwright took a no-hitter into the eighth inning on Saturday, finishing with a two-hit shutout in
another 3-0 win
for the Cards. Wainwright improved to 5-2 with a 2.30 ERA and had strong words about his rookie teammate: "You follow
Roger Clemens
a couple times like I have been, it makes you focus a little bit more," he said. "Once you see Shelby mow through a lineup like he has all year, you want to go out there and do it, too." Kudos also to Cards manager Mike Matheny for leaving in Miller to throw 113 pitches, and Wainwright to throw 120. In this day when managers are too willing to yank starters at 100 pitches, it is good to see a manager let his guys go the distance.
3. Chris Sale, White Sox, and Jon Lester, Red Sox.
Two more one-hit shutouts,
Lester on Friday
,
Sale on Sunday
. Can't anyone here hit anymore? Lester got 12 ground-ball outs as he joined
Pedro Martinez
(2000),
Hideo Nomo
(2001),
Curt Schilling
(2007) and
Josh Beckett
(2011) as Red Sox pitchers to throw a one-hit, no-walk shutout in the live ball era. But Sale threw his wearing the so-ugly-they're-cool 1983 throwback uniforms.
Clutch performance of the weekend
Evan Longoria
, for his two-out, two-run,
bottom-of-the-ninth home run
to give the Rays a dramatic 8-7 win over the Padres on Saturday. My favorite part: There's some sort of picnic area in left-center (yes, "picnic area" and "domed stadium" is kind of an oxymoron) where the ball landed, and it looks like half the fans out there didn't realize it was a game-winning home run.
First off, credit
Ben Zobrist
for a drawing the two-out walk on a 3-2 pitch from
Huston Street
, working back from a 1-2 count. Street knew that was the batter he had to get. "You get him 1-2, you've got to make a pitch," he said. "I'm frustrated about that just as much as leaving a pitch to Longoria in the middle of the plate." The Rays had led 6-2 before the Padres scored five in the seventh, leading Joe Maddon to say it would have been one of Tampa's worst three losses of the year. "But you can't go to the dance playing like that. When you get leads, you've got to put the other team away. I'm not happy with that. That's inappropriate. That's got to stop," he said.
The Rays finished the sweep on Sunday, however -- their fifth win in a row -- and clawed a game over .500.
Best game
Well, that Padres-Rays game was pretty good. Miller's game was mesmerizing. Toronto's win over Boston on Saturday featured
Adam Lind
's
go-ahead home run
in the ninth off
Junichi Tazawa
, after the Red Sox had tied it in the bottom of the eighth. But I'll go with
Cleveland's 7-6 win
over
Justin Verlander
and the Tigers on Saturday. Or Cleveland's
4-3 win
on Sunday, in which the Indians tied it in the ninth and won it in the 10th, leading to this quote from
Mark Reynolds
, who delivered the go-ahead single: "With two strikes, I'm just trying to shorten up my swing and get something into play," he said. Wait ... since when does Reynolds shorten up his swing? Gotta love baseball.
The Indians took two of three from the Tigers to move into a first-place tie with Detroit.
Hitter on the rise: Anthony Rizzo, Cubs
He had six home runs through April 21, but his average fell to .173 after a three-strikeout game on April 25. In 16 games, he's hit .419/.478/.694, with three more home runs, eight doubles and nearly as many walks (six) as strikeouts (eight). He has six three-hit games in that stretch, and he's showing he's more than just an all-or-nothing slugger. He's showing he's a guy who is going to be the Cubs' cleanup hitter for a long time.
Pitcher on the rise: Zach McAllister, Indians
Don't believe in the Indians? Don't believe in the rotation? McAllister is starting to look like another solid option alongside
Justin Masterson
. He didn't get a decision in Sunday's game but pitched a solid six innings. He's 3-3 with a 2.68 ERA and a decent 33/13 SO/BB ratio in 43.2 innings. He's a fly ball pitcher but has allowed just five home runs in seven starts. If he keeps the ball on the right side of the fence he has a chance to be successful.
Brandon Phillips play of the week
This one was pretty
.
Happy Mother's Day
Pablo Sandoval
uses his pink bat to
launch one into McCovey Cove
.
Tim Lincecum
backed up Sandoval with his best outing of the year as the Giants took the final three of four from the Braves. Tough stretch coming up for the Giants, however: 20 of their next 30 on the road, including series in Toronto, Colorado, St. Louis, Arizona, Pittsburgh and Atlanta.
Team on the rise: Indians
They're 12-2 over the past 14, hitting .305 with 24 home runs -- and that stretch does not include that 19-6 win over Houston earlier in the season. The pitching staff has a 2.98 ERA with 13 home runs allowed. The Indians lead the majors in home runs and OPS, and guys like
Jason Kipnis
,
Asdrubal Cabrera
and
Lonnie Chisenhall
have room to do better.
Team on the fall: A's
Awful week, losing four to Cleveland and then two of three to Seattle. They scored more than three runs just once in seven games as injuries to outfielders
Coco Crisp
,
Chris Young
and
Josh Reddick
have left them playing
Michael Taylor
and
Brandon Moss
in the outfield (with
Daric Barton
or
Nate Freiman
replacing Moss at first base).
Jarrod Parker
is still scuffling (6.86 ERA, four walks in 6.1 innings on Saturday). The A's just need to get healthy, and they didn't hit their stride last year until July (they were 37-42 and 13 games out on July 1), so they may be down now, but hardly out.
April, 9, 2013
4/09/13
12:06
AM ET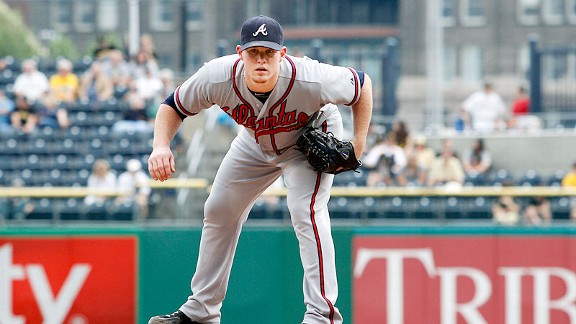 Justin K. Aller/Getty ImagesCraig Kimbrel led the NL in saves last season and is considered the most dominant closer in baseball.
The Tigers need one. The Brewers thought they had one. The Cubs already have a new one. Some teams probably wish they had a different one. Closers are already melting down in rapid fashion.
On Monday afternoon, with closer
Jason Motte
sidelined with a sore elbow (he'll get a new MRI on Tuesday), the Cardinals' bullpen imploded in a
13-4 loss
to the Reds, led by
Mitchell Boggs
giving up seven runs in the ninth inning. Now they might have closer issues as well. Rookie
Trevor Rosenthal
blew a 4-3 lead in the eighth, his second blown "save" of the young season, so he's not necessarily the answer if manager Mike Matheny has lost faith in Boggs.
The Tigers will apparently give
Joaquin Benoit
their next save opportunity, but many think they need to make a trade for a Proven Closer (tm). The problem ... well, there aren't really that many Proven Closers out there. And the truth is, most closers weren't preordained to be closers anyway, many arriving at the role only after failing as starters or finally getting the opportunity in their late 20s. Let's rank all 30 closers and you'll see what I mean.
Proven Closers
These are guys who have done the job for more than one season, thus earning the coveted title of Proven Closer.
1. Craig Kimbrel, Braves
The best ninth-inning guy in the business, coming off maybe the most dominant relief season ever -- he fanned over half the batters he faced -- in the modern era, or what Goose Gossage likes to refer to as "After I retired."
Before becoming a closer:
Groomed as a closer, he's never started a game in pro ball and became Atlanta's closer as a rookie in 2011.
2. Aroldis Chapman, Reds
I'm actually breaking my own rule here since Chapman has only been a closer for less than one season. But unless his control suddenly abandons him, he's obviously the real deal after striking out 122 in 71.2 innings last season.
Before becoming a closer:
Lacked the secondary pitches and stamina to make it as a starter.
3. Mariano Rivera, Yankees
He's old, he basically has one pitch and he's coming off a torn anterior cruciate ligament. Anyone want to bet against him?
Before becoming a closer:
Failed starting pitcher prospect.
4. Jonathan Papelbon, Phillies
Starting his eighth year as a closer, which is entering elevated territory. (Hall of Famer Bruce Sutter, for example, only had seven dominant seasons as a closer.) Papelbon had some not-so-clutch moments last season, however, finishing with four blown saves and six losses.
Before becoming a closer:
Forty-eight of his 58 appearances in the minors and his first three major league appearances came as a starter, but Red Sox converted him to relief.
5. Joe Nathan, Rangers
Not quite the Rivera-like force he was during his Twins days, but still pretty good. Picked up his 300th career save Monday, becoming the 23rd reliever to hit that mark.
Before becoming a closer:
Had a 4.70 ERA in two seasons as a part-time starter for the Giants in 1999-2000, had a 7.29 ERA in the minors in 2001 (5.60 in 2002), made it back, traded to the Twins, then became a closer at age 29.
6. Rafael Soriano, Nationals
Has three seasons as a closer with three different teams, so this will be his fourth year as a closer with his fourth different teams, making him the best example of Proven Closer, Will Travel.
Before becoming a closer:
Spent parts of seven seasons in the majors (starting as a rookie with Seattle), many parts of which were spent on the disabled list.
7. Huston Street, Padres
Now entering his ninth season as a closer, Street has recorded 30-plus saves just twice, as he's often hurt and hasn't pitched 60 innings since 2009.
Before becoming a closer:
Groomed as a closer since Oakland made him the 40th pick in the 2004 draft out of Texas.
8. Chris Perez, Indians
Now entering his fourth season as Cleveland's closer, he's been an All-Star the past two seasons despite a less-than-awe-inspiring 3.45 ERA and 4-11 record.
Before becoming a closer:
Mediocre middle reliever with St. Louis and Cleveland for two years. Fell into the closer role in 2010 because
Kerry Wood
was injured at the start of the season.
9. J.J. Putz, Diamondbacks
He's had four seasons of 30-plus saves, although he spent three years in between closer jobs. He's another guy who isn't the most durable pitcher around and hasn't pitched 60 innings since 2007.
Before becoming a closer:
Started for three years in the minors for Seattle, moved to the bullpen, spent two years as a mediocre middle guy, but learned the splitter and became a closer at age 29 after Proven Closer
Eddie Guardado
imploded early in 2006.
10. Joel Hanrahan, Red Sox
All-Star closer with the Pirates the past two seasons, but he walked 36 and allowed eight home runs in 59.2 innings last year. Could easily lose the job to former Proven Closer
Andrew Bailey
.
Before becoming a closer:
Didn't make it as a starter with the Dodgers, traded to the Nationals and then to the Pirates. Spent three years as a middle reliever.
One-year wonders
These guys became closers last year, and several of them had dominant seasons. But beware the
John Axford
lesson: One season does not make you a Proven Closer. Do it again and we'll start believing.
11. Fernando Rodney, Rays
After years as basically a bad reliever (22-38 career record., 4.29 ERA), he signed with Tampa Bay and lucked into getting a save in the season's second game as the fourth reliever of the ninth inning in a game against the Yankees. Went on to have one of the greatest relief seasons ever, with a 0.60 ERA and five earned runs allowed. He's already allowed three earned runs in 2013. Was last year a fluke?
Before becoming a closer:
See above. Did save 37 games (with a 4.40 ERA) for the Tigers in 2009.
[+] Enlarge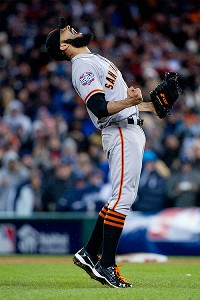 Ron Vesely/MLB Photos/Getty Images)After many seasons as a middle reliever, Sergio Romo finally got the chance to close and got the last out in the 2012 World Series.
12. Sergio Romo, Giants
The slider specialist replaced
Santiago Casilla
, who had replaced the injured
Brian Wilson
. Saved 14 games and then allowed one run in 10.2 postseason innings.
Before becoming a closer:
Not much of a prospect as a 28th-round pick who didn't throw hard, but Romo was an excellent middle guy for four seasons.
13. Ernesto Frieri, Angels
The hard-throwing righty came over after an early-season trade with the Padres, got the closer job after
Jordan Walden
struggled and had a terrific season. Might lose his job anyway if former Journeyman Made Good
Ryan Madson
gets healthy.
Before becoming a closer:
Moved to the bullpen after posting a 3.59 ERA in Double-A in 2009.
14. Jason Motte, Cardinals
Took over the closer role late in 2011 and helped the Cards win the World Series. Saved 42 games with 2.75 ERA last year. Currently injured.
Before becoming a closer:
Spent first three pro seasons as a catcher.
15. Jim Johnson, Orioles
In his first full year as closer he saved 51 games. Rare among closers, he's a ground ball specialist who doesn't register many whiffs (41 in 68.2 innings in 2012).
Before becoming a closer:
A not-very-good minor league starter.
16. Tom Wilhelmsen, Mariners
In his first full year in the majors, he replaced a struggling
Brandon League
. Did just fine with his mid-90s fastball and hammer curve.
Before becoming a closer:
Was bartending.
No, seriously
.
17. Addison Reed, White Sox
Saved 29 games as a rookie, although his 4.75 ERA wasn't exactly Rivera-ish.
Before becoming a closer:
Drafted in the third round out of San Diego State in 2010, he had a dominant relief season in the minors in 2011 (1.26 ERA) that pushed him quickly to the majors.
18. Greg Holland, Royals
Had 16 saves last season, but his job could be in jeopardy after four walks in his first two innings of 2013. Aaron Crow saved Monday's win for the Royals.
Before becoming a closer:
Came out of nowhere to post a 1.80 ERA with the Royals in 2011.
19. Steve Cishek, Marlins
Saved 15 games after expensive Proven Closer
Heath Bell
gakked up several memorable save opportunities.
Before becoming a closer:
The sidearmer was never on prospect radar lists because sidearmers are never on prospect radar lists.
20. Brandon League, Dodgers
Saved 37 games for Seattle in 2011, but lost his job early last season due to general lack of impressiveness. Throws a hard sinker so he gets ground balls but not many K's. Pitched better in 27 innings for the Dodgers last season so they gave him a bunch of money. Control was fine in 2011, not so fine last year.
Before becoming a closer:
Didn't make it as a starter in the minors despite high-90s fastball.
Journeymen Made Good
These guys became closers essentially because their teams didn't have anyone else. Perseverance pays off!
21. Grant Balfour, A's
Hard-throwing Aussie became a closer last year for the first time at age 34.
Before becoming a closer:
Played Australian rules football. OK, not really. Went from Twins to Reds to Brewers before finally having some good years with Tampa Bay.
22. Glen Perkins, Twins
The rare lefty closer had 16 saves a year ago.
Before becoming a closer:
Career 5.06 ERA as a starter in 44 games before moving to the bullpen.
23. Rafael Betancourt, Rockies
At 37 years old, he became a closer for the first time and saved 31 games for Rockies in 2012.
Before becoming a closer:
Has a career 3.13 ERA, so he'd been a good reliever for a lot of years.
24. Jason Grilli, Pirates
The veteran reliever had a career year last year at age 35 with 90 K's in 58.2 innings and took over the closer role when Hanrahan was traded.
Before becoming a closer:
Played for five major league teams before Pittsburgh.
25. Casey Janssen, Blue Jays
Another late bloomer, he got the ninth-inning job after
Sergio Santos
was injured last year.
Before becoming a closer:
The former starter didn't really have a wipeout pitch so he got pushed to the pen.
26. Bobby Parnell, Mets
He's long been heralded as a closer candidate due to his high-octane fastball. Now he'll finally get the opportunity.
Before becoming a closer:
One-time minor league starter has spent past four seasons in the Mets' bullpen.
The Import
27. Kyuji Fujikawa, Cubs
The new Cubs' closer could be good, bad or something in-between. I think he'll be pretty good.
Looking for help
28. Tigers.
The problem with
Phil Coke
as a closer is that Phil Coke just isn't a very good reliever.
Al Alburquerque
and
Brayan Villarreal
have better stuff but not much experience.
29. Brewers.
Axford was signed out of independent ball and had a monster 46-save season for the Brewers in 2011. He's allowed four home runs in 2.2 innings this season and the Brewers may sign Rollie Fingers.
Might not get a save opportunity until May
30. Jose Veras, Astros.
Now 32, he's pitched for the Yankees, Indians, Marlins, Pirates and Brewers and has five career saves.
Before becoming a closer:
The Brewers had the worst bullpen in the majors last year and even they didn't want him back.
July, 2, 2012
7/02/12
5:40
PM ET
The
Cincinnati Reds
are angry.
Dusty Baker is very angry
, accusing Tony La Russa of deliberately bypassing
Johnny Cueto
and
Brandon Phillips
in making his All-Star selections because of the infamous Reds-Cardinals brawl in 2010.
"A snub like that looks bad," Baker told reporters. "Johnny and Brandon were at the center of a skirmish between us and the Cardinals. Some of the Cardinals who aren't there anymore are making some of the selections."

La Russa
Look, Cueto deserved to make the team. La Russa countered Baker by saying, "If Dusty had been more interested in Cueto being on the team, then he wouldn't be pitching him on Sunday. Cueto probably would be on the team if he wasn't pitching Sunday."
Still when you go through the process step by step it's clear why Phillips and Cueto didn't make the team.
At second base, the fans voted in
Dan Uggla
as the starter and
Jose Altuve
was the players' choice. Once reserves from the players' vote were added -- guys like
David Wright
and
Ryan Braun
-- La Russa had four positions to fill. He went with Phillies catcher
Carlos Ruiz
, a clearly deserving All-Star; Marlins outfielder
Giancarlo Stanton
, the club's lone representative; Reds outfielder
Jay Bruce
; and Nationals shortstop
Ian Desmond
.
Let's debate Desmond versus Phillips. Desmond is hitting .276/.308/.484; Phillips is hitting .285/.329/.442. Similar numbers. Even if you give Phillips an edge for his glove (which is debatable), I don't see where you can argue that Phillips got the short straw here. Especially when
Aaron Hill
is probably more deserving than Phillips.
The Bruce choice is actually a bit perplexing, especially when you consider that La Russa chose him
over
Matt Holliday
or
Michael Bourn
, both of whom are having better seasons than Bruce. Holliday is hitting .307/.391/.502 compared to Bruce's .257/.326/.522. In fact, it's much easier to argue for Bruce's exclusion than it is for Phillips' inclusion.
OK, Johnny Cueto. He's 9-4 with a 2.26 ERA, a terrific ERA considering his home park. Once you get through the players' choices -- which included
Lance Lynn
-- La Russa had five spots for the pitching staff. His choices were
Clayton Kershaw
,
Cole Hamels
,
Wade Miley
,
Huston Street
and
Jonathan Papelbon
.
Miley was the Diamondbacks' lone rep. Street is the Padres' lone rep. You cannot fault for La Russa for choosing Kershaw and Hamels, obviously two of the best pitchers in the game and both having good seasons. The debatable selection is Papelbon, who isn't even having a particularly good season, and the Phillies already had Ruiz and Hamels on the roster. You can probably guess La Russa's thinking here: He'd prefer having a reliever pitching late in the game than a starter who isn't used to coming out of the bullpen. I'm not saying I agree with that, but I see the thought process, especially with Cueto scheduled to pitch Sunday.
La Russa did have a couple other options: He could have chosen
Chase Headley
as the Padres' representative -- but that would have meant over Desmond or Bruce. That would have allowed Cueto,
Zack Greinke
or
James McDonald
to be put on the roster instead of Street. He could have chosen Aaron Hill over Desmond, with one of the three starters going in place of Miley.
In the end, it comes down to difficult choices. Personally, I would prefer to see two of the deserving starting pitchers make it over the two relievers. La Russa better just hope that Papelbon doesn't lose the game.
July, 1, 2012
7/01/12
2:10
PM ET
My favorite All-Star selection in the past decade was reliever
Mike Williams
of the Pirates in 2003. At the break, he had 25 saves ... but a 6.44 ERA. He was the Pirates' lone representative, of course, although the club did have other worthy options --
Jason Kendall
was hitting .308, and
Brian Giles
was hitting .306 with a .444 on-base percentage. Williams, in fact, was so bad that he never pitched in the majors after that season.
At least National League manager Dusty Baker didn't actually use Williams in the game.

Anyway, the
All-Star roster selections
are now complicated by a four-tiered system: Starters are voted in by the fans, players vote for some of the reserves, managers fill in the rest of the roster (keeping in mind that each team needs a representative) and then fans vote for the final man. Good times!
As always, things get screwed up along the way. Here's a quick reaction to this year's rostesr -- but, don't forget, there likely will be a few injury and pitcher replacements to come!
Worst National League fan selection: Pablo Sandoval, Giants.
I chided Rangers fans last week for stuffing the ballot box, but clearly I underestimated Giants fans.
David Wright
has arguably been the most valuable player in the National League in the first half, hitting .355/.449/.564 (batting average/on-base percentage/slugging percentage) while carrying a Mets offense racked by injuries. Sandoval overcome a 400,000-vote deficit over the final week to pass Wright, even though he's played only 44 games.
Worst American League fan selection: Derek Jeter, Yankees.
I don't have a huge problem with the fans voting in one of the game's all-time greats, but
Elvis Andrus
or
Asdrubal Cabrera
would have been a more deserving starter. Both have better numbers at the plate and are superior defenders to the aging Jeter. At least both made the team as reserves.
Best fan selection: Jose Bautista, Blue Jays.
Considering his slow start, .239 average and north-of-the-border status, it would have been easy for the fans to miss out on Bautista's June power surge that has lifted him to a major league-leading 26 home runs.
Best reserve: Mike Trout, Angels.
There might have been a fan mutiny if Trout (who wasn't on the All-Star ballot) hadn't made the team.
Wait, the Cubs got two players?
Bryan LaHair
is one of the nice stories of the season, but he made it only because a backup first baseman is required. The fact that a platoon player with just 28 RBIs made it speaks to the lack of depth at first base in the NL. However, LaHair's selection also shows the player voting is done too early in the season. LaHair was hitting .388 through May 3 but is hitting .236/.313/.389 since. Basically, he made the All-Star team with one hot month.
Paul Goldschmidt
or
Adam LaRoche
would have been a better choice.
$173 million payroll and one All-Star: Red Sox.
DH
David Ortiz
is Boston's lone All-Star, the first time since 2001 the Red Sox have had just one All-Star. (
Manny Ramirez
made it that year.) The Red Sox had had at least six All-Stars each year since 2007.
Weirdest selection: Huston Street, Padres.
Street has pitched well (1.35 ERA) but has pitched only 20 innings. Third baseman
Chase Headley
would have been the Padres' obvious rep, but Sandoval getting voted in as a starter meant Wright had to get the nod as the backup third baseman.
More evidence that player votes are tabulated too early: Lance Lynn, Cardinals.
Lynn got off to a terrific start but is now only 27th in the NL in ERA, pushing more deserving starters like
Johnny Cueto
,
James McDonald
,
Zack Greinke
and
Madison Bumgarner
to the sideline.
The too-many-relief-pitchers rule: Jonathan Papelbon, Phillies.
Again, it's a shame that the rules require relievers to be added. Seventeen starters have a better ERA than Papelbon, who has pitched a grand total of 30 innings. Of his 18 saves, only six came in one-run games. Only question: Will Tony La Russa use him in a tie game?
Comeback All-Star of the year: Adam Dunn, White Sox.
After hitting .159 in 2011, Dunn made his second All-Star team (and first since 2002, his first full year in the majors) by slugging 24 home runs and driving in 58 runs. Despite hitting .213, Dunn has a respectable .363 OBP thanks to a league-leading 64 walks.
Most deserving guy who didn't make it, National League: Johnny Cueto, Reds.
He has a 2.26 ERA despite pitching in The Great American Ball Park.
Most deserving guy who didn't make it, American League: Austin Jackson, Tigers.
Jackson did miss 20 games with injuries, but he's been tremendous, hitting .326/.408/.537 and playing excellent defense in center field.
AL final man vote: Jake Peavy, White Sox.
Peavy is the most deserving based on his terrific first half, but if you're trying to win the game, Angels reliever
Ernesto Frieri
may be the best choice, considering he hasn't allowed a run in 23 innings since coming to the Angels.
NL final man vote: Michael Bourn, Braves.
This may be the most intriguing final man vote ever: All-time great
Chipper Jones
or hyped newcomer
Bryce Harper
? I'll split the difference and take the guy who had the best first half and could help the NL as a pinch hitter, defensive sub or pinch runner. After all, the game counts, right?
December, 7, 2011
12/07/11
4:27
PM ET
DALLAS -- As we await bigger news, the
San Diego Padres
traded for
Colorado Rockies
closer
Huston Street
and the
Pittsburgh Pirates
signed left-handed starter
Erik Bedard
.
While it's easy to criticize both deals, I see some potential upside. Street was acquired for a player to be named, which usually means a lower-level prospect, and cash. Without a veteran reliever on staff to replace
Heath Bell
, the Padres weren't comfortable giving the job to a guy like
Ernesto Frieri
. Now, while it may not make sense for the last-place Padres to acquire a reliever owed $8 million in 2012 (including a $500,000 buyout), the upside is that Street has a chance to be very effective in San Diego.
As a guy who allows more fly balls than groundballs, he'll be moving from a terrible park for him in Colorado, to the perfect park for him. Street posted a 3.50 ERA in his three years with Colorado, but had a 2.88 ERA during his four years in Oakland. With San Diego, look for that ERA to slide back under 3.00. And if the Padres are out of the race in July (although in the NL West, where right now no team projects to win 90 games, anything is possible) and Street has a 1.94 ERA or something, they can trade him to a contender for a better prospect than they will give the Rockies.
I'm not saying I would have done this deal, but I can see how it could work out for San Diego.
For Pittsburgh, $4.5 million for Bedard is a fairly low-risk investment for a guy I thought was one of the sleeper free agents. Yes, Bedard has been injury-prone, but he did make 24 starts between Seattle and Boston last year and pitched effectively, with 125 strikeouts in 129.1 innings. Among AL pitchers with at least 100 innings, Bedard ranked seventh in strikeout rate.
Are the Pirates likely to be in the NL Central race? OK, probably not, but the same scenario exists as with the Padres: If Bedard is healthy he'll pitch well and the Pirates can flip him to a contender.
The CBA rules have made it more difficult for small-market teams to be creative in the draft, so this route is another way for a team like the Pirates to acquire prospects. I like the move.
December, 7, 2011
12/07/11
1:21
PM ET
It's another day in chilly Dallas for Keith Law, but he braved the elements for the
Baseball Today podcast
as he and I discussed the latest rumors and happenings from the winter meetings, including:
1. OK, Mr. Pujols, you've apparently got your crazy offers, so make a decision. We explain how recent developments could signal a quick ending to this situation.
2. Meanwhile, on the other side of the
Miami Marlins
infield from
Albert Pujols
is former shortstop
Hanley Ramirez
. Is he happy? Is he sad? Does it matter? We try to think like Hanley.
3. Meet the new Mets, making all kinds of deals and rejuvenating their bullpen. Well, perhaps not rejuvenating, but at least they added pieces. We analyze the Mets-Giants trade.
4. And there's more involving closers on the move, as the Padres get a guy they didn't need, the White Sox move a guy they didn't seem to need to move, and where will
Ryan Madson
and other free agent save fellows go?
5. Finally, Keith talks about what the GMs are actually doing in Dallas, where he likes and doesn't like the meetings to be held, and congratulates a friend on making it into the Hall of Fame!
So tune in to Wednesday's Baseball Today podcast and be entertained and informed! We'll be back on Thursday to wrap the winter meetings!
March, 11, 2011
3/11/11
9:48
AM ET
By
Dan Hennessey
| ESPN.com
In the past week, I've been writing at Baseballin' on a Budget about the
A's recent history with compensation picks
lost or gained through free agency. The A's added players such as
Huston Street
,
Nick Swisher
and
Joe Blanton
with draft picks that weren't originally their own. I thought it would be interesting to see what other steals have been found with "free" draft picks. (Note: I only looked at first-round and sandwich picks that a team got for losing a player).
After the 1984 season, the Padres signed former Cubs pitcher Tim Stoddard to a three-year, $1.9 million contract. Stoddard threw 105 innings for the Padres in a season and a half, going 2-9 with an ERA+ of 85. He had one more good season in 1987 with the Yankees. The Cubs selected
Rafael Palmeiro
with the Padres' pick the following June; Palmeiro didn't blossom until he was traded to the Rangers, but the Cubs made the right decision not signing Stoddard and found a gem late in the first round. Later, the Orioles would draft
Brian Roberts
with a sandwich pick after the Rangers signed Palmeiro for his second tour of duty in Arlington.
[+] Enlarge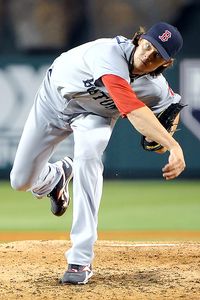 Lisa Blumenfeld/Getty ImagesBoston used a compensatory pick to draft Clay Buchholz.
After the 1990 season, the Giants signed Bud Black from Toronto to a four-year, $10 million contract. Black had ups and downs the previous five years, but was coming off a good year. For San Francisco's trouble, Black was worth 1.0 WAR over the four years. With the pick, the Blue Jays took
Shawn Green
; Green, along with
Carlos Delgado
, anchored Toronto's lineup for a four–year stretch from 1996 to 1999, before being traded to the Dodgers.
Kansas City shortstop Kurt Stillwell signed with the Padres after the 1991 season; he played only 193 games the next two seasons, posting an OPS+ of 61. For the low, low price of $3.5 million over the two years, Stillwell posted minus-3.3 WAR (yeah, that's negative). Adding insult to wallet-injury, the Royals took
Johnny Damon
with their sandwich pick.
Other tales include Toronto drafting
Chris Carpenter
(for aging but still-effective Tom Henke), Minnesota drafting
Torii Hunter
(for John Smiley), and the Mets drafting
David Wright
with a sandwich pick after letting
Mike Hampton
sign one of the worst contracts in baseball history with the Rockies.
Two teams in particular had drafts that could have been classified as great hauls with just compensatory picks. The Braves took
Adam Wainwright
in 2000 with Arizona's first-round pick for letting
Russ Springer
go and later added
Kelly Johnson
with a sandwich pick for "losing"
Jose Hernandez
.
But the kings, as they are wont to do lately, are the
Boston Red Sox
. After 2004, the Red Sox played shortstop roulette, signing
Edgar Renteria
from St. Louis (losing their own first-round pick that became
Colby Rasmus
) and letting
Orlando Cabrera
go to Anaheim (picking up a first). The Red Sox also lost
Derek Lowe
to the Dodgers and
Pedro Martinez
to the Mets, giving them two firsts and three sandwich picks. With the picks for Cabrera, the Red Sox drafted
Jacoby Ellsbury
and
Jed Lowrie
; with the picks for Lowe, they drafted
Craig Hansen
and
Michael Bowden
, and with the pick for Martinez, the Red Sox took
Clay Buchholz
. That's a pretty good haul for any team, much less one that had just won the World Series.
Almost all of these teams did well letting their free agent sign elsewhere, which is the same conclusion that I came to looking at just the A's. That some of the compensatory picks pan out is just a bonus.
One more interesting note: In 1983, the Mets drafted Calvin Schiraldi with their sandwich pick, setting him on a course in which he would play a vital role in their 1986 World Series win. Traded to Boston in 1985 in an eight-player deal, Schiraldi blew a save in Game 6, the famous "it gets through Buckner" game, and lost Game 7, giving up three runs in the seventh after entering with the game tied.
Dan Hennessey writes Baseballin' on a Budget, a blog about the Oakland Athletics. Follow him on Twitter @DanHennessey31.