October, 7, 2013
10/07/13
12:28
AM ET
Well, not every rookie starter can be expected to deliver a performance like
Gerrit Cole
did for the
Pirates
or
Sonny Gray
did for the
A's
.
There isn't a whole lot to say about the
Dodgers
' 13-6 pounding of the
Braves
in Game 3 of their NL Division Series, other than to say the Dodgers hit well, the Braves pitched and fielded poorly and
Hanley Ramirez
might be on his way to one of those legendary Octobers.
The turning point, if there was one, came with Fredi Gonzalez's slow hook on rookie starter
Julio Teheran
. Teheran had allowed four runs in the second inning during a rally capped by
Carl Crawford
's three-run homer to right field with two outs. OK, he'd been one strike away from getting out of the inning with one run -- Crawford jumped on a 2-2 slider -- but in the bottom of the third, after the Braves had scored twice to tie the game, Gonzalez let Teheran allow four more hits and two runs before finally pulling him.
It was too late. Considering the importance of this game -- the winner of Game 3 has won 14 of the past 15 Division Series that were tied at one game -- you can't leave the starter in that long. What's the point of carrying seven relievers for a five-game series that has two off days if you can't be more flexible than how you would manage in the regular season?
[+] Enlarge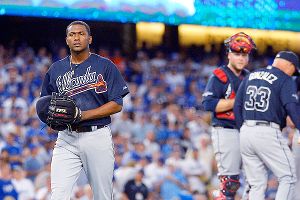 AP Photo/Mark J. TerrillJulio Teheran wasn't the only rookie hurler who didn't bring his best game to this October Sunday.
It's an issue I have with most managers in the postseason, the unwillingness to change how they manage in October from how they manage in July, the inability to be more creative. Over 162 games, you have to worry about burning out your bullpen, and you have to let Teheran learn how to pitch out of jams. But you can't wait in the postseason. There is an urgency to every game, and one inning can change an entire series.
Compare Gonzalez's slow hook to what Don Mattingly did. Donnie Manager made some questionable moves in Game 2, but he didn't hesitate in this game. After the Dodgers took that 6-4 lead,
Hyun-Jin Ryu
was due up with two outs. He's actually a good batter -- he hit a sac fly earlier in the game and hit .203 with four extra-base hits in the regular season -- but Mattingly sensed an opportunity to (A) get more runs and (B) not gamble by keeping Ryu in there after he'd struggled through three innings.
Again, in the regular season with a 6-4 lead, you let Ryu go back out there with that lead, hoping that you can squeeze a couple more innings out of him. So I liked the decision to yank him and go to
Chris Capuano
, who responded with three scoreless innings.
One more minor nitpick on Gonzalez. When Capuano walked the first better he faced, No. 8 hitter
Elliot Johnson
, I thought Gonzalez should have hit for pitcher
Alex Wood
, who had replaced Teheran. Yes, Wood is a guy who started in the regular season and can give the Braves multiple innings out of the pen, but the leadoff walk presented the possibility of a big inning. Again, series tied, trailing in Game 3, there is no time for patience. Wood sacrificed and Capuano settled down, but bring in a position player to hit off Capuano and who knows what could have happened.
As for Ramirez, the dude is ripping line drives all over the place. After going 3-for-4, he's 7-for-13 in the series with six RBIs and six extra-base hits. He could be headed for one of those Reggie Jackson/
David Ortiz
/
David Freese
postseasons. Ramirez was the best player in 2013 on a per-game basis, and he's showing why he hit .345 with 20 home runs in 86 games. The Braves have 24 hours to figure out how to get him out.
Freddy Garcia
-- yep, Freddy Garcia, who first appeared in the postseason way back in 2000 with the
Mariners
-- is the starter the Braves are trusting in Game 4 to do that. Garcia had 27 good innings with the Braves (1.65 ERA), which proves nothing but was enough to convince Gonzalez to start him. Hey, he had a 5.77 ERA for the
Orioles
in 53 innings, but who cares. Johnson got released by the
Royals
, but had 100 good at-bats with the Braves, so let's make him the starting second baseman.
Evan Gattis
isn't a left fielder, and his failure to get to a fairly routine fly ball in the second inning helped set up that four-run inning, and he later failed to back up a Ramirez triple that bounced off the wall, but, whatever., Let's keep sending him out there.
Look, this kind of decision-making doesn't kill you against the
Phillies
, the
Mets
or the
Marlins
. It does against a good team. Dodgers wrap this one up in four.
September, 25, 2013
9/25/13
9:31
PM ET
Let's take a break from these hectic final days of the season and look back at the 10 best decisions of the season. To me, these were decisions based on good analysis or good scouting or both, with a reasonable chance of working out. Signing
Zack Greinke
is easy. Having
Scott Kazmir
work out is good luck. These were calculated decisions that paid off.
10. Tigers don't overpay for a closer.
Throughout the offseason, during spring training and into April and May, there were cries for the Tigers to go out and acquire a Proven Closer. General manager Dave Dombrowski resisted and eventually veteran setup man
Joaquin Benoit
took over as closer ... and has been perfectly great, going 4-1 with a 1.94 ERA and 23 saves and just one blown save. Why give up a good prospect for a closer when one isn't that hard to find?
9. Rays acquire Yunel Escobar.
Last year, the Rays got so desperate for
some
offense at shorstop that Joe Maddon eventually had to move
Ben Zobrist
there. Escobar went from Toronto to Miami in the big
Jose Reyes
-
Josh Johnson
-
Mark Buehrle
trade, and then Tampa Bay got him for marginal prospect
Derek Dietrich
. Escobar wore out his welcome in Atlanta and Toronto, but hasn't had any issues in Tampa. The Rays didn't panic when Escobar was hitting under .200 in mid-May. He turned things around and has had a solid .258/.333/.370 season. These days, that's good offense from a shortstop.
8. Dodgers sign Hyun-Jin Ryu.
For all the talk about the Dodgers' enormous payroll, they brought Ryu over from Korea with a $25.7 million bid and a reasonable six-year, $36 million contract. That's about $10 million a year for a pitcher who has gone 14-7 with a 2.97 ERA. That's only $8 million more than the Cubs gave for four years of
Edwin Jackson
, who has a 4.74 ERA. Chalk it up to good scouting.
7. A's trade for Jed Lowrie.
Oakland had terrible production from its shortstops in 2012 and only had to give up platoon first baseman/DH
Chris Carter
to acquire the injury-prone Lowrie. It was a trade with little risk for the A's but high upside: Yes, Carter had power but he was never going to be a star with all of his strikeouts. Lowrie has stayed healthy and been one of the top hitting shortstops in the majors.
6. Reds trade for Shin-Soo Choo.
This was a perfect example of a team identifying an obvious need -- the Reds needed a leadoff hitter -- and going out and solving the problem. Even though he struggles against left-handers, Choo is second in the National League in on-base percentage, walks and runs. His defense in center field has been a minor liability instead of a major one and the Reds are heading back to the playoffs.
5. Red Sox acquire good clubhouse guys.
More importantly,
Shane Victorino
,
Mike Napoli
and
Jonny Gomes
also produced on the field. Victorino was a signing I liked even though it was widely panned -- I liked the idea of having a second center fielder in right field and a good option in case
Jacoby Ellsbury
got injured. Victorino's offense has been a bonus and his defense has been terrific.
4. Marlins give Jose Fernandez a job out of spring training.
Fernandez didn't pitch above A-ball last year, so when he broke camp with the Marlins everybody wondered why the desire to rush him and start his service time when the Marlins weren't going to be any good. But sometimes you have to do the obvious thing: Like Dwight Gooden in 1984, Fernandez
had
to be in the major leagues because he was that good. All Fernandez did was post a 2.19 ERA and hold batters to a .522 OPS, the lowest for a starter since
Pedro Martinez
in 2000.
3. Pirates sign Russell Martin.
The Pirates made several smart moves -- trading for
Mark Melancon
, giving the closer job to
Jason Grilli
, signing
Francisco Liriano
(although that one produced more upside than anyone could have imagined) -- but Martin was an under-the-radar move that solved a huge problem for the Pirates. Last year, the Pirates allowed 154 stolen bases while catching just 19 basestealers, an abysmal 11 percent caught stealing rate. Thanks to Martin, they've cut that total to 93 steals and 43 caught stealing, a 32 percent rate (Martin has caught 40 percent). Martin is also one of the better pitch framers around and his offense has been about league average. With what he's meant behind the plate, he could see some down-ballot MVP support.
2. Dodgers call up Yasiel Puig.
It looks like an easy decision in retrospect, but this was still a 22-year-old kid with just 67 games of minor league experience, 40 of them above A ball. It took some guts to call him up in early June, even if the move was born out of a little desperation. Give credit to the Dodgers correctly analyzing the raw ability and believing he would hold his own in the majors.
1. Cardinals move Matt Carpenter to second.
You can probably count the number of successful third base-to-second base conversions on one hand; players rarely move up the defensive spectrum to a tougher position, which is why many expected that Carpenter would soon return to a utility role. But in Carpenter the Cardinals had the perfect pupil: A player in his second season who wanted to break into the starting lineup, but also a 27-year-old with more maturity than most second-year players. He's a smart player with a good ethic. Plus, the Cardinals
knew
he could hit, not that they expected a .324 average and 55 doubles.
August, 8, 2013
8/08/13
11:33
AM ET
We have a great matchup Thursday afternoon between rookie starters Jose Fernandez of the Marlins and Gerrit Cole of the Pirates. Tristan Cockcroft discussed that matchup and some great young pitching combos in the majors in this edition of SweetSpot TV.
I thought I'd also rank my top 10 young pitchers, based on predicted long-term success. I considered rookies or guys with limited exposure before this season, so I included Matt Harvey (he just missed rookie eligibility) but not Patrick Corbin (more than 100 innings last year) or Trevor Rosenthal (a reliever, for now).
One interesting note: Nine of the 10 are National Leaguers.
1. Matt Harvey, Mets
Repertoire: Fastball (average velocity: 95.8 mph; max: 100.1), slider, curveball, changeup.
Fun fact: Harvey's average fastball velocity is tops in the majors among qualified starting pitchers.
What makes Harvey so tough is that four-pitch offering, all quality pitches, all thrown with command. He will hang the slider from time to time and I wonder if the curveball eventually becomes his No. 2 offering after his great fastball. He leads the majors in lowest OPS allowed -- better than Clayton Kershaw. The reason I like him more than Fernandez is primarily the age difference; Harvey is four years older and a better bet to stay healthy. Fernandez, even if handled carefully, still has to get through those precarious age 21 to 23 years.
2. Jose Fernandez, Marlins
Repertoire: Fastball (average: 94.8; max: 99.0), curveball, slider, changeup.
Fun fact: In 81 plate appearances ending with his slider, batters have six hits, 49 strikeouts and no walks.
Fernandez doesn't quite have Harvey's command yet, but he's just as tough to hit. In 21 starts, he's allowed just 21 extra-base hits -- 11 doubles, two triples and eight home runs. Compare that extra-base ratio to, say, Mike Minor, who is a pretty good pitcher. Minor has allowed 53 extra-base hits. Fernandez's curveball and slider are both proving to be wipeout pitches. Check out the heat map below: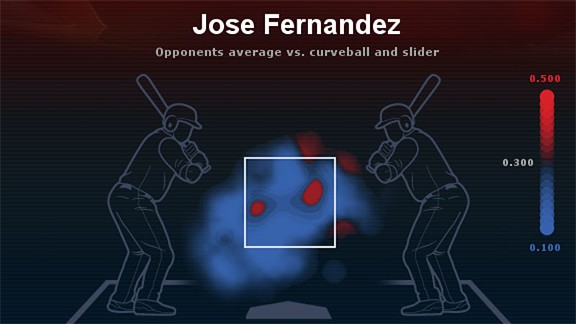 ESPNJose Fernandez is 8-5 with a 2.54 ERA thanks to a curveball and slider that batters can't touch.
That's a lot of blue. Batters are hitting just .127 against those two pitches -- with 89 strikeouts, 11 walks and two home runs. If Fernandez gets ahead in the count with his fastball, batters basically have no chance. Right now, he throws his curve about twice as often as the slider; both pitches have big movement and that slider reminds me of the one a young Kerry Wood threw, sweeping across the plate, nearly impossible to make contact with.
3. Shelby Miller, Cardinals
Repertoire: Fastball (average: 93.7; max: 97.9), curveball, changeup.
Fun fact: Among pitchers with 100 innings, the only ones with a higher percentage of fastballs thrown are Bartolo Colon and Juan Nicasio.
Miller has basically been a two-pitch guy -- fastball, curve. If he can refine that changeup, he'll be even tougher against left-handed batters.
4. Julio Teheran, Braves
Repertoire: Fastball (average: 91.9; max: 95.7), slider, curveball, changeup.
Fun fact: Since getting roughed up in his first three starts, Teheran has a 2.38 ERA since April 23, fifth best in the majors.
Teheran has made the slider his No. 2 offering and essentially ditched the changeup he used in the minors (he's throwing it just 5 percent of the time). He may need to eventually bring back that pitch, however, as left-handed batters have an .804 OPS off him.
5. Gerrit Cole, Pirates
Repertoire: Fastball (average: 95.8; max: 101.0), slider, curveball, changeup.
Fun fact: Cole has thrown the fastest pitch of any starter this year.
Cole's velocity is as good as any starter in the majors, but right now his fastball isn't a swing-and-miss pitch; it's straight and batters see it pretty well. Among pitchers with at least 10 starts, Cole's swing-and-miss percentage on his fastball (11.8 percent) ranks 106th out of 153 pitchers. He's shown good command of it, but it will be the development of his off-speed stuff that determines whether he'll be an ace or settle in as a No. 2 or No. 3 guy.
6. Chris Archer, Rays
Repertoire: Fastball (average: 94.9; max: 98.8), slider, changeup.
Fun fact: In eight starts from June 23 to Aug. 2, he went 5-1 with a 1.80 ERA and .185 average allowed.
Archer was on a roll, commanding his fastball after some shaky outings after his June recall from the minors, but he left Wednesday night's start with a tight forearm. Obviously, let's hope he's OK. Archer primarily uses that explosive fastball and wicked slider; his changeup hasn't yet proven to be an effective pitch. You can get by with being a two-pitch guy, but he'll get more strikeouts if the changeup develops.
7. Zack Wheeler, Mets
Repertoire: Fastball (average: 94.5; max: 98.4), slider, curveball, changeup.
Fun fact: The five picks ahead of him in the 2009 draft: Stephen Strasburg (Nationals), Dustin Ackley (Mariners), Donavan Tate (Padres), Tony Sanchez (Pirates), Matt Hobgood (Orioles).
There's no denying the upside talent here, but he's a long way from being a polished pitcher. While he brings it in the mid- to upper-90s, his fastball hasn't yet been a dominating pitch. He's allowed seven home runs off it in nine starts with 27 strikeouts and 22 walks. He's thrown the changeup only 32 times, so that remains a pitch to work on, as well. For Wheeler, it's all about command. We'll see if he gets there.
8. Hyun-jin Ryu, Dodgers
Repertoire: Fastball (average: 90.1; max: 94.6), changeup, slider, curveball.
Fun fact: He's 5-1 with a 1.83 ERA at home.
At 26, he's the oldest guy here, but he's proven to be the polished left-hander the Dodgers believed they were getting when they brought him over from Korea. His fastball may not match up with the guys above him but he's a four-pitch guy who commands his pitches and keeps the ball down in the zone.
9. Tony Cingrani, Reds
Repertoire: Fastball (average: 92.1; max: 96.3), curveball, slider, changeup.
Fun fact: Among those with at least 10 starts, Cingrani's swing-and-miss percentage against his fastball is sixth best in the majors.
Cingrani basically throws high fastballs, relying more on deception than velocity. He throws the fastball 81 percent of the time -- even more often than Miller -- but hasn't reached 100 innings yet. Some believe hitters will eventually catch on to him, and he'll always be a little prone to home runs, but I think it's a package that can still work, especially if the other offerings improve.
10. Jeff Locke, Pirates
Repertoire: Sinking fastball (average: 90.2; max: 94.8), curveball, changeup.
Fun fact: Locke has seven starts allowing zero runs. Only Hiroki Kuroda with eight has more. (Miller and Yu Darvish also have seven.)
Locke has his skeptics, due to his fastball velocity and poor strikeout rate. It's possible the skeptics could be right -- he's allowed 27 hits in 16 1/3 innings in his past three starts. But he does keep the ball down in the zone (only seven home runs allowed). You can win without racking up big strikeout totals but he'll have to find that balance between issuing too many walks (4.2 per nine) and throwing too many hittable pitches to maintain long-term success. I like his chances more than most, but I understand the reasons not to believe in him.
June, 2, 2013
6/02/13
12:40
AM ET
By
Christina Kahrl
| ESPN.com
When it comes to this year's rookies, as fans I think we sort of came into this season like the kid at Christmas the year after you got the bike
and
the pony, or the new car
and
the Red Ryder BB gun. Because, let's face it, the year after
Mike Trout
and
Bryce Harper
arrived on the scene had to be something of a letdown, right?
Turns out, not so much, at least not in the National League. The difference is that this year the kids are all right on the mound.
Hyun-Jin Ryu
has been one of the few bright spots on a Dodgers team desperate for something worth bragging about beyond its price tag. But the Cardinals'
Shelby Miller
just got his ERA down to 1.82, almost a full run lower than Ryu's, while catching the Korean southpaw in the win column for at least a day, what with Ryu set to take the mound Sunday.
It's a showdown between a pair of outstanding candidates who press many of the hot-button issues about Rookie of the Year voting every season. Some fans -- and perhaps more than a few voters -- might favor the future value they anticipate when they see Miller. Some might have qualms about voting for a foreign leagues veteran, MLB-rookie status or no. But as long as Miller keeps pitching like a man who belongs with teammate
Adam Wainwright
in the conversation on who the best pitcher in the league might be, two months into the season it's Miller's race to win -- if he pitches all year.
[+] Enlarge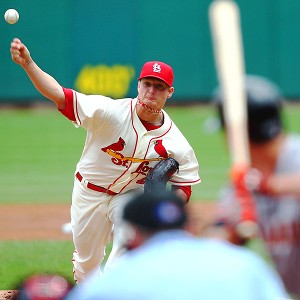 Dilip Vishwanat/Getty ImagesShelby Miller improved to 6-3, and lowered his ERA to 1.82, in the Cardinals' win over the Giants.
That said, it
is
a long season, and as the Nationals' decision to shut down
Stephen Strasburg
in 2012 reflected, pitchers might be excused for factors that have nothing to do with performance.
Happily, the NL field for first-year talent is wider than that tandem, even as Miller and Ryu contend for headlines. Just from among the hurlers,
Jose Fernandez
might have to labor in relative obscurity with the Marlins, marooned in the depths of a new-park hangover that has many Miami fans and voters asking themselves the coyote-ugly question about their franchise a year or two too late. But that has nothing to do with Fernandez's talent, on full display as he mowed down Mets on Saturday. Like Miller, he's striking out more than a man per inning, good enough to put him in the top 10 among NL starters in K/9. If it weren't for Ryu
and
Miller, even in the spring of
Matt Harvey
, we'd be talking about Fernandez a lot more. So you can imagine how
Julio Teheran
, doing well as a rotation regular on a first-place Braves team, feels.
This year, you can really only say one NL rookie position player is generating anything like the same buzz. Atlanta's
Evan Gattis
deserves the love he's getting, not for the backstory but for the production. This is not
Chris Coste
2.0 -- not that a guy like Coste wasn't as easy to root for as Gattis, but when you're slugging north of .600 two months into the season, you're not a passing fancy, you're somebody hitting so well that demoting an eight-figure salary becomes
something more than merely speculative
.
Gattis is doing for position players what Miller and Ryu have done for the pitchers in terms of sucking all the oxygen out of the room. As a result,
Jedd Gyorko
of the Padres might not merit more than a courtesy mention now, but I wouldn't count him out over the next four months. Gyorko has the power to slug .450 or better despite having to call Petco Park home as a rookie; if he cranks 60 extra-base hits while helping the Padres finish around .500, that's an amazing season.
You could say much the same for the pair of rookies starting up the middle for the Diamondbacks. However overmuch attention has been given to Kirk Gibson's clubhouse makeover or the likely big-picture penalties for trading away
Justin Upton
, the work Arizona is getting from
Didi Gregorius
at shortstop (and
A.J. Pollock
in center field) has helped propel the Snakes to first place in the NL West. As easy as it might be to say Gregorius has been helped by the D-backs' bandbox ballpark, three of his four homers have come on the road. If he starts slugging at home, too, how do you count out a slick-fielding shortstop with power on a first-place team?
Even with their delayed call-ups, by this time last year Trout and Harper had already been strutting their stuff. Trout was putting up an .887 OPS for an Angels lineup that needed all the help it could get overcoming
Albert Pujols
' slow start. Harper was hitting .274/.357/.504 in a little more than a month. They might not have been brought up until the end of April, but you already knew we were in for something special. But this year's class? Its players might not compare directly, but they're doing more than enough to pay attention to, now and down the stretch.
The American League, on the other hand ... well, you have to give the Rangers some unexpected due. I don't know if anyone really expects
Justin Grimm
or
Nick Tepesch
to still be in this conversation at the end of June, let alone September, but their contributions have clearly helped keep the Rangers' riding to the league's best record. But
Conor Gillaspie
?
Yan Gomes
? That they're among the top WAR-generating rookies in the AL so far just means that nobody has shown enough, for long enough, with the expectation that he'll still have a job at the All-Star break. I wouldn't rule out
Nick Franklin
or
Jurickson Profar
in partial seasons. I also wouldn't rule out that the eventual AL Rookie of the Year hasn't been called up yet. Or possibly even drafted yet -- who said Christmas comes just once per year?
Christina Kahrl covers baseball for ESPN.com. You can follow her on Twitter.
April, 18, 2013
4/18/13
12:15
PM ET
As you probably know, strikeouts continue to climb higher and higher.
In the chart at the right, are strikeouts per game:
As Dave Cameron
wrote last week
on FanGraphs,
Over the past 30 years, the strikeout rate in MLB has gone from 14.0 percent to the 20.0 percent it stands at today. It took 24 years to move from 14 percent to 17 percent, but it's only taken six years to move from 17 percent to 20 percent. Those six years correspond perfectly to the PITCHF/x era.
Dave cites a
piece from James Gentile
that shows called strikes are rising much faster than swinging strikes, the suggestion that perhaps there is a relationship between the installation of the PITCHf/x cameras, their affect on umpires and thus the rapid growth in strikeouts in recent seasons.
Bill James also tossed out a theory that it's natural that strikeouts increase throughout history -- for pitchers, strikeouts are good, so it's a process of natural selection; but for hitters, strikeouts (to a point) aren't necessarily bad. You can strike out and still be a good hitter; but few pitchers succeed long term without striking out a certain percentage of hitters.
All this is very interesting and no doubt holds some truth. But maybe there is a simpler explanation: There are a lot of unbelievably talented young pitchers right now.
Look at the next generation of starters on the way, guys who have made fewer than 15 career starts:
Matt Harvey
,
Jose Fernandez
,
Shelby Miller
,
Julio Teheran
, Hyun-jin Ryu,
Trevor Bauer
,
Tyler Skaggs
,
Wily Peralta
,
Dan Straily
. That's on top of last year's rookie group that included
Matt Moore
,
Jarrod Parker
,
Wade Miley
,
Yu Darvish
and
Wei-Yin Chen
.
Look at some other pitchers who debuted since 2008:
Clayton Kershaw
,
David Price
,
Johnny Cueto
,
Gio Gonzalez
,
Max Scherzer
,
Jeff Samardzija
,
Mat Latos
,
Doug Fister
,
Madison Bumgarner
,
Jordan Zimmermann
,
Kris Medlen
,
Brett Anderson
,
Stephen Strasburg
,
Chris Sale
,
Alexi Ogando
,
Jeremy Hellickson
,
Brandon Beachy
and
Lance Lynn
. Not to mention a plethora of relievers -- led by
Craig Kimbrel
and
Aroldis Chapman
-- throwing 95-plus mph.
Think of all the advancements that have helped pitchers over the past 20 years -- meaning tools or approaches this generation of young starters has benefited from:
Arms are better protected, not just in the minors and early in major league careers, but on the high school and college levels.
Better coaching, teaching proper mechanics, from the youth levels on up, including private pitching coaches.
Advancements in medicine and injury rehab -- the success rate for Tommy John surgery, for example, has improved.
Video technology. Once used mostly by hitters, now another weapon for pitchers to take advantage of.
Beyond that, these pitchers are bigger, stronger and throw harder than ever before. Consider Harvey, the Mets phenom who has a 2.21 ERA through his first 13 major league starts, with 95 strikeouts in 81.1 innings. He's 6-foot-4, 225 pounds or so. Maybe 25 years ago he's playing basketball or packs on 50 pounds and becomes an offensive lineman in football. Now more guys like him are playing baseball.
Some of these up-and-coming stars take the hill tonight. The guy to watch is Fernandez, the 20-year-old rookie for the Marlins who was in high school two years ago. He's been terrific in his first two starts, throwing mid-90s fastballs and showing a good feel for pitching. (He opposes Reds rookie
Tony Cingrani
, just called up to replace the injured Cueto; in three Triple-A starts, he didn't allow a run and struck out 26 in 14.1 innings.) Teheran faces the Pirates. And then Friday we have must-watch TV: Harvey against Strasburg at Citi Field.
Eric Karabell and I discuss five of these guys in the video above. Here's how I would rank them:
1. Matt Harvey, Mets.
After 10 successful starts last year, Harvey's first three outings have been pure domination. Right now, he doesn't look like a future ace, but is
already
an ace. His fastball averages 94 and hits 97. Now, he has faced the Padres (without their two best hitters), the Phillies and the Twins so far, so we should restrain our enthusiasm a little bit until he faces better lineups, but if his changeup continues to improve -- and batters are 0-for-14 against it so far -- watch out.
2. Jose Fernandez, Marlins.
Despite the lack of experience, he pitches with the confidence of a veteran. He matches Harvey with his mid-90s velocity and relies on a curveball as his primary off-speed pitch. He's thrown his changeup only 16 times in two starts, but if he masters that pitch, well ... watch out.
3. Shelby Miller, Cardinals.
He pitched Wednesday night, retiring 15 Pirates in a row at one point. He's another fastball/curveball guy, although his fastball is a tick below what we've seen from Harvey and Fernandez. After a rough first half at Triple-A in 2012, Miller seemed to put everything together down the stretch. His strong start -- .169 average allowed, 18 K's and 5 walks in three starts -- bodes well that his command continues to improve.
4. Hyun-jin Ryu, Dodgers.
The rookie from Korea doesn't throw as hard as these guys, but has shown to be as advertised: A polished left-hander in the
David Wells
mode (which includes physique as well as stuff).
5. Julio Teheran, Braves.
The one guy of these five who has struggled so far. He had a monster spring training (26 IP, 7 H, 3 R, 9 BB, 35 SO) but it hasn't translated to a successful start, as he still has issues commanding his off-speed stuff.
If you haven't seen any of these guys pitch, check them out. And you'll understand one reason why strikeouts are still on the rise.
April, 3, 2013
4/03/13
10:00
AM ET
Maybe we'll try and do this each morning. Maybe we'll get tired of doing it after two weeks. Anyway, quick thoughts from Tuesday's games.
The story of the night obviously was Yu Darvish's bid for a perfect game. He become the fifth pitcher in 25 years to lose a perfect game with two outs in the ninth inning, joining the Blue Jays' Dave Stieb, the Mariners' Brian Holman (I'll never forget watching that one; ex-Mariner Ken Phelps hit a pinch-hit home run, the final home run of his career), the Yankees' Mike Mussina and, of course, Armando Galarraga. I'm sure Darvish went to bed thinking of that first-pitch fastball to Marwin Gonzalez. I'll suggest this won't be the first no-hit bid against the Astros this year, and certainly not the only no-hit bid of Darvish's career. If he commands his fastball like he did in this game, watch out American League. Here's more on Darvish's near-perfecto from ESPNDallas' Jean-Jacques Taylor.

After that game ended, watched some of Hyun-Jin Ryu's debut for the Dodgers. The Korean free agent looked impressive, working inside to lefties/outside to righties (see heat map below) and working quickly. He did allow 10 hits, all singles, but didn't walk anybody, and a couple of errors led to two unearned runs. My first thought was he reminded me of David Wells -- like Wells, he has a few extra pounds on him as well -- and then I heard Jim Kaat make the same comparison. He's not overpowering, topping out at 92 mph, but seemed to have a good feel out there. Plus, he wears No. 99, so you have to love that.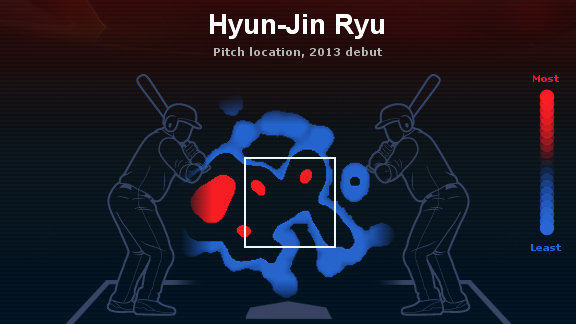 ESPN Stats & InformationKorean free agent Hyun-Jin Ryu had an impressive first outing for the Dodgers.
December, 10, 2012
12/10/12
12:55
PM ET
So the Dodgers are close to
officially signing
Zack Greinke
for a huge pile of gold and also signed Korean left-hander
Hyun-Jin Ryu
.
As Buster Olney
writes today

, pressure on the Dodgers to win will be enormous. But will they be the team to beat in the NL West? Buster points out:
The Dodgers, as currently constructed, could have a major defensive problem at shortstop with Ramirez. They look as if they could be vulnerable against left-handed pitching, and although they have again invested heavy dollars in their bullpen, there are questions about the quality of that group.
Let's have a little fun here and see what the potential of this team could be, since most fans will view this team through the lens of ultimate expectations. For each player, let's assume his best season of the past three represents his upside ability (which leaves out Greinke's 2009 Cy Young season or
Hanley Ramirez
's last monster season). Using each player's WAR from that season, we can then estimate a team wins total. To "cheat" even further, I used the highest WAR from either FanGraphs or Baseball-Reference.
LF
Carl Crawford
, 2010: 7.6 (FG)
2B
Mark Ellis
, 2010: 3.3 (FG)
1B
Adrian Gonzalez
, 2011: 6.7 (B-R)
CF
Matt Kemp
, 2011: 8.8 (FG)
RF
Andre Ethier
, 2012: 3.5 (B-R)
SS Hanley Ramirez, 2010: 4.6 (FG)
3B
Luis Cruz
, 2012: 2.6 (FG)
C
A.J. Ellis
, 2012: 4.1 (FG)
SP
Clayton Kershaw
, 2011: 6.7 (FG)
SP Zack Greinke, 2010, 2012: 5.1 (FG)
SP
Josh Beckett
, 2011: 5.5 (B-R)
SP
Chris Capuano
, 2012: 2.1 (FG)
SP
Chad Billingsley
, 2010: 4.4 (FG)
(Ryu is a rotation candidate, especially if Billingsley or
Ted Lilly
don't recover from injuries.)
RP
Brandon League
, 2011: 1.3 (FG)
RP
Kenley Jansen
, 2012: 1.9 (B-R)
RP
Ronald Belisario
, 2012: 1.4 (B-R)
RP
Javy Guerra
, 2011: 1.2 (B-R)
RP
Matt Guerrier
, 2010: 1.0 (B-R)
RP
Scott Elbert
, 2012: 0.9 (B-R)

Add it all up and we get 72.7 wins above replacement. Assuming a replacement-level standard of 50 wins, we're talking 122 wins or so, which I think just might pull out the NL West title. And you could probably do this exercise for every contending team and get to 100 wins.
Of course, not all these players will equal their best seasons of recent vintage. Crawford isn't going to be a seven-win player in 2013 and Ramirez's best days are in the past. Kershaw and Greinke are an excellent 1-2 punch, but the rest of the rotation has a high degree of volatility and health concerns (although with plenty of depth, including
Aaron Harang
). I'd pin their over-under in the low 90s.
Should the Dodgers be the favorite in the NL West over the Giants? Considering the Giants overachieved in some regards last year, I don't think it's unfair to pin that label on L.A.
What do you think?