April, 26, 2014
4/26/14
12:14
PM ET
By
Christina Kahrl
| ESPN.com
Albert Pujols' hot start has been tremendously good news for the Angels. Of course, it's always a good thing to have the big guy bash nine homers in the season's first month. And after an injury-marred 2013 season, it certainly helps that it appears not all of Arte Moreno's investment in him has been in vain. And paired with Mike Trout's reliable "best player in baseball" act, the Angels are cranking out a league-leading 5.7 runs per game. They're both swinging among the hottest bats in baseball in the early going. Pujols' OPS+ of 179 is
the second highest in the league
, while Trout ranks ninth (157).
But the other reason why it's key? Imagine where the Angels' lineup would be without those two, because league-leading offense or not, a lot of things aren't working out perfectly well for the Angels' offense in the early going.
[+] Enlarge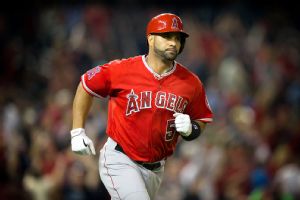 AP Photo/Pablo Martinez MonsivaisAlbert Pujols is leading the Halos' charge on offense, but how many Angels are following?
First, there's the problem with stocking their outfield. Starting left fielder
Josh Hamilton
and starting right fielder
Kole Calhoun
both went down with injuries after hot starts, and won't be back from the DL until the back end of May. Their playing time is going to a combination of
J.B. Shuck
,
Collin Cowgill
and
Brennan Boesch
. Shuck had a decent 2013 season, hitting .293/.331/.366, but he's at best a fourth outfield type. They're all pretty much the real-world definition of replacement-level talent, not in terms of the numbers assigned to a replacement-level hitter in models like WAR, but in terms of describing what you wind up with when you lose two starters and your farm system doesn't have ready alternatives.
That's a matter of unhappy accidents, but some of the choices the Angels made as a matter of design have turned out even worse. Designated hitter
Raul Ibanez
is looking done, for starters. Sure, you can say that about anybody hitting .157/.224/.314 after three weeks, and if you're a big Ibanez fan, you might reasonably point out that his BABIP (now at .170) will come around. The problem is that Ibanez is getting reliably beaten up at home plate, as he's struggling with breaking pitches and off-speed stuff. If you look at his
Hot Zone data here
or his PitchF/X outcomes over at
Brooks Baseball
via Baseball Prospectus, you'll find that he isn't killing pitches up the zone, and is getting eaten up low and outside. Another problem for a power hitter like Ibanez is that he isn't getting balls in the air. Instead, he's generating a career-worst 1.40 ratio of grounders to fly balls when he isn't striking out at a career-worst 26.3 percent clip. If he doesn't start winning those battles at home plate, there won't be a BABIP level to regress to. As many times as people have been saying Ibanez is done (at least since 2011, if not earlier), this time it might be true.
Over at third base, thanks to
his
cold start,
David Freese
, former World Series hero, is losing at-bats to
Ian Stewart
, former washout with the Rockies and Cubs. Freese has been brutal in the early going, with an OPS at .418 through Friday, while striking out in nearly 30 percent of his at-bats as he struggles to adjust to a new league. Meanwhile, Stewart's shown some early power, ripping six extra-base hits in 41 at-bats -- while also striking out 16 times already, just going to show that the same whiffery that undermined his career in Colorado and Chicago when he was healthy enough to play hasn't gone away.
But perhaps even more surprising when talking about these two? It's worth keeping in mind that while Stewart (2008) broke through to the major leagues two years before Freese (2010), he's two years younger than Freese. It wouldn't surprise me at all to see Stewart keep cadging at-bats and spot starts against right-handed pitching all season, especially if Freese doesn't get going.
Which brings me to a last point about the Angels to keep in mind: They're
old
. Averaging 30.1 years of age, the lineup is fourth-oldest in the American League, trailing just the veteran-spackled lineups of the Red Sox, Yankees and Tigers. The only guys who might regularly play in the lineup this year who bring that number down are Trout and (when healthy) Calhoun. Hitters like
Howie Kendrick
,
Erick Aybar
,
Chris Iannetta
and Freese, all in their age-30 seasons or older, aren't going to get any better, having long since moved beyond fulfilling those dreams some had for them when they came up.
So Angels fans, just keep hoping you get more of the same as far as the Albert of old turning back up, paired up with Mike Trout being Mike Trout. Because even after Hamilton and Calhoun come back, you're going to need them.
Christina Kahrl writes about MLB for ESPN. You can follow her on Twitter.
December, 27, 2012
12/27/12
10:00
AM ET
By
Christina Kahrl
| ESPN.com
Say you're a team that has a problem, like losing an everyday player to free agency. Market solutions tend to be expensive, whether in cash spent or prospects dealt. But some teams already have potential solutions for their seeming offseason needs on hand, thanks to the return of players who missed most or all of 2012. As a result, they haven't had to lift a finger to fix what might have appeared to be a problem.
Consider the Cardinals' lot with
Kyle Lohse
headed to parts unknown for whatever the market will bear. Their rotation isn't simply going to be fine, it could be better because former Cy Young winner
Chris Carpenter
should be firing on all cylinders this season. If the Cardinals decide to hold onto fellow Cy-worthy ace
Adam Wainwright
, they'll have that tandem together again for the first time since 2010, a daunting prospect for any NL Central challenger.
So, with a hat-tip to Simple Minds' song, "Don't You Forget About Me," here's a non-comprehensive list of guys who missed most of 2012 who you shouldn't forget will be back in 2013.
[+] Enlarge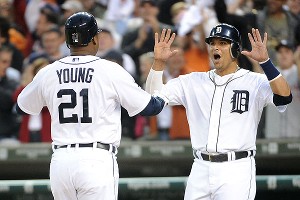 Harry How/Getty ImagesIn 2013, the Tigers will swap the at-bats of Delmon Young for those of Victor Martinez.
It wasn't that long ago that
Victor Martinez
ranked as a premium producer as a catcher, first baseman and DH for the Indians and Red Sox. Certainly, that's what the Tigers signed him up for when they gave him a four-year, $50 million deal after 2010. But after just one season (and an .850 OPS), Martinez missed all of 2012 with a torn ACL in his knee.
Torii Hunter
's addition might have commanded the early-winter headlines, but V-Mart may be the biggest (re)addition to the lineup, filling the at-bat gap left by the unlamented departure of
Delmon Young
while providing an upgrade on offense. If V-Mart and Prince split the playing time across first base and the DH slot, the Tigers would also spare themselves' Prince's leaden glovework as an everyday disaster. Dan Szymborski of ESPN Insider projects Victor Martinez to produce a .770 OPS; not great, but a big improvement on Young's .707 in 2012.
Carl Crawford
is a bit of a gimme for that name outfielder you don't want to forget about. (As if.) Having injured and reinjured himself in Boston trying to make up for an ugly first season with the Red Sox, he was dealt to the Dodgers after already getting shut down. He's expecting to be ready in time for Opening Day. Could he yet prove to be worth the $20 million per year so many sabermetricians confidently accepted as his value when he signed his monster deal with the Red Sox? Well, that's a bit much, especially if he lives up -- or more appropriately down -- to his ZiPS-projected .746 OPS.
Behind the plate, the guy I'm most interested in seeing back in action after a too-long absence is
Wilson Ramos
of the Nationals. His .779 OPS in 2011 makes a great basis for projecting him to be an All-Star catcher. The Nats are publicly going through the rigmarole of saying Ramos will have to come back from his torn ACL and fight
Kurt Suzuki
for playing time, but that's one of those low-threshold challenges -- Ramos should win, and soon thereafter, he'll be a star.
Top prospects on the mend also deserve some mention here, because their absence in 2012 doesn't mean their teams forgot about them for 2013.
Joe Benson
missed most of the season with injuries to his wrist and knee, but he'll head into spring training with a shot at winning the Twins' center-field job outright in head-to-head competition with
Aaron Hicks
. The Rays'
Brandon Guyer
missed most of 2012 with a shoulder injury, but the rose-colored view of his power and contact-hitting skills might make you think he could hit upwards towards .300 and slug in the high .400s from an outfield corner or the DH slot, making it that much easier to leave Wil Myers in Durham to keep the service-time clock of the former top Royals prospect acquired for
James Shields
at zero.
[+] Enlarge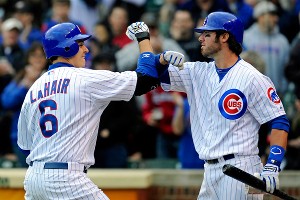 David Banks/US PresswireEven an average season from Ian Stewart, right, would give the Cubs a slash-line bump at third.
Among relievers,
Mariano Rivera
gets pride of place, but there's been plenty said about him already; it isn't like the future Hall of Famer slipped off anyone's radar after a season spent on the shelf. Instead, I'm thinking we shouldn't forget
Sergio Santos
and his importance to the Blue Jays. Santos is expected to be 100 percent by Opening Day in his recovery from surgery on his labrum, and that's a big part of the reason why the hyperactive Jays have yet to make any major moves to repair their 'pen this winter.
I'm also curious about
Nick Masset
of the Reds, and if he can return to be a solid set-up man. Worth a win per year out of the pen in 2009 and 2010, Masset started to melt down in 2011 before getting his torn right shoulder capsule repaired after missing all of 2012. If he's back at full strength, he might be the perfect right-handed foil to
Sean Marshall
for handing off save opportunities to
Jonathan Broxton
. It certainly wouldn't hurt their latest attempt at keeping
Aroldis Chapman
in the rotation.
As I touched on last year
when Theo Epstein signed him
,
Ian Stewart
wasn't necessarily a great bet to thrive at the plate by moving closer to sea level as an ex-Rockie. That said, Stewart's wrist surgery ended his season more than three months early, contributing to the Cubs' woeful .201/.289/.322 cumulative line from their third basemen. Even a dead-cat bounce from Stewart would be better than that. What was good enough to try in 2012 seems worth dialing up a do-over for 2013.
At second base,
Brian Roberts
of the Orioles might seem the name to know: A premium leadoff hitter with career .356 OBP in the top slot, and someone playing at an up-the-middle position? This sounds
exactly
like the guy the O's need considering the .293 OBP they got from the top two slots in 2012. Unfortunately, Roberts hasn't played a full season since 2009, and between his 2011 concussion and his 2012 surgery to repair the labrum in his hip, he's going to be tough to count on. So instead, let's peg
Scott Sizemore
of the Athletics as the second baseman you shouldn't forget about. He's coming back from a torn ACL, once he escaped the Tigers his combination of power and patience produced at .778 OPS for Oakland in 2011, and he's reportedly moving back to the keystone this spring.
Honorable mentions are legion, especially among pitchers: Japan's
Tsuyoshi Wada
might finally make his Orioles debut and win a rotation slot after missing his rookie season with Tommy John surgery;
John Lackey
will have plenty to prove after an ugly 2011 intro to Red Sox Nation (6.41 ERA), but if more closely resembles the mid-rotation workhorse he was with the Angels, their shot at keeping up in the AL East looks much more realistic. And from among the arms expected back for the second half,
Michael Pineda
for the Yankees,
Colby Lewis
and
Neftali Feliz
for the Rangers,
Daniel Hudson
for the D-backs and the Braves'
Brandon Beachy
should all make an impact on the postseason picture.
Christina Kahrl covers baseball for ESPN.com. You can follow her on Twitter.
April, 8, 2012
4/08/12
8:00
AM ET
By
Christina Kahrl
| ESPN.com
With initial active rosters picked, we've seen a few of the same long-term trends perpetuate themselves in terms of roster set-up. Despite the less crowded April schedule that might seem to make carrying seven relievers, let alone eight, unnecessary, 23 of 30 teams went with the now-standard 13-12 split between position players and pitchers.
If you're one of those people who loved the more aggressive brand of in-game management from the '70s and '80s, with managers reaching into deeper, well-stocked benches to pinch-hit for defensive specialists or pinch-run for basepath slugs, you might be ready to rail against the seven-man bullpen. But you can do that for only so long before you have to come to the grudging concession that it's here to stay like other unpleasantries like interleague games, 10 playoff teams per season or Simon Cowell.
The extent to which conformity to the 13-12 is a fact of life is reflected in who most of the odd ducks were. The old school 14-11 spread -- "old" if you can hardly remember the '90s -- is being used by just five teams: the Tigers, Angels, Athletics, Pirates and Rockies. If you think this means any one of their managers want to create more opportunities in their lineups or any of
their
general managers have elected to let them, guess again. All five clubs are just exploiting the lighter schedule and not carrying their preferred fifth starter of the moment. Give them a week or so, and they'll more than likely be down at 13-12.
That leaves two teams who weren't at 13-12 or 14-11: The Astros and Red Sox, who have both gone with eight-man bullpens. In April. That's while the Sox get to play 12 games in the first 16 days of the season, while the Astros play just six in their first nine days. Even allowing for the questions both teams have about their rotations, that's a lot of guys standing around in the bullpen instead of the dugout, and the body account alone might seem to be a logistical challenge for Bobby Valentine in Boston and Brad Mills in Houston. Pitchers need work to stay sharp, the same as any other kind of ballplayer, and giving guys reliable time on the mound might not wind up being the highest priority for the two skippers.
The Astros have the excuse of carrying a Rule 5 pick, hard-throwing
Rhiner Cruz
from the Mets' organization (as well as shortstop
Marwin Gonzalez
from the Cubs). That's a straightforward reflection of new GM Jeff Luhnow's priority: adding talent to an organization short on it, by whatever means necessary.
But the Red Sox situation is obviously a reflection of the injury stack they've endured. Closer
Andrew Bailey
out for months, reliever
Bobby Jenks
still hurt, and lefties
Andrew Miller
and
Rich Hill
are also on the shelf. To some extent, the early weeks might represent a form of live-fire extended spring training, as Valentine gets to sift through what he has left to pick his seven relief keepers once left fielder
Carl Crawford
is ready to come off the DL.
From among the opening rosters, here are a few situations that should be interesting to follow to see how they work out in terms of playing time.
Christina Kahrl covers baseball for ESPN.com. You can follow her on Twitter.
December, 9, 2011
12/09/11
1:40
AM ET
By
Christina Kahrl
| ESPN.com
Third base and the Cubs? It's as if
Aramis Ramirez
hadn't already definitively ended the sad litany of aspirants since Ron Santo's reign at the hot corner almost 40 years ago. But with A-Ram outbound as a free agent, finding something better than resorting to a
Blake DeWitt
-
Jeff Baker
platoon seemed like a must-do this winter. And the market isn't exactly stuffed with alternatives.
So it came as no surprise that, after weeks of speculation, Team Theo finally consummated a deal with the Rockies to acquire third baseman
Ian Stewart
. They also picked up righty
Casey Weathers
, while sending outfielder
Tyler Colvin
and infielder
D.J. LeMahieu
to Denver.
After weeks of the Cubs working up to a deal for Stewart, you might wonder if sometimes you need to be careful what you wish for. Stewart's issue with the strike zone has been a career-long blight in the minors and majors, something that has reliably tripped up someone who once seemed like a top prospect. To be fair, he's had to deal with inconsistent usage patterns from an organization that didn't always have much faith in him. For a brief while, it seemed as if Jim Tracy's arrival in 2009 would be the best thing to happen to Stewart, because it wasn't soon after that the Rockies stopped playing him at second base. But between a slow start and the Rockies' unfortunate fascination with
Ty Wigginton
, Stewart's 2011 season went off the rails before an injured wrist effectively ended it.
[+] Enlarge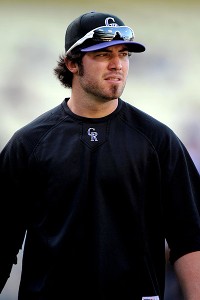 Kirby Lee/US PRESSWIREThe Cubs acquired Ian Stewart from Colorado to be their answer at third base.
Despite all that, for the Cubs there's plenty of potential good that comes from getting Stewart. He's a decent enough defender, and he'll turn 27 right around Opening Day. The Cubs have him under their control for the next three seasons, or what figures to be the tail end of the most productive part of his career.
However, the thing to keep in mind in evaluating this deal is that playing at altitude depresses strikeout rates for everybody, by roughly 15 percent as Joe Sheehan noted in Baseball Prospectus. That fact has helped given us breakthroughs such as
Preston Wilson
-- the more strikeout-prone hitters who struggle with breaking stuff get an outsized benefit from playing in a park where big benders bend less and all pitches lose a bit of wiggle. In his brief big-league career, Stewart has struck out in 32 percent of his at-bats everywhere but Denver, but "just" 24 percent of the time when he's been batting in Denver. Guess where Stewart won't get to call home any more?
In contrast, this is great for Colvin, for exactly this reason. He's a hitter who has always struggled with his command of the strike zone, whiffing a quarter of the time in both Triple-A and the majors. Getting to call Denver home half the time will give him a significant chunk of at-bats where he's more likely to make contact instead of whiffing, in a park that rewards people who can hit balls hard when they make contact. If he gets a shot at regular playing time, Colvin's shot at becoming a mile-high hero should come as a surprise to no one. You shouldn't be harsh on the Cubs for that, though -- this was a benefit only the Rockies can reap, and having signed up
David DeJesus
, Theo Epstein and Jed Hoyer have already picked their right fielder,
come what may
.
The other guy who will automatically profit from this is LeMahieu, simply because he's a hitter going to a hitter's park. However, his core offensive skill is making contact and plinking singles, as reflected in a career line of .317/.353/.399 in the minors. Walking five percent of the time and an ISO below .100 aren't positives, especially if he's playing third base instead of second. Fortunately for him, the Rockies don't have an established answer at the keystone. If LeMahieu can prove he can handle the position to their satisfaction, he might have a shot at living up the "poor man's Freddy Sanchez" fantasies his best-case scenarios always entailed -- thanks to the park as well as his gifts for bat control. That might sound like something -- Sanchez won a batting title, after all -- but he's a fairly mediocre commodity, and that's the upside. The downside is that the Rockies might get the guy the Cubs gave up: A singles hitter who can't play second.
The other player coming over to the Cubs, Casey Weathers, is your basic hard-throwing maybe. The eighth overall selection of the 2008 draft, Weathers has struggled with command, especially since blowing out his elbow and having Tommy John surgery. That's an unhappy reminder that not everybody comes back from the procedure, but if Weathers pans out with a change of scenery, he'll yield outsized rewards. If not, there are other hard-throwing fish in the sea. This is an old Epstein/Hoyer standby, because with the Red Sox they'd snap up "maybe" pitchers for the bullpen like they were so many Skittles. Maybe he turns into something, maybe not, but as a ballast to even out a trade goes, you can do worse.
If it sounds like the Cubs gave up more than they got, that's because they're the ones taking a big risk, even with Stewart possessing the most extensive credentials in the major leagues. The risk is whether or not Stewart will hit enough to stick in the lineup now that he'll be playing closer to sea level. If he does, they'll have gotten a regular third baseman instead of overpaying for one on the market. Giving up a corner outfielder who might do well in Denver (but not star) and an infielder who might be a filler option at second base to take that chance? That's a risk well worth taking. If Stewart works out, the Cubs will have a three-year answer to their age-old Santo question. Weathers is a flyer on the off-chance that live-armed relievers have a way of going from nobody to somebody overnight.
Christina Kahrl covers baseball for ESPN.com. You can follow her on Twitter.
December, 2, 2011
12/02/11
12:18
PM ET

Welcome to the National League West, baseball's most unpredictable division. I wouldn't be surprised if all five teams finished 81-81 in 2012.
Here are three fixes or action items for each club.
Arizona Diamondbacks
1. Rotation (
Joe Saunders
, eligible for arbitration)
Arizona's rotation posted a 3.84 ERA, only ninth in the NL, but a strong figure considering it had to pitch half its games in the desert. Most impressive, only the Phillies received more innings from their starters. If there's a red flag, it's that the rotation ranked 14th in the NL in strikeouts per nine innings. Saunders is in his final year before free agency, after posting a solid 3.69 ERA over 212 innings, and Arizona might not want to pay him the big increase he'll get from his 2011 salary of $5.5 million. The back of the rotation has an opening as well.
Likely solution: Look for the D-backs to re-sign Saunders to a two-year deal. He doesn't strike out many guys, but Arizona's outfield of
Justin Upton
,
Chris Young
and
Gerardo Parra
might cover the most ground in baseball. Rookies
Jarrod Parker
,
Wade Miley
and 2011 No. 1 pick Trevor Bauer should battle for the No. 5 spot out of spring training.

2. Find a leadoff hitter
Arizona's starting eight looks set, but nobody on the roster profiles as a quality leadoff hitter. Arizona leadoff hitters compiled a .314 OBP, with light-hitting
Willie Bloomquist
leading off most often, 75 times.
Likely solution: Kirk Gibson needs to think outside the box here, with a lefty/righty platoon perhaps necessary. How about Young leading off against lefties? He posted a .392 OBP against them in 2011, and Justin Upton and
Paul Goldschmidt
can provide power lower in the order. Parra might be the best option against right-handers.
3. Bullpen depth
The bullpen ERA improved from 5.74 in 2010 (worst in the NL) to 3.71 (10th). It helped that it didn't have to throw many innings, but there's no guarantee the rotation will carry such a heavy workload again. Plus, closer
J.J. Putz
has been injury-prone in his career and guys like
Micah Owings
and
Bryan Shaw
were surprising contributors.
Likely solution: Arizona won't spend big here, although a guy like
Jonathan Broxton
would have been a nice gamble. Look for them to troll for a veteran lefty or make a minor deal.
San Francisco Giants

1. Finder another bat -- one who can hit
The Giants' offensive woes were well-documented, of course -- last in the NL in runs scored, with the lowest on-base percentage. Some of that is the ballpark, some of it was injuries, but there's no denying it was a terrible offensive team.
Likely solution: No,
Melky Cabrera
is not the only answer. Or shouldn't be. While he had a career year with the Royals, his .339 OBP is hardly star level, and he hit 30 points above his career average. The other outfielders on the roster are
Andres Torres
and
Nate Schierholtz
. That's not a division-winning outfield. Brian Sabean: You need
Carlos Beltran
back. How many more years can you get out of that great young rotation before somebody gets hurt or leaves via free agency? You have to win now. Sign Beltran.
2. Shortstop (
Brandon Crawford
)
The ill-advised idea to sign
Miguel Tejada
last season predictably didn't work out. Crawford has the goods on defense, but his .204 batting average is an accurate indicator of his offensive abilities. Crawford remains the default option right now, and while the Giants got into a bizarre bidding war for Bloomquist, Giants fans would love to see a different free-agent shortstop in the Bay Area.
Likely solution: You never know, but there are no signs the Giants are pursuing
Jose Reyes
or Bay Area native
Jimmy Rollins
. The Giants signed
Javier Lopez
to a two-year, $8.5 million deal and picked up
Jeremy Affeldt
's $5 million option. Why not use some of that money for a shortstop? In the end, unless the Giants sneak in for a second-tier shorstop like
Rafael Furcal
, it looks like Crawford will be the guy.
3. No. 5 spot in the rotation
The two candidates on the roster right now are
Barry Zito
(5.87 ERA in 53 innings) and
Eric Surkamp
(5.74 ERA in six starts as a rookie). As good as
Tim Lincecum
,
Matt Cain
and
Madison Bumgarner
are, and as good as
Ryan Vogelsong
was in 2011, the rotation is one major injury and Vogelsong regression from looking a little shaky.
Likely solution: Surkamp had great numbers at Double-A -- 142.1 IP, 110 hits, 44 BB, 165 SO -- and the Giants skipped him past Triple-A in promoting him to the majors. He's a lefty who isn't overpowering with a fastball that averaged just 87.9 mph in his stint in the majors. Look for Zito to get the job out of spring training: "I'm not gonna hide from it: Barry Zito is our fifth starter next year," Bruce Bochy told KNBR radio station in November.
Los Angeles Dodgers

1. Find a new owner
While the Dodgers were allowed to sign
Matt Kemp
to a $160 extension, until Frank McCourt sells the club, the bankrupt Dodgers will be hamstrung on moves. McCourt has agreed to sell the team by April 30.
Likely solution: The bidding process starts next week and
Mark Cuban says he'll participate
. Dodgers fans should love that idea, but baseball previously balked when Cuban looking into buying the Cubs and Rangers. A team of investors fronted by ex-Dodgers Orel Hershiser and Steve Garvey is one possibility. Former agent Dennis Gilbert, who also pursued the Rangers, fronts another group of partners.
2. Infield
Here's how bad the Dodgers' offense was in 2011:
First base: 27th in majors in OPS
Second base: 28th in majors in OPS
Third base: 24th in majors in OPS
Shortstop: 19th in majors in OPS
Likely solution: The Dodgers have already signed
Mark Ellis
to play second base and
Adam Kennedy
to help at third, low-cost fixes but hardly great solutions. It looks like another year of
James Loney
at first base, but maybe it's time to punt on him and try prospect
Jerry Sands
. Loney has hit just 48 homers over the past four seasons and doesn't walk much. He's a .281 hitter without anything to go with it, and he's due a raise in arbitration over the $4.88 million he made in 2011. The lone bright spot is speed demon shortstop
Dee Gordon
, who looks to show his .304 rookie season wasn't a fluke. (
Juan Uribe
is also still around, at $16 million over the next two seasons. Yay.)
3. Rotation (
Hiroki Kuroda
, free agent)
GM Ned Colletti has indicated the club can't afford to re-sign Kuroda, unless he's willing to take a big cut. (Kuroda has said he'll either sign with the Dodgers or return to Japan). After
Clayton Kershaw
,
Ted Lilly
and
Chad Billingsley
, there are two spots to fill.
Likely solution: Cheaper free agent veterans like
Aaron Harang
or
Chris Capuano
are possibilities. Trading
Andre Ethier
for a starter is another option. Look for the No. 5 spot to be filled from within -- somebody like Nathan Eovaldi, Allen Webster or Chris Withrow.
Colorado Rockies

1. Third base (
Ian Stewart
)
Rockies third basemen hit a combined .222/.281/.348, among the worst production from the position in the majors, as
Ty Wigginton
earned the majority off the playing time after Stewart collapsed. Stewart hit .156 with zero home runs in 122 at-bats, although he found his stroke at Colorado Springs (of course, everyone finds their stroke at Colorado Springs). Here's the thing about Stewart: Even when he was good, he wasn't that good -- his park-adjusted OPS from 2008 to 2010 still places him as a below-average hitter.
Likely solution: It's possible Stewart gets non-tendered; there's also rumors off a Stewart-for-
Blake DeWitt
deal with the Cubs (your abscess for our canker sore). Top prospect Nolan Arenado, the Arizona Fall League MVP, hit .298 with 20 home runs at Class A Modesto, but he's just 21 in April and probably needs another season in the minors. The Rockies have also asked about Atlanta's
Martin Prado
, reportedly offering outfielder
Seth Smith
.
2. Starting pitcher (
Jorge De La Rosa
out for at least half the season)
As 2011 proved, it's still difficult to build a consistent rotation in Colorado. The Rockies' rotation compiled a 4.73 ERA, ranking 15th in the NL. Yes, Coors Field is a hitter's park, but it's no longer the Coors Field of old. It was a bad rotation. Right now,
Jhoulys Chacin
is the only starter who looks like a reliable option for 2012.
Likely solution: What the Rockies have done is collect young, power arms. They got
Drew Pomeranz
and
Alex White
for
Ubaldo Jimenez
; they just picked up
Tyler Chatwood
from the Angels for
Chris Iannetta
.
Esmil Rogers
is still around, and still very raw. A veteran starter acquired via trade is a possibility to line up behind Chacin and
Jason Hammel
; one guy the Rockies have pursued is
Jeremy Guthrie
, offering closer
Huston Street
.
3. Second base (Mark Ellis signed with the Dodgers)
Jonathan Herrera
is still around, but the .300 average he posted in April looked more and more like a fluke as the season progressed. He finished at .242, and considering he has no power, isn't a viable short-term or long-term solution.
Likely solution: Look for the Rockies to make a trade pitch for Padres second baseman
Orlando Hudson
. There isn't much left on the free-agent market, although
Kelly Johnson
would make for an interesting risk in the thin air if he doesn't re-sign with the Blue Jays.
San Diego Padres

1. Bullpen/closer (
Heath Bell
, signed with Marlins;
Chad Qualls
, free agent)
Welcome to San Diego, Josh Byrnes. The new GM will have to figure out how to build a winning club on a payroll of $53-55 million. But you know what? The Padres aren't
that
far behind the Diamondbacks. The Padres had a run differential of minus-18; the Diamondbacks had a run differential of plus-69. The Padres would have been expected to win 79 games based on their differential; the D-backs 88. With the departure of Bell and last season's trade of
Mike Adams
, the Padres will be looking for bullpen depth.
Likely solution: Ernest Frieri and
Luke Gregerson
are the best internal candidates, but Frieri needs to improve his control and Gregerson is more of a righty specialist. Rookie
Brad Brach
, a one-time 42nd-round draft pick who signed for $1,000 has dominated in the minors but probably needs time in middle relief. The Padres won't spend big on a free agent, so look for a trade.
2. Power (empty)
Ryan Ludwick
led the team with 11 home runs. Nobody else reached double digits. And don't blame the deep canyons of Petco Park -- the Padres hit 45 home runs on the road, fewest in the majors.
Likely solution: None. The Padres' "big" moves have to been bolster the bench with
Mark Kotsay
and
John Baker
. Prospect
Anthony Rizzo
, who hit 26 home runs in 93 games at Triple-A Reno, will be given another shot at first base after hitting .141 with one home run in 128 at-bats with San Diego.
Kyle Blanks
is still around, but at 270 pounds, his lack of range in the outfield is a problem. Third-base prospects Jedd Gyorko and
James Darnell
are both close to big-league ready and provide some hope for punch down the road.
3. Starter (Aaron Harang, free agent)
Mat Latos
,
Cory Luebke
and
Tim Stauffer
are a solid top three, with Luebke's season in particular flying under the radar (154 strikeouts in 139.2 innings). The Padres got good work out of
Dustin Moseley
and
Clayton Richard
over 38 combined starts, but both guys delivered just 4.8 strikeouts per nine innings and are good bets to regress, even pitching in Petco.
Likely solution: The Padres have offered Harang arbitration, but he'll probably get a two-year offer from another team. Otherwise, it's hoping that Moseley and Richard hold their own and that prospects Casey Kelly and Robbie Erlin (acquired in the Adams trade) are ready by midseason.
April, 20, 2011
4/20/11
11:09
AM ET
Eric and Keith discuss some big issues on Wednesday's
Baseball Today podcast

, including:
Joe Mauer's value as a catcher and whether the Twins should move him to a new position.
Is Josh Johnson the most dominant pitcher right now? Would you take Johnson or Roy Halladay?
Keith says the Indians aren't making the playoffs and aren't the Padres of last season.
Who should close for the Cardinals?
Ian Stewart sent to the minors and thoughts on Jonathan Herrera hitting well.
Eric is upset with the Mets designating Brad Emaus for assignment.
Plus: Wrapping up the Carl Crawford debate, the 20-80 scale for scouts, Jason Varitek and a preview of Wednesday's game.
March, 29, 2011
3/29/11
2:31
PM ET
And now a look through the Senior Circuit injury wire.
Chris Coghlan and Mike Stanton, Marlins:
Coghlan is suffering from right shoulder tendinitis but is expected to start on Opening Day and will monitor his throwing carefully. Stanton missed much of spring with a quadriceps strain but returned last Friday and hit two home runs.
Mets:
Where to begin?
Jason Bay
could now begin on the DL with a rib-cage discomfort, after missing two games recently with back stiffness. The Mets appear committed to
Carlos Beltran
as their Opening Day right fielder. He played a minor league game over the weekend and went 0-for-5 with three strikeouts and had a double and triple hit over his head. Backup catcher
Ronny Paulino
could be headed to the DL with stomach issues.
Johan Santana
hopes to pitch sometime this season.
Chase Utley, Phillies:
You've been following this one. Nobody knows when he'll be ready ... if it all, although he said Monday a goal is to return before the All-Star break.
Brad Lidge, Phillies:
Lidge will undergo an MRI today
to see if there is structural damage in his shoulder. He'll start on the DL, with
Ryan Madson
taking over as closer.
Placido Polanco, Phillies:
He missed two weeks with a hyperextended elbow but is back and apparently OK.
Adam LaRoche, Nationals:
He has a
slight tear in his rotator cuff
but will rehab and play through it.
Johnny Cueto and Homer Bailey, Reds:
Cueto has shoulder inflammation and Bailey has shoulder impingement and both begin the season on the DL (along with backup outfielder
Fred Lewis
, who has a strained oblique). Cueto has resumed playing catch and Bailey is expected to miss two starts.
Mike Leake
and
Sam LeCure
join the rotation, although the Reds don't need a fifth starter the first turn through the rotation.
Clint Barmes and Jason Castro, Astros:
Castro is out for the season after tearing up his knee (and now catcher
J.R. Towles
has a balky back). Barmes is out 4-6 weeks and the Astros just acquired
Joe Inglett
to help with infield depth.
Zack Greinke and Shaun Marcum, Brewers:
: Marcum missed a start with a stiff right shoulder but
threw four pain-free innings
on Monday. Greinke just started playing catch after suffering a fractured rib playing basketball. A late April return appears to be the goal.
Corey Hart, Brewers:
Hart is aiming
for a mid-April return
from a strained rib-cage muscle. The Brewers just acquired
Nyjer Morgan
for outfield depth.
Chris Snyder, Pirates:
The catcher's bad back will likely land him on the DL, leaving the Pirates with
Ryan Doumit
and
Jason Jaramillo
behind the plate.
Adam Wainwright, Cardinals:
He's out for the season following Tommy John surgery, with
Kyle McClellan
taking his spot in the rotation.
J.J. Putz, Diamondbacks:
A stiff back has limited Putz in Cactus League action, but he's still hoping to be Arizona's closer come Opening Day.
Ian Stewart, Rockies:
He's missed time with a right knee sprain and left Monday's game with a tight hamstring, but said
he isn't concerned
. The Rockies traded for
Josh Fields
as insurance and have
Ty Wigginton
and
Jose Lopez
on the roster.
Jon Garland, Casey Blake and Dioner Navarro, Dodgers:
Garland suffered a strained oblique early in spring training and just getting back to building up his arm strength. He'll need a couple weeks. Blake has back inflammation and will begin the season on the DL.
Jamey Carroll
is around to fill in (or
Juan Uribe
will shift to third with Carroll playing second). Backup catcher Navarro is also expected to start on the DL with a strained oblique.
Mat Latos, Padres:
Latos has bursitis in his right shoulder and
heads to the DL
. Keep tabs on this one as the Padres will undoubtedly be cautious with the young ace.
Brian Wilson and Cody Ross, Giants:
Wilson has a strained oblique and likely to begin on the DL, but could be activated as soon as April 5. Bruce Bochy hasn't announced his backup closer plans. Playoff hero Ross is on the DL with a calf strain and could miss three weeks.
Nate Schierholtz
could take his place or rookie Brandon Belt could play first base with
Aubrey Huff
moving to the outfield.
Follow David Schoenfield on Twitter at @dschoenfield. Follow the SweetSpot blog at @espn_sweet_spot.
September, 15, 2009
9/15/09
2:35
PM ET
As
Dave Cameron notes
, the
Skip Schumaker
experiment has worked about as well as anyone might have hoped. After jettisoning
Adam Kennedy
, the Cardinals installed Schumaker, previously an outfielder, at second base last spring. And after a pretty rough start with the glove, he's apparently been decent enough since the middle of May. And of course the Cardinals are heading to the playoffs in a few weeks.
Cameron:
Knowing Dave Duncan's desire to spread the gospel of the two-seam fastball, the Cardinals know the importance of infield defense to their success. Despite the risks, they were still willing to take a gamble on Schumaker's ability to turn himself into a decent defender at the position, and they held to their convictions even after a really bad start to the season. Their reward? A league average hitter who can hold his own as a middle infielder.

The Cardinals deserve a lot of credit for not just making the move, but sticking with it. I have a feeling they won't be the last team to get away from strict mindsets about what types of players can play certain positions. As teams experience success moving guys like Schumaker to second base, I have a feeling we'll see this trend take off.
Gosh, I don't know. Maybe. But I will point out that 1) Kennedy's been quite a bit more valuable than Schumaker this season, and 2) those runs Schumaker cost the Cardinals in the spring did count.
Yes, if he can keep playing moderately well at second base next season, it'll make some sense. But "moving guys like Schumaker," even when the transition works, probably doesn't work immediately. Learning to play a tougher position in the cauldron of the major leagues is not an easy thing. It's a testament to Schumaker's talents and hard work that he's apparently been able to do it. But I don't know that every team and manager has the patience to wait as long as the Cardinals and La Russa did.
Especially considering that the Cardinals are good. Radical moves make more sense for non-contenders, who need to take risks and don't really have anything to lose, if something doesn't work out. In fact, the Cardinals weren't the only team to try this exact thing this season. Cameron wrote on this subject in April, noting not only the Schumaker switch, but also similar moves involving Kansas City's Mark Teahen and Colorado's Ian Stewart. His conclusion: "I'd bet that going forward, second base is going to look a lot more like third base."
Maybe. But neither of those latter moves survived contact with the enemy. Not for long, anyway. Teahen started all of three games at second base, while Stewart's started 20 (and just one since July). Cameron might argue that second base should be the new third base. But in the real world, it's probably going to happen when you've got 1) a third baseman who's willing enough and talented enough to play second base passably, 2) a manager who's both stubborn and creative, and 3) a supportive general manager.
My guess? That's a rare combination, now and in the future.
April, 8, 2009
4/08/09
12:56
PM ET
It might be the most fascinating phenomenon in baseball this spring: three teams turning outfielders and third basemen into second basemen. The Cardinals are doing it with
Skip Schumaker
, the Royals are doing it with
Mark Teahen
, and the Rockies are doing it with
Ian Stewart
.
Crazy? When it's one team you might think so, but when it's three teams you have wonder if maybe they've figured out something that everyone else hasn't.
That's Dave Cameron's take, I'm guessing ...
Over the winter, I did a series of posts on position adjustments and put forward the idea that second base is an overrated defensive position. It is lumped into the "up the middle" spots with catcher, shortstop, and center field, but is not actually that much more difficult to play than third base. I also mentioned that there's been something of a height bias, where tall infielders are shifted to third and short infielders are shifted to second, even if the tall guy is a better defender than the short guy.

You can imagine, then, that I'm thrilled to see three teams experimenting with non-traditional second baseman this year.

--snip--

Three franchises, all with off-season decisions to make about how to fill a hole at second base, decided to fill the position with players from the corners. Schumaker, Teahen, and Stewart are not traditional keystone defenders in any way, shape, or form, but all three organizations have decided to go make some defensive sacrifices at the position in order to improve their offense.

It's interesting to me that we've seen three franchises go away from the traditional second base model in the same winter that outfield defense seemed to increase significantly in value in the marketplace. As the newer defensive metrics gain credibility, we saw an increase in the premium for defense at positions where defense hasn't historically been valued and a corresponding decrease at a position that has been genuinely considered a premium glove spot.

I don't think that's a coincidence. I'd bet that going forward, second base is going to look a lot more like third base.
What if the game suddenly changed in a dramatic and fundamental way, and we were around to see it?