SweetSpot:

Ivan Rodriguez
April, 2, 2013
4/02/13
12:00
PM ET
"I don't want to embarrass any other catcher by comparing him with Johnny Bench."
-- Sparky Anderson

"In my 30 years in baseball, the closest total package I've seen to (Ivan Rodriguez) is Johnny Bench."
-- Johnny Oates

"The game has never seen a better catcher than Yadier Molina."
-- Tony La Russa
* * * *
Ultimately, it's a question that can't be answered, certainly not just by numbers or dusty anecdotes: Who has been baseball's greatest defensive catcher? Certainly, you can't tell those baserunners who tried to steal -- or didn't try to steal -- on Johnny Bench that it would be anyone else. For those who played against Ivan Rodriguez, they'll tell stories of getting picked off base when all they heard -- let alone saw -- was the leathery snap of the ball smacking into the first baseman's glove. If you're
Nelson Figueroa
, the 38-year-old pitcher who has spent parts of nine seasons in the majors but most of his professional career in the minor leagues, he'd likely say it has to be Yadier Molina.
Figueroa, a journeyman right-hander, helped Puerto Rico eliminate the United States in the World Baseball Classic in March, throwing six shutout innings with an assortment of sub-90-mph fastballs and offspeed pitches. In interviews, Figueroa praised Molina, the
St. Louis Cardinals
' backstop, for instilling confidence in the Puerto Rican staff. That complete trust in Molina's pitch-calling abilities allowed them to focus on throwing a particular pitch rather than thinking about what pitch to throw.
"I don't throw very hard, but I'll pitch inside," Figueroa said after beating the U.S. "A lot of times they'll sit outside, waiting for that breaking ball, and they won't get it. It was a great exhibition of what can be done without having a plus fastball. Yadier had a great plan. I didn't really have to shake him off, if at all."
The art of calling a game is the most subtle attribute a catcher brings to his job. The leadership required in helping a pitcher's confidence is certainly difficult to identify. A catcher's arm, however, is something we can all see. Molina mowed down
Jimmy Rollins
trying to steal in that game with a laser-beam throw right to the corner of second base to catch a guy who was 30-for-35 on stolen base attempts last season, and
that
was easy to admire.
[+] Enlarge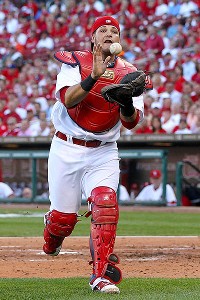 Jamie Squire/Getty ImagesCardinals catcher Yadier Molina is considered among the best in baseball at framing pitches.
No wonder La Russa sang Molina's praises during the 2011 World Series: "Defensively ... he does things in all phases better or as good as anybody I've ever seen,"
La Russa said
. During that series, it was Molina, not
Albert Pujols
, who received the largest ovations from the Cardinals' faithful. Molina's growth from a strong-armed catcher who couldn't hit to team leader and star had turned him into the toast of a town that knows its baseball.
But greatest defensive catcher of all time? Can we go there?
* * * *
"My idea is to really play the game of baseball. Not many people know what that can mean. You don't give the other team a single extra out or base or at-bat. You don't even give them one extra swing. You have to know the game to understand why a catcher feels so special about his work. You have every part of the game running through your fingers."
-- Carlton Fisk, "Why Time Begins On Opening Day"
The best catchers have to call a game, work with pitchers, know the opposing hitters, know the umpires, frame pitches, block pitches in the dirt, scramble after popups, have the guts to call for a 3-2 slider with a runner on third and a tie game in the ninth, throw out runners, block the plate, and play with various pains, bruises and injuries that would send other position players crying into the trainer's room for mercy.
Bench once went to the hospital to have a sore foot X-rayed, Washington Post columnist Thomas Boswell wrote. It wasn't broken, but three previous breaks, now healed -- which Bench had played through -- showed up.
Ever since he won his first Gold Glove Award as a 20-year-old rookie, in 1968, Bench has been the standard-bearer for all-around excellence behind the plate. He was big and strong, but also nimble and athletic (he'd play other positions on his rare days off from catching) and possessed as powerful an arm as many old-timers had ever seen. He also revolutionized
how
the position was played: He caught the ball one-handed, as opposed to the traditional method at the time of two hands, which helped him cock his arm for a quicker release.
He was so revered that heading into his sophomore season, Sports Illustrated wrote a profile
already asking if he could be the greatest ever
. In 1972, in the midst of Bench's second MVP season, Anderson, his manager, said:
"Johnny just does things other catchers can't do. We have a boy on our team, Bill Plummer, who can throw as hard, but there is no one who can come up throwing quicker than John. Nobody ever really steals a base on him. ... If we had pitchers who could hold a runner, we'd never have any bases stolen at all. Johnny will grab a ball that is inside and be in a throwing motion all at the same time. He has a way of fielding a bunt in front of the plate so that as he picks it up he is bounding back to throw. And he makes the play at the plate better than anyone. He just takes the plate away from the runner. That's physical strength, of course, but there's a technique involved, too."
Here's my favorite Johnny Bench stat: From 1970 to 1979, the Reds played 45 postseason games. They stole 54 bases and got caught 17 times. Reds opponents stole -- get this -- six bases, and were caught 13 times. Four of those steals came in 1979, by which time Bench's arm had started to go. Six-for-19 in 45 games? As Bench himself reportedly said, "I can throw out any man alive." He was right.
[+] Enlarge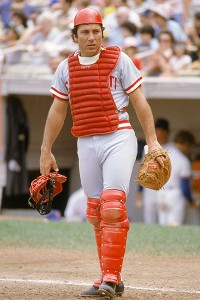 Rich Pilling/MLB Photos/Getty ImagesHall of Fame catcher Johnny Bench won his first Gold Glove Award as a 20-year-old rookie.
The regular-season stats bear this out as well. The Reds annually allowed the fewest stolen bases in the league during Bench's prime, and he had the best caught stealing percentage three times in his career. In 1972, the Reds allowed just 31 steals in 70 attempts (24 for 55 off Bench), when the league average was 70 steals in 126 attempts.
Of course, caught stealing is only part of the defensive equation, although Bench earned praise in all aspects of his game. We don't have Pitchf/x data beyond just the past few years, so there is no scientific way to measure how effective Bench or Rodriguez -- let alone Gabby Hartnett or Mickey Cochrane or Yogi Berra -- were at framing pitches.
* * * *
Bill James' best defensive catchers by decade, from "The New Bill James Historical Baseball Abstract":
1900s: Ossee Schreckengost
1910s: Ray Schalk
1920s: Muddy Ruel
1930s: Gabby Hartnett
1940s: Jim Hegan
1950s: Roy Campanella
1960s: Elston Howard
1970s: Johnny Bench
1980s: Jim Sundberg
1990s: Ivan Rodriguez
It's hard to compare catchers from the early part of the 20th century to Molina, of course, although good defensive catchers were enormously valuable in the dead-ball era because of all the steal attempts and bunts. The stolen base largely disappeared from the 1920s to the early '60s, so while Campanella had a tremendous arm (Baseball-Reference.com has him with a 57 percent career caught stealing rate, the best of all time), he faced very few steal attempts compared to more modern catchers, let alone the speed of players in recent decades. He very well
may
be the greatest defensive catcher ever, but I think it's bit of a leap to make that judgment.
So in limiting the discussion to players since Bench, I'm comfortable in the list of candidates below. The list includes their career caught stealing percentage, the league average percentage during their careers, number of pickoffs, and Total Zone fielding runs from Baseball-Reference.com.
Bench: 43 percent (35 league), 62 PO, +97 runs
Steve Yeager: 38 percent (33 league), 44 PO, +70 runs
Bob Boone: 40 percent (33 league), 76 PO, +107 runs
Jim Sundberg: 41 percent (35 league), 64 PO, +114 runs
Rodriguez: 46 percent (31 league), 88 PO, +167 runs
Molina: 45 percent (28 league), 46 PO, +95 runs
Gary Carter, Brad Ausmus and Rick Dempsey also would have their supporters.
(And if you want a sleeper best catcher? How about a career backup named Charlie O'Brien? Tim Belcher raved about O'Brien's pitch-framing abilities to Sports Illustrated in 1999: Charlie never moves. Most catchers lunge at a ball, or at least stab at it a little. Charlie? Nothing. No movement, no jerk, no reach. He's the best catcher I've ever seen at making pitches look like strikes. O'Brien was so good behind the plate that he lasted 15 seasons, until age 40, despite hitting .221 with 56 home runs in his career.)
James called Boone one of the top five defensive catchers ever; considering he won Gold Gloves from ages 38 to 41 (throwing out more than 40 percent of base stealers each year), it's certainly a conclusion that's hard to argue with. Boone was known as a consummate game-caller and he played on a lot of good teams with the Phillies, Angels and Royals. Sundberg won six straight Gold Gloves with the Rangers from 1976 to 1981. James wrote that Yeager's arm was as strong as Bench's, and he caught many good pitching staffs with the Dodgers.
As far as the Total Zone fielding stat, Rodriguez is way ahead, at least in terms of career total (in part because he's played more games at catcher than anybody, nearly 700 more than Bench). As you can see, the caught stealing totals for Rodriguez and Molina are much better compared to their contemporaries than the others.

Despite Rodriguez's arm strength (he led his league nine times in caught stealing percentage, including a career-best 60 percent in 2001) and defensive rating on Baseball-Reference, I'm reluctant to declare him better than Bench or Molina. During the first half of his career, there were a lot of grumblings that he didn't prepare before games with pitchers, choosing instead to focus on his hitting rather than going over game plans. Some suggested he called for too many fastballs to help him gun down potential base thiefs. He joined the Marlins in 2003, however, and won a World Series, and later helped the Tigers reach one in 2006, so by accounts he matured in that regard.
But you'll never hear about Molina disregarding some part of his game. His arm strength is on par with Bench's -- his career caught stealing rate of 45 percent is best among active catchers and he's led his league three times in that category (he was at 48 percent last season, second by a hair to Cincinnati's Ryan Hanigan). Like Bench, Molina has caught for two World Series-winning teams. In 2006, he directed a staff that included past-his-peak Jeff Weaver, rookie Anthony Reyes and rookie closer Adam Wainwright to a title. In 2011, the Cardinals won again even though Wainwright, their best pitcher in 2010, missed the entire season. They had another young closer in Jason Motte, who like Wainwright in '06 had only assumed the role in September. You can see why La Russa loved his catcher so much.
Molina also rates very well on pitch framing, according to
this study
by Mike Fast on Baseball Prospectus. Aside from what the Pitchf/x data says, you only have to listen to Figueroa and members of the Cardinals to know what Molina means to a pitching staff.
Bench was a legendary figure in the early '70s, probably the most popular baseball player in America at the time. He was a better hitter than Molina (although Molina is coming off a terrific season at the plate). But the game does run through Molina's fingers, and by the time his career winds down, I think he'll be remembered as the greatest defensive catcher we've seen.
April, 24, 2012
4/24/12
8:00
AM ET
First base: Nate the great.
Giants outfielder
Nate Schierholtz
had a day to remember as the Giants swept a doubleheader from the Mets. In the opener, he went 3-for-5 with a triple and home run. In the nightcap (do they call it a nightcap?), he went 3-for-5 with another triple. His six hits is as many (or more) as the Pirates have gotten in eight of their 15 games.
Tim Lincecum
won his first game, but he scuffled through five innings, throwing 108 pitches and walking five batters. He escaped with just one run allowed, but it was hardly the effort to suggest he's back on track. By the way,
Pablo Sandoval
's home run in the nightcap (sticking with it) was a mammoth blast high into the second deck at Citi Field.
Second base: A's are Peaved.
Fact I did not know until tonight:
Jake Peavy
did not throw a complete game when he won the National League Cy Young Award in 2007. He threw just the 10th one of his career on Monday night, beating the A's
4-0
with a 107-pitch, three-hit gem. He's now 3-0 with a 1.88 ERA and all his peripherals are outstanding: .172 average allowed, 26/4 strikeout/walk ratio, one home run in 28.2 innings. His other three starts came against Texas, Detroit and Baltimore, so this all positive for Peavy. He hasn't made 20 starts in a season since 2008 but if he stays healthy, suddenly the White Sox look five-deep in their rotation -- and never count out a team with a deep rotation. The Sox are tied with the Tigers at 10-6 and have a +18 run differential compared to Detroit's +5. As White Sox utilityman
Brent Lillibridge
tweeted after the game, "Hop on #WhiteSox fans. It's starting to get fun around here. @JakePeavy_44 outstanding tonight, commanded from the 1st pitch."
Third base: Thanks, Pudge.
Ivan Rodriguez
officially retired on Monday and threw out the first pitch at the Rangers' game.
But he added a cool twist
to the usual ceremonial throw.
Home plate: Tweet of the day.
ESPN play-by-play announcer Dan Shulman with a novel suggestion that we should all rally behind ...
I vote that this year they decide home field in the World Series by having Matt Kemp and Josh Hamilton square off in a home run derby #mlb

— Dan Shulman (@DShulman_ESPN) April 24, 2012
April, 19, 2012
4/19/12
3:01
PM ET
Eric Karabell
wrote about Kevin Youkilis

today and then we talked about Youkilis and two other 30-something third basemen off to slow starts, Scott Rolen and Placido Polanco. We also discussed Chris Young's injury and where Ivan Rodriguez ranks all-time among catchers. Check it out!
April, 19, 2012
4/19/12
2:15
AM ET
By
Christina Kahrl
| ESPN.com
You
know
when you shake hands with a former catcher. It's like having an overstuffed bag of walnuts put in your palm and then having it squeeze the circulation out of your mitts. It's the fingers, of course, broken so often that they seem as though somebody had stomped out a tango on each and every knuckle. The toll on each catcher's hands, not to mention his knees, is tremendous. The workload and the toll it takes seems almost cruelly balanced against the near-absence of glory at a position where, often as not, you get to take the statistical rap for something gone amiss because of a pitcher's errant throw home or his poor move to first base. You admire catchers, even if you wouldn't want to be one.
But even among that small fraternity of catchers hardy enough to make it to the majors and stick around and take the daily beating that regular receiving requires, there are those very few who stand apart because of their ability to endure. It's part of the reason why we mourn Gary Carter (fourth all-time in games caught) now, beyond The Kid's natural ebullience. And it's why we respect the catchers who didn't last that long because they hit well at the position or provided "above replacement value," but who lasted that long because they could catch: Bob Boone and
Brad Ausmus
and Jim Sundberg. Easy guys to root for, if long-suffering.
None of that matches the magnitude of what Pudge Rodriguez did during his career, the value he delivered, the greatness that was manifest from his first day behind the plate in the major leagues, all the way back in 1991 as a 19-year-old catching his first game for the
Texas Rangers
as the other half of a battery with
Kevin Brown
.
It might surprise in today's all-media environment in which prospects get to spring with few surprises for us, but even back then, thanks to Baseball America and the like, the legend of how good
Ivan Rodriguez
was behind the plate was spreading. From the squat behind the plate he was as nimble as a cat despite the gear that goes with the trade of framing and catching pitches day after day, and throwing better than anyone ever has as an everyday regular, before, since, and likely ever.
It's well he's calling it quits as a Ranger, because nothing else would have made sense. In the '90s he was one of those players worth the price of admission all by himself, like Jim Abbott on the mound or
Frank Thomas
digging in at the batter's box or even Ken Caminiti's kamikaze glove work at third. For 12 years in Texas, he was as close to a signature star as the franchise had ever had to that point, outshining even sluggers Rafael Pameiro and
Juan Gonzalez
in that performance-enhanced era.
The great novelist F. Scott Fitzgerald said that, "There are no second acts in American lives," and maybe there's something to that, but it certainly wasn't true about Pudge Rodriguez in his career. After a dozen seasons in Texas, the man moved on to the Marlins to help lead their other, less notorious "bought" World Series in 2003, a single-season temp who was just getting started at proving he had plenty left in the tank on the back slope of his career. He was a key player on the 2006 Tigers team that upset a few apple carts by winning an American League pennant.
That sort of second wind propelled him to the elder statesman stints that seem to reflect the end of more than a few great catchers' careers. After a pre-free agency trade to the Yankees, he'd move from Houston to Texas to Washington, an extended victory lap on a career that had seen its share of winning.
There was a special kind of agony associated with watching Pudge at the end of his career that took me back to watching the previous "Pudge," Carlton Fisk, catching games for the White Sox at the end of his career, as he set the games caught record that had been, briefly, Boone's. As catchers, both Pudges had probably taken more pounding behind the plate than anyone else to don a uniform, let alone take up the tools of ignorance.
At the end, there was something both poetic and sad about the contrast between the tremendous young catchers who stood ready to replace them -- Ron Karkovice with the White Sox and
Wilson Ramos
with the Nats -- and their own diminished skills. Draw whatever broad-strokes image about the passage of time in baseball that you care for, but the handoff from an all-time great to a ready kid with skills is the epitome of following teams and players over time. It's why we ache for the ones who have to let go, and root for the ones ready to step in. It's a big part of why we watch.
There's nothing poetic or sad about watching Rodriguez choose to walk away now, though. His greatness is a matter of record. The 14 All-Star appearances, the 13 Gold Gloves, the MVP award or the ring, all of it was his due because he could do what no one else could, catching longer than anyone else has or will, better than anyone ever has, or will. Here's looking forward to seeing Pudge in Cooperstown on the first ballot. It, like so much else, is what he has earned.
PHOTO OF THE DAY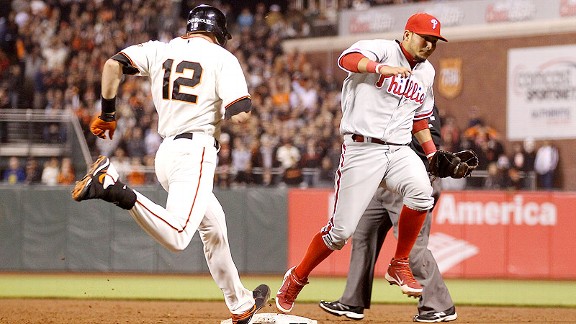 Ezra Shaw/Getty ImagesComing and going at first base, Freddy Galvis barely beat out Nate Schierholtz to the bag.
Christina Kahrl covers baseball for ESPN.com. You can follow her on Twitter.
September, 15, 2011
9/15/11
11:30
AM ET
By
Christina Kahrl
| ESPN.com
In the spirit of the season with Hispanic Heritage Month, let's take a look at the all-time best players of Latin descent for each of the American League teams.
Baltimore Orioles
: Mike Cuellar of Cuba. Cuellar only had an eight-year run in Baltimore, and arrived well after he'd turned 30, but the O's saw a workhorse, and innings and wins are what they got. Cuellar became the first Latin pitcher to win the Cy Young Award when he split it with Denny McClain in 1969 -- his first year as an Oriole. He went on to notch 143 wins during his time in Baltimore, and also delivered WAR seasons worth 2.5 wins or more in five of his first six seasons.
[+] Enlarge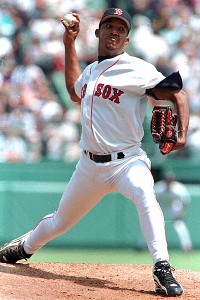 AP Photo/ Jim RogashPedro Martinez won at least 14 games in six of his seven seasons with the Red Sox.
Boston Red Sox
:
Pedro Martinez
of the Dominican Republic. When you can count
Manny Ramirez
and Luis Tiant among the runners-up, you know you've got a full field, but three Cy Young awards and a career 2.52 ERA for the Red Sox over seven seasons during the age of injection-enabled offense puts Pedro on a plane all his own.
Chicago White Sox
: Minnie Minoso of Cuba. In his various stints with the White Sox, the Cuban Comet managed to miss the team's lone pennant in 1959, but the vast majority of his career value (42.7 WAR) came from his the nine seasons in his first two incarnations with the Sox (1951-57, 1960-61); there were three more yet to come. There's room for an honorable mention for Venezuelan shortstop Luis Aparicio (31.5 WAR), but like Minoso, he spent chunks of his career in other unis.
Cleveland Indians
: In another full field, you could pick Venezuela's
Omar Vizquel
or Mexican-American Mike Garcia; Garcia was a rotation regular for the 1950's Tribe, and he's a reasonable choice for the 32.4 WAR, 3.27 ERA and 142 wins he gave them. However, his value on the mound was essentially equal to Manny Ramirez's 32.8 WAR he produced with his bat in almost eight seasons with the Indians. Surprising nobody, Manny's WAR numbers go down when you count his defense, but that production at the plate puts the Dominican immigrant among the 10 most productive Indian bats of all time.
Detroit Tigers
: It might be cause for surprise, but the Tigers are one of the very few teams from among the league's original eight who have yet to boast a long-term Latin star. Venezuela's
Miguel Cabrera
has only just become the franchise's first Latin player to accumulate 20 career WAR with the Kitties, and he still hasn't spent half of his career in Detroit. One man worthy of an honorable mention is Willie Hernandez, for his MVP- and Cy-winning 1984 season, but the Motor City was the Puerto Rican Hernandez's third stop, and his career didn't make it to the '90s.
Kansas City Royals
: It's been so long since
Carlos Beltran
of Puerto Rico played for the Royals that you might forget he was almost every bit the MVP-caliber player there as he'd get more recognition for in Houston and New York. His 2003 season (7.3 WAR) rates among the 10 greatest seasons by a Royals position player, a list that has five different George Brett seasons and four other guys besides Beltran on it. Before the season, you might have wanted to lean towards Mexico'
Joakim Soria
, but a bumpy 2011 was enough for me to play wait and see.
Los Angeles Angels
of Anaheim: The Angels' roster has been characterized by so much turnover historically that it's been hard for anyone to settle in and pile up big career totals as a Halo, something that only recently changed with
Tim Salmon
and
Garret Anderson
. So while
Vladimir Guerrero
of the Dominican Republic has played less than half of his career in Anaheim, he's pretty much by his lonesome for spending so much of his productive career there.
[+] Enlarge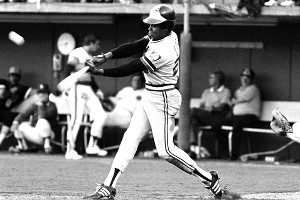 AP PhotoRod Carew spent 12 seasons with the Minnesota Twins.
Minnesota Twins
: One of the other reasons tabbing Vladi as an Angel was necessary is because Panama's Rod Carew did most of his damage during his long career with the Twins. If you remember the fleet-footed old man for his 3,000th hit at the end of his career back in 1985, you might remember him as an Angel, but more than 2,000 of those hits came hitting in the frosty confines of Minnesota's old Metropolitan Stadium, as unlikely a landing spot for a youngster from the Canal Zone as you might imagine.
New York Yankees
: You might fidget over Lefty Gomez, who was Portuguese and Spanish on his father's side and all-Californian enough to merit the nickname "Goofy," and Dominican
Alex Rodriguez
and Puerto Rico's
Jorge Posada
would be easy choices in other organizations. But with almost 56 WAR contributed to one pinstriped contender after another, the man who has delivered the most career value is Panama's
Mariano Rivera
.
Oakland Athletics
: It's important not to forget that Reggie Jackson claims Hispanic heritage on his mother's side, but the key player from the Big Green Machine of the '70s who deserves a shoutout here is Cuba's Bert Campaneris. With 649 career steals, Campy leads all Latin ballplayers while ranking 14th overall, and his 43.1 career WAR suggests how much value he added in the field as well as on the bases.
Seattle Mariners
: Perhaps no player more perfectly captures Puerto Rico's complicated relationship with the United States than
Edgar Martinez
, who was born in New York City but grew up on the island. Whatever label you care to apply, anyone can take pride in the definitive DH's career after he hit .312/.418/.515 while producing 66.9 WAR at the plate.
Tampa Bay Rays
: With an existence that doesn't even stretch back two full decades yet, it might be premature to tab an all-time great Latin Ray, but Dominicans
Carlos Pena
and
Julio Lugo
lead the pack of notables, with Cuba's
Rolando Arrojo
leading the pitchers.
Texas Rangers
: Ivan Rodriguez's career may well be winding down, and he might be a decade removed from his last full season in Arlington, but Pudge has been the pride of Puerto Rico as the greatest position player in Rangers history, topping all Texas players with 48.6 WAR. He's long since punched his own ticket to Cooperstown.
Toronto Blue Jays
: As one of the first franchises to truly invest in Dominican talent, it should come as no surprise that some of the best ballplayers in Blue Jays history came from the island: infielder Tony Fernandez, slugger George Bell and pitcher Juan Guzman. But the Jays also came away with a ton of talent from Puerto Rico, starting with
Carlos Delgado
and
Roberto Alomar
. If you go by WAR, it should be Delgado, but Alomar's Gold Glove-studded career as a fielder is one of the great causes for debate over the strengths and limitations of both scouting and statistical analysis of defense. For the purposes of this sort of exercise, let's give the new Hall of Famer his due and tab Alomar.
On Friday, we'll turn to the National League and give the 16 greats of those franchises their props.
Christina Kahrl covers baseball for ESPN.com. You can follow her on Twitter.
May, 19, 2011
5/19/11
10:00
AM ET
The
Jorge Posada
situation is interesting on many levels, but to me it's clear what's going on: Much like the Ken Griffey Jr. situation last season in Seattle, a franchise icon is struggling and appears at the end of his career. The organization doesn't want to look bad by releasing a beloved player, so it attempts to turn public opinion against the player. (Remember the whole "Griffey falling asleep in the clubhouse" story from last year?)
Posada
Now, my take is this: the Yankees have paid Posada more than $100 million in his career. He's been a valuable (and underrated) player to the franchise and has been well-compensated for providing such production. What, exactly, do they owe him? They gave him an over-market and over-long four-year contract as he was entering his age-36 season, not the wisest investment to begin with. They've been lucky to get the years out of him that they did, including a terrific 2009 when he helped them win the World Series.
The club wants to call up top prospect Jesus Montero. He can DH, he can spell
Russell Martin
behind the plate once or twice or week (allowing
Alex Rodriguez
or another position a player a day off in the field) and the Yankees would be a better ballclub for it. Just tell that to the fans and release Posada. The fans will understand. I'm pretty sure they care more about winning than sentiment.
And for those who believe this would look bad to other major leaguers, who may then be reluctant to sign with the Yankees, I say: Really? You think a future free agent would turn down more money from the Yankees because they once released Jorge Posada? Please.
* * * *
I've always felt Posada has been vastly underappreciated during this 15-year run of Yankee greatness. Switch-hitting catchers with power and plate discipline don't grow on trees. I recently ranked
Posada the eighth-greatest Yankee of all time
... ahead of
Mariano Rivera
. Pretty much everyone disagrees with that, but employing one of the best catchers of all time is more valuable in my opinion than employing the greatest closer ever.
Where does Posada rank all time? Let's run some numbers. If you're not familiar with WAR, it stands for wins above a replacement level player for that position. OPS+ is a players on-base percentage plus slugging percentage, adjusted for home park and era, and scaled to where 100 is a league average hitter. Anyway, here are the top 10 catches via WAR from Baseball-Reference.com, plus Posada and Roy Campanella.
Posada spent his first year in the minor league as a second baseman. But 20 errors in 64 games at Oneonta necessitated a position change and he moved to catcher. He was never a top prospect coming through the minors; although he displayed good patience and moderate power, he hit just .258 in six minor league seasons, including three years at Triple-A learning the catching craft.
As a rookie in 1997, Joe Girardi earned the majority of the playing time. Posada turned 26 that year and hit .250. Nobody was predicting he'd turn into a star at that point.
Because of that late start, Posada falls just short of the top-10 catchers on the career WAR value list above. But what about peak value? I like to look at a player's best eight consecutive seasons as another way to assess his value, more of a "Did he dominate when he was at his best?" kind of question. Obviously, not every player has his best eight seasons consecutively, but it's just another to break down a player's career.
1. Johnny Bench (1968-1975), 49.2 WAR (43.4 offense, 5.8 defense)
2. Gary Carter (1978-1985), 49.2 WAR (38.5, 10.7)
3.
Mike Piazza
(1993-2000), 48.4 WAR (50.6, -2.2)
4. Yogi Berra (1950-1957), 41.9 WAR (40.3, 1.6)
5. Mickey Cochrane (1928-1935), 40.9 WAR (41.0, -0.1)
6.
Ivan Rodriguez
(1997-2004), 40.2 WAR (32.8, 7.4)
7. Ted Simmons (1973-1980), 38.0 WAR (39.4, -1.4)
8. Jorge Posada (2000-2007), 37.1 WAR (37.8, -0.7)
9. Bill Dickey (1932-1939), 36.1 WAR (35.7, 0.4)
10. Roy Campanella (1948-1955), 34.4 WAR (33.0, 1.4)
11. Carlton Fisk (1972-1979), 33.8 WAR (31.4, 2.4)
12. Gabby Hartnett (1930-1937), 28.5 WAR (27.4, 1.1)
Anyway, not a bad career for an error-prone minor league second baseman. Even though he has a solid case as one of the 10-12 most valuable catchers ever, it seems to fall a little short of Hall of Fame standards in my book, even with extra credit for World Series rings.
Posada wasn't in the lineup Wednesday night (
Derek Jeter
got a night at DH) and I get the feeling we won't be seeing him much there in the coming weeks. I suppose if he's forced out he'll end up leaving the majors like he came in -- very quietly.
(For more Yankees coverage, check out our SweetSpot blog affiliate,
It's About the Money, Stupid
.)
April, 21, 2011
4/21/11
4:50
PM ET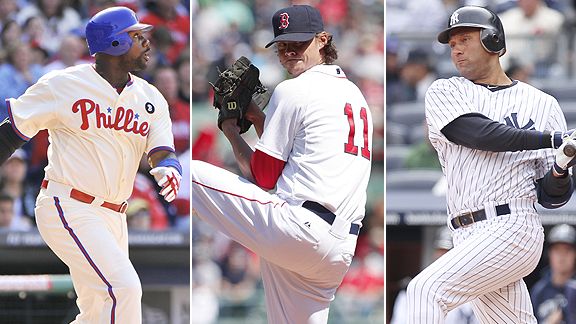 US Presswire, Getty ImagesRyan Howard, Clay Buchholz and Derek Jeter have spots on the all-overrated team.
I did my
all-underrated team
the other day. Here's the all-overrated team. Now, all these guys aren't bad players. In fact, most of them are good players -- just not as good as I think they are widely viewed. And just because I included them doesn't mean I hate them or their team.
C -- Ivan Rodriguez, Nationals.
He's had a Hall of Fame career, but it's been a long time since we've seen vintage Pudge. He hasn't posted an adjusted OPS above the league average since 2004 and posted a .286 OBP over the previous two seasons. And yet the Nationals still brought him back.
1B -- Ryan Howard, Phillies.
When I asked for overrated nominees on Twitter, Howard easily received the most votes. Over the past three seasons, 16 first basemen received at least 1,500 plate appearances. Howard is 14th in OBP. He's fifth in slugging, but 10th in OPS. Look, Howard is a good player. He hits home runs and drives in runs. He seems like a great guy. But he's not one of the top five first basemen in the game and shouldn't be finishing in the top 10 in the NL MVP vote every season.
2B -- Ian Kinsler, Rangers.
How good would he be away from the friendly hitting confines of The Ballpark? He's a career .312/.394/.530 hitter at home, but a pedestrian .246/.317/.404 on the road. He also has trouble staying healthy (he's played 140 games just once in five seasons).
[+] Enlarge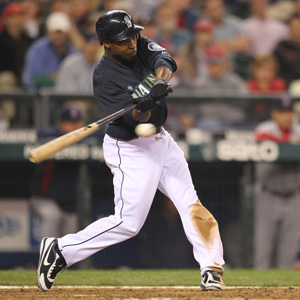 Otto Greule Jr/Getty ImagesChone Figgins is off to a rough start, with just a .217 OBP through 17 games.
3B -- Chone Figgins, Mariners.
OK, with a terrible start and a bad 2010, maybe nobody rates him too high anymore. The Mariners signed him to a big four-year deal after his fluke 2009 season -- his WAR totals via
Baseball-Reference.com
since 2006: 0.3, 2.8, 2.5, 6.9, 1.1 -- and now they're paying the price for misreading that season.
SS -- Derek Jeter, Yankees.
I know, too easy. I'm not a Jeter hater -- I've written that you can make a case for him as the second-best shortstop of all time. His slow start isn't alleviating concerns that he's getting old.
OF -- Delmon Young, Twins.
With a .298 average, 21 home runs and 112 RBIs, Young had a really great season in 2010, right? Except his OBP was only .333 (and .324 career) and nobody thinks his defense is any good. A classic example of a guy with Triple Crown stats that mask other problems.
OF -- Jacoby Ellsbury, Red Sox.
Red Sox fans weren't happy when I mentioned in a recent chat that Ellsbury wasn't all that. I'll stick to that comment. His career OPS+ is 92 (below league average) and while he does steal bases, I think he's more adequate than great on defense. If he didn't play in Boston, he'd be known as "
Michael Bourn
."
OF -- Hunter Pence, Astros.
He's consistent and durable and a good player who plays hard, but his .336 OBP prevents him from being the true star many fans view him as.
P -- Ricky Nolasco, Marlins.
I'm with Eric Karabell on this one: Sabermetricians love his SO/BB ratio, but his career ERA is 4.40 in a good pitcher's park and he hasn't pitched 200 innings since 2008.
P -- A.J. Burnett, Yankees.
Even when he was good, he wasn't
that
good. For years, we heard that he had the best stuff in the game, but his career ERA is 4.00. Now people are back on the Burnett bandwagon after his 3-0 start, but his WHIP is still an unimpressive 1.46.
P -- Clay Buchholz, Red Sox.
He had a 2.33 ERA last season (helped in part by 10 unearned runs) and a lot people said he was a bit lucky since his strikeout rate wasn't impressive enough to match the few number of hits he gave up. So far, they've been proved right as Buchholz has stumbled out of the gate with a 10/14 SO/BB ratio and six home runs allowed (he gave up only nine all last season).
P -- Joba Chamberlain, Yankees.
Have so many words ever been written about a mediocre middle reliever?
P -- Francisco Cordero, Reds.
He's third among active pitchers with 292 career saves, but he's hardly a lights-out closer with a 3.23 career ERA and 1.36 WHIP. He's proof that a lot of guys could rack up 200-plus saves if given the opportunity.
February, 26, 2011
2/26/11
12:30
PM ET
By
Steve Buffum
| ESPN.com
Much of the last week (if not, in fact, the past six months) has been devoted to wailing and gnashing about Carmelo Anthony and what his insistence to play for the Knicks means for the NBA. As a Cleveland fan, I'm certainly sensitive to the issue of elite players using their free agency leverage to engineer hand-picked "power" teams. Trust me, I've been there.
[+] Enlarge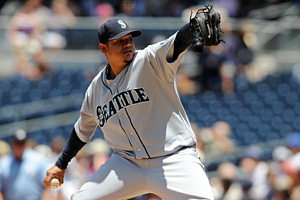 Christopher Hanewinckel/US PresswireBaseball teams typically need more than one or two elite players to win championships, as evidenced by Seattle and ace Felix Hernandez last season.
Is this good for the NBA? Frankly, I don't care all that much. It's the NBA. I'll get by.
More interesting to me is the question, "What does this mean for baseball?"
To be honest, I don't think it means a damned thing.
Baseball teams have been putting together collections of elite talent for the entire modern free-agency era, arguably since the end of the 19th century. Sure, there have been flurries of arguments against a high-budget team (usually the Yankees) putting together an unbeatable juggernaut at the expense of the so-called "little guys," but this rarely materializes. I see a couple obvious factors here, and one surprising one.
One obvious one is roster size. One player on an NBA roster makes up 20 percent of the team in play and about 8 percent of the whole team: In MLB, these numbers are more like 10 percent and 4 percent. If an NBA team gets three elite players, they make up 60 percent of the starting lineup, and probably play on the order of 50 percent of the total minutes. If the Phillies sign even as many as four elite starting pitchers, they still need a bullpen, offense, and defense.
Another factor is that one elite player can have a disproportionate impact on a basketball game. Not only did LeBron James lead a team of role players to the NBA Finals in 2007, but the Detroit Pistons of the early-00's were the only team in recent memory (since 1980, say?) to win the Finals without having one of the five best players in the NBA on the squad. In contrast, not only did
Felix Hernandez
, good enough to win the Cy Young he deserved, not lead the
Seattle Mariners
to a winning record, he didn't do so while having
Cliff Lee
in the same rotation.
That seems like another factor: Admittedly, I'm a much bigger baseball fan than NBA fan, but it just seems like there are more players in MLB that can be considered really excellent compared to their peers. (Of course, there are twice as many positions, too.)
The surprising reason, however, might be at least partially explained by the salary cap (or lack thereof). There was no way for New Jersey to offer Anthony a different amount of money than New York. While Cleveland could offer James more money than any other team, it was only one more year, and the percentage difference was fixed. In contrast, the woeful
Detroit Tigers
were able to entice
Ivan Rodriguez
with what was considered a disproportionate offer at the time, and although such plans don't always bear fruit (Jayson Werth's deal with Washington comes to mind as the most recent example of one not likely to work), the Tigers did win the AL Pennant in 2006.
Also, there are more ways to put together a playoff-caliber team in MLB, which is why we've seen teams like Tampa Bay, San Francisco, Texas, St. Louis, and Philadelphia in the World Series in recent years. The baseball playoffs are more susceptible to randomness, too: It's pretty rare for an NBA champion to be a team that pulled several upsets en route to their title.
I'm not saying one sport is better than the other: You're here, so you probably share my opinion on the subject. But I'm pretty confident that while the NBA landscape might have been changed significantly for the foreseeable future, the MLB landscape looks pretty much unaffected by it.
Steve Buffum writes The B-List, a blog about the Cleveland Indians.
February, 20, 2011
2/20/11
3:30
PM ET
By
Jason Rosenberg
| ESPN.com
Jim Edmonds
announced his retirement on Friday, his 17 season career finally grounded by an Achilles' tendon injury. Edmonds is best known for his highlight reel catches in center field, but the remainder of his play has been oddly underrated over the years.
So we can begin the debate on whether Edmonds is Hall of Fame worthy. Some say yes (as Chad Dotson
did here Friday
), others no.
When we look at Edmonds' Hall of Fame credentials, we're struck by the numbers he put up in the five years after he was traded by Anaheim to St. Louis . Between 2000 and 2004, Edmonds put together a string of seasons that ranked him with baseball's elite. During this stretch, Edmonds averaged 7 Wins Above Replacement (WAR) annually, and posted an OPS over 1.000. Consider that during this same period, a guy named
Alex Rodriguez
was putting together some of his best seasons as a ballplayer; only during this stretch A-Rod's OPS was 14 points below that posted by Edmonds.
During the complete sweet spot of Edmonds' career (1995-2005, which includes his abbreviated 1999 season when he only played in 55 games), Edmonds was among the very best in the game, ranked by cumulative WAR (from B-R.com):
Any random slice of data creates issues, we acknowledge this. So if you're curious about Edmonds' career numbers, his 68.3 WAR places him eighth all time among center fielders. Filtering for center fielders who played since baseball integrated (1947- present), Edmonds ranks fourth in WAR, behind Willie Mays, Mickey Mantle and Ken Griffey Jr., and sixth in OPS+ at 132. Nice company.
[+] Enlarge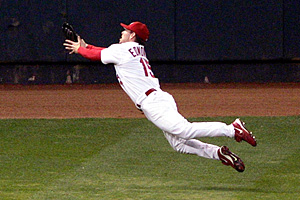 Stephen Dunn/Getty ImagesJim Edmonds was known for diving catches like this one for St. Louis in Game 7 of the 2004 National League Championship Series against Houston.
One unfortunate thing about the table above: Unless the attitudes of the Hall of Fame voters change dramatically, very few of these players are going to make it to the Hall of Fame.
Chipper Jones
and
Vladimir Guerrero
have excellent chances to make it to the Hall.
Jim Thome
is a good bet to be elected to the Hall, thanks to what will likely be 600-plus home runs, not to mention being a Hall of Fame person. Bagwell's first year of HOF eligibility was shrouded in hints and allegations, putting him at 41.7 percent in his debut.
Todd Helton
might struggle, given concerns that his numbers were inflated by playing home games at Coors Field. [
Larry Walker
received a low 20.3 percent of Hall of Fame votes this year, presumably because of the Coors Field factor]. Pudge Rodriguez was named in
Jose Canseco
's book and will face increased scrutiny as a result. But
Barry Bonds
,
Manny Ramirez
,
Jason Giambi
, A-Rod and
Sammy Sosa
will likely be barred because of these players' association with performance-enhancing drugs, again, unless the attitudes of voters change. An entire generation of fans will have very few of the era's best hitters represented.
Edmonds might not have been the greatest player of his generation; he never finished higher than fourth in Most Valuable Player voting. He did not have 2,000 hits for his career, or 400 home runs, or hit .300, milestones that Hall of Fame voters tend to focus on. Still, it seems to us that this generation of players needs Hall of Fame representation -- if not Bonds and Sosa, then why not Edmonds?
Jason Rosenberg writes It's About The Money, Stupid, a blog about the New York Yankees. IIATMS can be found on Facebook, and you can follow Jason on Twitter. Larry Behrendt greatly contributed to this article and can also be followed on Twitter.
January, 6, 2010
1/06/10
2:27
PM ET
After all these years, I shouldn't be surprised anymore by Hall of Fame voters.
Today I was.
I didn't know how many players would be elected. I figured at least one, but probably two and possibly three.
Well, it was one. And not the one I would have guessed.
[+] Enlarge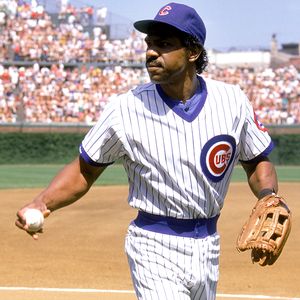 Jonathan Daniel/Getty ImagesAndre Dawson won eight Gold Gloves and four Silver Slugger awards during his 21-year career.
Andre Dawson. In his first four appearances on the ballot, he was considered a Hall of Famer by roughly half the electorate. That number rose to two-thirds of the electorate in the past two elections. And this time around, he jumped from 67 percent to 78 percent. Because, you know, he hit all those home runs in 2009.
Kidding. But Dawson did finish his career with a .323 on-base percentage, which means he's wrested the title
Hall of Fame Outfielder With the Worst OBP
away from Lou Brock ... and it wasn't much of a battle, as Brock's OBP is 20 points higher than Dawson's.
This bothers pointy-headed nerds like me. It did not bother most Hall of Fame voters, who chose instead to focus on his eight Gold Gloves, his MVP award in 1987 and the dynamic power/speed blend that typified Dawson's five best seasons. I wouldn't have voted for Dawson, but his career does (roughly speaking)
fall in line
with the Hall's historical standards. I mean, he wasn't anything like as good as Tim Raines, but that's
an argument
for another day. Raines got only 30 percent and deserved better (but at least he's moving up). Alan Trammell got just 22 percent, and deserved
much
better (he moved up, too, but just slightly).
Roberto Alomar
should have been the easiest choice on the ballot. He finished his career with more than 2,700 hits, he stole 474 bases, and he won 10 Gold Gloves at second base. The only knocks against Alomar are that he once spit on an umpire and that his last good season came when he was still just 33. But only 74 percent of the voters saw well past those things, and it takes 75 percent. Although the BBWAA's collective decision is indefensible, it will be forgotten a year from now when Alomar clears the bar with ease.
Also falling just short -- just
five votes short
-- was Bert Blyleven, in his 13th try. Consider the progress that he's made, though. In his first three tries, he couldn't clear 20 percent. Five years ago, he cleared 50 percent for the first time. And now he's at 74.2 percent, and will almost certainly join Alomar on the podium next year. And when he's up there, I suspect that Blyleven will have a word of thanks for
Rich Lederer
.
There were three first-time candidates other than Alomar who deserved particularly serious consideration.
Barry Larkin
played more than 150 games in only four seasons, which is about the only bad thing you can say about him, but it
is
a bad thing. Larkin played in just 2,180 games; Dave Concepcion, another lifetime Red who played shortstop and has supporters of his own, played nearly 2,500 games. But Larkin won a dozen Silver Sluggers and was an All-Star a dozen times, plus he stole nearly 400 bases and picked up a few Gold Gloves. He'll make it, eventually.
One never got the sense that
Edgar Martinez
really had a chance. Not this time, anyway. For the non-obvious candidates, the only path to election includes starting out well short of the goal, then building support over the years as voters take a closer look and perhaps are dragged aboard the bandwagon.
2009 inductee Jim Rice got just 30 percent his first time on the ballot; Andre Dawson, just 45 percent. There aren't any guarantees, but at least Edgar's still in the game. The problem, for him and any other candidate who's not elected in the next two years, is that the ballot will be flooded with highly qualified first-time candidates in both 2013 and '14. Some of those candidates will be pushed to 2015 and beyond, when they'll be joined by the likes of
Randy Johnson
,
John Smoltz
,
Trevor Hoffman
,
Mariano Rivera
,
Ivan Rodriguez
and ... well, those ballots are going to be mighty crowded.
Fred McGriff
got just 22 percent, which shouldn't be much of a surprise. Maybe he would have fared better if he'd hit 500 home runs (rather than 493). But 500 isn't a magic number these days. More than anything, McGriff simply suffers by comparison to his contemporaries at first base:
Frank Thomas
,
Jeff Bagwell
,
Mo Vaughn
and
Jason Giambi
all won MVPs during McGriff's career;
Mark McGwire
and
Rafael Palmeiro
did some impressive things, too. With the exception of the last two months of the 1993 season, McGriff was overshadowed by all of them.
If I may indulge in a bit of speculation ... Alomar is obviously one of history's greatest second basemen. A huge majority of ballots already made public included Alomar's name. I can only guess that a significant number of voters were simply too apathetic about baseball during Alomar's career to pay any real attention. I don't say that to explain why he didn't get elected this year. I say that to explain why he'll get elected
next
year, as a few dozen voters say to themselves, "Hey, this Alomar fellow was almost elected last year. I guess I should probably vote for him!"
At least they do usually get it right, eventually. The process works, sort of.
August, 18, 2009
8/18/09
4:13
PM ET
Ivan Rodriguez
a Ranger again? Raise your hand if you saw
this
coming? Jeff Wilson with
all the details
(except for the identity of the presumably nondescript minor leaguers the Rangers are giving up):
A source said Rodriguez will serve as the backup for Taylor Teagarden, who has assumed the starting duties with Jarrod Saltalamacchia on the disabled list. Saltalamacchia was placed on the DL on Saturday with arm fatigue and was told today by vascular specialist Dr. Greg Pearl that he has thoracic outlet syndrome. Saltalamacchia, though, said that he will stretch and rehab the arm over the next few weeks and was told that he could play again this season. "I'm going to play through it, and hopefully it goes away," Saltalamacchia said. "He [Pearl] thinks that if I stretch it out and do the rehab, there's a chance I can overcome it. "I don't want my season to end. We're in the hunt, and I want to help out as much as I can."
Do you remember last summer, when smart guys like me were saying the Rangers had so many good catchers they should trade one of them to the Red Sox?
Those three good catchers -- Teagarden, Saltalamacchia, and Maximiliano Ramirez -- have been so good this season that management felt compelled to trade two young players for a 37-year-old catcher with a .280 on-base percentage.
Saltalamacchia? The starter for most of this season, he's got a .293 on-base percentage, and he's had some problems throwing the ball back to the pitchers.
Teagarden? He's been even worse, with a .264 on-base percentage in 38 games.
Ramirez? He can't really catch, and anyway he hasn't done enough with the bat this year to escape the minor leagues.
Hence, Ivan Rodriguez. Of course, his OBP isn't any great shakes, either. But he can still throw, and with Saltalamacchia out the Rangers do need another catcher. And speaking purely as a fan, it'll be fun to see him wearing the uniform again.
June, 2, 2009
6/02/09
12:10
PM ET
While fisking someone else's all-'00s team
yesterday
, I goofed. As one commenter was only too happy to point out ...
No Catchers played in the 2000s? Really? How can we be expected to take this seriously if something as egregious as leaving the most important position on the field off? C'mon Neyer, you are better than that.
I am? Oh, right: I am!
Sometimes, anyway. My first fear was that Waters had listed a catcher and I'd just missed it. But, no: He must have simply forgotten, and then we piled my inattention atop his forgetfulness and ... well, there's your recipe for an embarrassing situation.
Let's talk catchers now, though. One commenter commented, "Pudge, no one even close."
Is that right, though? My gut reaction was that Pudge has had some pretty ineffective seasons in this decade, and someone else must be at least close to him.
Someone is. More than close.
Only 14 catchers in this decade have at least 3,000 plate appearances. Only six of those 14 have an OPS+ of 100 or better; that is, only six have been league-average (or better) hitters in the decade. Given the vagaries of evaluating a catcher's defensive contribution, I will argue that it's virtually impossible to consider someone the best catcher of the decade if he's not at least league-average with the stick (sorry, Brad Ausmus and Jason Kendall). Ivan Rodriguez makes the list of six ... but not prominently.
Considering playing time and what we do know about defense -- Pudge good, Piazza bad -- we can narrow our list of candidates to two, right? Martinez and Lopez simply don't have enough time. Posada's playing time trumps Piazza's; Pudge's hitting trumps Varitek's.
So it's Posada vs. Rodriguez in a fight to the finish. And while the finish won't be until October of 2009, I have a hard time believing that Pudge can do enough in the next four months -- or has done enough with his glove and arm over the last nine seasons -- to make up for that 16-point gap in OPS+.
Ivan Rodriguez is going into the Hall of Fame. Posada isn't, and shouldn't; he just happens to have played the lion's share of his fine career in a single decade.