May, 27, 2014
5/27/14
10:00
AM ET
By
Christina Kahrl
| ESPN.com
The first-place
Toronto Blue Jays
? We're coming up on finishing the first third of the season, and it's a fun thing to think about: The first-place Blue Jays, for real. But how did they get there?
It's easy to put down where they are to a couple of big developments: Mark Buehrle's big start, 8-1 with the team going 9-1 in his 10 turns, or
Edwin Encarnacion
's 13 home runs in May, or
Jose Bautista
staying healthy while posting an OPS north of .900 for the first time since 2011.
Melky Cabrera
is hitting and staying out of trouble (so far).
Jose Reyes
has played more games than he has missed.
Those are the things that, when they work, you congratulate yourself, because that's all part of any master plan GM Alex Anthopoulos would have for how the Blue Jays contend. What's interesting about where they're at isn't just the good things working out the way you'd like, it's the other things that they've had to do. It's the things they've had to fix, the elective decisions they're making, to help themselves do even better.
Take their infield. Initially, they gave organizational soldier
Ryan Goins
a big chunk of the second-base job, figuring he'd split time with veteran utility infielder
Maicer Izturis
. Then Izturis tore up his knee, Goins didn't hit, and predictably enough neither did veteran subs
Munenori Kawasaki
and
Chris Getz
. So, with all that failing to stick, the Jays got creative.
They'd already lucked into
Juan Francisco
's availability at the end of spring training, signing him after he was cut by the Milwaukee Brewers, then employing the lefty slugger to good effect when DH
Adam Lind
got hurt. Looking at the wreck of their middle infield, they decided to try Francisco at third base despite years of scouting reports and weak performance to warn them against it. But they figured they were better off resuming the experiment with
Brett Lawrie
at second rather than continue futzing around with the scrappy second-base types most teams might accept -- Goins or Getz, it hardly mattered, use either and you're probably not goin' to getz anywhere.
So, at a time when offense is down, the Jays made the choice to play for runs instead of defense, and it's working. They're averaging 4.9 runs per game with a deep lineup capable of trading blows with the league-leading Los Angeles Angels and Oakland A's. For the Jays, it's a multi-positional platoon, one in which Lawrie flips between second and third base while playing every day, with Francisco at third base against righties and journeyman
Steve Tolleson
at second base against lefties, exploiting the .832 OPS the former Twins farmhand has put up in his abbreviated big-league career against southpaws. They're 18-8 since Francisco's first start at the hot corner on May 3 after starting the year 12-14. They're 9-1 in the games Tolleson has started against a lefty, beating guys like
Cliff Lee
and
Cole Hamels
,
Jon Lester
and
C.J. Wilson
and
Scott Kazmir
.
How does this work? Well, sure, as Francisco is slugging above .600 reflects, some guys can have a great 100 at-bats or so. But perhaps more importantly the Blue Jays are using guys for what they can do where they can do it, instead of getting hung up on what they can't. Take Francisco: Built with the range of your average home appliance, he probably isn't going to be an average third baseman in the major leagues. So what? Aspire to adequacy, and that's what you get, and you might miss out on what the guy can do: Crush right-handed pitching with regular playing time, slugging over .500 in his extended minor-league career. A corner is exactly where you can hide his bat, where he might see only two or three chances per game. Yes, he'll strike out a third of the time. He'll also crank out a .200 Isolated Power at a time when finding people who can contribute on offense isn't so easy.
But let's also credit manager John Gibbons for pushing for runs. Take Monday's game: Up by two in the fifth with nobody out, his lineup just chased
Erik Bedard
, so the Rays have
Alex Colome
come in to face Tolleson -- who'd already homered -- and Gibbons pulls Tolleson anyway to exploit the offensive advantage and bat Francisco against the righty, and devil take the subsequent defensive risks. Francisco walked, the inning just got bigger, and two more runs would score to put the Rays down for keeps. In an era when pitching substitutions and their effectiveness usually define in-game initiative, it was nice to see someone in the dugout take it back on offense and win a matchup game
because he had the option
, and he used it.
The flip side of this is to note that the Jays have to play for runs, because of the other thing that isn't working for them in the early going: Their rotation, and seeing what they're going to do about it. Outside of Buehrle's turns, they're 21-22 overall, and they've gotten just nine quality starts in 31 games from the rotation outside of those made by Buehrle and
R.A. Dickey
. They need better.
Someone like
J.A. Happ
might make for an adequate No. 4 or 5 in a contender's rotation. And you can get excited about what Drew Hutchinson
might
become if you just look at his strikeout and walk rates and his FIP, but that's only going to so far when he keeps getting clobbered the second time through the order (.825 OPS before Monday's slugfest), or the third (.855). Maybe he'll adjust, maybe not.
But if Hutchinson doesn't become the third horse they really need, the Jays have a rotation that's going to keep putting them in the slugfests that their offense will have to win for them. That's fine as long as it's going good, and creating leads that their excellent relief trio of
Brett Cecil
,
Aaron Loup
and
Steve Delabar
protect and hand off to closer
Casey Janssen
. But you'd like to see the Jays adapt their plan in-season again by adding an arm, and not just because banking on Brandon Morrow's comeback from the DL at some point in July would be optimistic.
Sometimes contention is a matter of building on both the ideal and the unexpected. Given that the Jays can be happy to be where they are, here's hoping they take some more chances to stay there.
Christina Kahrl writes about MLB for ESPN. You can follow her on Twitter.
February, 7, 2013
2/07/13
11:40
AM ET
2012 in review
Record: 73-89 (74-88 Pythagorean)
716 runs scored (7th in AL)
784 runs allowed (11th in AL)
Big Offseason Moves
Traded
Henderson Alvarez
,
Yunel Escobar
, Jake Marisnick, Justin Nicolino,
Adeiny Hechavarria
,
Jeff Mathis
and Anthony DeSclafani to the Marlins for
Jose Reyes
,
Josh Johnson
,
Mark Buehrle
,
Emilio Bonifacio
and
John Buck
. Traded Buck,
Travis d'Arnaud
, Noah Syndergaard and Wuilmer Becerra to the Mets for
R.A. Dickey
,
Josh Thole
and
Mike Nickeas
. Signed free agents
Melky Cabrera
and
Maicer Izturis
. Picked up option on
Darren Oliver
. Lost free agent
Kelly Johnson
. Acquired
Mike Aviles
from the Red Sox (for manager John Farrell and
David Carpenter
) and traded Aviles and
Yan Gomes
to the Indians for
Esmil Rogers
. Signed Dickey to a two-year extension with 2016 club option. Named John Gibbons manager.
That's what I call an exciting offseason. It may even have pushed the Maple Leafs off the front page of the sports section for a few days. GM Alex Anthopoulos picked up the NL Cy Young winner, a guy who has pitched 200-plus innings 12 seasons in a row, a guy coming off a season in which he hit .346 (and, yes, got suspended for a positive PED test), a shortstop who has compiled the third-most wins above replacement at the position over the past two seasons (or most, depending which version of WAR you prefer), a starter who led the NL in ERA in 2010, and a solid utility guy who has swiped 73 bases the past two years.
What did he give up? Of the prospects traded, d'Arnaud (14), Nicolino (62), Marisnick (82) and Syndergaard (97) ranked in Keith Law's
top 100 prospects

. The Blue Jays' farm system, which would have been ranked in the top five, now ranks 24th. In this era when general managers don't want to make that fatal mistake, kudos to AA for pulling off the deals (and ownership for approving the salary influx, which should increase Toronto's payroll by an estimated $30 million or so).
Position Players
Despite
Edwin Encarnacion
's monster 42-homer breakout season, the Blue Jays' offense was a big disappointment in 2012, and not just because
Jose Bautista
played only 92 games.
Brett Lawrie
was OK in his first full season but underperformed expectations.
Adam Lind
had another underwhelming season. Overall, the main problem was getting on base -- the Blue Jays' .309 OBP ranked 13th of 14 teams in the AL. Some of those guys are gone, but
Colby Rasmus
(.289),
J.P. Arencibia
(.275) and Lind (.314) are still projected as regulars.
How many more runs can we expect the Jays to score? Here are some quick back-of-the-napkins numbers for the new guys in the lineup:
Cabrera replaces
Rajai Davis
/others: 85 runs created versus 65; +20 runs.
Reyes replaces Escobar: 86 runs created versus 53; +33 runs.
Izturis/Bonifacio replaces Johnson/others: 70 runs created versus 68; +2 runs.
Total: +55 runs.
That's about five wins, not factoring in defense. Defensive runs saved rated Escobar at plus-14 runs in 2012, Reyes at minus-16 (he hasn't had a positive DRS since 2007). So it's possible the Jays are giving back a couple of those wins on defense at shortstop. Of course, the Jays are hoping for a full season from Bautista, improvement from Lawrie and Rasmus, and another big year from Encarnacion.
I think it's a good lineup but not a great one. I still see some OBP holes, and Cabrera and Encarnacion will be hard-pressed to repeat their 2012 numbers. If Lawrie and Rasmus take a leap -- much more likely in Lawrie's case -- it
could
be a great offense, but I'm holding back for now.
Pitching Staff
I expect the Jays to make bigger gains on the pitching end of things. After a 2012 season that saw
Brandon Morrow
,
Kyle Drabek
and
Drew Hutchison
all miss time (Tommy John surgery in the cases of Drabek and Hutchison) and staff ace
Ricky Romero
struggle through a miserable 5.77 ERA, the Jays could end up with the best rotation in the majors after posting a 4.82 team ERA last year.
Although there is A-plus upside to this group, there are obvious reservations, primarily in the health and durability of Morrow and Johnson. Morrow had a 2.96 ERA in 21 starts -- after years of underperforming his peripherals -- but he never has pitched 180 innings in a season. Johnson did make 31 starts for the Marlins after missing most of 2011, although he wasn't quite the dominant pitcher he had been in 2010. Dickey takes his knuckleball back to the American League, and, although he might have had his career season, maybe he hasn't. Romero will get another shot, but
J.A. Happ
pitched well after coming over from the Astros and is a solid No. 6 guy.
Toronto's bullpen had the worst ERA in the AL last year. It won't be the worst this year.
Casey Janssen
has a solid track, and
Sergio Santos
returns from his injury to compete for the closer role. Rookie
Aaron Loup
(21-2 SO-BB ratio) looked very good late in the season, and Anthopoulos might have stolen hard-throwing
Steve Delabar
from the Mariners. He curbed his home run problems after coming over and struck out 46 in 29 1/3 innings with the Jays. He could emerge as an important late-inning weapon.
Heat Map to Watch
Was Encarnacion's season a fluke? At age 29, he hit 42 home runs and 110 RBIs, after never having hit more than 26 before. But the Jays apparently did a couple of things with Encarnacion's approach, most notably having him keep both hands on the bat throughout the swing. As this
article points out
, he also did a better job laying off pitches out of the strike zone. And he did a better job attacking fastballs, hitting .315/.411/.633 against them after hitting .289/.370/.482 in 2011. As the heat map shows, he likes those high fastballs.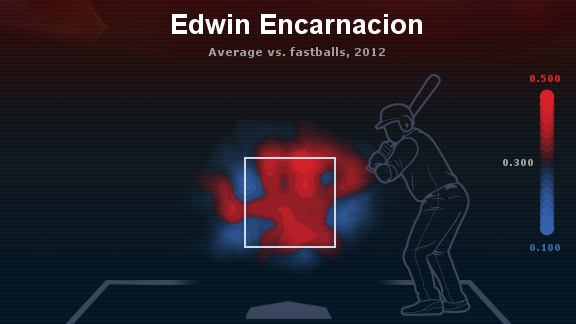 ESPN Stats & InformationWarning to pitchers: Edwin Encarnacion likes those high fastballs.
Overall Grade

There's no doubting the upside of this club. Should the Jays be the
World Series favorites
, as one Vegas book has them? I don't know about that. Still, if Bautista and Encarnacion become the first pair of teammates to hit 40 home runs since
Jermaine Dye
and
Jim Thome
with the 2006 White Sox, and if Gibbons gets 60 starts from Morrow and Johnson, I can see a 95-win club.
What we don't know is how tough the AL East will be. On paper, it could be five teams all beating the snot out of each other. Or maybe one will rise above the rest. What do you think?
July, 23, 2011
7/23/11
3:00
PM ET
By
Charlie Saponara
| ESPN.com
With trade rumors hitting us in full force as the deadline approaches, let's take a look back at some of what happened at the 2010 trade deadline and see how many of those players are making an impact for their new teams.
Cliff Lee traded to the Rangers; Mariners acquired Justin Smoak, Blake Beavan, Matthew Lawson and Josh Lueke
Despite a solid BB/K rate, Smoak continues to struggle with consistency at the big league level. He's still only 24, so there is time for him to improve, but he's not the instant impact bat that the Mariners were hoping for. Both Beavan and Lueke have pitched in spots for the Mariners this season. The Rangers rode Lee's contributions to the World Series and have since moved on from Smoak seamlessly, relying instead on the likes of postseason hero
Mitch Moreland
,
Michael Young
and
Mike Napoli
.
[+] Enlarge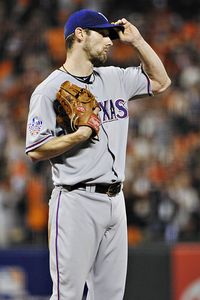 Scott Rovak/US PresswireThe Rangers acquired Cliff Lee in a 2010 deadline deal and rode his arm to a World Series appearance.
Dan Haren traded to the Angels; Diamondbacks received Joe Saunders, Tyler Skaggs, Patrick Corbin and Rafael Rodriguez
Haren has thrived for the Angels this season, and Saunders has held his own with the surprise contenders in Arizona. However, the big score for the D-Back may not arrive until late next season or 2013, as Skaggs has continued to impress all those who have seen him pitch. Recently, he earned a promotion to Double-A after posting a 3.22 ERA, 2.65
FIP
and 3.7 K/BB rate at High-A Visalia in the hitter-friendly California League. Corbin has had his struggles at Double-A, but he has posted an impressive 4.5 K/BB rate and should see the big leagues one day.
Edwin Jackson traded to the White Sox; Diamondbacks received Daniel Hudson and David Holmberg
This move was sort of a head-scratcher at the time, and the way Hudson has pitched for the D'backs ever since confirms that confusion. The Snakes have Hudson under team control through 2016 while Jackson will hit the free-agent market this winter.
Roy Oswalt traded to the Phillies; Astros acquired J.A. Happ, Anthony Gose and Jonathan Villar
Oswalt pitched brilliantly for the Phils in the 2010 postseason. However, career-long back problems may have finally caught up to him. On the Astros' side, Happ was plugged right into the rotation, but his struggles with command and allowing the long ball have led to an ERA nearing six. Gose never played a game in the Astros' system as he was flipped to the Blue Jays for first baseman
Brett Wallace
; the 24-year-old Wallace has been unimpressive in his young major league career, though he does sport an above-average OBP. Villar continues to struggle with strikeouts in the minor leagues.
Lance Berkman traded to the Yankees; Astros received Mark Melancon and Jimmy Paredes
While Berkman is in the midst of a late-career renaissance with the Cardinals, Melancon has taken over as the Astros' closer with a 2.91 ERA, 3.33 FIP and ground-ball rate of 60 percent. Jimmy Paredes is now in Double-A and continues to steal bases, but he also continues to struggle with his lack of plate discipline.
Matt Capps traded to the Twins; Nationals received Wilson Ramos and Joe Testa
Capps pitched well for the Twins down the stretch in 2010, but his huge regression in strikeout rate has hurt him big-time this season. In the meantime, despite some ups and downs in his first full big-league season, Ramos has established himself as the Nationals' catcher of the now and the immediate future.
Jhonny Peralta traded to the Tigers; Indians received Giovanni Soto
Peralta re-signed with the Tigers last offseason and has been worth every penny of the $5.25M he is making this season. Over the past two seasons, Peralta has improved his contact rate, which has helped to lower his strikeout rate. Meanwhile, the 20-year-old Soto continues to show good strikeout ability at the lower minor-league levels of the Indians' organization.
Ted Lilly and Ryan Theriot traded to the Dodgers; Cubs received Blake DeWitt, Brett Wallach and Kyle Smit
Lilly pitched well for the Dodgers down the stretch in 2010, but his issues with the gopher-ball have hurt him this season. With the Dodger's financial situation in shambles, the three-year $33 million deal Lilly signed last offseason only makes things worse. Overall, this deal has helped no one, though the Dodgers did at least acquire league-average reliever
Blake Hawksworth
in exchange for Theriot this past offseason.
Octavio Dotel traded to the Dodgers; Pirates acquired James McDonald and Andrew Lambo
After being acquired by Los Angeles, Dotel appeared in 19 games, allowed seven earned runs and was then traded to the Rockies in September. The Pirates landed the high-upside, inconsistent McDonald, who has been once again inconsistent. However, his 4.15 ERA (4.57 FIP) have at least contributed as a back-end rotation piece to the surprising Pirates. Lambo was once a top-end prospect with the Dodgers, but his prospect status is all but gone now. He's hitting .206/.278/.326 between Double- and Triple-A this season.
Kyle Farnsworth and Rick Ankiel traded to the Braves; Royals received Tim Collins, Jesse Chavez and Gregor Blanco
Both Farnsworth and Ankiel moved on from the Braves in the offseason, and Blanco was traded to the Nationals this past May. Collins made the Royals out of spring training and has continued to prove that he can miss bats (24.3 percent whiff rate), but his control has really tailed off at the big-league level. Collins is only 21 years old, so his future may still be as a consistent late-inning reliever someday.
Charlie Saponara writes for SweetSpot blog, "Fire Brand of the AL." You can find all of his writing adventures by following on Twitter.
February, 27, 2011
2/27/11
3:36
PM ET
In 2010, the NL Central finished the season with only six of the top 40 starting pitchers based on ERA. Three of those pitchers belonged to one team, the
St. Louis Cardinals
(
Adam Wainwright
,
Chris Carpenter
,
Jaime Garcia
.) The other three were
Brett Myers
,
Wandy Rodriguez
(
Houston Astros
) and
Johnny Cueto
(Reds). This means the Cubs, Pirates and Brewers were without a starter in the top 40 ERA's in the league by the end of 2010. The potential was there, but it was never realized. Fast forward to 2011 …
[+] Enlarge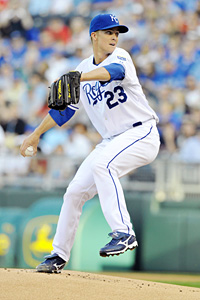 John Rieger/US PresswireThe Brewers added former Kansas City ace Zack Greinke to the top of their rotation in the offseason.
The Brewers made the first move this offseason when they picked up
Zack Greinke
in a trade with the Royals. They gave up little for what will be their staff ace.
FanGraphs
projects Greinke's 2011 stats to be about 14-15 wins and an ERA in the mid 3.00's. The Brew Crew did not stop there, acquiring Shawn Marcum, who cobbled together a nice 2010 for Toronto in the tough AL East after missing all of 2009. These two additions, along with future Cy Young candidate
Yovani Gallardo
make the Brewers a contender for the NL Central crown in 2011.
The Cubs' offseason answer to their pitching staff questions came in a trade with Tampa Bay.
Matt Garza
was acquired in exchange for a slew of prospects. While the big question is how Garza will fair in Wrigley, it goes without saying he is an upgrade, and makes a fine middle-of-the-rotation addition. FanGraphs projects something like 11 wins and a high 3.00 to low 4.00 ERA. He gives the Cubs a very solid top three along with
Ryan Dempster
and a "newly cured"
Carlos Zambrano
. What if
Randy Wells
can get his 2009 form back? Any Cubs fan can tell you that 2010's failure came from a lack of offense. If this staff gets even a hint of support, the NL Central is well within reach.
We can't discuss the Cubs without touching on the Cardinals. Year in and year out the Cardinals seem to have pitching, or at least starting pitching. Yes, Wainwright is gone for the 2011 season, and while this is a big blow, I don't see it being the end of their 2011 season. Tony La Russa and Dave Duncan are unbelievable at squeezing water from a stone. Duncan got production from
Todd Wellemeyer
for crying out loud. Every year the duo of La Russa and Duncan seems to pull a starting pitcher out of a hat. I am sure somebody will fall in place to pick up at least some of the wreckage left behind by Wainwright's injury. They still have Carpenter and Garcia to lean on. Let's also not forget the sinkerball pitcher,
Jake Westbrook
, who I am sure Duncan will turn into a Cy Young candidate before long. Oh yes, the Cardinals are still in the hunt … even when they lose their best pitcher.
The sneakiest staff might be Houston's. Rodriguez and Myers will once again anchor this staff. Don't count out
J.A. Happ
, as he fit in nicely coming over from the Phillies in a trade last season. While I don't see the Astros contending this year, mostly because of their offensive woes and bullpen, these three guys make for a nice base to a starting staff. Rodriguez and Myers were both in the top 40 ERA's for starting pitchers last year, and Happ has the stuff to be included in that conversation someday, too.
Alongside these teams sit the
Cincinnati Reds
. Youth would be the operative word here. The potential in this starting rotation is enormous for 2011 and beyond. Yes,
Bronson Arroyo
is 33, but after that you have Edison Volquez (28), Cueto (25) ,
Homer Bailey
(25) and a fifth starter in
Travis Wood
(24) or
Mike Leake
(23). There is also the tease that Cuban fireballer
Aroldis Chapman
(22) might one day become a starter. With the exception of Chapman and possibly Wood, all of these pitchers have seen significant success at the major league level in a starting role. The only thing keeping the Reds from a return to the playoffs is the fact that every team in the division upgraded with exception to the
Pittsburgh Pirates
.
The NL Central has always had a few good pitchers sprinkled about its rosters. What's new to the past decade is the depth of each team's starting staff, not to mention the potential for more in the future. While the Astros, and more so the Pirates, have some ground to make up in this category, the remaining four teams are finding strength and depth from their starters.
Chet West writes for The View From the Bleachers blog, which is part of the SweetSpot network.
February, 10, 2011
2/10/11
12:42
PM ET
By
Austin Swafford
| ESPN.com
The Astros went into the offseason looking like they had their rotation for 2011 mostly in place. They have a solid front three with
Brett Myers
,
Wandy Rodriguez
and
J.A. Happ
. And that's assuming Myers' resurgent year in 2010 wasn't a fluke. The threesome of Myers, Rodriguez and Happ might not strike fear in the heart of the common reader, but it is worth pointing out that the Astros had
as many quality starts as the Giants
last year. It's safe to say, however, that Myers and Rodriguez won't be confused with
Tim Lincecum
and
Matt Cain
any time soon. But the trio of Myers, Rodriguez and Happ was a combined 18-7 with a 2.87 ERA after the break last year. If they duplicate that production in 2011, the Astros will have a front three that's as good as any in the league.
But the question mark was with the fifth spot in the rotation. Although that spot is generally discarded as virtually irrelevant,
Fernando Abad
's winter has the Astros looking like they could have one of the deepest rotations in the National League.
[+] Enlarge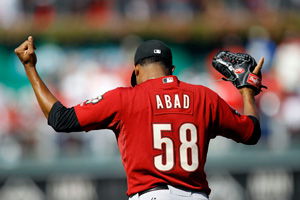 AP Photo/Matt RourkeFernando Abad compiled a 2.84 ERA and 1.00 WHIP in 19 major league innings last season.
The lefty made his major league debut last year, compiling a 2.84 ERA and 1.00 WHIP in 19 innings. It's an extremely small sample size that provides very little insight into the kind of pitcher he could be, and he was originally expected to do little more than compete for a prominent bullpen role. His winter numbers, however, have given the Astros reason to re-evaluate. In 10 regular-season games (six starts) in the Dominican Winter League, Abad went 3-0 with a 2.38 ERA. He was also dominant in the playoffs, including one game in which he allowed
no hits through six innings
, retiring the first 16 batters he faced before an error broke up his perfect game.
Originally, the front-runners for the fifth spot in the Astros' rotation were
Nelson Figueroa
and Jordan Lyles. Figueroa put up surprisingly good numbers last year, but a 36-year-old journeyman who has started only 27 major league games since 2004 isn't quite ideal. And Lyles, the Astros' great prospect, is only 20 years old and needs some more work in the minors. Abad could provide the just-right-in-the-middle solution to those two extremes on the age spectrum, and actually could provide some talent to boot.
The tougher decision will be what to do with free-agent signee
Ryan Rowland-Smith
, who may end up with the job as fifth starter just so the Astros don't risk losing him. He's another lefty who is a couple of years older than Abad, but has done more to prove himself at the major league level. He took a big step backward in 2010, but he did enough in '08 and '09 that the Astros will want to give him a real look. Abad will certainly give the Astros something to think about, however, and when placed in a rotation with Myers, Rodriguez, Happ and
Bud Norris
, he could help the Astros have one of the most difficult and surprising rotations in the NL.
Austin Swafford runs the SweetSpot Astros blog at Austin's Astros 290 Blog.
July, 20, 2010
7/20/10
2:27
PM ET
Hey, somebody had to
take the fall
Phillies pitcher Kyle Kendrick was optioned to Triple-A Lehigh Valley on Tuesday, a day after blowing a lead to the St. Louis Cardinals.

Kendrick (5-4) surrendered seven runs in five innings, coughing up a 4-2 lead as the Phillies lost for the fourth time in five games.

--snip--

In his place, the Phillies have called up righthander Andrew Carpenter.

Carpenter, 25, was 7-6 with a 3.41 ERA in 18 starts for Lehigh Valley this season. For his major league career, he is 1-0 with a 9.45 ERA in four games (1 start) for the Phillies between the 2008 and 2009 seasons.
Carpenter didn't crack Baseball America's list of Phillies prospects last winter, but John Sickels did write about Carpenter in
his book
, and you gotta love the love:
Drew Carpenter doesn't have terrific stuff ... although Carpenter looks fat and has had trouble with conditioning ... Most scouts see Carpenter as little more than a Quadruple-A guy ... He has a strong fly ball tendency that won't play well in smaller parks or home run palaces ...
Of course I left out the nice things John said about Carpenter. But the take-home is that Carpenter is a) a marginal prospect who b) probably shouldn't be set loose anywhere
near
Citizens Bank Park, which is only one of the two or three home-run-friendliest palaces in the National League.
Maybe he won't be. Not for long, anyway. Lefty
J.A. Happ
has been rehabbing in Lehigh Valley. And while he hasn't pitched
well
down there -- 15 walks in 19 innings -- he figures to be fast-tracked to Philadelphia shortly after showing any real signs of regaining his command.
Does all of this really matter, though? Kendrick, Carpenter, Happ ... I like Happ and he's probably the best of the three if he's healthy. But we're talking about No. 5 starters here. And the Phillies' problem isn't that they've got three guys for one spot. It's that even after ejecting Kendrick (4.82 ERA) from the rotation, they've still got
Jamie Moyer
(4.88) and
Joe Blanton
(
6.21
) in there. Kendrick was probably the right choice because of his strikeout rate. But with the exception of
Roy Halladay
, everybody in the rotation has simply given up too many home runs.
I know it's a tough place to pitch. But if the Phillies are going to get back into this thing, at least one more starting pitcher will have to keep the ball in the park.
March, 3, 2010
3/03/10
1:32
PM ET
Let's set the record straight, shall we?
David Murphy
:
After a postseason in which he made just one start and six relief appearances, and an offseason in which he listened to various "experts" attribute much of his success to luck, the 27-year-old J.A. Happ is well aware that he has plenty left to prove.

"I'm not going to take too much out of it," Happ said. "I mean, it's a little bit disrespectful to assume everything was luck last year. I think it's very hard to have a full year in the big leagues and be lucky. But I guess it's on me to show."

--snip--

As one might expect, neither Happ nor the coaches who know him best subscribe to such beliefs. And in doing so, they point to a number of factors that concrete numbers are unable to quantify, from pitch sequence and deception to sheer intelligence and will.

"He's a very sharp kid, very intelligent," Dubee said, "but he's also got a nice demeanor on the mound. He's very poised, very aware of situations, very aware of the game itself and how to control himself."

Happ's feel for situational pitching is one thing that might get lost in the numbers. For example, FIP is heavily dependent on a pitcher's walk rate, but it assigns the same value to all walks - whether it is an "unintentional" intentional walk issued to the No. 8 hitter with the pitcher on deck, or if it is a walk with the bases loaded.

--snip

Another hard-to-quantify aspect of Happ's game is his deception. At 6-6, he has long legs and a long wingspan and a delivery in which the ball remains largely hidden until he releases it. Because hitters pick up Happ's release point late, the ball appears to be traveling faster than a radar gun might indicate. In fact, according to Phillies minor leaguer Michael Schwimer, who has conducted in-depth studies on release points and velocity, the "perceived velocity" on Happ's fastball is between 94 and 96 mph, even when a radar gun clocks it between 88 and 92.
Look, nobody's saying Happ can't pitch. In 2008, I wrote at least once that Happ should have been getting some of the innings that were going to
Adam Eaton
and (especially)
Kyle Kendrick
. Kyle Kendrick ... now
he
was a lucky rookie (in 2007).
The fact is that Happ's pitched only 202 innings in the majors, and odd things can happen in 202 innings. Further, he was a somewhat different pitcher in the minors. In 259 Triple-A innings, he struck out 9.4 hitters per nine innings (as opposed to 6.7 in the majors). Just one year ago, Baseball America ranked Happ as the Phillies' ninth-best prospect (and far behind
Carlos Carrasco
, among others). John Sickels gave Happ a
B-
grade, mostly because Happ doesn't throw hard.
Sickels' conclusion: "I think he can be a fine number four starter if he maintains the progress he made this year. I compared him to
Mark Redman
last year, and I think that comparison still holds."
Every team needs a reliable No. 4 starter, but I think Happ's better than Redman, who won more than a dozen games just once in his career. Happ doesn't throw hard, but that big Triple-A strikeout rate
does
suggest that he's deceptive (and his major-league strikeout rate is better than Redman's, too).
There's a good bit about
Zack Greinke
in the piece, too. And a nice little primer on FIP and xFIP. I just wish that Happ didn't have to worry about this stuff. I mean, it's neat that Greinke's been introduced to sabermetrics by a teammate (
Brian Bannister
). But why should a pitcher have to take a bunch of guff from nerds like me?
Except he's probably not. Usually what happens is, some nerd writes that Happ was lucky (true) and then someone who works for a newspaper says, "Hey, did you see what the nerds are saying about you? They're saying you were just
lucky
. What do you think about that?"
What's Happ going to say? "Yeah, they're right. I'm not nearly as good as my ERA says. All that work I've been doing since I was 8 years old didn't have anything to do with it. And yeah, it's really easy to stand out there and stare at
Albert Pujols
from 60 feet away."
I don't think so.
The implication sometimes is that people like me don't respect the talents of people like J.A. Happ.
I don't suppose I should speak for my colleagues, so I'll just tell you this: J.A. Happ, lucky or not, awes me. He's one of the most brilliant athletes on the planet, doing something that's incredibly rare and difficult. And that's all true whether Happ is the new Mark Redman or the new
Tom Glavine
.
September, 25, 2009
9/25/09
12:15
PM ET
Via Todd Zolecki of MLB.com, an
interesting little wrinkle
in the Phillies' oh-my-God-who's-going-to-pitch-in-the-ninth-inning-next-month conundrum:
J.A. Happ has been so good this season that he could win National League Rookie of the Year.

But as good as he has been in the rotation, he could be in the bullpen in the postseason. In fact, he could be pitching in some big spots in some big games.

"Happ really has improved as the season has gone on," Charlie Manuel said after the game. "I like Happ as a starter. I always have. But at the same time, I also see the way our pitching looks. There would be a chance that he could wind up in the back end of our bullpen if we don't get some things straightened out and (J.C.) Romero doesn't come back or something. I'm not going to say we're going to do that, but we're going to talk about it if we don't have any lefties."
The other missing lefty is
Scott Eyre
. Romero hasn't pitched since July 19, Eyre since the Sept. 7. The Phillies' only other lefty reliever is
Jack Taschner
, who has a 5.08 ERA and hasn't shown any particular ability to retire left-handed batters. Both Eyre and Romero are supposedly on the mend, but that's obviously a fluid situation.
And it's not like Manuel needs Happ in the rotation. Manuel needs four starters next month, at most. Cole Hamels, Cliff Lee, and Joe Blanton are set. That leaves Pedro Martinez and Happ for the fourth spot. Martinez has pitched better than Happ, but Happ has more.
But while some managers might see a problem here, Charlie Manuel should see a wonderful opportunity. He could use Happ and Martinez as co-fourth starters, throwing whichever matches up better with today's opposition. He could designate Happ as fourth starter and make Martinez his closer. He could turn Happ into the National League version of J.P. Howell.
Or he could do half a dozen other things. And I haven't even mentioned Jamie Moyer, who's not good enough to start a postseason games but has done a pretty good job against left-handed hitters this season. My point is that even without Eyre and Romero, Manuel's got eight or nine pretty good (or at least useful) pitchers. If Manuel can't cobble together an effective staff, one through eight, that's not on Brad Lidge; it's on him.
(Oh, by the way, Happ is not going to be your National League Rookie of the Year. As good as he's been, his dozen or so wins won't be enough in a year with solid hitting candidates like Chris Coghlan, Andrew McCutchen, and Dexter Fowler.)
September, 8, 2009
9/08/09
2:43
PM ET
Hey,
here's a name
I hadn't considered in a while. From Rosenthal:
Chris Coghlan, National League Rookie of the Year.

Who? What?

Coghlan, the Marlins' left fielder, isn't as well-known a rookie as Phillies left-hander J.A. Happ or Braves righty Tommy Hanson, but he should be.

In August, he became only the second National League rookie in the last 60 years to produce 47 or more hits in a month; Wally Moon had 52 in July 1954.

For all the talk about American League Most Valuable Player, the races for the two rookie awards are far more competitive, featuring numerous candidates in each league.

Coghlan, 24, is third in the N.L. in batting with a .376 average since the All-Star break. He has a higher on-base/slugging percentage than Pirates center fielder Andrew McCutchen and Rockies center fielder Dexter Fowler, the latter of whom has not played since Aug. 24 because of a bruised right knee. Brewers third baseman Casey McGehee is closer to Coghlan in OPS but has nearly 150 fewer plate appearances.
Actually, I think there are numerous (viable) MVP candidates in both leagues, too. Just as many MVP candidates as Rookie of the Year candidates, really. But we've discussed them plenty already. You know how I feel about
Joe Mauer
, and you know I think that
Chase Utley
and
Hanley Ramirez
have been just as good as
Albert Pujols
. But you probably don't know how I feel about the rookies, because until this moment
I
didn't know how I felt.
For example, I had no idea how well Coghlan's been playing. Last time I checked -- back in June, probably -- he was just sort of sputtering along with no talk of any award, and now he's the best Rookie of the Year candidate in the league, with a .310/.382/.448 line that's easily the best among the three qualifying rookies (Fowler and Colby Rasmus being the others). That said, McCutchen's right behind Coghlan, OPS- and PA-wise, and he's got more doubles, more triples, and more home runs. Oh, and he's also far more valuable with the glove.
So among the hitters, McCutchen's actually the guy.
Can any of the pitchers bust up the party? I doubt it. In the presence of solid candidates like McCutchen and Coghlan, it would probably take 14 or 15 wins for a starter to draw real support, and Happ and Randy Wells are both sitting on just 10 wins now. And no National League rookie reliever has more than three saves.
At the moment, then, it's McCutchen's to lose. Which is yet another reason to like the Pirates' future.
(Later today: American League rookies.)