April, 24, 2013
4/24/13
10:40
AM ET
Thoughts on Tuesday's fun night of baseball ...
April, 9, 2013
4/09/13
12:06
AM ET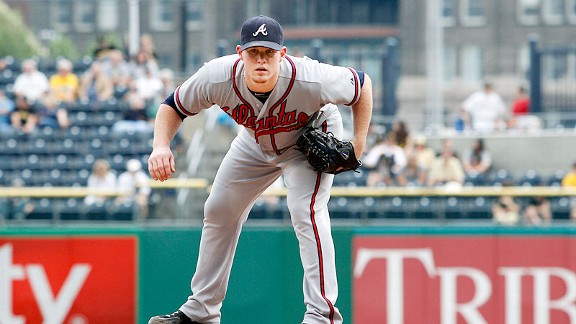 Justin K. Aller/Getty ImagesCraig Kimbrel led the NL in saves last season and is considered the most dominant closer in baseball.
The Tigers need one. The Brewers thought they had one. The Cubs already have a new one. Some teams probably wish they had a different one. Closers are already melting down in rapid fashion.
On Monday afternoon, with closer
Jason Motte
sidelined with a sore elbow (he'll get a new MRI on Tuesday), the Cardinals' bullpen imploded in a
13-4 loss
to the Reds, led by
Mitchell Boggs
giving up seven runs in the ninth inning. Now they might have closer issues as well. Rookie
Trevor Rosenthal
blew a 4-3 lead in the eighth, his second blown "save" of the young season, so he's not necessarily the answer if manager Mike Matheny has lost faith in Boggs.
The Tigers will apparently give
Joaquin Benoit
their next save opportunity, but many think they need to make a trade for a Proven Closer (tm). The problem ... well, there aren't really that many Proven Closers out there. And the truth is, most closers weren't preordained to be closers anyway, many arriving at the role only after failing as starters or finally getting the opportunity in their late 20s. Let's rank all 30 closers and you'll see what I mean.
Proven Closers
These are guys who have done the job for more than one season, thus earning the coveted title of Proven Closer.
1. Craig Kimbrel, Braves
The best ninth-inning guy in the business, coming off maybe the most dominant relief season ever -- he fanned over half the batters he faced -- in the modern era, or what Goose Gossage likes to refer to as "After I retired."
Before becoming a closer:
Groomed as a closer, he's never started a game in pro ball and became Atlanta's closer as a rookie in 2011.
2. Aroldis Chapman, Reds
I'm actually breaking my own rule here since Chapman has only been a closer for less than one season. But unless his control suddenly abandons him, he's obviously the real deal after striking out 122 in 71.2 innings last season.
Before becoming a closer:
Lacked the secondary pitches and stamina to make it as a starter.
3. Mariano Rivera, Yankees
He's old, he basically has one pitch and he's coming off a torn anterior cruciate ligament. Anyone want to bet against him?
Before becoming a closer:
Failed starting pitcher prospect.
4. Jonathan Papelbon, Phillies
Starting his eighth year as a closer, which is entering elevated territory. (Hall of Famer Bruce Sutter, for example, only had seven dominant seasons as a closer.) Papelbon had some not-so-clutch moments last season, however, finishing with four blown saves and six losses.
Before becoming a closer:
Forty-eight of his 58 appearances in the minors and his first three major league appearances came as a starter, but Red Sox converted him to relief.
5. Joe Nathan, Rangers
Not quite the Rivera-like force he was during his Twins days, but still pretty good. Picked up his 300th career save Monday, becoming the 23rd reliever to hit that mark.
Before becoming a closer:
Had a 4.70 ERA in two seasons as a part-time starter for the Giants in 1999-2000, had a 7.29 ERA in the minors in 2001 (5.60 in 2002), made it back, traded to the Twins, then became a closer at age 29.
6. Rafael Soriano, Nationals
Has three seasons as a closer with three different teams, so this will be his fourth year as a closer with his fourth different teams, making him the best example of Proven Closer, Will Travel.
Before becoming a closer:
Spent parts of seven seasons in the majors (starting as a rookie with Seattle), many parts of which were spent on the disabled list.
7. Huston Street, Padres
Now entering his ninth season as a closer, Street has recorded 30-plus saves just twice, as he's often hurt and hasn't pitched 60 innings since 2009.
Before becoming a closer:
Groomed as a closer since Oakland made him the 40th pick in the 2004 draft out of Texas.
8. Chris Perez, Indians
Now entering his fourth season as Cleveland's closer, he's been an All-Star the past two seasons despite a less-than-awe-inspiring 3.45 ERA and 4-11 record.
Before becoming a closer:
Mediocre middle reliever with St. Louis and Cleveland for two years. Fell into the closer role in 2010 because
Kerry Wood
was injured at the start of the season.
9. J.J. Putz, Diamondbacks
He's had four seasons of 30-plus saves, although he spent three years in between closer jobs. He's another guy who isn't the most durable pitcher around and hasn't pitched 60 innings since 2007.
Before becoming a closer:
Started for three years in the minors for Seattle, moved to the bullpen, spent two years as a mediocre middle guy, but learned the splitter and became a closer at age 29 after Proven Closer
Eddie Guardado
imploded early in 2006.
10. Joel Hanrahan, Red Sox
All-Star closer with the Pirates the past two seasons, but he walked 36 and allowed eight home runs in 59.2 innings last year. Could easily lose the job to former Proven Closer
Andrew Bailey
.
Before becoming a closer:
Didn't make it as a starter with the Dodgers, traded to the Nationals and then to the Pirates. Spent three years as a middle reliever.
One-year wonders
These guys became closers last year, and several of them had dominant seasons. But beware the
John Axford
lesson: One season does not make you a Proven Closer. Do it again and we'll start believing.
11. Fernando Rodney, Rays
After years as basically a bad reliever (22-38 career record., 4.29 ERA), he signed with Tampa Bay and lucked into getting a save in the season's second game as the fourth reliever of the ninth inning in a game against the Yankees. Went on to have one of the greatest relief seasons ever, with a 0.60 ERA and five earned runs allowed. He's already allowed three earned runs in 2013. Was last year a fluke?
Before becoming a closer:
See above. Did save 37 games (with a 4.40 ERA) for the Tigers in 2009.
[+] Enlarge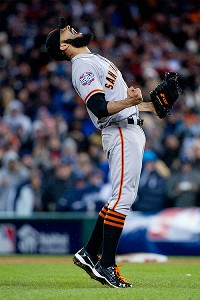 Ron Vesely/MLB Photos/Getty Images)After many seasons as a middle reliever, Sergio Romo finally got the chance to close and got the last out in the 2012 World Series.
12. Sergio Romo, Giants
The slider specialist replaced
Santiago Casilla
, who had replaced the injured
Brian Wilson
. Saved 14 games and then allowed one run in 10.2 postseason innings.
Before becoming a closer:
Not much of a prospect as a 28th-round pick who didn't throw hard, but Romo was an excellent middle guy for four seasons.
13. Ernesto Frieri, Angels
The hard-throwing righty came over after an early-season trade with the Padres, got the closer job after
Jordan Walden
struggled and had a terrific season. Might lose his job anyway if former Journeyman Made Good
Ryan Madson
gets healthy.
Before becoming a closer:
Moved to the bullpen after posting a 3.59 ERA in Double-A in 2009.
14. Jason Motte, Cardinals
Took over the closer role late in 2011 and helped the Cards win the World Series. Saved 42 games with 2.75 ERA last year. Currently injured.
Before becoming a closer:
Spent first three pro seasons as a catcher.
15. Jim Johnson, Orioles
In his first full year as closer he saved 51 games. Rare among closers, he's a ground ball specialist who doesn't register many whiffs (41 in 68.2 innings in 2012).
Before becoming a closer:
A not-very-good minor league starter.
16. Tom Wilhelmsen, Mariners
In his first full year in the majors, he replaced a struggling
Brandon League
. Did just fine with his mid-90s fastball and hammer curve.
Before becoming a closer:
Was bartending.
No, seriously
.
17. Addison Reed, White Sox
Saved 29 games as a rookie, although his 4.75 ERA wasn't exactly Rivera-ish.
Before becoming a closer:
Drafted in the third round out of San Diego State in 2010, he had a dominant relief season in the minors in 2011 (1.26 ERA) that pushed him quickly to the majors.
18. Greg Holland, Royals
Had 16 saves last season, but his job could be in jeopardy after four walks in his first two innings of 2013. Aaron Crow saved Monday's win for the Royals.
Before becoming a closer:
Came out of nowhere to post a 1.80 ERA with the Royals in 2011.
19. Steve Cishek, Marlins
Saved 15 games after expensive Proven Closer
Heath Bell
gakked up several memorable save opportunities.
Before becoming a closer:
The sidearmer was never on prospect radar lists because sidearmers are never on prospect radar lists.
20. Brandon League, Dodgers
Saved 37 games for Seattle in 2011, but lost his job early last season due to general lack of impressiveness. Throws a hard sinker so he gets ground balls but not many K's. Pitched better in 27 innings for the Dodgers last season so they gave him a bunch of money. Control was fine in 2011, not so fine last year.
Before becoming a closer:
Didn't make it as a starter in the minors despite high-90s fastball.
Journeymen Made Good
These guys became closers essentially because their teams didn't have anyone else. Perseverance pays off!
21. Grant Balfour, A's
Hard-throwing Aussie became a closer last year for the first time at age 34.
Before becoming a closer:
Played Australian rules football. OK, not really. Went from Twins to Reds to Brewers before finally having some good years with Tampa Bay.
22. Glen Perkins, Twins
The rare lefty closer had 16 saves a year ago.
Before becoming a closer:
Career 5.06 ERA as a starter in 44 games before moving to the bullpen.
23. Rafael Betancourt, Rockies
At 37 years old, he became a closer for the first time and saved 31 games for Rockies in 2012.
Before becoming a closer:
Has a career 3.13 ERA, so he'd been a good reliever for a lot of years.
24. Jason Grilli, Pirates
The veteran reliever had a career year last year at age 35 with 90 K's in 58.2 innings and took over the closer role when Hanrahan was traded.
Before becoming a closer:
Played for five major league teams before Pittsburgh.
25. Casey Janssen, Blue Jays
Another late bloomer, he got the ninth-inning job after
Sergio Santos
was injured last year.
Before becoming a closer:
The former starter didn't really have a wipeout pitch so he got pushed to the pen.
26. Bobby Parnell, Mets
He's long been heralded as a closer candidate due to his high-octane fastball. Now he'll finally get the opportunity.
Before becoming a closer:
One-time minor league starter has spent past four seasons in the Mets' bullpen.
The Import
27. Kyuji Fujikawa, Cubs
The new Cubs' closer could be good, bad or something in-between. I think he'll be pretty good.
Looking for help
28. Tigers.
The problem with
Phil Coke
as a closer is that Phil Coke just isn't a very good reliever.
Al Alburquerque
and
Brayan Villarreal
have better stuff but not much experience.
29. Brewers.
Axford was signed out of independent ball and had a monster 46-save season for the Brewers in 2011. He's allowed four home runs in 2.2 innings this season and the Brewers may sign Rollie Fingers.
Might not get a save opportunity until May
30. Jose Veras, Astros.
Now 32, he's pitched for the Yankees, Indians, Marlins, Pirates and Brewers and has five career saves.
Before becoming a closer:
The Brewers had the worst bullpen in the majors last year and even they didn't want him back.
April, 6, 2012
4/06/12
7:10
PM ET
The
Arizona Diamondbacks
didn't come flying out of the gate in 2011. After a poor spring training they did win their season opener in extra innings but dropped their next three, and after getting swept by the Mets later in April they were 8-12 after 20 games, already 5.5 games behind the 14-7 Rockies. They had allowed the second-most runs in the National League and appeared to be no better than the 2010 Diamondbacks, a team that lost 97 games.


In May, they traveled to San Francisco and got swept. They lost the next night in Los Angeles. They were 15-22, going nowhere. And then, just like that, the switch flipped. On May 14,
Josh Collmenter
made his first major league start and pitched six scoreless innings in a 1-0 win over the Dodgers. That kick-started an 18-4 stretch; they were in the race.
So, no, Opening Day or the first week or even the first month isn't a manifesto of your season. But as we all know: Every game is of equal value. We pay more attention to Game No. 162 with a playoff berth on the line, but Game 1 is just as important.
With the NL West projected to be a tight race, the season-opening series between the Giants and Diamondbacks looms as one of the more intriguing ones of the first week. A win in April may decide the race in October. Arizona starter
Ian Kennedy
acknowledged the game has a lot of hype around it, even for a season opener.
"Because it's against the Giants, at home, it is going to be a little bit more for our players," Kennedy said. "For myself, I will try to keep it at a minimum. For myself, it is that first inning and trying to get through the first. I like pitching nice and cool and calm."
Chris Quick of Bay City Ball, our Giants blog, has
five things to look for about the Giants
on Opening Day. Most interesting is that
Tim Lincecum
, after throwing his slider more than ever last season, didn't use the pitch in spring training and apparently won't use it early in the season. So with five things on the Giants, here are five things on the Diamondbacks:
1. Will Ian Kennedy be an ace again?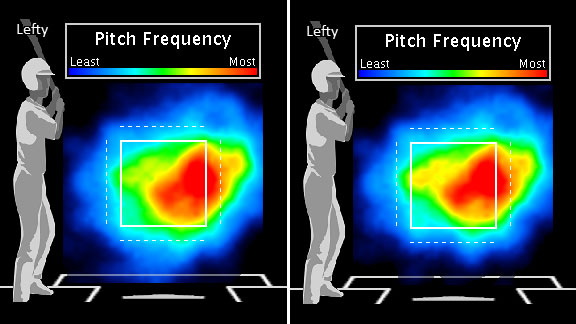 ESPN Stats & InformationIan Kennedy's 2011 heat map versus left-handed batters: Fastballs (left) and changeups.
With his 90 mph fastball, Kennedy is hardly overpowering, but he has such good location and movement he still threw it more than 63 percent of the time last season, 17th-most frequent among major league starters. A key is that he's very effective against lefties with his late-breaking action; in his career he's held lefties to a lower OPS (.665) than righties (.708). On the heat map above, his fastball location is on the left, his changeup on the right. As you can see, he pounds the outside corner.
2. Chris Young batting second
Young didn't hit there all spring and only once last season, but I like this move by Kirk Gibson. The D-backs struggled in 2011 with production from the No. 2 spot, hitting just .223 with a .296 OBP. Young doesn't fit the old-school profile of a No. 2 hitter since he strikes out so much. But the fact is that
Aaron Hill
, who hit there most of the spring, is the worst hitter in the Arizona lineup. Why bat him second? "I like it the way it is,"
Gibson told MLB.com
. "It's not going to be that way every day. I woke up two days ago, it came to mind, and I stuck with it."
3. Paul Goldschmidt's power
As a rookie, Goldschmidt hit eight home runs in 177 plate appearances. Projected over 600 PAs, that's 27 home runs. He'll hit fifth against Lincecum, against whom he went 5-for-9 with two homers in 2011. Until Goldschmidt took over, first base was another position the Diamondbacks had received poor production from. They ranked 20th in the majors with 21 home runs from first base and 24th in slugging percentage.
4. Jason Kubel in left field
With Kennedy on the mound, outfield defense is vital and was a big reason for Arizona's run prevention a year ago. The Diamondbacks ranked first in the majors with 52 defensive runs saved by their outfield. But Kubel covers nowhere near the ground that
Gerardo Parra
does, and he spent much of his time with the Twins as their DH.
5. J.J. Putz closing
He was dominant a season ago, holding batters to a .195 average while recording 45 saves. With Putz, the biggest issue has always been his health. He did have one DL stint in 2011 but managed to log 58 innings, his most since 2007.
Follow David Schoenfield on Twitter @dschoenfield.
October, 5, 2011
10/05/11
12:50
AM ET
By
Christina Kahrl
| ESPN.com
The "Kirk Gibson made mistakes" meme is already a big part of the storyline of the Brewers-Diamondbacks series, but it's worth crediting the Snakes' skipper for sticking with what worked during the season and riding it to a decisive
8-1
Game 3 win on Tuesday night. In what could have turned out to be the D-backs' last game of the season, Gibson reaped the benefits from more than a few things that helped Arizona shock everyone and show up in the postseason in the first place.
Like turning to a rookie starter in an elimination game. Make no mistake,
Josh Collmenter
can pitch in this league, and his good work in 2011 is a big part of the reason why the D-backs are here. Between
Zach Duke
's ineffectiveness and
Jason Marquis
' injury, they needed an organizational soldier to step up, and the 25-year-old did just that, delivering 15 quality starts in 24 turns.
On his way up through the farm system, Collmenter didn't get here slathered with scouts' drool and effusive praise of everything about him the way that the Rays'
Matt Moore
did. Before the year, Collmenter didn't even merit a top-30 mention from Baseball America on its prospect list, because a career minor-league track record of a 3.50 ERA and more than eight strikeouts per nine don't mean much if your stuff is seen as pedestrian.
But after Tuesday night's masterful seven-inning effort, Collmenter joined Moore on an exclusive list of two. According to Elias, Collmenter is just the second rookie starter in postseason history to go at least seven innings while allowing two hits or less. As ESPN researcher Mark Simon noted, from 1903-2010, no rookies did it, but in less than a week, we got to see it done twice.
Finesse right-handers generally don't even get the benefit of their own term, like "crafty lefty" or "professional hitter." "Strike thrower" becomes almost a dismissive, left-handed compliment for this kind of right-hander, which seems appropriate for Collmenter. He'll never impress a speed gun any more than he did scouts. Instead, he's someone whose fastball moves about as fast as your basic workmanlike lefty -- high 80s if he gets the benefit of a back wind, or with the AC in Chase Field cranked to max.
But part of what makes Collmenter such a funky foe is an over-the-top delivery that can sometimes make it seem as though the ball's shooting out from behind his head, and mix that in with changeups and cutters. If you can upset hitters' timing as effectively as Collmenter did all season and did again on Tuesday, you don't
need
to impress those things. This isn't the Olympics, it's baseball, and Collmenter's sterling start is just the latest proof there's more than one way to skin the strike zone.
One of the other things that delivered a big win for the D-backs was Gibson's continuing faith in another rookie,
Paul Goldschmidt
. Some risk-averse managers might have ducked controversy by turning to
Lyle Overbay
on the last legs of his career -- there's little that Overbay hasn't been reputed of doing over the course of his career, hitting for power (a little), playing good D (sometimes), being clutch or a good guy or all the other qualities that get appended to a player after he's reached a certain age. For all that, Gibson stuck with talent, and Goldschmidt responded again in this series, hammering the grand slam in the fifth.
It's the addition of these key rookies, and the courage to trust them in October, that helped put Arizona in this series in the first place, so it's fitting that they're responsible for delivering their first postseason win now. This kind of development isn't exactly redemptive, however. The Diamondbacks still need to win two more games for this one blowout win to rise to that level. But it provides an important reminder that they belong. And if Kirk Gibson wins the National League Manager of the Year Award -- as seems likely -- then Tuesday night's outcome seems like a nice reminder of that as well.
Up to a point, so Arizona can afford to bask now, for at least one night. Unfortunately, there's always tomorrow, and a new set of questions. Before we even get there, though, there are ones to ask right now.
Like, why Gibson would use first
David Hernandez
and then
J.J. Putz
with a seven-run lead? The odds that the D-backs will need both of them on Wednesday in Game 4 are pretty close to 100 percent.
Joe Saunders
, nifty innings-eater that he may be over the full season's six-month stretch, isn't an overpowering ace or even a multi-trick pony a la Collmenter. Pitching at home this year, Saunders allows a run every other inning while allowing a WHIP pushing 1.5. So even on a night like Tuesday night, when so much for the D-backs went right, Gibson can give you cause for asking questions.
Christina Kahrl covers baseball for ESPN.com. You can follow her on Twitter.
May, 26, 2011
5/26/11
7:40
PM ET
We're pleased to announce another new member of the SweetSpot network:
Snakes on Jefferson
, covering the
Arizona Diamondbacks
. Welcome aboard to Tyler Emerick and Andrew Gruman.
With the Diamondbacks just two games out of first place and winners of eight of their past 10 games, it's perfect timing. Tyler has a piece on the team's turnaround,
where a revamped bullpen
led by closer
J.J. Putz
(14-for-14 in saves chances) has been key.
The best baseball game I ever attended in person was in Arizona -- Game 7 of the 2001 World Series -- so I'll always have fond memories of purple and Diamondbacks fans going crazy.
March, 29, 2011
3/29/11
2:31
PM ET
And now a look through the Senior Circuit injury wire.
Chris Coghlan and Mike Stanton, Marlins:
Coghlan is suffering from right shoulder tendinitis but is expected to start on Opening Day and will monitor his throwing carefully. Stanton missed much of spring with a quadriceps strain but returned last Friday and hit two home runs.
Mets:
Where to begin?
Jason Bay
could now begin on the DL with a rib-cage discomfort, after missing two games recently with back stiffness. The Mets appear committed to
Carlos Beltran
as their Opening Day right fielder. He played a minor league game over the weekend and went 0-for-5 with three strikeouts and had a double and triple hit over his head. Backup catcher
Ronny Paulino
could be headed to the DL with stomach issues.
Johan Santana
hopes to pitch sometime this season.
Chase Utley, Phillies:
You've been following this one. Nobody knows when he'll be ready ... if it all, although he said Monday a goal is to return before the All-Star break.
Brad Lidge, Phillies:
Lidge will undergo an MRI today
to see if there is structural damage in his shoulder. He'll start on the DL, with
Ryan Madson
taking over as closer.
Placido Polanco, Phillies:
He missed two weeks with a hyperextended elbow but is back and apparently OK.
Adam LaRoche, Nationals:
He has a
slight tear in his rotator cuff
but will rehab and play through it.
Johnny Cueto and Homer Bailey, Reds:
Cueto has shoulder inflammation and Bailey has shoulder impingement and both begin the season on the DL (along with backup outfielder
Fred Lewis
, who has a strained oblique). Cueto has resumed playing catch and Bailey is expected to miss two starts.
Mike Leake
and
Sam LeCure
join the rotation, although the Reds don't need a fifth starter the first turn through the rotation.
Clint Barmes and Jason Castro, Astros:
Castro is out for the season after tearing up his knee (and now catcher
J.R. Towles
has a balky back). Barmes is out 4-6 weeks and the Astros just acquired
Joe Inglett
to help with infield depth.
Zack Greinke and Shaun Marcum, Brewers:
: Marcum missed a start with a stiff right shoulder but
threw four pain-free innings
on Monday. Greinke just started playing catch after suffering a fractured rib playing basketball. A late April return appears to be the goal.
Corey Hart, Brewers:
Hart is aiming
for a mid-April return
from a strained rib-cage muscle. The Brewers just acquired
Nyjer Morgan
for outfield depth.
Chris Snyder, Pirates:
The catcher's bad back will likely land him on the DL, leaving the Pirates with
Ryan Doumit
and
Jason Jaramillo
behind the plate.
Adam Wainwright, Cardinals:
He's out for the season following Tommy John surgery, with
Kyle McClellan
taking his spot in the rotation.
J.J. Putz, Diamondbacks:
A stiff back has limited Putz in Cactus League action, but he's still hoping to be Arizona's closer come Opening Day.
Ian Stewart, Rockies:
He's missed time with a right knee sprain and left Monday's game with a tight hamstring, but said
he isn't concerned
. The Rockies traded for
Josh Fields
as insurance and have
Ty Wigginton
and
Jose Lopez
on the roster.
Jon Garland, Casey Blake and Dioner Navarro, Dodgers:
Garland suffered a strained oblique early in spring training and just getting back to building up his arm strength. He'll need a couple weeks. Blake has back inflammation and will begin the season on the DL.
Jamey Carroll
is around to fill in (or
Juan Uribe
will shift to third with Carroll playing second). Backup catcher Navarro is also expected to start on the DL with a strained oblique.
Mat Latos, Padres:
Latos has bursitis in his right shoulder and
heads to the DL
. Keep tabs on this one as the Padres will undoubtedly be cautious with the young ace.
Brian Wilson and Cody Ross, Giants:
Wilson has a strained oblique and likely to begin on the DL, but could be activated as soon as April 5. Bruce Bochy hasn't announced his backup closer plans. Playoff hero Ross is on the DL with a calf strain and could miss three weeks.
Nate Schierholtz
could take his place or rookie Brandon Belt could play first base with
Aubrey Huff
moving to the outfield.
Follow David Schoenfield on Twitter at @dschoenfield. Follow the SweetSpot blog at @espn_sweet_spot.
June, 5, 2009
6/05/09
6:29
PM ET
Even before
the bad news
about
J.J. Putz
, the seven-for-three deal that brought him to the Mets wasn't looking so hot, as
Dave Cameron lays out
. Money shot:
Jason Vargas has settled in nicely as the Mariners 5th starter and has clearly been the best player in the deal to date. Endy Chavez has provided his usual excellent outfield defense, and has been worth 0.5 wins in part-time work. Carp is having a big year in the PCL, adding power his already patient approach. Carrera is proving that the "Endy Chavez in training" tag has some merit, flashing terrific defense and a lot of walks in Double-A. Olson hasn't pitched well as a starter, but has shown the potential to be a useful LH reliever. And, of course, with the exception of Chavez, the Mariners are paying all of these guys the league minimum.

Meanwhile, the Mets are paying about $6 million this season for three guys providing replacement level performance. There's almost no chance they'll pick up Putz's option for 2010, and it wouldn't be surprising if the team decided not to offer arbitration to either Green or Reed. That would leave the Mets with a big fat zero to show for the entire deal.

They didn't give up any future stars in the deal, but once again, trading youth for relief pitching fails to pan out. I'm pretty sure the Mets would love to have Jason Vargas, Mike Carp, and Ezequiel Carrera back, at the very least. When you give up seven guys, odds are one or two are going to come back to haunt you.
What's striking is that while the Mets traded seven players for three, even if they'd traded
only
Vargas for Putz and
Sean Green
and
Jeremy Reed
, the deal wouldn't look real good for the Mets because they really could have used another starting pitcher this spring. Granted, Vargas doesn't have much of a pedigree, but perhaps that's because the Mets essentially skipped him past Double-A.
Looking at the bigger picture, though, I don't really have any issue with giving up seven guys. The problem is who the seven guys are and who you're getting for them.