SweetSpot:

J.P. Arencibia
April, 21, 2014
Apr 21
6:00
PM ET
Joe Posnanski is ranking the 100 best baseball players of all time and the other day he
wrote about Sandy Koufax
, his No. 46 guy.
Koufax is one of the most difficult players to rank in a list like this due to his short career. His case raises the problems of factoring in peak value versus career value, not to mention postseason performance. Even Koufax's peak -- five great seasons, three of which were pantheon-level seasons -- is relatively short. Plus, he benefited from his time and place: A pitcher's era in a pitcher's park.
Joe writes:

At Dodger Stadium, on that Everest of a mound, Koufax was both literally and figuratively on an even higher level.

– in 1963, at Dodger Stadium, he went 11-1 with a 1.38 ERA and batters hit .164 against him.
– In 1964, the one year he did not manage 300 innings, he went 12-2 with an 0.85 ERA at home.
– In 1965, the league hit .152 against Koufax in LA, and he went 14-3 with a 1.38 ERA. On the road that year, he was a much more human 12-5 with a 2.72 ERA.
– In 1966, he was was more or less the same dominant pitcher at home and on the road. His 1.52 ERA at home was not very different from his 1.96 ERA on the road.

So what do all these advantages mean for Koufax's legacy? Well, I'm a numbers guy at heart but I have to say … it doesn't mean much to me. Koufax, like all of us, was a man of his time and place. He was given a big strike zone and a high mound and, with the wind at his back, he became indelible, unforgettable, the greatest and most thrilling pitcher many would ever see in their lifetime. No, of course the numbers do not compare fairly with pitchers of other eras — you can't say Koufax was better than Lefty Grove or Roger Clemens just because his ERA was lower — but those numbers offer a nice display of his dominance and, more, the way people looked at him. He still had a 1.86 ERA over four seasons. He still struck out 382 batters in a season.
Overall, in his three monster seasons in 1963, 1965 and 1966 Koufax went 25-5, 1.88; 26-8, 2.04; and 27-9, 1.73.
Now, in retrospect we know Koufax gained a big advantage from Dodger Stadium. They probably knew that on some level at the time, but nobody really kept track of the numbers. What I always found interesting is that other pitchers were putting up big numbers in the same era, and yet it's Koufax whose legacy grew the largest. For example:
Juan Marichal went 25-8 in 1963, 25-6 in 1966 and 26-9 in 1968.
Bob Gibson had his 1.12 ERA in 1968.
Dean Chance went 20-9 with a 1.65 ERA in 1964.
Tom Seaver went 25-7 with a 2.21 ERA in 1969 (after the mound was lowered) and 20-10 with a 1.76 ERA in 1971.
Koufax struck out 300 batters three times; Sam McDowell did it twice and even had a season with a 1.81 ERA.
Denny McLain won 55 games in 1968-69, two more than Koufax won in 1965-66.
The point: Other guys were doing Koufax-like things at the same time. So why Koufax? (Not that Seaver, Gibson and Marichal are disrespected but I'm guessing more casual fans would be inclined to call Koufax the greatest pitcher ever over those three.) Maybe it's the two World Series titles in 1963 and 1965, including a Game 7 shutout in 1965, when the World Series still meant everything. Maybe it was pitching in Los Angeles. Maybe retiring early added to his aura; nobody saw Koufax grow old.
A recent article by Bill James on Bill James Online titled
"Climbing the Stairway to Sandy Koufax"
finally made my understand why. Bill wrote:
Since 1900 there have been only three seasons by a pitcher in which the pitcher had 25 wins, 300 strikeouts, an ERA under 2.50 and a winning percentage of .750. Those three seasons were by Sandy Koufax, 1963, Sandy Koufax, 1965, and Sandy Koufax, 1966.

So there you go. Those other guys came close and maybe did two of those things, but only Koufax has had a Koufax season. Vida Blue came close in 1971; if he'd gone 25-8 instead of 24-8, he would have had a Koufax season. If Steve Carlton goes 27-9 instead of 27-10 in 1972, it's a Koufax season. Randy Johnson came close.
The rest of the article is a fun look at isolating the best pitching seasons ever, or as Bill wrote, "trying to develop a protocol to make a list of the seasons worthy of the Sandy Koufax label."
A few other things to check out:
May, 7, 2013
5/07/13
12:40
AM ET
Joe Maddon, once again trying to be the smartest kid on the block, with your fancy glasses and wacky pregame guests and funny haircuts.
How dare you bring your closer in during the eighth inning. With runners on base, no less! Who do you think you are to manage outside the box and pretend it's still 1985 or something? Push your buttons! That's how you manage in this day and age. Your setup guy pitches the eighth. Your closer pitches the ninth. Don't try to think out there; it'll only get you in trouble.
Like it did on Monday night. You were doing fine. Your
Tampa Bay Rays
led the struggling
Toronto Blue Jays
7-5 entering the top of the eighth and
Joel Peralta
was on the mound. That may have been your first problem: You had actually used Peralta to get out of a jam in the seventh. So when
J.P. Arencibia
singled and then Peralta walked
Brett Lawrie
with one out, you faced a dilemma: Keep in Peralta, who had thrown 22 pitches, or bring in
Fernando Rodney
?
I know you trust Rodney. He was so, so good a year ago; dude allowed only five earned runs all season. It was an Eckersley-like season in its efficiency and dominance. He'd been a little shaky so far in 2013 -- nine hits and seven walks and four earned runs in just 9.1 innings -- but he'd blown only that one save back in the second game of the year, when he may have still been a little fatigued from the World Baseball Classic, and the Rays won anyway. I mean, sure, it's Fernando Rodney, career journeyman with one miracle season under his belt, but he's your closer. He's your ninth-inning guy.
And that's my point. He's the
ninth-inning guy
. You know how many times he'd entered a game before the ninth this year? Zero. You know how many of his 48 saves last year saw him entering in the eighth inning? Just two, and both of those were in September, during a desperate drive for the postseason.
But you brought him in, hoping he could get five outs. By the way, entering Monday night there had been 237 saves in the majors this season. Not including these ridiculous three-inning saves in blowouts, you know how many of those 237 saves were more than three outs? Seven. And only three of those were more than four outs and those probably happened because the manager fell asleep.
I mean, did you really want to answer to the media if Rodney blew this one? Your thesaurus doesn't do much good when trying to explain losing a game because you brought your closer in too soon.
So Rodney got out of the eighth, although he did give up a sacrifice fly to cut the lead to 7-6. In the ninth,
Adam Lind
walked on a 3-2 changeup. That was Rodney's wipeout pitch in 2012; in 120 plate appearances ending with a changeup, he recorded 55 strikeouts and just five walks and batters hit .071. It was nearly untouchable. But that was already the fifth walk he'd allowed off the changeup in 2013.
Pinch-runner
Emilio Bonifacio
then stole second and reached when
Jose Molina
threw wildly. But then
Colby Rasmus
struck out -- on a 3-2 changeup -- and
Maicer Izturis
grounded out to first baseman
James Loney
, leaving Bonifacio still at third with two outs. That brought up power-hitting catcher J.P. Arencibia, who had hit eight home runs but had season totals of 42 strikeouts and two walks. I'm not making that up. He pretty much will swing at anything between the two dugouts.
Here's what happened: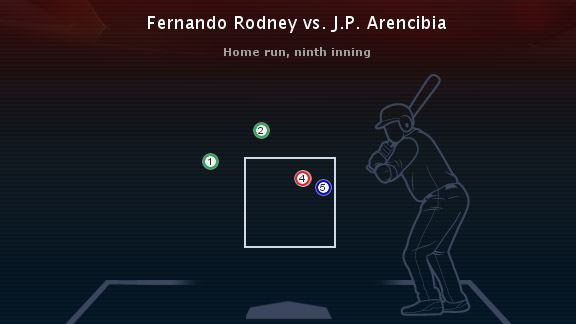 ESPN Stats & Information The locations of Rodney's five pitches to Arencibia (pitch No. 3 is hidden behind pitch No. 4).
Rodney threw four straight 97-mph fastballs to get the count to 2-2. Arencibia can still be dangerous with two strikes -- six of his eight home runs had come with two strikes -- but considering his free-swinging ways, a changeup somewhere off the plate may have been a good idea. That No. 5 circle was another 97-mph fastball and Arencibia made the home crowd very sad with a two-run homer to left field.
A crushing
8-7 defeat for the Rays
. A great win for the Blue Jays, who survived another bad
Mark Buehrle
start (Tampa Bay scored all seven of its runs in the third inning, including an
Evan Longoria
grand slam).
Look, we could make a point that bullpens are volatile, and that maybe we shouldn't have expected the Tampa Bay's pen to be as good as it was last year when the Rays led the majors with a 3.19 bullpen ERA. The Rays now have a 4.80 bullpen ERA, 28th in the majors. We could point out that Rodney wasn't going to be as good as last season even if he
was
good again. I think the point from this game is clear, however: Joe Maddon outsmarted himself. Push the buttons next time, Joe, push the buttons.
Don't dare to make the unconventional move. Even if it was the right one to make.
April, 22, 2013
4/22/13
4:30
PM ET
With strikeout rates at record levels, that inevitably means we're going to get some crazy strikeout totals for hitters. Let's take a stroll through some of my favorite numbers heading into Monday's games.
Adam Dunn, White Sox: 26 SO, 3 BB in 69 PAs. Dunn, of course, has always struck in prodigious numbers, but he's taking it to a new level this year, whiffing in 37.7 percent of his plate appearances, which would top his previous career worst of 35.7 percent in 2011. To make matters worse, he's stopped walking. And is hitting .108.
J.P. Arencibia, Blue Jays: 28 SO, 1 BB in 73 PAs. The Toronto catcher is tied with Houston's Chris Carter for the major league strikeout lead at 28. What's fun about his line is he has just one walk, so he has a .260 OBP to go with his .250 batting average. He also has belted seven home runs so he's slugging over .600, so he could be headed for the worst 30-homer season in history.
Rick Ankiel, Astros: 23 SO, 0 BB in 35 PAs. My lord. That's a strikeout rate of 65.7 percent! He's made contact 12 times and has eight hits, including four home runs. Still ... 23 whiffs in 35 PAs. By the way, the non-pitcher "record" for most strikeouts in a season without drawing a walk belongs to Alejandro Sanchez, a DH/outfielder on the '85 Tigers who had 39 strikeouts and no walks in 133 PAs. The "record" for most PAs without a walk for non-pitcher belongs to Craig Robinson, an infielder on the '73 Phillies, who had 148 PAs. Here's the funny thing: Robinson turned that season into a gig as the Braves' starting shortstop in 1974. He hit .230 with no home runs but did draw 30 walks in 506 PAs.
Ryan Braun, Brewers: 20 SO, 10 BB in 60 PAs. Braun is putting up his usual big numbers but his strikeout rate of 33 percent is sixth highest among qualified hitters. But his walk rate is up 7 percent over the past two years. (Colby Rasmus, Arencibia's Blue Jays teammate, has the highest K rate among regulars at 43.5 percent.)
Will Middlebrooks, Red Sox: 22 SO, 3 BB in 72 PAs. Outside of that three-homer game, Middlebrooks has been terrible, hitting .172 overall and 2 for his last 25. Until he learns to lay off those pitches out of the zone he's not going to help the Sox much. A stint back in the minors may eventually be needed.
Josh Hamilton, Angels: 23 SO, 5 BB in 77 PAs. Compared to last year, Hamilton's K rate is up and his walk rate is down. He's second only to Pablo Sandoval in swing percentage on pitches outside the strike zone among regulars. His approach hurt him in the second half last season and is a main reason he's struggling early on (.176, 2 HR).
April, 3, 2013
4/03/13
10:00
AM ET
Maybe we'll try and do this each morning. Maybe we'll get tired of doing it after two weeks. Anyway, quick thoughts from Tuesday's games.
The story of the night obviously was Yu Darvish's bid for a perfect game. He become the fifth pitcher in 25 years to lose a perfect game with two outs in the ninth inning, joining the Blue Jays' Dave Stieb, the Mariners' Brian Holman (I'll never forget watching that one; ex-Mariner Ken Phelps hit a pinch-hit home run, the final home run of his career), the Yankees' Mike Mussina and, of course, Armando Galarraga. I'm sure Darvish went to bed thinking of that first-pitch fastball to Marwin Gonzalez. I'll suggest this won't be the first no-hit bid against the Astros this year, and certainly not the only no-hit bid of Darvish's career. If he commands his fastball like he did in this game, watch out American League. Here's more on Darvish's near-perfecto from ESPNDallas' Jean-Jacques Taylor.

After that game ended, watched some of Hyun-Jin Ryu's debut for the Dodgers. The Korean free agent looked impressive, working inside to lefties/outside to righties (see heat map below) and working quickly. He did allow 10 hits, all singles, but didn't walk anybody, and a couple of errors led to two unearned runs. My first thought was he reminded me of David Wells -- like Wells, he has a few extra pounds on him as well -- and then I heard Jim Kaat make the same comparison. He's not overpowering, topping out at 92 mph, but seemed to have a good feel out there. Plus, he wears No. 99, so you have to love that.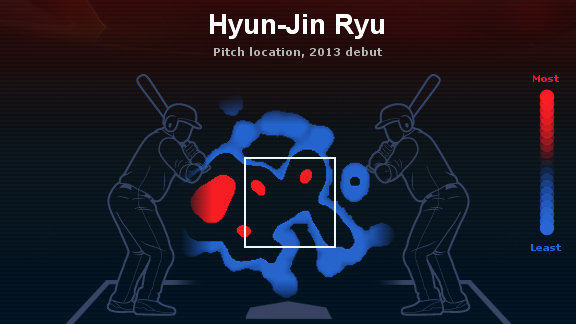 ESPN Stats & InformationKorean free agent Hyun-Jin Ryu had an impressive first outing for the Dodgers.
March, 9, 2013
3/09/13
12:42
AM ET
Justin Verlander
,
Prince Fielder
,
Clayton Kershaw
and
Mike Trout
aren't on the United States roster, and their absence means a lot of fans don't care about the World Baseball Classic -- certainly not enough to spend a Friday evening in early March watching a baseball game between a largely no-name Mexico team and a still-star-laden U.S. team.
But this tournament isn't for fans who so willingly dismiss it. It's not even so much for fans in the United States, who are more focused on their professional teams or the impending NCAA basketball tournament. Earlier in the day, MLB reported that one-third of all television sets in Japan had watched the first-round games involving the Japanese team. I'm sure its dramatic comeback win over Taiwan on Friday morning rated even higher. Fans in Puerto Rico cheered on their team to a victory over Spain. Fans in Venezuela and the Dominican Republic care intensely about how their teams fare.
And Chase Field in Phoenix was nearly full for Friday's Mexico-U.S. game -- with maybe half that crowd rooting for Mexico.
Those
fans certainly cared that Mexico pulled off the huge
5-2
upset victory, essentially avoiding elimination after Thursday's heartbreaking ninth-inning loss to Italy. The players on the Mexican team certainly cared.
The Mexico lineup is pretty weak outside of Dodgers first baseman
Adrian Gonzalez
.
Jorge Cantu
hit fifth and he spent all of last year in Triple-A.
Karim Garcia
is still around and he hasn't played in the majors since 2004. But
R.A. Dickey
's knuckleball wasn't effective, a leadoff bloop single led to two runs in the first inning and Gonzalez torched a 73 mph knuckler to center field for a two-run homer in the third.
Other thoughts:
Pool D is really interesting now. It could all come down to run differential to see which two teams advance to the second round. If we assume the U.S. beats Italy on Saturday, and the U.S. and Mexico both beat Canada, then Italy, the U.S. and Mexico all finish 2-1. But Italy mercy-ruled Canada in a 14-4 victory, putting pressure on the U.S. lineup to do some damage in its next two games. The eighth inning could prove a key for the U.S., as Tim Collins and Steve Cishek worked out of a second-and-third, nobody-out jam.
After Dickey's performance, fans will be crying that Verlander or Kershaw or David Price aren't here. First off, Dickey wanted to be here and those guys didn't. Second, Dickey earned his invite as much as those guys would have, coming off his National League Cy Young Award. He just didn't have a good night. That's what happens in a tournament, not much different than what happens in the postseason: Anything can happen.
Joe Torre's lineup left a little to be desired. He hit Jimmy Rollins and Brandon Phillips 1-2, because they're fast and they hit at the top of the order for their regular teams. He hit Eric Hosmer sixth, pushing Giancarlo Stanton -- who only led the NL in slugging percentage -- all the way down to seventh, and Adam Jones, he of the 32 home runs last year, batting eighth. Stanton and Jones are better hitters than Rollins, Phillips and Hosmer. Torre might have been playing the hot hand with Hosmer, who had hit .391 in spring training with the Royals, and maybe he wanted to spread out his three left-handed hitters (switch-hitter Rollins, Joe Mauer and Hosmer). Still, a little more creativity would have had something like David Wright, Mauer, Ryan Braun, Stanton, Jones, Rollins, Phillips, Hosmer and catcher J.P. Arencibia.
Dodgers third baseman Luis Cruz had two key at-bats for Mexico. In the first inning, he delivered a sacrifice fly that was also deep enough to move Ramiro Pena to third, and Pena scored on Gonzalez's sac fly. In the fifth, after Eduardo Arredondo slapped an Ichiro-like double down the left-field line off Twins closer Glen Perkins and was bunted to third, Cruz delivered another sac fly.
Pitchers are allowed a maximum of 65 pitches in first-round games, but Yovani Gallardo was on a 50-pitch limit for Mexico. He looked sharp, allowing two hits and striking out four in 3.1 innings, but that meant Mexico had to rely on its bullpen, a day after using four relievers in that 6-5 loss to Italy. Royals righty Luis Mendoza escaped a jam in the fifth after walking the first two batters, striking out Arencibia on a nice 0-2 slider and then retiring Rollins and Phillips on ground balls. Oliver Perez got a key out in the sixth and Oscar Villareal pitched a scoreless seventh. The U.S. scored once off Cardinals reliever Fernando Salas in the eighth, and Giants closer Sergio Romo closed it out.
The Giants were undoubtedly nervous seeing Romo come in. They had apparently requested that Romo not appear in consecutive games, and manager Bruce Bochy has always been very cautious with his use of Romo. He threw 26 pitches Thursday, but this was a must-win game for Mexico. Saving him for Saturday's game against Canada doesn't make any sense if you lose this game. A reliever can't appear three consecutive days, so Romo is unavailable now for Canada.
Ryan Vogelsong starts for the U.S. against Italy, and while the Italian team is mostly comprised of U.S.-born players -- including several major leaguers -- they will start an actual pitcher from Italy: Luca Panerati, a left-hander who was in the Reds' system from 2008-11, never advancing past Class A. Last year, he pitched in the Italian Baseball League. Now he gets to face a team of the best players in the world. This is what the World Baseball Classic is all about.
February, 7, 2013
2/07/13
11:40
AM ET
2012 in review
Record: 73-89 (74-88 Pythagorean)
716 runs scored (7th in AL)
784 runs allowed (11th in AL)
Big Offseason Moves
Traded
Henderson Alvarez
,
Yunel Escobar
, Jake Marisnick, Justin Nicolino,
Adeiny Hechavarria
,
Jeff Mathis
and Anthony DeSclafani to the Marlins for
Jose Reyes
,
Josh Johnson
,
Mark Buehrle
,
Emilio Bonifacio
and
John Buck
. Traded Buck,
Travis d'Arnaud
, Noah Syndergaard and Wuilmer Becerra to the Mets for
R.A. Dickey
,
Josh Thole
and
Mike Nickeas
. Signed free agents
Melky Cabrera
and
Maicer Izturis
. Picked up option on
Darren Oliver
. Lost free agent
Kelly Johnson
. Acquired
Mike Aviles
from the Red Sox (for manager John Farrell and
David Carpenter
) and traded Aviles and
Yan Gomes
to the Indians for
Esmil Rogers
. Signed Dickey to a two-year extension with 2016 club option. Named John Gibbons manager.
That's what I call an exciting offseason. It may even have pushed the Maple Leafs off the front page of the sports section for a few days. GM Alex Anthopoulos picked up the NL Cy Young winner, a guy who has pitched 200-plus innings 12 seasons in a row, a guy coming off a season in which he hit .346 (and, yes, got suspended for a positive PED test), a shortstop who has compiled the third-most wins above replacement at the position over the past two seasons (or most, depending which version of WAR you prefer), a starter who led the NL in ERA in 2010, and a solid utility guy who has swiped 73 bases the past two years.
What did he give up? Of the prospects traded, d'Arnaud (14), Nicolino (62), Marisnick (82) and Syndergaard (97) ranked in Keith Law's
top 100 prospects

. The Blue Jays' farm system, which would have been ranked in the top five, now ranks 24th. In this era when general managers don't want to make that fatal mistake, kudos to AA for pulling off the deals (and ownership for approving the salary influx, which should increase Toronto's payroll by an estimated $30 million or so).
Position Players
Despite
Edwin Encarnacion
's monster 42-homer breakout season, the Blue Jays' offense was a big disappointment in 2012, and not just because
Jose Bautista
played only 92 games.
Brett Lawrie
was OK in his first full season but underperformed expectations.
Adam Lind
had another underwhelming season. Overall, the main problem was getting on base -- the Blue Jays' .309 OBP ranked 13th of 14 teams in the AL. Some of those guys are gone, but
Colby Rasmus
(.289),
J.P. Arencibia
(.275) and Lind (.314) are still projected as regulars.
How many more runs can we expect the Jays to score? Here are some quick back-of-the-napkins numbers for the new guys in the lineup:
Cabrera replaces
Rajai Davis
/others: 85 runs created versus 65; +20 runs.
Reyes replaces Escobar: 86 runs created versus 53; +33 runs.
Izturis/Bonifacio replaces Johnson/others: 70 runs created versus 68; +2 runs.
Total: +55 runs.
That's about five wins, not factoring in defense. Defensive runs saved rated Escobar at plus-14 runs in 2012, Reyes at minus-16 (he hasn't had a positive DRS since 2007). So it's possible the Jays are giving back a couple of those wins on defense at shortstop. Of course, the Jays are hoping for a full season from Bautista, improvement from Lawrie and Rasmus, and another big year from Encarnacion.
I think it's a good lineup but not a great one. I still see some OBP holes, and Cabrera and Encarnacion will be hard-pressed to repeat their 2012 numbers. If Lawrie and Rasmus take a leap -- much more likely in Lawrie's case -- it
could
be a great offense, but I'm holding back for now.
Pitching Staff
I expect the Jays to make bigger gains on the pitching end of things. After a 2012 season that saw
Brandon Morrow
,
Kyle Drabek
and
Drew Hutchison
all miss time (Tommy John surgery in the cases of Drabek and Hutchison) and staff ace
Ricky Romero
struggle through a miserable 5.77 ERA, the Jays could end up with the best rotation in the majors after posting a 4.82 team ERA last year.
Although there is A-plus upside to this group, there are obvious reservations, primarily in the health and durability of Morrow and Johnson. Morrow had a 2.96 ERA in 21 starts -- after years of underperforming his peripherals -- but he never has pitched 180 innings in a season. Johnson did make 31 starts for the Marlins after missing most of 2011, although he wasn't quite the dominant pitcher he had been in 2010. Dickey takes his knuckleball back to the American League, and, although he might have had his career season, maybe he hasn't. Romero will get another shot, but
J.A. Happ
pitched well after coming over from the Astros and is a solid No. 6 guy.
Toronto's bullpen had the worst ERA in the AL last year. It won't be the worst this year.
Casey Janssen
has a solid track, and
Sergio Santos
returns from his injury to compete for the closer role. Rookie
Aaron Loup
(21-2 SO-BB ratio) looked very good late in the season, and Anthopoulos might have stolen hard-throwing
Steve Delabar
from the Mariners. He curbed his home run problems after coming over and struck out 46 in 29 1/3 innings with the Jays. He could emerge as an important late-inning weapon.
Heat Map to Watch
Was Encarnacion's season a fluke? At age 29, he hit 42 home runs and 110 RBIs, after never having hit more than 26 before. But the Jays apparently did a couple of things with Encarnacion's approach, most notably having him keep both hands on the bat throughout the swing. As this
article points out
, he also did a better job laying off pitches out of the strike zone. And he did a better job attacking fastballs, hitting .315/.411/.633 against them after hitting .289/.370/.482 in 2011. As the heat map shows, he likes those high fastballs.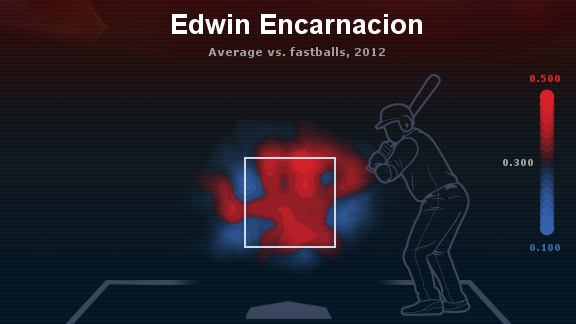 ESPN Stats & InformationWarning to pitchers: Edwin Encarnacion likes those high fastballs.
Overall Grade

There's no doubting the upside of this club. Should the Jays be the
World Series favorites
, as one Vegas book has them? I don't know about that. Still, if Bautista and Encarnacion become the first pair of teammates to hit 40 home runs since
Jermaine Dye
and
Jim Thome
with the 2006 White Sox, and if Gibbons gets 60 starts from Morrow and Johnson, I can see a 95-win club.
What we don't know is how tough the AL East will be. On paper, it could be five teams all beating the snot out of each other. Or maybe one will rise above the rest. What do you think?
June, 7, 2012
6/07/12
12:56
AM ET
"Show us some respect," yell Baltimore Orioles fans. Or maybe they're politely demanding. But I've seen the complaints in the Power Rankings comments, read the emails sent to "Baseball Today," been asked the question in my chats: Why doesn't anyone believe in the Orioles?
The Orioles traveled to Fenway Park this week in a precarious situation. They've lost two of three in Tampa. They've been swept in Toronto. They've lost two of three at home to Kansas City. They've lost two of three at home to Boston. They haven't won a series since the big weekend showdown in Washington from May 18-20.
So, yes, the concerns all of us "experts" had been raising -- it's a long season, let's see what happens to the rotation, let's find out if some of the hitters can keep up their hot starts, the bullpen can't keep its ERA under 2.00 all season -- were proving true. The O's were 27-14 after winning the second against the Nationals but had gone 3-10 since, with the staff posting a 4.95 ERA while the offense scored 3.5 runs per game.
These were the Orioles we all expected. And then they beat the Red Sox in extra innings on Tuesday. And then they
beat the Red Sox 2-1
on Wednesday behind a solid effort from
Wei-Yin Chen
and scoreless innings from
Pedro Strop
and
Jim Johnson
. They're 5-0 at Fenway in 2012 and Chen is now 5-2 with a 3.49 ERA. The key moments came in the seventh inning after the Red Sox threatened with a pair of singles to start the frame. But after a sacrifice bunt, Chen struck out
Marlon Byrd
and induced
Mike Aviles
to pop out to first base.
Normally, Buck Showalter might have turned to his stellar bullpen, but after Tuesday's victory, in which the bullpen threw five innings, he left Chen to escape the jam. He set up Byrd with three fastballs and then got him swinging on a beautiful changeup. He threw three more fastballs to Aviles that he couldn't get around on. Don't underestimate Chen. His stuff plays up big, with his four-seamer reaching 94 mph. His last pitch to Aviles was clocked at 93. In 11 starts, he allowed two or fewer runs seven times and I think this outing will give Showalter more confidence to stretch Chen a little deeper into games.
So the Orioles remain in first place for another day, half a game ahead of the Yankees. Is it time to show them a little respect, to give Orioles fans what they crave? Let's do some position-by-position rankings to help sort out this tightly packed division. Rankings are simply listed in order of who I would want the rest of the season.
(Season-to-date Wins Above Replacement from Baseball-Reference.com, before Wednesday's games, listed in parenthesis.)
Catcher
1.
Matt Wieters
, Orioles (1.6 WAR)
2.
Jarrod Saltalamacchia
/
Kelly Shoppach
, Red Sox (1.6)
3.
Russell Martin
, Yankees (0.7)
4.
J.P. Arencibia
, Blue Jays (0.2)
5.
Jose Molina
, Rays (0.1)
There is a case to be made that Boston's duo is more valuable since they've combined for 14 home runs and an OPS over .900. But Wieters brings elite defensive skills and I also don't believe Salty is going to slug .583 all season. For the second consecutive season, the Rays are essentially punting offense at catcher. Rays catchers have the worst OPS in the majors.
First base
1.
Adrian Gonzalez
, Red Sox (0.8)
2.
Mark Teixeira
, Yankees (0.6)
3.
Mark Reynolds
, Orioles (-0.6)
4.
Carlos Pena
, Rays (0.4)
5.
David Cooper
/others, Blue Jays (incomplete)
Gonzalez is still struggling to get his stroke going, but he's the best of a weak group. Yes, I just called Mark Teixeira weak, but at this point he's a low-average guy who pops a few long balls, doesn't draw as many walks as he once did and isn't as great on defense as Yankee fans believe. But in this group that's good enough to rank second. Reynolds has a low WAR but he's missed time and that includes his bad defense at third base, a position we've hopefully seen the last of him playing. The Jays, meanwhile, need to quit fooling around at first base and find a legitimate hitter, or move
Edwin Encarnacion
there and find a designated hitter. You hate to waste a potential playoff season because you can't find a first baseman who can hit. (No, David Cooper is not the answer, although he's hit well so far in 11 games.)
Second base
1.
Robinson Cano
, Yankees (2.1)
2.
Dustin Pedroia
, Red Sox (1.8)
3.
Kelly Johnson
, Blue Jays (2.1)
4.
Ben Zobrist
, Rays (0.7)
5.
Robert Andino
, Orioles (0.6)
I love Ben Zobrist almost as much as two scoops of Vanilla Heath Bar Crunch from Ben & Jerry's, but a .199 average isn't going to cut it in this group, even if you are on pace to draw 100-plus walks. Zobrist has actually play more right field so far, but should be back at second on a regular basis with
Desmond Jennings
back.
Third base
1.
Evan Longoria
, Rays (1.4)
2.
Brett Lawrie
, Blue Jays (3.1)
3.
Alex Rodriguez
, Yankees (1.2)
4.
Kevin Youkilis
/
Will Middlebrooks
, Red Sox (0.5)
5.
Wilson Betemit
/
Steve Tolleson
, Orioles (-0.1)
Lawrie's WAR is boosted by defensive metrics that treat him like he's the second coming of Brooks Robinson. He's a good player but don't I think he's been the second-best position player in the American League. Longoria hopes to
return at the end of the Rays' current road trip
. As for A-Rod, his health is always a question at this stage of his career, but Youkilis has health questions and I'm not a believer in Middlebrooks' ability to hit .321 with power all season. His 29/4 strikeout/walk ratio is something pitchers should learn to exploit. As for the Orioles ... third base is an obvious concern. But don't expect a rare intra-division trade to acquire Youkilis.
Shortstop
1.
J.J. Hardy
, Orioles (2.1)
2. Mike Aviles, Red Sox (2.2)
3.
Derek Jeter
, Yankees (0.9)
4.
Yunel Escobar
, Blue Jays (1.9)
5.
Sean Rodriguez
, Rays (1.9)
Wait ... Jeter has been the
least
valuable of this group so far? The other four all rate as excellent fielders -- in fact, Baseball-Reference rates them all in the top 13 fielders in the AL. Jeter, meanwhile, ranks 310th in the AL on defense -- out of 313 players.
Left field
1. Desmond Jennings, Rays (1.2)
2.
Daniel Nava
/
Carl Crawford
, Red Sox (1.7)
3.
Brett Gardner
/
Raul Ibanez
, Yankees (0.3)
4.
Eric Thames
/
Rajai Davis
, Blue Jays (-0.1)
5.
Endy Chavez
/
Xavier Avery
/
Nolan Reimold
, Orioles (-0.3)
Not to keep picking on the Orioles, but this is another problem position, especially if Reimold's disc problems lingers all season. Nava has quietly been a huge savior for the Red Sox, batting .305 with a .438 OBP. He's drawing walks at a crazy rate. He should slide some but he's provided the kind of depth the Orioles don't have.
Center field
1.
Adam Jones
, Orioles (2.5)
2.
Curtis Granderson
, Yankees (1.3)
3.
B.J. Upton
Rays (0.9)
4.
Jacoby Ellsbury
/
Scott Podsednik
/Marlon Byrd, Red Sox (0.5)
5.
Colby Rasmus
, Blue Jays (1.3)
Ellsbury might be the biggest wild card in this race, because the Red Sox can't survive much longer with the Podsednik/Byrd platoon. When will he return? How will he hit? He just started throwing and could
return by the end of the month
. I've conservatively put him fourth, which seems fair considering the unknown. And please note, Orioles fans, that I believe in Mr. Jones.
Right field
1.
Jose Bautista
, Blue Jays (0.9)
2.
Matt Joyce
, Rays (2.2)
3.
Nick Swisher
, Yankees (-0.1)
4.
Cody Ross
/
Ryan Sweeney
, Red Sox (1.6)
5.
Nick Markakis
/others, Orioles (0.3)
Markakis is out three to four weeks with a broken bone in his wrist, an injury that once again reflects Baltimore's lack of depth. But all five teams are solid in right field. Ross is about to return from his broken foot; we'll see if he pounds the ball like he was before the injury (.534 slugging).
Designated hitter
1.
David Ortiz
, Red Sox (1.4)
2. Edwin Encarnacion, Blue Jays (1.6)
3. Revolving Door, Yankees
4.
Chris Davis
, Orioles (0.3)
5.
Luke Scott
, Rays (0.0)
No respect for Davis? OK, he's hitting .295/.333/.494. And he has 53 strikeouts and eight walks. Sorry, call me skeptical, O's fans. Yankee designated hitters have actually fared well, hitting a combined .279/.354/.467 with 10 home runs.
No. 1 starter
1.
David Price
, Rays (2.2)
2.
CC Sabathia
, Yankees (1.9)
3.
Ricky Romero
, Blue Jays (0.3)
4.
Josh Beckett
, Red Sox (0.5)
5.
Jason Hammel
, Orioles (1.9)
Look, Hammel has been terrific so far thanks to a career-high strikeout rate
and
a career-high ground-ball rate. But this is tough group and the question is who is going to be best moving forward? My biggest concern is that Hammel has never pitched 180 innings in a season. Can he pitched the 210 to 220 that you need from a No. 1?
No. 2 starter
1.
Brandon Morrow
, Blue Jays (1.1)
2.
James Shields
, Rays (-0.4)
3.
Andy Pettitte
, Yankees (1.5)
4. Wei-Yin Chen, Orioles (0.7)
5.
Jon Lester
, Red Sox (-0.4)
I like Chen. Heck, right now I like him better than Jon Lester, which tells you how much I like him. But he averaged just 172 innings in Japan over the past three seasons. Can he hold up over 32 starts?
No. 3 starter
1.
Jeremy Hellickson
, Rays (1.0)
2.
Hiroki Kuroda
, Yankees (1.4)
3.
Felix Doubront
, Red Sox (0.4)
4.
Brian Matusz
, Orioles (0.2)
5.
Henderson Alvarez
, Blue Jays (0.4)
Matusz is holding his own at 5-5, 4.41, but he's still walking a few too many, allowing a few too many hits, a few too many home runs. The velocity is solid, averaging 91 on his fastball. We're talking minor upgrades needed in his command, getting the ball down in the zone more often to get more groundballs. If the Orioles are to have any chance, Matusz's improvement may be the single most important aspect.
No. 4 starter
1.
Matt Moore
, Rays (-0.6)
2.
Ivan Nova
, Yankees (0.3)
3.
Jake Arrieta
, Orioles (-0.4)
4.
Clay Buchholz
, Red Sox (-1.2)
5.
Kyle Drabek
, Blue Jays (-0.1)
Five pitchers who have struggled, but Arrieta's peripheral numbers are actually pretty solid. Like Matusz, there is hope for improvement. On the other hand, he's been awful since pitching eight scoreless innings against the Yankees on May 2, giving up 29 runs in 31.2 innings. His BABIP was .243 through May 2; it's .361 since. The truth is probably right in the middle, leaving Arrieta third on our list of fourth starters.
No. 5 starter
1.
Alex Cobb
/
Jeff Niemann
, Rays (0.3)
2.
Drew Hutchison
, Blue Jays (0.1)
3.
Phil Hughes
, Yankees (0.2)
4.
Daisuke Matsuzaka
/
Aaron Cook
/
Daniel Bard
, Red Sox (-0.3)
5.
Tommy Hunter
, Orioles (-0.5)
Hunter isn't really a major league starter, but I'm not sure
Jamie Moyer
-- just signed to a minor league contract -- is exactly a solution. The Orioles need to upgrade here.
Bullpen
1. Yankees (2.76 ERA)
2. Orioles (2.48 ERA)
3. Red Sox (3.66 ERA)
4. Rays (3.43 ERA)
5. Blue Jays (4.39 ERA)
If you watched Pedro Strop and Jim Johnson close out Wednesday's win, you'll realize the back of the Orioles' end has two guys with filthy stuff.
Darren O'Day
and
Luis Ayala
are strike-throwing machines and
Troy Patton
is a lefty who isn't a LOOGY. It's a good pen and it's deep. But the reliability of the pen ties into the rotation's inability to pitch deep into games -- Orioles relievers have already thrown 39 more innings than Yankees relievers, for example.
OK, let's add it up … one point for ranking first, five points for ranking fifth. Hey, this isn't meant to be scientific, so don't overanalyze this too much. The totals:
Yankees: 36 points
Rays: 40 points
Red Sox: 45 points
Blue Jays: 51 points
Orioles: 53 points
Not the respect Orioles fans are seeking. Sorry about that; it's nothing personal. Look, I don't think the Orioles are going to fade away anytime soon. I worry about the rotation's ability to hold up all summer and the bullpen's workload. They lack depth on offense and have a couple of obvious holes. Hey, you never know, and the Orioles are certainly due for a winning season. I would love to see it happen.
PHOTO OF THE DAY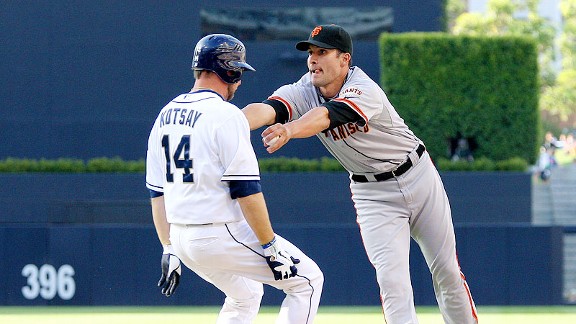 Jake Roth/US PresswireJavier Lopez is sending a message to Mark Kotsay: Tag, you're out!
April, 11, 2012
4/11/12
6:30
PM ET
November, 14, 2011
11/14/11
12:55
AM ET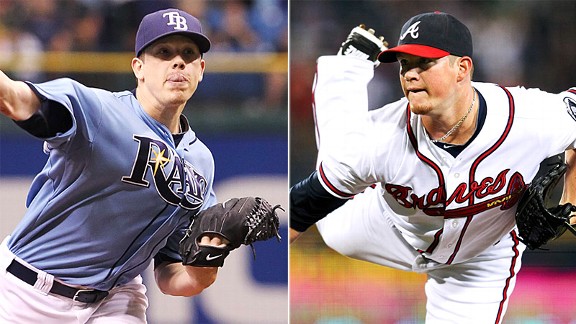 US PresswireTampa Bay's Jeremy Hellickson, left, and Atlanta's Craig Kimbrel led the SweetSpot rookie balloting.
The American League rookie crop has a chance to be one of the deepest, most exciting groups of rookies one league has produced in a long time (although the 2010 NL group with
Buster Posey
,
Jason Heyward
,
Mike Stanton
,
Starlin Castro
and
Jaime Garcia
was an excellent one as well).
On the hitting side,
Dustin Ackley
,
Eric Hosmer
,
Desmond Jennings
and
Brett Lawrie
all have All-Star potential, and guys like
Mark Trumbo
,
Jemile Weeks
,
Jason Kipnis
,
Mike Moustakas
,
Lonnie Chisenhall
,
J.P. Arencibia
and
Salvador Perez
aren't far behind or showcased plenty of potential. Pitchers included
Jeremy Hellickson
,
Ivan Nova
,
Michael Pineda
,
Zach Britton
and
Jordan Walden
. Those lists don't even include prospect studs
Mike Trout
and
Jesus Montero
, who will both remain rookies next season.
It makes for a crowded rookie race, especially since several of the hitters excelled after in-season promotions, which limited their overall numbers. Here are the voting results from the SweetSpot network (based on the same structure as the real voting: five points for first, three for second and one for third):
1. Michael Pineda, Mariners: 77 points (13 first-place votes)
2. Jeremy Hellickson, Rays: 51 points (6)
3. Eric Hosmer, Royals: 25 points (3)
4. Dustin Ackley, Mariners: 23 points (1)
5. Ivan Nova, Yankees: 11 points
(tie) Mark Trumbo, Angels: 11 points (1)
7. Brett Lawrie, Blue Jays: 8 points
8. Desmond Jennings, Rays: 5 points
9. Zach Britton, Orioles: 1 point
In our vote, it was essentially a two-player race; I suspect that in the actual vote, Nova will receive much more support. Let's start by looking at the three starting pitchers, all three of whom were regulars in their team's rotations most of the season.
Hellickson: 13-10, 2.95 ERA, 189 IP, 146 H, 117 SO, 72 BB, 21 HR, 1.15 WHIP
Pineda: 9-10, 3.74 ERA, 171 IP, 133 H, 173 SO, 55 BB, 18 HR, 1.10 WHIP
Nova: 16-4, 3.70 ERA, 165.1 IP, 163 H, 98 SO, 57 BB, 13 HR, 1.33 WHIP
Despite that glossy record, I think it's pretty easy to dismiss Nova. He doesn't have Hellickson's ERA or Pineda's peripherals; he pitched 24 fewer innings than Hellickson; he pitched in the AL East, but so did Hellickson. (We can ignore win-loss record, right? We all learned that last year when
Felix Hernandez
won the Cy Young Award, correct?) As important as Nova was to the Yankees, I think he's pretty clearly No. 3 here.
So let's compare Hellickson and Pineda.
Baseball-Reference WAR
Hellickson: 4.2
Nova: 3.6
Lawrie 2.8
Pineda 2.8
Ackley 2.5
Jennings 2.3
Trumbo 2.1
Hosmer 1.3
FanGraphs WAR
Pineda: 3.4
Lawrie: 2.7
Ackley: 2.7
Nova: 2.7
Jennings: 2.4
Trumbo: 2.3
Hosmer: 1.6
Hellickson: 1.4
Hellickson's season was an anomaly in one important regard: He allowed just 7.0 hits per nine innings while striking out 5.6 batters per nine. How odd is that combo? Since 2000, only six other pitchers have thrown at least 150 innings while allowing 7.5 hits or less per nine innings
and
fewer than six strikeouts per nine. The others:
Johnny Cueto
(2011),
Tim Hudson
(2010),
Trevor Cahill
(2010),
Barry Zito
(2003),
Derek Lowe
(2002) and
Damian Moss
(2002).
Hellickson succeeded because his BABIP (batting average on balls in play) was .223, the lowest among major league starters. That explains the difference in his WAR total between the two sites. FanGraphs' WAR is based upon FIP (fielding independent pitching), which attempts to remove defensive support from a pitcher's performance and assesses "a pitcher's talent level by looking at things a pitcher can control: strikeouts, walks, hit by pitches, and home runs."
So while Hellickson's ERA was 2.95, FIP looks at his mediocre 117-72 strikeout/walk ratio and 21 home runs allowed and projects a 4.44 run average. Pineda, meanwhile, had a 173/55 strikeout/walk ratio and 18 home runs allowed, and his FIP comes in at 3.42 -- lower than his actual ERA.
Basically, FIP regards Hellickson as being hit lucky; indeed, if you were projecting which pitcher will have the lower ERA next season, Pineda is the obvious choice (assuming Hellickson doesn't ramp up his strikeout rate). As a projection system, FIP is much better than simply looking at ERA.
But when evaluating a current season, do you simply dismiss Hellickson's results and say he wasn't that good? Personally, I think that's a big leap. Hellickson's run prevention may have involved a degree of luck -- it's worth pointing out that Pineda also allowed a low .258 BABIP, ninth-lowest among MLB starters (both were also extreme flyball pitchers, which can lower a pitcher's BABIP) -- but he
did
allow a 2.95 ERA over 29 starts, pitching in the tough AL East. He made eight starts against the Red Sox and Yankees (3-2, 3.73 ERA in 48.1 innings). Pineda only had to make one start each against the Red Sox and Yankees. Yes, Hellickson benefited from him his home park and an excellent Tampa Bay defense; but Pineda also benefited from a pitcher-friendly home park and good defense.
Hellickson had a left-on-base percentage of 82 percent -- second-best in the majors behind Jered Weaver's 82.6 percent. He allowed a .167 average with runners in scoring position, with just three home runs in 144 at-bats. Again, there is some good fortune involved here -- a .167 average allowed is not a repeatable skill -- but it
did
happen. It was a real result that helped the Rays win games and I can't so easily dismiss what happened on the field.
In some aspects, while last year's AL Cy Young debate was billed as the battle of new numbers (win-loss record for pitchers is overrated), it wasn't really the battle of new numbers: King Felix excelled in all the other conventional statistics like ERA, strikeouts and innings pitched. To deny Hellickson the rookie award would be the real shout-out to sabermetrics, ignoring his ERA and attributing his numbers completely to luck and defense. I don't think that will happen in the real vote; in fact, I'll be surprised if Pineda finishes in the top three, since -- let's face it -- win-loss record still means something to a lot of voters.
I'm a Mariners fan. I watched Pineda pitch 10-12 times this season and he and Ackley provided two bright hopes in a miserable season. If he stays healthy, the big right-hander is going to be a Cy Young contender in the future. But I put Hellickson No. 1. As for the rest of my ballot, Lawrie and Jennings were great in short stints (Lawrie's WAR includes a positive rating for his defense, which goes against the scouting reports as he came up through the minors), Ackley in a little longer stint, Hosmer over 128 games. Both B-R and FanGraphs hate Hosmer's defense (going against the general scouting reviews of his glovework), and thus affecting his WAR rating. Trumbo's 29 home runs and 87 RBIs led all rookies, but that .291 on-base percentage is damaging. Trumbo had some big hits for the Angels, but I can't put a guy with a .291 OBP in the top three.
My ballot
1. Jeremy Hellickson
2. Michael Pineda
3. Eric Hosmer
Predicted results
1. Jeremy Hellickson
2. Ivan Nova
3. Mark Trumbo
* * * *
In the National League, Braves closer
Craig Kimbrel
is expected to cruise to the award after leading the NL with 46 saves, posting a 2.10 ERA and striking out 127 batters in 77 innings, the sixth-highest strikeout rate ever with at least 50 innings pitched. (By the way, fellow rookie
Kenley Jansen
had the best rate ever, with 16.10 per nine innings.)
Here is the SweetSpot network voting results:
1. Craig Kimbrel, Braves: 108 points (18 first-place votes)
2.
Freddie Freeman
, Braves: 35 points (3)
3.
Danny Espinosa
, Nationals: 26 points (3)
4.
Vance Worley
, Phillies: 16 points
5.
Brandon Beachy
, Braves: 14 points
6.
Wilson Ramos
, Nationals: 13 points
7. Kenley Jansen, Dodgers: 2 points
8.
Josh Collmenter
, Diamondbacks: 1 point
(tie)
Lucas Duda
, Mets: 1 point
I suspect the actual voting results will follow a similar pattern, with Kimbrel possibly emerging as the unanimous winner. Espinosa flew under the radar all season, but hit for power (21 home runs) and played a very good second base. Like Hosmer, Freeman's glovework doesn't rate well by the fielding metrics. Overall, Espinosa's package of power and defense at a premium position makes him more valuable than Freeman. Worley and Beachy were terrific in partial seasons and Ramos gave the Nationals a second foundation piece for the future.
My ballot
1. Craig Kimbrel
2. Danny Espinosa
3. Freddie Freeman
Predicted results
1. Craig Kimbrel
2. Freddie Freeman
3. Danny Espinosa
May, 18, 2011
5/18/11
12:23
AM ET
We're about 25 percent of the way through the season. After writing about my 25 percent
AL
and
NL MVPs
earlier, here are 10 important things we've learned so far.
1. Offense is down and not going up.
OK, it's not quite 1968, but entering Tuesday the major league batting average was .251, lowest since 1972, and the slugging percentage was .389, lowest since 1992. What this means is we have to mentally adjust our calculations of player performance from what we've been used to the past 15 years.
For example,
Cliff Lee
has a 3.84 ERA. Pretty good, right? Well, the NL overall ERA is 3.82, so before making park adjustments and so forth, Lee has been about average. He's 33rd among 61 NL starters in ERA. He's allowed a .262 batting average, which also placed him 33rd.
Jimmy Rollins
isn't having a great year with a .276/.355/.374 line? Actually, that makes about a league average hitter, and very good for a shortstop.
2. Parity rules the day.
Only three teams are at least seven games out of first place -- the White Sox, Twins and Astros.
I checked a similar point in the schedule for each of the past 10 seasons, seeing how many teams were at least seven games out at the quarter point:
2010: 9
2009: 10
2008: 4
2007: 14
2006: 7
2005: 10
2004: 5
2003: 12
2002: 12
2001: 11
Obviously, those totals can be affected by a supremely hot start by a team in your division (such as Seattle starting 31-9 in 2001). The Indians and Phillies are the only teams playing .600 ball so far, but we also have fewer bottom feeders than usual. Every injury, every blown save, every late-inning comeback or costly error will be even more important this season.
3. Never overreact to the first two weeks.
We do it every year. We'll do it again next year. It's a rite of baseball, alongside hot dogs, the seventh-inning stretch and four-hour Red Sox-Yankees games. Tampa Bay started 1-8. Boston started 2-10. A month later, the Rays are in first place and the Red Sox are over .500.
4. Thus, while the Yankees have issues, there is no need to panic yet.
The Yankees are kind of doing what everyone has expected, aren't they? Their offense is second in the AL in runs, the starting rotation has the 10th-best ERA and their bullpen has the fifth-best ERA. But a 6-10 record so far in May has New York in a bad state of mind. But history shows us the Yankees often have a bad month on the way to a winning season. Here is their worst month each of the past 10 seasons:
2010: 12-15 in September (95 wins)
2009: 12-10 in April (103 wins)
2008: 13-15 in August (89 wins)
2007: 9-14 in April; 13-15 in May (94 wins)
2006: 14-12 in June (97 wins)
2005: 10-14 in April; 12-14 in June (95 wins)
2004: 12-11 in April (101 wins)
2003: 11-17 in May (101 wins)
2002: 14-12 in June (103 wins)
2001: 15-14 in August (95 wins)
So that's only six losing months in 10 years, but it's evidence (for me) that an under-.500 May doesn't mean the Yankees have to push the panic button. (Although it's fun to watch the fans and media overreact.)
5. The Cardinals can win without Adam Wainwright.
Few teams could survive the loss of a Cy Young contenders, but so far St. Louis has withstood the loss of their ace. Led by the fearsome foursome of
Albert Pujols
,
Matt Holliday
,
Lance Berkman
and
Colby Rasmus
, St. Louis has the best offense in the NL, leading the league in runs, batting average and on-base percentage entering Tuesday. It's been their pitching that has been a pleasant surprise. They have 25 quality starts, tied for fourth in the league, and they're doing it despite slow starts from
Chris Carpenter
(1-3 4.95 ERA through nine starts) and
Jake Westbrook
(3-3, 6.07 ERA). But
Jaime Garcia
pitched another gem Tuesday night and he's looking like one of the best starters in the NL.
Kyle Lohse
has been excellent and
Kyle McClellan
a nice bonus moving over from the bullpen. The bullpen is getting straightened out ... and Pujols hasn't even heated up yet.
6. Jose Bautista is for real.
But are the Blue Jays? Toronto is 21-20, right in the thick of the AL East race. The Blue Jays are hanging in there despite some dreadful starts by some of their regulars:
Edwin Encarnacion
and
Aaron Hill
haven't homered yet,
Travis Snider
is hitting .184 and
Juan Rivera
is hitting .203. If those guys start hitting, the Jays could turn the East into a four-team race.
7. Speed is more important than it has been in years.
With scoring down, teams are placing more of an emphasis on stealing bases, manufacturing runs and gaining that extra base. Stolen bases are averaging .68 per team per game, the highest since the same total in 1999. From Baseball Prospectus,
the top five baserunning teams
(incorporating steals and advancement on base hits, etc.).
1. Nationals, +9.5 runs
2. Mets, +7.7 runs
3. Dodgers, +5.7 runs
4. Blue Jays, +5.5 runs
5. Giants, +5.4 runs
The bottom five:
30. Braves, -9.5 runs
29. Cardinals, -6.7 runs
28. Marlins, -5.0 runs
27. White Sox, -4.7 runs
26. Rockies, -4.1 runs
With more close games, every little edge counts. Pay attention to how your team runs the bases.
8. More young stars on the way.
After 2010's terrific crop of rookies --
Buster Posey
,
Jason Heyward
,
Mike Stanton
,
Starlin Castro
, Jaime Garcia,
Ike Davis
,
Neftali Feliz
,
Brian Matusz
, among others -- we're seeing another good-looking group. Not surprisingly, it's led by pitchers: AL starters
Michael Pineda
(Seattle),
Jeremy Hellickson
(Tampa Bay) and
Zach Britton
(Baltimore), plus closers
Craig Kimbrel
(Atlanta) and
Jordan Walden
(Angels).
For hitters, Royals first baseman
Eric Hosmer
is the first of a wave of talented prospects about to arrive in Kansas City, with pitcher Danny Duffy debuting Wednesday. A pair of catchers --
J.P. Arencibia
in Toronto and
Hank Conger
with the Angels -- look like future middle-of-the-order hitters. Down in the minors, Nationals outfielder Bryce Harper and Angels outfielder Mike Trout are living up to their billing as two of the best hitting prospects we've seen in years.
9. The defending champs will have to fix, repair and adjust on the fly like last season.
Shortstop
Miguel Tejada
is on his final leg.
Aubrey Huff
, last year's cleanup hitter, is hitting .229. The outfield has been a revolving door of slumping hitters, hot streaks and injuries. Will top prospect
Brandon Belt
return anytime soon, and where will he play? Does
Nate Schierholtz
have enough bat to remain in the lineup? The starting pitching remains solid and the bullpen looks excellent, but can Bruce Bochy arrange his chess board with the same magical results as 2010?
10. The Indians aren't going anywhere.
They easily have the majors' largest run differential (+63). They actually haven't taken advantage of a soft schedule, as their
strength of schedule
has been top 10 in the majors so far. The lineup leads the AL in runs scored and that's without their Nos. 3 and 4 hitters (
Shin-Soo Choo
and
Carlos Santana
) meeting projected numbers.
If the Indians remain baseball's Cinderella story ... well, let's just say no city deserves it more.
PHOTO OF THE DAY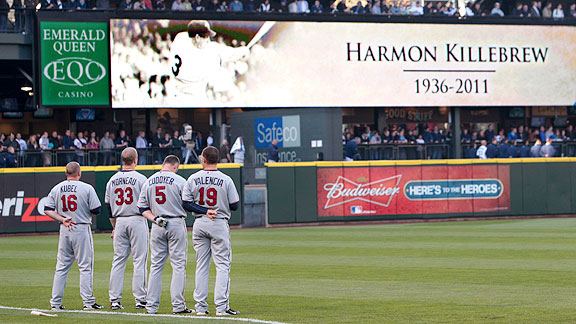 AP Photo/Elaine ThompsonOn Tuesday, baseball lost one of its best -- a great, Hall of Fame player and true gentleman.
Follow David on Twitter: @dschoenfield.