May, 23, 2012
5/23/12
12:30
AM ET
OK, I'll give you
Justin Verlander
.
I'll even give you
Miguel Cabrera
,
Prince Fielder
and
Austin Jackson
.
But five through 25? I think I'll take the
Cleveland Indians
over the
Detroit Tigers
.
The
Indians beat the Tigers 5-3
on Tuesday, even though
Ubaldo Jimenez
struggled once again with his control. Relief ace
Chris Perez
, who criticized Indians fans on Saturday for their lack of support (Cleveland is last in the majors in attendance), was greeted with a thunderous ovation as he came in out of the bullpen in the ninth inning. With two runners on, he struck out Cabrera and got Fielder to ground out.
Just another save. "That's the loudest I've ever been cheered here," Perez said. "I was pumped, the adrenaline was going. It could have gone the other way. I came through. I didn't know which way it was going to go. I was thankful it went the good way."
The good way pushed the Indians to 24-18. The Tigers are 20-22, and for the life of me I can't understand why everyone still thinks Detroit is the better team. Mind you, I'm not saying the Indians are better. I just don't see why the Tigers are better. Just because everyone picked them before the season?
Once you get past those big shiny names on the Tigers' roster, if you want to pinpoint one big difference between the two clubs, it's a little statistic that us sabermetric types love: the old base on balls. The Indians lead the American League with 188 walks, 25 more than any other team; the Tigers have 127 walks, ninth in the league. That patience will go a long ways toward giving Cleveland an offense capable of scoring as many runs as Detroit's (the Indians have outscored the Tigers by one run so far, 184 to 183).
In fact, when you go position by position, you'll see what I mean.
Catcher: Carlos Santana versus Alex Avila.
So far, Avila has been unable to match 2011's .366 average on balls in play, the sixth-best average in the majors. Which means he's hitting like he did in 2010. Santana, meanwhile, is a walks machine who hit 27 home runs in 2011.
First base: Casey Kotchman versus Prince Fielder.
Obvious edge to Fielder, of course. The most interesting thing about his start (.292/.354/.472) is his walk rate is down from 15.5 percent to 8.5 percent. Part of that is he was intentionally walked 32 times a year ago, just three this year.
Second base: Jason Kipnis versus Ramon Santiago/Ryan Raburn.
Please. Big edge to Kipnis with Santiago and Raburn both hitting under .200. Will Detroit make a move here?
Third base: Jack Hannahan/Jose Lopez versus Miguel Cabrera.
This may be the first and only time you'll see Jose Lopez mentioned in the same breath as Miguel Cabrera. So far, however, this edge has been minimal. Cabrera is hitting .304/.362/.488, Hannahan .287/.365/.436 but with better defense. According to Defensive Runs Saved, Cabrera has cost the Tigers four runs -- worst among third basemen (tied with
Hanley Ramirez
).
Shortstop: Asdrubal Cabrera versus Jhonny Peralta.
With the Indians preaching plate discipline, check out Cabrera: Last year, 44 walks and 119 strikeouts; this year, 18 walks and just 12 strikeouts. He's hitting .309 with an OBP over .400 but hasn't lost any power. In 2011, he swung at 31 percent of the pitches out of the strike but he has cut that down to 24 percent. Small differences can go a long way. Peralta was a big surprise for Detroit last season but hasn't matched the numbers in the plate or in the field.
Left field: Johnny Damon/Shelley Duncan versus Andy Dirks/Delmon Young.
Damon has looked terrible. Dirks has looked great, but too early to evaluate this one.
Center field: Michael Brantley versus Austin Jackson.
With his defense and hot start at the plate, Jackson has been as valuable as any player in the American League not named
Josh Hamilton
.
Right field: Shin-Soo Choo versus Brennan Boesch.
This one isn't close and that's with Choo off to a middling start in the power department. Choo has a .391 OBP, Boesch a .271 OBP. Choo is a solid defender while Boesch is slow and lumbering. With his poor start at the plate and poor defense, Boesch has been one of the worst regular in baseball so far. Choo is an underrated asset and I love Manny Acta's decision to move him into the leadoff spot.
Designated hitter: Travis Hafner versus field.
Cleveland's designated hitters have six homers and .370 OBP (fourth in the league). Detroit's DHs have one home run and a .238 OBP (13th in the league). Big, big edge to Pronk.
Rotation.
With the best pitcher on the planet, Detroit's rotation has posted a 3.87 ERA; without the best pitcher on the planet, Cleveland's rotation has posted a 3.94 ERA. Both teams have played 42 games and Cleveland's starters have thrown 12 more innings. Moving forward, maybe you think Detroit's group will perform better. After all,
Doug Fister
missed some,
Max Scherzer
just struck out 15 in game (never mind that the Pirates have been an historic strikeout binge of late) and
Rick Porcello
will put it together one of these years, because everyone says so. Meanwhile, Ubaldo Jimenez can't throw strikes,
Justin Masterson
hasn't pitched as well as last year and
Derek Lowe
is doing it with smoke, mirrors and a deal with the devil. The one thing the Cleveland starters do is keep the ball in the park; they've allowed 20 home runs, second-fewest in the league. Look, maybe you think Scherzer will start pitching better; I'd say so will Masterson. Maybe you're a Porcello believer; I'm not, especially with that infield defense behind him. Lowe is a fluke? Well, let's see how
Drew Smyly
does as the scouting reports get around on him.
Bullpen.
Neither pen has been stellar, as Cleveland's 4.16 ERA ranks 13th in the AL and Detroit's 4.76 ranks 14th. Cleveland's top guys, however, have been pretty solid -- Chris Perez is 14 of 15 in save opportunities while
Vinnie Pestano
,
Joe Smith
and
Nick Hagadone
have pitched well. Detroit's top two of
Jose Valverde
and
Joaquin Benoit
, so dominant a year ago, have both struggled to throw strikes.
I said before the season that I believed the Tigers were drastically overrated. On the Baseball Today podcast late in spring training, I predicted Cleveland would win the division. Unfortunately, when ESPN.com published predictions a few days later, I changed my pick to Detroit. I bought into the hype.
I'm not buying any longer. This division is wide, wide open. (And I haven't even mentioned the White Sox!)
PHOTO OF THE DAY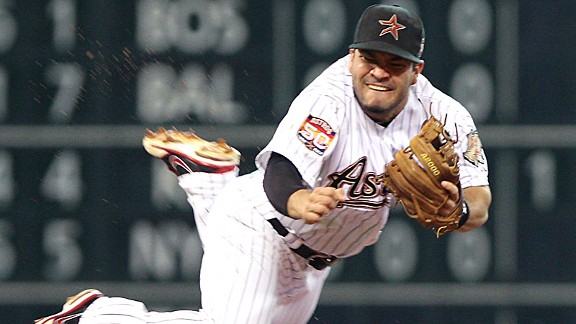 Troy Taormina/US PresswireDiminutive Astros infielder Jose Altuve isn't always so low to the ground.
May, 15, 2012
5/15/12
9:45
PM ET
By
Christina Kahrl
| ESPN.com
Not every move involves rosters: Some just involve putting your better assets to work. Case in point: Today's lineup card for the
Cleveland Indians
, which featured
Shin-Soo Choo
batting leadoff, something Manny Acta started trying just yesterday.
Choo was followed by second baseman
Jason Kipnis
in his usual slot, then
Asdrubal Cabrera
, then
Carlos Santana
. If that sounds to you like every good Indians batter, stacked up in a row, you'd be right. But with Choo's .362 OBP (pre-game) up front, it gave manager Manny Acta some big-inning potential, and when Minnesota's
Jason Marquis
got into trouble in the fifth, there was no easier out for him to get, and they
cranked a trio of home runs
before Ron Gardenhire could get him off the mound.
[+] Enlarge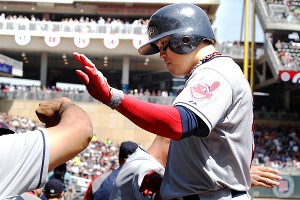 AP Photo/Jim MoneShin-Soo Choo homered as part of the Indians' fifth-inning barrage against Minnesota.
Admittedly, your best four up front is pretty much the definition of a short-sequence offense. But stacking all the good stuff up front is usually a better way to get a crooked number or two on the board, and then you can try to be cute with the assorted sidekicks in the bottom of the order:
Jack Hannahan
and
Michael Brantley
,
Casey Kotchman
and
Johnny Damon
. Considering that it was a rare day off for
Travis Hafner
against a right-hander, though, that front-loaded lineup can at least go five deep, Choo to Kipnis to Cabrera to Pronk to Santana. That isn't a bad place to start.
And while that back end might not be a good group, it's worth remembering that the Indians aren't married to any of them. Hannahan and Kotchman are defensive specialists who at the best of times get on base. But behind them, the Tribe has options:
Lonnie Chisenhall
's slugging .562 at Columbus and ready to roll, while
Matt LaPorta
's hammered 10 home runs as his teammate.
It's the outfield where things aren't happy. Damon's utility as a source of OBP or power is now several seasons out of date, while Brantley's marking time until he goes from ex-prospect to outright suspect and career fourth outfielder. And the Tribe doesn't have a ready or ready-ish alternative in the upper levels among their outfielders; rather, they have the latest iteration of a story they've been putting children to sleep with for years: "Grady Sizemore will be back soon." When your former center field star is the stuff of milk-carton legend, you know that you probably shouldn't count on him as an in-season solution.
Which is what will make the weeks and months to come interesting to follow as far as the Tribe's lineup cards are concerned. Will Brantley or Damon earn his keep? Will Sizemore actually return, and play well enough to consign one of the other two to the bench? Will Chisenhall or LaPorta get the call?
Or will Mark Shapiro simply deal for a corner bat worthy of the name before the end of July? Because that's the thing that you can really wonder about: If you're not getting offense out of first base or left field, that's usually one of the easiest things to fix around the deadline, and without having to give away a top prospect. If Choo gets to be the Indians' once and future leadoff man, then in addition to riding the benefits of that front-loaded lineup, you can stop excusing Damon or Brantley as guys who help at the top of the order, and start looking at how little they're delivering on offense. Fix that, and the team the Tribe's winning with now could be better still a deal later in August.
Christina Kahrl covers baseball for ESPN.com. You can follow her on Twitter.
May, 10, 2012
5/10/12
11:46
PM ET
We drown in numbers and statistics these days, but here's one that sums up the crumbling state of the
Boston Red Sox
quite eloquently: Following
Josh Beckett
's implosion on Thursday night, Red Sox starters have now allowed five-plus runs in 14 starts; Nationals starters have done so once.
Here's another way. Fifty-three American League starting pitchers are qualified for the AL ERA title. Here's where Boston's five starters rank:
32.
Jon Lester
(4.29)
38.
Daniel Bard
(4.83)
46.
Felix Doubront
(5.29)
51. Josh Beckett (5.97)
53.
Clay Buchholz
(9.09)
OK, ERA can be a little misleading early in the season. Here's where those five guys rank among AL starters in strikeout/walk ratio:
27. Beckett
32. Doubront
41. Lester
48. Bard
51. Buchholz
The Red Sox are 12-19 for a lot of reasons: injuries to
Jacoby Ellsbury
,
Kevin Youkilis
,
Carl Crawford
and
Andrew Bailey
; a slow start from
Adrian Gonzalez
; a couple bullpen implosions; Bobby Valentine using outfielder
Darnell McDonald
to pitch in a tie game.
Those are all factors, but despite the injuries on offense, the Red Sox are still second in the AL in runs scored; the bullpen has five losses, but 14 teams have more; and Valentine is more lightning rod than explanation.
No, the responsibility rests with the starting rotation. Bard and Doubront have perhaps predictably been mediocre, but they've actually been improvements over
Tim Wakefield
and
John Lackey
, so the blame falls on the supposed big three of Beckett, Lester and Buchholz.
Beckett started in Fenway against Cleveland on Thursday, his first start since April 29 and first since the infamous "he cares more about golfing than pitching" story leaked to the media. Beckett actually had pitched pretty well since his five-homer disaster in his first start, posting a 2.93 ERA over his next four starts. While I'm happy to report that I didn't see any greasy fried chicken stains on his jersey, his evening was yet another May disaster for the Sox.
In the top of the second, with one run already in,
Jack Hannahan
hit a 2-2 changeup to right field for a two-out home run. Not surprisingly, the Fenway faithful let go with more than a few loud boos. In third inning,
Jason Kipnis
crushed a 3-2 cutter over the bullpen in right-center. After
Asdrubal Cabrera
singled, Beckett got ahead of
Travis Hafner
with two strikes but then threw four consecutive balls.
Shin-Soo Choo
doubled to right on a 2-0, four-seam fastball to score Cabrera.
Michael Brantley
fell behind two strikes, then lined a double into the gap in left-center on a 1-2 curveball, scoring two more runs and knocking Beckett from the bump in what would be an
8-3 Indians victory
.
You can see the issues here: Even when he got ahead of batters, Beckett was unable to put them away. He used the whole tool box -- changeups, four-seamers, cutters, curveballs; the Indians hit them all. Six of the seven hits off Beckett went for extra bases.
I blurted out on Thursday's Baseball Today podcast that Beckett is the most overrated pitcher of the past decade. That's probably unfair to a pitcher who
has
been good for a lot of years, a guy who had dominant postseason runs in 2003 and 2007 in leading the Marlins and Red Sox to World Series titles. Those playoff performances did inflate his reputation a bit, as his regular-season performances haven't been consistently at that level. He has received Cy Young votes just twice in his career (finishing second in 2007 and ninth in 2011). He hasn't exactly been
CC Sabathia
when it comes to durability, reaching 200 innings just three times and never topping 215. With the Red Sox, he's had two seasons of ERAs over 5.00.
Maybe 2012 is going to be one of those down years; Red Sox fans who saw Beckett and Lester collapse down the stretch expected leadership from Beckett, not reports on his golf swing.
Speaking of Lester, what has happened to the dominant left-hander of a few seasons ago? In 2009, he averaged 10.0 strikeout per nine innings, but that figure has dipped to 6.0 this season. His walks are up more than one per nine innings since 2009. His velocity is still fine; as Curt Schilling has pointed out, his command isn't, with Lester especially struggling in pitching to the outside corner against right-handed batters. Going back to his final 11 starts of 2011, Lester has a 4.16 ERA and a poor strikeout/walk ratio of 86/50. The stuff is still there, but we're going on 18 starts now of mediocre pitching.
Buchholz is an even bigger disaster, the worst starter in the majors so far. Unable to get the ball down in the zone, Buchholz has been pounded like a punching bag. Opponents are hitting .343 and slugging .613 off him. Essentially, the average hitter against Buchholz is
David Ortiz
. The Red Sox can't afford to keep sending him out there; he probably has one more start before a demotion to Triple-A or stint on the disabled list is necessary.
Eric Karabell made a good argument on the podcast: the Red Sox were 14-17 a year ago and only a historical collapse prevented them from reaching the playoffs. They're only two games worse now, he would suggest, so rationally they're far from out of it. Eric could also point out that Detroit and Arizona were both 14-17 after 31 games a year ago and won 95 and 94 games, respectively.
Eric is right, of course. The Red Sox aren't dead.
But with a 1-8 record in May and a starting rotation in shambles, they certainly look it.
PHOTO OF THE DAY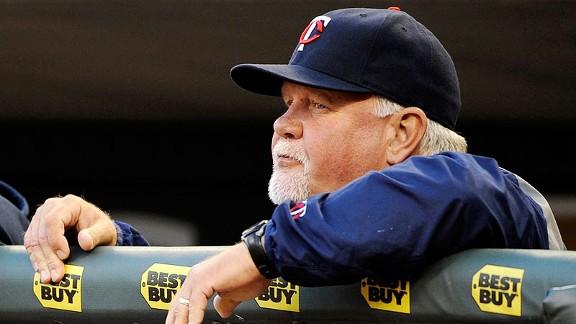 Hannah Foslien/Getty ImagesDoes this look like the manager of the worst team in baseball? Yes it does.
January, 29, 2012
1/29/12
12:35
PM ET
By
Christina Kahrl
| ESPN.com
With all of this talking about
production up the middle
or
at the four corners
over the past 25 years, it might also be helpful to put this into perspective by asking: Who's average?
Here again, I'm indebted to
Clay Davenport's work
in creating Equivalent Average, as useful a tool for all-time performance on offense today as it was in the '90s. Sticking with the 2011 and following Clay's advice to cheat up a couple of points -- to avoid the impact of the real scrubs -- let's look at who set the bar for mediocrity at all eight regular positions in the field:
Catcher:
Rod Barajas
, .258 Equivalent Average (EqA). Sure, he struggles to get on base, but Barajas' modest pop at the plate -- delivering a .200 ISO last season -- and solid receiving skills makes him the acme of average from the backstop bin. In Pittsburgh, he might help propel their latest bid for a .500 season.
Runner-up: The Brewers'
Jonathan Lucroy
, .254 EqA.
First Base:
Freddie Freeman
, .286 EqA. This might seem like an indictment of the Atlanta Braves' prodigy, but the standards for offense at first base are higher than at any position, and this isn't a shabby place to start for a kid in his age-21 season.
Runner-up: The Marlins'
Gaby Sanchez
, .284 EqA.
Second Base:
Orlando Hudson
, .268 EqA. Hudson's power has taken a hit the last two years since going to slugger-sapping Target Field and now the Padres' Petco Park, but he still provides average offense for the position and above-average glove work, so he'll keep landing gigs.
Runner-up: The Mets'
Justin Turner
, .263 EqA, and an excellent example of how GMs can still find plug-in players on the waiver wire.
Third Base:
One of the funny things about the field is that you'd be hard-pressed to find a truly average regular at third, but the closest might be
Casey Blake
with the Dodgers (.268 EqA) or
Jack Hannahan
with the Indians (.263), so let's call it a platoon and punt on picking a runner-up.
Shortstop:
Clint Barmes
, .257 EqA. Here we have another Pirates offseason acquisition, which might be taken as proof that average is the new up, or that it takes a certain kind of player to choose to go to Pittsburgh. But more fundamentally, Barmes reflects today's higher standard for adequacy on offense at short, because beyond premium defense he ripped a dozen homers for the Astros.
Runner-up: The White Sox's
Alexei Ramirez
, .256 EqA, and another example after knocking 15 homers of his own.
Left Field:
Cody Ross
, .273 EqA. In contrast, here's a great example of the declining standard for what gets by in left. The hero of the postseason in 2010 went back to his more mortal form at the plate with the Giants, and looks like he'll be shunted into a part-time role with the Red Sox, splitting time in right field or spotting for the injured
Carl Crawford
in left early on.
Runner-up:
Jason Bay
, .270 EqA, and a symbol of the Mets' bang-less bucks at work.
Center Field:
Adam Jones
, .273 EqA. Here's a reflection on what a difference a position makes. Cody Ross? Not in high demand. Adam Jones of the Orioles? He's a star, and somebody many teams would love to trade for.
Runner-up: The Diamondbacks'
Chris Young
, .270 EqA. Keep in mind, Equivalent Average is park-adjusted, so all that slugging the Snakes get from their center fielder at home -- including 14 of his 20 homers, with a 131-point difference between his home and road SLG.
Right Field:
Seth Smith
, .283 EqA. Right's the premium offensive position in the outfield these days, so the standard for average is going to be a bit higher. It says something about the Athletics' lot on offense that they traded for Smith and fell he'll provide a big boost with his bat from either corner.
Runner-up:
Jeff Francoeur
, .279 EqA. His comeback with the Royals was nice to see, but it's a reflection of the depths he plummeted to during his three years in the wilderness that he's gone from awful to average, not awesome.
Christina Kahrl covers baseball for ESPN.com. You can follow her on Twitter.
April, 30, 2011
4/30/11
12:37
AM ET
By
Christina Kahrl
| ESPN.com
Because analysts like to worry about sample size and caution against "too much, too soon" when it comes to drawing conclusions about April outcomes, let's put the shoe on the other foot and identify an instance of an April result that has made a difference: the Indians' infield.
The specific action that brought this to mind today was the activation of
Jason Donald
from the DL -- and his immediate dispatch to Columbus. This was especially a step down for him because less than two months ago Donald was the early favorite to win the Tribe's open third-base job. It wasn't necessarily a permanent opportunity he'd be winning for himself -- already in his age-26 season, Donald's opportunities at third or second are either going to come now, or perhaps never, especially with a bat projected to deliver OBPs south of .330 while slugging less than .400. Lacking the range you ideally want from a shortstop, his every-day options were limited, and his bat rates are below ideal at the hot corner.
[+] Enlarge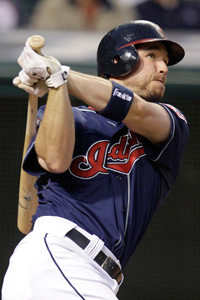 AP Photo/Amy SancettaJack Hannahan, a career .360 slugger, currently has a slugging percentage of .507.
Unfortunately for Donald, he hurt his left hand in the first week in March in Arizona, and his opportunity started to get away from him, a turn of events he could ill afford. That's because his future is now, limited not only by his own possibilities, but also because long-term the Indians are going to want to turn to a series of prospects at second or third, starting with Lonnie Chisenhall, and followed by Jason Kipnis, Cord Phelps, and perhaps Jared Goedert.
One of the great complaints about spring training performance is that it doesn't mean anything, so managers shouldn't make substantive decisions based on it. However, in a case like Donald's, there wasn't anything else to work with as far as his winning much loyalty from his manager, Manny Acta. Once Donald went down, Acta had to turn to the temporary alternatives available to him. As a result, veteran journeymen
Jack Hannahan
and
Adam Everett
got chances that, without spring training's turn of events, would never have existed. They made the most of it, both making the team as non-roster players, and now that veteran tandem is operating in a loose job-sharing arrangement at third base for the Indians.
Now, swapping in Hannahan and Everett for Donald should be far from earth-shattering in terms of the offensive value you would expect. Using True Average to aggregate their offensive contributions, none of them are projected to be anything like an average third baseman (.268), since Hannahan and Donald projected in the .230s, and Everett was down around the Mendoza Line. Hannahan and Everett are no more likely than Donald to hold the job at third for a full season. Even if you're the sort of cynic who thinks that Chisenhall's time in a
Columbus Clippers
uni is directly tied to his potential super-two arbitration eligibility after 2013, both halves of the Hannaverett combo are over 30 years old, and neither half is likely to keep cranking with OPS clips north of .800. Hannahan and Everett are both good fielders, and both have their uses, but even a platoon between the pair seems short-lived.
However, both had good Aprils, and because of that plus Donald's injury, it's going to be that duo that will be manning the Indians' infield for the next few weeks before Chisenhall's case for the job becomes too obvious to avoid. Hannahan and Everett can fend off that future for some time, like Donald might have, but Hannahan is a career .360 slugger (.131 ISO) -- betting on his keeping his SLG north of .500 is "would you also like the Brooklyn Bridge?" territory.
If the Indians are to continue winning, they must not get overly sentimental when the time comes to swap out players who got off to hot starts. That will mean accepting that Hannahan is the same hitter he's been over most of his career, and that they'll be better off with people who deliver more at the plate over the season's long march. The Tribe's front office is more than smart enough to know all this, but in the meantime, whatever possibilities Hannahan possesses have come directly at Donald's expense.
Christina Kahrl covers baseball for ESPN.com. You can follow her on Twitter.
April, 12, 2011
4/12/11
1:30
AM ET
On Opening Day, more than 41,000 fans showed up in Cleveland and saw the home team fall behind 14-0 after four innings. The next day, the Indians fell behind 5-0 in the top of the second and lost 8-3. On the third day of the season, the White Sox led again, 1-0 in the fourth inning and had two runners on with nobody out.
And then came the play that turned around Cleveland's season. At least, it will go into mythology that way if the Indians continue their magical run beyond this eight-game winning streak that has the baseball world wondering if the Indians are for real.
Alexei Ramirez
squared around to bunt for the White Sox, the runners took off, Ramirez popped the ball up toward first baseman
Carlos Santana
-- normally the team's starting catcher -- and Santana made a diving catch that turned into a triple play.
Justin Masterson
settled down from there, the Indians won 7-1 and haven't lost since.
"You don't win or lose a division in the first week or even the first month,"
Orlando Cabrera
said after the game. "But getting that first win is always huge. The triple play got us going."
So the question:
Are
they for real?
Before attacking that issue, let's back track to 2010 for a moment. The Indians had a tough season, with major injuries to
Asdrubal Cabrera
and
Grady Sizemore
. They shuffled players in and out of the infield all season -- four guys started at least 20 games at second base, three started at least that many at third base and three started at least 14 at shortstop. With Sizemore sidelined,
Trevor Crowe
and
Michael Brantley
tried center field, but neither hit. Overall, the defense was subpar -- 21st in the majors in defensive efficiency per Baseball Prospectus, 29th in UZR (Ultimate Zone Rating) per FanGraphs.
So the offseason challenge: Bide time until the team's top two prospects, third baseman
Lonnie Chisenhall
and second baseman
Jason Kipnis
, are ready, but do it on the cheap. Famous ex-shortstop Cabrera was brought in to play second base and good-field, bad-hit
Jack Hannahan
won the third-base job out of spring training. Far from perfect solutions, and while both are off to good starts at the plate, they'll sink to their true offensive abilities soon enough. But they at least will anchor a much-improved defense and help a starting rotation that lacks strikeout pitchers.
Following Monday's
4-0 shutout of the Angels
, that Indians staff is on a roll: After those first two disasters, the starters have pitched 52 1/3 innings, allowing just 33 hits and nine runs. Dominant? Well … sort of. They've struck out only 37 batters in that span, meaning that hit ratio isn't going to continue, no matter how good the defense performs.
Mitch Talbot
epitomized this run with his outing against the Angels. He pitched into the ninth inning, not overpowering with four strikeouts, but allowed just five hits. He did induce 13 ground balls, but eventually more of those grounders will find holes. That's what's been happening.
Josh Tomlin
has allowed a .139 average on balls in play in his two starts. Masterson pitched seven innings of one-run baseball against the White Sox without striking out a batter.
This doesn't mean the Indians can't surprise. I've watched both of Tomlin's starts and despite middling stuff, he has an idea of what to do out there. He can be a solid back-of-the-rotation guy if he keeps the ball in the park. Talbot has better stuff than Tomlin but not much of a track record. Carmona and Masterson come with a better pedigree but must show consistency and throw strikes. I still have doubts -- it's really a staff of No. 4 and No. 5 starters -- but the defense will at least be helping rather than hindering this year.
Anyway, it's a good time for Cleveland to get hot. After two more games in Anaheim, the Indians host Baltimore for three, have four in Kansas City, three in Minnesota and return home for the Royals and Tigers. If they can navigate that fairly easy stretch with a nice record, you could see this team gaining a little confidence.
And then there's the big picture. A year from now, the Indians could be throwing out this lineup:
SS Asdrubal Cabrera
CF Grady Sizemore
RF
Shin-Soo Choo
C Carlos Santana
DH
Travis Hafner
3B Lonnie Chisenhall
1B
Matt LaPorta
2B Jason Kipnis
LF Michael Brantley
They need LaPorta to improve (I'm skeptical) and Chisenhall and Kipnis to live up to their potential, but that could be one of the better lineups in the league.
Unfortunately, attendance has suffered in recent years and the front office has cut the payroll to bare bones (26th in the majors in 2011). Hafner's $13 million per season contract runs through 2013 and Sizemore's health remains such a great unknown that it's possible the team won't pick up his $8.5 million club option for 2012.
For a franchise in which not much has gone right in a long time, it's at last nice to see something positive happening for a change.
PHOTO OF THE DAY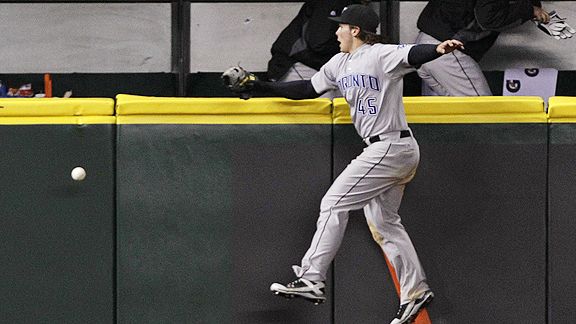 AP Photo/Elaine ThompsonHey, Travis Snider, it's over there. No, no, the ball, it's over there.