July, 7, 2011
7/07/11
6:15
PM ET
By
Christina Kahrl
| ESPN.com
The
news has broken
that Hall of Fame manager Dick Williams passed away today. He was 82 years old, and was one member of a generation of dugout greats, and with the loss of Sparky Anderson last November and Chuck Tanner in February, it's a generation whose ranks have taken a few too many hits in recent months.
[+] Enlarge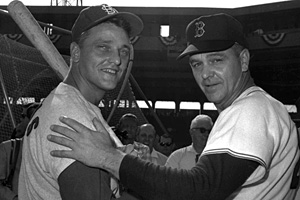 AP File PhotoFormer Red Sox manager Dick Williams, right, chats with St. Louis outfielder Roger Maris before Game 2 of the 1967 World Series. Williams made a career of rebuilding downtrodden teams.
Williams is perhaps best remembered as the manager of the "Impossible Dream" team in Boston in 1967, that Red Sox squad that took the Cardinals all the way to seven games in the World Series before coming up short. Williams set a precedent there for the kind of manager he would be, placing his faith in young talent; in Boston, he gave Reggie Smith and Sparky Lyle their first big breaks.
But the Red Sox would not be his last or best team, let alone mark his last visit to the World Series. Fired by Boston at the tail end of the '69 season -- in part for his authoritarian tendencies as a skipper -- Williams went to Oakland and took over as the firm hand perhaps perfectly suited to run the rowdies and rebels of the Big Green Machine dynasty of the early '70s. The A's won consecutive World Series on his watch in '72 and '73 before winning a third in a row under his replacement, Alvin Dark. After dealing with larger-than-life personalities like Reggie Jackson and Vida Blue on the field and team owner Charlie Finley off it, he finally resigned over team owner Finley's meddlesome, disgraceful attempt to humiliate and deactivate Mike Andrews for poor fielding during the course of the '73 Series.
Williams did not always have the magic touch -- there was nothing he could do in his next job to get the California Angels into contention in 1975 or '76 before he was fired in July, but he did break in long-term big-leaguers like Jerry Remy, Dave Collins, and Ed Figueroa. However, his setback in Anaheim freed him for the next signature gig in his career, his multi-year run managing the Montreal Expos from 1977 to 1981, helping drive them to second-place finishes in '79 and '80. He once again got fired in the middle of the '81 stretch run with his team in the race and 27 games left to play, an event as shocking then as Ned Yost's firing by the Brewers in the middle of the 2008 stretch run was in the recent past; Williams' hard hand running the club had worn thin again. But in Montreal, he was the manager with the good sense to get Gary Carter out of the outfield and back behind the plate as an everyday catcher, setting the Kid on his own Hall of Fame track. Moving Carter helped make space for future Hall of Famer Andre Dawson in the outfield, and in Williams' last season in Montreal he installed the eventually Hall-worthy Tim Raines alongside Dawson. Williams also oversaw the breakthroughs of an incredible batch of pitching talent: Scott Sanderson, Bill Gullickson, Charlie Lea and David Palmer, for starters.
A free agent again, Williams next landed in San Diego for the '82 season. In three years, he'd won another pennant, again by installing a crew of young pitchers (notably Eric Show, Dave Dravecky and Andy Hawkins), a speedy leadoff threat in Alan Wiggins, Kevin McReynolds in center and yet another Hall of Famer,
Tony Gwynn
, in right. Williams also got to supplement that squad with famous discards from more famous teams: Steve Garvey of the Dodgers, and Goose Gossage and Graig Nettles from the Yankees, but it only took one more season before Williams was forced out, reportedly by Jack McKeon and others in the front office.
Williams would finish his MLB career in the dugout unsuccessfully trying to turn around the Mariners -- but installing a future All-Star in Harold Reynolds at second base -- and then put in time in the Senior Professional Baseball Association, a league that operated in 1989-90 that was populated by former big-leaguers aged 35 and older. He "retired" to years spent as a special consultant to George Steinbrenner, one of many great baseball minds who the Boss has employed in that sort of gig over the years.
Williams' legacy for delivering winners, turning teams around, and breaking in young players is exceptional, and clearly places him among the front rank of baseball's best skippers. It came with the price of a man whose heavy-handed brand of leadership tended to make him unpopular within a few seasons, but it was a price teams were understandably willing to pay given Williams' ability to deliver.
At a time when some sabermetricians still favor the notion that managers don't matter, Williams serves as a great example of the reasons why and how they do, not simply via in-game tactics but more importantly in their ability to determine who plays and why. If you're interested in investing something more than just memory to Williams and his legacy as a manager, you could pick up a copy of Williams' biography,
No More Mister Nice Guy
(written with Bill Plaschke), which is well worth having on your shelf to understand where he was coming from, in Boston in '67 or in Seattle 20 years later, and at all points in between. For a fine take of his virtues as a skipper, you can also check out Chris Jaffe's
Evaluating Baseball Managers
.
Christina Kahrl covers baseball for ESPN.com. You can follow her on Twitter.
June, 20, 2011
6/20/11
2:46
PM ET
Eric Karabell is off somewhere working on his tan this week, so Monday's
Baseball Today podcast

features myself and Mark Simon discussing all kinds of interesting news. Plus, it's Power Rankings day, so here are five reasons this is a can't-miss episode:
1.
Albert Pujols
' injury and how it affects the Cardinals and the NL Central.
2. We discuss
Johnny Damon
's weekend feat and whether he has any kind of Hall of Fame case.
3. The American League continues to dominate interleague play and we're tired of National League fans making excuses.
4. Mark and I agree on our top three teams in this week's Power Rankings, even if Phillies fans will disagree.
5. Mark explains why
Brett Gardner
is one of the most underrated players in baseball.
Plus: Excellent emails, the return of Jack McKeon to the Marlins, some talk about defensive metrics, maybe the best uniform in baseball, superstitions and a look ahead to Monday's games, all on Monday's Baseball Today podcast! Check out all the podcasts at
ESPNRadio.com/podcenter
.
July, 20, 2010
7/20/10
3:29
PM ET
From Bill Madden, who probably isn't just making
this
up:
Lou Piniella is retiring as manager of the Chicago Cubs effective at the end of the season, the Daily News has learned.
The 67-year old Piniella, who led the Cubs to NL Central division titles in 2007 and 2008, is in the last year of his contract, but has endured a particularly stressful season in which the team is mired in fourth-place, 10 1/2 games out.I think this is
probably
the end of the line for Piniella's managerial career ... but I also think we should be clear about the terminology here. Is Piniella
retiring
... or is he simply leaving the Cubs? There is a difference.
Granted, at 67 Piniella is old for a manager. But
Bobby Cox
is 69.
Joe Torre
was 67 when the Dodgers hired him.
Jack McKeon
managed the Reds until he was 69 ... and managed the Marlins until he was
74
. So while 67, historically speaking, is old for a manager, in the 21st century it's not
particularly
old.
So I'm not sure that "retiring" is the right word, because I'm not sure that Piniella isn't going to manage again and I won't be sure until he's gone a few years without managing.
Once we're sure, Piniella will become a popular Hall of Fame candidate. He'll probably have to wait a while, though, because he'll inevitably be compared to his contemporaries, and those comparisons won't serve him well.
If
Piniella doesn't manage after this season, for at least four years he'll rank 14th on the all-time list with something like 1,860 wins. But
Tony La Russa
, Bobby Cox, and Joe Torre currently rank third, fourth, and fifth on the all-time list. The Hall of Fame has elected a lot of managers, but it usually doesn't happen quickly. Cox will go in first, then Torre, and finally La Russa (assuming that he actually retires someday).
Then, probably, Lou Piniella.
With the exception of
Gene Mauch
, every manager with more wins than Piniella will be in the Hall of Fame. And Mauch finished his career with a losing record and never won a World Series; Piniella has a winning record and a World Series ring.
On the other hand, the manager in 15th place is
Ralph Houk
. Like Piniella, Houk played for and managed the Yankees. Like Piniella, Houk managed a number of teams. Piniella's and Houk's career winning percentages are practically identical. Where Piniella won one World Series, Houk won two.
But I think Piniella gets (and will continue to get) more credit for his team's successes than Houk has for his. Houk's first team was the '61 Yankees, coming off 10 American League championships in 12 years. There was definitely a sense then -- or is now, anyway -- that Houk was simply fortunate enough to take the helm of a powerhouse team that essentially couldn't be beat. Houk managed the Yankees to three straight pennants, was kicked upstairs so Yogi Berra could manage, returned to the dugout after two seasons ... and managed for most of the next 20 years without a single first-place finish.
Piniella's been successful in New York, in Cincinnati, in Seattle, and in Chicago. My guess is that it's the broad-based nature of his success, rather than the raw numbers, that will eventually get him in.