May, 5, 2014
May 5
7:37
PM ET
Last week, in a piece on the Brewers, I presented the following chart, a list of all teams that played .750 or better in April with at least 20 games played (the Brewers ended up one win short of that percentage):
As you can see, 17 of the 18 teams would finish above .500. So who were the 1978 Oakland A's and what happened to them?
[+] Enlarge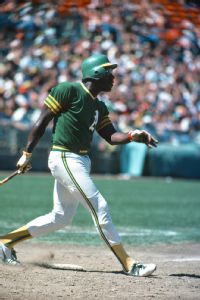 Focus on Sport/Getty ImagesMitchell Page hit .285 with 17 home runs for the A's in 1978.
I guess the simple answer is they were a bad team that had one hot month. The 1977 A's went 63-98, finishing behind the expansion Mariners; the 1979 A's would go 54-108. So the fact that the '78 A's finished 69-93 despite their 16-5 April maybe isn't all that surprising or interesting.
But the story of the '78 A's certainly
is
interesting, even beyond a good April.
Some quick background in case you're not familiar with this time. The A's won the World Series in 1972, 1973 and 1974, in the years before free agency. That dynasty began crumbling after the third championship when the A's lost Catfish Hunter to free agency via a technicality -- owner Charlie Finley had failed to pay $50,000 into an insurance annuity for Hunter as required in his contract. Hunter went to arbitration and was declared a free agent, signing with the Yankees. This was before real free agency would begin after the 1976 season. The A's won their fifth straight AL West title in 1975 without Hunter, but lost the ALCS to the Red Sox.
In April of 1976, with free agency looming after that season, Finley traded Reggie Jackson and Ken Holtzman to the Orioles for Don Baylor, Mike Torrez and Paul Mitchell. That June, Finley agreed to sell Vida Blue to the Yankees and Rollie Fingers and Joe Rudi to the Red Sox for a total of $3.5 million. "I plan to use this money to great advantage. We'll be able to purchase a lot of players at the end of the season," Finley said. Fingers and Rudi actually dressed for a game in Red Sox uniforms but weren't allowed to play. Instead, commissioner Bowie Kuhn blocked the deals, leading to a Sports Illustrated cover that read
"Baseball in Chaos."
Under manager Chuck Tanner that club stole a record 341 bases and went 87-75, finishing in second place. But that was it for the Oakland dynasty. Rudi and Baylor signed with the Angels. Fingers and Gene Tenace signed with the Padres. Sal Bando signed with the Brewers. Bert Campaneries signed with the Rangers. In March, Phil Garner was traded to the Pirates and Claudell Washington to the Rangers. Torrez was traded in April to the Yankees. Blue made it through the 1977 season but was traded in March of 1978 to the Giants.
So that's where the A's stood entering the 1978 season, a team of kids and nobodies with an owner who didn't market the team or invest in scouts (at one point, the A's had no scouts, relying on reports from the Major League Baseball Scouting Bureau). Bobby Winkles, who had replaced Jack McKeon during the 1977 season, was the manager. Winkles had been the longtime coach at Arizona State before moving to the major leagues and had spent a season and a half managing the Angels. McKeon remained on the staff as a coach.
The A's lost two of three in Anaheim to start the season but then swept four at home against the Mariners, including two shutouts. After splitting two games with the Angels they won eight in a row, again sweeping the Mariners with the help of two more shutouts. The final two games of that streak were 14-inning and 12-inning wins at home against the Twins. Nobody was going to the games, however. After drawing 17,283 for their home opener, the A's hadn't drawn more than 5,000 to any subsequent games. After a couple losses, they won five more in a row. On May 5, they beat the Tigers at home as John Henry Johnson pitched a four-hitter. They even drew 14,612 fans. At that point, they were 19-5 and the staff ERA was 1.71.
It would be the high point of the season. They were shut out their next three games. On May 22, with the team 24-15 and still in first place, Winkles resigned as manager, unable to deal with Finley's daily phone calls and managerial advice. Sports Illustrated reported:
Last week Bobby Winkles, who had managed a collection of low-salaried kids and has-beens to first place in the American League West, chucked his job because Finley had become just too much. There were reports that Finley had been considering putting earphones on Winkles so he could communicate with him directly in the dugout. Meanwhile, Finley kept calling him on the phone at home. A typical early-morning call to Winkles would command, "Get up! Only whores make their living in bed." When Winkles recently spent a day off visiting Napa Valley vineyards and was unreachable by phone, Finley raged, "If you ever do that again, you can go someplace else." After Winkles finally phoned (ah, the irony) Charlie to tell him he was quitting, Finley was moved to concede, "Maybe my telephone calls were driving him to the nut house."

The team's traveling secretary also served as the team statistician. The players were complaining because Finley wouldn't pay for a batting practice pitcher who threw left-handed. One of the players used to go to a local restaurant that videotaped A's games, because the A's themselves didn't have videotape equipment.
[+] Enlarge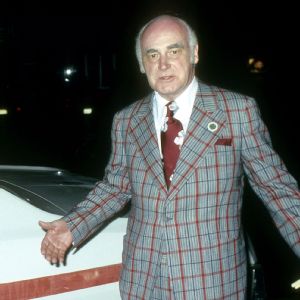 Focus on Sport/Getty ImagesCharlie Finley in the 1970s. His team was as bad as his suit.
McKeon returned to the manager's role and the A's actually kept possession of first place through June 13. That June, the A's had two first-round picks and drafted high school pitchers Mike Morgan and Tim Conroy. Even though the A's were still battling for first place, Finley decided to have both kids begin their professional careers in the majors. Morgan made three starts, tossing a
complete game in his debut
(a 3-0 loss) a week after graduating from high school. He'd pitched more than seven innings just once in high school. Conroy started twice and lasted a total of 4.2 innings, walking nine and striking out none, although the A's managed to win both games.
Finley's rationale for starting them? If they aren't ready for the majors, the world would know soon enough, he said. After Morgan's debut, which drew 17,000 fans to the Oakland Coliseum, McKeon was asked if Morgan would start again. He said he didn't know. Finley, sitting next to him, whispered in his ear. "We've just discussed it," McKeon said. "He'll be in the rotation." Morgan got hammered his next two starts, both Oakland losses.
Relief pitcher Bob Lacey said starting the two teenagers five times was a message that the A's "don't want it." He then ripped McKeon and the coaches, saying the A's bunted too much, weren't being properly motivated and had too many late-inning pinch hitters, pinch runners and subs. "We need a new philosophy and a new manager,"
Lacey said
.
In late June and early July Oakland won of eight of nine to climb back into first on July 5, with a record of 43-39 (four teams in the AL West were within a game of each other). Still, Finley continued to bother his manager with phone calls. McKeon
told this story
to Baseball Prospectus several years ago:
So I'm managing, and we bring up this kid from Jersey City in the Eastern League who is leading the league in steals with something like 62. His name was Darrell Woodard. Charlie told me, "You don't know anything about this guy, but I'll fill you in. He's a rabbit, and you should try to use him every day to pinch-run if you can." Charlie used to call guys who could run "rabbits" and guys who couldn't run were "trucks." He added that in the event that I had to play Woodard in the field, I should only put him at second base. So one day we're playing the Indians, it's 3-2 in the eighth inning, and Wayne Gross is my third baseman. Gross is a truck, and he gets a base hit, so I put the rabbit in to run for him. I'm out of bench players, so that means I have to play Woodard in the ninth inning. When the inning starts I put him at second base and move my second baseman, Pee Wee Edwards, over to third. We get the first guy out, but then they get the next two on and bring Johnny Grubb in to pinch-hit. I go to the mound to bring in a left-hander, Bob Lacey, and while I'm out there decide to move Edwards back to second and Woodard over to third. I want to have my regular double-play combination together, hoping we can get Grubb to hit into a double play. I also don't think it's likely that Grubb will hit the ball to third. So what happens? Grubb lines Lacey's first pitch to third, Woodard jumps up and spears it, throws to second to double off the runner and the game is over. Of course, the writers ask me what was behind the move, and I tell them that I wanted a taller third baseman.
The next day, Finley sees "3B" next to Woodard's name in the box score, calls up McKeon at 6 in the morning and lights into him. McKeon explains what happened. Finley listens and finally says, "So, I bet you think you're a damn genius now?!"
(By the way, McKeon's story sort of checks out but not completely. The game in question was actually against Seattle, the second game of a doubleheader. Woodard had made his debut pinch running in the first game. In the second game, he entered as a defensive replacement in the seventh inning. Baseball-Reference lists him as entering at third base, although it's certainly possible that he only moved there in the manner McKeon described. Anyway, the batter was Danny Meyer, not Johnny Grubb, and Meyer grounded into a 5-4 double play with two runners on to end the inning. It's possible the play-by-play is wrong and that it was a lineout and not a groundout. Regardless, that was the only fielding play Woodard had at third base that year. I'll give McKeon a B-plus for memory on that one, not bad considering it was nearly 30 years after the fact.)
Things finally fell apart in August (7-21) and September (7-21). The pitching staff had a 4.45 ERA over those final two months and the batters hit .237. The A's drew just 536,999 fans that year, an average of 6,587 per game.
The city of Oakland sued Finley for $1.5 million in lost revenue over four years and $10 million in punitive damages, alleging Finley had not complied with his "obligation to endeavor in good faith to obtain maximum occupancy of the Stadium by the public by failing to reasonably promote attendance at Oakland A's baseball games."
"Charlie hasn't spent one red cent on promotion,"
Lacey told
Sports Illustrated. "I've played on Triple A teams that promoted more. I've never been asked to speak anywhere. The fans don't even know who we are. ... I don't care, let him punish me. He's hoping I'll have a bad year so he can give me a pay cut."
Under new manager Jim Marshall in 1979 attendance would plummet even further, to 3,787 fans per game. (The A's didn't have a radio contract or an announcer until the day before the season began that year.) Finley hired Billy Martin to manage the club in 1980 and with a dynamic young outfield of Rickey Henderson, Dwayne Murphy and Tony Armas and a pitching staff that threw 94 complete games, the A's went 83-79. In the midst of a divorce at the time, Finley finally sold the A's after the season.
In 1981, the A's made the playoffs. Henderson, drafted in 1976, was the star. Armas and pitcher Rick Langford had come over from the Pirates in the Garner trade. Langford, Matt Keough, Mike Norris and Steve McCatty, the stellar rotation that year, had all pitched for the 1978 team. A team with one strange season.
July, 7, 2011
7/07/11
6:15
PM ET
By
Christina Kahrl
| ESPN.com
The
news has broken
that Hall of Fame manager Dick Williams passed away today. He was 82 years old, and was one member of a generation of dugout greats, and with the loss of Sparky Anderson last November and Chuck Tanner in February, it's a generation whose ranks have taken a few too many hits in recent months.
[+] Enlarge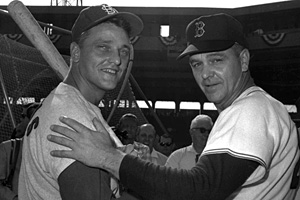 AP File PhotoFormer Red Sox manager Dick Williams, right, chats with St. Louis outfielder Roger Maris before Game 2 of the 1967 World Series. Williams made a career of rebuilding downtrodden teams.
Williams is perhaps best remembered as the manager of the "Impossible Dream" team in Boston in 1967, that Red Sox squad that took the Cardinals all the way to seven games in the World Series before coming up short. Williams set a precedent there for the kind of manager he would be, placing his faith in young talent; in Boston, he gave Reggie Smith and Sparky Lyle their first big breaks.
But the Red Sox would not be his last or best team, let alone mark his last visit to the World Series. Fired by Boston at the tail end of the '69 season -- in part for his authoritarian tendencies as a skipper -- Williams went to Oakland and took over as the firm hand perhaps perfectly suited to run the rowdies and rebels of the Big Green Machine dynasty of the early '70s. The A's won consecutive World Series on his watch in '72 and '73 before winning a third in a row under his replacement, Alvin Dark. After dealing with larger-than-life personalities like Reggie Jackson and Vida Blue on the field and team owner Charlie Finley off it, he finally resigned over team owner Finley's meddlesome, disgraceful attempt to humiliate and deactivate Mike Andrews for poor fielding during the course of the '73 Series.
Williams did not always have the magic touch -- there was nothing he could do in his next job to get the California Angels into contention in 1975 or '76 before he was fired in July, but he did break in long-term big-leaguers like Jerry Remy, Dave Collins, and Ed Figueroa. However, his setback in Anaheim freed him for the next signature gig in his career, his multi-year run managing the Montreal Expos from 1977 to 1981, helping drive them to second-place finishes in '79 and '80. He once again got fired in the middle of the '81 stretch run with his team in the race and 27 games left to play, an event as shocking then as Ned Yost's firing by the Brewers in the middle of the 2008 stretch run was in the recent past; Williams' hard hand running the club had worn thin again. But in Montreal, he was the manager with the good sense to get Gary Carter out of the outfield and back behind the plate as an everyday catcher, setting the Kid on his own Hall of Fame track. Moving Carter helped make space for future Hall of Famer Andre Dawson in the outfield, and in Williams' last season in Montreal he installed the eventually Hall-worthy Tim Raines alongside Dawson. Williams also oversaw the breakthroughs of an incredible batch of pitching talent: Scott Sanderson, Bill Gullickson, Charlie Lea and David Palmer, for starters.
A free agent again, Williams next landed in San Diego for the '82 season. In three years, he'd won another pennant, again by installing a crew of young pitchers (notably Eric Show, Dave Dravecky and Andy Hawkins), a speedy leadoff threat in Alan Wiggins, Kevin McReynolds in center and yet another Hall of Famer,
Tony Gwynn
, in right. Williams also got to supplement that squad with famous discards from more famous teams: Steve Garvey of the Dodgers, and Goose Gossage and Graig Nettles from the Yankees, but it only took one more season before Williams was forced out, reportedly by Jack McKeon and others in the front office.
Williams would finish his MLB career in the dugout unsuccessfully trying to turn around the Mariners -- but installing a future All-Star in Harold Reynolds at second base -- and then put in time in the Senior Professional Baseball Association, a league that operated in 1989-90 that was populated by former big-leaguers aged 35 and older. He "retired" to years spent as a special consultant to George Steinbrenner, one of many great baseball minds who the Boss has employed in that sort of gig over the years.
Williams' legacy for delivering winners, turning teams around, and breaking in young players is exceptional, and clearly places him among the front rank of baseball's best skippers. It came with the price of a man whose heavy-handed brand of leadership tended to make him unpopular within a few seasons, but it was a price teams were understandably willing to pay given Williams' ability to deliver.
At a time when some sabermetricians still favor the notion that managers don't matter, Williams serves as a great example of the reasons why and how they do, not simply via in-game tactics but more importantly in their ability to determine who plays and why. If you're interested in investing something more than just memory to Williams and his legacy as a manager, you could pick up a copy of Williams' biography,
No More Mister Nice Guy
(written with Bill Plaschke), which is well worth having on your shelf to understand where he was coming from, in Boston in '67 or in Seattle 20 years later, and at all points in between. For a fine take of his virtues as a skipper, you can also check out Chris Jaffe's
Evaluating Baseball Managers
.
Christina Kahrl covers baseball for ESPN.com. You can follow her on Twitter.
June, 20, 2011
6/20/11
2:46
PM ET
Eric Karabell is off somewhere working on his tan this week, so Monday's
Baseball Today podcast

features myself and Mark Simon discussing all kinds of interesting news. Plus, it's Power Rankings day, so here are five reasons this is a can't-miss episode:
1.
Albert Pujols
' injury and how it affects the Cardinals and the NL Central.
2. We discuss
Johnny Damon
's weekend feat and whether he has any kind of Hall of Fame case.
3. The American League continues to dominate interleague play and we're tired of National League fans making excuses.
4. Mark and I agree on our top three teams in this week's Power Rankings, even if Phillies fans will disagree.
5. Mark explains why
Brett Gardner
is one of the most underrated players in baseball.
Plus: Excellent emails, the return of Jack McKeon to the Marlins, some talk about defensive metrics, maybe the best uniform in baseball, superstitions and a look ahead to Monday's games, all on Monday's Baseball Today podcast! Check out all the podcasts at
ESPNRadio.com/podcenter
.
July, 20, 2010
7/20/10
3:29
PM ET
From Bill Madden, who probably isn't just making
this
up:
Lou Piniella is retiring as manager of the Chicago Cubs effective at the end of the season, the Daily News has learned.
The 67-year old Piniella, who led the Cubs to NL Central division titles in 2007 and 2008, is in the last year of his contract, but has endured a particularly stressful season in which the team is mired in fourth-place, 10 1/2 games out.I think this is
probably
the end of the line for Piniella's managerial career ... but I also think we should be clear about the terminology here. Is Piniella
retiring
... or is he simply leaving the Cubs? There is a difference.
Granted, at 67 Piniella is old for a manager. But
Bobby Cox
is 69.
Joe Torre
was 67 when the Dodgers hired him.
Jack McKeon
managed the Reds until he was 69 ... and managed the Marlins until he was
74
. So while 67, historically speaking, is old for a manager, in the 21st century it's not
particularly
old.
So I'm not sure that "retiring" is the right word, because I'm not sure that Piniella isn't going to manage again and I won't be sure until he's gone a few years without managing.
Once we're sure, Piniella will become a popular Hall of Fame candidate. He'll probably have to wait a while, though, because he'll inevitably be compared to his contemporaries, and those comparisons won't serve him well.
If
Piniella doesn't manage after this season, for at least four years he'll rank 14th on the all-time list with something like 1,860 wins. But
Tony La Russa
, Bobby Cox, and Joe Torre currently rank third, fourth, and fifth on the all-time list. The Hall of Fame has elected a lot of managers, but it usually doesn't happen quickly. Cox will go in first, then Torre, and finally La Russa (assuming that he actually retires someday).
Then, probably, Lou Piniella.
With the exception of
Gene Mauch
, every manager with more wins than Piniella will be in the Hall of Fame. And Mauch finished his career with a losing record and never won a World Series; Piniella has a winning record and a World Series ring.
On the other hand, the manager in 15th place is
Ralph Houk
. Like Piniella, Houk played for and managed the Yankees. Like Piniella, Houk managed a number of teams. Piniella's and Houk's career winning percentages are practically identical. Where Piniella won one World Series, Houk won two.
But I think Piniella gets (and will continue to get) more credit for his team's successes than Houk has for his. Houk's first team was the '61 Yankees, coming off 10 American League championships in 12 years. There was definitely a sense then -- or is now, anyway -- that Houk was simply fortunate enough to take the helm of a powerhouse team that essentially couldn't be beat. Houk managed the Yankees to three straight pennants, was kicked upstairs so Yogi Berra could manage, returned to the dugout after two seasons ... and managed for most of the next 20 years without a single first-place finish.
Piniella's been successful in New York, in Cincinnati, in Seattle, and in Chicago. My guess is that it's the broad-based nature of his success, rather than the raw numbers, that will eventually get him in.