January, 13, 2012
1/13/12
8:00
PM ET
By
Christina Kahrl
| ESPN.com
The Braves signing
Jack Wilson
may not seem like especially big news. However, credit Frank Wren and company for making a sensible low-cost insurance move
by signing him to a one-year, $1 million (base) deal
. This seemingly ticky-tack addition is one that you shouldn't reject out of hand, just because it's "just" Jack Wilson.
Wilson
Perhaps part of the problem may be that "Just Jack" Wilson has gotten more than $30.2 million over the past five seasons from the Pirates and Mariners. The perceived imbalance between his paydays and his production and value might inspire instant disgust over seeing him show up on anybody's roster, but a lot of that is related to his weaker track record as a hitter than as a fielder. Give him due credit for his value on both sides of the ball, and you understand why FanGraphs' valuation model had Wilson worth $25.7 million from 2007-2009, but that was before he lost more than half of the 2010 season to hamstring and hand injuries.
More fundamentally, Wilson makes for a nice insurance policy for top prospect Tyler Pastornicky, the rookie who's the expected starter at short. Wilson isn't a threat to the organization's long-term commitment to Pastornicky, and the kid should have the job to himself at some point in 2012. But if he has a bad camp, or, worse yet, gets hurt early on, the Braves will need an immediate alternative to help sustain their bid for contention. This is without cynically getting into the other incentive in place for the Braves -- to bump Pastornicky back to Gwinnett, keeping him from reaching arbitration as soon as the winter after the 2014 season.
There's also the matter of expected production. Pastornicky is only projected by Dan Szymborski of ESPN Insider to hit just .245/.302/.331 in 2012; he'll get better than that eventually, but that projection is a yardstick for where expectations should be. You can see how it wouldn't be very hard for him or the Braves to get frustrated with his performance at the plate if he does worse than that at the outset. Wilson isn't projected to be significantly better (.258/.299/.349), but it provides the Braves with an element of certainty -- exactly what you want from an insurance policy.
Finally, there's the likely benefit of Wilson's glove at short. Although metrics like Baseball Info Solutions' Plus-Minus and Total Zone suggest that Wilson lost a step last year, that's going off just 22 games. His 2008-2010 run of being worth a win or more in the field per year each season seems like a reasonable basis for expecting him to be a cheaper alternative to another year of the always-glovely
Alex Gonzalez
, who is already gone to Milwaukee.
So, credit Frank Wren and company for understanding as much in spending what's effectively a pittance on the payroll. This isn't a matter of setting Pastornicky up to fail, or harboring low or reasonable expectations. It's about making sure that the team gets a certain amount of production from their shortstops as they move quietly to contend in the division where the Nationals, Phillies and Marlins have been making so much noise.
Christina Kahrl covers baseball for ESPN.com. You can follow her on Twitter.
December, 21, 2011
12/21/11
6:05
PM ET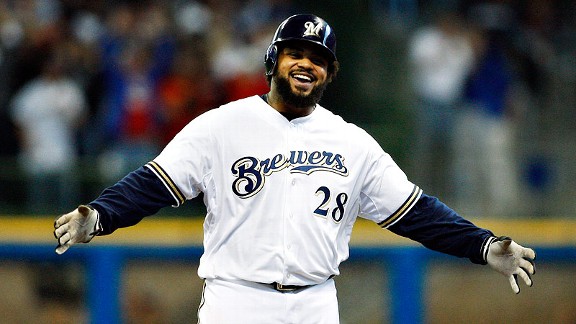 Jerry Lai/US PresswirePrince Fielder is the biggest catch remaining in baseball's pool of free agents.
There are still some good free agents out there, perhaps even a few bargains. What kind of team could you buy if you signed the best of these guys? Let's find out. Here's a 25-man roster of unsigned players, with estimated salaries and WAR (wins above replacement). Would it be a competitive team?
C: Chris Snyder
Snyder is coming off back surgery, but it's a thin lot of available catchers. He's been up and down in his career with his bat, but will draw some walks and has a little pop.
Projected salary: $2.5 million
Projected WAR: 1.0
C: Ramon Castro
The career backup never landed in the right place at the right time, but he can he hit left-handed pitching and provides a capable 200-plate appearance backup.
Projected salary: $1.2 million
Projected WAR: 0.6
1B: Prince Fielder
We're going to empty our pocketbooks and have the big guy anchor our lineup. We'll sign him to a seven-year, $165 million contract, but we'll backload the deal. That way, if we get fired, it screws the next GM.
Projected salary: $20 million
Projected WAR: 5.0
2B: Ryan Theriot
Honestly, he doesn't bring a whole lot to the table other than a proven ability not to be horrible. He'll hit an empty .270 or so and play capable defense.
Projected salary: $2 million
Projected WAR: 0.7
3B: Carlos Guillen
Third base is a bit of a problem so we'll have to gamble on Guillen. He's missed a lot of time the past three years, so we'll sign him to a low base salary with incentives if he remains healthy. Considering the production of third basemen in the majors in 2011, he could produce at a league-wide average for the position.
Projected salary: $1.5 million plus incentives
Projected WAR: 1.0
SS: Ronny Cedeno
No, a shortstop who hits .249/.297/.339 isn't ideal, but
Troy Tulowitzki
isn't available in this scenario. Still, Cedeno was a 1.5 WAR player in 2011 and there's no reason he can't duplicate that effort again.
Projected salary: $4 million
Projected WAR: 1.5
[+] Enlarge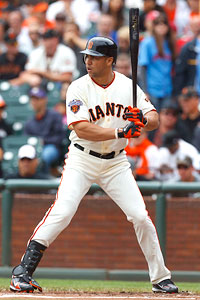 Jason O. Watson/US PresswireWhen healthy, veteran Carlos Beltran is still considered one of baseball's most feared hitters.
RF: Carlos Beltran
We need another big bat and Beltran is still out there. He's been compared to
Michael Cuddyer
, who signed a three-year, $31.5 million deal, so Beltran figures to go in a similar range. The good thing is he's better than Cuddyer. Even if he drops off a bit from his strong 2011, he'll be a productive player.
Projected salary: $12 million
Projected WAR: 3.5
LF: Luke Scott/Andruw Jones
We're going with a platoon here, hoping for Scott to bounce back but signing Jones to play against left-handers. Scott hit .264 and slugged .499 from 2007 to 2010, so we think he has something left in the tank. Jones had a .923 OPS against left-handers in 2011.
Scott's projected salary: $5 million
Scott's projected WAR: 1.9
Jones' projected salary: $3 million
Jones' projected WAR: 1.1
CF: Coco Crisp
We're going to want a good flychaser in center and Crisp is a solid defender who also led the AL with 49 stolen bases. His OBP fell to .314 in 2011, so we should be able to sign him for a decent salary.
Projected salary: $6.5 million
Projected WAR: 2.0
IF: Brooks Conrad
He's an insurance policy for Guillen as someone who could provide some pop off the bench and also play second base in a pinch.
Projected salary: $800,000
Projected WAR: 0.6
IF: Jack Wilson
Ugh. But considering Conrad isn't a glove guy (in fact, I'm not sure he even wears a glove in the field), we better sign Wilson as infield insurance. No, we don't like this move, especially considering Wilson's propensity to get injured while filing his fingernails.
Projected salary: $1.4 million
Projected WAR: 0.0
OF: Rick Ankiel
We wanted to sign
Cody Ross
here, but he's a little expensive for a fourth outfielder (although isn't that what he should be?). Ankiel can play center and provide a left-handed pinch-hitter off the bench.
Projected salary: $1.5 million
Projected WAR: 0.5
OK, now to the pitching staff, which will have to be the strength of our team.
SP: Roy Oswalt
For all the talk about his injury history, 2011 was his first season he didn't start 30 games since 2003. A bad back is always a concern but this was a guy who led the NL in WHIP in 2010. Jerry Crasnick recently reported that Oswalt wants to show he's healthy and is thus willing to take a one-year deal and aim for a bigger contract after 2012. Perfect.
Projected salary: $10 million
Projected WAR: 3.0
SP: Hiroki Kuroda
The Yankees reportedly offered Kuroda a one-year, $12 million deal. Sounds good to us.
Projected salary: $12 million
Projected WAR: 2.8
SP: Javier Vazquez
Yes, we are going to force Javy out of his rumored retirement. He had a 2.15 ERA in the second half last season, so he's far from finished.
Projected salary: $10 million
Projected WAR: 2.5
SP: Joe Saunders
The Diamondbacks declined to offer him a contract, making him a free agent. We're not in love with his soft-tossing style, but he's a solid innings eater for the back of the rotation.
Projected salary: $8 million
Projected WAR: 1.8
SP: Paul Maholm
He may be a little expensive for a No. 5 starter, but we like durability in our rotation. He was 6-14 with the Pirates in 2011, but that was a misleading record for a guy with a 3.66 ERA (4.36 career).
Projected salary: $6.25 million
Projected WAR: 1.5
[+] Enlarge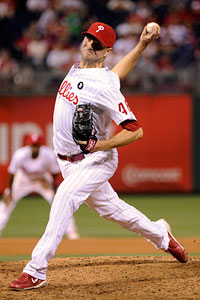 Howard Smith/US PresswireRyan Madson proved last season that he can be one of baseball's most dominant closers.
Closer: Ryan Madson
Baseball's most underrated reliever the past few seasons, Madson finally got a chance to close regularly in Philadelphia and did an outstanding job. His changeup is one of the best pitches in the game and we feel we can bring him in for slightly under his rumored asking price.
Projected salary: $9 million
Projected WAR: 1.7
RP: Hong-Chih Kuo
Kuo was unhittable in 2010, holding opponents to a .139 average and one home run in 60 innings, but developed his usual elbow problems in 2011 and had minor surgery after the season. He's a risky signing but with the potential of a big payoff.
Projected salary: $2.5 million
Projected WAR: 1.0
RP: Chad Qualls
A fungible middle reliever, the right-hander got pounded in 2010 but bounced back ... albeit in San Diego, so he's not necessarily a sure thing. But he's a veteran with a rubber arm. He's not as good as
Octavio Dotel
, who signed for $3.5 million, so we'll sign him for under that.
Projected salary: $2.3 million
Projected WAR: 0.8
RP: Darren Oliver
Doesn't every team need a veteran left-hander? Oliver has now had an ERA under 3.00 four straight seasons.
Projected salary: $2.7 million
Projected WAR: 1.1
RP: Micah Owings
He can be a long man, spot starter or even pinch-hitter!
Projected salary: $1 million
Projected WAR: 0.4
RP: Clay Hensley
After a strong 2010, his control deserted him in 2011 and he walked 30 batters in 67.2 innings and served up nine big ones. But we'll take a flyer to see if he can rediscover his 2010 groove.
Projected salary: $1 million
Projected WAR: 0.5
RP: Jamey Wright
Yes, we could sign
Francisco Cordero
, but bringing in two closers isn't realistic. Wright is cheap, mediocre and the perfect 11th or 12th guy on a staff.
Projected salary: $900,000
Projected WAR: 0.5
Total payroll:
$127.05 million
Projected WAR:
37.0
How good would this team be? A team of replacement-level players would be estimated to win about 48 games, so our team with +37 WAR would be estimated to win about 85 games. Obviously, there's a wide range in there; if everybody stayed healthy and we had some big years, maybe it could win 90. On the other hand, there are a lot of injury risks on this roster, so the downside could be pretty extreme. Plus, there's the simple fact that a $127 million payroll is high -- that's about what the White Sox's payroll was, which ranked fifth in the majors in 2011.
If only we had a few good rookies making the league minimum to supplement the free agents!
May, 13, 2011
5/13/11
12:16
PM ET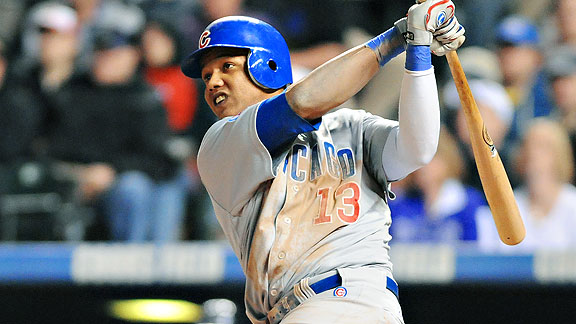 Dustin Bradford/Icon SMICubs shortstop Starlin Castro hit .300 as a rookie and is hitting .322 so far this season.
Baseball is the only sport in which the defense has possession of the ball. They might have written songs called "Centerfield" or about the three men who played that position in New York City in the 1950s, but shortstop has always been the glamour position for baseball's most dynamic glove men. There is simply something special about the way the word "shortstop" sounds, especially when pronounced by the late Bob Sheppard in his recorded
Derek Jeter
Yankee Stadium introduction.
Between them,
Barry Larkin
and
Nomar Garciaparra
started exactly 3,100 major league games at shortstop through careers that included batting titles and Gold Glove, Silver Slugger and MVP awards. Larkin hit .295 over 19 big league seasons in Cincinnati, from 1986 through 2004. In 2009, Garciaparra retired with a .313 career batting average after 14 years in the majors, nine of them in Boston. Over the course of their careers and now into retirement, they've watched their position evolve.
"I think my era was more of a transition to Nomar's time," said Larkin, who played until he was 40 years old, when he still hit .289. "There was more of an emphasis on defense when I came up as opposed to, I think, than when Nomar came up."
Garciaparra, who hit a staggering .372 in 2000, said the position prototype didn't change from Mark Belanger to
Troy Tulowitzki
overnight. "Shortstop has always been about defense first," he said. "That's what made the transition you talked about, why our eras connected, because the guys still played defense. That was first and foremost. When I was playing it was still about defense. The Jeters, the A-Rods, the Tejadas, it was all about defense first. They just happened to be able to hit as well."
Larkin and Garciaparra were both much more than shortstops; both were organizational icons, the face of a franchise. Jeter is such a player in New York, as is
Jimmy Rollins
in Philadelphia. That list, however, is shorter now than it's been in decades, so I asked both former shortstops about the evolution of the position and the players they watch play shortstop today.
Shortstop you most enjoy watching right now
Larkin --
Starlin Castro
, Cubs: "This guy has all kinds of ability. Offensively. Defensively, you can see the plays he makes with flashes of brilliance here and there. He's gonna be successful in Chicago for many, many years. I love watching guys and see them develop in the big leagues."
Garciaparra --
Hanley Ramirez
, Marlins: "I just love watching Hanley Ramirez play. First and foremost as a shortstop, he plays great defense. He makes the plays behind his pitcher. But he can run, steal bases and he can hit third and fourth in any lineup in the major leagues. He supplies that power, supplies that leadership on the offensive side."
Shortstop who might outgrow the position based on offensive production
Larkin --
Ian Desmond
, Nationals: "I got a chance after I retired in 2005 to go work with the
Washington Nationals
and I saw this guy as an 18-year old kid just develop. He's put on over two inches and probably 20 pounds of maturation and has unbelievable ability. My question is, he's growing so quickly, is he gonna ever stop?"
Garciaparra -- Troy Tulowitzki, Rockies: "He can play a Gold Glove shortstop but he's also a very big guy. I don't think people realize how big he is, probably because he played shortstop so well as a little guy with a great glove. He's a max-effort guy over there at shortstop so I can see him moving over maybe to third base (eventually), maybe to first base if they have somebody up and coming, to give him kind of a blow and last longer, especially with what his bat does in that lineup."
The best pure glove man
Larkin --
Alex Gonzalez
, Braves: "I just marvel at this guy. When we'd play against him, I would come out and watch him take ground balls at shortstop and you could see him turn the double play. Strong arm. His thing has been health. A great, great glove man."
Garciaparra --
Alcides Escobar
, Royals. "This guy has range. He covers everything. You think it's a base hit? Nope, he's got it. And he's got a hose to go with it. He can go to the backhand and still have enough on it to whip it over there. When he does throw that ball? I know I had a lot of movement on my ball and I felt bad for the first baseman. But he throws the ball and it stays straight and on a line and it hits him right in the chest."
Most unheralded shortstop you played with or against
Larkin --
Jack Wilson
, Mariners: "He's now playing second base for Seattle, but when he was in Pittsburgh and playing shortstop he was just absolutely unbelievable. Jack Wilson is a guy that no one really talks about; unbelievable defensive shortstop."
Garciaparra --
John McDonald
, Blue Jays: "This guy has been kind of a utility guy. I can just have a video of all his Web Gems. His range and the plays he makes are just truly unbelievable and I can just sit there and watch him over and over again. He makes plays at shortstop, he makes them down at second, he makes them at third. He's just a great glove."
Shortstop lifetime achievement award
Larkin -- Dave Concepcion: "Growing up in Cincinnati I used to imitate and emulate Davey Concepcion. He actually taught me the bounce throw to first base, but he was my guy. If you weren't a Reds fan growing up in Cincinnati there was something wrong with you and I was a huge Davey Concepcion fan. He got it done defensively and he could swing the bat a little bit as well."
Garciaparra --
Omar Vizquel
: "I don't think he's ever got a bad hop in his career. We talked about going out there early and watching somebody take infield? He was one of them. I just wanted to know one day ... one day, even for maybe just three ground balls, to feel what his hands really feel like. It's incredible."
It's long been expected that a shortstop provide his team with a sense of leadership, or at least dependability. Even with a greater emphasis on offensive production the men who spent professional careers playing shortstop still go back to defense as the very nature of the position. "The standard is making the routine play," Larkin says. The days of an Ed Brinkman playing 15 seasons at shortstop while hitting .224 are almost certainly over. After all, the infamous "Mendoza Line" is named after a man who made 420 of his 424 career starts at shortstop. However, even the relatively recent arrival of the slugging shortstop -- guys like
Alex Rodriguez
and
Miguel Tejada
-- still has its link to the past. "The offense was so good that people overlooked that they were also great defensive shortstops," said Garciaparra. "That's why they played shortstop and I think now we see these new up-and-coming guys are continuing that trend."
Follow Steve on Twitter: @SBerthiaumeESPN.
November, 13, 2009
11/13/09
8:53
PM ET
Is
Jack Wilson
really worth
$5 million per season
? No, he's not much of a hitter. And yes, he did miss a big chunk of time this season. Still, the guy's got a case.
Greg Johns on Wilson
:
But he is regarded as one of baseball's premier defensive shortstops and Zduriencik chose to iron out a two-year deal that eliminates what had been a one-year, $8 million option remaining from his prior contract.

The Mariners could have bought out that last year of Wilson's deal for $600,000 and gone a different direction, but chose instead to invest in a longer contract.

--snip--

"I know Jack was disappointed in how he played here," Zduriencik said. "He came over here and was hurt, new league, he'd been with a different organization for nine years.

"But this guy can play defense. I don't think there's anybody in baseball that wouldn't tell you they like that position solidified with a premier defensive player. It's just the right thing for us at this time."

Wilson earned the Fielding Bible Award as the best fielding shortstop in the Majors in 2009. He is a career .268 hitter in 1,190 career games and was a National League All-Star and Silver Slugger Award winner in 2004 when he hit .308 with 41 doubles, 12 triples, 11 home runs and 59 RBI.
Isn't baseball incredible? In 2009, Jack Wilson was one of the worst hitters in the majors. Yet just five years earlier, he was the best-hitting shortstop in the National League.*
* Or maybe he wasn't. We rarely think about the Silver Slugger Awards, but they're just as rife with mistakes as any of the other awards. Wilson did have a good season with the bat in 2004, but his only real edge over Jimmy Rollins was in batting average, .308 to .289. Rollins topped Wilson in runs (119-82), RBI (73-59) and home runs (14-11), and Rollins destroyed Wilson in walks (57-26) and steals (30-8). When you throw in park effects, they were pretty close. I have a hard time imagining the Silver Slugger voters accounting for park effects. But maybe I'm wrong.

Actually, Wilson was pretty good with the bat in 2007, too. It's been an odd career. Here are Wilson's seasonal adjusted OPS's, beginning with his first full season (2002): 67, 70, 104, 74, 77, 106, 76, 74. If you think that patterns are meaningful, you might expect Wilson to post another big (for him) season at the plate in 2010. If you're like me and you think that "patterns" like Wilson's, however elegant, are essentially the product of randomness, you might expect him to post an OPS+ somewhere between 70 and 80 (his career mark is 78, but he's older and he's moved to the tougher league).
If he can just keep doing what he's done the last couple of years, he'll be worth the $10 million, because he really is that good with the glove.
November, 2, 2009
11/02/09
4:29
PM ET
We don't know the Gold Glove winners yet, but do have
the Fielding Bible winners
:
P:
Mark Buehrle
(8)
C:
Yadier Molina
(9)
1B:
Albert Pujols
(9)
2B:
Aaron Hill
(6)
SS:
Jack Wilson
(6)
3B:
Ryan Zimmerman
(6)
LF:
Carl Crawford
(10)
CF:
Franklin Gutierrez
(9)
RF:
Ichiro Suzuki
(9)
Those numbers in parentheses represent the number of first- and second-place votes each winner received. As you can probably guess, most of the tallies weren't particularly close. It was fairly close at third, but Ryan Zimmerman (my choice) had six first- or second-place votes while none of the three third basemen who essentially tied for second had more than four.
Which leaves only second base and shortstop, and both were
extremely close
; in fact, there was a tie at second base:
It's the second Fielding Bible Award for Hill (he won the 2007 award), and it didn't come easily. The regular voting by the panel ended in a tie between Hill and Dustin Pedroia at 76 points with Chase Utley just three behind. For the second time in the history of the award, we went to the tie-breaker. The first tie-breaker rule is based on the player with the most first-place votes. Hill wins because he had four first-place votes from our ten panelists to only one for Pedroia.
I was one of the 10 panelists, and I'm as much to blame for the tie as anyone. I listed Pedroia first, Utley second ... and Hill
eighth
(two other panelists, Peter Gammons and "Tango Fan Poll," had him seventh).
Why eighth? I look at (among other things) whichever statistics I've got close at hand. The Fielding Bible panelists are provided with Baseball Info Solutions' fielding data, but we're encouraged to draw upon any resources we choose. According the Fielding Bible data, Hill saved 15 runs in 2009, third best in the majors. And he led the majors in Runs Saved in both 2006 and 2007, which of course suggests that 2009 wasn't a fluke. On the other hand, FanGraphs' Ultimate Zone Rating actually rates Hill as a below-average second baseman this year, and just a bit above average in 2007 and '8. Faced with this contradiction, I couldn't rank Hill above Pedroia and Utley, both of whom post outstanding defensive numbers every year.
In retrospect, though, I believe that eighth was too low for Hill. Particularly considering that Baseball Prospectus, like Baseball Info, has Hill as an outstanding fielder in 2006, 2007, and again in 2009 (he was hurt in 2008).
Frankly, I blew that one. And if Hill had lost the award, I would feel like a heel right now. He should have been in my top four or five, and there shouldn't have been any need for a tiebreaker.
The other close one was Wilson at shortstop, as he trumped
Troy Tulowitzki
by just one point, 86-85. Wilson finished first on five ballots but fourth on two ballots and sixth on the Tango Fan Poll ballot. I ranked Wilson No. 1, but not without serious misgivings because he started only 105 games at shortstop all season. But you know, George Brett started only 113 games in 1980, and he won the American League MVP Award. Wilson dominated shortstops in 2009 the way Brett dominated American League hitters in 1980.
That said, I ranked Tulowitzki fifth, lower than any other panelist; if I'd ranked him third, he would have edged Wilson by a single point.
I take my Fielding Bible ballot seriously. It takes me hours and hours to finish, and I would be willing to bet the contents of my piggy bank that I spend more time on my ballot than even the most conscientious Gold Glove voter spends on his. But I believe I made at least one mistake this time around, and it almost mattered. Next time around, I need to take my ballot even more seriously.
July, 29, 2009
7/29/09
1:55
PM ET
Dave Cameron has a
snap analysis
of
the deal
that nets the Mariners
Jack Wilson
and
Ian Snell
and sends a utility infielder and four minor leaguers -- including three Class A pitchers -- to the Pirates. Money quote from Cameron:
"They're all just decent pitching prospects instead of good ones, so the M's gave up quantity over quality, but the old cliche about building a rotation by getting a ton of arms and seeing who sticks is really true. The M's had done a good job of collecting an inventory of decent arms, and they just depleted that fairly heavily, while also giving up a LH power bat, for two guys with marginal value.

Pittsburgh is the easy winner of this deal, as they get some interesting young talent and shed some salary without losing much that will hurt them. The Mariners could still salvage this by moving Wilson before Friday's deadline for a younger SS with more long term potential, but if they stand pat with Wilson as the team's shortstop for 2009 and maybe 2010, color me disappointed."
Right now the Mariners' general manager, Jack Zduriencik, benefits from something of a halo effect, which he has earned by doing a lot of smart things since taking over. Thus, it's not easy to evaluate this deal with great objectivity. I will try, though.
As I wrote last week, Wilson is actually a pretty valuable player, due almost solely to his defense. This deal suggests that Zduriencik believes the Mariners have a legitimate shot at winning the American League West next season -- the last on Wilson's current contract. Otherwise the deal makes no sense at all.
Of course, it's also possible that, as Cameron suggests, Wilson is going to be flipped in another trade to one of the many contenders looking for a viable shortstop.
There's another thing, too. Yes, Snell makes a lot of money for a guy who's been exiled to the International League. But in terms of pure performance over the next few years -- which I mention because the club has options on him through 2012 -- doesn't Snell figure to be a lot more valuable than three pitchers who have yet to escape Class A? Who Cameron doesn't even class as "good" prospects?
Time will tell. But halo effect or no halo effect, I can't agree that the Pirates are the easy winners here.
Update: According to Dejan Kovacevic (sorry, no link yet), the Pirates are paying most of Wilson's and Snell's salaries for the rest of this season. This one's already looking better for the Mariners.
July, 20, 2009
7/20/09
4:05
PM ET
Obviously, the jury's still out on Neal Huntington, who's been the Pirates general manager for less than two years. Last season, the Pirates went 67-95 ... after going 68-94, 67-95, and 67-95 in the previous three seasons. This season they're doing slightly better, and with a run differential significantly better than their 40-51 record. It's well known that the Pirates haven't posted a winning record since 1992. They're not going to post a winning record this year, either. But having been outscored by only nine runs this season, the Pirates have a legitimate shot at getting into positive territory by season's end, something else they haven't done since 1992. Which would be a good thing.
Would it be a good thing, though, to get Jack Wilson and Freddy Sanchez locked in for another couple of years, an idea the Pirates floated last week?
The Pirates have approached shortstop Jack Wilson and second baseman Freddy Sanchez about multiyear contract extensions, putting on hold, for now, the possibility that either will be traded by Major League Baseball's July 31 deadline.

--snip--

And there is a catch, one unusual in professional sports: If one player does not sign, the other probably will not, either. Wilson and Sanchez are best friends to the point of being virtually inseparable, on and off the infield dirt.

"I'm very excited to possibly continue my career in Pittsburgh, to finish what I've started, and Freddy is going to be a vital piece of any decision I make," Wilson said last night after the team's post-break workout at PNC Park. "Without Freddy, I think, it would be tough to win without a player like that."

"I want to finish my career turning double plays with Jack in a Pirates uniform," Sanchez said. "If it works out, it would be unbelievable. This is what we've been talking about for a long time."
That's really cute. Seriously. I hope that Wilson and Sanchez spend the rest of their careers together. But they're both 31 -- born just a week apart in 1977 -- and the singular thing that poorly financed franchises simply cannot do is invest big dollars in players in their 30s because (as you know) those deals almost never work out for the club.
As it turns out, my worries were unfounded. Over the weekend, Dejan Kovacevic reported the modest size of the offers, in terms of both years and dollars:
The Pirates yesterday made their initial financial offers toward keeping shortstop Jack Wilson and second baseman Freddy Sanchez, and they drew decidedly mixed reactions.

The offer to Wilson, according to two sources, covers two years plus a club option. No money terms were divulged, but it was seen as competitive even though it represented a significant cut from his current $7.4 million salary. Wilson would prefer three guaranteed years.

But the initial offer to Sanchez, also made yesterday, was for two years and a total believed to be in the range of $10 million. That would represent a cut from his current salary of $6.25 million and, more striking, the total is $2 million more than the $8 million Sanchez is set to make in 2010 alone under the vesting option in his current contract, one that would be annulled under the Pirates' proposal.

Sanchez is on a comfortable pace to achieve the 600 plate appearances necessary to trigger that option.

Both offers, apparently, came with little flexibility on the Pirates' end ...
Sanchez and Wilson are both having great seasons. Sanchez was terrible last year, but he's on pace to be worth something like $18 million. Not bad for a guy who earns $6.25 million. Wilson was fine last year and has been even better this year, on pace for a $12 million season while earning only $7.25 million. The Pirates, throughout both players' careers, have received
excellent
returns on their investments. Usually the way it works, teams do really well with players in their 20s, and poorly with players in their 30s.
ROI-wise
, anyway. That's just how the system is set up, at least as long as there are franchises who don't properly value performance.
I don't believe that Neal Huntington believed that Sanchez or Wilson would accept these initial offers, and they haven't:
Wilson's offer covers two years at a total of $8 million, it was learned yesterday, plus a club option for 2012. That offer at least reached the point where it was delivered formally and considered. Wilson would prefer a guaranteed third year, but it was not outright rejected, and Wilson remains steadfast in his insistence that Sanchez gets signed, too.

The scenario is somewhat different for Sanchez, whose offer covers two years at a total of $10 million while also voiding his current 2010 vesting option worth $8 million if he achieves 600 plate appearances this season, which he likely will. That offer was rejected emphatically, to the degree that no further talks were planned.
Sanchez had little choice, because he's worth more than $10 million for one season, let alone two. Wilson is also worth a great deal more than offered, though in his case it's not as obvious because so much of his value comes from his defense. So (you might wonder) why didn't the offers come at least somewhat close to the players' "real" values? Because a team like the Pirates really can't afford to pay the market rate for veteran players. Not good ones, anyway.
I suspect that Huntington extended the offers merely so he could say that he did. It'll be a shame if the Pirates can't keep Sanchez and Wilson, but both are quite valuable and should bring excellent return if traded.
Given how valuable they are and the Pirates' apparent inability to keep them -- friendship's worth only so much, right? -- Huntington's handling of their departure will go a long way toward defining his legacy as general manager.
April, 13, 2009
4/13/09
1:20
PM ET
Today's links were amalgamated while I watched golf highlights for the first time since
Tom Watson
was making hay ...
• One of the things that makes baseball so endearing is the silly old fourth-out rule. You have to love it.
• Did you hear the big news? Jack Wilson is off to a hot start! It's true! He's 7-for-22! Granted, if two of those seven hits had been non-hits, nobody would notice how hot he's started. But it's April and we have to write about something, so ...
• As Doug Glanville writes, even ballplayers aren't invincible.
• R.J. Anderson wonders if Juan Morillo and his 97-mph heat have a future (short answer: probably not).
• I do Tweet occasionally (@RobNeyer), but I'm not exactly sure if this is a cool thing. Could be, though. Why don't you try it first, and let me know!
• Hey, Dallas McPherson has a job! Well, sort of a job. First he gets to spend some time in extended spring training. Then he gets to spend some time in Fresno, backing up someone named "Ryan Rohlinger." But if Travis Ishikawa doesn't hit and Pablo Sandoval continues to look like a first baseman trying to play third base, McPherson might eventually wind up having some fun with the big club.
• Wondering where Baseball Prospectus' top 100 prospects landed this spring? Here's where.
• I used to want to write a book about umpires. But I didn't, in part because it would have been a lot of work. OK, that's mostly why. But also because I figured nobody would care. But Bruce Weber's written a book about umpires and he got on "Fresh Air" with Terry Gross! So I might have been wrong about that one.