SweetSpot:

Jackie Bradley Jr.
September, 8, 2014
9/08/14
4:55
PM ET
By
Joseph Werner
| ESPN.com
After putting their 2012 struggles behind them in 2013 with a World Series title, the
Boston Red Sox
find themselves in an all-too-familiar territory: On pace for a 90-loss season. Since 1962, the first year that both the American and National Leagues expanded to the current 162-game regular season schedule, there have been two teams -- the 1976-78 White Sox and the 1997-99 Cubs -- that wrapped a pair of 90-loss seasons around a 90-win campaign. Boston is set to become the third.
But unlike two years ago when the pitching fell apart, it's the club's offense that has become a black hole: The Red Sox have scored the fewest runs in the American League, hitting a collective .243/.316/.368 en route to posting a paltry .301 wOBA. For comparison's sake, last season the Sox hit .277/.349/.446 with an MLB-leading .347 wOBA.
While a lot of the club's offensive futility rests on the shoulders of disappointing veterans and stopgaps, a pair of highly anticipated rookies have struggled mightily during their first extended action in the big leagues. Twenty-one-year-old shortstop
Xander Bogaerts
is hitting .232/.297/.349 and 24-year-old center fielder
Jackie Bradley Jr
. has hit .214/.288/.285.
With both players still locked into extended struggles -- Bogaerts is hitting .181 since June 1 and Bradley is back after getting demoted to Pawtucket -- it's time to start thinking about their respective futures. In other words, is there any precedence that suggests that Bogaerts and/or Bradley can turn into valuable big league bats?
Using Baseball Reference's Play Index, since the beginning of the Live Ball Era (1920) there have been just 12 players (not including Bogaerts) who entered their age-21 season with their rookie eligibility intact and posted an OPS+ between 65 and 85 while receiving at least 450 plate appearances (Bogaerts is at 81).
Of those 12, two finished their respective careers as above-average hitters (one of which ended in the Hall of Fame), three were roughly league average offensive performers, and the remaining seven were well below-average. The chart below illustrates the three groups, as well as OPS+ totals through their 20s as well as their final career mark.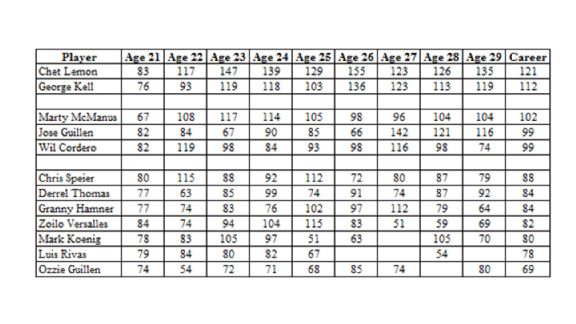 ESPN
It bodes well for Bogaerts that nearly half of the group went onto become established offensive contributors, but it shouldn't be too surprising either given that younger debuting players are often considered better prospects. There are, however, a few patterns to note:
1. Minor league power appears to be incredibly important among the 12. Five players posted Isolated Power totals above .120 prior to their big league debuts; four of those five -- Chet Lemon, Marty McManus,
Jose Guillen
and
Wil Cordero
-- went on to become solid or better bats. And the fifth player, Zoilo Versalles, won the AL MVP in 1965. Bogaerts, for the record, owns the highest minor league ISO mark among the entire group, at .193, nearly 30 points higher than Lemon (.163).
2. Four players -- McManus, Guillen, Cordero, and Versalles -- posted an ISO north of .100 during their age-21 seasons; Bogaerts owns a .117 mark.
3. Of the five successful big league bats, four took tremendous leaps in production during their age-22 season, seeing a jump of at least 17 points in OPS+. In contrast, only one player -- Chris Speier -- took a similar development step forward during his second season among the below-average group. So Bogaerts' work next year looks like a vital step for his future success.
History has shown that not all struggling 21-year-old rookie bats are doomed. But, unfortunately, the precedent isn't quite as strong for Bradley.
Again, using Baseball Reference's Play Index, there were 51 players since the start of the Live Ball Era that were rookie-eligible 24-year-olds who posted an OPS+ between 55 and 75 and received at least 350 plate appearances (Bradley is at 62).
Of the 51, just three players -- Hall of Famer Luke Appling, Bill Robinson and
Brady Anderson
-- posted a career OPS+ above 100 (league average); four others --
Rich Aurilia
, Whitey Herzog,
Kevin Young
and Mickey Witek -- own career marks above 90. Otherwise, the remaining 44 players were well below-average performers.
Appling, Anderson and Robinson all took tremendous jumps during their age-25 season, but so did nine other players, none of whom panned out during their careers. None of the seven solid performers slugged over .343 during their rookie seasons or ran a whole lot or even showed solid patience at the plate. Each did, however, perform well enough coming up through the minor leagues, but so did
Chris Snyder
, A.J. Hinch and Brian Anderson, a trio that belongs to the below-average group.
So, what exactly does history say about the futures of Bogaerts and Bradley? The odds definitely tilt towards Bogaerts, no surprise given his age and above-average power in the minors. He's continued to hit for decent pop in the majors with 26 doubles and nine home runs.
As for Bradley, the probability that he develops into even a manageable big league bat certainly seems like a long shot; just 14 percent of players to struggle in a similar manner during their age-24 season have gone on to become successful bats.
Joseph Werner contributes to the It's Pronounced "Lajaway" blog on the Indians and also writes at ProspectDigest.com.
August, 4, 2014
8/04/14
11:37
AM ET
You may recall that
we recently pointed out
San Francisco Giants
third baseman Pablo Sandoval's outstanding defensive prowess this season.
As it turned out, much of that success came in July.
Sandoval was a near-unanimous selection by our 10-voter panel for our Defensive Player of the Month award for July. He received nine of the possible 10 votes.
Sandoval finished the month tied with
Andrelton Simmons
and
Alexi Amarista
for the major league lead with eight defensive runs saved. Per video review by Baseball Info Solutions, he had 19 good gielding plays (think plays that would earn a "Web Gem nominee") and only one defensive misplay and error (plays that have a negative consequence, whether scored an error or not).
The latter is a remarkable stat. The
19 good fielding plays
were seven more than anyone else at the position, and to do that while making only one misplay is amazing.
For comparison's sake, here are how some of the game's other top defenders at the hot corner fared for July:
In fairness, a number of other good players had very good defensive months. Here are two others we haven't shone the spotlight on much this season.
Jackie Bradley Jr, Red Sox CF
Bradley edged out Simmons for second place by having the best month of any outfielder. He had seven defensive runs saved in July, which tied for the most among outfielders. He also had six
good fielding plays
and only three defensive misplays and errors.
Bradley has inched his way near the top of the defensive runs saved leaderboard for center fielders and could be a strong candidate for a Gold Glove Award. His 15 defensive runs saved rank third at the position, second in the American League behind
Jarrod Dyson
's 16.
He is also beloved by the other primary defensive metric, UZR, which rates him third highest in the outfield in the majors, trailing only
Alex Gordon
and
Jason Heyward
.
Alexi Amarista, Padres
Though Amarista placed sixth in our voting, we felt his play merited mention. As noted, he tied Simmons (who placed third in our voting) and Sandoval for most defensive runs saved this month.
Amarista spent much of the month filling in at shortstop for injured teammate
Everth Cabrera
. Amarista entered this season with only 160 innings played at that position, but in 220 innings in 2014 he has eight defensive runs saved.
Amarista excels at two things
, one of which is his conversion rate on turning double plays: He's at 68 percent (17 converted in 25 opportunities when he either fielded a ball or was a relay man in a double-play situation).
The other is that he does a nice job of covering ground. The Padres allowed opponents to reach base safely on only 20 percent of ground balls hit to the left of second base in July, the lowest rate in the majors by far (next best were the Brewers and Giants at 23 percent).
From April to June, the Padres ranked 13th, with a 28 percent rate.
Major League Baseball doesn't give a Gold Glove to utility players, but Amarista has strong qualifications (he could win a Fielding Bible award, which is voted on by Baseball Info Solutions and others, including this author, at season's end). He also has positive defensive runs saved totals this season at third base and center field.
February, 19, 2014
2/19/14
11:50
AM ET


Eric and myself discuss a few of the more interesting position battles going on this spring.
December, 29, 2013
12/29/13
9:30
AM ET
Today, Buster Olney
rated the top defensive teams in the majors
. We thought we'd take the time to look at the offseasons for each team from a defensive perspective. Here's our American League look.
AL East
Blue Jays:
The transition from
J.P. Arencibia
to
Dioner Navarro
behind the plate is likely a wash and there hasn't been much of an overhaul to this team other than the departure of
Rajai Davis
(who did have
a decent amount of defensive value
).
Goins
The most interesting thing for the Jays will be how
Ryan Goins
fares as a regular second baseman. Goins racked up a hard-to-believe 12 Defensive Runs Saved (backed up on video review by 21 Good Fielding Plays and only a pair of Defensive Misplays & Errors) in a 32-game stint last season.
Orioles:
The biggest issue on defense for the Orioles will be dealing with the loss of
Manny Machado
's major-league leading Runs Saved, at least until he returns from injury. Baltimore did make one positive move that should upgrade its outfield defense, getting
David Lough
from the Royals for utilityman
Danny Valencia
.
Rays:
The Rays made a long-term commitment to
James Loney
, which bodes well from a defensive perspective, and also made one to catcher
Ryan Hanigan
, who is considered one of
the best base-stealing deterrents and pitch-framers
in the sport. He'll give them a solid alternative to
Jose Molina
.
Red Sox:
Jackie Bradley Jr
. and
Xander Bogaerts
will likely step into everyday roles and fill the shoes of
Jacoby Ellsbury
and
Stephen Drew
. The Red Sox will also have a new catcher, though there isn't much of a defensive difference between
A.J. Pierzynski
and
Jarrod Saltalamacchia
. Both rate below-average statistically.
Yankees:
There have been some pretty notable changes on the defensive side.
Brian McCann
's pitch-framing rates well, but he's not the baserunning deterrent that
Chris Stewart
was.
Kelly Johnson
and
Brian Roberts
could split time at second base but neither is the Gold-Glove-caliber glove that
Robinson Cano
was. Johnson could also wind up full-time at third base, a position at which he's barely played more than 100 innings, if
Alex Rodriguez
gets suspended.
The Yankees should be great in center and left with an Ellsbury/
Brett Gardner
combo.
Carlos Beltran
has
less ground to cover in the Bronx than he did in Busch
. That could benefit his achy knees and help his defensive rating.
One smart thing the Yankees did: Hire
Brendan Ryan
to be their "shortstop closer" for the next two seasons and as much as it will pain
Derek Jeter
to leave games, it will be for the good of the team to let Ryan finish close games.
AL Central
Indians:
The Indians tried to make a right fielder out of center fielder
Drew Stubbs
in 2013 and it didn't work. They got themselves an upgrade in free agent
David Murphy
who rates adequate enough (5 Runs Saved in about a season's worth of innings in right field) that his D could be a one-win upgrade by itself.
Royals:
The best team in baseball, as it comes to Defensive Runs Saved, tinkered a little bit, swapping out Lough for
Norichika Aoki
in the outfield, which probably rates as a push (they're both good … fair warning to Royals fans, Aoki likes to play a deep right field), and making an offensive upgrade by getting
Omar Infante
to fill the hole that was second base.
The one thing the Royals got from their second basemen last season was good defense (18 Runs Saved from the collection of
Elliot Johnson
,
Chris Getz
and others). Infante isn't at that level, but he rates above average more often than not (he did by UZR, but not Runs Saved in 2013) and his offensive work should make up for any drop-off.
Tigers:
The Tigers' defensive overhaul has been the biggest of the offseason as the team's opening-day infield will be entirely different from 2013.
Ian Kinsler
is a definite upgrade at second base and we'll see if
Jose Iglesias
' wow plays add up over a full season (he has seven Runs Saved in just under 800 career innings at short).
Going from
Prince Fielder
back to
Miguel Cabrera
should actually be a slight upgrade.
The big question will be third base where the scouting reports on
Nick Castellanos
' defense
don't inspire confidence
. But even so, conservatively, the Tigers should be about 25 Runs Saved better in 2014, which takes them from being a lousy defensive infield to an average one.
Twins:
The Twins made the career-preserving move of shifting
Joe Mauer
from behind the plate to first base and signed
Kurt Suzuki
, who has a good statistical history at the position. Suzuki has rated better than Mauer over the course of his career in Runs Saved, though he's not as good at throwing out basestealers.
I asked
Doug Glanville
to assess what Mauer's challenge will be in making the move to first:
"He is a super athlete and I am sure he will be fine. It will be tough to not be as involved with the game in every single moment. No one can compete with catchers in the leadership it requires to play that position and the need for constant vigilance. He has to sharpen his focus to deal with new lulls in time. I am sure he will."
White Sox:
The White Sox had the third-worst Defensive Runs Saved total in the majors in 2013 and they've been overhauled all over the place. Their worst position last season was center field (-19 Defensive Runs Saved in 2013) and they'll have a new look there with
Adam Eaton
.
They'll also be much different at first base with
Jose Abreu
,
whose hitting
has been compared to
Ryan Howard
's (but if his defense is, that's not good) and third base with
adequately-rated
Matt Davidson
, whom they got for
Addison Reed
. Will different equal better? They better hope so.
Al West
Angels:
The aging of
Albert Pujols
will continue to be an issue both on offense and defense. Last season broke a run of eight straight seasons in which Pujols ranked in the top five among first basemen in Runs Saved.
Pujols will have a familiar teammate working at the opposite corner with the addition of third baseman
David Freese
, who had a dreadful season in 2013 per both Runs Saved and UZR, ranking third-worst in the former and second-worst in the latter. That's something that will need to be dealt with.
Astros:
The Astros traded away their second-best defender stats-wise from 2013 in
Brandon Barnes
to get
Dexter Fowler
from the
Colorado Rockies
. Fowler has less ground to cover in the gaps of Minute Maid Park, but has a deeper center field (and Tal's Hill) to worry about. Fowler has posted a negative Runs Saved rating in four of his six seasons, but has fared well at handling balls hit to the deepest parts of the park.
Athletics:
The Athletics made two moves that should definitely help their defense in 2014.
Gentry
By adding
Craig Gentry
in a trade from the Rangers, they've obtained one of the game's premier outfield defenders and one who could fit in well both in left field (to make
Yoenis Cespedes
a DH) and center (to give
Coco Crisp
a breather) very well.
The Athletics also added a valuable utility piece in
Nick Punto
, who could start at second base (ahead of
Eric Sogard
) or close games at shortstop (replacing
Jed Lowrie
, who rates as a poor defender). Either way, he's a big upgrade over what they had.
Mariners:
The Mariners now have a Gold Glove-caliber defender at second in Cano. He'll need to cover more ground to his left than he did in New York, because the Mariners' first-base options (
Justin Smoak
,
Logan Morrison
and
Corey Hart
) do not rate well. Morrison is going to present an issue wherever they put him. He's not quite at the level of
Michael Morse
, but his ratings historically have been poor.
Rangers:
The difference between
Prince Fielder
and
Mitch Moreland
at first base is a sizable one, potentially 15 runs over the course of a season, so if the Rangers do decide to hang on to Moreland, they'd be best off playing him at first base and having Fielder DH. The Rangers could use a good defender at first, since
Jurickson Profar
is basically going to learn on the job at second base. Texas will also have some outfield concerns with
Shin-Soo Choo
having limited experience in left field and the team no longer having the security blanket of Gentry (traded to Athletics).
April, 12, 2013
4/12/13
12:50
PM ET
A year ago, the
Cleveland Indians
allowed the most runs in the American League, a pretty remarkable achievement considering the
Minnesota Twins
had a historically awful rotation. The Indians, however, combined bad pitchers and bad defense -- their -51 Defensive Runs Saved ranked 28th in the majors.
Like the
Tampa Bay Rays
in 2008, the Indians decided to make their pitching better by improving their defense. First they traded impending free agent
Shin-Soo Choo
, who graded out as -12 DRS in right field, and landed Reds center fielder
Drew Stubbs
in the deal, pushing
Michael Brantley
to left. Then they signed free agent
Nick Swisher
to replace Choo; Swisher is a better right fielder than Choo. But when
Michael Bourn
remained unsigned into February, the Indians swooped in and signed the two-time Gold Glove center fielder. That pushed Swisher primarily to first base and gave the Indians an outfield of three guys who played center field last year.
The Indians' outfield collectively rated as -17 a year ago, and it's conceivable this group could rate at +30 runs -- a 47-run difference worth nearly five wins. Not to mention maybe some added confidence to the pitching staff.
The Red Sox, likewise, signed
Shane Victorino
to play right field and promoted rookie Jackie Bradley to play left. They join
Jacoby Ellsbury
to give them an outfield of three center fielders; Bradley defers to the veteran Ellsbury for now, but scouting reports suggest he's an elite defender.
The Angels, who rated as the second-best defensive outfield a year ago at +46 runs (behind Atlanta's +55), could be even better this year, with
Peter Bourjos
getting more time in center,
Mike Trout
playing left, and
Josh Hamilton
, who played a lot of center field for Texas, in right. Essentially, the Angels decided to replace
Kendrys Morales
' bat with Bourjos' glove, with
Mark Trumbo
playing more DH and less outfield.
If Bill James and then "Moneyball" popularized the importance of on-base percentage, then that sort of makes outfield defense the new OBP. Of course, just because emphasizing outfield defense appears to be a new trend doesn't really make it new. Just like Branch Rickey was talking about the importance of OBP over batting average in the 1950s.
For example, look at Whitey Herzog's Royals of the late '70s and then his Cardinals in the 1980s. Playing on turf in both places, he always emphasized speed in the outfield. His 1985 Cardinals, for example, had an outfield of Vince Coleman, Willie McGee and Andy Van Slyke, three guys who could play center field (although Coleman had a poor arm). Van Slyke later paired with Barry Bonds in Pittsburgh to give the Pirates two Gold Glove outfielders as they won three NL East titles in a row. The A's of the early '80s had the great trio of Rickey Henderson, Dwayne Murphy and Tony Armas. The 2001 Mariners won 116 games in part by employing three great defenders in Mike Cameron,
Ichiro Suzuki
and part-timer Stan Javier.
But I would suggest that it seems we are deep in outstanding defensive outfields right now. Here's how I would rank the top five -- remember, we're talking only about defense here.
1. Angels: LF Mike Trout, CF Peter Bourjos, RF Josh Hamilton
Trout and Bourjos are arguably the two best outfielders in the American League, and Hamilton is at least adequate with a strong arm.
2. Athletics: LF Yoenis Cespedes, CF Coco Crisp, RF Josh Reddick
The A's were fifth in DRS last year at +17, but that includes Cespedes' time in center, where he rated poorly. He should be solid in left (he made a nice play on Hamilton the other night, running down a deep drive in left-center and doubling
Albert Pujols
off first) with a strong arm, Reddick is outstanding in right (+19 last year) and Crisp average in center. And backing up is
Chris Young
, who always had excellent defensive metrics with Arizona.

3. Indians: LF Michael Brantley, CF Michael Bourn, RF Drew Stubbs
Bourn's +24 DRS last year tied him with
Alex Gordon
for the best total of any outfielder in the majors. He can run everything down in center, and now you flank him with two decent center fielders who should rate above-average in the corners. The only question here: Will Stubbs hit enough to remain in the lineup?
4. Brewers: LF Ryan Braun, CF Carlos Gomez, RF Norichika Aoki
The Brewers ranked third at +24 DRS a year ago and should be very good once again. All three are above-average defenders.
5. Red Sox: LF Jackie Bradley Jr., CF Jacoby Ellsbury, RF Shane Victorino
Victorino's metrics have dropped a bit in the past couple seasons as a center fielder, but he can still run and has a chance to be outstanding in right. Bradley won't get to show off his range at Fenway Park, but that doesn't mean he won't add defensive value. Ellsbury was +7 DRS back in 2011.
Worth considering:
Nationals (
Bryce Harper
,
Denard Span
,
Jayson Werth
). Span is very good and Harper actually rated very good in center last year, despite some bad routes at times. Werth appears to have lost a step from his Phillies days.
Worth considering but overrated:
Braves (
Justin Upton
,
B.J. Upton
,
Jason Heyward
). It will be interesting to see what happens here. Since Baseball Info Solutions began their Defensive Runs Saved metric in 2003, the +55 the Braves were evaluated at last year was the third-highest by any outfield (behind two other Braves teams in 2005 and 2007 that featured Andruw Jones). But Bourn and
Martin Prado
are gone, replaced by the Upton brothers. Some consider B.J. an elite center fielder, but I've never thought that and his metrics aren't great (-30 runs over the past three years). Heyward is terrific in right (+20 last year and a deserving Gold Glove winner) while Justin has been solid (+14 total over the past three years) if prone to throwing errors.
Sleeper:
Tigers (
Andy Dirks
,
Austin Jackson
,
Torii Hunter
). Jackson is terrific in center, and Hunter continues to age gracefully.
The defensive metrics don't like them:
Orioles (
Nate McLouth
,
Adam Jones
,
Nick Markakis
). Jones won the AL Gold Glove for center field, but DRS considers him below average. Just a few games into the season, the Orioles are at -5 runs ... although, to be fair, so are the Angels (Trout is -2 and Hamilton -4). Maybe Trout
is
fat.
April, 2, 2013
4/02/13
3:35
PM ET
A couple fun uniform nuggets from Opening Day. As Paul Lukas details,
Jackie Bradley Jr.
made history
by becoming the first player to wear a Jr. on the back of his jersey.
Also, with Rockies reliever
Adam Ottavino
wearing No. 0, the question was raised on Twitter last night about the last player to wear 0 on his jersey. Our man Lukas had a
comprehensive look
at those who wore 0 and 00 last June (covers all sports).
April, 2, 2013
4/02/13
1:20
AM ET
It's one of the best days of the year. Maybe
the
best. Especially if your team won. Here are 10 things to take away from Monday's action.
1. Bryce Harper loves the spotlight.
While Opening Day is, technically speaking, just one game of 162, it
is
special -- to players, to managers and certainly to fans, who fill parks across the country, even in 35-degree weather (applause to hearty Minnesotans). Opening Day isn't just another game in late July, where the legs are tired and the fatigue of a season has to be fought through. Everybody is pumped up and focused. The lights shine bright and that's why I love what Harper did on Monday. Davey Johnson showed no fear in naming the 20-year-old his No. 3 hitter and Harper's two solo home runs in a 2-0 victory showed a Ken Griffey Jr.-like flair for the dramatic (Griffey hit eight home runs on Opening Day in his career). Harper is going to take that No. 3 position in the lineup and own it for the next decade. And those gutsy MVP predictions for him don't look so crazy.
2. Yankees feed into preseason fears.
With a lineup that featured
Eduardo Nunez
hitting second,
Kevin Youkilis
hitting cleanup (his .409 slugging percentage last year was lower than his on-base percentage in 2009 and 2010),
Vernon Wells
,
Ben Francisco
,
Jayson Nix
and
Francisco Cervelli
, the Yankees are clearly going to struggle to score runs until they get
Derek Jeter
,
Curtis Granderson
and
Mark Teixeira
back. But will they still be in the race by then?
CC Sabathia
got dinged a little bit in a four-run second inning in the Yankees' 8-2 loss to the Red Sox -- two infield singles, a little flare, a groundball hit -- but he also walked four batters in five innings.
3. Jackie Bradley Jr. shows mature approach.
While Boston's rookie left fielder is already overhyped -- I worry Red Sox fans are expecting the next Harper or
Mike Trout
-- he showed why the Red Sox were confident he could hold his own in the majors despite playing just 61 games above Class A ball. He drew three walks, including a crucial freebie during that second inning in which he fought back from an 0-2 count and laid off three tough sliders to load the bases with one out.
4. Bullpen worries already in Milwaukee.
Brewers closer
John Axford
was outstanding in 2011 when the Brewers won the NL Central. He was the opposite of outstanding last year, losing his role for a spell to
Francisco Rodriguez
as the Brewers lost an MLB-leading 11 games they led heading into the ninth inning (MLB average: under four). So it didn't inspire confidence when he served up a game-tying home run to
Dexter Fowler
in the ninth. The Brewers did win the game in the 10th, but keep an eye on Axford's next few outings.
5. Cy Young candidates dominate.
Clayton Kershaw
,
Stephen Strasburg
,
Matt Cain
,
Justin Verlander
,
Chris Sale
and
Felix Hernandez
combined to allow ... nothing, in 41.2 scoreless innings.
Jered Weaver
and
Johnny Cueto
each allowed one run. What did we learn from those guys? Nothing! We already knew they were good. But the most impressive may have been Cubs right-hander
Jeff Samardzija
, who allowed two hits in eight scoreless innings against the Pirates, walking one and striking out nine. Samardzija surprised last year in moving to the rotation, especially with his command after having control issues as a reliever, and with a fastball clocked as high as 97 mph, his first outing suggests that maybe -- maybe -- he'll soon be mentioned in the same paragraphs as those other guys. Like this one. (By the way,
Anthony Rizzo
's home run to center was sweet, just a nice easy swing ... and boom.)
6. Angels bullpen answers first test.
The Angels had issues in middle relief last year, a problem that was hoped to be solved by signing
Ryan Madson
and
Sean Burnett
, and moving closer
Ernesto Frieri
to a setup role. But Madson is still recovering from Tommy John surgery and the bullpen didn't look good during the Angels' 10-20 spring training. But in relief of Weaver, the pen tossed seven innings of one-hit baseball to beat the Reds 3-1 in 13 innings. Frieri fanned
Jay Bruce
looking for the final out and you wonder even if Madson comes back if Frieri keeps the ninth-inning role.
7. Speaking of closers ...
It didn't take for
Carlos Marmol
to possibly lose his grip on the closer role for the Cubs, which is probably more important to fantasy owners than it actually is to the Cubs. After hitting
Andrew McCutchen
and then allowing a stolen base, RBI single and walk, the Cubs used
James Russell
and
Kyuji Fujikawa
to record the final two outs.
8. The Marlins hit Placido Polanco cleanup.
And they wonder why they're having trouble selling season tickets.
9. Andrelton Simmons makes me happy.
While the three home runs the Braves hit off
Cole Hamels
in a 7-5 win --
Freddie Freeman
,
Dan Uggla
and
Justin Upton
(welcome to Atlanta!) -- were the big story, Simmons made a couple nice plays in the field and showed off his cannon arm. If the Braves battle with the Nationals in the NL East, Simmons' Ozzie-like defense will be a key reason why.
10. Young stars everywhere.
Look at the names cited above. Harper. Bradley. Samardzija and Rizzo. Sale. Simmons. Strasburg. Even Kershaw is still just 25 years old. This is my biggest takeaway from Opening Day 2013: Baseball is stronger than ever, with young talent oozing all over the sport. This great game is in good hands and when we get to watch players like this, so pull up a chair and enjoy the next 179 days. I know I will.
March, 30, 2013
3/30/13
1:00
PM ET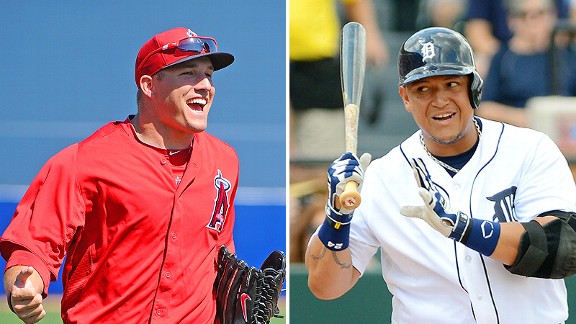 Getty ImagesThe SweetSpot bloggers predict another 1-2 MVP finish for Mike Trout and Miguel Cabrera in 2013.
Yes, it's the time of the year ... awards predictions! Here are the collective thoughts of the writers from across the SweetSpot network.
MOST VALUABLE PLAYER
Last year, the SweetSpot bloggers correctly picked
Miguel Cabrera
as the AL MVP winner. How quickly we fall in love with the new kid on the block! I'm not surprised that
Mike Trout
is the MVP favorite by the SweetSpot bloggers -- but I am surprised by his runaway vote total, as he collected 33 of the 47 first-place votes (including mine). If wisdom of the crowds proves true, it should be a landslide MVP result for Trout.
Amazingly, Cabrera only received two first-place votes (remember, he ranked ahead of Trout in our recent BBTN500 voting). This probably reflects the difference in the mind-set between the bloggers -- who are going to pay more attention to advanced metrics like WAR -- and the more conventional group of analysts (writers, announcers, former players) who voted in the BBTN500.
The network bloggers must have high hopes for the Rays since
Evan Longoria
ranked third in the balloting. And maybe the Yankees won't collapse just yet:
Robinson Cano
finished fourth in the balloting.
Points on a 14-9-8-7-6 basis.
1. Mike Trout, 574 points (33 first-place votes)
2. Miguel Cabrera, 374 points (2)
3. Evan Longoria, 268 points (3)
4. Robinson Cano, 238 points (4)
5.
Adrian Beltre
, 101 points (1)
6.
Yoenis Cespedes
, 92 points (0)
7.
Jose Bautista
, 85 points (2)
8.
Prince Fielder
, 70 points (1)
9.
Albert Pujols
, 62 points (1)
10.
Jose Reyes
, 43 points (0)
Others --
Josh Hamilton
(41 points),
Dustin Pedroia
(34),
Joe Mauer
(21),
Alex Gordon
(18),
Matt Wieters
(9),
Adam Jones
(7),
Curtis Granderson
(7),
Edwin Encarnacion
(6),
Carlos Santana
(6),
Ian Kinsler
(6),
Jacoby Ellsbury
(6)
CY YOUNG
No surprise here:
Justin Verlander
collected 28 first-place votes to easily outdistance last season's Cy Young winner,
David Price
. Keep an eye on
Yu Darvish
: He finished ahead of
Felix Hernandez
in the voting. Reigning NL CY Young winner
R.A. Dickey
is now with Toronto and he collected just one first-place vote.
Points on a 7-4-3 basis.
1. Justin Verlander, 258 points (28 first-place votes)
2. David Price, 129 points (4)
3. Yu Darvish, 81 points (5)
4. Felix Hernandez, 70 points (5)
5.
Jered Weaver
, 34 points (3)
6. R.A. Dickey, 15 points (1)
Others --
Chris Sale
(9 points),
CC Sabathia
(8),
Max Scherzer
(6),
Josh Johnson
(6),
Jarrod Parker
(6),
Jon Lester
(6),
Doug Fister
(3),
Matt Moore
(3),
Jake Peavy
(3)
ROOKIE OF THE YEAR
The rookie race is even more wide open, since most of the top rookie prospects will begin the year in the minors, including Tampa Bay outfielder
Wil Myers
, who led our balloting with 17 first-place votes. Outfielders
Aaron Hicks
of the Twins and
Jackie Bradley
of the Red Sox will break camp with their big league teams, and that helped them finish second and third in the voting.
Points on a 5-3-1 basis.
1. Wil Myers, 111 points (17 first-place votes)
2. Aaron Hicks, 71 points (8)
3. Jackie Bradley, 65 points (8)
4.
Jurickson Profar
, 46 points (4)
5.
Dylan Bundy
, 29 points (4)
6.
Brandon Maurer
, 24 points (2)
7.
Trevor Bauer
, 21 points (1)
8.
Dan Straily
, 12 points (1)
Others -- Bruce Rondon (6 points),
Mike Olt
(5), Mike Zunino (4),
Chris Archer
(3),
Avisail Garcia
(1),
Conor Gillaspie
(1), Nick Tepesch (1), Kevin Gausman (1)
March, 27, 2013
3/27/13
1:05
PM ET
Spring training consists of a lot of bunting practice and manufactured stories, false alarms and overhyped weight losses (or increases). But some news events and stories
are
potentially important. Here are the 25 biggest ones -- from on the field -- as camps finally wind down.
25. Scott Kazmir makes Indians rotation
The last time we saw Kazmir in the majors was in the fourth game of the season for the Angels in 2011. He gave up a home run, walked two batters, hit two more batters and got knocked out in the second inning. He was just 27 years old, but on the heels of a terrible 2010, his career appeared over. Even last year, pitching for Sugar Land in the Atlantic League, he went 3-6 with a 5.34 ERA. The Indians invited him to camp and Kazmir impressed by throwing in the low 90s and, more importantly, throwing strikes (one walk in 13 innings). Who knows if Kazmir will work out in the long run, but it's a great spring training story.
24. Don't worry about Albert Pujols unless you want to
The knee is apparently OK, but now he's been bothered by plantar fasciitis. He says it comes and goes. "It's nothing that's going to keep me out of the lineup,"
Pujols said recently
, "because I've played with it the whole season before."
23. Aaron Hicks wins Twins' center field job
[+] Enlarge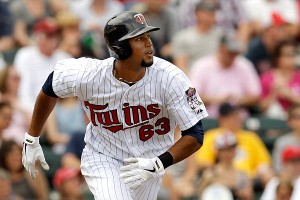 AP Photo/Elise AmendolaAaron Hicks locked down the center-field job after a big spring.
The Twins traded
Denard Span
and
Ben Revere
in the offseason to acquire some pitching, but they could afford to do so because they have a promising crop of outfielders on the way. Hicks will be the first to arrive after winning the center-field job with a big spring (.379, four homers). And how refreshing for a team to promote a player because he's one of their best 25 guys and not worry about his service time. "The guy has earned it,"
GM Terry Ryan said
. "I find it almost humorous that people are talking about service time, starting the clock. We didn't trade Span and Revere to stall the next guy."
22. Where there's fire there's Smoak
The Mariners haven't scored runs since George W. Bush was president. Well, they've scored runs, just precious few. Former top prospect
Justin Smoak
is on his last chance and after hitting well last September with a new swing has looked good again this spring, hitting .434 with four homers and eight doubles in 53 at-bats. Could it be that Smoak and newcomers
Kendrys Morales
and Mike Morse will actually give Mariners fans something to watch on days King Felix doesn't pitch?
21. Diamondbacks are banged up
Rookie of the Year candidate
Adam Eaton
is already out six to eight weeks with an elbow strain and
Cody Ross
will likely miss Opening Day with a calf sprain. Now comes word that
Jason Kubel
,
Willie Bloomquist
and
Aaron Hill
were all dinged up in Tuesday's game
. The D-backs have depth and may need it.
20. Ricky Romero can't throw strikes
When the Blue Jays traded for three-fifths of a rotation this winter -- NL Cy Young winner
R.A. Dickey
, plus
Josh Johnson
and
Mark Buehrle
from the Marlins -- they were going to join holdovers
Brandon Morrow
and Romero to help deliver the Jays to their first playoff berth since 1993. After going 15-11 with a 2.92 ERA in 2011, Romero struggled last year with a 5.77 ERA and league-leading 105 walks. His control is still an issue -- 10 walks and eight K's in 13 innings -- leaving the possibility that J.A. Happ wins that fifth spot.
19. Brandon Belt bashes
The Giants first baseman is hitting .453 with seven home runs, tied for the spring high, leading to speculation this could be the year he finds his power stroke and has that breakout season everyone anticipated last year.
18. Looking for Moore
The Rays could afford to trade
James Shields
because of their starting pitch depth. Sophomore
Matt Moore
, coming off a strong second half, was expected by many to pass
Jeremy Hellickson
and become the team's No. 2 starter behind
David Price
. But he's had a rough March, with his velocity down and struggling with his command (13 walks in 17.1 innings). Maybe he'll turn it on when the season starts, or maybe there's a problem to pay attention to.
17. Angels bullpen looks like last year's bullpen, only worse
The Angels struggled in middle relief in 2012, so they brought in
Ryan Madson
to close (pushing
Ernesto Frieri
to a setup role) and signed
Sean Burnett
. Madson hasn't pitched yet as he still recovers from Tommy John surgery, Frieri has been terrible (12 hits, only three K's in eight innings), and Burnett has been terrible (eight hits in 3.2 innings). Small sample sizes, but something to watch when the real games begin.
16. Zack Greinke's elbow
He started his first major league spring game on Monday since March 1 and said he felt fine, although he did walk three straight batters in the fourth inning. For now, he's scheduled to start the Dodgers' fourth game. "I thought I felt good, but the results didn't imply that the last inning,"
Greinke said
. "It tells me I've got some work to do and build up arm strength. I've got to fine-tune some off-speed stuff. If the arm strength is there, I can make it work. That's the No. 1 most important thing."
15. Jackie Bradley tears it up
A top prospect heading into his junior season at South Carolina in 2011, Bradley had a disappointing season and slipped to the Red Sox with the 40th pick in the draft. That looks like an absolute steal after Bradley had an impressive 2012 in the minors, earning the No. 40 spot on Keith Law's top 100 prospects list heading into spring training.
He's played so well
-- .444/.523/.667, excellent defense -- that he may crack Boston's Opening Day lineup even though he has just 61 games above Class A.
14. Tigers closer remains unsettled
Jim Leyland and GM Dave Dombrowski hoped rookie flamethrower
Bruce Rondon
-- he of the 100-mph fastball -- would make their decision easy, but Rondon has looked like the inexperienced reliever he is. In 11.2 innings, he has 18 punchouts, but he's also allowed 15 hits, two home runs and seven walks. For the Tigers, however, it doesn't matter who is closing in April, but who is closing in October.
13. Shelby Miller wins rotation spot
The Cardinals' pitching depth was on full display this spring. Even with
Chris Carpenter
going down for the season, they still had Miller and fellow youngsters
Trevor Rosenthal
and
Joe Kelly
fighting for the No. 5 spot. In the end,
Mike Matheny
went with the kid with the biggest upside in Miller, sending Rosenthal and Kelly to the bullpen. Miller had a 4.74 ERA at Triple-A but seemed to put everything together late in the season, as he had 53/4 SO/BB ratio in 37.1 innings in August, earning a September cameo in the majors.
12. Hanley Ramirez loves and hates World Baseball Classic
[+] Enlarge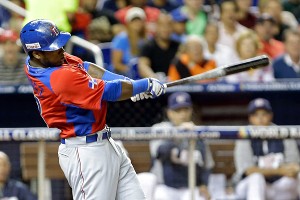 AP Photo/Wilfredo LeeHanley Ramirez is expected to miss eight weeks after injuring his thumb in the World Baseball Classic.
Ramirez is
out about eight weeks
after injuring his thumb, leaving the Dodgers scrambling at shortstop and third base. If you think more playing time for
Juan Uribe
and
Nick Punto
is a good idea, raise your thumb.
11. Julio Teheran dominates
Maybe the most impressive pitcher of the spring -- at least statically -- is Braves rookie right-hander Teheran, who has held opponents to an .082 average while whiffing 35 in 26 innings. He's earned the No. 5 slot in the rotation with an exclamation point. This is where we remind you that it is spring training and that Teheran had a 5.08 ERA in Triple-A last year, causing him to slip from No. 5 to No. 44 on Baseball America's top prospect list. But if he can keep that changeup down in the zone ... watch out.
10. Jon Lester and Clay Buchholz look good ... very good
Yes, yes, yes: Don't read too much into spring training. Did we say that already? But after lackluster performances in 2012, Boston's top two starters have both dominated this spring, with scouting reports to match the statistics. Both have ERAs under 1.00 and Lester has allowed just six hits in 20 innings, Buchholz 11 hits in 18.2 innings.
9. A's infield remains unsettled
That Oakland won 94 games last year was more than a minor miracle, in part because of the offense the A's received from three-quarters of their infield. Their second basemen hit .228/.303/.316 (27th in the majors in OPS), their third basemen hit .227/.280/.391 (27th in OPS) and their shortstops hit .203/.272/.313 (28th in OPS). Japanese free agent
Hiroyuki Nakajima
was signed to play shortstop, but he's looked so tentative in the field and so helpless at the plate that he's likely to start the year at Triple-A Sacramento. That probably means
Jed Lowrie
plays shortstop,
Josh Donaldson
returns to third and
Scott Sizemore
plays second. But
Eric Sogard
has hit .500 and
Adam Rosales
, who is out of options, had played well until landing on the DL with an intercostal strain.
Jemile Weeks
, last year's regular second baseman, has already been sent down. The infield may be unsettled, but the A's should still get more production across the board.
8. Brewers boost rotation
Slotting in
Kyle Lohse
behind
Yovani Gallardo
gives the Brewers what could be a sneaky good rotation along with
Marco Estrada
and some combo of
Chris Narveson
,
Mike Fiers
and hard-throwing rookie
Wily Peralta
. The Brewers led the NL in runs scored in 2012, so if the bullpen doesn't implode again, don't be surprised if the Brewers run with the Reds and Cardinals.
7. Yasiel Puig is Yoenis Cespedes, Bo Jackson and God wrapped into one
No player
stirred up the masses
this spring like Dodgers outfielder Puig, the Cuban signed to a controversial $42 million deal last year. The Dodgers optioned him to Double-A after he hit .526 with three home runs and four steals in 57 at-bats. But it was the smart move: Puig had 11 strikeouts and no walks, suggesting he could be exposed when the pitchers start trying harder.
6. Mike Trout is fat
And it doesn't matter. His spring training numbers (.373, more walks than strikeouts) suggest an encore performance is in order. And he
still makes this look easy
.
5. Bryce Harper will win an MVP Award some day ... maybe in 2013
IT'S SPRING TRAINING. IT DOESN'T MEAN ANYTHING. NOTHING. DON'T GET SO EXCITED, SCHOENFIELD. I know, I know. Still, Harper is hitting .476, with three home runs and five steals. Can you say 30/30 and MVP candidate at age 20?
4. Aroldis Chapman goes back to the pen
Maybe he was going to be
Randy Johnson
2.0. Now we'll never know. Hey, if Chapman didn't
want
to start, what option did the Reds really have?
3. Tim Lincecum cuts hair, doesn't perform heroic feats
Lincecum went for the reverse Samson but it hasn't rejuvenated his fastball. He's allowed 17 hits and seven walks in 10.2 "A" game innings and the reports are that he looks like the Lincecum of last year, still fighting command of the fastball. The Giants survived his rocky 2012 (10-15, 5.18 ERA), but the NL West may be a lot tougher in 2013.
2. Roy Halladay is human
Of even bigger concern may be Halladay's struggles in Phillies camp. He can't crack 90 with his fastball and recently pitched in a minor league game and retired just seven of the 18 batters he faced. Even for great pitchers,
the end can sometimes come suddenly
.
1. Yankees willingly trade for Vernon Wells
That pretty much sums up the Yankees' spring.
March, 26, 2013
3/26/13
3:57
PM ET
If you're not listening to Keith Law's podcast, Behind the Dish, you should be! I joined him on
today's show

and we discussed Kyle Lohse's deal with the Brewers, the state of the Yankees, what to do with youngsters lighting it up in spring training like Jackie Bradley Jr. and Yasiel Puig and how teams could be more creative with their rosters.
Keith was also joined by Andrew Baggarly, who covers the Giants for CSN Bay Area. They discussed one of the season's most important players in Tim Lincecum and Brandon Belt's big spring. Check it out!