SweetSpot:

Jackie Robinson
January, 31, 2014
Jan 31
3:06
PM ET
Is Jan. 31 the greatest birth date in major league history? We have Jackie Robinson, Ernie Banks and Nolan Ryan -- three all-timers, three legends. There are eight other dates with three Hall of Fame players -- and one with four -- but no other trio can match up with Jackie, Ernie and Nolan. You only need first names for those guys.
The trouble with calling Jan. 31 the greatest birth date ever is that there isn't much behind our three Hall of Famers. There are two other All-Stars, pitchers
Josh Johnson
and Hank Aguirre, a lefty who led the AL in ERA in 1962 and won 75 games. After that? George Burns was a first baseman with five different American League teams from 1914 to 1929. A good player (34.2 career WAR), and he even won the 1926 AL MVP Award. The rules were different then, as previous winners were ineligible, so no Babe Ruth. Burns hit .358 and drove in 115 runs although with just four home runs. The Indians finished three games behind the first-place Yankees so that helped him in the voting.
But you know who's fourth on the games played list for Jan. 31 birthday boys?
Yuniesky Betancourt
. After that is 1970s catcher Fred Kendall, father of Jason. Ryan is seventh, and he was a pitcher. There hasn't been even one middling outfielder born on this date. I'm not sure if you fielded teams for every calendar date that the Jan. 31 team would be near the top, but I haven't done the research to say that with any confidence. I do like the double-play combo, however.
Since you know all about Robinson, Banks and Ryan, let's write about the No. 6 guy in games played born on Jan. 31.
Bob "Death to Flying Things" Ferguson: Born 1845
Yes, that really was his nickname, one that certainly qualifies as one of the most creative in major league history. You'd think he was an outfielder, but he was primarily a third baseman (although he played many positions earlier in his career), so Death to Flying Things must have been pretty nifty at snaring line drives -- particularly impressive since it's believed he never used a glove.
Born in Brooklyn in 1845, Ferguson was 26 when the National Association, the first professional league, was formed in 1871. In "The New Bill James Historical Abstract," James writes that "Ferguson was one of the best players in the nation for many years before the major leagues were organized. James quotes an 1871 article in the New York Herald Tribune:
Ferguson, captain of the Atlantic nine, was formerly a quiet hard working member of the nine but since he has been crowned with a little brief authority, he lords over his men in an insultingly demonstrative way that cannot fail to wound the feelings of the nine, make them sulky and indifferent and act against the interest and success of the club.
I'm not sure about the date of that piece. Ferguson was the player-manager for the New York Mutuals in 1871 and then returned to the Brooklyn Atlantics in 1872, 1873 and 1874, so I'm not sure if the article is referring to Ferguson's time with the Mutuals or Atlantics. Anyway, he moved around: Hartford for two years (the Dark Blues were an inaugural member of the National League in 1876), Brooklyn in 1877 when the franchise moved, Chicago in 1878, Troy from 1879 to 1882, Philadelphia in 1883 and then Pittsburgh of the American Association in 1884. That ended his days as a player-manager and he would manage the New York Metropolitans of the AA in 1886 and 1887. Ferguson's teams never finished higher than third place and his career winning percentage was .447, so maybe his insultingly demonstrative ways did have a negative influence on his clubs.
Ferguson's biggest claim to fame is that he was apparently the first batter to switch-hit, or at least the first on record. He did this in 1870, in a famous game between the Cincinnati Red Stockings and the Atlantics in Brooklyn, before an estimated crowd of 20,000. The game went extra innings and Ferguson apparently switched to the left side so he could avoid hitting the ball to Cincinnati shortstop George Wright. Ferguson's grounder went under the first baseman's glove to tie the game and he came all the around to score the winning run when the Red Stockings threw the ball away. It was Cincinnati's first defeat since 1868 and Ferguson was the hero.
It's not known how often Ferguson would switch-hit; he would apparently use it as a strategic initiative rather than to get a platoon advantage. His statistical record in the National Association and then the National League suggests a good player, but not a great one. He had little power (one career home run), even for an era when nobody hit home runs, and was a .265 career hitter. He did hit .351 for Chicago in 1878 and Baseball-Reference rates Ferguson as the second-best position player in the National League that year.
Why did he move around so much?
This quote
from an article on 19th-century players perhaps sums it up: "It was his character and unquestioned honesty during a period when games were often decided by gamblers which made him different. His bad temper, stubbornness and honesty were traits that caused him to be disliked."
Indeed. From the
excellent SABR bio
of Ferguson:
Sam Crane wrote of Ferguson, "Turmoil was his middle name, and if he wasn't mixed up prominently in a scrap of some kind nearly every day, he would imagine he had not been of any use to the baseball fraternity and the community in general." The Sporting News put it this way: "Ferguson had few friends among the players. He was a man of too blunt ways to cultivate friendships of many and he courted the ill rather than the good will of his fellow men." A striking example of this could be boldly seen on his very person. With Hartford, he wore a white belt with the words "I AM CAPTAIN" in capital letters just in case someone was unsure of who was in charge. The Brooklyn Eagle exclaimed, "Ferguson is the sternest manager in the country." Naturally, this tended to alienate the other men on the field. The New York Clipper took it a step further: "He is a bully who most players are afraid of and consequently none respect."
By the way, that article points out something very interesting. Ferguson was apparently shifting his defenses against pull hitters, at least more than other managers of the day. "Many years' active service on the ball field has given Ferguson an excellent opportunity for studying batsmen, and he has not failed to profit by it," wrote the Louisville Courier-Journal. "No nine in the country last season excelled the Hartfords in fielding, and Ferguson was at the bottom of it all." Against some hitters, Ferguson would play his third baseman in the shortstop's position. Eat your heart out, Joe Maddon.
In his spare time, Ferguson umpired games and served as one of the initial directors of the National League. After his managing days, he continued to umpire for a few years. He collapsed in his Brooklyn home at the age of 49 in 1894 and died a few hours later. A lifelong bachelor, he was a smoker; the likely cause of death was a stroke, aneurysm or heart failure.
This is just a brief synopsis of one baseball's most prominent figures from the 19th century. I urge you to read Brian McKenna's in-depth essay for more details on one of baseball's pioneers.
April, 15, 2013
4/15/13
2:10
PM ET
In the movie "42" (spoiler alert) there is a key scene when Jackie Robinson is being heckled by fans in Cincinnati. Shortstop Pee Wee Reese, from nearby Louisville, goes over to Robinson and puts his arm around him. The event has become a principal moment of the Robinson story -- a man from the south showing support for Robinson. There is even a statue at the Brooklyn Cyclones' home park commemorating the event.
But did it really happen? Brian Cronin investigates and says
history is a little murky on the subject
.
April, 12, 2013
4/12/13
8:20
PM ET
The new movie "42" about Jackie Robinson opens up Friday night. I haven't seen it yet but expect I'll go watch it at some point this weekend. Jerry Crasnick has a
piece on director Brian Helgeland's two-year odyssey
to make the movie and Jerry, Jim Caple and Jayson Stark
review the movie here
.
Allen Barra has an
excellent take on the movie here
-- not only discussing the historical accuracy of the movie, in particular the scene when Pee Wee Reese puts his arm around Robinson when he was being heckled in Cincinnati (did that moment really happen), but the sad early death of Robinson at 53. Allen concludes:
Slowly during the 1950s and '60s, in fact by the time [Branch] Rickey died in 1965, baseball had begun to disappear from the inner cities, and a new generation of black youth became more enamored with professional football and basketball. The Brooklyn Dodgers left for Los Angeles in 1958, and it took 64 years for another professional team to come to Brooklyn, the NBA's Nets.

Black and Latino kids, and white ones for that matter, see the statue of Jackie Robinson and Pee Wee Reese on Coney Island's Surf Avenue without any knowledge of who the two men were and what their connection could possibly be to their own lives. Whatever its shortcomings, let's hope "42" enlightens them.
On the day of the movie's opening, meanwhile, Andy Martino of the New York Daily News has a very interesting
interview with Phillies shortstop Jimmy Rollins
on race and baseball. When asked about the declining number of African-Americans in the majors, Rollins points out that after he won the MVP Award in 2007 he felt he wasn't marketed. He suggests the new committee to study diversity in the game probably won't do much (he was on a similar committee several years ago). But this part was probably the most honest assessment of African-Americans in baseball:
Andy Martino: This is asked every year around this time, but I'll ask again: Why so few African-Americans in the sport?

Jimmy Rollins: There are a number of factors. First of all, it starts at home. If you're growing up in single-parent homes, it makes it that much tougher to go play baseball. Baseball is a game usually introduced by the father to the son, or to the daughter. But if you only have one parent, who has to work, you could have love for the game, but you just don't have time for it. And a kid can't play baseball by himself.

That would probably be number one. But for the kids who do grow up with both parents, they have the choice, and baseball is not a glamor sport. You don't see high school baseball teams on TV. You don't see college baseball games on TV. They did a good job with televising the draft, for kids that are interested in baseball and already playing, but that is not going to make kids go play.

You get drafted, and you go to the jungle. The other sports, you get drafted and you're going to the league the next year. In baseball, there is more service time. So a lot of things that aren't sexy about baseball are contributing factors.
However, as Joe Sheehan wrote the other day in his newsletter, "Robinson didn't just pave the way for
Torii Hunter
and
Curtis Granderson
. He paved the way for
Adrian Beltre
and
Felix Hernandez
and
Mariano Rivera
. He paved the way for any player with skin formerly defined as "too dark", no matter what their national or cultural heritage. To use every April, every Jackie Robinson Day, to define Robinson's legacy only in terms of African-Americans is hopelessly limiting."
As Joe points out, African-Americans make up 13.1 percent of the U.S. population and 10.8 percent of the American-born major leaguers. MLB thinks this is a problem, but then enacts a strict bonus cap on the amateur draft -- a decision that is only more likely to push talented multi-sport athletes to play football or basketball in college as signing bonuses decrease.
Unfortunately, "42" is unlikely to suddenly push more kids into playing baseball. It would be nice if it had that kind of cultural impact, but the best we can probably hope for is kids who may not otherwise know the Robinson story to learn about an important American hero.
March, 19, 2013
3/19/13
10:30
AM ET
From the World Of I Can't Believe You Spent The Time Doing This, what would the NCAA tournament bracket look like if we picked the best major leaguer from each school? Well, something like this (* denotes Hall of Famer) ...
REGION 1
Round of 64
Liberty (Sid Bream) over Louisville (Sean Green)
Missouri (Ian Kinsler) over Colorado State (Tippy Martinez)
Oregon (Joe Gordon*) over Oklahoma State (Robin Ventura)
Saint Louis (Gene Robertson) over New Mexico State (Mark Acre)
Saint Mary's (Harry Hooper*) over Memphis (Dan Uggla)
Michigan State (Robin Roberts*) over Valparaiso (Lloyd McClendon)
Creighton (Bob Gibson*) over Cincinnati (Sandy Koufax*)
Duke (Dick Groat) over Albanay (none)
Round of 32
Missouri (Ian Kinsler) over Liberty (Sid Bream)
Oregon (Joe Gordon) over Saint Louis (Gene Robertson)
Michigan State (Robin Roberts) over Saint Mary's (Harry Hooper)
Creighton (Bob Gibson) over Duke (Dick Groat)
Round of 16
Oregon (Joe Gordon) over Missouri (Ian Kinsler)
Creighton (Bob Gibson) over Michigan State (Robin Roberts)
Regional Final
Creighton (Bob Gibson) over Oregon (Joe Gordon)
REGION 2
Round of 64
Southern (Lou Brock*) over Gonzaga (Jason Bay)
Wichita State (Joe Carter) over Pittsburgh (Doc Medich)
Wisconsin (Addie Joss*) over Mississippi (Don Kessinger)
Boise State (Larry Jackson) over Kansas State (Elden Auker)
Arizona (Kenny Lofton) over Belmont (Jerry Bell)
Harvard (Eddie Grant) over New Mexico (Scott Stickland)
Notre Dame (Ed Reulbach) over Iowa State (Bob Locker)
Ohio State (Frank Howard) over Iona (Dennis Leonard)
Round of 32
Southern (Lou Brock*) over Wichita State (Joe Carter)
Wisconsin (Addie Joss*) over Boise State (Larry Jackson)
Arizona (Kenny Lofton) over Harvard (Eddie Grant)
Ohio State (Frank Howard) over Notre Dame (Ed Reulbach)
Round of 16
Southern (Lou Brock*) over Wisconsin (Addie Joss*)
Arizona (Kenny Lofton) over Ohio State (Frank Howard)
Regional Final
Arizona (Kenny Lofton) over Southern (Lou Brock*)
REGION 3
Round of 64
Kansas (Bob Allison) over Western Kentucky (Duane Kuiper)
North Carolina (B.J. Surhoff) over Villanova (Mickey Vernon)
VCU (Brandon Inge) over Akron (Mike Birkbeck)
Michigan (Barry Larkin*) over South Dakota State (Vean Gregg)
UCLA (Jackie Robinson*) over Minnesota (Dave Winfield*)
Florida (David Eckstein) over Northwestern State (Brian Lawrence)
San Diego State (Tony Gwynn*) over Oklahoma (Lindy McDaniel)
Georgetown (Doc White) over Florida Gulf (Chris Sale)
Round of 32
Kansas (Bob Allison) over North Carolina (B.J. Surhoff)
Michigan (Barry Larkin*) over VCU (Brandon Inge)
UCLA (Jackie Robinson*) over Florida (David Eckstein)
San Diego State (Tony Gwynn*) over Georgetown (Doc White)
Round of 16
Michigan (Barry Larkin*) over Kansas (Bob Allison)
UCLA (Jackie Robinson*) over San Diego State (Tony Gwynn*)
Regional Final
UCLA (Jackie Robinson*) over Michigan (Barry Larkin*)
REGION 4
Round of 64
Indiana (Ted Kluszewski) over LIU-Brooklyn (Sid Gordon)
North Carolina State (Dan Plesac) over Temple (Bobby Higginson)
California (Jeff Kent) over UNLV (Matt Williams)
Syracuse (Dave Giusti) over Montana (none)
Bucknell (Christy Mathewson*) over Butler (Doug Jones)
Davidson (Fred Anderson) over Marquette (Ralph Shinners)
Illinois (Lou Boudreau*) over Colorado (John Stearns)
Miami (Ryan Braun) over Pacific (Chase Headley)
Round of 32
Indiana (Ted Kluszewski) over North Carolina State (Dan Plesac)
California (Jeff Kent) over Syracuse (Dave Giusti)
Bucknell (Christy Mathewson*) over Davidson (Fred Anderson)
Illinois (Lou Boudreau*) over Miami (Ryan Braun)
Round of 16
California (Jeff Kent) over Indiana (Ted Kluszewski)
Bucknell (Christy Mathewson*) over Illinois (Lou Boudreau*)
Regional Final
Bucknell (Christy Mathewson*) over California (Jeff Kent)
NATIONAL SEMIFINALS
Creighton (Bob Gibson) over Arizona (Kenny Lofton)
UCLA (Jackie Robinson) over Bucknell (Christy Mathewson)
CHAMPIONSHIP
Creighton over UCLA
* * * *
Anyone want to place a big bet on Creighton to win it all?
Wait a minute ... you can't leave it there! Explain some of your picks, pal.
OK, quickly here. Yes, Kenny Lofton was better than Hall of Famer Lou Brock (and Lofton was a point guard at Arizona, so it makes sense to give him a little extra credit as tie-breaker). And I'm taking Jackie Robinson over Christy Mathewson in the semifinals. Why? It's Jackie Robinson! He happened to play basketball as well at UCLA. And Bob Gibson was good enough at hoops to play for a time with the Harlem Globetrotters. Pretty cool that three of the final four guys played college basketball. Maybe Mathewson did as well, back when they still used peach baskets. As for Gibson over Robinson ... well, he was known as one of the greatest big-game pitchers of all time, so I have to take him in a one-game showdown. Plus, this thing isn't real anyway. I'm just making it up as I go along.
Hey, Gibson versus Koufax in the first round? Tough one!
Yeah, tough one. I was going to give the edge to Koufax (he was at Cincinnati for one year, which he attended on a basketball scholarship) since he beat Gibson four of the five times they started against each other (including two 1-0 shutouts), but in the end I went with Gibson since his career was longer. And he played for the Globetrotters.
Didn't Cap Anson and Carl Yastrzemski attend Notre Dame? Why didn't you pick one of them?
To my knowledge, neither actually played baseball there. In fact, Anson actually only attended the prep school boarding school at Notre Dame when he was about 14 or 15. And Yaz did receive a basketball scholarship to Notre Dame but left after a short time to pursue a professional baseball career.
You went with Robinson over Dave Winfield?
Difficult, but at his peak Jackie was more valuable. I could have gone with Paul Molitor to represent Minnesota, but gave the edge to Winfield since he was a basketball star as well, helping lead the Gophers to the 1972 Big Ten Title.
Any other big names you considered?
Hall of Famer Larry Doby briefly attended LIU-Brooklyn to play basketball for legendary coach Clair Bee, but I couldn't find any evidence he played baseball there. I chose Barry Larkin over Charlie Gehringer at Michigan. Gehringer said he never lettered in baseball at Michigan, although I'm not sure if he played at all. Anyway, it's choosing between Hall of Famers, so I went with the guy I know played baseball there.
Robinson over Tony Gwynn? You sure on that one?
Another tough one. Gwynn was an outstanding point guard at San Diego State, getting drafted by the Clippers in the 10th round the same day the Padres drafted him in the third round. Love all the basketball tie-wins here! Anyway, Gwynn chose wisely. You can make the argument for Gywnn, but Robinson's peak value was impressive, with seasons of 9.3, 9.3, 8.1, 7.1, 6.7 and 5.0 WAR. In 10 seasons in the majors, he averaged 5.9 WAR per season. Gwynn's best seasons were 8.3, 6.4, 6.1 and 5.3. Have to give it Robinson.
More hoops tie-ins!
Dick Groat was a two-time basketball All-American at Duke (he played one season in the NBA). ... Frank Howard was two-time All-Big Ten at Ohio State. ... Lou Boudreau was captain of the basketball team at Illinois. ... Robin Roberts attended Michigan State to play basketball and lettered three seasons and only tried out for baseball after his second year of hoops. Legend has it the coach put him at pitcher only because that's where the team needed help. I'm guessing the 95-mph fastball may have helped with that decision.
February, 24, 2013
2/24/13
6:30
PM ET
By
Christina Kahrl
| ESPN.com
It's Oscar night, and I'm sure some significant portion of all y'all will watch them. It might be just be me, but every year it seems like I'm disappointed that there aren't more baseball movies being made, let alone Oscar-worthy baseball movies. A couple of years ago I came up with
a list of baseball topics that would make great movies
over at Baseball Prospectus.
I was, and still am, curious what baseball movies other people would love to see made, but my short list 10-1 was: Jane Leavy's novel
Squeeze Play
, Jim Thorpe's life, the 1890s Orioles,
Give 'Em The Bird: The Semi-True Life and times of the San Diego Chicken
, Roberto Clemente, the cocaine scandals of the '80s, Bill Veeck, Pete Rose, Billy Martin and Jackie Robinson. In the spirit of the occasion, let me know what you think of my initial concepts, and let's hear a few of your own.
March, 5, 2012
3/05/12
1:30
PM ET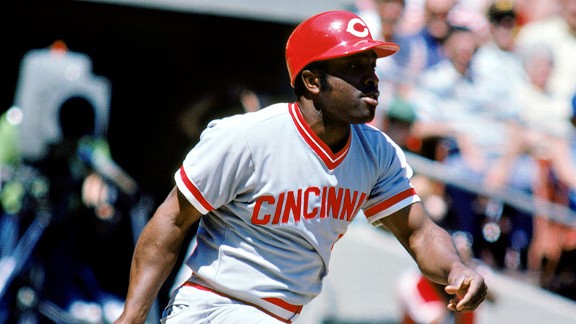 Rich Pilling/Getty ImagesIn the mid-1970s, Joe Morgan was the best all-around player in baseball -- by a large margin.
In 1975, Joe Morgan hit .327 with 17 home runs and 94 RBIs. Those traditional statistics may not seem impressive, but Morgan's season ranks as one of the best in the game's history.
As we begin voting Monday on the
greatest individual season of all time
, consider Morgan's value that season:
He drew 132 walks, giving him a league-leading .466 on-base percentage (the highest figure, by the way, in either league between Mickey Mantle in 1962 and Wade Boggs in 1988).

Because of his ability to get on base, he created a lot of runs --about 145, 17 more than the No. 2 hitter in the league, Greg Luzinski. But he created his runs in an efficient manner. He used up 354 outs; Luzinski, by comparison, used up 443 outs. So Morgan created more runs while using up 89 fewer outs.

He stole 67 bases in 77 attempts. Factor in his speed, and he was one of the best baserunners in the league.

He was an outstanding defensive second baseman, not only winning a Gold Glove but also ranking as the third-best overall defensive player in the National League in 1975, according to Baseball-Reference.com.

He did all this in an era when second basemen usually produced little at the plate. In 1975, National League second basemen hit a collective .267/.330/.353 (BA/OBP/SLG) -- with just 80 home runs. Morgan hit nearly one quarter of all home runs by National League second basemen. In 2011 terms, that would be akin to a second baseman hitting close to 50 home runs.

The Reds won 108 games, Morgan was the near-unanimous MVP winner, and he even drove in the winning run in the ninth inning of Game 7 of the World Series.
Add it up, and you end up with a player who was the best hitter in the league and one of the best defenders and baserunners in his league, and he did so while towering over other players at his position and playing on a championship team.
The wins above replacement statistic attempts to capture all this. In 1975, Morgan's Baseball-Reference WAR was 12.0, the best of his career and easily the best in the National League. During his 1972 to 1976 peak, Morgan rated as the best player in the NL four times, at least acording to Baseball-Reference.
In 1975, Morgan was a full five wins better than Mike Schmidt, an astonishing total. Only 12 times since 1901 has a player recorded a bWAR of at least 4.5 wins higher than the No. 2 position player in his league:
1921 AL: Babe Ruth (14.0) over Ty Cobb/Tris Speaker (6.6)
1924 AL: Babe Ruth (11.9) over Harry Heilmann (6.2)
1956 AL: Mickey Mantle (12.9) over Yogi Berra (7.3)
2002 NL: Barry Bonds (12.2) over Jim Edmonds (7.2)
1975 NL: Joe Morgan (12.0) over Mike Schmidt (7.0)
1924 NL: Rogers Hornsby (13.0) over Frankie Frisch (8.0)
1967 AL: Carl Yastrzemski (12.2) over Al Kaline (7.3)
1946 AL: Ted Williams (11.8) over Johnny Pesky (6.9)
1923 AL: Babe Ruth (14.7) over Harry Heilmann (9.8)
1926 AL: Babe Ruth (12.0) over Goose Goslin (7.2)
1922 NL: Rogers Hornsby (10.7) over Dave Bancroft (5.9)
1948 NL: Stan Musial (11.5) over Johnny Mize (6.9)
For what it's worth, only three of those 12 seasons ended in a World Series title -- Morgan, Mantle and Ruth in 1923.
So maybe Joe Morgan didn't hit 73 home runs or drive in 191 runs or bat .400. But his 1975 season ranks as sleeper candidate for greatest individual season of all time.
* * * *
It wasn't easy picking the 32 best seasons. I had two rules: Only one season per player, so we'd end up with a bracket of 32 different players; and I considered only seasons since 1901 (sorry, Ross Barnes fans).
It was important to get a diverse list of eras as well as positions. I did put a little more emphasis on more recent decades; basically, the quality of the game has improved over time, thus making it more difficult to post seasons with huge WAR totals like Ruth put up. Here is the breakdown by decade:
1900s -- 1
1910s -- 3
1920s -- 3
1930s -- 2
1940s -- 4
1950s -- 3
1960s -- 2
1970s -- 3
1980s -- 3
1990s -- 4
2000s -- 4
And by position:
C -- 2; Johnny Bench, Mike Piazza.
1B -- 3; Lou Gehrig, Jimmie Foxx, Rod Carew.
2B -- 4; Eddie Collins, Rogers Hornsby, Jackie Robinson, Joe Morgan.
3B -- 2; George Brett, Mike Schmidt.
SS -- 5; Honus Wagner, Ernie Banks, Robin Yount, Cal Ripken, Alex Rodriguez.
LF -- 6; Babe Ruth, Ted Williams, Carl Yastrzemski, Rickey Henderson, Barry Bonds, Albert Pujols. (Ruth played left field in 1921, and Pujols primarily played left in 2003.)
CF – 8; Ty Cobb, Tris Speaker, Hack Wilson, Joe DiMaggio, Stan Musial, Mickey Mantle, Willie Mays, Ken Griffey Jr. (Musial started at all three outfield positions in 1948 but played the most in center.)
RF -- 2; Hank Aaron, Sammy Sosa.
So there are our 32 players. I didn't necessarily pick each player's highest WAR season. In some cases, a player's iconic season -- like Ted Williams' .406 year or Hank Aaron's 1957 MVP campaign -- was selected. In some instances, maybe a player had other things in his favor that would help him to potentially fare better in the voting, like a big RBI total. Certainly, WAR is a good baseline to use because it helps us adjust for differences in eras, but it shouldn't be the only factor in determining the better season between two players. Was what Williams accomplished in 1941 more impressive than what Morgan accomplished in 1975? Is Yount being the best hitter in his league while playing shortstop more impressive than what Babe Ruth did in 1921 against an inferior brand of pitching? Maybe you prefer the all-around brilliance of Mays or DiMaggio over the pure hitting dominance of Rogers Hornsby or Lou Gehrig.
Which seasons just missed the cut? There were seven players who had a bWAR season of at least 10.0 who didn't make the bracket -- Lou Boudreau, Jason Giambi, Ron Santo, Adrian Beltre, Home Run Baker, Norm Cash and Matt Kemp. Sorry, guys. (Just noticed there are three third basemen there; too late now to change the final 32, unfortunately.)
So get to the bracket and start voting
. We'll do one round per day this week, culminating in the final matchup on Friday.
Let the debates begin.
Follow David Schoenfield on Twitter @dschoenfield.
April, 30, 2011
4/30/11
11:00
AM ET
By
Jason Rosenberg
| ESPN.com
This past weekend, I visited baseball's Hall of Fame in Cooperstown, New York. This was not my first time there, but it was my first trip with my two sons, now ages 11 and 8. I was curious to see the Hall in a different way, through the eyes of my children.
[+] Enlarge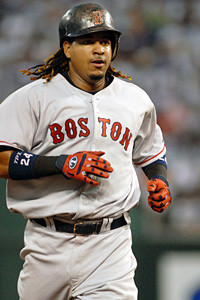 John Rieger/US PresswireA tarred-up helmet from Manny Ramirez is in the Hall of Fame, but the controversial outfielder might never make it.
I left thinking about the official name of the building -- the National Baseball Hall of Fame and Museum. I left realizing that the official name of the building -- the National Baseball Hall of Fame and Museum -- has a very big word in the middle of it that most people seem to ignore: "
and
." Mostly I write about the building from a distance, and when I do, I focus on the first part of the building's name, about who should be admitted into the Hall and who should not. But when I am inside the building, it's the museum part that takes over. I enjoy the plaques, but for me the real interest lies in reliving the moments that first drew me to the game and those that have kept me in its clutches since.
On the other hand, I paused at the museum's display of the hate mail directed at Jackie Robinson and was left slackjawed. The violence expressed in these letters is a part of our history, a tragic part, but a part that needs to be remembered. These were not proud moments for America or for baseball. However, we need to see and remember the good and the bad.
It's wonderful that the Hall of Fame documents the history of baseball, even the worst parts. This is the part of the mission of the Hall that we don't talk much about. We talk about how Pete Rose should or should not be in the Hall of Fame, but Rose already is represented -- in the museum. So is
Manny Ramirez
. So is
Barry Bonds
. Their memorabilia feature prominently in exhibits in the museum, even if their plaques aren't (and won't) be hanging in the Gallery. I was able to point my boys to Rose's jersey in an exhibit and explain to them who he was, what he did on the field and the things he did off the field which keep him otherwise outside this institution.
As I walked through the Hall, I thought about whether this is the best way to remember players who had Hall of Fame-quality careers but whose involvement with performance-enhancing drugs will likely prevent them from being inducted into the Hall. I won't argue here whether this ban is right or wrong; I simply assume that the ban will continue for quite some time. So long as the ban is in place, players like Bonds and Ramirez are represented by the bats they used, the balls they hit, and the helmets they wore. If you want to see Manny's 2004 tarred-up helmet, it's there on display but it doesn't tell Manny's whole story.
I think if we're going to ban the better part of a generation of baseball players from admission to the Hall of Fame, then the Hall should dedicate permanent exhibit space to an explanation of the ban. If it's cheating we mean to condemn, then let's have the Hall devote exhibit space to condemn the cheaters -- of all the cheaters, not just the guys who took drugs, but the guys who bet on baseball and threw baseball games, even the guys who scuffed up the baseball when no one was looking. If we mean to condemn the misuse of prescription and recreational drugs, then let's devote exhibit space to this, too.
It might be that we don't agree on the reasons for the ban, or whether there should be a ban at all. We've said for years that it would take time to develop the perspective necessary to understand the so-called steroids era. Well, we've had time. Let's present all views and let the museum-goers reach their own conclusions.
If we're going to ban the better part of a baseball generation from the Hall, it's going to leave a gaping hole in the Hall's gallery of baseball greats. Perhaps the big names from the Steriod Era will never be elected to the Hall. That doesn't mean their stories and stats and memories should be struck from the baseball consciousness -- we still need to tell their stories. You don't leave a hole in an historic site without an explanation. An exhibit explaining steroids would at least give me a place to take my sons and tell them the story of how baseball was played when I was a young adult. That's a good story, an interesting one, full of ups and downs, with its share of villains and fallen heroes. It's a story worth telling.
Jason Rosenberg is the founder and editor of ESPN's Sweetspot Network NY Yankees affiliate:
It's About The Money
. You can follow him on
Twitter
and his team on
Facebook
. Larry Behrendt also contributed to this article and can also be followed on
Twitter
.
March, 23, 2011
3/23/11
10:06
PM ET
Major League Baseball released its list of the
20 best-selling jerseys
from the past season.
Derek Jeter
ranked No. 1 ahead of
Joe Mauer
and
Roy Halladay
, mildly surprising since you'd think most Yankee fans would own a Jeter jersey by now.
Anyway, it got me curious. Which jerseys would have been the top-sellers of all time? You know, if replica uniforms had actually been sold back in the old days and merchandise sales tracked and the old ballparks with wooden grandstands had official team stores.
1. Babe Ruth: He wasn't just big in New York, but one of the most famous Americans of his time, along with Charles Lindbergh, Al Capone and
Jamie Moyer
.
2. Stan Musial: I think you'd be hard-pressed to find an athlete more beloved in his hometown than Musial. Played for the Cardinals for 22 classy seasons.
3. Roberto Clemente: Popular in Pittsburgh, but as one of the first Latino stars in the game, his reach would have extended across the nation.
4. Willie Mays: Maybe the greatest ballplayer of all time. When I was in second grade, my teacher gave me an old, wrinkled poster of Mays that I kept hanging in my bedroom for years. I would have loved a jersey.
5. Mickey Mantle: More popular than DiMaggio? I think so.
6. George Brett: He was Royals baseball for 21 seasons. Cool, clutch and every kid, teenager and adult in a 500-mile radius wanted to be him.
7. Jackie Robinson: My father-in-law grew up a Brooklyn Dodgers fan and he's told me there's nothing he's seen like Robinson dancing on the bases, trying to rattle the opposing pitcher.
8. Christy Mathewson: In a time when ballplayers were considered ruffians and hooligans, Mathewson was a college-educated star for the New York Giants and the most admired and respected player in the game.
9.
Cal Ripken
: More than Jeter, I think his appeal spread outside his home city.
10. Carl Yastrzemski: Yes, ahead of Ted Williams, who notoriously feuded with Red Sox fans during his playing days. Yaz carried the Sox to the 1967 pennant, one of the greatest individual seasons ever, and then played 16 more seasons in Fenway.
Disagree? Let's hear your thoughts below.
Follow David Schoenfield on Twitter at @dschoenfield. Follow the SweetSpot blog at @espn_sweet_spot.
February, 13, 2011
2/13/11
10:00
AM ET
February is Black History Month. It's a great opportunity for Americans of all racial backgrounds to take a moment to reflect on our history through the lens of race. It can be a time for African Americans to reflect on the people in their history who have had significant impact. It can help inspire another generation to continue breaking ground and not just accept the status quo. It can be a time for white Americans to learn about a history that for the most part has been glossed over or ignored as "their" story. And it can be a time for us all to look back together and realize that we've come a long way.
[+] Enlarge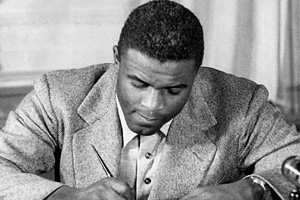 STR/AFP/Getty ImagesThis undated file photo shows Jackie Robinson as he signs a then-record contract to play for the Brooklyn Dodgers in New York.
The history of blacks in baseball is in many ways the story of baseball itself. The story of the Negro Leagues is finally being told thanks to Buck O'Neil and the Negro League Baseball Museum in Kansas City. The story of Jackie Robinson and the integration of baseball is one which everyone should be familiar. He has rightly become an iconic figure in baseball. His number 42 has been retired throughout all of baseball. No other player carries that distinction. He earned it.
The other day I learned something new about Jackie Robinson and his legacy. In 1987 the American and National League Rookie of the Year Awards were renamed the Jackie Robinson Awards to honor the 40th anniversary of Robinson breaking the color barrier. A fact, it seems, that is almost universally overlooked.
Since 1956, the best pitcher in each league has been given the Cy Young award. The award and the man for whom it's named have become synonymous. I've never heard anyone refer to it as the American or National League Pitcher of the Year Award. It's the Cy Young, always has been and always will be. However, I've never heard the Rookie of the Year award referred to as the Jackie Robinson Award. Not once.
If you visit the
list of the annual awards
on the official site of Major League Baseball, you'll find the Cy Young, Roberto Clemente and Hank Aaron awards. And the Jackie Robinson Award? Well, it's there -- listed under "Rookie of the Year."
It's not just the MLB site which ignores the name. I searched as many internet media outlets as I could find that published the 2010 Jackie Robinson Award winners,
Neftali Feliz
and
Buster Posey
--
ESPN
,
USA Today
,
Sporting News
,
Sports Illustrated
,
Reuters
,
New York Daily News
,
Dallas Morning News
,
The Washington Post
and
The New York Times
. Not one of them mentioned Jackie Robinson other than the fact that he was the first winner of the National League award. The only article I could find that referred to the Jackie Robinson Award came from the
Toronto Sun
. I'm going to assume that there are others that I just wasn't able to find.
Renaming the Rookie of the Year award the Jackie Robinson Award in 1987 was right for so many reasons. He endured a season that's unimaginable to anybody playing today, and he did so with humility and grace. He didn't just survive the season. He excelled to the point that the writers named him the Rookie of the Year and voted him fifth for the Most Valuable Player Award.
Awards are lasting tributes to legends of the game. The Cy Young award, the Lombardi Trophy, the Heisman Trophy … they are honors bestowed upon people who deserve recognition. They're named for people who leave a lasting legacy in their sport and have stories worth telling. There is no person whose story is more worthy than that of Jackie Robinson.
It's important to keep telling the story. My son is not quite three years old, but someday he'll ask me about the retired numbers on top of the Royals Hall of Fame at Kauffman Stadium. I will tell him about the time George Brett nearly hit .400, the triumph and tragedy of Dick Howser and Frank White's eight Gold Glove Awards.
I'll also tell him why Jackie Robinson's number is retired even though he was never a Royal. I'll tell him about the years that Robinson spent playing for the Kansas City Monarchs. I'll tell him about Branch Rickey giving Robinson the opportunity. I'll tell him about the death threats. I hope when that time comes, he'll find the story even more unfathomable than I did, and he'll only know the Jackie Robinson Awards. Rookie of the year, what's that?
Nick Scott is the host of the Broken Bat Single Royals podcast and writes about the Royals at Royals Authority. You can follow him on Twitter @brokenbatsingle or on Facebook.
August, 20, 2010
8/20/10
12:09
PM ET
It's always a bit disorienting when "outsiders" enter
our insulated little world
...
Production crew members from PBS' "History Detectives" were in Cooperstown this summer to try to uncover another mystery.

For this investigation, one of the hosts, Tukufu Zuberi, visited the National Baseball Hall of Fame to try to clear up one of baseball's uncertainties: Was Pittsburgh the site of integrated Major League Baseball before Jackie Robinson became a Brooklyn Dodger?

The answer will be revealed on the show at 9 p.m. Monday.

While in Cooperstown the crew interviewed National Baseball Hall of Fame researchers and baseball fan Jason Mishelow from Milwaukee. Mishelow said he found a scorecard from a game between two unusual teams: The Majors' All Stars and Robinson's All Stars. Robinson's team was made up of both black and white players, yet this game appears to have occurred before Robinson became the first black major leaguer.

Could this game have been a test to find out how America would react to integrated baseball? To find out the answer, PBS said to tune in to the PBS show "History Detectives," which is in its eighth season.
Umm, there's not much of a mystery here.
I've done a fair bit of research regarding barnstorming in October 1946, and I've found references to five games games pitting Jackie Robinson's All-Stars again Honus Wagner's Major League Stars.
Wagner's Stars didn't actually have many (if any) stars. Robinson's All-Stars, on the other hand, included four future Hall of Famers: Monte Irvin, Roy Campanella, Larry Doby, and of course Robinson himself. But -- and here's what makes this team more than just a little interesting -- there were at least three white players on the team, too. One of them, pitcher Mike Nozinski, had been Campanella's teammate on the Nashua, New Hampshire club (New England League) that season. The other two, Al Campanis and Marvelous Marvin Rackley, had been Jackie Robinson's teammates with Montreal (International League).
According to contemporary reports in The Sporting News, Robinson's All-Stars played Wagner's All-Stars in Cincinnati, Youngstown, Pittsburgh, Chicago, and Cleveland. I've not been able to find further proof of the games in Cincinnati and Cleveland, but I do have box scores for the other three games.
This is a story that's never really been told. I've combed through every book that's been written about Jackie Robinson. There are a lot of them, and somehow not one mentions this quick barnstorming tour. But the historical significance seems to me negligble. Robinson did lead an integrated team through a few Midwestern cities, where integrated teams -- integrated teams featuring top talent, anyway -- probably hadn't been seen before.
But by the fall of 1946, integrated teams were nothing new. For the previous five months, Nashua and Montreal had been playing integrated baseball throughout the Northeast. The only thing different about Jackie Robinson's All-Stars was that this time, the white players were in the minority. And it's a real stretch to suggest that those games constituted "Major League Baseball."
Still, I'm looking forward to seeing the show.
April, 15, 2009
4/15/09
6:32
PM ET
Posted by ESPN's Claire Smith
NEW YORK -- Mike Pelfrey may miss a start Sunday after being diagnosed with tendinitis in his right forearm.
"We have to take our time with him and make sure we do the right thing by him," Mets manager Jerry Manuel said. "We'll do a whole thorough thing with him to see if it's worth him missing a start or not."

The tendinitis was discovered after Pelfrey underwent an MRI. Monday, Manuel expressed concern about the righthander after Pelfrey's pitches appeared to lack life in a five-inning, five-run start against the San Diego Padres at Citi Field.

"The good news is that there really wasn't anything structural," said Manuel.

Manuel on using Sheffield
Manuel had yet to hand in the first official lineup card listing Gary Sheffield in right field, yet he spent part of the afternoon explaining just what situations would lead him to remove the former Tigers designated hitter from games for defensive purposes.

Manuel, striking a serious note, said that it would certainly depend on game situations. Then, laughing, he said, "if it's 4-4 and he's driven in all four runs, he'll be in there."

LeFebvre grateful to Robinson
Padres hitting instructor Jim LeFebvre is one of the many second basemen to play the position for the Dodgers since Jackie Robinson. He may be one of the few who can claim to owe the Hall of Famer a heartfelt thank you for a personal gesture long gone by.

"I was a rookie in 1965 and I committed an error to cost us a game -- Koufax versus Tug McGraw, here at Shea Stadium," said LeFebvre. "It cost us the game and I felt terrible. I went back to the hotel as down as I could be and had a restless night.

"Then, at 10 in the morning, the phone rang. It was Jackie Robinson. I'd never met the man, but he wanted to call and tell me to hang in there. 'You're in the major leagues, you're a Dodger, you have the talent to be here, you're a good player,'" he said. "He told me he enjoyed watching me play, and not to get my head down.

"That was it. I never got to meet him, and never spoke with him again. But, boy, what class. I went to the ballpark with a little different attitude the next day. I never forgot what he did that day."
Claire Smith is a news editor at ESPN. She covered baseball for 27 years at the Hartford Courant, the New York Times and the Philadelphia Inquirer.
April, 15, 2009
4/15/09
3:18
PM ET
Posted by ESPN's Claire Smith
NEW YORK -- The Jackie Robinson Rotunda, named for the Brooklyn Dodgers' Hall of Fame second baseman who broke baseball's color barrier 62 years ago today, was dedicated during an emotional ceremony at the New York Mets' newly opened Citi Field.

"I am speechless," Rachel Robinson, widow of the late Dodgers great, said to an audience gathered in the Ebbets Field-inspired structure that serves as the entry way at the ballpark in Queens. "I am so excited and so thrilled about being in this rotunda, to celebrate its opening, and to celebrate my husband."

Rachel Robinson, joined by Mets owner Fred Wilpon and a host of public figures, including New York Gov. David Paterson and U.S. Sen. Charles Schumer, stood on a podium beneath a facade on which one of Jackie Robinson's most famous credos was chiseled: "Integrity: A life is not important except in the impact it has on other lives."
It is one of many Jackie Robinson quotes on display in Citi Field, designed to remind fans of Robinson's contributions to baseball and the civil rights movement.

"You just have to remember the times," said Schumer. "The first man to break through was Jack Roosevelt Robinson."
Schumer added that Robinson's ability to endure and succeed in integrating baseball was due to his quiet dignity and strength.

What especially pleased Rachel Robinson was that unlike so many prior salutes to her late husband, what stands on display at Citi Field is anything but temporary.

"This is not an exhibit," she said. "This is here to stay. I love the permanence of it."
Claire Smith is a news editor at ESPN. She covered baseball for 27 years at the Hartford Courant, the New York Times and the Philadelphia Inquirer.
April, 14, 2009
4/14/09
4:10
PM ET
Well, it's now completely official: Major League Baseball has
co-opted Jackie Robinson
...
By request of Commissioner Bud Selig, as Major League Baseball celebrates the 62nd anniversary of Jackie Robinson breaking its color barrier on Wednesday, all big league players and uniformed personnel have been asked to wear the late Hall of Famer's famous No. 42 on the field when the 30 teams celebrate the occasion.

The past two years, as the momentum to wear Robinson's number steamrolled through Major League clubhouses, Selig asked, but the act of wearing it was voluntary. Not so this year.

"April 15, 1947, is a day that resonates with history throughout Major League Baseball," Selig said. "With all Major League players, coaches and umpires wearing Jackie's No. 42, we hope to demonstrate the magnitude of his impact on the game of baseball. Major League Baseball will never forget the contributions that Jackie made both on and off the field."

--snip--

The idea of "un-retiring" Robinson's number for a day belongs to Ken Griffey Jr., who is back with the Mariners this season. Two years ago, Griffey personally petitioned the Commissioner for the opportunity to wear it. He didn't know what he was starting.

"It's just my way of giving that man his due respect," Griffey said at the time. "I just called Bud and asked him if I could do it. He made a couple of phone calls and said, 'Yeah.' We had a good conversation. It was about me wearing it on that day, and only that day."

Selig enjoyed the feel of it so much he now wants to blanket big league fields with all those No. 42s dancing across America.

"I think it's great," the Commissioner said. "Just their understanding of history and what that man did for so many people is so important. Believe me, it makes me very happy."
Never underestimate the ability of the commissioner to take a pretty sweet idea and just drive it into the ground until it's dead.
Maybe that's too harsh. But every single player in every single game, wearing the same number?
You know what really bothers me about all this? Major League Baseball is apparently bound and determined to turn Jackie Robinson from a man -- a man with all his glorious virtues and oh-so-human flaws -- into some sort of god, and gods are incredibly less interesting than men. Gods are infallible. Or if they're not, it's still considered poor form to discuss their fallibility. Which makes us all the poorer.