December, 3, 2012
12/03/12
6:57
PM ET
This isn't meant to completely knock the veterans committee, as it was just fulfilling an assigned task by judging Hall of Fame candidates on the latest Pre-Integration ballot.
Look, I'm sure Deacon White, the
newest member of the Hall of Fame
, was a fine player. He led the National Association in RBIs back in 1873. What was the National Association? It presaged the National League, so is the oldest professional league, although it was more a loose association of clubs than an organized league. In 1873, three of the nine teams didn't complete the season (the Baltimore Marylands lasted all of six games while the Elizabeth Resolutes went 2-21 before apparently folding). White also led the National League in RBIs its first two years of existence in 1876 and 1877 and led the circuit in batting average in 1877.
So he was a good player and by all accounts a fine gentleman, which I suppose separates him from those evil steroids users -- you know, like fellow 19th century Hall of Famer Pud Galvin, who used something called Brown-Séquard elixir, which contained testosterone extracted from animal testicles.
Wait, sorry, I'm getting off tangent there. But here are two lists, Hall of Fame players who made their mark primarily in the 19th century and Hall of Famers who made their mark primarily in the 1970 and 1980s:
You see the problem? There are nearly as many players from the 19th century as the 1970s and 1980s, two periods of roughly the same time span. Baseball in the late 1800s was, of course, in its infancy, still a developing game with evolving rules changes. The modern pitching distance wasn't even created until 1893, for example. So in an era of chaotic player movement, franchise movement and fewer teams (from 1892 to 1899, there were just 12 professional teams) we have as many Hall of Famers as an era with 26 teams and a modern, developed game.
I'm sure White's descendants are happy today, but electing him only serves to devalue the Hall of Fame. It's time to put an end to electing players nobody alive has any first-hand knowledge of seeing. Early baseball is well represented in the Hall of Fame. It's time to move on.
Maybe you're thinking that the veterans committee will get around to eventually electing more recent players. True, next year the group will vote again on the Expansion Era ballot (1973 and later), just like it did in 2010 -- currently, every third year the Veterans Committee votes on the Expansion Era, Golden Era (1947-1972) and Pre-Integration Era (1871-1946). In 2010, the Veterans Committee elected ... Pat Gillick, an executive. So while more modern players are held to higher standards -- both by the BBWAA and the Veterans Committee -- the Hall of Fame keeps electing pre-World War II players or owners or umpires or executives.
Electing White also stands in contrast to what will likely happen when the BBWAA vote is announced in early January, when there is the possibility nobody gets elected, and certainly those with the PED stain like Barry Bonds, Roger Clemens and others won't get in.
As for the other two new Hall members, Hank O'Day was apparently one of the great early umpires; frankly, he probably should have been elected long ago. Jacob Ruppert? Well, he owned the Yankees and purchased Babe Ruth from the Red Sox and helped build a baseball dynasty. And was also part of an era that excluded African-Americans from playing in the major leagues. But I guess
that
revolting part of baseball history is OK, just a product of the times.
November, 29, 2012
11/29/12
8:00
PM ET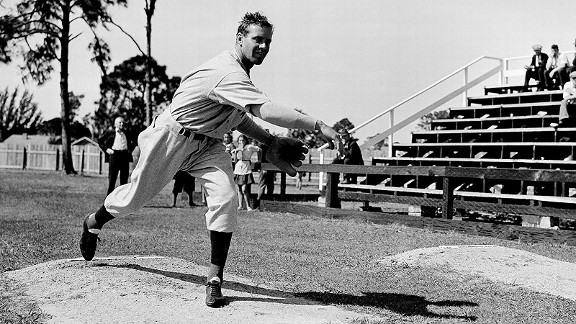 AP Photo/John LindsayPitcher Wes Ferrell is one of 10 candidates the Veteran's Committee will consider.
Guess what ... there's more than just the BBWAA ballot to discuss when it comes to the Hall of Fame. Next week, the Veterans Committee will meet to discuss 10 candidates from its Pre-Integration Era ballot. Here's a look at the 10 names on this ballot.
Bill Dahlen (SS, 1891-1911)
He probably has the best statistical argument of the players on the ballot as he collected nearly 2,500 hits, drove in over 1,200 runs and hit .272, good offensive numbers for his era, especially for a shortstop. He had some power (ranked in the top 10 in his league three times in slugging percentage, five times in home runs and six times in doubles), but where he really earned his value was in the field. John McGraw acquired him for the Giants in 1904 and later wrote, "That, by the way, I consider the most successful deal I ever made. It gave me just what I wanted -- a great defensive shortstop. There were mighty few better than Dahlen."
The numbers back up his reputation. Dahlen's career WAR on Baseball-Reference.com is 70.9, in the same territory as other Hall of Fame shortstops like Robin Yount (72.4), Bobby Wallace (71.6), Arky Vaughan (70.5), Luke Appling (69.9) and Barry Larkin (67.1). Early in his career, Bill James writes, "Dahlen was a high-living, hard-drinking player with a great fondness for horse races." With the Giants, Dahlen stopped drinking and remained a good player into his late 30s.
The question: Do we need another Hall of Fame shortstop from this era? We already have Honus Wagner (1897-1917), George Davis (1890-1909), Wallace (1894-1918), Joe Tinker (1902-1916) and Hughie Jennings (1891-1903). My first test is always, "Is he the best eligible candidate at his position?" In Dahlen's case, the answer is no, as Alan Trammell continues to get shafted in BBWAA voting.
Wes Ferrell (P, 1927-1941)
Ferrell's raw numbers don't scream Hall of Famer -- 193-128, 4.04 ERA -- but once you dig deeper you realize why he's on the ballot. He won 20 games six times, include 25 for the Red Sox in 1935, when he finished second in the MVP voting. He finished in the top 10 in his league seven times in ERA and ranks as the second-best pitcher in the AL in four different seasons via Baseball-Reference's WAR statistic. From 1929 through 1937, pitching for the Indians and Red Sox -- Ferrell averaged a 19-13 record, 3.86 ERA and 266 innings, twice topping 300. He was also one of the best-hitting pitchers of all time, a career .280 hitter with 38 home runs. In 1935, he hit .347 with seven home runs and 32 RBIs.
But that ERA? Well, it's actually better than you realize. Ferrell pitched in the highest-scoring era of modern baseball, the American League of the 1930s. His ERA+ of 117 is right in line with pitchers like Bert Blyleven (118), Gaylord Perry (117), Steve Carlton (115) and Fergie Jenkins (115).
The big strike against Ferrell is career longevity, as he had just that nine-year window of excellence. Bone chips ended his effectiveness on the mound and he later spent several seasons as a player-manager in the minors (hitting .425 with 24 home runs in 1948 for the Marion Marauders of the Class D Western Carolina League). Does he deserve to join brother Rick in Cooperstown? He's much more deserving than his brother (one of the weakest Hall of Fame members), and while his seven-year peak is excellent, I always get back to this: Is he the best qualified candidate at his position not in the Hall? In the end, I'm not sure what separates Ferrell from Billy Pierce or Tommy Bridges or Bret Saberhagen or Rick Reuschel or David Cone or many others.
Tony Mullane (P, 1881-1894)
Known as the "Apollo of the Box" for his handsome looks, the
Cincinnati Reds
began scheduling the now-defunct practice of Ladies Days whenever Mullane pitched. So maybe he belongs in the Nickname Hall of Fame. But I can't really advocate a guy from the 1880s with marginal credentials whose best season came in the splintered year of 1884 when there were three major leagues. I mean, he played so long ago he didn't even wear a glove.
Bucky Walters (P, 1931-1950)
Like Ferrell, Walters was a pitcher with a short career (198-160, 3.30 ERA) but high peak. He led the NL in wins and ERA with the Reds in 1939 and 1940, winning MVP honors in '39 with a 27-11 record as the Reds won the pennant. Walters actually reached the majors as a third baseman with the Braves, but the Phillies converted him full-time to pitching in 1935. He threw a hard sinking fastball and slider, but the Phillies were awful in those years (Walters went 11-21 for a 100-loss Phillies team in 1936) and in their infinite wisdom traded him to the Reds. Walters' career WAR just from pitching is 44.3, 9.9 earned during the war years of 1943-1945. His 1939-1941 peak was terrific, but he's a notch below Ferrell for me.
Marty Marion (SS, 1940-1953)
Nicknamed "The Octopus" for his long arms, Marion was a thin, 6-foot-2 shortstop who was a key member of the Cardinals' powerhouse teams of the 1940s. He played in four World Series and won the NL MVP Award in 1944, one of the few MVPs ever to win primarily based on his defensive reputation (he hit .267 with 67 RBIs that year). Marion's best years came during World War II, and while a terrific defender, he had a short career (he managed the Cardinals in 1951 and then joined the Browns as player/manager in 1952-53) and never offered much at the plate. Well below general Hall of Fame standards.
Deacon White (3B, C, OF, 1871-1890)
If the 19th century is your thing, White is a pretty strong candidate. A well-respected player (Bill James called him the most admirable star of the 1870s), White earned his nickname for going to church, something that apparently set him apart from most ballplayers of his time. A catcher early in his career he later moved to third base. He won two batting titles and rates as the best player in the National League in 1877, which I suppose is something.
Jacob Ruppert (Owner of New York Yankees, 1915-1939)
Originally co-owner of the team with Col. Cap Huston, Ruppert bought out his partner in 1923 and ran the team until his death in 1939. Under his reign, the Yankees toppled the Red Sox as the American League's preeminent power and won seven World Series titles. His key moves: Hiring Miller Huggins as manager (while Huston was off serving in World War I), purchasing Babe Ruth from the Red Sox, hiring Ed Barrow to essentially run the franchise in what we would now call the general manager position, and building Yankee Stadium. Barrow is already in the Hall of Fame, and my personal feeling is we need another owner in the Hall of Fame like we need an expansion team in Tampa. Since 2008, we've had eight owners/executives/managers/umpires elected to the Hall of Fame and just seven players elected by the BBWAA. Absurd.
Sam Breadon (Owner of St. Louis Cardinals, 1920-1947)
The Cardinals won nine pennants and six World Series titles during Breadon's years. If you like your owners in the Hall of Fame, he's a worthy selection.
Hank O'Day (Umpire, 1895-1927)
You know, I would have guessed O'Day was already in the Hall of Fame. He was the umpire in the infamous Merkle Game in 1908 and worked in 10 World Series, including serving as home-plate umpire for the first World Series game in 1903. O'Day had pitched a few years in the majors and even served one year as manager of the Reds in 1912 and Cubs in 1914, finishing in fourth place both years, before returning to umpiring for good. If you like umpires, O'Day is your guy.
Al Reach (Sporting good executive, publisher)
An early pioneer and important influence in the early growth and development of the game, Reach was a player in the National Association, the first professional league, helped found the Phillies and
served as team president
, started a sporting goods company (his son introduced the cork center baseball, which served as the official ball of both major leagues) and published the annual
Reach Baseball Guide
from 1883 to 1939. Who knows, with Al Reach and his statistics, we may not have sabermetrics!
So ... who gets in? This year's committee consists of Hall of Fame players Bert Blyleven, Don Sutton and Phil Niekro, Hall of Fame executive Pat Gillick, executives Bill DeWitt, Roland Hemond, Gary Hughes and Bob Watson, and writers/historians Jim Henneman, Steve Hirdt, Peter Morris, Phil Pepe, Tom Simon, Claire Smith, T.R. Sullivan and Mark Whicker.
The two previous incarnations of the revised Veterans Committee set-up elected Ron Santo in 2012 (Golden Era ballot) and Gillick in 2011 (Expansion Era ballot), so if that trend follows, only one individual will receive the necessary 12 votes (out of 16).
I have no idea which way the committee will lean. Santo was the fairly obvious choice last year (unfortunately, his recent death might have helped his case), but all these fine folks have been underground for decades. Personally, I'd learn toward a player, which means Dahlen, but Ruppert, Breadon, O'Day and Reach all have strong cases as well. Bill DeWitt of the Cardinals is on the committee, so if he has the pull, maybe Breadon gets in. Reach is my long-shot candidate (where are Vegas betting odds on this?).
Anyway, it's likely we end up with Bill Dahlen or Sam Breadon in the Hall of Fame ... but not Barry Bonds or Roger Clemens.
July, 23, 2010
7/23/10
2:39
PM ET
Richard Sandomir on
another
deceased Yankees owner who
belongs in Cooperstown
:
Since George Steinbrenner's death last week, the momentum for his Hall of Fame candidacy has accelerated. His case is strong: the Boss redefined baseball's economic landscape by exploiting free agency with abandon, and his teams won seven World Series in 37 years, more than any owner already enshrined in Cooperstown.

Keith Olbermann, the MSNBC anchor and baseball historian, said at Old-Timers' Day last Saturday that Steinbrenner is so deserving that veterans committee voters should convene this winter rather than wait until the next scheduled election in late 2011.

But if Steinbrenner is deserving, what about Jacob Ruppert, his most important predecessor?
Yes, what about Ruppert? A few years ago I came up with a list of
12 deserving Hall of Fame candidates
, only four of whom were players (Bert Blyleven, Tim Raines, Ron Santo, Alan Trammell). The other eight included just one owner:
Jacob Ruppert: Ruppert, who owned (or co-owned) the Yankees from 1915 through 1938, is perhaps as responsible as anyone for the Yankees' dynastic ways. Ed Barrow, Ruppert's general manager for many years, is in the Hall of Fame. Miller Huggins and Joe McCarthy, Ruppert's managers, both are in the Hall of Fame. Of course, many of Ruppert's players -- Ruth, Gehrig and DiMaggio, to name just a few -- are in the Hall of Fame. So why not Ruppert himself?
Frankly, everyone associated with the Hall of Fame should be embarrassed that Tom Yawkey -- with exactly zero World Series championships in 44 years as Red Sox owner -- has a plaque in Cooperstown, and Jacob Ruppert doesn't. Historically speaking, what exactly did Yawkey do? He rebuilt Fenway Park and outlasted the Braves to keep Boston for himself. He hired whoever was responsible for snagging Ted Williams. And he was the last major-league owner to spurn the talents of African-American baseball players.
Well, bravo.
Sorry. Not sure where all that came from. Realistically, arguing for Ruppert by way of Yawkey is like arguing for Boog Powell by way of
George Kelly
. Which is to say, it's not a compelling argument at all.
The point isn't that Ruppert was a better owner and a more significant historical figure than Yawkey. The point is that Ruppert probably trumps at least half of the
other
owners already in the Hall.
Granted, there aren't many. But Ruppert was an active owner for about 25 years; so was George Steinbrenner. And for each of Steinbrenner's many accomplishments, I can find one for Ruppert.
I don't know that some sort of special meeting should be called this winter, with the sole aim of electing Steinbrenner to the Hall of Fame. This winter, next winter ... the Hall could definitely
use the boost
, but the exact timing isn't all that important. Go ahead, though: Forget about the suspensions and the felony conviction, and enshrine The Boss. Why not enshrine
The Colonel
at the same time, though? Seems perfectly fitting.