July, 1, 2014
Jul 1
12:47
PM ET
OK, my apologies: We ran out of time today before taping the Rapid Fire video, so I'll make it a written post instead.
From @JoshLumley: Bruce Harper could make better lineups than Matt Williams.
Answer: True. Hey, Harper shouldn't have essentially
thrown Denard Span under the bus
like he did with his comments about wanting to play center field, but isn't it time Matt Williams at least gives up on the idea of hitting his worst regular in the leadoff spot? Span isn't terrible but his .312 OBP is hardly what you want from a leadoff guy. Meanwhile, Harper hit sixth in his return to the lineup. I'm seeing a lot of grumbling from Nationals fans that Williams is in over his head.
From @neal_kendrick: Jake Arrieta is the best pitcher on the Cubs roster.
Answer: I'm going false for now, if only because one great month (Arrieta finished with a 0.92 ERA in June after taking a no-hitter into the eighth inning on Monday) isn't yet enough to leap Arrieta ahead of Jeff Samardzija. But I do believe Arrieta is the real deal, with improved command and a nasty cutter that dives down like a slider. After the game on Monday, he told MLB Network that a big key has been "just being confident and comfortable with my routine throughout the week." I have to think getting away from Camden Yards has probably helped that confidence -- he doesn't have to worry about every mistake leaving the ballpark. Eric Karabell says "Put Arrieta on the All-Star team!" (Here's more of Eric and Tristan Cockcroft discussing Arrieta on the
Fantasy Focus podcast
.)
From @Venturecaps: Raul Ibanez gets a start for the Royals this week.
Answer: True. Ned Yost said he'd use Ibanez in the outfield, at first base and DH. Plus he called him a "professional hitter." I love Ned Yost. Look, Ibanez is probably done and in the end he won't do much more than pinch-hit, but it's at least worth a look to see if he has anything left.
From @Papa_Clarke: Terry Collins and Sandy Alderson will be the manager and general manager of the Mets on Opening Day 2015.
Answer: True. Eric agrees. No need here to clean house. The Mets' problems begin with ownership, not the front office and manager.
From @Orioles_Fever: The Orioles will trade for a second baseman.
Answer: False. I think they're more likely to go for pitching and hope for offensive improvement from Chris Davis and Manny Machado in the second half. Eric has another idea: Give Dan Uggla a shot. The Orioles do love power and you can get him for an order of crab cakes. Aaron Hill would also fit nicely if Arizona picks up some of his salary.
From @TheDeliMan1: Dee Gordon will have a career as a starting second baseman.
Answer: True. He slumped in May after his hot April but rebounded with a solid June (.303/.358/.475). With his speed and average-ish defense, he's good enough to start on a championship team.
From @darinself: The current division leaders will still be there at the end of September.
Answer: False. Eric and I agree on the two most vulnerable teams: the Braves (0.5-game lead over the Nationals) and Blue Jays (one game over the Orioles, 2.5 over the Yankees). I like the Nationals in the NL East and the Orioles in the AL East.
June, 9, 2014
Jun 9
1:46
PM ET
A glance through Sunday's results and some quick thoughts ... at least one for every team!
August, 29, 2012
8/29/12
12:06
AM ET
Here's the thing about baseball in 2012: The difference between the best teams and the worst teams isn't all that extreme. The
New York Yankees
, for example, have outscored their opponents by 99 runs. The
Minnesota Twins
, with one of the worst starting rotation in recent memory, have been outscored by 114 runs. That's 213 runs, which is significant, but maybe not as large as you might imagine. The Twins have played 129 games, so we're talking about 1.7 runs per game. What's 1.7 runs? A double here, a single there, an extra walk here, one play made on defense. It's not
that
much, but those three or four plays a game add up over 162 games.
This gets us to the
Baltimore Orioles
, the team that won't go away. For the past couple of months, most analysts have predicted them to slowly slide out of the playoff chase, especially those of us who look at the numbers. We kept to their negative run differential: It will catch up to them eventually, we said. The talent base isn't there; they won't keep winning all these one-run games; their luck will run out.
Well, it's late August and the Orioles have 34 games remaining. Forget what us so-called experts predicted -- they're still in the race; they're 3.5 games behind the Yankees; and if the season ended today they'd be playing the Oakland A's in the wild-card game. And they're still getting outscored on the season ... by 39 runs.
But here's the deal: A month ago, the Orioles were 52-49 and 8.5 games behind the Yankees. Their run differential at that time was minus-63. Since then they've gone 19-8 and outscored their opponents by 24 runs -- or nearly one per game. There's nothing that screams fluke about what has happened over the past 30 days. The Orioles might have lucked into a 52-49 record but at this point they're for real.
One reason for their improvement has been the emergence of
Chris Tillman
, the tall, talented right-hander for whom it seems the Orioles have been waiting since Bush 43 was still president. After struggling in 2009 (5.40 ERA) ... and 2010 (5.87 ERA) ... and 2011 (5.52 ERA), Tillman didn't make the Opening Day roster. He was sent down to the minors leagues, cleaned up his motion so it became more over the top. His fastball, which had averaged 90.5 mph in 2010 and 89.5 mph in 2011, has now averaged 92.8 in 2012, with good downhill plane generated from his 6-foot-6 frame.
On Tuesday night at Camden Yards, the Chicago White Sox looked clueless against Tillman, who pitched seven one-hit innings on the way to a
6-0 Baltimore victory
. He did walk four but the White Sox
couldn't measure his fastball
, which he threw on 68 of his 109 pitches, a much higher percentage of fastballs than he normally throws (about 45 percent entering the game). He mixes in a curveball, slider and changeup, which he started utilizing more often late in the game. In other words, a classic approach since the days of rock-strewn infields and baggy wool uniforms: Establish the fastball early and then mix in the offspeed stuff.
The only hit off Tillman was
Dayan Viciedo
's infield dribbler in the fifth inning that
J.J. Hardy
couldn't field cleanly. Tillman actually said he didn't have his Grade A stuff on this night. "There were plenty of games where I had better stuff," he said. "There were some spurts there when I kind of got out of whack." Tillman had walked just 15 batters in his first nine starts.
Tillman's emergence -- he's now 7-2 with a 3.26 ERA -- symbolizes how the Orioles have revamped their rotation over the past month. Gone are
Jake Arrieta
(6.13 ERA),
Brian Matusz
(5.40 ERA) and now
Tommy Hunter
(5.95 ERA), to be replaced by the newly acquired
Joe Saunders
, who will start in Wednesday's series finale.
Jason Hammel
, the team's ace the first half, will also make a rehab start this weekend and could return to the rotation on Sept. 6. Arrieta, Matusz and Hunter combined to start 54 games -- and allowed five or more runs in 22 of them. Those are three main culprits behind the team's run differential. Well, that and the fact that
Wilson Betemit
and
Mark Reynolds
are no longer attempting to play third base.
Watching the Orioles the past two games, I've gotten a little bit of that "destiny" feeling.
Lew Ford
, out of the majors since 2007, homered both nights.
Nate McLouth
hit the big two-run home run Monday and added three hits Tuesday. As a Mariners fan, it reminds me of the miracle 1995 season, when the M's rallied from a 12.5-game deficit in late August to win the American League West. The team featured memorable big moments from guys such as Alex Diaz and Doug Strange and a way-past-his-prime Vince Coleman.
The Orioles are 24-6 (a .800 winning percentage) in one-run games, which would easily be the best record in one-run games during the wild-card era (the 2003 Giants went 28-12, a .700 mark). In fact, that would be the best of any team since 1901 -- the 1981 Orioles went 21-7 (.750). Of the top 10 one-run records from 1996 to 2011, eight of the teams made the postseason.
Team of destiny? Maybe, just maybe.
Thanks to Katie Sharp of ESPN Stats & Information for research help.
PHOTO OF THE DAY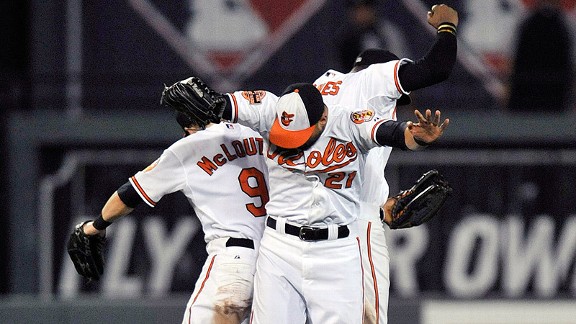 Joy R. Absalon/US PresswireIt's almost September, and the Orioles have plenty of practice celebrating a last out.
August, 19, 2012
8/19/12
1:00
AM ET
By
Christina Kahrl
| ESPN.com
The Orioles are the team that won't go away. For months now, they've been predicted to, expected to, and they have no end of excuses for why they're
supposed
to be long since out of the expanded wild-card picture already. Injuries, run differential, relative anonymity plus generally underwhelming performances from most of the people you have heard of -- the Orioles are supposed to be goners.
They aren't gone, but they might be going places. On Saturday, it was
Zach Britton
's bend-don't-break stylings that were their latest "that's not really possible, is it?" feat.
Seven shutout innings
against the Tigers make for some sort of Saturday night special, not bad for the latest transient solution in Buck Showalter's constantly fixed-up rotation.
Go by appearances alone, and it seemed like Britton had no business matching zeroes with the Tigers'
Rick Porcello
, allowing nine baserunners to Porcello's four through the first six innings. But three 6-4-3 double plays were enough to keep his head above water. Porcello had retired 11 men in a row heading into the seventh, but so what? A pair of dink singles and
Chris Davis
' three-run shot later, it didn't matter what Porcello had done beforehand or how good he looked doing it, because the O's had a decisive lead thanks to Davis' just-enough bit of bopping, making Britton a winner.
That in itself might be a bit of a surprise, considering that Britton's shot at pitching this year was no sure thing in March, when shoulder surgery seemed likely. But opting for platelet-rich plasma (or PRP) treatments put him on the shorter road to rehab, and he's been the skippable, sometime-fifth starter for a team that barely goes a week without having to change something in its rotation.
The Orioles have managed to keep the identity of their rotation's third or fourth or fifth starter a matter of a near-weekly surprise to everyone, including themselves. Some of that has been a matter of effective roster management by general manager Dan Duquette: Early in the season, the Orioles could afford to flip the optionable
Tommy Hunter
back and forth between Baltimore and Triple-A Norfolk, rostering him only when they had to. Despite that time spent shuttling back and forth, it says something about Baltimore's lot that Hunter is now second on the team in total starts because almost everyone queued up ahead of him has broken down or pitched his way out of a job.
This yo-yo role Britton found himself in on Saturday, as he was called back up into the latest breach in the rotation after already blowing his initial call-up after the All-Star break, getting clobbered in five of six starts. In the Orioles' ad-hoc rotation, he was back up because he was on the 40-man roster and had four days' rest, and little else -- he was four days removed from getting chewed up by Charlotte, pitching through a split nail on his pitching hand.
Britton briefly dealt with the burden of being blown up too soon as a sign of better times to come in the spring of 2011, after he notched a quick eight quality starts in his first 10 turns as a rookie in the big-league rotation. But just like
Brian Matusz
and
Jake Arrieta
, his success didn't last -- Britton managed just five starts of six innings or more and three runs allowed or less in his last 18 turns in 2011, putting him well on his way toward a new entry on the Orioles' list of mound disappointments. But like every other expectation for an Orioles setback, it seemed to merely set the stage for this latest improbable bit of heroics.
Where the rotation woes of the Yankees or the Red Sox get featured prominently, the Orioles have been scrambling all season. Only Chinese import
Wei-Yin Chen
has lasted the season. Chen plus Britton, Hunter, former Mariners prospect
Chris Tillman
and journeyman
Miguel Gonzalez
represent the latest front-five confection in a rotation that has already had to use 10 starters. Every day, the four non-Chens are all pitching for their jobs, because
Jason Hammel
is on the mend and due back in another two weeks.
Contenders aren't supposed to start TBD in three or four rotation slots this late in the season, are they? But this comes on top of their playing TBNL in left field. Davis was briefly their answer there, but so was
Nolan Reimold
,
Endy Chavez
,
Xavier Avery
and
Steve Pearce
. They're down to a
Nate McLouth
-
Lew Ford
platoon that would be entirely plausible if we were talking about a contender -- in the International League.
All of which is part of what makes the Orioles so entertaining. As they scrape to keep pace with the Rays in the wild-card chase, it might be hard to call them the underdog, but that's only if you keep your eyes peeled on payrolls. It's easy to root for the Rays -- every statistically savvy smart kid goes fanboy on sabermetrics' poster team. And they're supposed to beat Baltimore -- they're supposedly smarter, and stocked up on the really good players you already know, like
Evan Longoria
and
David Price
. And yet the Orioles still will not go away. Fun, ain't it?
PHOTO OF THE DAY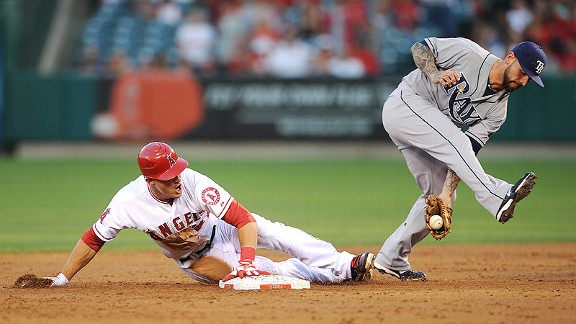 Kelvin Kuo/US PresswireRyan Roberts might do a little dance, but it's Mike Trout who has a steal to celebrate.
Christina Kahrl covers baseball for ESPN.com. You can follow her on Twitter.
June, 7, 2012
6/07/12
12:56
AM ET
"Show us some respect," yell Baltimore Orioles fans. Or maybe they're politely demanding. But I've seen the complaints in the Power Rankings comments, read the emails sent to "Baseball Today," been asked the question in my chats: Why doesn't anyone believe in the Orioles?
The Orioles traveled to Fenway Park this week in a precarious situation. They've lost two of three in Tampa. They've been swept in Toronto. They've lost two of three at home to Kansas City. They've lost two of three at home to Boston. They haven't won a series since the big weekend showdown in Washington from May 18-20.
So, yes, the concerns all of us "experts" had been raising -- it's a long season, let's see what happens to the rotation, let's find out if some of the hitters can keep up their hot starts, the bullpen can't keep its ERA under 2.00 all season -- were proving true. The O's were 27-14 after winning the second against the Nationals but had gone 3-10 since, with the staff posting a 4.95 ERA while the offense scored 3.5 runs per game.
These were the Orioles we all expected. And then they beat the Red Sox in extra innings on Tuesday. And then they
beat the Red Sox 2-1
on Wednesday behind a solid effort from
Wei-Yin Chen
and scoreless innings from
Pedro Strop
and
Jim Johnson
. They're 5-0 at Fenway in 2012 and Chen is now 5-2 with a 3.49 ERA. The key moments came in the seventh inning after the Red Sox threatened with a pair of singles to start the frame. But after a sacrifice bunt, Chen struck out
Marlon Byrd
and induced
Mike Aviles
to pop out to first base.
Normally, Buck Showalter might have turned to his stellar bullpen, but after Tuesday's victory, in which the bullpen threw five innings, he left Chen to escape the jam. He set up Byrd with three fastballs and then got him swinging on a beautiful changeup. He threw three more fastballs to Aviles that he couldn't get around on. Don't underestimate Chen. His stuff plays up big, with his four-seamer reaching 94 mph. His last pitch to Aviles was clocked at 93. In 11 starts, he allowed two or fewer runs seven times and I think this outing will give Showalter more confidence to stretch Chen a little deeper into games.
So the Orioles remain in first place for another day, half a game ahead of the Yankees. Is it time to show them a little respect, to give Orioles fans what they crave? Let's do some position-by-position rankings to help sort out this tightly packed division. Rankings are simply listed in order of who I would want the rest of the season.
(Season-to-date Wins Above Replacement from Baseball-Reference.com, before Wednesday's games, listed in parenthesis.)
Catcher
1.
Matt Wieters
, Orioles (1.6 WAR)
2.
Jarrod Saltalamacchia
/
Kelly Shoppach
, Red Sox (1.6)
3.
Russell Martin
, Yankees (0.7)
4.
J.P. Arencibia
, Blue Jays (0.2)
5.
Jose Molina
, Rays (0.1)
There is a case to be made that Boston's duo is more valuable since they've combined for 14 home runs and an OPS over .900. But Wieters brings elite defensive skills and I also don't believe Salty is going to slug .583 all season. For the second consecutive season, the Rays are essentially punting offense at catcher. Rays catchers have the worst OPS in the majors.
First base
1.
Adrian Gonzalez
, Red Sox (0.8)
2.
Mark Teixeira
, Yankees (0.6)
3.
Mark Reynolds
, Orioles (-0.6)
4.
Carlos Pena
, Rays (0.4)
5.
David Cooper
/others, Blue Jays (incomplete)
Gonzalez is still struggling to get his stroke going, but he's the best of a weak group. Yes, I just called Mark Teixeira weak, but at this point he's a low-average guy who pops a few long balls, doesn't draw as many walks as he once did and isn't as great on defense as Yankee fans believe. But in this group that's good enough to rank second. Reynolds has a low WAR but he's missed time and that includes his bad defense at third base, a position we've hopefully seen the last of him playing. The Jays, meanwhile, need to quit fooling around at first base and find a legitimate hitter, or move
Edwin Encarnacion
there and find a designated hitter. You hate to waste a potential playoff season because you can't find a first baseman who can hit. (No, David Cooper is not the answer, although he's hit well so far in 11 games.)
Second base
1.
Robinson Cano
, Yankees (2.1)
2.
Dustin Pedroia
, Red Sox (1.8)
3.
Kelly Johnson
, Blue Jays (2.1)
4.
Ben Zobrist
, Rays (0.7)
5.
Robert Andino
, Orioles (0.6)
I love Ben Zobrist almost as much as two scoops of Vanilla Heath Bar Crunch from Ben & Jerry's, but a .199 average isn't going to cut it in this group, even if you are on pace to draw 100-plus walks. Zobrist has actually play more right field so far, but should be back at second on a regular basis with
Desmond Jennings
back.
Third base
1.
Evan Longoria
, Rays (1.4)
2.
Brett Lawrie
, Blue Jays (3.1)
3.
Alex Rodriguez
, Yankees (1.2)
4.
Kevin Youkilis
/
Will Middlebrooks
, Red Sox (0.5)
5.
Wilson Betemit
/
Steve Tolleson
, Orioles (-0.1)
Lawrie's WAR is boosted by defensive metrics that treat him like he's the second coming of Brooks Robinson. He's a good player but don't I think he's been the second-best position player in the American League. Longoria hopes to
return at the end of the Rays' current road trip
. As for A-Rod, his health is always a question at this stage of his career, but Youkilis has health questions and I'm not a believer in Middlebrooks' ability to hit .321 with power all season. His 29/4 strikeout/walk ratio is something pitchers should learn to exploit. As for the Orioles ... third base is an obvious concern. But don't expect a rare intra-division trade to acquire Youkilis.
Shortstop
1.
J.J. Hardy
, Orioles (2.1)
2. Mike Aviles, Red Sox (2.2)
3.
Derek Jeter
, Yankees (0.9)
4.
Yunel Escobar
, Blue Jays (1.9)
5.
Sean Rodriguez
, Rays (1.9)
Wait ... Jeter has been the
least
valuable of this group so far? The other four all rate as excellent fielders -- in fact, Baseball-Reference rates them all in the top 13 fielders in the AL. Jeter, meanwhile, ranks 310th in the AL on defense -- out of 313 players.
Left field
1. Desmond Jennings, Rays (1.2)
2.
Daniel Nava
/
Carl Crawford
, Red Sox (1.7)
3.
Brett Gardner
/
Raul Ibanez
, Yankees (0.3)
4.
Eric Thames
/
Rajai Davis
, Blue Jays (-0.1)
5.
Endy Chavez
/
Xavier Avery
/
Nolan Reimold
, Orioles (-0.3)
Not to keep picking on the Orioles, but this is another problem position, especially if Reimold's disc problems lingers all season. Nava has quietly been a huge savior for the Red Sox, batting .305 with a .438 OBP. He's drawing walks at a crazy rate. He should slide some but he's provided the kind of depth the Orioles don't have.
Center field
1.
Adam Jones
, Orioles (2.5)
2.
Curtis Granderson
, Yankees (1.3)
3.
B.J. Upton
Rays (0.9)
4.
Jacoby Ellsbury
/
Scott Podsednik
/Marlon Byrd, Red Sox (0.5)
5.
Colby Rasmus
, Blue Jays (1.3)
Ellsbury might be the biggest wild card in this race, because the Red Sox can't survive much longer with the Podsednik/Byrd platoon. When will he return? How will he hit? He just started throwing and could
return by the end of the month
. I've conservatively put him fourth, which seems fair considering the unknown. And please note, Orioles fans, that I believe in Mr. Jones.
Right field
1.
Jose Bautista
, Blue Jays (0.9)
2.
Matt Joyce
, Rays (2.2)
3.
Nick Swisher
, Yankees (-0.1)
4.
Cody Ross
/
Ryan Sweeney
, Red Sox (1.6)
5.
Nick Markakis
/others, Orioles (0.3)
Markakis is out three to four weeks with a broken bone in his wrist, an injury that once again reflects Baltimore's lack of depth. But all five teams are solid in right field. Ross is about to return from his broken foot; we'll see if he pounds the ball like he was before the injury (.534 slugging).
Designated hitter
1.
David Ortiz
, Red Sox (1.4)
2. Edwin Encarnacion, Blue Jays (1.6)
3. Revolving Door, Yankees
4.
Chris Davis
, Orioles (0.3)
5.
Luke Scott
, Rays (0.0)
No respect for Davis? OK, he's hitting .295/.333/.494. And he has 53 strikeouts and eight walks. Sorry, call me skeptical, O's fans. Yankee designated hitters have actually fared well, hitting a combined .279/.354/.467 with 10 home runs.
No. 1 starter
1.
David Price
, Rays (2.2)
2.
CC Sabathia
, Yankees (1.9)
3.
Ricky Romero
, Blue Jays (0.3)
4.
Josh Beckett
, Red Sox (0.5)
5.
Jason Hammel
, Orioles (1.9)
Look, Hammel has been terrific so far thanks to a career-high strikeout rate
and
a career-high ground-ball rate. But this is tough group and the question is who is going to be best moving forward? My biggest concern is that Hammel has never pitched 180 innings in a season. Can he pitched the 210 to 220 that you need from a No. 1?
No. 2 starter
1.
Brandon Morrow
, Blue Jays (1.1)
2.
James Shields
, Rays (-0.4)
3.
Andy Pettitte
, Yankees (1.5)
4. Wei-Yin Chen, Orioles (0.7)
5.
Jon Lester
, Red Sox (-0.4)
I like Chen. Heck, right now I like him better than Jon Lester, which tells you how much I like him. But he averaged just 172 innings in Japan over the past three seasons. Can he hold up over 32 starts?
No. 3 starter
1.
Jeremy Hellickson
, Rays (1.0)
2.
Hiroki Kuroda
, Yankees (1.4)
3.
Felix Doubront
, Red Sox (0.4)
4.
Brian Matusz
, Orioles (0.2)
5.
Henderson Alvarez
, Blue Jays (0.4)
Matusz is holding his own at 5-5, 4.41, but he's still walking a few too many, allowing a few too many hits, a few too many home runs. The velocity is solid, averaging 91 on his fastball. We're talking minor upgrades needed in his command, getting the ball down in the zone more often to get more groundballs. If the Orioles are to have any chance, Matusz's improvement may be the single most important aspect.
No. 4 starter
1.
Matt Moore
, Rays (-0.6)
2.
Ivan Nova
, Yankees (0.3)
3.
Jake Arrieta
, Orioles (-0.4)
4.
Clay Buchholz
, Red Sox (-1.2)
5.
Kyle Drabek
, Blue Jays (-0.1)
Five pitchers who have struggled, but Arrieta's peripheral numbers are actually pretty solid. Like Matusz, there is hope for improvement. On the other hand, he's been awful since pitching eight scoreless innings against the Yankees on May 2, giving up 29 runs in 31.2 innings. His BABIP was .243 through May 2; it's .361 since. The truth is probably right in the middle, leaving Arrieta third on our list of fourth starters.
No. 5 starter
1.
Alex Cobb
/
Jeff Niemann
, Rays (0.3)
2.
Drew Hutchison
, Blue Jays (0.1)
3.
Phil Hughes
, Yankees (0.2)
4.
Daisuke Matsuzaka
/
Aaron Cook
/
Daniel Bard
, Red Sox (-0.3)
5.
Tommy Hunter
, Orioles (-0.5)
Hunter isn't really a major league starter, but I'm not sure
Jamie Moyer
-- just signed to a minor league contract -- is exactly a solution. The Orioles need to upgrade here.
Bullpen
1. Yankees (2.76 ERA)
2. Orioles (2.48 ERA)
3. Red Sox (3.66 ERA)
4. Rays (3.43 ERA)
5. Blue Jays (4.39 ERA)
If you watched Pedro Strop and Jim Johnson close out Wednesday's win, you'll realize the back of the Orioles' end has two guys with filthy stuff.
Darren O'Day
and
Luis Ayala
are strike-throwing machines and
Troy Patton
is a lefty who isn't a LOOGY. It's a good pen and it's deep. But the reliability of the pen ties into the rotation's inability to pitch deep into games -- Orioles relievers have already thrown 39 more innings than Yankees relievers, for example.
OK, let's add it up … one point for ranking first, five points for ranking fifth. Hey, this isn't meant to be scientific, so don't overanalyze this too much. The totals:
Yankees: 36 points
Rays: 40 points
Red Sox: 45 points
Blue Jays: 51 points
Orioles: 53 points
Not the respect Orioles fans are seeking. Sorry about that; it's nothing personal. Look, I don't think the Orioles are going to fade away anytime soon. I worry about the rotation's ability to hold up all summer and the bullpen's workload. They lack depth on offense and have a couple of obvious holes. Hey, you never know, and the Orioles are certainly due for a winning season. I would love to see it happen.
PHOTO OF THE DAY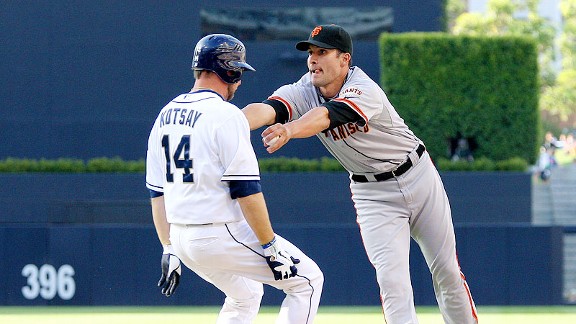 Jake Roth/US PresswireJavier Lopez is sending a message to Mark Kotsay: Tag, you're out!
May, 6, 2012
5/06/12
1:39
AM ET
By
Christina Kahrl
| ESPN.com
The Society for American Baseball Research recently cranked out a history of the 1970
Baltimore Orioles
, appropriately titled,
Pitching, Defense, and Three-Run Homers
, reflecting the three things that their skipper, Earl Weaver, always preached as the three most reliable pillars of victory in baseball.
And you know what? The rules, let alone the basic principles of how you win ballgames, really haven't changed
that
much since those days. Even with the addition of the designated hitter in 1973, today's American League is scoring just 4.3 runs per team per game against the 4.2 runs per game that the league did in 1970, back when pitchers still had to hit in the junior circuit. Which suggests that, even with a pile of advanced metrics to better assess player value and with better tools (statistical and technological) to evaluate player performance, teams are in much the same boat as far as what it takes to win. Want to contend? You'll want pitching
and
defense
and
scoring runs on home runs, early and often.
Which is where the Rays come in, as well as the recently rehatched Orioles, because that same three-point formula for success is one that the these two teams -- especially the Rays with their significantly more analytical bent than Weaver's old 3x5 note cards from the pre-PC days in the dugout -- have taken to heart as they seek to be giant-killers in the AL East. Or maybe that should be giant-payroll-killers, because the
Boston Red Sox
haven't finished better than third since 2009, and the way this year is going for them, getting back to the postseason may not be in the cards. So keep that in mind: The Rays are a power already, but are the Orioles about to become one?
So let's start with defense, tough as that is to get a handle on. The Orioles currently rank third in the league in park-adjusted defensive efficiency (PADE), reflecting an improvement on defense that should speak well for their future if they can keep it up. PADE is the metric that adjusts the simple rate of outs created on balls in play for where the teams play, and was created by James Click for Baseball Prospectus back before he was the director of baseball research and development for ... why, none other than the
Tampa Bay Rays
.
Guess who ranked first in PADE last year? The Tampa Bay Rays. They rank a much more modest 21st overall at present, but they're also trying to recover from a series of injuries that have made Joe Maddon's day-to-day tailored lineups into even more of a daily guessing game; when the Rays come back toward the top before the end of the year, don't act surprised. And can the Orioles keep that up? It may not be easy, but getting
Mark Reynolds
off the field a lot more often this year than last is a good start.
So, how about fence-busting power on offense? There has already been a good amount of deserved attention placed on the Rays' power on offense. Through Saturday's action, they're fourth in the league in total homers hit, and their "Guillen number" -- the percentage of their total runs they're scoring on home runs -- is also fourth in the league at 40.8 percent. But guess who's doing better in both regards? The Yankees, of course -- every bit as unsubtle as the day Babe Ruth donned pinstripes, they're scoring 48 percent of their runs on homers.
But the other team ahead of them in both homers and percentage of runs scored on homers are the Orioles, thanks in no small part to
Adam Jones
,
Matt Wieters
and
Chris Davis
living up to several years' worth of anticipation. They're doing it without the help of single-minded slugger Reynolds, and without much production from
Nick Markakis
, but just running through the names gives you reason to believe the O's will be able to keep producing thunder with the lumber. All five of them are between 26 and 28 years old, right around when hitters are generally predicted to produce their peak seasons.
Which leaves pitching, where you might be surprised to learn that the Orioles have notched more quality starts in the early going with 15 to the Rays' 13. The Rays' rotation comes out on top for runs allowed per nine (3.71 to 4.04), but considering that the Rays get their deserved touts for their top talents like
Matt Moore
and big-name starters like
David Price
and
James Shields
, you can be a little impressed with how the Orioles' relatively anonymous front five have been doing.
But here again, that's where you might expect more from the Rays going forward than the Orioles, because one-month Cinderella stories have more than their share of pumpkins instead of happy endings. While
Jake Arrieta
looks like the real deal, it's going to be difficult for bend-don't-break defense-dependent starters like
Tommy Hunter
and
Wei-Yin Chen
to keep beating people without a lot of help from their friends.
It's especially hard to know what to expect from
Jason Hammel
going forward; if he keeps striking out 24 percent of opposing batters, he'll be the elite starter he's pitched like in six starts so far, but it's such a remarkable development in the context of his career considering that he was striking out less than two-thirds that many guys over the previous six seasons.
If the Orioles have fixed Hammel, as Rick Sutcliffe has suggested on Baseball Tonight, it'll be a great example of a former Rays prospect that his former team might regret letting get away. And if the Rays and Orioles are going to be serious about becoming the new twin powers in the AL East, it'll ratchet up that rivalry another notch.
PHOTO OF THE DAY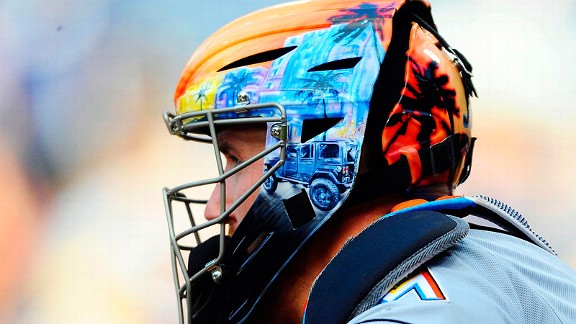 Christopher Hanewinckel/US PresswireAnd you thought the Marlins' new color scheme stopped at the ballpark or the logo.
Christina Kahrl covers baseball for ESPN.com. You can follow her on Twitter.
May, 3, 2012
5/03/12
2:18
PM ET
Eric Karabell and I have a new segment we're calling SweetSpot Stock Watch, where we rationally discuss and occasionally argue about a few players. Today's edition: Red Sox prospect Will Middlebrooks, Cardinals starters Lance Lynn and Kyle Lohse, red-hot Bryan LaHair and Orioles pitcher Jake Arrieta, coming off his dominant effort against the Yankees on Thursday night. And don't forget to check out Eric's
fantasy baseball blog
on ESPN Insider!
May, 3, 2012
5/03/12
12:18
AM ET
Baseball is awesome. Did we need to say anything else? Do we need to hire Terry Cashman to write a ballad about this day? Do we need to pen epic poems about
Chipper Jones
and
Jered Weaver
and
Bryce Harper
and the intentional walk?
Man, I need to catch my breath.
How do you sum up the wildest game of the season so far? I guess pretty simply: The Phillies, a team that scores runs with about the same frequency of a Serie A soccer team, totaled 13 runs ... in a game
Roy Halladay
started ... and lost.
The Phillies led 6-0, the Braves scored six off Halladay in the fifth (including a
Brian McCann
grand slam) and then took an 8-6 lead (the first time he's allowed eight runs in a game since Aug. 24, 2009). The Phillies surged back ahead 12-8, the Braves took a 13-12 lead with five runs in the bottom of the eighth (as Phillies closer
Jonathan Papelbon
apparently isn't allowed to pitch more than one inning or three days in a row), the Phillies tied in the ninth on
Shane Victorino
's two-out infield single, and then ...
Well, then, Larry Wayne Jones stepped to the plate in the bottom of the 11th inning. He hammered a 2-2 slider from
Brian Sanches
down the right-field line, but it hooked a few feet line. I tweeted, "Dang, a Chipper walk-off would have been pretty cool on this wild day."
Two pitches later, he crushed a 3-2, 88-mph meatball over the center-field fence, watching the ball fly away into the Atlanta evening and flipping his bat in a dismissive swagger. "I may be 40 years old with creaky knees, but don't try and slip that mediocre slop by me," he seemed to say.
Braves 15, Phillies 13.
It was the 458th regular-season home run in his career. Few have felt sweeter, especially since the Braves had lost eight straight games to the Phillies.
"I wish everyone could experience that feeling right there," Jones said on postgame on-field TV interview, trying to catch
his
breath after enduring the mosh pit at home plate. "That game, without a doubt, takes the cake as far as my career goes. You figure with Halladay and [Tommy] Hanson, it's going to be a 2-1 game."
When Jones says he's never seen a game like it, you know what it was something amazing.
And here are a few more adventures from not just another Wednesday in early May:
Oh, yeah, as I was finishing this piece, Jered Weaver was flirting with a no-hitter through the sixth … seventh … into the eighth … and he did it. You know, Weaver is pretty good at baseball. The highlight: MLB Network cameras showed Weaver leaving the dugout in the eighth inning to use the bathroom. How do you risk a no-hitter by leaving the bench? As he said after the game, "I had to pee so bad."

In an afternoon tilt at Coors Field, we saw the worst call of the season (Jerry Hairston Jr. was called out on this play) and Carlos Gonzalez homered twice off Clayton Kershaw (only the second time Kershaw has allowed two home runs to one player in a game, Adam Dunn having done so in 2010). But that stuff was merely a prelude to a wacky ninth inning. With two outs and a runner on first, Jim Tracy elected to intentionally walk Matt Kemp to pitch to Dee Gordon. You can debate the merits of the decision -- Kemp's home run rate was three times that of Gordon's extra-base hit rate, and extreme fly ball pitcher Rafael Betancourt was on the mound -- but Gordon hit a soft liner into right-center. Third-base coach Tim Wallach sent Kemp, who should have been thrown out by 10 feet, but Troy Tulowitzki biffed the relay with a wormburner throw home. Game tied and Tracy looked like the goat until the ancient Jason Giambi hit a three-run homer off Scott Elbert in the bottom of the ninth. How awesome is that the Giambino is still swatting game-winning home runs at age 41?

The Nationals ended a five-game losing streak in dramatic, walk-off fashion as well. Wunderkind Harper -- who had just missed his first major league homer earlier in the game with a double off the top of the wall in right-center -- led off the bottom of the ninth with another double to center, his third hit of the game. With Nationals fans dreaming delirious dreams of Harper's future, J.J. Putz then struck out Wilson Ramos and Rick Ankiel. But Ian Desmond blasted a 1-1, 93-mph fastball over the fence in left-center. Only one of the best wins in Nationals' history.

The Royals looked like they were going to beat Justin Verlander, leading 2-0 in the eighth, only to have Brennan Boesch tie the game with a two-run homer. So they settled for a victory off Joaquin Benoit in the ninth, the go-ahead run scoring on Chris Getz's two-out infield single.

Jake Arrieta threw eight shutout innings against the Yankees in one of the best outings of the year for a pitcher: 8 IP, 5 H, 0 R, 0 BB 9 SO. The Orioles took two of three in the series, they're 16-9, and Baltimore fans are starting to believe.

Jeff Suppan made his first major league start since 2010 and tossed five shutout innings as the Padres blanked the Brewers 5-0.

Johnny Damon played his first game for the Indians, and while he went 0-for-3 with a walk, having Damon back in the bigs is certainly worthy of a round of applause.

Carlos Beltran had seven RBIs through three innings and for a time we could conjure up scenarios where he would drive in 10 ... 11 ... maybe even a record-tying 12 runs.

Lost in the excitement of Chipper's dramatic walk-off homer, Phillies catcher Carlos Ruiz also had seven RBIs.
One day in baseball. I say we do it again.
Follow David Schoenfield on Twitter @dschoenfield.
PHOTO OF THE DAY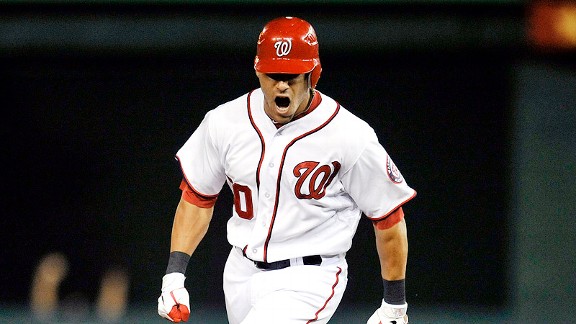 Joy R. Absalon/US PresswireAs Ian Desmond comes home after his game-winning walkoff shot, he was understandably pleased.
June, 13, 2011
6/13/11
11:56
AM ET
Buck Showalter's arrival as Orioles manager last season was a booster shot of competence for a franchise that had been allowed to deteriorate for far too long, a sense that the organization and its place in the game mattered again. There were several dramatic walk-off wins and a 34-23 finish to the year. Now at 30-33 this season, the team has reached that point in the discussion that goes, "The Orioles are on the upswing. Yes, but ... they have a long way to go." The key is the attentive cultivation of a young pitching staff and Showalter knows harvest time is still a ways off.
"These guys are sharing a lot of the first-time things together," he told me. "They come with different backgrounds and different makeups, they're not all robots. The AL East is relentless, it's a tough place to develop young pitching but I'll tell you one thing: If they get through it they'll be as mentally tough as anyone. We'll have some good and bad while we get some seed on the ground."
[+] Enlarge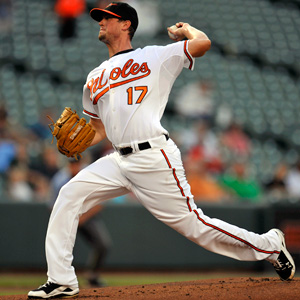 Joy R. Absalon/US PresswireBrian Matusz was dominant in his last eight starts of 2010, but he's been hampered by injuries this year.
An immediate concern is 24-year-old
Brian Matusz
, the fourth overall pick in the 2008 draft. In his final eight starts last season, Matusz went 6-0 with a 1.57 ERA and allowed just 29 hits in 46 innings. However, Matusz missed the first two months of this season with a painful intercostal strain in his rib area and retired only four batters in Sunday's 9-6 loss to Tampa Bay, allowing four runs and five hits while walking four. In three starts since his return from the DL, Matusz's WHIP is 1.78.
The biggest issue is a dramatic dip in Matusz's velocity.
Johnny Damon
led off the game with a home run on an 86-mph fastball. Matusz's fastball Sunday was consistently between 85 and 87 mph and never higher than 89 mph. Matusz insisted after the game that he's 100 percent healthy. Both Damon and Rays manager Joe Maddon told reporters that Matusz isn't throwing as hard as he has in the past, with Maddon adding that he thinks Matusz isn't fully healthy.
"He's basically just starting out in spring training," Showalter said. "He's not where he's going to be. He came out of camp as our second starter and the challenge was not to rush him back."
Zach Britton
, a 23-year-old lefty, was too impressive this spring to leave behind and by May 1, Britton was 5-1, 2.63. In seven starts since, however, Britton is 1-3, 3.65 and with 82 innings already worked toward a cap of approximately 180, the Orioles will skip Britton's scheduled start on Tuesday in an effort to slow his workload so he's available to pitch in September, a step the organization will likely take several more times. "I had a talk with him after his last start," Showalter said. "I told him, 'I know you'd like to go 25-0 but it's not going to happen. A guy with 30 or 35 starts may go out there with all his bullets only 10 times a year. It's those other 20 starts when you learn to pitch in the big leagues. What are you going to do to defend yourself and keep us in the game?' That's the reason you love the kid, he expects perfection."
[+] Enlarge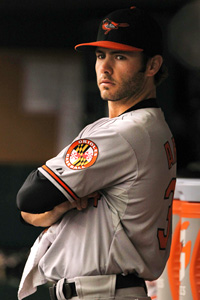 Kim Klement/US PresswireJake Arrieta has gotten off to an 8-3 start this season.
A bright spot has been 25-year-old right-hander
Jake Arrieta
. In Friday's 7-0 win over Tampa Bay, Arrieta threw 72 of his 98 pitches in the outer third of the strike zone or further outside, the highest percentage of his career. Sixty of his 71 pitches to left-handed hitters were away as lefties went 1-for-12 against him. It was a clear sign of progress. "Sometimes I don't think he knows how good he can be," Showalter said. "A pitching coach can't make a visit after every hitter or two so they have to understand and figure out by themselves out there what's going on."
There are no shortage of young rotation candidates and the Orioles are making sure the list keeps growing.
Brad Bergesen
, 25, and
Chris Tillman
, 23, struggled and were sent to Triple-A Norfolk, where Bergesen is 2-0 with a 0.60 ERA. In last week's amateur draft, Baltimore used 15 of its first 30 selections on pitchers, including seven of its first 10 picks. Showalter explained the organizational philosophy this way: "Very few teams can sign a No. 1 starter or trade for a No. 1 starter. We have to grow and develop our own. That's why most of our picks were pitchers. Once you have pitchers you can always go out and get bats."
The Orioles used the fourth overall pick to take the first prep player selected, Dylan Bundy, a high school pitcher from Oklahoma whose father built a baseball field in the family backyard. As a senior, Bundy went 11-0 with 158 strikeouts and only five walks in 71 innings. "We can't draft a safe college pitcher," Showalter said. "We have to take the guy who has the best chance to get to the front of our rotation. Try as you may, you can't screw up the good ones. We think he has as much upside as anybody in the draft. We have to out-evaluate and out-work. You have to trust your evaluations and we like where we are in the process."
Yes, the Orioles are on the upswing but they have a long way to go.
Follow Steve Berthiaume on Twitter @SBerthiaumeESPN.