March, 20, 2011
3/20/11
10:59
AM ET
As a resident of the Baltimore-Washington metro area, I've heard a lot of chatter regarding the Orioles' winter trades and free-agent signings from fans and sports radio talking heads alike. For the most part, the tone has been positive and hopeful. To be perfectly honest, after 13 straight losing seasons, any sense of optimism is exciting. Still, I can't help but wonder if the fans' expectations are a tad too high as a result of these improvements. Are they setting themselves up for disappointment? Let's take a look at their four big offseason acquisitions to see what kind of improvements we can expect to see over the upcoming season.
First Base – Derrek Lee
[+] Enlarge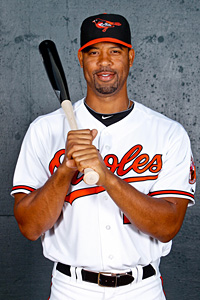 Derick E. Hingle/US PresswireThe Orioles are counting on new first baseman Derrek Lee to add some punch to their lineup.
Last season, first base was a big problem for the Orioles.
Garrett Atkins
was nothing short of a train wreck, and the immediate replacements that followed in
Jake Fox
and Rhynes Hughes weren't any better. Even Ty Wiggington, the de facto starter who hit 22 home runs, was a near-replacement level player last year, producing 0.3 fWAR. All-in-all, the production (or lack thereof) the O's received from their first basemen was about a win below the replacement level.
Even though Lee had a down season in 2010, there are encouraging signs he could rebound this season. He plays solid defense at first, draws walks, works counts and should hit about 20 home runs. There's absolutely no doubt that Lee is a big upgrade. Still, considering his age and recent performance history, we shouldn't expect more than a 2-3 WAR season. Considering the monster spring training showing by Fox, perhaps Fox could see more time here if Lee is hurt or struggles.
Third Base – Mark Reynolds
In terms of Oriole problem areas, their third base situation was nearly as dire as the one at first base. Last season, the Orioles gave the majority of playing time to
Miguel Tejada
and
Josh Bell
, and in return they received -0.5 WAR in value. Something tells me that this isn't what the front office envisioned when the season started.
To remedy this issue, the Orioles traded for Reynolds, the former Arizona third baseman. Despite coming off a difficult season in which he hit a measly .198, Reynolds still managed to provide the Diamondbacks with 2.4 WAR in value, primarily on the strength of his power, durability and defensive contributions. While Reynolds isn't the defensive player that UZR made him appear to be last season, he'll likely make up for the lost value in terms of improved offensive production. Reynolds' paltry 13.3 percent line drive rate is likely to rebound given that his career average exceeds that rate by 4 percent. With an improved line drive rate, his batting average and OBP will improve in kind. A 2.5-3.0 WAR season is not out of the question.
Shortstop – J.J. Hardy
From 1983 to 2007, the Oriole shortstop situation was about as stable as any position in baseball with
Cal Ripken
,
Mike Bordick
and Tejada all holding down the fort for extended periods of time. In the three years since Tejada's departure,
Juan Castro
,
Alex Cintron
,
Freddie Bynum
, Brandon Fehey,
Luis Hernandez
, Cesar Izturiz,
Robert Andino
and
Julio Lugo
have all been given their share of playing time. Yikes! Talk about replacement-level production.
Like Lee and Reynolds, Hardy is coming off of a down year. The good news is that even if he reproduced his 2010 season, he'd still provide about a 2.0-2.5 WAR improvement over last year's crew. Still, I wouldn't be surprised to see Hardy's performance rebound this season. Last year, he played half of his games at Target Field, which was the most unfriendly ballpark in which to hit home runs. With Camden Yards being a home run neutral park, Hardy should see more of his long fly balls leave the yard. If he does, his improved offense, along with his above average defense, should provide about 3.0-3.5 WAR in value to the Orioles this season.
Designated Hitter – Vladmir Guerrero
Despite my objections to the Orioles increasing their offer to Vlad from $2 million to $8 million without a real competing offer on the table, his signing makes sense from a "good will" perspective. While he's not the same player he was five years ago, he generates considerable excitement; especially with regards to the Orioles fan base. Still, I feel I should temper expectations. He's old, can't play defense (as we saw in the 2010 postseason), and his offensive skills are eroding, though he still commands a great deal of respect within the locker room. Furthermore, his signing shifted the defensively challenged
Luke Scott
from DH to left field, thus weakening the team at that position. Despite all the hoopla surrounding Vlad's arrival, he projects to provide about 2.0 WAR in value. While that's admirable production, it neither outpaces Scott's 2010 production, nor improves the team in a measurable way. His addition appears to be purely cosmetic.
Even with the improvements the Orioles made during the offseason, it's probably only enough to take them from 66 to 76 wins. While that's an admirable accomplishment, I have to wonder if it was worthwhile to invest in short-term stop gaps, especially when the Orioles lack talented young prospects to fill behind those veterans. Really, if the Orioles are going to make any marked improvements, it will need to be on the backs of their young starters. At this point, outside of
Brian Matusz
, none of their young arms have shown they're ready to take that next big step forward this year. That could change, but until they do, the Orioles will probably remain in the back of the AL East pack.
Chip Buck walks the tight rope of the Red Sox-Yankee rivalry by contributing to both Fire Brand of the American League, a blog about the Boston Red Sox, and It's About the Money Stupid, a blog about the New York Yankees. IIATMS can also be found on Facebook here and you can follow on Twitter here.
April, 9, 2010
4/09/10
2:51
PM ET
In his look at high-salaried players
who might be released
, Satchel Price writes about these four guys:
Eric Chavez
($15 million in remaining contractual obligations),
Jeff Suppan
($14.5 million),
Dontrelle Willis
($12 million) and
Pat Burrell
($9 million). All those guys are indeed candidates (and no, I wasn't impressed with
Willis yesterday
), but I want to specifically address the Chavez situation. Price:
I wondered aloud a couple weeks ago whether Chavez could be this spring's Gary Sheffield, as he battled for playing time at the infield corners and the DH spot with Jack Cust, Gabe Gross, Eric Patterson, Jake Fox and Adam Rosales. The assumption was that the A's would have Landon Powell as their back-up catcher, so they could only hold onto three of the players listed above, including Chavez.

Obviously, the A's opted to make some surprising moves to keep Chavez on the roster, by designating Cust for assignment and sending Powell to Triple-A, opting to use Fox as the team's back-up catcher. As a DH, the bar is set pretty high offensively for Chavez, and given his track record in the past five years (.250/.326/.441, essentially a league average hitter), it seems unlikely that he'll make for a good DH.

If the team wants to get Fox's bat or the quality gloves of Powell and Rosales into the lineup, the team may need to move Chavez.
Well, there's not a great deal of room for Rosales' glove regardless of Chavez, since the A's have
Cliff Pennington
at shortstop and
Mark Ellis
at second base. I don't believe Chavez's presence has a great deal to do with Jake Fox's at-bats, either.
The A's have played four games. In three of them, Chavez started at DH against a right-handed starter. In the other game, Fox started at DH against a left-handed starter. Considering Fox's history, platoon DH seems like the perfect job for him. Here's what I think. If the A's release Chavez, they'll simply summon Jack Cust from Sacramento to fill his accustomed role.
Here's my take on Chavez ... Billy Beane has a great deal invested in Eric Chavez. Not just the money. Beane once compared Chavez to
Barry Bonds
(in a good way). I don't think it's a stretch to suggest that Billy Beane
loves
Eric Chavez (in a baseball way). Beane's reluctance to dump Chavez is perfectly understandable. Which doesn't mean it's necessarily rational.
Even if we assume that Cust replaces Chavez at some point, that still leaves the A's with one-and-a-half (at best) catchers, as Fox hasn't been a real catcher since 2006. Presumably, he was moved from behind the plate for a pretty good reason. The A's don't have a day off until the 19th, and they're off again a week later; just two off-days in April. Something tells me that Jack Cust will get his chance, and so will Landon Powell.
December, 13, 2009
12/13/09
7:31
AM ET
An era is over
:

Cust
Jack Cust became a free agent Saturday when the Oakland Athletics failed to offer him a 2010 contract.

Cust hit .240 with 25 homers and 70 RBIs last season but struck out 195 times, becoming the first player to lead in the AL in three straight seasons since Minnesota's Bobby Darwin from 1972-74. Cust whiffed 164 times in 2007 and 197 times in 2008.

--snip--

General manager Billy Beane has been determined to add more power to the lineup. The A's last week acquired third baseman Jake Fox from the Chicago Cubs largely because they like Fox's bat.
I like Cust as much as the next guy -- more, probably -- but this is exactly what you're supposed to do with marginal major leaguers like Cust: get the most out of them when they're young and cheap, and then dump them.
That's harsh, I know. If someone asks Billy Beane, he'll couch Cust's non-tendering in far friendlier terms. But he might also talk about Cust's "trendline" -- I haven't talked to him lately, but that used to be one of his favorite words -- and Cust's trendline is heading in the wrong direction.
In 2007, when Cust's services were essentially free, he hit .256/.408/.504.
In 2008, when he still was basically free ($410,000), he hit .231/.375/.476.
And in 2009, when he cost $2.8 million, he hit .240/.356/.417.
That's a steeper decline than we would have guessed, and so we might expect a bit of a comeback in 2010. Is it worth spending more than $4 million to find out, though? Probably not. This probably ends soon, and not prettily.
It's funny; I thought Fox and Cust would be
perfect
platoon partners. Was sort of looking forward to it, in fact. But with prospect
Brett Wallace
on the fast track, non-prospect
Daric Barton
might soon find himself in a limited role ... say, platoon with Fox?
Hey, a guy can dream a little, right?
December, 3, 2009
12/03/09
8:32
PM ET
OK, so it's a minor deal. But at least
it's a deal
!

Fox
The Chicago Cubs traded Aaron Miles and Jake Fox to the Oakland A's for right-handed pitcher Jeff Gray and minor-leaguers Ronny Morla and Matt Spencer, according to ESPNChicago.com reporter Bruce Levine.

The Cubs will absorb $1 million of the $2.7 million owed to Miles.

Gray pitched in five games for the A's in 2008 and 24 games last season, when he had a 3.76 ERA.
For three years running, Fox has been a monster in the high minors.
In 2007, he batted .284/.331/.511 in Double- and Triple-A.
In 2008, he batted .287/.364/.556 in Double- and Triple-A.
Granted, that was just the minor leagues and Fox wasn't particularly young for those levels (he's now 27).
In 2009, he batted
.409/.495/.841
in 45 Triple-A games, in the midst of which people like me
started screaming
for the Cubs to give him a shot with the big club. Which they soon did, though in a limited role.
Defensively, ol' Jake is a jack of most trades but a master of none. He can play anywhere but the middle of the infield, but not well enough to play regularly. I suppose he might make a good platoon partner with DH
Jack Cust
, though the A's are already sort of loaded with players on the left end of the
defensive spectrum
. I think Billy Beane just couldn't resist a player who seems to be undervalued by his old club, even if there's no obvious place for him to play.
Morla and Spencer are both interesting prospects, but neither ranks near the top of anyone's list. Essentially, this deal was about the A's getting Fox and the Cubs saving $1.7 million of Miles' ridiculous contract. Whether that $1.7 million and the two prospects are worth Fox depends on Bob Geren finding 300 plate appearances for Fox.
June, 10, 2009
6/10/09
4:33
PM ET
Reacting to
the news that
Jake Fox
is going down and
Aaron Miles
is coming (back) up, The Friendly Blogfines' Matt Clapp
has some questions
...
Interesting decision. Fox will surely be back up by June 23rd to serve as a designated hitter in some of the games at American League parks. I really liked his bat off the bench though, and would've preferred to send down Scales. I love Andres Blanco's glove at the middle infield positions and he's hitting enough to have a spot on this roster, so I'm glad they kept him. However, do the Cubs really need three of these similar players now in Miles, Scales, and Blanco? It will be interesting to see which one isn't on the 25-man roster when Ryan Freel returns soon from a left hamstring injury.

Miles has been a major disappointment, although reports are [his] shoulder's been an issue since Spring Training, so we'll see if some time off makes a difference there. He needs to start hitting at least something like the guy who batted .290 and.317 in the previous two seasons with the Cardinals, or he doesn't deserve a roster spot over any of these guys.
Just for the record, when Miles hit .290 for the Cardinals, his OPS+ was 76, which coincidentally is almost dead on his lifetime figure. Essentially -- and I write this, as always, with the appropriate respect for someone who could post even a 76 OPS+ against the best pitchers in the world -- but essentially Miles isn't good enough to play regularly in the majors.
That said, the Cubs do need a second baseman. Clapp is right, though: there's no good reason to keep Miles and Blanco and Scales on the roster at once. I don't know how much input Lou Piniella's got in these situations, but I can't figure why he'd want to be left with only two reasonable bats -- Micah Hoffpauir and Reed Johnson -- on the bench. And that's when Milton Bradley is healthy enough to play.
May, 27, 2009
5/27/09
2:41
PM ET
Hey, better late than never, right?
Paul Sullivan
:
In a shakeup of their roster, the Cubs made three moves today to help their lineup and their pen.

Jake Fox, who is hitting .423 with 17 home runs and 50 runs batted in for Triple-A Iowa over 40 games, was called up. Joining the infielder from Iowa is shortstop Andres Blanco and left-handed reliever Jason Waddell. Blanco is hitting .314 with 4 home runs and 25 RBI. Waddell has made 18 appearances for Iowa and has a 5.40 earned-run average.

To make room for Fox, Blanco and Waddell, the Cubs put Aaron Miles on the 15-day disabled list and sent down fan-favorite Bobby Scales and lefty reliever Neal Cotts, who has struggled to get out left-handed batters this season.
It's a shame about Scales, who's actually done quite well since getting called up a few weeks ago. Considering that he plays second base and third base -- two positions at which the Cubs have gotten almost no production this spring -- Scales must be wondering what else he could have done. And with Miles hitting the DL, who's going to play second base? Blanco, with the .290 career on-base percentage? OK, so all that came with the Royals when Blanco was still soaking behind the ears. Now he's 25, and doing well enough in Triple-A this season.
Obviously, Fox is the interesting guy here. Unfortunately, he's not in today's lineup and it's not at all obvious where he'll fit, since he can't really play third base and the Cubs are committed to Derrek Lee for the interminable future, even though Lee hasn't hit much since more than a year ago.
All these moves, then, are just fooling around at the edges. The Cubs need Geovany Soto and Milton Bradley to hit, and Aramis Ramirez to come back strong. Otherwise all the Jake Foxes and Andres Blancos in the world aren't going to make any difference.
Update: Well, the Jake Fox Era is off to a good start, as Fox drove an RBI double into the gap as a pinch-hitter in the bottom of the eighth.
May, 21, 2009
5/21/09
4:18
PM ET
This post from Bruce Miles
is a few days old, but still highly relevant ...
One of the more curious aspects of covering the Cubs all these years has been the organization's insistence on carrying 12 pitchers at the major-league level. It was that way under Dusty Baker when he was field manager, and it's like that now under Lou Piniella.

I could see the need for 12 pitchers -- well, maybe not -- if Lou was actually going to use 12 pitchers. But right now, the Cubs are carrying 12 while using only 11. In other words, they have essentially an 11-man pitching staff without benefit of the extra position player.

The guy the Cubs are trying to hide here is rookie David Patton, the Rule 5 kid out of Colorado they obtained at the winter meetings in a trade with the Reds. Having Patton on the roster would be all well and good if the Cubs were actually going to use him. As it is, Patton hasn't appeared in a game since May 9 at Milwaukee, when he gave up 3 hits, 1 walk and 2 runs in two-thirds of an inning. Before that, Patton pitched May 5 and May 1. Since the 9th, he's warmed up, but he hasn't gotten into a game.

--snip--

Although the offense has found a spark of late, the Cubs still could use the extra bat. How about calling longtime organization guy Jake Fox, who has been atop all three Triple Crown categories as he completely destroys the Pacific Coast League at Class AAA Iowa? Now ol' Jake isn't going to give you much defense. Heck the Cubs have tried him at catcher, the infield corners and the outfield corners, and they haven't much liked what they've seen. But the people I've talked with say Jake is flat-out a major-league hitter. He could give D-Lee a break at first base and come out later for defense. With Mike Fontenot slumping badly, you could put Jake at third to start a ballgame and get him out later. And, of course, he could pinch hit and get you a knock.
Jake is having one of
those
years. Or at the very least, one of
those
springs. Actually,
he's doing better than that
. He might be enjoying one of the great springs in Pacific Coast League history. In 35 games, Jake's batting .431/.513/.954 with 17 homers and 50 runs batted in. I've never used this word in this context, but Jake's numbers this spring are
sick
. And he's not some Triple-A geezer; ol' Jake won't turn 27 until July.
Nevertheless, putting Jake at third base isn't a fantastic idea. From the Baseball America Prospect Handbook, perhaps the most scathing comment they've ever published:
There are scouts who swear that Fox's plus power would produce 25 homers if he got the chance to play every day in the majors. The problem is that those longballs would come with a low batting average, plenty of strikeouts and absolutely no defensive ability ... Fox can crush any fastball out of any park, in part because he sits on fastballs and sells out for power every time. He can't handle breaking balls, won't work counts and rarely listens to batting coaches. Power is Fox's only tool, and one scout described his defense as "a notch above horrific."
Fox isn't going to play third base in the majors; not for the Cubs or anyone else. There may well be a place for him in the majors as a part-time first baseman or pinch-hitter, though. There probably should be a place for him. More the point, Miles is exactly right: It's simply unconscionable for a contending team in a competitive division to devote a roster spot to a player who's not allowed to play. I don't know if young Jake Fox deserves that spot. But someone certainly does.