May, 3, 2014
May 3
4:48
PM ET
By
Christina Kahrl
| ESPN.com
Jake Odorizzi
didn't make it through the fifth inning against the Yankees on Saturday. That's nothing new: He hasn't gotten an out beyond the fifth inning in any of the five starts he's made since his first turn.
In itself, that may not sound like such a big deal, considering that Odorizzi is a rookie, and the Rays -- smart about workloads as they are with everything else -- are keeping him under 100 pitches per start. But Odorizzi is part of a staff-wide problem because of the Rays' injury-wracked rotation. With
Alex Cobb
expected to miss May,
Jeremy Hellickson
perhaps not due back until the end of June, and
Matt Moore
out for the year, the Rays don't have the horses to work the innings you'd expect from a regular rotation. Odorizzi can't get to the sixth, but neither can swingman
Cesar Ramos
or journeyman
Erik Bedard
, not with any reliability.
Which puts the onus on the bullpen to handle the middle-inning workload as well as protect leads in the late frames. The Rays' bullpen is already averaging 3 2/3 IP every game. At their current clip they would throw 596 innings on the season. That's more than any team's relief crew threw in 2013; the Twins led with 579 1/3 last year. Only four clubs have ever had their bullpens throw as many as 596 frames: The Padres (596) and expansion Mariners (599 1/3) in 1977, the 2003 Rangers (601 1/3) and the 2012
Colorado Rockies
(with an epic 657 relief innings). That quartet of clubs averaged 95 losses, with Buck Showalter's Rangers being the best of the lot with 91. If you consider that the benefit of having a good skipper in charge of a bad situation, you can see the scale of Joe Maddon's task.
Some of the guys put on the spot most regularly have been mop-up man
Brandon Gomes
and former closer
Heath Bell
, neither of whom you would have projected being key components for the Rays this season. Bell left four games of his 12 appearances with the Rays worse on the scoreboard than where he found them when he was brought in, the worst of which was his converting an ugly, short Bedard start from a 4-3 deficit after four into a 9-3 hole after six that the Rays couldn't climb out of. Gomes absorbed his own loss Tuesday, coming in to pitch the sixth behind the quick-hooked Bedard.
This isn't to heap blame on Bell or Gomes. They're among the guys the Rays have to turn to in this all-hands-on-deck situation. On Saturday, it was Josh Lueke's turn to try to get them through the sixth inning; he gave up the lead run on Kelly Johnson's home run, then put an exclamation on that in the seventh with another pair of runs allowed.
Why was Lueke still out there? Because between Thursday's doubleheader requiring a total 8 2/3 innings from the bullpen, and then Friday night's extra-inning win demanding another seven innings of relief -- not even a seven-inning start from
David Price
spared the bullpen -- the Rays' relievers are getting worked hard. So Odorizzi's latest early exit just made matters worse, another game where only a natural disaster would spare the relievers another four-inning assignment. Bell gamely tried to tackle the eighth inning, but after throwing 2 1/3 innings in Friday's win in extras, he was beyond gassed, and got lit up Saturday, putting another three-spot on the boards to turn a deficit into a decisive loss.
The Rays' bullpen may not have to deal with this much work in a 72-hour stretch ever again. But the team is already handicapped by a rotation that can't go deep into its starts, so the bullpen won't be getting much relief from its workload in the months to come. That will create more opportunities for games like Saturday's, in any Odorizzi start, or Ramos start, or Bedard start, games lost in the fifth or sixth innings because the Rays have to rely on their 11th-, 12th- or 13th-best pitcher in high-leverage situations.
Sunday addendum
: The Rays have
designated Bell for assignment
, understandable given a 7.27 ERA. He's neither the first nor will he be the last reliever the Rays have to use up in their churn-and-burn hunt for bullpen help capable of filling the in-game gaps created by a rotation too frequently making short work of their own starts.
Christina Kahrl writes about MLB for ESPN. You can follow her on Twitter.
April, 9, 2014
Apr 9
12:45
AM ET
By
Christina Kahrl
| ESPN.com
Let's start off with the obvious: The news for
Matt Moore
is far from a death sentence as far as his 2014 season is concerned.
An inconclusive MRI and a trip to Dr. Andrews' office
are both ominous, but in themselves they are not the end.
The more basic concern is that Moore has had to be shut down for elbow trouble before. Last year, the power southpaw missed 31 games (or about five starts) to inflammation to this same left elbow, and Joe Maddon understandably didn't sound thrilled the day after Moore had to leave his Monday start early, admitting that the elbow was "worse than what we thought before."
It's easy to speculate about how losing Moore for an extended period of time could be disastrous for the Rays' annual bid to be underdog contender in 2014. Consider who's in their rotation beyond staff ace
David Price
;
Alex Cobb
has yet to notch a 30-start season in the majors, after all. Neither has
Chris Archer
. Rookie
Jake Odorizzi
has seven career big league starts; he's expected to become a midrotation horse in time, but absent Moore they might need that time to be now.
[+] Enlarge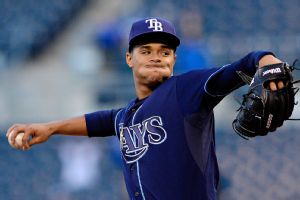 John Sleezer/Kansas City Star/MCT/Getty ImageThe Rays can't blow off losing Matt Moore for any length of time, but Chris Archer is ready to help.
The thing is that's by design. This year's rotation isn't saddled with a willful science experiment like the comeback of
Roberto Hernandez
(the mound artist formerly known as Fausto Carmona). It was instead a quintet picked because of their bright futures and readiness. Price is the old man of the group at 28, a man who could add another Cy Young Award or two to his mantel before hitting free agency after 2015. Cobb (4th round, 2006) and Moore (8th round, 2007) are reminders that picking high school arms really can pay off in terms of upside, taken at a time when it seemed as if everyone was overreacting to less-remembered object lesson of "Moneyball," that you should rely on college-groomed arms. Archer (25) was part of the package received for
Matt Garza
, Odorizzi, a former first-rounder and an egregious bit of ballast bundled into the
Wil Myers
-
James Shields
deal with the Royals.
It's a cadre of talent carefully accumulated and prepped to pick up where that old Rays rotation of Price, Garza and Shields. Heck, it's a group so good and so young you might be forgiven for pegging them as the gaggle most likely to do a '90s Braves impression in the back half of the decade. But that's only on paper, and only if they stay healthy, and as with almost every rotation this side of the '90s Braves (or the Aughties White Sox), that's never a sure thing no matter how smart they might be in getting them, and no matter how carefully you manage their workloads.
Asking about whether the Rays have a serious problem depends on your time frame and whether you're an optimist or a pessimist. For the time being, it looks like they might turn to journeyman
Erik Bedard
, no stranger to the DL himself, and not a guy you can count on to get through opposing lineups three times. If it's
Cesar Ramos
instead, you can still ask yourself if the bullpen lefty will do that much better beyond a second time through the order. Either of them will add to the middle-inning load of the bullpen. It's nothing Joe Maddon hasn't had to manage around before, but full, healthy seasons from Cobb, as well as Price, would certainly help.
The good news is that the Rays might not have to resort to those kinds of patches in their rotation for long. In the nearer term,
Jeremy Hellickson
is slowly making his way back from February surgery to remove bodies in his pitching elbow. If he heals on the short side of his recovery plan, he might be back in action in the second half of May, while the long side might involve sometime in June. So the Rays' window of need in the worst-case scenario might close no later than June -- if Moore has to miss the season, and if Hellickson takes the maximum amount of time to recuperate and gear up, barring any setbacks.
But that's Hellickson comes back to pitch the way he did before 2013, and while you can hope so, we'll need to see it happen first. Even though metrics like FIP and xFIP cheerily proposed 2013 was his best season yet because his strikeout rate went up, suggesting he was almost a full run per nine better last year than his 5.17 ERA. While Hellickson earned plenty of top-talent touts in his first two seasons and while he is still just 27 years old, last year he notched just 11 quality starts in 31 turns, his power allowed to opposing batters spiked up to a .176 Isolated Power, and his innings pitched per start dropped to 5.5. The cavalry won't come if this horse comes back hobbled by that kind of hard-hit, liner-happy ineffectiveness.
This early in a season, it's easy to be negative. It's easy to be positive. You can hope Moore will be back in action after two weeks or as many as five (like last year), because last year, Price, Cobb and Moore all spent time on the DL, and the Rays nevertheless made it to the postseason. But that was then, and this is where the rubber meets the road. The last bit of good news is that, even with the defending champion Red Sox in the division, nobody from among the East's tough quintet of teams looks like they'll be running out ahead anytime soon. We'll see if the Rays can roll with this latest injury as effectively as they've adapted in the past, but I wouldn't bet against them, whatever Doc Andrews says to Matt Moore on a day TBNL.
Christina Kahrl writes about MLB for ESPN. You can follow her on Twitter.
June, 8, 2013
6/08/13
10:01
AM ET
This was supposed to be the year for the
Kansas City Royals
, the climax of all those of futile seasons, subsequent high draft pick selections, and constant rebuilding. In a perfect world the images of
James Shields
,
Wade Davis
,
Ervin Santana
and
Jeremy Guthrie
donning Kansas City uniforms would never exist.
After all, just two seasons prior to beginning the year with the four veteran right-handers in the rotation, general manager Dayton Moore and Co. had amassed what could have been the greatest farm system in baseball history. Prior to the start of the 2011 season Baseball America issued its top 100 prospects list, featuring nine members of the Royals organization, five of them among the game's top 19:
Eric Hosmer
(No. 8),
Mike Moustakas
(No. 9), Wil Myers (No. 10), John Lamb (No. 18), Mike Montgomery (No. 19), Christian Colon (No. 51),
Danny Duffy
(No. 68),
Jake Odorizzi
(No. 69) and Chris Dwyer (No. 83).
It was a deep, diverse collection of talent, offering a solid mix of potential middle-of-the-order bats and potential front-of-the-rotation arms. It was supposed to be, simply, the farm system that would thrust KC back into October.
And, yet, here the Royals are, in the midst of a horrifically poor stretch where they find themselves at the back of the AL Central. That leaves the question: What happened?
Eric Hosmer:
The young first baseman looked as close to a can't-miss prospect as any player in the organization, showing above-average to elite walk rates, solid contact skills, no discernible platoon splits, and promising power -- or was it?
Look at Hosmer's isolated power numbers:

Year	Level	PA	ISO
2009	A	327	0.129
2009	A+	107	0.093
2010	A+	375	0.191
2010	AA	211	0.303
2011	AAA	118	0.143
2011	MLB	563	0.172
2012	MLB	598	0.127
2013	MLB	215	0.066

Outside of half of one season in 2010, he never consistently showed above-average power. Instead, his two best stops in the minor leagues (according to Weighted Runs Created Plus, or wRC+) were his stints in High-A in 2010 and Triple-A the next year, both of which he posted ridiculously high batting averages on balls in play (.382 and .500, respectively).
In all fairness, he projected to hit for more power, but hasn't. Hosmer is only 23 years old, so there's still some reason to hope.
Mike Moustakas:
Heading into the 2010 season, the third baseman with the smooth left-handed stroke had been solid, but far from spectacular. He hit .272/.337/.468 as a 19-year-old in A-ball in 2008 and .250/.297/.421 in High-A the following season. But the former No. 2 overall pick broke out in Double-A in 2010, hitting an incredible .347/.413/.687 through 66 games. He was then promoted to Omaha where he hit .293/.314/.564.
Using Weighted Runs Created Plus -- a park and league adjusted offensive stat where 100 is league average and every point above or below it is equivalent to one percent better or worse than the league average -- and BABIP, Moustakas posted the following totals in the minor leagues:

Year	Level	PA	wRC+	BABIP
2008	A	549	128	0.289
2009	A+	530	95	0.275
2010	AA	298	194	0.342
2010	AAA	236	114	0.271
2011	AAA	250	105	0.314

His numbers with Northwest Arkansas certainly now appear to be the outlier, which is only supported by a unsustainable -- given his minor league track record -- .342 batting average on balls in play. But there were also two additional red flags: A history of below-average walk rates and an inability to hit left-handers consistently.
Fast forward a few years and, unsurprisingly, Moustakas owns a below-average walk rate and BABIP, and still hasn't learned to hit southpaws (he's hit .219/.274/.331 against them during his big league career).
John Lamb and Danny Duffy:
Statistically speaking, there were no red flags for Lamb and Duffy. Each missed a lot of bats and showed solid control. The problem, however, is both serve as just another cautionary tale when it comes to highly touted hurlers nabbed out of high school. The duo succumbed to elbow woes and Tommy John surgery. And while they are making progress on the hill this season, they've yet to make any type of big league impact.
Christian Colon:
The former fourth overall pick out of Cal State Fullerton in 2010 showed some offensive promise during his junior season: .358/.450/.631. But his bat -- namely his pop and walk rates -- has failed to develop in the pro ranks. Hi offensive production during his debut season in High-A certainly looked like a harbinger for things to come: He hit .278/.326/.376 and was 5 percent below the league-average, uninspiring production for a highly drafted college player in an age-appropriate level of competition.
Chris Dwyer:
Kansas City found the 6-foot-3 left-hander in the fourth round out of Clemson in 2009. Dwyer tossed a combined 102 innings the following season, the overwhelming majority in High-A. And while his overall numbers look impressive -- 10.0 K/9 and 3.8 BB/9 -- he was another polished collegiate player that spent a significant amount of time in an age-appropriate level of competition. His numbers have regressed mightily since then.
Wil Myers, Jake Odorizzi and Mike Montgomery:
Flipped this offseason for James Shields and Wade Davis, Myers and Odorizzi look like the two most likely candidates of the entire group to find sustained big league success.
Myers, who hit .314/.387/.600 between Double-A and Triple-A in 2012, started off slowly this season but has managed to pick things up as of late (.276/.355/.491). He has the potential to swing and miss a lot at the big league level, but the power output and strong walk rates have been consistent.
Odorizzi misses some bats and shows average control. He won't be a star, but should become a solid No. 3 or4 starter.
Montgomery, on the other hand, is another failed top prospect. And while he flashed some promise at certain points during his career, the southpaw's production hjas failed to match the hype once he entered Double-A.
Given the high attrition rate for prospects, you could project that probably only one, maybe two, of the team's prospects from that season would actually reach their full potential, with another two becoming solid big league regulars. Instead, the seven that remain within the organization have all struggled or been injured. For now, Myers and Odorizzi look like group's best bets. Unfortunately for the hometown fans, they no longer have a chance do so for the Royals.
Joe Werner contributes to the Indians blog It's Pronounced "Lajaway," writes at ProspectDigest.com and can be followed on Twitter @ReleasePoints.
May, 19, 2013
5/19/13
9:01
PM ET
When the
Tampa Bay Rays
changed their name in 2008 and transformed overnight from the hapless laughingstock of the American League to 97-win division champions, their rotation featured five pitchers 26 or younger: At 26,
James Shields
was the old man of the group, which included
Scott Kazmir
,
Matt Garza
,
Edwin Jackson
and
Andy Sonnanstine
.
The genius of the Rays since then has been their ability to consistently replenish the staff with young starters and yet remain one of the best in the league. With the departure of Shields this offseason, that original five has been completely made over; a transition began when
David Price
joined the rotation during the 2009 season. The unofficial title of staff ace has shifted from Kazmir to Shields to Price, and it appears another shift is taking place in 2013.

Matt Moore
, your presence as a Cy Young contender is duly noted. With reigning Cy Young champ Price struggling -- earning just one win in nine starts while posting a 5.24 ERA, and then landing on the DL a few days ago with triceps strain -- it is Moore who has helped keep the Rays afloat more than any one pitcher. He improved to 8-0 on Sunday, limiting the Baltimore Orioles to five hits and one run over seven innings in
a 3-1 victory
, as the Rays completed an impressive sweep in Baltimore.
Moore lowered his ERA to 2.29, the Rays improved to 23-20 with their ninth win in 11 games, and this is looking like a team starting to click on all cylinders -- even as Price sits on the sidelines the next two weeks.
At 23, Moore became the youngest American League pitcher to start 8-0 since another hard-throwing lefty named Babe Ruth did it in 1917. The scary thing about his start is that the ability to perform even better is there, as he has been inconsistent with his command and pitched seven innings just twice. Manager Joe Maddon suggested as much,
telling MLB.com
:
I think from where he's coming from, he knows he can be better. He doesn't like those five-inning outings. He doesn't like that at all. So I'm sure he's deflecting based on that. As you see him get deeper into the games and more consistent with the wins, I think you might see him step out a little bit.

But I like the idea that there's humility involved. I like the idea that he knows that he can get better. I love that. The accountability is tremendous. That doesn't surprise me. ... Historically speaking, it has been wonderful, but there is 'more' in Moore. And he knows that.
Moore has held batters to a .175 average but he has also walked 26 in 55 innings, so there's room for improvement. In some ways, that's what made Sunday's outing impressive: He struck out only three but walked one, avoiding a big inning in the process. Another area for improvement is that while Moore's fastball/curveball/changeup arsenal has destroyed right-handers -- they're hitting .064 off the curveball with 20 strikeouts in 47 plate appearances -- he hasn't yet learned to dominate lefties, who have hit a respectable .236/.335/.361 off him the past two seasons he sticks mostly to the fastball against them.
Of course, a major reason he's 8-0 is excellent run support, but this isn't a typical Tampa Bay offense that struggles to put up runs. After outscoring only the Royals, Indians and Mariners last season, the Rays have scored just 12 runs fewer than the best-in-the-AL Tigers. The Rays' OPS has increased from .711 to .760 and not just because Dodgers castoff
James Loney
is off to a .356 start.
Matt Joyce
has eight home runs and
Luke Scott
has driven in 12 runs in 17 games since coming off the DL; both homered in Sunday's win.
Kelly Johnson
is hitting .274 with seven home runs. With Loney's hot start, that gives the Rays four threats from the left side. Logic says to throw left-handed pitching at the Rays, but the division isn't exactly ripe with left-handed starters once you get past
CC Sabathia
and
Jon Lester
, especially with
Mark Buehrle
struggling and
Andy Pettitte
and
Wei-Yin Chen
currently on the DL.
Throw a lefty, however, and there's that guy named
Evan Longoria
waiting for you in the middle.
But here's why I'll stick with my preseason choice of the Rays to win the AL East: pitching, pitching, pitching. At least starting pitching. (The bullpen is the team's major issue right now.) At Triple-A Durham, the rotation included
Alex Torres
(2.39 ERA, 49 SO, 14 BB in 37.2 IP),
Jake Odorizzi
(3.83 ERA, 47 SO, 15 BB in 44.2 IP),
Chris Archer
(4.38 ERA, 40 SO, 19 BB in 39 IP) and Alex Colome (2.86 ERA, 59 SO, 20 BB in 50 IP). The Angels would kill to have those four in their rotation right now.
Torres was called up to replace Price, but Odorizzi will get the start on Monday afternoon against Toronto. All Torres did on Saturday was pitch four hitless innings in relief of
Roberto Hernandez
to earn his second major league win.
It's all those arms that explain why Price will likely make his billions with another team eventually.
Not that Maddon doesn't want his ace back as quickly as possible … or co-ace, that is.
May, 16, 2013
5/16/13
11:52
AM ET
David Price
's rough season got worse last night when he left his start with a triceps injury and might miss a start or two. Let's hope it's nothing more severe than that.

Eric Karabell speculates on who the
Rays will start in his place
. As Eric points out,
Jake Odorizzi
started Wednesday for Tampa's Triple-A club, so he's on Price's schedule, although he pitched poorly on Wednesday. I love
Chris Archer
and the way he pitched down the stretch in the majors last year, but he hasn't pitched as well in Triple-A, although his strikeout rate is fine. Maybe he's one of those guys who does better on the big stage.
Personally, I like Archer's upside a lot more, but Odorizzi's Durham numbers are pretty solid (3.83 ERA, 47 SO, 15 BB in 44 innings).
Alex Torres
(2.39 ERA, 49/14 SO/BB ratio) has also been outstanding, and Alex Colome (2.84 ERA, 51 K's in 44.1 inings) might finally be reaching his potential. Basically, Tampa Bay's Triple-A rotation is probably better than several major league rotations.
No matter who gets the call, that's some nice depth. Now the Rays just need to get the big league staff rolling as they're 11th in the AL in runs allowed, an unusual position for a Tampa Bay club.
July, 8, 2012
7/08/12
8:35
PM ET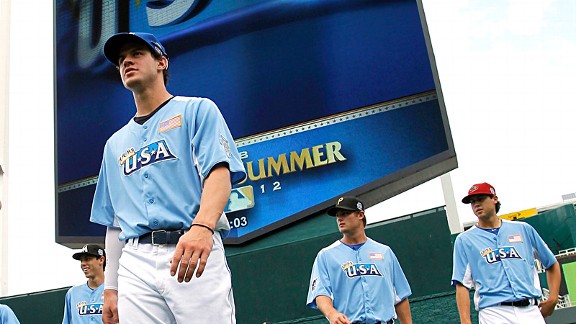 John Sleezer/Kansas City Star/MCTWil Myers and the U.S. team trounced the World team 17-5 in the Futures Game.
KANSAS CITY, Mo. -- In 13 previous Futures Game matchups before Sunday the USA team had scored 51 runs, the World team 46, so let's just say games didn't play like they had been held regularly at Coors Field. On Sunday, however, the USA team had little trouble setting records as they exploded for a lopsided 17-5 victory in front of a loud, sellout crowd of 40,095 at steamy Kauffman Stadium.
Offensive heroics clearly weren't hard to find, as hometown hero Wil Myers of the
Kansas City Royals
knocked in three runs and played the entire game. (Can you imagine that Tuesday night in the All-Star game?)
Detroit Tigers
third base prospect Nick Castellanos launched a majestic three-run homer to center field to cap a nine-run sixth inning and Billy Hamilton, perhaps the fastest player in organized baseball today, tripled in one of his at-bats, though fans were deprived the opportunity to see a record-breaking base stealer do just that.
Of course, few might remember early on the story was the U.S. pitchers struggling to keep the World hitters off the board. Royals prospect Jake Odorizzi, likely an upgrade on anyone the big league team has in its current rotation, started and allowed a home run to Jurickson Profar, the
Texas Rangers'
exciting shortstop prospect. In the second inning
Pittsburgh Pirates
flamethrower Gerrit Cole entered and lit up the radar gun, but also permitted a long two-run blast to
Chicago Cubs
outfield prospect Jae-Hoon Ha. Polished
Seattle Mariners
lefty Danny Hultzen allowed a run on three hits in his inning, and then
Baltimore Orioles
right-hander Dylan Bundy threw a scoreless fourth inning, but allowed three more hits.
Ultimately the USA team had little trouble making up the 4-0 deficit in easily the highest-scoring game in Futures history. (The previous high for
combined
runs scored was 13). And this was fun, too. In general Futures Game crowds are small and disinterested, the first event of a three-day stretch that gets overlooked by the prime-time Home Run Derby and Tuesday's All-Star game. But fans filled the Kansas City stadium and flocked to see Myers, Odorizzi, as well as World team starting pitcher Yordano Ventura, who tossed a scoreless inning. Congrats to the crowd for showing up, mostly staying until the end and making a lot of noise despite triple-digit temperatures. And you bet they want to chance to keep on cheering on Myers, he of the 27 home runs at two minor league levels already, when he finally gets the call to the Royals. It's coming, definitely.
As for Hamilton, the
Cincinnati Reds
shortstop that has famously registered 104 stolen bases in 82 games so far, and is scheduled to make his Double-A Pensacola debut this coming week, it would have been nice to see him attempt to steal a base against strong-armed
Atlanta Braves
catching prospect Christian Bethancourt. Hamilton grounded out in the first inning to second base -- though he nearly beat it out -- and then launched a two-run triple over the center fielder in the third. In his final at-bat he grounded into a double play. It's hard to believe that happened because Hamilton is so fast, like
really, really fast.
By the way, current Reds leadoff men, mostly shortstop
Zack Cozart
, entered Sunday hitting .201 with a .246 on-base percentage.
Quite a few players made an impression in this game on the offensive side, but the same cannot be said about the young arms. Perhaps the relative struggles of the more notable U.S. pitchers -- the team did win by 12, after all -- is a gentle reminder that there are no sure things with minor league hurlers, even the top prospects with the highest pedigree.
Arizona Diamondbacks
right-hander
Trevor Bauer
is an example. He would have been in this game, perhaps in a leading role, had he not been called up to the majors a few weeks ago. Bauer's first two big league starts featured 11 hits, eight runs and seven walks in only 7 1/3 innings, but Sunday went a lot better for Bauer against a Double-A caliber
Los Angeles Dodgers
lineup with six shutout innings of two-hit ball. Odorizzi, Cole and Hultzen are likely to see big league time in 2012, but initial domination is far from assured.
As for what else was notable from this game, the future of the left side of the Texas Rangers infield appears to be in good hands. Profar homered to right field to lead off the game, and then, against the lefty Hultzen, turned to bat right-handed and lined a single to right field. Third base prospect Mike Olt has 22 home runs in the minors, and he contributed a mammoth double off the center-field wall in five at-bats. There's no room currently in the Texas infield, but Profar has a better long-term prognosis than
Elvis Andrus
and it's certainly possible Olt is called up soon to handle first base, with
Adrian Beltre
entrenched at the hot corner.
Castellanos was awarded the MVP award for his home run and two singles, plus he scored three runs. Tigers fans can't complain about current third baseman
Miguel Cabrera
-- well, they can
defensively
-- but Castellanos is 20 years old and not close to the big leagues, not like Myers and some of the U.S. pitchers.