SweetSpot:

Jameson Taillon
June, 20, 2013
Jun 20
12:15
AM ET
The
Pittsburgh Pirates
need
Giancarlo Stanton
.
They have the starting pitching, even though right now they have an entire rotation on the disabled list. They have the bullpen, a key reason the Pirates lead the majors with 12 shutouts. They play excellent defense, especially with
Andrew McCutchen
and
Starling Marte
running everything down in the outfield.
What they don't do is score runs. Or enough of them.
This was evident in Wednesday's heartbreaking
2-1 loss to the Cincinnati Reds
. A win would have moved the Pirates ahead of the Reds and into second place in the NL Central. The Pirates led 1-0 in the bottom of the ninth when
Jay Bruce
tagged
Jason Grilli
for a home run to tie the game, Grilli's first blown save. It was bound to happen at some point.
Jeff Locke
had delivered another shutdown start with seven scoreless innings -- his string of five scoreless outings in his past seven starts is a big reason the Pirates have managed through the current DL stints of
A.J. Burnett
and
Wandy Rodriguez
.
This is a better Pirates team than those of the past two seasons that toyed with the emotions of its fans by running into a half season of good luck. The results of this pitching staff aren't a fluke like the 2011 and 2012 staffs.
This team can pitch.
But they need Giancarlo Stanton in the middle of this order to add a big bat behind McCutchen.
The problem with the Pirates' offense isn't so much that it's bad, but that it's not good, if that makes any sense. Well, it is bad at two positions. Entering Wednesday's game the Pirates ranked 14th in the National League in OPS at shortstop, and 15th -- dead last -- in OPS at right field. Here are their rankings from each position:

Catcher: 4th
First base: 5th
Second base: 5th
Third base: 10th
Shortstop: 14th
Left field: 5th
Center field: 4th
Right field: 15th
Which means Stanton is the perfect fit. A minor upgrade at shortstop over
Jordy Mercer
or
Clint Barmes
isn't the fix needed. Stanton is the fix.
Pirates management needs to step up, admit that next year is this year, and make the blockbuster deal of this trading season. Don't attempt to patch things with small-time pickups such as
Derrek Lee
or
Gaby Sanchez
. Go for a guy who can actually help you put runs on the scoreboard.
Go for Giancarlo Stanton.
They can get him. The Marlins are rebuilding and are clearly years away from contention. By the time that may happen, Stanton will be heading toward free agency, and he's as likely to remain in Miami as I of stopping LeBron James on a drive to the hoop.
So the Marlins
will
trade him.
From the Pirates' perspective, the best thing is that Stanton is making only $537,000 this season, so he fits into their budget. Sure, he'll get expensive starting next year when he first becomes arbitration-eligible, but that's the thing about acquiring him: You get him for three more seasons after this one. This isn't renting
Zack Greinke
for two months. And if Stanton gets too expensive for your tastes by 2016, you can always trade him then.
All the Pirates have to do is cough up some prospects. Premium prospects, of course. But I say: Take the plunge. Heck, acquire Stanton to play in the most beautiful ballpark in America, and I may move to Pittsburgh.
Here's what it will cost: Double-A starter Jameson Taillon, Keith Law's No. 20 prospect entering the season who has pitched well at Altoona; outfielder Gregory Polanco, the No. 55 prospect who has shot up in value after a strong showing that recently got him promoted to Double-A; catcher Tony Sanchez, the former No. 1 pick who is hitting .303 with nine home runs at Triple-A Indianapolis; plus a decent C-grade lefty.
Two premium prospects, a catcher who could pan out (and who happens to be from Miami) and the party favor left-hander. That's a similar package to what the Marlins acquired back in the day when they traded
Miguel Cabrera
to the Tigers, with the two premium prospects then being
Andrew Miller
and
Cameron Maybin
. That deal didn't work out, as Miller and Maybin weren't the polished, high-end players most believed, but the Marlins are in a position that they have to take risks.
The Marlins, of course, would probably ask for
Gerrit Cole
and minor league shortstop Alen Hanson. The Pirates aren't going to trade Cole, but Taillon/Polanco/Hanson may be one premium prospect too many.
Then again, it's not every day you get the chance to acquire a 35-homer bat to play right field.
Stanton hitting home runs into the Pittsburgh night, the Roberto Clemente bridge in the background. How's that sound, Pirates fans?
March, 15, 2013
Mar 15
12:50
PM ET
Jayson Stark has a story up on five reasons the
Pittsburgh Pirates
can finally crack .500
-- you know, something they haven't done since Barry Bonds was still with the team, way back in 1992.

Gerrit Cole, the first overall pick in the 2011 draft, is expected to join the Pirates' rotation at some point. And there's no doubt the future of the Pirates, to a large degree, rests on the powerful right arms of Cole and Jameson Taillon, the second overall pick in 2010. Jayson writes:
Taillon, coming off an eye-popping start for Team Canada against the USA last week, has already been sent out and is likely bound for Double-A. But Cole, the first player picked in the country in the 2011 draft, remains in camp. And some scouts think he's already one of this team's five best starters.

He's a long shot to make the club. But at some point, he's positioned to force his way into the big leagues, on the way to True Acehood. And Taillon might not be far behind.

"I think they're every bit as good as what people say they are," said (Neil) Walker. "I don't think it's going to be long before those guys are making an impact on our team. And that's something that we've been missing, is those impact players in the minor leagues who come up and really help us."
That's kind of the understatement of the year. Certainly, when you haven't had a winning season in 20 years, the minor leagues haven't produced much talent. But for the Pirates, it's been a mind-numbing two decades of incompetence and bad luck. Consider this: The last pitcher the Pirates drafted or signed as an international free agent who produced at least two 3-WAR seasons with Pittsburgh was Francisco Cordova. The Pirates signed him out of Mexico and he had 4.2 and 5.2 WAR in 1997 and '98.
But before that? You have to go all the way back to ... John Candelaria, who had six 3-WAR seasons with the Pirates. He was drafted in 1972 and reached the majors in 1975.
Now, maybe you think 3.0 WAR is too high of a standard. Thirty-five pitchers reached that in 2012, 39 in 2011, so we're only talking about a little more than one per team on average each season. Still ... that's one consistent quality starter developed internally in nearly 40 years (and Cordova burned out after those two good seasons). Some guys were one-year wonders --
Oliver Perez
; former No.1 overall pick Kris Benson, who had a 4.8 season before getting injured;
Paul Maholm
, Ian Snell and
Tom Gorzelanny
each had one 3-WAR season; John Smiley won 20 games in 1991, but then was traded to the Twins -- but most of Pittsburgh's best starters have come over from other organizations (Doug Drabek, Denny Neagle, Rick Reuschel, even
A.J. Burnett
and
James McDonald
last year).
In other words, the Pirates are due. Way due for a little good luck. Cole, despite his potential is no sure thing. The Royals just sent
Luke Hochevar
, the first pick in 2006, to the bullpen after finally giving up on him as a starter. Pirates fans know all too well about Bryan Bullington, the first pick in 2002, not to mention Benson. On the other hand,
Stephen Strasburg
and
David Price
were recent No. 1 picks, and Cole's ability is more like theirs than Hochevar's.
For the Pirates' sake, let's hope Cole and Taillon are more Strasburg and
Justin Verlander
than Matt Anderson and Greg Reynolds. I don't know if they'll get to .500 this year (they'll miss beating up on the Astros), but Cole and Taillon might get them there in 2014.
March, 11, 2013
Mar 11
4:35
PM ET
If you watched Sunday's U.S.-Canada game you saw 21-year-old Pirates right-hander Jameson Taillon throw four impressive innings for Canada, allowing four hits and one walk while striking out three. He showcased his mid-90s fastball and struck out
Jimmy Rollins
,
Ryan Braun
and
Shane Victorino
on curveballs, getting Braun looking on a beautiful 3-2 bender. (Taillon is from Texas, but both his parents are Canadian.)
During the game, I had a couple readers insist Taillon is better right now than U.S. starter
Derek Holland
. I don't know about that. Taillon has pitched just three games above Class A while Holland has a 4.29 ERA over the past two seasons pitching in one of the best hitter's parks in the majors. Taillon had a 3.82 ERA in the Florida State League and Holland had a better strikeout/walk ratio pitching in the American League than Taillon did pitching for Bradenton.
That doesn't mean Taillon doesn't have the
potential
to be better than Holland. Keith Law ranked him No. 20 on his
top 100 prospects
list, writing "Taillon has top-of-the-rotation stuff, not that far behind teammate Gerrit Cole's arsenal, but doesn't miss as many bats as you'd expect given what comes out of his arm and may be more of a 1A to Cole's 1 when it's all said and done." Other lists were in line with Keith's: Baseball America ranked
Taillon 19th
and
MLB.com ranked him 15th
.
During the broadcast, the announcers compared Taillon to
Josh Beckett
-- both are big right-handers from Texas, both were drafted second overall. (No high school right-hander has ever been drafted No. 1, and the last one drafted second before Beckett in 1999 was Bill Gullickson in 1977.) In fact, the Pirates had Taillon rated ahead of
Bryce Harper
on their draft board in 2010. I don't think the announcers were necessarily comparing ability, although Taillon's ability is certainly high, but the similarity in backgrounds.
Let's be clear: Taillon is not Beckett, at least not yet. When Beckett pitched in the Florida State League, he was a year older than Taillon (actually, six months older, but a year older in seasonal age) and absolutely dominant. In 12 starts, he went 6-0 with a 1.32 ERA, 32 hits in 65.2 innings, 101 strikeouts and just 15 walks. Moved up to Double-A, Beckett had a 109/19 strikeout/walk ratio in 74.1 innings. He even made four starts for the Marlins, tossing up a 1.50 ERA in 24 innings. That's why Beckett was the No. 1 prospect in baseball heading into the 2002 season.
Look, Taillon has some special talent. But don't let prospect hype run amok here and suggest this kid is going to be as good as Beckett.
Maybe
he will.
Maybe
he'll be better (for the Pirates' sake, I hope so). The numbers suggest he still needs to improve before we can project him as a No. 1 or No. 2 starter in the majors. We certainly saw a glimpse of his upside on Sunday, but let him dominate in the minors before we make him the next Josh Beckett ... or even the next Derek Holland.
March, 10, 2013
Mar 10
7:53
PM ET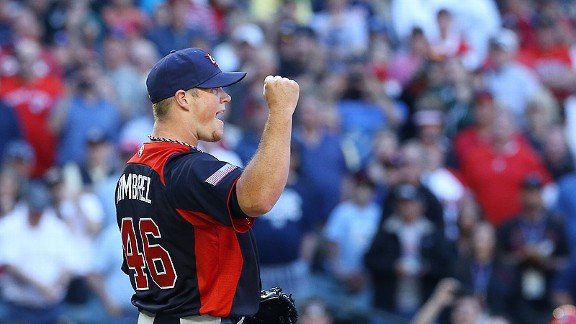 Mark J. Rebilas/USA TODAY SportsCraig Kimbrel worked a one-two-three ninth to secure the win over Team Canada.
They call this the World Baseball Classic and Sunday's United States-Canada game certainly qualifies as a classic, with a David-versus-Goliath storyline, several questionable lineup and managerial decisions made by Joe Torre, a late-inning rally and maybe some respect earned for this tournament.
The final score read
9-4 in favor of the United States
, and the U.S. moves on to the second round next weekend in Miami. But the game was much more tense than the score indicated. Some quick thoughts:
Let's begin with Torre's lineup. He inserted Shane Victorino into left field and Ben Zobrist into right field, moving Ryan Braun to the DH spot, Joe Mauer to catcher and benching Giancarlo Stanton. While that added two switch-hitters to the Team USA lineup against Canadian right-hander Jameson Taillon, it meant sitting one of the game's premier sluggers for Victorino, who isn't the same presence in the lineup. I understand that Torre wanted to get Victorino into a game, but this isn't tee ball; there are no trophies and cookies handed out to the losing team for trying your best.

Torre then had a strange sacrifice bunt attempt in the second inning with two runners on and no outs after David Wright doubled and Canada third baseman Taylor Green dropped an infield pop-up. Instead of going for a big inning against a 21-year-old who has pitched three games above Class A, Torre had Adam Jones bunt. It made no sense to play little ball there instead of trying to blow the game open against a pitcher who didn't exactly dominate the Florida State League in 2012. The bunt worked but Taillon worked out of the jam without a run. Play for one, get none.

The U.S. fell behind when Mariners outfielder Michael Saunders continued his hot WBC streak with a two-run home run to right, yanking a terrible hanging slider from Derek Holland. Saunders had shown bunt on the first pitch, a ball in the dirt, then swung away. That's what can happen when you don't bunt.

Down 2-0 in the fourth, Torre then bunted again with two on and no outs. The bunt "worked" when Green hesitated on Zobrist's bunt down the third-base line and Zobrist beat the throw to first. How rare is a bunt when trailing by two runs? Torre managed the Yankees from 1996 to 2007 and the Yankees had 13 sacrifice bunts when down two runs -- one by a pitcher, three by Miguel Cairo and the others by weak hitters other than two by Derek Jeter in 2004. In other words, Torre almost never bunted in that situation. It's like Torre was watching all the small ball played by the Asian teams and forgot he has the best lineup in the tournament. If Green makes the play, the U.S. scores only one run that inning instead of two. Good outcome, but the wrong call.

In the eighth inning, after Jones delivered a big go-ahead double to give the U.S. the lead, Torre turned to Diamondbacks righty David Hernandez even though the heart of the Canada lineup -- Joey Votto, Justin Morneau and Saunders, all left-handed hitters -- was due up. I can't quibble too much with that decision, even though lefty Jeremy Affeldt was available. I would have used Affeldt, as all three players had sizable platoon splits last year, but Hernandez was one of the game's best relievers in 2012 (although he held righties to a .145 average and lefties to a .240 mark). After Votto reached on an infield, Morneau struck out and Saunders laid down a perfect bunt single. Chris Robinson then singled to load the bases and Adam Loewen grounded out to make the score 5-4. Torre then brought in Marlins reliever Steve Cishek (of course, using Craig Kimbrel, the most dominant reliever in baseball with your tournament on the line was apparently out of the question) and had him intentionally walk Pete Orr (!) to load the bases. I never like that move, which gives a pitcher no room for error. Canadian manager Ernie Whitt also pinch-hit lefty Tim Smith to face the sidearmer. The intentional walk also guaranteed Votto would bat in the bottom of the ninth. Anyway, Cishek got Smith to ground out to second in what turned out to be the game's crucial at-bat.

The U.S. broke it open in the ninth, with Whitt waiting too long to bring in Brewers closer John Axford, who served up a three-run double to Eric Hosmer. In the end, the U.S. bullpen depth proved key, as many expected it would before the game.

One thing that needs to stop is the guarantees made to general managers that if their guy is selected to a squad, he needs to play. I'm not sure if Torre used Hernandez because he hadn't pitched in the previous two games -- and again, it wasn't that strange of a move, not like the two bunts -- and needed to get him some work. Same thing with Cishek. Or maybe Torre just wanted to get them into a game. But this isn't exactly an All-Star Game. It's not an easy job, but I'd like the U.S. managers to treat this a little more seriously and not guarantee playing time. It's easy enough for a reliever to throw on the side after a game and Victorino's season isn't going to be ruined by not playing for three days.

Part of the fun of the World Baseball Classic is rooting for guys from your team, no matter which country they're playing for. As a Mariners fan, it was exciting to see Saunders have another big game. It was a rough day for Brewers fans, however. Green went 0-for-5 and his two miscues in the field led to at least two U.S. runs, Jim Henderson couldn't hold the 4-3 lead in the eighth, and then Axford let the game get away in the ninth. Even Braun went a quiet 1-for-5.
March, 10, 2013
Mar 10
1:09
AM ET
We've had a brawl, we've had upsets, we've had dramatic late-inning rallies and, thanks to one big swing from
David Wright
, we now get a monumental showdown between bitter enemies Canada and the United States to stay alive in the World Baseball Classic.
OK, maybe it's not quite Sidney Crosby and the Canadians taking on Ryan Miller and the Americans in the 2010 gold-medal hockey game at the Vancouver Olympics, and maybe Canada and the U.S. aren't exactly enemies on the diamond, but Sunday's game at Chase Field in Phoenix is probably the biggest baseball game for Canadians since the Blue Jays won their second straight World Series in 1993.
Baseball fans in the U.S. are still warming up to the whole idea of this tournament, and while a major goal is to help increase popularity of the sport in countries such as Brazil and China and Italy and the Netherlands, don't be fooled: The organizers want U.S. fans to get as passionate about the World Baseball Classic as those in Japan and Latin America. In large part because second-round games will be held in Miami, with the semifinals and finals in San Francisco, and the organizers want sold-out ballparks -- something more likely to happen if the U.S. keeps advancing.
With that possibly in mind, the U.S. was given a soft pool. While the Dominican Republic, Venezuela and Puerto Rico were all placed together in Pool C, the U.S. drew lighter-weights Mexico, Canada and Italy. But when Italy beat Mexico and Canada, and then Mexico upset the U.S. on Friday night, it suddenly put pressure on the U.S. to win its final two games of pool play. Joe Torre's squad was actually helped when Canada beat Mexico earlier Saturday -- a game that featured a bench-clearing brawl in the ninth inning -- meaning the Americans now controlled their destiny.
That destiny took a turn for the worse when the surprising Italians took a 2-0 lead against
Ryan Vogelsong
, who didn't have his usual excellent fastball command. Most of the Italian players are from the U.S., including big leaguers
Anthony Rizzo
,
Chris Denorfia
and
Nick Punto
, but cleanup hitter
Alex Liddi
of the Mariners was born and raised in Italy and 23-year-old starting pitcher Luca Panerati is an Italian who played a few years in the Reds system, topping out in A-ball. Panerati nevertheless shut down the U.S. with his 86 mph fastball and offspeed pitches, leaving after three scoreless innings; he can tell his grandkids someday about the time he shut down a lineup of major league All-Stars. But the U.S. rallied with five runs in the fifth inning, capped by Wright's two-out grand slam off Matt Torra, an American who pitched in Triple-A for Tampa Bay's organization last year.
[+] Enlarge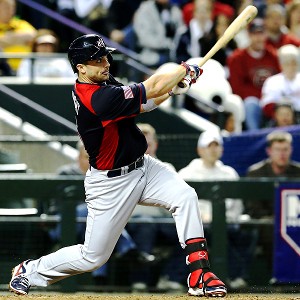 Mark J. Rebilas-USA TODAY SportsDavid Wright turned one around from Italy's Matt Torra for the key fifth-inning grand slam.
That
6-2 win
means U.S. versus Canada, winners move on to Miami, losers go home (or back to spring training). Considering the way this tournament has gone -- Italy advancing, Venezuela out after losing its first two games, 2009 runner-up South Korea failing to advance out of the first round, the Netherlands beating Cuba in a second-round game -- don't count out the Canadians.
First, their lineup has some guys you've heard of: Former MVPs
Joey Votto
and
Justin Morneau
. Mariners outfielder
Michael Saunders
went 4-for-4 in the
10-3 win
over Mexico. The lineup was hurt by
Brett Lawrie
's injury in spring training and we'll have to see if
Pete Orr
and
Rene Tosoni
, ejected after the brawl, will be suspended or not; the pitching is thin without guys such as
Ryan Dempster
,
Scott Diamond
and
Erik Bedard
participating. Still, Pirates prospect Jameson Taillon will start against the U.S., and while he hasn't reached the major leagues yet (he pitched in Double-A last year), he has major league stuff, ranking as Keith Law No. 20 preseason prospect. He's certainly capable of shutting down the U.S. lineup for his 65-pitch limit. After that, however, Canada's pitching thins out in a hurry, with Brewers closer
John Axford
and Phillies reliever
Phillippe Aumont
the two biggest names in the bullpen.
The U.S. will start
Derek Holland
, a good strategic move by Torre to get the lefty Holland in there to try to neutralize Votto, Morneau and Saunders. With
Ross Detwiler
throwing four scoreless innings of relief against Italy, that means the U.S. bullpen is well-rested. Look for Torre to use lefties
Jeremy Affeldt
and
Glen Perkins
against the middle of the lineup in the middle innings, and he still has
Craig Kimbrel
waiting to get some action.
The U.S. will be heavy favorite to advance. To use another Olympic hockey analogy, the Americans are the Soviets. Do the Canadians have a miracle in store? I'll be watching to find out. After all, it's about time we settle this border war with Canada.
January, 3, 2013
Jan 3
5:15
PM ET
We've heard the rumors and seen the tweets and gone to bed dreaming: The
Miami Marlins
will listen to offers for
Giancarlo Stanton
. Now, listening to offers isn't the same thing as actively looking to make a deal, and assistant GM Dan Jennings told Jim Bowden yesterday on MLB Radio that they aren't shopping their young outfielder. Others have tweeted that the Mariners and Marlins discussed a deal, but they ain't close.
Which begs the question: Is it even
possible
to trade Stanton? I mean, it's possible, of course; these are the Marlins after all and they'll do anything, and they'll presumably have 28 teams besides the Mariners making at least a token inquiry ("Hello, would
Peter Bourjos
,
Mark Trumbo
and a lifetime pass to Disney World do the trick?").
First off, let's see who Stanton is right now, besides a big dude who hits home runs that could clear Alligator Alley. He just completed his age-22 season (and spent the entire season at 22) and hit 37 home runs despite missing 39 games. He hit .290 and led the National League in slugging percentage, even more impressive considering the Marlins' new park was a tough home run park. Basically, we're talking about a guy who has 650 plate appearances could hit 50 home runs and is young enough to improve his batting averages and on-base percentages. He compiled 5.4 Wins Above Replacement in 2012 and already has 12.0 in his two-plus seasons in the majors.
Importantly for any trade, he still has four years of team control until he hits free agency.
What I want know: Has there ever been a player like Stanton who has been traded? A guy so young and so good?
I went back to 1950 and found the position players who had accumulated the most value through their age-24 seasons. If Stanton has two more 5.5-win seasons, he would have 23 Wins Above Replacement through age 24 -- squeezed in between No. 15 Willie Mays and No. 16
Barry Bonds
. (Mickey Mantle,
Alex Rodriguez
and Ken Griffey Jr. are 1-2-3 on the list.)
Stanton is already 87th on this list.
From what I can gather, seven of the top 100 were traded before their 25th birthdays. Five of those seven were traded as prospects and don't really compare, but let's list them anyway:
Willie Randolph (No. 22): From what I can tell, Randolph was essentially a throw-in an exchange of pitchers -- Dock Ellis for Doc Medich -- between the Pirates and Yankees.
Hanley Ramirez (No. 45): Traded for Josh Beckett.
Ryne Sandberg (No. 51): Another throw-in, when the Phillies and Cubs exchanged shortstops, Ivan DeJesus for Larry Bowa. The Phillies just missed the boat, even though he'd played well as a 21-year-old at Triple-A.
Tom Brunansky (No. 89): Brunansky had been a first-round pick of the Angels, but they traded him to the Twins for reliever Doug Corbett and second baseman Rob Wilfong. Brunansky hit 107 home runs through his age-24 season.
Elvis Andrus (No. 93): While still in Class A, part of the Mark Teixeira trade.
So that leaves only two of the top 100 traded after they had established themselves as major leaguers. The first of those was
Roberto Alomar
. He was just 23 but had already spent three seasons in the majors when the Blue Jays and Padres made their infamous challenge trade at the 1990 winter meetings -- Alomar and Joe Carter for
Fred McGriff
and
Tony Fernandez
. That deal doesn't really apply since the Marlins would be looking for a package of prospects.
So that leaves one comparable deal. Perhaps not surprisingly, it involves an ex-Marlin,
Miguel Cabrera
, who was traded to the Tigers after his age-24 season. Cabrera only had two seasons left of team control at the time but he'd already had two top-five MVP finishes. The Marlins received six prospects in the deal (
Dontrelle Willis
also went to Detroit) but the two prizes were
Cameron Maybin
and
Andrew Miller
.
Obviously, the deal didn't work out, but Maybin and Miller were both consensus top-10 prospects at the time (Maybin No. 6 and Miller No. 10 on the Baseball America list). Considering Stanton has four years of control, he would likely command
more
than that in a trade. Conservatively, we're looking at a player who will compile 20 WAR over the next four seasons and more likely closer to 25, with a high probability of a couple MVP-caliber seasons.
What kind of deals are even remotely close? Remember,
R.A. Dickey
was just traded for two of the Blue Jays' top prospects, including the highly-rated catcher
Travis d'Arnaud
.
1. Rangers send Jurickson Profar, Mike Olt and Martin Perez for Stanton and Ricky Nolasco.
Jim Bowden
tossed this one

out there last week. Profar is the No. 1 prospect in the game and is highly regarded enough that 20 WAR (or better) over six seasons isn't a stretch of the imagination. Olt should have a nice big league career as well, although he has some swing-and-miss to his game that raises concerns.
2. Mariners trade Taijuan Walker, Danny Hultzen and Nick Franklin for Stanton.
If the Marlins want young pitching that is close to big-league ready then the Mariners are the team to deal with. Walker appears to be a consensus top-10 overall prospect although Hultzen's status has dropped a bit after control issues in Triple-A. The Mariners could include a major-league ready outfielder like
Michael Saunders
.
3. Cardinals trade Oscar Taveras, Shelby Miller, Allen Craig and Trevor Rosenthal for Stanton.
The Cardinals have prospects to deal and could move
Carlos Beltran
to first base if Craig is dealt. Taveras and Miller are top-20 prospects although Miller's minor league numbers raise questions and neither is a consensus top-10 guy. Rosenthal looked dominant in the bullpen during his big league call-up but started in the minors.
4. Pirates trade Gerrit Cole, Jameson Taillon and Alen Hanson for Stanton.
This is similar to the Mariners' deal -- Cole is a top-10 prospect with a huge arm, Taillon is another pitcher who probably ranks in the overall top 20 and Hanson is a comparable infield prospect to Franklin. An outfielder like
Starling Marte
could be included. And, like the Mariners, the Pirates probably wouldn't want to deal away their young pitching anyway, no matter how great Stanton's future.
We're already stretching the possibilities and I'm not sure the Marlins would do any of those trades. The Orioles would have to start with
Dylan Bundy
and add other parts. The Rays could start with
Wil Myers
and some of their young pitching. The Padres have a lot of young talent in the pipeline, but no one player who stands out.
The Marlins may be listening, but will they stay on the line?
What do you think?
June, 15, 2012
6/15/12
2:15
PM ET
By
Stephanie Liscio
| Special to ESPN.com
I grew up in the small town of Hermitage, Pa., which is situated on the Pennsylvania-Ohio border about midway between Cleveland and Pittsburgh. I watched people almost come to blows over the storied Steelers-Browns rivalry, yet saw people treat the Indians and Pirates with indifference. Obviously a big part of this is due to the fact that the baseball teams are not only in separate divisions, but separate leagues. Yet I still don't think that fully explains the lack of any developed rivalry between the Tribe and the Bucs. There is still plenty of animosity between crosstown interleague rivalries in New York and Chicago, and even cross-state in Missouri and Texas. I'm not necessarily complaining; I'm mostly indifferent about football, and can therefore enjoy both the Indians and Pirates in peace without harassment. At the same time, I can't help but think that Major League Basball is missing out on a great opportunity to encourage a rivalry between two teams just 133 miles apart.


The Indians' brass seems to prefer their cross-state rivalry with the
Cincinnati Reds
in the battle for the Ohio Cup, while the Pirates don't have a true interleague rival. I think one of the big reasons that an interleague rivalry never developed between the Indians and Pirates was because neither team has really been good at the same time. Since interleague play began in 1997, the Pirates haven't had a season when the team even played .500 baseball; you'd have to go back to 1992 to find the last time the Pirates finished a year above .500. The Indians have made the playoffs five times since interleague play began, but were still terrible in the early 1990s when the Pirates made their last trips to the playoffs.
For a portion of 2011 and thus far in 2012, the Indians and Pirates have both been in contention. Whether they can maintain their positions through the end of the season has yet to be determined. While both had high hopes in 2011 and were buyers at the trade deadline, the end result was anything but a close race for the Tribe or the Bucs. When the two teams square off at Progressive Field this weekend, both teams will hope to creep closer to first place in their respective divisions. Both teams have something on the line when they meet this year.
There are myriad connections between the Indians and Pirates on the field, in the front office, and even in their recent past. The Pirates are a team that has survived throughout the 2012 season based on the strength of their pitching. Even though their offense is much improved over the past couple of weeks, they still are last in baseball in runs scored. The Indians' offense has struggled at times as well, and the team has often gotten help from their strong bullpen in order to close out victories.
Both teams have a mix of exciting young stars and prospects --
Jason Kipnis
,
Michael Brantley
,
Carlos Santana
and
Francisco Lindor
in Cleveland;
Andrew McCutchen
,
James McDonald
,
Gerrit Cole
and
Jameson Taillon
for Pittsburgh. Pirates general manager Neal Huntington spent a number of years in Cleveland's front office, eventually serving as assistant general manager and special assistant to the general manager at the time, Mark Shapiro. The Pirates and the Indians also suffered crushing Game 7 walk-off losses: the Pirates in 1992 against the
Atlanta Braves
in the NLCS, and the Indians in 1997 against the Florida Marlins in the World Series. Both teams saw their title hopes crushed by the Atlanta Braves in that decade (the Indians in the 1995 World Series).
When baseball decided to whittle the National League Central down to five teams, the most logical solution was to move Houston to the American League West. This also amplifies the already cross-state rivalry between the Rangers and the Astros. But think about what would have happened if MLB found a way to move the Pirates to the AL Central. Not only would you establish a true rivalry with the Indians, but with the
Detroit Tigers
as well. Why would a rivalry with the Tigers be significant, apart from their geographical proximity to the Pirates? Several members of the Tigers coaching staff have connections to the great Pirates teams of the early 1990s. Jim Leyland, Gene Lamont and Lloyd McClendon all managed the Pirates; Leyland from 1986 to 1996, Lamont from 1997 to 2000, McClendon from 2001-2005. Former Pirates player Rafael Belliard is also on the Tigers' coaching staff.
There will undoubtedly be people who scoff at the Indians-Pirates series this weekend, who think there is nothing of interest between a team that hasn't had a winning season in 19 years and a team that hasn't won a World Series since Harry Truman was in the Oval Office. (Not to mention the fact that both crumbled in the second half of 2011.) Despite the fact that the Indians and Pirates both had bad weeks against the Reds and Orioles respectively, this still has a chance to be an exciting matchup. Optimistically, one hopes that the Indians and Pirates both have bright futures ahead of them. It would be the ultimate interleague battle for the pair to meet up in October a few years down the road.
Stephanie Liscio writes for the It's Pronounced "Lajaway" blog on the Indians.