August, 11, 2013
8/11/13
10:30
PM ET
The baseball season is a lot more interesting in Kansas City than it was two weeks ago, when general manager Dayton Moore assessed the limited options at his disposal and turned Kauffman Stadium into a news-free zone at the trade deadline.
Sure, the Royals made a minor deal on July 31 to acquire outfielder
Justin Maxwell
from Houston for minor league pitcher Kyle Smith. More notably, they decided not to trade away starter
Ervin Santana
, who will be eligible for free agency in November. Santana could have fetched a prospect or two in return, but moving him would have sent a signal that the Royals were ready to punt on the 2013 season. With no directive to shed salary from Royals owner David Glass, Moore simply wasn't ready to make that step.
And that's a good thing for Royals fans: Contending for a playoff berth is far more entertaining than the alternatives -- like obsessing over the 30th anniversary of the Pine Tar Game, keeping a daily vigil to monitor manager Ned Yost's job security or busting out in tears every time
Wil Myers
' name appears in a
Tampa Bay Rays
box score.
[+] Enlarge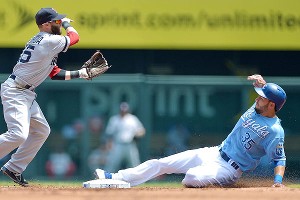 John Sleezer/Kansas City Star/MCT/Getty ImagesEric Hosmer is one of the homegrown hitters leading the charge for the Royals.
While the
Pittsburgh Pirates
are bound for the playoffs despite a rough weekend in Colorado, the Royals are suddenly crafting their own upbeat, small-market narrative in the American League Central. They've won 18 of 23 since the All-Star Game, and they made a major statement over the weekend by taking three of four from the
Boston Red Sox
.
Although one of the games at Kauffman Stadium was a sellout, the Royals averaged 25,180 for the other three -- a sign that the locals are not yet ready to go full-fledged bonkers over their team. At 61-54, the Royals are 4½ games out in the wild-card race and have a 22 percent chance of making the playoffs, according to coolstandings.com. The next few weeks will determine if they're a team coming of age at the optimal time or just a temporary diversion from the
Los Angeles Dodgers
,
Max Scherzer
and
Alex Rodriguez
's Biogenesis suspension appeal.
Regardless of the duration, Kansas City's recent run has to be gratifying to Moore, who bet big on this team when he sent Myers and
Jake Odorizzi
to Tampa Bay in that daring December trade for
James Shields
. And it has to be heartening for prospect watchers who root for young, homegrown players to overcome obstacles and become fantasy-league heroes.
You can cite a lot of reasons for the Royals' surge. Closer
Greg Holland
has converted 25 straight save opportunities and is averaging 14.5 strikeouts per nine innings, and Kansas City's other relievers come at opponents in hard-throwing waves. Shields, Santana,
Jeremy Guthrie
and Kansas City's starters go deep enough into games that the Royals bullpen has logged a mere 320 innings, the lightest workload in the majors.
But the Royals wouldn't be here if not for a welcome revival by their young, marquee position players. First baseman
Eric Hosmer
ranks second to
Yasiel Puig
among major league hitters with 84 hits since June 1 and resembles the confident prospect who finished third in the American League Rookie of the Year balloting at age 21. After George Brett resigned as Kansas City's interim hitting coach three weeks ago, he downplayed his acumen as a Mr. Fix-it type. But Brett and assistant hitting coach Pedro Grifol apparently did a nice job ingraining more confidence in Hosmer, who slugged .465 in 2011 before slipping to a
Yuniesky Betancourt
-like .359 in his second season.
"He's getting back to the swing he had two years ago," an AL scout said of Hosmer. "He was using that inside-out approach, and he had gotten so contact-conscious, and now, he's back to letting the bathead go and driving balls."
Third baseman
Mike Moustakas
is also back among the living. He's raised his average from .177 to .231 since June 9, although Royals people say he's still fighting a penchant to be overly hard on himself and take bad days to heart.
Yost takes his share of dings in Kansas City -- and occasionally invites criticism when he's in a mood to tangle with the media -- but he and the Royals deserve credit for running the kids out there day after day until they figured things out. Major league teams have to determine if their young players are mentally strong enough to handle failure on the biggest stage, and Hosmer and Moustakas are trying to pass the same test that
Alex Gordon
passed on his way to becoming an All-Star at age 29.
Lo and behold, the seemingly minor trade that Moore swung at the deadline has had a positive impact; Maxwell has three homers and a .900 slugging percentage in his first eight games with Kansas City. And when you look around the field, the Royals are doing it precisely the way major league teams should. In Sunday's game against Boston, seven of the nine players in Yost's batting order were drafted and developed by Kansas City. The only exceptions were shortstop
Alcides Escobar
and second baseman
Elliot Johnson
, both of whom came over in trades.
The Royals took another step forward in an eventful week for the division. When last week began, the
Cleveland Indians
stood three games behind the
Detroit Tigers
with a four-game series on the docket at Progressive Field.
Chris Perez
blew a ninth-inning lead Monday, and the Indians dropped six straight before rallying to salvage the finale of their homestand with a 6-5 win against the
Los Angeles Angels
on Sunday.
It's not going to be easy for either Cleveland or Kansas City to make a playoff push with Detroit so far ahead in the AL Central, the
Texas Rangers
and
Oakland A's
both playing well in the West and Boston, Tampa Bay and Baltimore all sporting better records in the East.
But, as the Indians begin a monster nine-game trip to Minnesota, Oakland and Anaheim on Monday and the Royals take on Miami in a three-game series Tuesday, Detroit's two pursuers are both still part of the conversation. Moore even made a trade Sunday, acquiring veteran infielder and strong character guy
Jamey Carroll
in a deal with the Twins.
The Royals have to feel good being a buyer in August, regardless of the magnitude of the transaction. After nine straight losing seasons, it's nice just to be relevant.
August, 4, 2012
8/04/12
7:47
AM ET
By
Doug Kern
| ESPN Stats & Information
Theme of the week: Late-game drama.
[+] Enlarge

Thearon W. Henderson/Getty ImagesThe Athletics on Friday won their second 15-inning game in the span of five days.
Statistical support for this column provided by Baseball-Reference.com and the Elias Sports Bureau.
May, 2, 2012
5/02/12
10:48
AM ET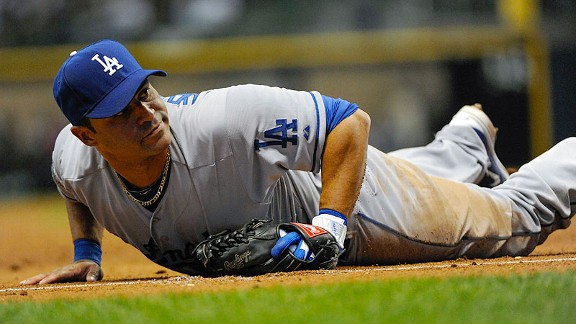 Benny Sieu/US PresswireJerry Hairston Jr. didn't mind getting a little dirt on his uniform to make good defensive plays in April.
Major League Baseball rewards its best offensive players and its top pitchers with Player of the Month Awards. But it does not salute a Defensive Player of the Month with the same level of reverence.
We're here to fill that void, with the help of the folks from Baseball Info Solutions (BIS). BIS has a team of video trackers who watch every play of every game, charting where balls are hit, which ones are turned into outs and which are not, and categorizing plays into approximately 30 groups of Good Fielding Plays and 50 groups of Defensive Misplays.
BIS data is also used in the computation of a stat called Defensive Runs Saved, which measures value relative to others at the same position. How Runs Saved are calculated is explained in the chart on the right.
We came up with a list of nominees using this data and our Web Gem tracking (which allows us to measure "Great Fielding Plays"), then had a 10-person panel cast their votes. The panel came from our Stats & Information crew, writers Dave Schoenfield and Jayson Stark and ESPN baseball analyst Chris Singleton.
Our winner for April is an unlikely selection in that he's not the first person that comes to mind when you think of defensive standouts --
Los Angeles Dodgers
utilityman Jerry Hairston Jr.
Hairston was able to make the good play and the great play. He finished April tied with
Ryan Zimmerman
for the major league lead with four Web Gems (including the No. 1 Gem on consecutive nights). He was credited with one Defensive Run Saved at second base, one at third base and two in left field.
Hairston finished April with a Good Play/Misplay tally of 11 to 1 in only 15 games in his first month with the Dodgers.
His highlight-reel play came on April 19 against the
Milwaukee Brewers
while playing third base, when
he robbed
Alex Gonzalez
of the game-tying hit in the eighth inning with a diving stop and throw from his knees on a groundball down the line.
The next day, he missed on a similar diving attempt against
Jose Altuve
of the Astros, but then
sprinted into foul territory and threw a strike to second base
to nail Altuve's attempt at an extra-base hit.
Hairston got six of our 10 first-place votes, and even someone who voted him second-best was quite impressed. "No matter where you put him on the field, he posseses the ability to make a dynamic play," Singleton said. "His value as a utility player is as high as anyone on the defensive side."
Dodgers manager Don Mattingly agreed, saying, "Jerry's been great from the standpoint of wherever we put him, he's made some unbelievable plays."
Alex Gordon, Royals
Though Gordon didn't hit at the level he did in 2011, his advanced defensive stats were of Gold Glove caliber, and that earned him runner-up status for April.
Gordon had seven Defensive Runs Saved in left field for April, and finished with a 9 to 1 tally in Good Plays/Misplays, including a
home run robbery
on
Danny Valencia
.
Gordon's rating was high partly because of the component that measures the deterrent value of one's throwing arm. There were 18 situations in which Gordon fielded a ball, and a baserunner had a chance to advance an extra base (score on a sacrifice fly, go first to third on a single, etc). He only had one assist, but it was a nifty one, nailing
Albert Pujols
at the plate. But Gordon only allowed the runner to advance three times, thus netting a deterrent rate worth two runs.
"You can never truly appreciate with the naked eye just how well Gordon takes routes to the ball on base hits," Singleton said. "It gets overlooked, but it's huge when you're an outfielder and can shut the running game down like a catcher does."
Freddy Galvis, Phillies
If there was an award for Defensive Rookie of the Month, Galvis would edge out
Kirk Nieuwenhuis
of the Mets for top honors. He finished with a Good Play Misplay tally of 14 to 3 and tallied three Defensive Runs Saved. He won No. 1 Web Gem honors twice, good enough to finish third in our voting.
Jamey Carroll, Twins
Carroll finished with two Defensive Runs Saved, but was impressive in the way in which he made plays. His 16 Good Fielding Plays were the most among shortstops. He made only two Misplays all month, and his 8 to 1 ratio was among the best for infielders.
Albert Pujols, Angels
Though Pujols struggled offensively, he didn't let his power outage impact his defense.
Pujols tied with
Adrian Gonzalez
for the most Defensive Runs Saved among first basemen with three, and had a Good Play/Misplay ratio of 14 to 2. Pujols was rewarded both for his ability to handle difficult throws (for which he was credited with nine Good Fielding Plays), and his ability to turn batted balls into outs. One of the few bright spots for the Angels in April was that they allowed a .197 batting average on groundballs, fourth-best in the American League, behind the Indians, Athletics and Blue Jays.
Also considered
: Ryan Zimmerman (Nationals 3B),
Paul Goldschmidt
(Diamondbacks 1B),
Josh Hamilton
(Rangers OF),
Aaron Hill
(Diamondbacks 2B), and
Dustin Pedroia
(Red Sox 2B).
January, 26, 2012
1/26/12
8:30
AM ET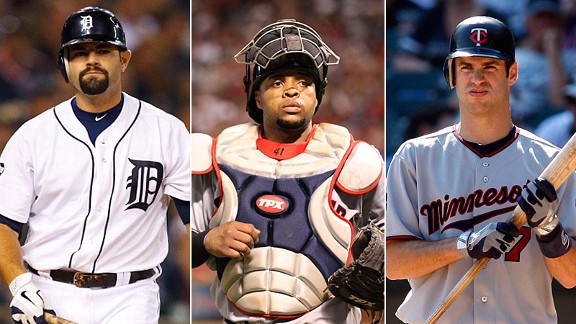 US PresswireWith Alex Avila, Carlos Santana and Joe Mauer, the AL Central is loaded at catcher.
We're back with more divisional position rankings for 2012. You can scream, you can holler, you can protest and call me names. But just because I rated your player lower than you think he deserves doesn't mean I hate your team.
(Here are the
NL East
and
NL West
rankings.)
Catcher
1.
Alex Avila
, Tigers
2.
Joe Mauer
, Twins
3.
Carlos Santana
, Indians
4.
Salvador Perez
, Royals
5.
A.J. Pierzynski
, White Sox
The AL Central might not be baseball's glamor division, but it may have three of the top five catchers in the game if Mauer bounces back from his injury-plagued campaign. Since we're not certain of his health, I'm going to give top billing to Avila, who had the best hitting numbers of any catcher outside of
Mike Napoli
and plays solid defense. I wouldn't be surprised if Santana explodes; with his power-and-walks combo, all he has to do is raise his average 30 points and he'll be one of the most valuable players in the game. Considering that his average on balls in play was .263, there is a good chance of that happening. Perez hit .331 in 39 games; OK, he won't do that again, but he doesn't turn 22 until May and puts the ball in play. There's no shame in being fifth in this group but that's where I have to place Pierzynski, who keeps rolling along and is now 36th on the all-time list for games caught.
First base
1.
Prince Fielder
, Tigers
2.
Paul Konerko
, White Sox
3.
Eric Hosmer
, Royals
4.
Justin Morneau
, Twins
5.
Matt LaPorta
, Indians
In 2009, when Morneau played 135 games, he hit .274 AVG/.363 OBP/.516 SLG. Even if he replicates that line, he may rank only fourth. Konerko has hit a combined .306 with 70 home runs the past two seasons. He's 104 home runs from 500 but turns 36 in March, so he's probably four seasons away; not sure he'll hang on that long, but who knew he'd be this good at this age. If Hosmer improves his walk rate and defense and Konerko declines, Hosmer could climb past him. If it doesn't happen this year, it will happen next. The most similar batter to him at age 21: Eddie Murray.
Second base
1.
Jason Kipnis
, Indians
2.
Gordon Beckham
, White Sox
3.
Johnny Giavotella
, Royals
4.
Alexi Casilla
, Twins
5.
Ramon Santiago
, Tigers
Well, this isn't exactly a
Robinson Cano
/
Dustin Pedroia
/
Ben Zobrist
debate, is it? Kipnis' bat is a sure thing, as evidenced by his excellent play after his call-up (.272 average and .507 slugging in 36 games). His glove was once a question mark but now appears solid enough that he looks like a future All-Star to me. Can anybody explain what has happened to Beckham? He's second mostly by default; he's gone downhill since his superb rookie season in 2009 but is only 25, so there's hope that he'll find those skills again. Giavotella has some potential with the bat (.338/.390/.481 at Triple-A), which is more than you can say for Casilla and Santiago.
Third base
1.
Miguel Cabrera
, Tigers
2.
Mike Moustakas
, Royals
3.
Lonnie Chisenhall
, Indians
4.
Danny Valencia
, Twins
5.
Brent Morel
, White Sox
We'll go with the idea that Cabrera is Detroit's starting third baseman, although I predict he'll end up starting more games at designated hitter. Manager Jim Leyland will end up doing a lot of mixing of his lineups, but for this little exercise we have to choose a starter. Moustakas didn't tear up the league as a rookie and I worry about his ability to hit lefties (.191, homerless in 89 at-bats), but he showed more than fellow rookies Chisenhall and Morel. Valencia doesn't get on base enough and he rated poorly on defense in 2011. I hope he's at least good in the clubhouse. Morel was terrible all season and then exploded for eight of his 10 home runs in September and drew 15 walks after drawing just seven the previous five months. Maybe something clicked.
Shortstop
1.
Asdrubal Cabrera
, Indians
2.
Alexei Ramirez
, White Sox
3.
Jhonny Peralta
, Tigers
4.
Alcides Escobar
, Royals
5.
Jamey Carroll
, Twins
Peralta had the best 2011 season, but he's a difficult guy to project. He had an .804 OPS in 2008 but dropped to .691 in 2009. He had a .703 OPS in 2010 and then .823 in 2011. I just don't see a repeat season, at the plate or in the field. Cabrera didn't rate well on the defensive metrics, and after a strong start he wore down in the second half. Ramirez has turned into a nice player, with a good glove and some power, and he even draws a few walks now. Escobar is a true magician with the glove. Carroll is actually a useful player who gets on base (.356 career OBP), but he's pushed as an everyday shortstop and he'll be 38. He'll be issued the honorary
Nick Punto
locker in the Twins' clubhouse.
Left field
1.
Alex Gordon
, Royals
2.
Alejandro De Aza
, White Sox
3.
Ben Revere
, Twins
4.
Michael Brantley
/
Shelley Duncan
, Indians
5.
Ryan Raburn
/
Don Kelly
, Tigers
I'm not sure what to do here. After Gordon, I just get a headache. We'll pretend to believe in De Aza after his impressive stint in the majors (171 plate appearances, .329/.400/.920). He's hit in Triple-A for three seasons now, and while he's not going to post a .400 OBP again, he should be adequate. Revere is one of the fastest players in the majors, but he's all speed and defense; he hopes to grow up to be
Brett Gardner
, which isn't a bad thing, but he'll have to learn to get on base at a better clip. Brantley doesn't have one outstanding skill so he'll have to hit better than .266 to be anything more than a fourth outfielder; Duncan provides some right-handed pop as a platoon guy. The Tigers have
Delmon Young
, but I'll slot him at DH. That leaves supposed lefty masher Raburn and utility man Kelly to soak up at-bats; both had an OBP below .300 in 2011, although Raburn has hit better in the past.
Center field
1.
Austin Jackson
, Tigers
2.
Denard Span
, Twins
3.
Grady Sizemore
, Indians
4.
Lorenzo Cain
, Royals
5.
Alex Rios
, White Sox
I can't rate Sizemore any higher since he's played just 104 games over the past two seasons, and he hasn't had a big year since 2008. Rios was terrible in '09, OK in '10 and worse than terrible in '11. I'm not betting on him.
Right field
1.
Shin-Soo Choo
, Indians
2.
Brennan Boesch
, Tigers
3.
Jeff Francoeur
, Royals
4.
Josh Willingham
, Twins
5.
Dayan Viciedo
, White Sox
Choo would like to forget 2011, but there's no reason he shouldn't bounce back and play like he did in 2009 and 2010, when he was one of the 10 best position players in the AL. I don't expect Francoeur to deliver 71 extra-base hits again, but maybe he'll surprise us. Viciedo is apparently nicknamed "The Tank," which makes me wonder how much ground he can cover. He did improve his walk rate last season in the minors and turns 23 in March, so there's still room for more growth.
Designated hitter
1.
Billy Butler
, Royals
2.
Travis Hafner
, Indians
3.
Ryan Doumit
, Twins
4. Delmon Young, Tigers
5.
Adam Dunn
, White Sox
Has there been a bigger prospect disappointment than Young in the past decade? I mean, yes, there were complete busts like
Brandon Wood
and
Andy Marte
, but those guys had obvious holes in their games, while Young was viewed as a
sure thing
, a consensus No. 1 overall prospect. But his bat has never lived up to its billing. Other than one decent year in Minnesota, he has low OBPs and he clearly lacked range in the outfield. His career WAR on Baseball-Reference is minus-0.2 (1.6 on FanGraphs), meaning he's been worse than replacement level. He's just not that good, Tigers fans.
No. 1 starter
1.
Justin Verlander
, Tigers
2.
John Danks
, White Sox
3.
Justin Masterson
, Indians
4.
Luke Hochevar
, Royals
5.
Carl Pavano
, Twins
Masterson was better than Danks in 2011, and I do believe his improvement was real. He absolutely crushes right-handers -- they slugged an anemic .259 off him. Danks had two bad months but has the longer track record of success. Even in his "off year" he had a higher strikeout rate and lower walk rate than Masterson. If you want to argue about Hochevar versus Pavano, be my guest.
No. 2 starter
1.
Doug Fister
, Tigers
2.
Ubaldo Jimenez
, Indians
3.
Gavin Floyd
, White Sox
4.
Francisco Liriano
, Twins
5.
Jonathan Sanchez
, Royals
Yes, sign me up for the Doug Fister bandwagon club. Jimenez's fastball velocity was down a couple miles per hour last season but the positives are that his strikeout and walk rates were identical to 2010; he'll be better. Floyd isn't flashy but he's now made 30-plus starts four years in a row, and he'll become a very rich man when he becomes a free agent after this season. Sanchez won't have the luxury of pitching in San Francisco (and to eight-man NL lineups).
No. 3 starter
1.
Max Scherzer
, Tigers
2.
Scott Baker
, Twins
3.
Philip Humber
, White Sox
4.
Bruce Chen
, Royals
5.
Josh Tomlin
, Indians
I could be underrating Baker, who was excellent last season, but only once in his career has he made 30 starts in a season. Tomlin's fans will disagree with this ranking, but he's a finesse guy who relies on the best control in baseball (21 walks in 26 starts). He's the kind of guy you root for, but the league seemed to figure him out as the season progressed.
No. 4 starter
1.
Felipe Paulino
, Royals
2.
Rick Porcello
, Tigers
3.
Jake Peavy
, White Sox
4.
Derek Lowe
, Indians
5.
Nick Blackburn
, Twins
Scouts still love Porcello's arm and I know he's just 23, but he's made 89 big league starts and shown no signs of getting better. His WHIP has increased each season and his strikeout rate remains one of the lowest in baseball. Paulino has an electric arm -- he averaged 95 mph on his fastball -- and
is
getting better. How could the Rockies give up on him after just 14 innings? How could the Astros trade him for
Clint Barmes
? Anyway, kudos to the Royals for buying low on the guy who may turn into their best starter. Peavy can't stay healthy. Lowe has led his league in starts three out of the past four seasons, but I'm not sure that's a good thing anymore. Blackburn is a poor man's Lowe, and I don't mean that in a good way.
No. 5 starter
1.
Chris Sale
, White Sox
2.
Jacob Turner
, Tigers
3.
Aaron Crow
/
Danny Duffy
, Royals
4.
Fausto Carmona
/
David Huff
/
Jeanmar Gomez
, Indians
5.
Brian Duensing
/
Jason Marquis
, Twins
Welcome to the AL Central crapshoot. Turner and Sale have the most upside, but one is a rookie and the other is converting from relief. Crow will also be given a shot at the rotation, but his difficulties against left-handed batters (.311 average allowed) don't bode well for that transition. Even if the artist formerly known as Carmona gets a visa, what do you have? A guy with a 5.01 ERA over the past four seasons. Duensing is another typical Twins pitcher, which means he at least throws strikes. His first full season in the rotation didn't go well, so of course the Twins brought in Marquis, yet another guy who doesn't strike anybody out.
Closer
1.
Jose Valverde
, Tigers
2.
Joakim Soria
, Royals
3.
Matt Thornton
, White Sox
4.
Chris Perez
, Indians
5.
Matt Capps
, Twins
Four good relievers plus Matt Capps. I do admit I'm a little perplexed by Perez, however. In 2009, he struck out 10.7 batters per nine innings. In 2010, that figure fell to 8.7 but he posted a pretty 1.71 ERA. In 2011, it was all the way down to 5.9, but without much improvement in his control. Perez blew only four saves but he did lose seven games. He survived thanks to a low .240 average on balls in play. He's an extreme fly-ball pitcher but didn't serve up many home runs. Bottom line: I'd be nervous.
Bullpen
1. Indians --
Vinnie Pestano
,
Rafael Perez
,
Tony Sipp
,
Joe Smith
,
Nick Hagadone
2. Royals --
Jonathan Broxton
,
Greg Holland
,
Louis Coleman
,
Tim Collins
,
Jose Mijares
3. Tigers --
Joaquin Benoit
,
Octavio Dotel
,
Phil Coke
,
Daniel Schlereth
,
Al Alburquerque
4. White Sox --
Jesse Crain
,
Jason Frasor
,
Will Ohman
,
Addison Reed
,
Dylan Axelrod
5. Twins --
Glen Perkins
,
Alex Burnett
,
Anthony Swarzak
,
Kyle Waldrop
,
Lester Oliveros
If you're starting to think I'm not high on the Twins for this season, you would be correct.
Intangibles
1. Royals
2. Indians
3. Tigers
4. White Sox
5. Twins
I like the youthful exuberance of the Royals, plus the likelihood of improvement from the young players and the possibility of some midseason reinforcements from the minors. The depth of the bullpen will help bolster a shaky rotation, and this just feels like an organization that is finally starting to believe in itself. The Indians are riding last year's positive results and enter the season knowing they might get better production from Choo and Sizemore and full seasons from Kipnis and Chisenhall. I'm not knocking the Tigers here, but they do lack depth in the pitching staff and the pressure is on them.
The final tally
1. Tigers, 65 points
2. Royals, 55 points
3. Indians, 54 points
4. White Sox, 46 points
5. Twins, 35 points
No surprise here: The Tigers will be heavy favorites to win the division with a lineup that should score a ton of runs. I don't think it's a lock that they'll win -- Verlander, Avila, Peralta and Valverde will all be hard-pressed to repeat their 2011 campaigns, for example. But the Royals and Indians appear to have too many questions in the rotations, the White Sox have serious lineup issues, and the Twins have a beautiful ballpark to play their games in.
November, 20, 2011
11/20/11
10:50
AM ET
By
Christina Kahrl
| ESPN.com
You've already seen the
Jose Reyes
rumors. If he makes a decision to sign with the
Miami Marlins
, the team would suddenly have two of the very few playable people at short between the former Met and
Hanley Ramirez
. Such a signing would make an already grim bit of holiday shopping for several NL contenders into a deal-or-die exercise.
Consider which players are on the market at short beyond Reyes:
Jimmy Rollins
,
Rafael Furcal
and... and a collection of people you sign with a sense of necessity, if not outright regret.
Clint Barmes
.
Ronny Cedeno
. Even
Cesar Izturis
. It's the sort of market that might make even
Nick Punto
or
Jack Wilson
start to look good, even for guaranteed money.
Then consider which teams have postseason ambitions for 2012, and who also need a shortstop -- and their chance for Reyes already gone. Start with the world champion Cardinals sans Furcal, the Phillies sans Rollins, the Braves, the Brewers and the Giants. They're all more likely to spend on a shortstop than the back-of-the-pack teams needing to find a shortstop, like the Astros and Pirates.
And that's the problem in a nutshell at shortstop: There aren't all that many somebodies capable of playing a good short
and
contributing on offense to go around. If Reyes settles early, the subsequent scramble could be the most interesting development of the winter. At the very least, the bidding on Rollins could go nuts, especially those teams that don't have a shortstop prospect worthy of the name in their very near future. The Phillies have their hopes for Freddy Galvis, the Braves their own for Tyler Pastornicky; both clubs are probably the willing "losers" on this winter's shortstop market, gunning for veteran shortstops they can sign for a year to keep the seat warm.
But that kind of consideration aside, this is one line you don't want to be fourth in. The expectation the Pirates will pay Barmes eight figures over two years illustrates the downside. Even if you like Barmes' defense, he'll struggle to achieve a .300 OBP -- he's at .302 career, 10 points better than
Yuniesky Betancourt
, 11 better than
Alex Gonzalez
.
As a result, the chance is obviously there for teams with some depth at short to make a trade. The Red Sox have their surplus with
Marco Scutaro
,
Jed Lowrie
and
Mike Aviles
all marking time while
Jose Iglesias
approaches the majors. There's some speculation the Nats could swap
Ian Desmond
, which might involve pushing
Danny Espinosa
across the bag to short to make room for
Stephen Lombardozzi
at second. (That sort of creative expansion of shortstop alternatives helps explain why the Twins struck early to add
Jamey Carroll
, despite
questions about his defense
.) Given the potential payoff in prospects if the Padres are willing to deal, Josh Byrnes may well decide to peddle Jason Bartlett's remaining season under contract -- for $5.5 million, or what now might be referred to as Clint Barmes money -- to a contender.
Indeed, the market's so weak and the contrast between the big three of Reyes, Rollins and
Rafael Furcal
versus all of the alternatives so significant, that you can understand why a team that doesn't get its top target this winter might decide to change gears and chase one of the shortstops. Take the Cardinals' situation. If they can't convince
Albert Pujols
to stick around, they shouldn't throw the money at another first baseman -- they have
Lance Berkman
already available to move to first, creating an opening for
Allen Craig
. They'd still be short at shortstop, though, which might drive GM John Mozeliak's top priority to be going after Rollins or retaining Furcal.
For those teams that don't get Reyes or Rollins or Furcal, they
can
still potentially win with the other guys. The D'backs made it into the postseason with
Willie Bloomquist
doing his gosh-darned best bit of
David Eckstein
impersonation at short, and the Brewers treated people to the spectacle of being the first and probably last team to reach a League Championship Series with Betancourt as its everyday shortstop. And the Cardinals got by with
Ryan Theriot
at short for a significant portion of the season -- before taking off down the stretch for, among other reasons, replacing him with Furcal.
But with Furcal starting the Cardinals went 29-18. It's that sort of immediate pick-me-up that will help inspire GMs to try and avoid finishing fourth in this particular race, because the difference between the shortstops you want to pay to play, and the ones you employ because you have to is so stark.
Christina Kahrl covers baseball for ESPN.com. You can follow her on Twitter.
November, 11, 2011
11/11/11
10:00
PM ET
By
Christina Kahrl
| ESPN.com
The Minnesota Twins'
rumored agreement
with
Jamey Carroll
for two years and $7 million is another one of those nice developments (if you're Jamey Carroll), while simultaneously proving to be yet another cause for frustration for Twins fans still wondering how they got here.
[+] Enlarge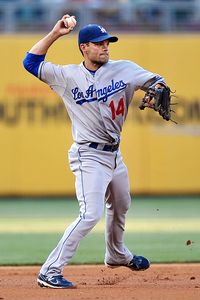 Drew Hallowell/Getty ImagesJamey Carroll might not be as effective a defensive shortstop as the Twins pitching staff needs.
Keep in mind, the Twins haven't let the position become a scar over the years. After
Cristian Guzman
left as a free agent, they replaced him with
Jason Bartlett
, who they'd stolen from the Padres in a minor deal for
Brian Buchanan
years before. Even before Bartlett got expensive, they bundled him with
Matt Garza
to get
Delmon Young
from the Rays. The Twins didn't effectively replace Bartlett for two years (mucking around with
Nick Punto
,
Orlando Cabrera
,
Brendan Harris
,
Adam Everett
and more), but finally dealt
Carlos Gomez
-- one of the keys to the
Johan Santana
trade -- to get
J.J. Hardy
. Yet a year later, with Hardy still a year removed from free agency, he was deemed too expensive, and Minnesota dealt him to the Orioles.
In all of these trades -- dealing away Garza plus Bartlett, Gomez, Hardy and Young -- the Twins have ended up on the short end, at least on every scoreboard that doesn't have a dollar sign on it. Worse yet, they lost talent that other teams have either dealt to better effect or happily retained. And all of those trades belonged to then-general manager Bill Smith. So did signing
Tsuyoshi Nishioka
and finding he was
another Japanese import who couldn't handle shortstop
in the major leagues. And the decision to move
Alexi Casilla
to short last year, despite a spotty track record there in the minors, without ever spending an entire season at the position? Another Smith move, for which you can blame penury, optimism or madness, whatever your inclination might be.
The question is whether this inaugural move for Terry Ryan's second (non-consecutive) term running the show in Minny is really that much better, or if it isn't just the latest patch slapped on a self-inflicted wound. There's no reason to believe that Carroll can play short adequately on an everyday basis. His Total Zone Fielding Runs or Defensive Runs Saved marks this year were dreadful; they were dreadful in 2005. And this is the man joining a Twins team that needs good fielding behind its pitchers, who routinely rank low in the majors in strikeout rate, touching bottom with last season's 30th-place finish.
Even if Carroll's track record as a shortstop wasn't poor, that's without getting into the number of shortstops playing the position effectively into their late 30s. Carroll will be 38 by next season, and only 25 teams have ever played a shortstop that old or older; of them, only one, the 1984 Cubs with Larry Bowa, ever made the postseason. The Yankees will be giving it a shot next year with
Derek Jeter
. Suffice to say Jamey Carroll ain't the Captain, whatever your position on Jeter's defensive performance.
It's possible that Carroll winds up at second instead of short, and that the Twins continue to employ Nishioka and Casilla and
Trevor Plouffe
at shortstop. However, a four-headed middle-infield monster where nobody can play shortstop effectively simply sounds more monstrous. Add in
Danny Valencia
's brand of relative immobility at third, and it sounds like a tough season to come for the Twins' especially defense-dependent pitching -- unless Carroll replaces Valencia, and the Twins find a shortstop.
Which leaves Minnesota with ... what? Beyond the unfortunate legacy and throwing money at the middle-infield problem, the Twins do get something for their troubles. The good news is that Carroll's perhaps Punto-plus at the plate -- his lowest OBP mark in the past four seasons was .355. And given that he's a negligible extra-base threat, Target Field's slugging-suppressing powers won't matter to him. Placed in one of the two top slots in Minnesota's order, he ought to be an offensive asset, creating plenty of run-scoring opportunities for
Joe Mauer
and … well, other people, because on the long list of problems that Ryan is going to have to fix this winter, staffing next year's lineup has to rank right at the top. Carroll's a useful part, and one who can be moved around, but if he's locked in at short, the Twins have locked in on a non-solution to their problems there.
Christina Kahrl covers baseball for ESPN.com. You can follow her on Twitter.
August, 2, 2011
8/02/11
4:23
PM ET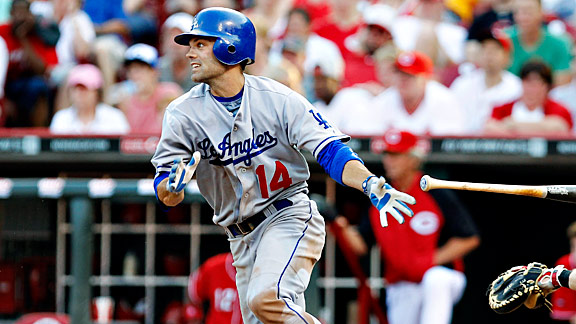 Joe Robbins/Getty ImagesJamey Carroll is hitting .297 but has just 10 RBIs in more than 300 at-bats.
Jamey Carroll
, the Dodgers' infielder, is a nice little player. He has no power -- he's actually one of the few major leaguers who still chokes up on the bat -- but he hits for enough average and draws enough walks to make him a useful utility guy. He's also a nice story -- he didn't reach the majors until he was 28 years old and now at 37 is arguably having the best season of his career, hitting .297 with a .370 on-base percentage. He gets on base more often than
Hunter Pence
or or
Troy Tulowitzki
or
Albert Pujols
or
Ryan Howard
or any number of guys that announcers say pitchers "fear."
He also has just 10 RBIs in 358 plate appearances. While he's hitting .275 with men on base, he's hitting just .170 with runners in scoring position (9-for-53). Some of it is just bad luck, some of it is bad timing, some of it is lack of opportunity. Whatever the reason, he just hasn't knocked in the runs -- in fact, I tweeted last night that Arizona pitcher
Daniel Hudson
has more RBIs.
As close to a full-time player, Carroll has a chance to become just the fifth player since 1920 to receive 500 plate appearances and drive in fewer than 20 runs.
Ron Hunt, 1972 Expos: 531 PAs, 18 RBIs.
Hunt is known for his single-season record of getting hit by 50 pitches. In fact, that was really the only skill he brought to the table, and it made him of the most despised players in the game. In '72, he hit .253 with 20 doubles and no triples or home runs. As the Expos leadoff batter, he didn't have a lot of RBI opportunites, but hit just .195 with runners in scoring position. To prove this season was no fluke, he had 18 RBIs in 1973 in 486 PAs.
Gary Pettis, 1989 Tigers: 536 PAs, 18 RBIs.
Pettis hit .257 and drew 84 walks, but managed just 15 extra-base hits in 444 at-bats. Pettis hit .190 with runners in scoring position (16-for-84), with no extra-base hits.
Luis Castillo, 2000 Marlins: 626 PAs, 17 RBIs.
Castillo actually had a terrific season in 2000, hitting .334, posting a .418 on-base percentage and scoring 101 runs. But while he hit .380 with the bases empty, he hit just .217 with men on base and .211 with runners in scoring position (19-for-90).
Enzo Hernandez, 1971 Padres: 618 PAs, 12 RBIs.
That's right, the great Enzo played 143 games and equaled the RBI total that Jim Bottomley and Mark Whiten produced in one game. Enzo only struck out 34 times, but needless to say he didn't do much when he put the ball in play, hitting .222 with just nine doubles and three triples. The Padres were a woeful offensive club, scoring just 486 runs, and he hit .182 with runners in scoring position (19-for-99). It will be near impossible to replace Hernandez as the RBI-less King: He had 2,327 career at-bats and just 113 RBIs.
There are actually two players since 1920 with more plate appearances than Carroll's 358 and fewer RBIs -- the late Dick Howser had six RBIs in 377 PAs for the 1965 Indians and Wayne Tolleson of the 1984 Rangers had nine RBIs in 378 PAs.
Follow David Schoenfield on Twitter @dschoenfield.
July, 29, 2011
7/29/11
4:10
PM ET
Sorry, Cincinnati, your Reds are done. They're five games under .500, in fourth place, 6.5 games out of first. That's too much distance to make up and too many teams to climb over. The Brewers are eight games over .500; if they play .500 ball, your Reds would need to win 13 in a row just to catch them. And that doesn't even factor in the Cardinals or Pirates. So, yes, your season is over. A season of promise and hope has turned into the most disappointing in baseball.
The next step is obvious: trade catcher
Ramon Hernandez
to the Giants. Call up top prospect Devin Mesoraco, who is hitting .306/.379/.500 at Triple-A, give him some big league time, let him learn the ropes and get acclimated to catching a big league pitching staff.
I know Dusty Baker loves the vets. But take charge of your franchise. He's still running
Bronson Arroyo
out there every fifth day. Do you realize he's been one of the least valuable players in baseball this year? He has a 5.59 ERA and has allowed 30 home runs in just 127.1 innings. Only one pitcher has ever allowed that many home runs while pitching so few innings --
Andy Benes
allowed 30 in 122 innings for the Cardinals in 2001. Yes, your home ballpark is a bit of a bandbox, but Benes was pitching against juiced-up sluggers with needles hanging out of their thighs. Arroyo is in the new pitcher-friendly environment of 2011.
Yes, I know he's signed for $12 million next year and $11.5 million in 2013. That's why you don't give out expensive contract extensions to starters who average 5.0 strikeout per nine innings, like Arroyo did in 2010. You're stuck with him, but that doesn't mean you have to keep using him.
Anyway, the Giants need a catcher. Get a couple of B-level prospects or maybe one of the Giants' relievers. It's a perfect fit. For the Giants, they've gone all-in. They need another bat in the lineup, however, and Hernandez is hitting .307/.366/.502. This lineup wouldn't be so bad:
Andres Torres
, CF
Jeff Keppinger
, 2B
Carlos Beltran
, RF
Pablo Sandoval
, 3B
Nate Schierholtz
/
Pat Burrell
, LF
Ramon Hernandez, C
Brandon Belt
, 1B (for the love of God, please bench
Aubrey Huff
)
Jamey Carroll
, SS
Pitcher
Yes, San Francisco, pick up Jamey Carroll as well. Go for it. Make that push. Back-to-back titles would be pretty sweet, no?
Follow David Schoenfield on Twitter @dschoenfield.
April, 12, 2011
4/12/11
2:10
PM ET
By
Christina Kahrl
| ESPN.com
This year's Dodgers offense was already going to be something of a dependent proposition -- dependent on the availability of
Rafael Furcal
. If OBP is the lifeblood of any offense, Furcal was the man being counted on to deliver it from the top of the order. But now that L.A.'s leadoff man is
out for at least the next six weeks with a broken thumb
, the Dodgers have to confront the same ugly numbers that have defined their destinies in the previous five seasons.
Since coming over from Atlanta in 2006, Furcal has been something of a weathervane for the club's fortunes -- when he plays, it's a contender, and when he's not, it struggles to reach .500. Over the past five seasons, the Dodgers have a record of 306-257 when Furcal has been healthy enough to start and 123-124 when he's out of the starting lineup. (And for all of that, he's gotten as high as 14th in the MVP voting just once -- in 2006, when he played in a career-high 159 games in his first season in L.A.) With the usual small-sample caveats, this season was no different: Furcal in, Dodgers win, with a 5-2 record in his starts, 1-2 with grinder
Jamey Carroll
subbing.
[+] Enlarge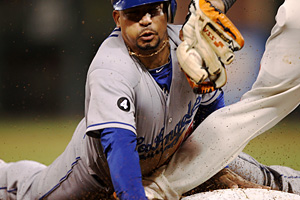 Jed Jacobsohn/Getty ImagesRafael Furcal may be out for six weeks after he broke his thumb stealing third.
Replacing Furcal's bat might seem to be where the Dodgers will take the biggest hit. Projected by PECOTA for the second-best OBP in the lineup (behind
Andre Ethier
) at .339, for a .341 by ZiPS and for a .349 OBP by BIS, you may not read that as irreplaceable. However, the Dodgers were projected to rank 13th in the league at getting people on base, and absent Furcal for a quarter of the season or more, that isn't going to get any better, even if the patient Carroll gets most of the playing time in his absence.
However, will the hit be
that
bad? It's worth wondering now that the Dodgers have Carroll around, because last year they actually managed a slightly
better
record with him in the lineup than Furcal. Carroll's career walk rate (10 percent) has been a fairly reliable commodity, creating a career OBP of .356, against Furcal's .350.
What about defense? Carroll's in his age-37 season, and might not be seen as a true shortstop these days. Given that there's nobody else on the roster to replace Furcal with who resembles an everyday shortstop -- with prospect
Ivan DeJesus Jr.
long being seen as someone likely to wind up at second base -- it might be easy to rate Furcal's value on defense fairly high. Admittedly, losing him should hurt, but via James Click's
Park-Adjusted Defensive Efficiency
, the Dodgers have bounced around from as high as second-best in MLB with Furcal playing regularly (in 2009) to 24th in 2006 and 20th in 2007 and 2010.
Fielding metrics like Total Zone (from Baseball-Reference.com) or Colin Wyers' new Fielding Runs metric suggest that there wasn't a lot separating Furcal and Carroll defensively last year. So even when talking about a defensive position as important as shortstop, defense necessarily has to work synergistically. Or, as Al Capone
might note
, "But in the field, what? Part of a team!"
If you remember "The Untouchables," you know what came next. And because of the club's big-picture record without Furcal in the lineup, in his absence it's easy to believe that it's the Dodgers who stand a good chance of being bludgeoned. Even with their restocked rotation, this was a team that was going to have to win its share of close ballgames because of a series of decisions made about their lineup, from their enduring faith in
James Loney
's punchless bat from first base, a bopper's slot, to signing low-OBP infielder
Juan Uribe
away from the Giants.
In the abstract, this shouldn't be
quite
as devastating as it sounds, but everything depends on the Dodgers' depth. Can they count on Carroll
and
Casey Blake
as regulars in their age-37 seasons? Maybe if Blake's health puts him back in the lineup at third base somewhat regularly, the Dodgers might not seem not that badly off, swapping in one OBP threat in Carroll for another.
But the problem is that they're relying on players close to the end of their careers, and if Blake or Carroll falter, there isn't much to fall back on. DeJesus is projected to a .319 OBP (by PECOTA), the same as the team's projected mark. If the Dodgers are going to endure, it'll have to be on the merits of their old men.
Christina Kahrl covers baseball for ESPN.com. You can follow her on Twitter here
.