February, 15, 2013
2/15/13
3:40
PM ET
2012 in review
Record: 79-83 (78-84 Pythagorean)
651 runs scored (10th in NL)
674 runs allowed (7th in NL)
Big Offseason Moves
Signed free agents
Russell Martin
and
Francisco Liriano
. Re-signed free agent
Jason Grilli
. Traded
Joel Hanrahan
and
Brock Holt
to Boston for
Mark Melancon
,
Jerry Sands
,
Ivan De Jesus
and Stolmy Pimentel. Acquired
Clint Robinson
and
Vin Mazzaro
from the Royals. Lost free agents
Kevin Correia
and
Rod Barajas
.
What, you expected the Pirates to sign
Josh Hamilton
,
Zack Greinke
and
Kyle Lohse
? The Neal Huntington regime began in late September 2007. The GM took over a club that won 68 games and has won 67, 62, 57, 72 and 79 games. I guess that's progress. The club he inherited wasn't completely without talent, at least on offense:
--
Jose Bautista
: Traded in 2008 for
Robinzon Diaz
.
--
Jason Bay
: Traded in 2008 in a three-way deal. Pirates got
Andy LaRoche
,
Brandon Moss
,
Craig Hansen
and
Bryan Morris
. Also known as the poo-poo platter (although Moss resurfaced with Oakland last year and played well).
--
Adam LaRoche
: Traded in 2009 for
Hunter Strickland
and
Argenis Diaz
.
--
Freddy Sanchez
: Traded in 2009 for Tim Alderson.
--
Jack Wilson
: Hit .296 in '07. Traded in 2009 with
Ian Snell
for
Jeff Clement
,
Ronny Cedeno
and two minor leaguers.
Look, Huntington took over a wreck of a franchise. The farm system did have
Andrew McCutchen
and
Neil Walker
, but not much else. But Huntington had five players with some value (six if you include
Xavier Nady
, who had a decent 2007), traded all of them, and got nothing in return. That's one reason the Pirates are still where they're at today.
Huntington's first draft pick was
Pedro Alvarez
, the second overall pick in 2008. It took longer than expected, but he finally produced a decent season with 30 home runs in 2012. Still, he's hardly a star, hitting .244 last year with mediocre defense and no value on the bases.
Buster Posey
went a couple picks later. The Pirates selected catcher
Tony Sanchez
with the fourth pick in 2009, a choice widely panned at the time. He hasn't hit much in the minors (.268 AVG/.365 OBP/.403 SLG). With the second pick in 2010, the Pirates selected pitcher Jameson Taillon, who looks good, although
Manny Machado
was the next pick.
Gerrit Cole
was the first overall pick in 2011 and should reach the majors this year. Behind those two upside arms, Keith Law ranked the
Pirates' system seventh overall

.
Will that be enough to save the Huntington regime? After contending into July the past two seasons only to collapse over the final two months, this may be a make-or-break season for him.
As for the offseason moves, it was smart to trade Hanrahan while his value was high, although I don't think the Pirates got much back. Melancon is just another relief pitcher and Sands has a chance to stick as a platoon outfielder. Martin is an upgrade over Barajas, although backup catcher
Michael McKenry
actually had better numbers than Martin, and Liriano has had an ERA over 5.00 in three of the past four seasons, so good luck with that. (And now he'll miss the start of the season after breaking his arm in a freak Christmas accident, the day before he was to fly to Pittsburgh for his physical. Only the Pirates.)
Position Players
Well, McCutchen is pretty good. He may have won the MVP Award if he had better teammates.
The Pirates had four regulars with an OBP under .300 last year, but only shortstop
Clint Barmes
is back in his starting role, and he's there for his glove. Young outfielders
Jose Tabata
and
Alex Presley
flopped, so this year's flavors of the month appear to be Blue Jays former top prospect/washout
Travis Snider
and homegrown
Starling Marte
.
Marte is a 24-year-old with tools, but in his first exposure to major league pitching he struck out 50 times in 167 at-bats and walked just eight times. That approach isn't going to lead to a long and fruitful career, that's for sure. His career walk rate in the minors was abysmal, so I don't see much -- if any -- star potential here. More time in the minors may be needed, giving Tabata another chance at full-time duty.
That approach is Pittsburgh's overall problem on offense: They were fourth in the NL in homers but last in walks drawn, leading to a .304 OBP. Walks are good.
Defensively, the Pirates ranked 24th in the majors at minus-25 defensive runs saved, with Barmes being the only real plus defender. Barajas was terrible throwing out runners a year ago: 93 steals and only six caught stealing (not a misprint).
Pitching Staff
There is some potential here for an above-average rotation if Burnett repeats,
James McDonald
figures out what went wrong in the second half (9-3, 2.57 before the break, 3-5, 7.52 after),
Wandy Rodriguez
pitches like Wandy Rodriguez, and Cole makes a rapid ascension into the big league rotation. Even
Jeff Karstens
isn't a bad No. 5 starter, a soft-tosser who at least doesn't beat himself.
On the other hand, it's still
A.J. Burnett
, McDonald's first half may have been a fluke, Rodriguez could be ripe for a decline, and Karstens isn't really that good. You know things are going bad if free-agent reclamation project
Jonathan Sanchez
appears in the rotation.
The bullpen had a solid 3.36 ERA in 2012, seventh in the NL, but I'm skeptical about a repeat performance. Hanrahan wasn't always dominant, but he blew just four saves each of the past two seasons. Veteran Jason Grilli came out of nowhere to fan 90 in 58.2 innings, so if he pitches like that again he'll be fine as the closer. But guys like
Jared Hughes
and
Tony Watson
are good bets for regression, and I don't see much depth.
Heat Map to Watch
What's amazing about McCutchen's final numbers -- .327 average, 31 home runs -- is that it's easy to forget he didn't hit a home run in April. He did fall off the final two months, hitting .252 in August and .254 in September, as maybe the weight of 24 teammates on his shoulders wore him down. He tinkered with his swing mechanics last offseason and it paid off, especially against fastballs. He hit .363/.423/.676 against fastballs, with 22 of his 31 homers. He had hit .280 off fastballs in 2011. The new revamped swing allowed him to do much more damage on inside pitches.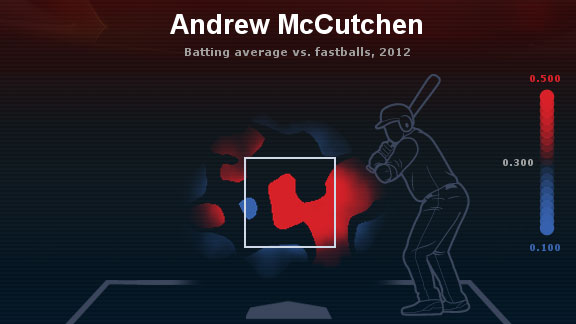 ESPN Stats & InformationAndrew McCutchen feasted on fastballs in 2012, especially those on the inner half of the plate.
Overall Grade

Is this the year? Can the Pirates finish over .500 for the first time since 1992?
I'd like to say yes. I'd like to say that Pedro Alvarez will hit .275 with 40 bombs, and both Travis Snider and Starling Marte will hit .280 (and combine for 40 home runs), and McCutchen will have another MVP-caliber year, and Burnett and McDonald and Rodriguez will win 15 games apiece, and Cole will come up from the minors in May and go 12-5 with a 3.27 ERA.
But I don't see it. The Astros aren't much competition (Pittsburgh went 12-5 against Houston) and the Reds and Cardinals look pretty tough again. But I hope I'm wrong.
September, 11, 2012
9/11/12
2:00
AM ET
New plan after last two seasons: I'll check baseball standings on Oct 1, 2013. If the Pirates are in 1st, I'll watch. No way before that.

— DJ Gallo (@DJGalloESPN) September 11, 2012
Hurdle's explanation: Wandy was 'maybe going to get one more hitter.' Added he was concerned about someone named Navarro.

— Dejan Kovacevic (@Dejan_Kovacevic) September 11, 2012
This is the time of year when losses dig deep, a toothache of inexplicable pain that runs through your blood. This is the time of year when every manager's decision is scrutinized, overanalyzed and ultimately criticized based on the final result of the game.
The last time the Pittsburgh Pirates and Cincinnati Reds played 14 innings was back in 1984. Amazingly, the Pirates used only two pitchers in that game, as Don Robinson pitched eight innings in relief, losing when Reds catcher Brad Gulden hit a two-out, three-run homer in the bottom of the 14th inning.
On Monday night, Pirates fans may have preferred that Clint Hurdle stick with one pitcher. The game's crucial moment -- or at least the first of many crucial moments -- came in the bottom of the seventh inning. Pirates starter
Wandy Rodriguez
had pitched sweetly into the seventh, allowing just one hit, a
Chris Heisey
home run in the fourth inning. The Pirates led 3-1 and
Joey Votto
singled and with two outs
Todd Frazier
reached on an infield single. Rodriguez was at 89 pitches.
As you can see from the tweet from Pittsburgh Tribune-Review columnist Dejan Kovacevic, the decision to remove Rodriguez with
Dioner Navarro
at the plate did not work out. Navarro
doubled into the right-field corner
off
Jared Hughes
, scoring two runs to tie the game.
Was it the wrong move to yank Rodriguez, or is this second-guessing in hindsight? I wasn't watching the game at the time, but it certainly appears Rodriguez was still pitching well. Navarro had only 34 plate appearances at the time and both his home runs had come off left-handers and he has been better in his career against left-handers (.747 OPS versus .631), so it's certainly possible Hurdle was aware of that and went to the right-handed Hughes. It's also worth noting that Hughes had pitched well lately: Over his previous six appearances he'd gone 6.1 innings and allowed five hits with eight strikeouts and no walks. On the other hand, Hughes has a somewhat significant platoon split (.198 versus righties, .248 versus lefties).
One more number: When Rodriguez manages to pitch deep into a game, he has been effective this season. Look at his numbers (entering Monday) at various pitch totals:
Pitches 1 to 25: .307/.365/.500, 1.63 SO/BB
Pitches 26 to 50: .253/.321/.349, 1.82 SO/BB
Pitches 51 to 75: .274/.310/.400, 2.90 SO/BB
Pitches 76 to 100: .196/.226/.331, 5.80 SO/BB
Add it all up, and it's probably a 50/50 call. If Hurdle leaves in Rodriguez and
he
gives up a double, then the criticism comes from not replacing Rodriguez. I can't blame Hurdle on this; he turned Navarro around to his weaker side and used a reliever who has been very good of late.
From that point, maybe it was inevitable the Pirates would lose.
Joel Hanrahan
pitched out of a one-out, runner-on-third jam in the 11th and
Chris Leroux
threw two scoreless innings. Meanwhile, the Pirates had loaded the bases against
Aroldis Chapman
in the 10th, thanks to three walks, but
Sam LeCure
rescued Chapman by getting
Michael McKenry
to ground out.
Then came the 14th inning, and that inning may live on in 2012 Pirates lore longer than the seventh. The Pirates loaded the bases with no outs off
Alfredo Simon
. Chase D'Arnaud flew out to shallow center.
Pedro Alvarez
grounded to Joey Votto,
who made a nice play to record the force at home
.
Jose Tabata
grounded out to Votto to end the inning.
And then
Rick VandenHurk
came in -- his first appearance of the season. In their biggest game of the season (so far!), the Pirates turned to a reliever with a 5.97 career ERA. It was a tough position to put VandenHurk in. We'll forgo the details.
It's not over yet for the Pirates; the Cardinals lost again and Pittsburgh remains 2.5 games behind St. Louis (and notice Philadelphia and Milwaukee slowly creeping back into this thing?). And I'm guessing Pirates fans -- including our friend Mr. Gallo -- will be watching on Tuesday.
August, 19, 2012
8/19/12
10:42
PM ET
By
Jack Moore, SweetSpot network
| ESPN.com
The
Pittsburgh Pirates
can be forgiven for lingering bad memories of 19th innings past. It was the 2011 season that looked like the breakthrough that Pittsburgh has been waiting for since 1992 … until it
all came crashing down on July 26
, as an apparent blown call at the plate gave the
Atlanta Braves
a victory in the 19th frame.
The Pirates entered that game last year at 53-47, tied with the Cardinals for the National League Central lead. Much as they were entering Sunday's game, the Pirates were no lock for the playoffs, but they were right in the thick of things. Fast-forward to October and the Pirates were 24 games out of first. It wasn't a collapse, it was an implosion -- the Pirates were an NL-worst 19-42 after that infamous extra-inning contest.
On Sunday, the Pirates and Cardinals -- along with San Francisco the Pirates' closest rivals for the second NL wild-card slot -- slogged through 18 innings knotted up in an increasingly epic 3-3 tie. Who in Pittsburgh could help but recall the moment that turned last season's seemingly magical campaign on its head?
But then with one out in the Pirates' half of the 19th,
Pedro Alvarez
launched a ball deep into the St. Louis evening. Pittsburgh tacked on two more via an
Andrew McCutchen
single, and then
Wandy Rodriguez
held the lead with a 1-2-3 inning for his
first victory as a Pirate
.
Should the Pirates manage to hold their still-slim lead on the NL's last playoff slot, it will be easy to point at July 26, 2011, and Aug. 19, 2012, as key points in Pirates history. Some will wax poetic about the Pirates breaking free, or of a reversal of franchise fortune. What Aug. 19, 2012, really proves is the quality of this 2012 squad -- far above anything Pittsburgh baseball has seen in recent memory.
Let's not forget the mirage created by the 2011 Pirates' first four months. The lineup featured just four starters with an OPS+ of 82 or lower. The club managed a 3.46 first-half ERA despite a strikeout-to-walk ratio below 2.0 and just 6.2 strikeouts per nine innings. The Pirates' 116 FIP- wound up as the worst mark in the National League. It was, simply put, not a good team.
The differences with the team they're fielding in 2012 begin with Sunday's hero, third baseman Alvarez. Alvarez was easily the worst hitter on the 2011 Pirates, a team featuring 99 games of
Brandon Wood
, 128 games of
Ronny Cedeno
, 100 games of
Matt Diaz
and 121 games of
Xavier Paul
. Alvarez managed just four home runs in 74 games, limping to a 58 OPS+ and an early demotion to Triple-A. Alvarez still strikes out nearly once every three at-bats, but his prodigious power is back -- Sunday's game-winner marked Alvarez's 23rd home run of the season, raising his slugging percentage to .467, nearly 200 points above last year's disastrous clip.
Alvarez is just one component behind the improved lineup --
Garrett Jones
(131 OPS+),
Neil Walker
(123),
Michael McKenry
(140) and obviously McCutchen (180) have all had their say in raising the Pirates' offensive output from 3.8 runs per game in 2011 to 4.2 runs per game this season.
But the biggest improvement for the Pirates has come in run prevention, not run production. The Pirates created their 2011 mirage on pitching and defense. Their 383 runs allowed through the debacle in Atlanta was fourth best in the National League; they nearly doubled that mark in 40 fewer games, allowing a league-worst 329 runs down the stretch.
Adding
A.J. Burnett
to the rotation was key. The bullpen has featured more than just
Joel Hanrahan
this season -- after all, the Pirates' closer and six others combined for 12 innings of nine-hit, one-run baseball in St. Louis on Sunday, with setup men like
Jason Grilli
and
Jared Hughes
lowering their ERAs to 2.38 and 2.51 respectively.
But the real key has been defense. McCutchen could be in the running for a Gold Glove. If
Starling Marte
and
Travis Snider
can return quickly from injuries, they will give the Pirates one of the speediest outfields in baseball.
Clint Barmes
hasn't hit, but his glove has stabilized the always-difficult shortstop position. McKenry saved the game several times Sunday with clutch stops behind the plate.
Overall, the Pirates own a .720 defensive efficiency, meaning they turn 72 percent of batted balls in play into outs. Only Washington, Seattle, Oakland and Anaheim own better marks, with Washington's .723 leading the league. Last year, the Pirates' squad finished 25th in baseball at .700, roughly 10 points below the league average.
Sunday's 19-inning victory against St. Louis showed plenty of things -- heart, perseverance and even some good fortune. But it also showed the one thing that really separates the 2012 Pirates from the 2011 version that faltered down the stretch: Talent. The Pirates still have a long way to go, but this year's team is infinitely better equipped to walk the path and carry Pittsburgh into the postseason for the first time since 1992.
PHOTO OF THE DAY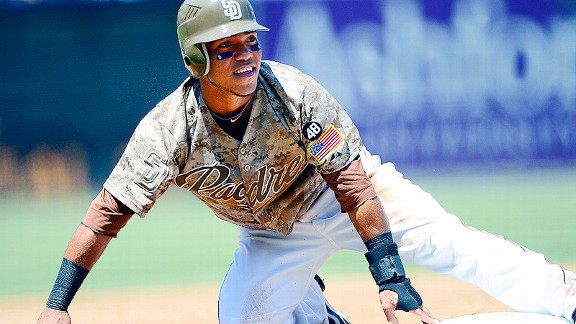 Christopher Hanewinckel/US PresswireThat's Alexi Amarista of the Padres sliding into third base, not G.I. Joe.
Jack Moore's work can be seen at FanGraphs and Disciples of Uecker (a SweetSpot affiliate devoted to the Brewers). Follow him on Twitter @jh_moore.