SweetSpot:

Jarrod Saltalamacchia
November, 23, 2012
11/23/12
10:25
AM ET
By
Christina Kahrl
| ESPN.com
So, how about that AL East? We know the Blue Jays have been busy, and the Yankees will be. The Rays can't be counted out and the Orioles just proved nothing's certain. What's a fading former contender like the
Boston Red Sox
to do?
It would be easy to blast to the foundations and start dealing away everyone who might be a free agent after 2013 --
Jacoby Ellsbury
,
Jon Lester
and
Jarrod Saltalamacchia
among others -- but I doubt that's why they re-signed
David Ortiz
, and it probably wouldn't help them talk
Dustin Pedroia
into signing a contract extension. So instead, let's say the Red Sox make a real effort to contend again, shy of making any huge financial commitments, but shoring up the hand they've got and making a play to get back to October. Could they make that happen?
What do they need? I'd argue two big areas would have to be addressed: A front-end rotation starter who ranks up there with Lester at the very least, and offensive upgrades wherever possible, especially at first base and the outfield.
The rotation's fairly straightforward, because to keep up in the AL East's arms race, the Red Sox need to shore up a rotation that let them down in 2011, delivering only 72 quality starts last year. Hoping for rebound seasons from Lester and
Clay Buchholz
may be reasonable, and counting on
John Lackey
to come back and be a solid mid-rotation horse will help, but it isn't enough.
On offense, let's face it, an outfield blend of just-added
Jonny Gomes
plus
Ryan Kalish
,
Daniel Nava
and
Ryan Sweeney
doesn't add up to two well-stocked corners. And at first base, settling for some combination of
Mauro Gomez
and
Jerry Sands
also isn't going to get it done; outside of Albuquerque's extra-friendly confines, Sands hit a relatively unimpressive .278/.350/.510 in the hitter-friendly PCL in his second season in the circuit. Take that down a few pegs in the majors, and you won't get much O from an offense-first position.
General manager Ben Cherington's cupboard isn't bare. The Red Sox have a few young veterans who might fill people's needs at up-the-middle positions, notably Saltalamacchia and Kalish. In and of themselves they're not guys who will put Boston over the top, now or ever, but that's perhaps the Red Sox's area of surplus. As Salty heads into his age-28 season after belting 25 bombs in 2012, he's already as good as he's going to get, and while Kalish has had his moments at the lower levels over a long minor-league apprenticeship, he's no Ellsbury. Their value may never be higher, so better to shop them now and address the Red Sox's needs.
September, 15, 2012
9/15/12
1:51
PM ET
Curtis Granderson didn't start last Sunday's game against Baltimore, but was available to pinch-hit. He probably didn't expect to have quite the game he did. Granderson drilled a pinch-hit home run in his first plate appearance in the sixth inning. He stayed in the game in center field, and then came up twice more with the bases loaded as the Yankees exploded for seven more runs in the next two innings. All told, Granderson went 3-for-3 with five RBI in a game he didn't start. Toronto's Kelly Gruber was the last player to have three hits and drive in five runs as a substitute. Gruber entered Toronto's game against the Yankees on April 11, 1988, in the first inning after starting 3B Rance Mulliniks was injured in a collision with a stealing Rickey Henderson. The last player to do it who didn't enter a game until the sixth inning was Cincinnati's Art Shamsky, who had a three-homer game on August 12, 1966. And Granderson is the first Yankee ever to have five RBIs (on any number of hits) in a game that he didn't start.

[+] Enlarge

J. Meric/Getty ImagesLast Sunday, Ichiro Suzuki became the third Yankee in the past 30 years to play all three outfield positions in the same game.

Ichiro Suzuki had an interesting line in that same game last Sunday as well, over and above his two singles and an RBI: He played all three outfield positions. When Granderson entered the game, Ichiro moved from center over to left. The next inning, Raul Ibañez pinch-hit and stayed in left, forcing No. 31 back across to right field. He's the fourth player this year to see all three outfield positions in the same game, but just the third Yankee in the past 30 years. Gerald Williams (July 2001) and Melky Cabrera (September 2009) both did it in equally-lopsided games.

Although he only drove in two runs rather than Granderson's five, Arizona's Chris Johnson duplicated Granderson's three-hit feat on Friday night, going 3-for-3 after batting for Ryan Wheeler in the sixth inning. Johnson, Granderson, and Sam Fuld (August 28) are the only players this season with three hits in a game they didn't start. Johnson's two RBIs accounted for both Arizona runs in its 6-2 loss to San Francisco. Johnson became just the third player in Diamondbacks history to record at least three hits as a sub. Quinton McCracken went 4-for-5, including a walk-off triple in the 11th, against Florida on July 18, 2005; and Mark Grace went 3-for-3 against Colorado on July 17, 2002. As for plating both Arizona runs, no substitute had posted three-plus hits AND driven in all his team's runs in a game since Dave Hostetler had the lone RBI in Montréal's 2-1 loss to the Mets on the final day of the 1981 season. And the only sub ever to do it where multiple runs were involved had been Billy Hitchcock of the Athletics, who replaced Hank Majeski on Sept. 5, 1951, after the latter fouled a ball off his face in the first inning. Hitchcock then went 4-for-4 and drove in all the runs in Philadelphia's 4-1 win over the Senators.

Cincinnati's 14-inning win over Pittsburgh on Monday was a classic "September call-up" game. The teams combined to use 49 players -- five more than in any other game this year, and the most since Washington and Atlanta combined for 51 on Sept. 7, 2008. If you recognize that pinch hitters are denoted with letters in the box score, better brush up on your alphabet. Of those 49 entries on the lineup card, 14 of them were "pinch" players (hitters and runners). Each team used seven, and that was one day after the Phillies became the first team this season to use seven pinch-players in any game (the nightcap of their doubleheader with Colorado). The Pirates hadn't used seven pinch-players in a game since losing a rainy 8-6 affair with St. Louis on May 3, 1995. The Reds had used no more than seven over that same span.

Pittsburgh had the bases loaded with nobody out in the top of the 14th inning of that game, and didn't score. The next three batters hit a short fly ball, a fielder's choice with the out recorded at home, and a ground ball to end the inning. That made the Pirates the first team this year to have three on with none out in the 13th inning or later and fail to score at least one run. On Thursday, the Orioles matched them, filling the sacks in the 13th before eventually walking off with the win in the 14th. It was only their fifth time loading the bases with no outs after the 13th since moving to Baltimore in 1954, and the first of those five occurrences where they didn't score.

As for that Baltimore win in the 14th, it was the 13th straight extra-inning game that the Orioles had won. According to Elias, that ties the '95 Indians for the second-longest such streak in major-league history. The 1949 Cleveland squad won 17 straight extra-inning affairs. The O's also extended their record in one-run games to 27-7 (.794); they can lose two more one-run games and STILL have the best winning percentage in history. But possibly the quirkiest thing about that game was when Ryan Roberts injured himself with two strikes in the top of the 11th. Chris Archer, who was already set to pitch the bottom of the 11th for Tampa Bay, was sent up to complete the at-bat in Roberts' stead. Archer took a called third strike, ending the inning, and invoking the rule (10.15b) where Roberts gets credited with the strikeout.

Archer then remained in the game to pitch as scheduled -- becoming just the second American League pitcher ever to enter a Designated Hitter game as a pinch-hitter, and then stay in the game to pitch. Joel Finch of the Red Sox (who pitched only 15 games in his career) was the other occurrence, on July 25, 1979, in a 16-4 blowout of the Athletics at Fenway. Carl Yastrzemski left the game after the seventh inning, causing the Red Sox to surrender the DH. Catfish Hunter is listed as a PH/P in a Sept. 5, 1976, game against the Orioles; but in that case, Hunter started the game and the Yankees gave up the DH by having Hunter "pinch-hit" for Sandy Alomar, thereby assuming Alomar's spot in the order. Ron Mahay and Steve Avery also pinch-hit and pitched in interleague games played under NL rules. Thanks to forfeiting the DH, the Rays had 20 players who assumed an official spot in the batting order (not all of them batted), the most in their history.

That strikeout rule came into play again on Thursday night, when Billy Butler of the Royals got ejected in mid-at-bat for arguing a called second strike. Tony Abreu had to come in to finish the plate appearance, swung at and missed the only pitch he saw, and then sat back down. So again, because Butler "left the game" with two strikes, he gets charged with the K -- despite already having been tossed out of the game. The last known occurrence of a player striking out after getting ejected was on June 24, 2004. Then-Giant Michael Tucker took offense to a high pitch from Eric Gagné, dived out of the way, and then got in a shouting match that cleared the benches and got both players ejected. Damon Minor came on to complete the strikeout once order was restored.

In other pinch-hitter news this week, Tyler Moore of the Nationals homered in Tom Gorzelanny's spot in the seventh inning on Tuesday. The Nats have four pinch-hit home runs this year; Moore has the last two. But two innings later, Scott Hairston hit for Mets CF Andres Torres and also belted a home run. The Mets have 10 pinch-hit homers this year, tied with Colorado for the most in the majors. It's just the second time this year that opposing teams have hit pinch-hit home runs in the same game; both have been in the last week. The Mets (Ronny Cedeño) and Braves (Eric Hinske) matched each other last Saturday. There were two such games in 2010, but none during the 2011 campaign.

Dexter Fowler led off for the Rockies last Sunday (as he's been doing for all of September). If the leadoff man is supposed to get on base, Fowler cooperated. He went 3-for-3 with two doubles and two walks. He was retired once on a double play, and stranded at either first or second the other four times. Didn't score a single run. He's the only leadoff hitter this season to reach base five times (via any combination of hits, walks, errors, etc.) and not score at least once. Nobody did it last year, either.Then-Royal Gregor Blanco (four hits and a walk) posted the last such line on August 27, 2010. Fowler's "feat" was a first (for a leadoff hitter) in Rockies franchise history.

[+] Enlarge

Charles Sonnenblick/Getty Images B.J. Upton takes a curtain call after hitting his third homer of the game last Sunday.

B.J. Upton launched three homers out of Tropicana Field last Sunday. (OK, not really "out of" Tropicana Field, but over the wall.) He joins Jonny Gomes (2005) and Evan Longoria (2008) as the three Tampa Bay hitters with three-homer games. It's also the sixth consecutive season that exactly one leadoff hitter has had three home runs; Chris Heisey of the Reds (June 22) was last year's winner. Upton's homers were all solo shots, meaning he finished the game with "only" three RBI. Among this year's 10 three-homer games, only Ike Davis (July 28) hit three of the solo variety. The aforementioned Jonny Gomes had another three-HR game for Cincinnati on August 13, 2009. And he was the last player (before Upton on Sunday) to have a three-homer game and out-hit the entire opposing team. The Nats were shut out on two hits that day, just as the Rangers were against Upton. The two-hit shutout thrown by James Shields was the Rays' first since Matt Garza's no-hitter in July 2010.

Jarrod Saltalamacchia pulled off the rarest of cycle misses this week, going homer-triple-double and needing just the "elusive" single for Boston's first cycle since 1996 (John Valentin). Only 13 players have missed the cycle by the single this year, versus 219 needing the triple, 14 the double, and 46 the homer. Since Valentin, six other Red Sox hitters have gone homer-triple-double, most recently Dustin Pedroia on July 2, 2008. And 'Salty' is the first Boston catcher to have a homer, a triple, and a double in the same game since Rich Gedman hit for the cycle against Toronto on Sept. 18, 1985.

Hitter-friendly Chase Field (whose Park Factor for runs trails only Coors Field among NL stadiums) saw just one run and nine hits on Tuesday as the Diamondbacks got an RBI double from Miguel Montero to beat the Dodgers 1-0 on an unearned run. (Montero's hit scored Paul Goldschmidt, who had reached on an error.) It was the first 1-0 game at the ballpark this year, and just the 13th in its history. The Diamondbacks have won seven of those. Overall, Arizona has won just 16 1-0 games since the franchise was founded, and Tuesday's was the second of those wins that came on an unearned run. The first was last year (May 14), also against the Dodgers, when Stephen Drew was on second, went to third on a wild pickoff throw and then scored on a sacrifice fly.

The Astros also won a 1-0 game on Tuesday, the third 1-0 victory among their 46 this season. That's actually the most 1-0 wins in the National League, and it trails only Seattle (who has five) in the majors. These are, however, still the Astros. En route to their 1-0 win, they committed four errors, all allowing batters to reach base. But those errors came in four different innings, and the Cubs didn't advance any of the runners. The last team to commit four-plus errors, score only one run, and still win the game? That's your 1997 World Champion Florida Marlins, who also made four miscues against the Cubs on April 10 of that season but made Gary Sheffield's RBI single in the first inning stand up for the win.

It took until Sept. 14 for the Reds to make their first foray into the new Marlins Park in Miami. It didn't go well. Cincinnati managed just three hits and got shut out 4-0, just the third shutout the Marlins have put up in their new home. Of the 18 visiting teams to play their first game on the former Orange Bowl site this year, the Red Sox (one run on five hits) came the closest to the Reds' futility. Half got to double digits in hits, and three scored 10-plus runs. Overall, visiting teams were an even .500 (9-9) in their first game at the new stadium this season.

CC Sabathia threw two wild pitches and hit a batter (Evan Longoria) in Friday night's loss to the Rays. Although none of those directly led to a run, it was just the second game in Sabathia's career with two-or-more WP and a hit batter. The other was back in 2005 when he was with Cleveland. In the majors, 10 pitchers this year have bounced two and hit one in a game. Three of them have been Yankees, including Freddy Garcia's infamous five-WP game back in April and Hiroki Kuroda in July. No other team has had more than one such game. And it's the first time in the live-ball era that three different Yankees have done it in the same season. (They had three such outings in 2002, but two were by Roger Clemens.)

Kris Medlen of the Braves posted 13 strikeouts in his seven innings on Friday night, allowing just one run to the division-leading Nationals. Atlanta, however, couldn't get the offense going, and Medlen left the game tied 1-1. The Braves needed a walk-off throwing error to win the game in the bottom of the ninth. Medlen is just the fourth pitcher this season to record 13 strikeouts and NOT win the game. Aaron Harang and Anibal Sanchez got no-decisions in April, while Francisco Liriano took a 15-K loss in Minnesota's first game after the All-Star Break. Medlen is the first Braves pitcher with a 13-strikeout non-win since John Smoltz allowed two runs (and the bullpen allowed four more) to the Mets on April 10, 2005. The last five Braves to do it before that: Jason Marquis (2001), Kevin Millwood (2000), Pete Smith (1989), Phil Niekro (1977), and Warren Spahn (1952).
July, 20, 2012
7/20/12
3:51
PM ET
It's Hall of Fame induction weekend, so congratulations to Barry Larkin and the late Ron Santo for their honor. Jerry Crasnick has a nice story about
covering the young Larkin with the Reds
.
On a related topic, Graham Womack of the Baseball: Past and Present website polled writers and bloggers on what an inner-circle Hall of Fame of 50 players would look like.
Here are the results
of Graham's survey, along with short essays written by contributors on the top 50.
Other links:
June, 22, 2012
6/22/12
12:45
AM ET
You blew it, American League. You should have buried the
Boston Red Sox
in the Granary Burying Ground on Tremont Street when you had the chance. Or dumped the bodies in Boston Harbor.
The Red Sox have no right being 36-33 and just two games out of the second wild-card spot, not with the
long list of everything that's gone wrong
.
Your pals in the National League aren't helping out, either. The Red Sox should have lost on Thursday to the
Miami Marlins
. The Marlins took a 3-0 lead off a shaky
Daisuke Matsuzaka
in the top of the first and when the Red Sox failed to capitalize on a bases loaded, one-out situation in the bottom of the inning, you had the feeling it wasn't Boston's night. The Marlins led 5-3 in the eighth. But the Red Sox, on the day
David Ortiz
criticized the media for
too much negativity
, hung in there, fought back and rallied for one of their biggest wins of the season to complete the series sweep.
Something tells me it was a happy clubhouse after the game. Something tells Big Papi me enjoyed this one.
The heroes of this game were four guys who have quietly kept the Red Sox afloat as they've dealt with injuries to
Jacoby Ellsbury
,
Carl Crawford
,
Andrew Bailey
and others and with the slow starts from
Adrian Gonzalez
and
Dustin Pedroia
. Thanks to the four guys below, the Red Sox have fought through tough times, through all that negativity.
Maybe they're not where they want to be or where a lot of people believe a team with a $175 million payroll should be. But they're not in the cemetery. And with 93 games left, that's something the rest of the AL might end up regretting.
Daniel Nava.
Nobody wanted Nava. Not out of high school, when he tried out for the team as a freshman at Santa Clara but got cut and instead served as the team's equipment manager. Not after returning to junior college, heading back to Santa Clara and hitting .395 as a senior and still going undrafted. Not after making his way through the independent leagues, getting purchased by the Red Sox for $1, hitting a grand slam in his first major league at-bat in 2010 but eventually being designated for assignment last May.
Any team could have had claimed him on waivers. No team did. He ended up spending all of 2011 in the minor leagues. He was so low on Boston's depth chart the club didn't invite him to major league camp. But then the injuries in the outfield piled and Nava was recalled from Triple-A in May. He's been one of the best hitters in the league since, posting a .340/.455/.519 line. Since his recall, he has third-best on-base percentage in the majors, behind only
Joey Votto
and
Carlos Ruiz
. He's been so good that even if Carl Crawford
was
healthy, Nava would have to remain in the lineup.
After going 4-for-5 on Wednesday, he had two more hits and a walk on Thursday. His flare to center in the bottom of the eighth scored
Ryan Kalish
with the go-ahead run.
Will Middlebrooks.
While Nava was discovered at the bottom of the scrap heap and even tossed aside at one point, Middlebrooks comes from a more conventional background, a fifth-round draft pick who became the team's top prospect after a solid 2011, when he hit 23 home runs, mostly in Double-A. Still, with a poor 114/26 strikeout/walk ratio, a full season in Triple-A appeared necessary. But with a hot start and injuries to
Kevin Youkilis
, Middlebrooks got the call to play third base. All he's done is hit .316/.352/.551 with eight home runs and 31 RBIs in 38 games. Sure, he's not walking much and maybe that strike zone judgment will be exposed as he goes through the league a second time, but right now he's a savior as a power bat in the middle of the lineup.
On Thursday, he delivered one of the biggest hits of the Red Sox season, smashing a mammoth, 449-foot home run to center to tie the game in the bottom of the eighth. One game, one series sweep doesn't turn around a season, but there are games and hits that -- when you look at the final standings on the final day of the season -- that fans of playoff teams will remember. This could be one of those hits.
Jarrod Saltalamacchia.
Once part of the famous
Mark Teixeira
trade between the Braves and Rangers, Texas essentially gave up on Salty after two-plus seasons. The Red Sox acquired him in 2010 for three nondescript minor leaguers. He's hitting .264/.311/.556 and leads all major league catchers with 13 home runs.
Salty doubled in front of Middlebrooks' home run and scored two runs. The former top prospect has finally made good.
Scott Atchison.
Unlike Nava, Atchison was drafted ... in the 49th round, in 1998 by the
Seattle Mariners
. He had brief stints with the Mariners and Giants, went to Japan, came back to the States. He's a 36-year-old right-hander who wasn't expected to make the team, but a strong spring training earned him a spot on the Opening Day roster. There's no fancy about his approach: A 90-93 mph four-seam fastball, a slider, an occasional changeup.
He's moved from last man on the staff to a key member of the bullpen. He threw two scoreless innings on Thursday to improve to 2-0 with a 1.17 ERA. He's pitched the second-most relief innings in the majors and has held batters to a .199 average.
Four unsung heroes. Four big reasons why the Red Sox are playing some good ball right now.
PHOTO OF THE DAY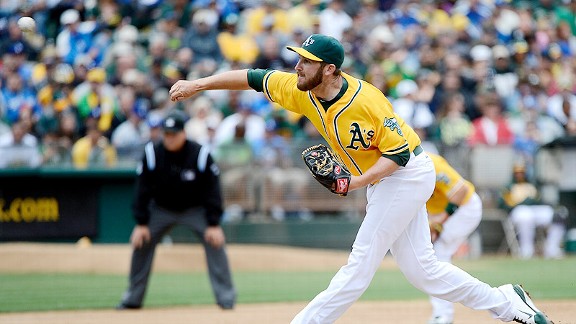 Thearon W. Henderson/Getty ImagesSpeaking of unsung heroes: Oakland's Ryan Cook is now 2-1 with a 0.57 ERA.
June, 7, 2012
6/07/12
12:56
AM ET
"Show us some respect," yell Baltimore Orioles fans. Or maybe they're politely demanding. But I've seen the complaints in the Power Rankings comments, read the emails sent to "Baseball Today," been asked the question in my chats: Why doesn't anyone believe in the Orioles?
The Orioles traveled to Fenway Park this week in a precarious situation. They've lost two of three in Tampa. They've been swept in Toronto. They've lost two of three at home to Kansas City. They've lost two of three at home to Boston. They haven't won a series since the big weekend showdown in Washington from May 18-20.
So, yes, the concerns all of us "experts" had been raising -- it's a long season, let's see what happens to the rotation, let's find out if some of the hitters can keep up their hot starts, the bullpen can't keep its ERA under 2.00 all season -- were proving true. The O's were 27-14 after winning the second against the Nationals but had gone 3-10 since, with the staff posting a 4.95 ERA while the offense scored 3.5 runs per game.
These were the Orioles we all expected. And then they beat the Red Sox in extra innings on Tuesday. And then they
beat the Red Sox 2-1
on Wednesday behind a solid effort from
Wei-Yin Chen
and scoreless innings from
Pedro Strop
and
Jim Johnson
. They're 5-0 at Fenway in 2012 and Chen is now 5-2 with a 3.49 ERA. The key moments came in the seventh inning after the Red Sox threatened with a pair of singles to start the frame. But after a sacrifice bunt, Chen struck out
Marlon Byrd
and induced
Mike Aviles
to pop out to first base.
Normally, Buck Showalter might have turned to his stellar bullpen, but after Tuesday's victory, in which the bullpen threw five innings, he left Chen to escape the jam. He set up Byrd with three fastballs and then got him swinging on a beautiful changeup. He threw three more fastballs to Aviles that he couldn't get around on. Don't underestimate Chen. His stuff plays up big, with his four-seamer reaching 94 mph. His last pitch to Aviles was clocked at 93. In 11 starts, he allowed two or fewer runs seven times and I think this outing will give Showalter more confidence to stretch Chen a little deeper into games.
So the Orioles remain in first place for another day, half a game ahead of the Yankees. Is it time to show them a little respect, to give Orioles fans what they crave? Let's do some position-by-position rankings to help sort out this tightly packed division. Rankings are simply listed in order of who I would want the rest of the season.
(Season-to-date Wins Above Replacement from Baseball-Reference.com, before Wednesday's games, listed in parenthesis.)
Catcher
1.
Matt Wieters
, Orioles (1.6 WAR)
2.
Jarrod Saltalamacchia
/
Kelly Shoppach
, Red Sox (1.6)
3.
Russell Martin
, Yankees (0.7)
4.
J.P. Arencibia
, Blue Jays (0.2)
5.
Jose Molina
, Rays (0.1)
There is a case to be made that Boston's duo is more valuable since they've combined for 14 home runs and an OPS over .900. But Wieters brings elite defensive skills and I also don't believe Salty is going to slug .583 all season. For the second consecutive season, the Rays are essentially punting offense at catcher. Rays catchers have the worst OPS in the majors.
First base
1.
Adrian Gonzalez
, Red Sox (0.8)
2.
Mark Teixeira
, Yankees (0.6)
3.
Mark Reynolds
, Orioles (-0.6)
4.
Carlos Pena
, Rays (0.4)
5.
David Cooper
/others, Blue Jays (incomplete)
Gonzalez is still struggling to get his stroke going, but he's the best of a weak group. Yes, I just called Mark Teixeira weak, but at this point he's a low-average guy who pops a few long balls, doesn't draw as many walks as he once did and isn't as great on defense as Yankee fans believe. But in this group that's good enough to rank second. Reynolds has a low WAR but he's missed time and that includes his bad defense at third base, a position we've hopefully seen the last of him playing. The Jays, meanwhile, need to quit fooling around at first base and find a legitimate hitter, or move
Edwin Encarnacion
there and find a designated hitter. You hate to waste a potential playoff season because you can't find a first baseman who can hit. (No, David Cooper is not the answer, although he's hit well so far in 11 games.)
Second base
1.
Robinson Cano
, Yankees (2.1)
2.
Dustin Pedroia
, Red Sox (1.8)
3.
Kelly Johnson
, Blue Jays (2.1)
4.
Ben Zobrist
, Rays (0.7)
5.
Robert Andino
, Orioles (0.6)
I love Ben Zobrist almost as much as two scoops of Vanilla Heath Bar Crunch from Ben & Jerry's, but a .199 average isn't going to cut it in this group, even if you are on pace to draw 100-plus walks. Zobrist has actually play more right field so far, but should be back at second on a regular basis with
Desmond Jennings
back.
Third base
1.
Evan Longoria
, Rays (1.4)
2.
Brett Lawrie
, Blue Jays (3.1)
3.
Alex Rodriguez
, Yankees (1.2)
4.
Kevin Youkilis
/
Will Middlebrooks
, Red Sox (0.5)
5.
Wilson Betemit
/
Steve Tolleson
, Orioles (-0.1)
Lawrie's WAR is boosted by defensive metrics that treat him like he's the second coming of Brooks Robinson. He's a good player but don't I think he's been the second-best position player in the American League. Longoria hopes to
return at the end of the Rays' current road trip
. As for A-Rod, his health is always a question at this stage of his career, but Youkilis has health questions and I'm not a believer in Middlebrooks' ability to hit .321 with power all season. His 29/4 strikeout/walk ratio is something pitchers should learn to exploit. As for the Orioles ... third base is an obvious concern. But don't expect a rare intra-division trade to acquire Youkilis.
Shortstop
1.
J.J. Hardy
, Orioles (2.1)
2. Mike Aviles, Red Sox (2.2)
3.
Derek Jeter
, Yankees (0.9)
4.
Yunel Escobar
, Blue Jays (1.9)
5.
Sean Rodriguez
, Rays (1.9)
Wait ... Jeter has been the
least
valuable of this group so far? The other four all rate as excellent fielders -- in fact, Baseball-Reference rates them all in the top 13 fielders in the AL. Jeter, meanwhile, ranks 310th in the AL on defense -- out of 313 players.
Left field
1. Desmond Jennings, Rays (1.2)
2.
Daniel Nava
/
Carl Crawford
, Red Sox (1.7)
3.
Brett Gardner
/
Raul Ibanez
, Yankees (0.3)
4.
Eric Thames
/
Rajai Davis
, Blue Jays (-0.1)
5.
Endy Chavez
/
Xavier Avery
/
Nolan Reimold
, Orioles (-0.3)
Not to keep picking on the Orioles, but this is another problem position, especially if Reimold's disc problems lingers all season. Nava has quietly been a huge savior for the Red Sox, batting .305 with a .438 OBP. He's drawing walks at a crazy rate. He should slide some but he's provided the kind of depth the Orioles don't have.
Center field
1.
Adam Jones
, Orioles (2.5)
2.
Curtis Granderson
, Yankees (1.3)
3.
B.J. Upton
Rays (0.9)
4.
Jacoby Ellsbury
/
Scott Podsednik
/Marlon Byrd, Red Sox (0.5)
5.
Colby Rasmus
, Blue Jays (1.3)
Ellsbury might be the biggest wild card in this race, because the Red Sox can't survive much longer with the Podsednik/Byrd platoon. When will he return? How will he hit? He just started throwing and could
return by the end of the month
. I've conservatively put him fourth, which seems fair considering the unknown. And please note, Orioles fans, that I believe in Mr. Jones.
Right field
1.
Jose Bautista
, Blue Jays (0.9)
2.
Matt Joyce
, Rays (2.2)
3.
Nick Swisher
, Yankees (-0.1)
4.
Cody Ross
/
Ryan Sweeney
, Red Sox (1.6)
5.
Nick Markakis
/others, Orioles (0.3)
Markakis is out three to four weeks with a broken bone in his wrist, an injury that once again reflects Baltimore's lack of depth. But all five teams are solid in right field. Ross is about to return from his broken foot; we'll see if he pounds the ball like he was before the injury (.534 slugging).
Designated hitter
1.
David Ortiz
, Red Sox (1.4)
2. Edwin Encarnacion, Blue Jays (1.6)
3. Revolving Door, Yankees
4.
Chris Davis
, Orioles (0.3)
5.
Luke Scott
, Rays (0.0)
No respect for Davis? OK, he's hitting .295/.333/.494. And he has 53 strikeouts and eight walks. Sorry, call me skeptical, O's fans. Yankee designated hitters have actually fared well, hitting a combined .279/.354/.467 with 10 home runs.
No. 1 starter
1.
David Price
, Rays (2.2)
2.
CC Sabathia
, Yankees (1.9)
3.
Ricky Romero
, Blue Jays (0.3)
4.
Josh Beckett
, Red Sox (0.5)
5.
Jason Hammel
, Orioles (1.9)
Look, Hammel has been terrific so far thanks to a career-high strikeout rate
and
a career-high ground-ball rate. But this is tough group and the question is who is going to be best moving forward? My biggest concern is that Hammel has never pitched 180 innings in a season. Can he pitched the 210 to 220 that you need from a No. 1?
No. 2 starter
1.
Brandon Morrow
, Blue Jays (1.1)
2.
James Shields
, Rays (-0.4)
3.
Andy Pettitte
, Yankees (1.5)
4. Wei-Yin Chen, Orioles (0.7)
5.
Jon Lester
, Red Sox (-0.4)
I like Chen. Heck, right now I like him better than Jon Lester, which tells you how much I like him. But he averaged just 172 innings in Japan over the past three seasons. Can he hold up over 32 starts?
No. 3 starter
1.
Jeremy Hellickson
, Rays (1.0)
2.
Hiroki Kuroda
, Yankees (1.4)
3.
Felix Doubront
, Red Sox (0.4)
4.
Brian Matusz
, Orioles (0.2)
5.
Henderson Alvarez
, Blue Jays (0.4)
Matusz is holding his own at 5-5, 4.41, but he's still walking a few too many, allowing a few too many hits, a few too many home runs. The velocity is solid, averaging 91 on his fastball. We're talking minor upgrades needed in his command, getting the ball down in the zone more often to get more groundballs. If the Orioles are to have any chance, Matusz's improvement may be the single most important aspect.
No. 4 starter
1.
Matt Moore
, Rays (-0.6)
2.
Ivan Nova
, Yankees (0.3)
3.
Jake Arrieta
, Orioles (-0.4)
4.
Clay Buchholz
, Red Sox (-1.2)
5.
Kyle Drabek
, Blue Jays (-0.1)
Five pitchers who have struggled, but Arrieta's peripheral numbers are actually pretty solid. Like Matusz, there is hope for improvement. On the other hand, he's been awful since pitching eight scoreless innings against the Yankees on May 2, giving up 29 runs in 31.2 innings. His BABIP was .243 through May 2; it's .361 since. The truth is probably right in the middle, leaving Arrieta third on our list of fourth starters.
No. 5 starter
1.
Alex Cobb
/
Jeff Niemann
, Rays (0.3)
2.
Drew Hutchison
, Blue Jays (0.1)
3.
Phil Hughes
, Yankees (0.2)
4.
Daisuke Matsuzaka
/
Aaron Cook
/
Daniel Bard
, Red Sox (-0.3)
5.
Tommy Hunter
, Orioles (-0.5)
Hunter isn't really a major league starter, but I'm not sure
Jamie Moyer
-- just signed to a minor league contract -- is exactly a solution. The Orioles need to upgrade here.
Bullpen
1. Yankees (2.76 ERA)
2. Orioles (2.48 ERA)
3. Red Sox (3.66 ERA)
4. Rays (3.43 ERA)
5. Blue Jays (4.39 ERA)
If you watched Pedro Strop and Jim Johnson close out Wednesday's win, you'll realize the back of the Orioles' end has two guys with filthy stuff.
Darren O'Day
and
Luis Ayala
are strike-throwing machines and
Troy Patton
is a lefty who isn't a LOOGY. It's a good pen and it's deep. But the reliability of the pen ties into the rotation's inability to pitch deep into games -- Orioles relievers have already thrown 39 more innings than Yankees relievers, for example.
OK, let's add it up … one point for ranking first, five points for ranking fifth. Hey, this isn't meant to be scientific, so don't overanalyze this too much. The totals:
Yankees: 36 points
Rays: 40 points
Red Sox: 45 points
Blue Jays: 51 points
Orioles: 53 points
Not the respect Orioles fans are seeking. Sorry about that; it's nothing personal. Look, I don't think the Orioles are going to fade away anytime soon. I worry about the rotation's ability to hold up all summer and the bullpen's workload. They lack depth on offense and have a couple of obvious holes. Hey, you never know, and the Orioles are certainly due for a winning season. I would love to see it happen.
PHOTO OF THE DAY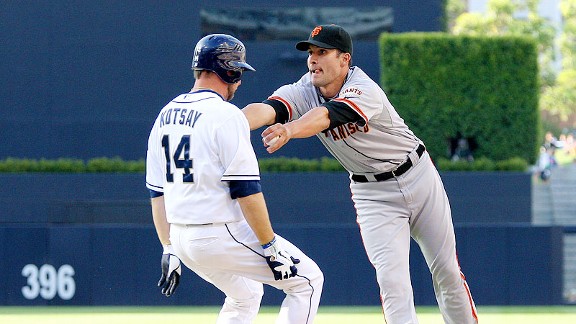 Jake Roth/US PresswireJavier Lopez is sending a message to Mark Kotsay: Tag, you're out!
April, 26, 2012
4/26/12
10:37
AM ET
Joe Girardi has his little black binder. Bobby Valentine has his ... cell phone.

As ESPNBoston's Gordon Edes reported last night, Valentine's original lineup card against Twins pitcher
Liam Hendriks
had
Darnell McDonald
and
Kelly Shoppach
in the starting lineup. The problem: Hendricks is right-handed, and Valentine usually plays
Ryan Sweeney
and
Jarrod Saltalamacchia
against right-handers. Saltamacchia caught the error and pointed it out to Valentine, who filled out a new lineup card with Sweeney and Salty playing.
Valentine blamed his cell phone.
As Edes wrote, "I looked on this thing," Valentine said, gesturing to his cellphone, "and there was no history on him. It had his name, and 'against left-handed hitting.' My fault. That's why you make these lineups out early enough."
Hey, I'll give this to Bobby V: Liam Hendriks
sounds
like a left-hander, no? Or maybe he just looked at Hendriks' career stats, saw he doesn't strike many guys out, and assumed Hendriks was a soft-tossing lefty. (Memo to Bobby: Twins pitchers don't strike batters out. Even the right-handers. So be careful there.)
But more seriously: It's 2012 and a manager is looking on his cell phone for information? The Red Sox have a $173 million payroll and Valentine is checking his phone to find out about Liam Hendriks? Where are the scouting reports? Shouldn't some Harvard grad making $22,000 be giving Valentine a big fat binder full of detailed stats, splits and so on? Make fun of Girardi's binder, but at least he's not pulling out a cell phone in the seventh inning.
I've always wondered this: Those of us who obsess over baseball know who Liam Hendriks is. We know he's from Australia, we know he's a typical Twins-type prospect who throws strikes and isn't overpowering. Major league managers have a lot to deal with -- mostly worrying about their own team -- but you do wonder sometimes how familiar they are with the other 700-plus major leaguers.
June, 18, 2011
6/18/11
1:38
AM ET
By
Alex Convery
| ESPN.com
On July 31, 2007, only four and a half games stood between the
Atlanta Braves
and first place. After sitting out baseball's October tournament for the first time in 14 years, the Braves were desperate to make up the deficit and clinch another ticket to the postseason. Needing offensive firepower in general, Braves general manager John Schuerholz had a tough decision to make.
Seven-hundred ninety-nine miles away, the
Texas Rangers
owned one of baseball's worst records. Before the non-waiver trading deadline passed, GM Jon Daniels and his front office decided to rebuild. With star slugger
Mark Teixeira
drawing suitors from every division, Daniels' decision looked easy, if not inevitable.
Schuerholz pulled the trigger on the now-infamous deal, and almost four years later, the Braves got to see up close what could have been. They surrendered five prospects in the deal for Teixeira, and they saw two of them play for the Rangers on Friday:
Elvis Andrus
and
Neftali Feliz
. A third,
Matt Harrison
, will start against them Saturday.
"We've got the team to win the World Series,"
Brian McCann
declared when Teixeira joined the Braves. That assurance aside, Atlanta failed to make the postseason in 2007, and same story in 2008. Teixeira wasn't to blame, hitting 37 homers in his 157 games with Atlanta before getting dealt to the Angels at the deadline in 2008.
Perhaps the most ironic thing about the Braves' trade with the Rangers is this nugget from the original news release: "The Braves sent rookie catcher
Jarrod Saltalamacchia
and four minor leaguers to Texas for the powerful, switch-hitting Teixeira." Four minor leaguers? At the time, that was true, but everyone in the know recognized they were giving up top prospects in Feliz and Andrus. It's easy to forget that Saltalamacchia, handily replaced in Texas with the likes of
Bengie Molina
and
Matt Treanor
, was even part of the deal.
Had Daniels not made that fateful decision to rebuild, it's safe to say that neither team would be the same today. For reference,
Jordan Schafer
hit leadoff for the Braves on Friday. He has a career .325 OBP in the minors and has never stolen more than 23 bases in a season. Granted, Andrus has posted an OBP of only .334 throughout his career, but he already has 19 stolen bases to his name this season. Andrus in the leadoff spot undoubtedly would be an upgrade over the combination of Schafer and the injured
Martin Prado
.
The Braves already boast one of the best bullpens in the majors, led by young flamethrower
Craig Kimbrel
and dominant lefty
Jonny Venters
. The dynamic duo lead all relievers in WAR, Venters with a 1.4 and Kimbrel right behind him at 1.2. Now, imagine that crew with the addition of Feliz. It's not unlikely that Atlanta would have spread the embarrassment of that wealth in talent and let Feliz start instead, as the Rangers might eventually do. That would give them a remarkable young core at the front of the rotation, starting with
Tommy Hanson
and Feliz.
The Rangers' story is widely known by now, as they won a pennant last year. It still seems remarkable that this team made the World Series in 2010
after
trading such big-name talent as
Adrian Gonzalez
,
John Danks
and, yes, Teixeira.
It's easy to criticize the Braves' front office for making the trade. In fact, it's easy to call the trade one of the worst recent deals pulled off at the deadline. But that's also easy to say four years later. It's just as easy to get inside Schuerholz's head and understand why he made the deal, getting Teixeira for part of 2007 and potentially for all of 2008. His club had just seen its streak of postseason appearances broken. The offense was sputtering, and
Andruw Jones
was hitting only 20 points over the Mendoza Line. It looked like the club had its catcher of the future in McCann. Perhaps Saltalamacchia could have been converted to first base, but at the end of the day, he was blocked by McCann. The same could be said about Andrus, who looked disposable with
Yunel Escobar
showing flashes of greatness. Harrison is a back-end rotation starter, hardly a loss for a team with a strong starting rotation as it stood then (or is now). Feliz was the real key in the deal, and while many scouts praised his pure stuff, there were skeptics as well. Many questioned his small frame, claiming he would easily break down.
Schuerholz took a gamble, a gamble that he would eventually lose. But that's the point of a gamble: You lose as many as you win. And at the end of the day, Teixeira has a ring, while Andrus and Feliz were two wins away from rings of their own. The Braves? Well, they're still working at it. Just ask McCann, who had to watch
Joe Mather
swing through a Feliz heater to end the game.
PHOTO OF THE DAY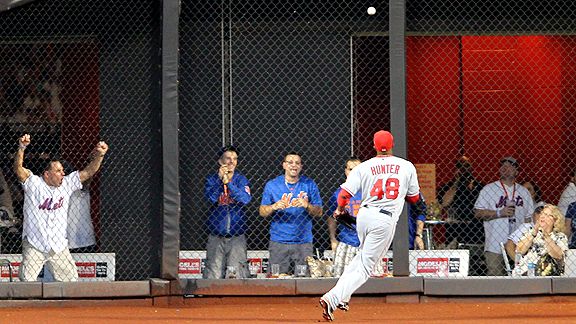 Anthony Gruppuso/US PresswireTorii Hunter had a welcoming committee waiting to greet him at the end of a long run.
Alex Convery writes for Fire Brand of the American League, the Red Sox affiliate of the SweetSpot network. You can follow him on Twitter.
May, 9, 2011
5/09/11
11:09
AM ET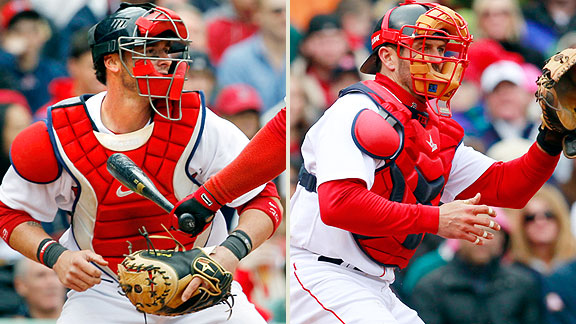 AP PhotosJarrod Saltalamacchia and Jason Varitek are hitting a combined .172 with no home runs.
The
Boston Red Sox
are hoping that
Jarrod Saltalamacchia
comes around and becomes their No. 1 catcher. However, the 26-year-old is off to a slow start, hitting just .203 with an OPS of .522 and 19 strikeouts in only 69 at-bats. Although he is improving behind the plate in calling a game and throwing out runners, it's still unclear whether he is the long-term answer.
As the Red Sox allow him to play through his slow start, they are blessed to have a veteran and a winner in
Jason Varitek
to help him out. However, the Red Sox can't wait until the trade deadline to search for a short-term or even a long-term answer behind the plate if Salty doesn't hit or improve enough to win with one of the better rotations in baseball. Therefore, the effort has to be going on now behind the scenes.
Since general managers have only 29 trade partners, it's important to stay in constant communication with each of them, constantly exploring options while communicating needs and depth. The best chance for the Red Sox making a deal for a catcher is to target teams that have multiple talented catchers. Therefore, teams such as the Reds, Yankees, Angels, Nationals, Blue Jays and Athletics are the most logical places for the Red Sox to start. Remember, trades can be done in one phone call, but most trades take weeks, months or even years to consummate. It never hurts to make trade proposals on a regular basis, even if you never end up making a deal with that club.
To make a deal for a catcher, the first thing you need to do is to look at your rankings of catchers in the minor and major leagues. Each team will have a board listing their top 50 trade targets. GMs will have these players ranked in terms of how their top executives, scouts, player development personnel and other evaluators view them.
All 30 clubs want to have a
Joe Mauer
or
Buster Posey
, but those aren't players you'll ever be able to trade for. Draft them if you want them; otherwise, lower your sights. Every club is always trying to improve their team at each position. In the case of the Red Sox, they have to figure out where Saltalamacchia fits on their rankings of catchers. For this example, let's say they view him at No. 32. To improve the team, it would then make sense to talk to the teams that have catchers who are ranked higher, ideally trying to acquire a catcher in the top 20.
Here would be an example of what the
CATCHERS TRADE TARGETS
list would look like. Note that it is a mix of major and minor leaguers. (This is not an exact order, just an example.)
CATEGORY NO. 1: DON'T WASTE YOUR TIME, THEY'RE NOT TRADING
1. Joe Mauer --
Minnesota Twins
2. Buster Posey --
San Francisco Giants
3.
Brian McCann
--
Atlanta Braves
4.
Yadier Molina
--
St. Louis Cardinals
5.
Carlos Santana
--
Cleveland Indians
6.
Matt Wieters
--
Baltimore Orioles
7.
Kurt Suzuki
--
Oakland Athletics
8. Jesus Montero --
New York Yankees
9.
Carlos Ruiz
--
Philadelphia Phillies
10.
Miguel Montero
--
Arizona Diamondbacks
11.
Hank Conger
--
Los Angeles Angels
CATEGORY NO. 2: PLAN ON PAYING A HEFTY PRICE
12. Travis d'Arnaud --
Toronto Blue Jays
13. Derek Norris --
Washington Nationals
14. Gary Sanchez -- New York Yankees
15. Devin Mesoraco --
Cincinnati Reds
16.
Wilson Ramos
-- Washington Nationals
17.
Alex Avila
--
Detroit Tigers
18.
J.P. Arencibia
-- Toronto Blue Jays
19. Wilin Rosario --
Colorado Rockies
20. Yasmani Grandal -- Cincinnati Reds
21. Max Stassi -- Oakland Athletics
22. Tony Sanchez --
Pittsburgh Pirates
23.
Jason Castro
--
Houston Astros
CATEGORY NO. 3: POSSIBLE UPGRADES
24.
Russell Martin
-- New York Yankees
25.
Geovany Soto
--
Chicago Cubs
26. Austin Romine -- New York Yankees
27.
John Buck
--
Florida Marlins
28.
Jeff Mathis
-- Los Angeles Angels
29.
Ramon Hernandez
-- Cincinnati Reds
30.
A.J. Pierzynski
--
Chicago White Sox
31.
Nick Hundley
--
San Diego Padres
32.
Yorvit Torrealba
--
Texas Rangers
33.
Chris Snyder
-- Pittsburgh Pirates
34. Sebastian Valle -- Philadelphia Phillies
35. Justin O'Connor --
Tampa Bay Rays
36.
Miguel Olivo
--
Seattle Mariners
37.
Mike Napoli
-- Texas Rangers
38.
Jonathan Lucroy
--
Milwaukee Brewers
39.
John Jaso
-- Tampa Bay Rays
40. Kyle Skipworth -- Florida Marlins
41.
Lou Marson
-- Cleveland Indians
42.
Jesus Flores
-- Washington Nationals
43.
Josh Thole
--
New York Mets
44.
Matt Treanor
--
Kansas City Royals
45. Carlos Perez -- Toronto Blue Jays
46.
Rod Barajas
--
Los Angeles Dodgers
47. Pudge Rodriguez -- Washington Nationals
48.
Chris Iannetta
-- Colorado Rockies
49.
Bobby Wilson
-- Los Angeles Angels
50.
Ryan Doumit
-- Pittsburgh Pirates
Now, let's get specific with realistic possibilities the Red Sox could be discussing:
Long-term solutions
Reds -- Devin Mesoraco or Yasmani Grandal
Blue Jays -- J.P. Arencibia or Travis d'Arnaud
Angels -- Hank Conger or Jeff Mathis
Nationals -- Wilson Ramos or Derek Norris
Athletics -- Max Stassi
Yankees -- Never mind, not happening
Possible stop-gap catchers for this year
These guys could be available if their teams fall out of the playoff race.
White Sox -- A.J. Pierzynski
Mariners -- Miguel Olivo
Padres -- Nick Hundley
Nationals -- Pudge Rodriguez
Free agent --
Bengie Molina
I hope that the combination of Saltalamacchia and Varitek will work out for the Red Sox. If not, it will be fun to watch Theo Epstein and the Red Sox try to wheel and deal in July.
Thanks for reading! I appreciate your feedback and ideas. Feel free to contact me directly at my Twitter account:
JimBowdenESPNxm
.
February, 18, 2010
2/18/10
8:06
PM ET
Among the many question to be answered this spring: Who's going to catch for the Rangers? Because as T.R. Sullivan writes, at this point
there's a competition
:
The Rangers have a mantra for Spring Training: whatever is in the best interests of the team to help us win.That's why there is extreme competition on the pitching staff. That's also why their catching situation is up for grabs going into the first workout on Friday. That's why Jarrod Saltalamacchia will have to fight off Taylor Teagarden, Toby Hall and others if he wants to be the Rangers' No. 1 catcher again.

"That's what we're basing the club on: what's best for the team and our ability to win," Rangers general manager Jon Daniels said. "We have to apply that here as well."

So, for the third straight year, Saltalamacchia comes into camp having to win a job and there is still a possibility the Rangers could sign free-agent catcher Jose Molina. They have had discussions with his representatives and he still hasn't signed.

"It has been presented to us as competition, so I'm going to prepare myself to do what it takes to win the job," Saltalamacchia said. "I still believe it's a team game and we have to do our job working with the pitching staff and do what it takes to help them."

--snip--

The job is open because of the uncertainty about Saltalamacchia's shoulder. He came down with thoracic outlet syndrome in August and had surgery in September to have a rib bone removed that was causing pain and numbness in his right throwing arm. The Rangers expect full recovery, but he did have one offseason setback when he tried to return too quickly to play winter ball.

"We're not certain about his health," Washington said. "He just has to show us he can play. If he can play, he's got the job."
Gee, this doesn't sound like much of a competition to me.
Toby Hall? He's 34, he missed 2009 with a severe shoulder injury, and he's got a .297 career on-base percentage. Hall isn't a candidate; he's cheap insurance in case somebody gets hurt next month.
And it sounds like the job is Saltamacchia's to lose. I'm just not sure it should be.
Remember when the Rangers had too many catchers? Well, that problem took care of itself.
Max Ramirez
, who tore up Double-A in 2008, suffered wrist problems in Triple-A in 2009, and even if he's healthy and hitting again he'll probably wind up at first base.
Saltalamacchia and Teagarden?
We're still waiting for them to hit.
Salty's career line: .251/.314/.389
Teagarden's career line: .237/.295/.457
But the statistical question marks go beyond the majors. Really, neither player has accomplished much above Class A, which makes me wonder why we (read: I) thought so highly of them in the first place.
Saltalamacchia turns 25 this spring; Teagarden is 26.
Teagarden bats right-handed, while Saltalamacchia has the virtue of switch-hitting (though it's not a great virtue if he doesn't actually hit).
A couple of years ago, it seemed (to me) like a question of which young Ranger would first establish himself as a star catcher in the majors. Now that seems like a silly question. Now the organization can only hope that one of them becomes slightly more than competent, and they seem to be close enough as hitters that maybe defense should be the tiebreaker.
Or Ron Washington could just do the smart thing, and platoon them.
August, 18, 2009
8/18/09
4:13
PM ET
Ivan Rodriguez
a Ranger again? Raise your hand if you saw
this
coming? Jeff Wilson with
all the details
(except for the identity of the presumably nondescript minor leaguers the Rangers are giving up):
A source said Rodriguez will serve as the backup for Taylor Teagarden, who has assumed the starting duties with Jarrod Saltalamacchia on the disabled list. Saltalamacchia was placed on the DL on Saturday with arm fatigue and was told today by vascular specialist Dr. Greg Pearl that he has thoracic outlet syndrome. Saltalamacchia, though, said that he will stretch and rehab the arm over the next few weeks and was told that he could play again this season. "I'm going to play through it, and hopefully it goes away," Saltalamacchia said. "He [Pearl] thinks that if I stretch it out and do the rehab, there's a chance I can overcome it. "I don't want my season to end. We're in the hunt, and I want to help out as much as I can."
Do you remember last summer, when smart guys like me were saying the Rangers had so many good catchers they should trade one of them to the Red Sox?
Those three good catchers -- Teagarden, Saltalamacchia, and Maximiliano Ramirez -- have been so good this season that management felt compelled to trade two young players for a 37-year-old catcher with a .280 on-base percentage.
Saltalamacchia? The starter for most of this season, he's got a .293 on-base percentage, and he's had some problems throwing the ball back to the pitchers.
Teagarden? He's been even worse, with a .264 on-base percentage in 38 games.
Ramirez? He can't really catch, and anyway he hasn't done enough with the bat this year to escape the minor leagues.
Hence, Ivan Rodriguez. Of course, his OBP isn't any great shakes, either. But he can still throw, and with Saltalamacchia out the Rangers do need another catcher. And speaking purely as a fan, it'll be fun to see him wearing the uniform again.