SweetSpot:

Jarrod Washburn
February, 15, 2011
2/15/11
1:00
PM ET
By
Geoff Young
| ESPN.com
People love a winner, and there's nothing wrong with that. People also love to assign credit for winning. There's nothing wrong with that, either, so long as we recognize its limitations.
Take a starting pitcher's win-loss record.
[+] Enlarge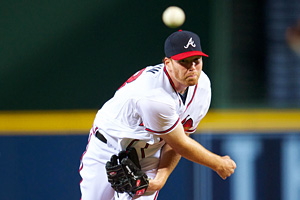 Dale Zanine/US PresswireAtlanta pitcher Tommy Hanson's 2010 season was much better than his won-loss record suggests.
It tells us what happened, but not how or why. If we use wins and losses to judge the quality of a pitcher's performance, we risk reaching faulty conclusions.
Felix Hernandez
is a recent example fresh in everyone's minds. He turned the American League into his personal playground in 2010, but because he played for a
Seattle Mariners
team that refused to score runs, he finished with a pedestrian 13-12 record. This led to talk in some circles that Hernandez might not deserve the Cy Young Award.
Beyond Hernandez, others suffered similar fates this past season. And still others succeeded despite themselves.
A while back,
I repurposed an old Bill James study
to compare the 2003 seasons of
Jarrod Washburn
and
Ramon Ortiz
. I've since done the same with the 2008 seasons of
Jake Peavy
and
Tim Redding
. In each case, one pitcher was more effective than successful, while the opposite held true for the other.
You can find these pairs of pitchers in any season. There were several in 2010, the most extreme being Atlanta's
Tommy Hanson
and Milwaukee's
Chris Narveson
.
Here are their overall numbers as a starter (Narveson began the season in the bullpen, going 1-0 in nine relief appearances):
Did Narveson have the better year? As measured by wins and losses, yes. As measured by run prevention, which typically leads to wins, no, and it's not close.
The obvious first question is what kind of run support each pitcher received. In this case, the answer doesn't help -- the Braves averaged 4.29 runs in Hanson's starts, while the Brewers averaged 4.25 when Narveson toed the slab.
So we dig deeper and discover something curious. When their teams scored three runs or more, Hanson and Narveson were indistinguishable:
Hanson was slightly more effective, Narveson slightly more successful, but those two lines are close. What isn't close is how they fared when their teams scored two runs or fewer:
Even accounting for the fact that Hanson allowed several unearned runs, this is a huge discrepancy. It doesn't explain everything, but does provide insight into why there is a gap between these two pitchers' overall effectiveness (as measured by ERA) and their success (as measured by wins and losses).
There are other angles to examine as well. One is how each pitcher fared in their wins:
And in other starts (losses and no-decisions):
Is it reasonable to expect someone with a 4.19 ERA to sport a record of 0-13? Well,
Phil Hughes
had the same ERA in 2010 and went 18-8. Anyway, this is a baseball column, not a calculus class so we'll stop here. If you're curious and motivated, here are some follow-up questions about Hanson and Narveson's starts worth considering:
" How well did the opposing starter pitch?
" How effective was the bullpen?
I'm sure you can think of others, but the point is that without proper context, it is impossible to make an accurate judgment about a player.
Wins and losses tell a story about a pitcher, but not the whole story. When we miss that point, we find ourselves dismissing Hernandez as a Cy Young candidate or arguing that Narveson had a better season than Hanson.
When we ignore available evidence, we look like idiots. Nobody wants that.
Geoff Young writes Ducksnorts, a blog about the San Diego Padres. Follow him on Twitter.
February, 4, 2011
2/04/11
12:30
PM ET
By
Nick Nelson
| ESPN.com
Baseball headlines have been sparse over the past week (with the exception of
Andy Pettitte
calling it quits). Here in early February, many teams have turned their focus away from offseason roster fidgeting and toward spring training preparations.
There are, however, a few intriguing names still available on the free-agent market. This group of players -- overlooked for various reasons and typically willing to sign for a reduced price -- could be referred to as the bargain bin.
Signings at this stage of the offseason typically don't generate much excitement, but that doesn't mean it's impossible to find a player who can help out.
Jonny Gomes
,
Orlando Hudson
and
Jim Thome
are all examples of players who signed in February last year and went on to make meaningful contributions for playoff teams.
So let's sort through the bargain bin and see which of baseball's remaining free agents might be able to make a difference on the cheap for clubs with postseason aspirations.
Vladimir Guerrero
: He earned plenty of accolades last year -- All-Star, Silver Slugger, even a few MVP votes -- but the market has been bone dry for Guerrero this winter, to the point that the Orioles appear to be bidding against themselves on a one-year deal. Teams are no doubt scared of his age, his balky knees and his second-half drop-off in 2010. Yeah, Vlad has his flaws, but he can still hit. I'm surprised there's not more interest.
Russell Branyan
: The lefty can really only do one thing: hit home runs. His career BA is .234, he strikes out a ton, he's not good in the field and supposedly not very pleasant in the clubhouse. But boy, can he hit home runs. Sixty-eight over the last three years, in limited playing time, with a .515 slugging percentage. You'd think someone would sign him for that reason alone.
David Eckstein
: He's lurking. Like a gremlin in the shadows ready to pounce forth in a flurry of grit. Which fan base will become his unsuspecting victim?
Jose Guillen
: He was acquired by offense-hungry San Francisco in an August trade, and went on to post a sub-.700 OPS over 42 games. He was left off the postseason roster and forced to watch his team win a World Series from home, and now he remains unemployed in February. It's been a rough few months for Guillen. He can really crank it when he gets in the zone, but his flaws are evident.
Kevin Millwood
: There's some value in a veteran who's likely to give you close to 200 average innings, and that's what Millwood is. He's nothing flashy but he's made at least 29 starts in each of the past six seasons and registered a decent enough 4.37 ERA during that span. For a rotation short on depth, he could prove to be a wise one-year investment.
Jermaine Dye
: In 2008, he was one of the key figures in Chicago's dramatic run to the postseason. In 2009, he bashed 27 homers and drove in 81 runs. He sat out last year, but at 37 Dye still might have something to offer teams in need of a right-handed bat.
Jarrod Washburn
: A 36-year-old junkballer who's 16 months removed from big-league action, Washburn isn't the most appealing commodity in the world but he was a solid innings-eater up until his disappearance. Prior to sitting out the 2010 campaign, he'd strung together nine straight seasons with at least 149 innings pitched and an ERA never exceeding 4.69. He'd probably take a minor-league deal.
-- Nick Nelson writes Nick's Twins blog, a blog about the Minnesota Twins.
July, 31, 2009
7/31/09
1:08
PM ET
That sweet smell coming from the Pacific Northwest? That's the smell that comes from
trading two months of a 34-year-old pitcher
for (potentially) 12 years of two pitchers in their early 20s ...
The Mariners have traded left-handed pitcher Jarrod Washburn to the Detroit Tigers for rookie left-hander Luke French and pitching prospect Mauricio Robles.

--snip--

Washburn has turned around his career this season. After three lackluster years in Seattle, the left-hander is 8-6 with a 2.64 ERA this season. He had won four consecutive starts before taking a no-decision Tuesday against Toronto. In that stretch, the veteran allowed only three earned runs in 36 2/3 innings.
I wouldn't say that Washburn has turned his career around, simply because we don't know yet if he has. This might be just a blip, as 34-year-old baseball players rarely turn their careers
around
.
What's more common is 23-year-old baseball players turning their careers around, and that might be exactly what Luke French has done. Before this season, he didn't even make the list of Detroit's top 30 prospects. An eighth-round draft pick five years ago, French spent last season in Double-A -- not bad for a 22-year-old -- but his 1.47 strikeout-to-walk ratio left him far down the organizational depth chart.
But the Tigers bumped him up to Triple-A this spring anyway, and he responded with the best numbers of his professional career: 2.98 ERA, 3.46 K/BB ratio.
I can't say exactly how he's doing, though there's a brief mention here of an "improved slider."
French has already reached the majors, and in his second start he beat the Royals (and Zack Greinke) 3-1.
Robles is a long way from the majors, but if nothing else he sure is interesting. Listed at 5-foot-10 and 160 pounds, Robles has struck out more than 11 batters per nine innings this season in the low-A Midwest League. He's also walked 4.3 batters per nine innings, which is why he's still in the low-A Midwest League.
Recent history doesn't have many encouraging words about short right-handed pitchers, but Robles obviously has talent and he just turned 20 this spring.
July, 30, 2009
7/30/09
2:02
PM ET
Is
Jarrod Washburn
going to be dealt? Joel Sherman's
focused on the Yankees
, but this bit applies to everyone else, too:
Mariners GM Jack Zduriencik sounds like an executive stuck in the middle. His brain tells him that his club is just not good enough to make the playoffs this year while his heart keeps creating scenarios in which somehow they sneak in.

Hey Adrian Beltre is due off the DL on Tuesday and Erik Bedard the week after that, and now the Mariners have the sure-handed Jack Wilson at shortstop. So maybe, just maybe Seattle could make up either the 7 1-2 games it is out in the West or the 5 1-2 in the wild card.

But when I noted to Zduriencik that his club is minus-43 this year in run differential and no club has ever made the playoffs with a mark that bad (the worst was minus-42 by the 2005 Padres), Zduriencik said, "we are on the outside looking in and it would take extraordinary things to happen." In fact, the longer we talked, the more it felt to me like Zduriencik was willing to move Jarrod Washburn before tomorrow's 4 p.m. deadline.
Has anyone raised the possibility that Zduriencik worked so hard on improving the Mariners' defense before this season with -- at least in part -- the aim of making the club's veteran starters more attractive as midseason trade bait?
If so, mission accomplished. Washburn is walking fewer batters and giving up fewer home runs than ever before, but what's most striking about his season is that he's given up only 7.4 hits per nine innings. And that, of course, is due to an absurdly low .249 batting average on balls in play.
As you know, that's mostly luck. But it's a little bit of defense, too.
I don't mean to diminish Washburn's accomplishments this season. Those walks, and those home runs? That's him, and he deserves our applause. But that 2.64 ERA is not all him. And if the M's can shake loose a top prospect -- whether from the Yankees or elsewhere -- for Washburn, Zduriencik will deserve his own raucous clapping.
July, 27, 2009
7/27/09
12:10
PM ET
Just last week, it sure looked as if the Mariners had an outside shot at catching the front-runners in the American League West.
Now? Not so much. Not after getting outscored 31-6 by the Indians in a three-game sweep. Not after losing Erik Bedard to the disabled list (again). Not after falling seven-and-a-half games behind the first-place Angels.
Geoff Baker believes the front office is ready to give up on this season, which would be a bitter pill for the fans but really is the best thing for everyone, going forward. Further, Baker believes that Jarrod Washburn -- who just keeps humming along -- might soon be a Milwaukee Brewer:
We mentioned this in yesterday's blog. The Brewers and Mariners have been talking but nothing definitive was hammered out because the Mariners were not sure which direction they were headed in on the trade front.

The Mariners need a shortstop. We've heard lots of speculation about Brewers mainstay J.J. Hardy, but its 21-year-old prospect Alcides Escobar who makes the most sense in a Mariners-Milwaukee deal.

Hardy is only under contract through next year, which is hardly what a rebuilding team like the Mariners will be looking for now that they are out of the playoff hunt. From Milwaukee's perspective, trading Hardy hurts clubhouse chemistry and forces you to thow a 21-year-old rookie in Escobar into the heart of a pennant race.

No, it makes more sense for the Brewers to deal Escobar to Seattle. But for Washburn alone? That would be quite a coup and I doubt it would happen.

That's why, yesterday, I mentioned the possibility of Brandon Morrow being included in such a deal, That would take Seattle's package to a whole other level. Would Morrow and Washburn fetch more than just Escobar? Probably. But I can't give you possible names because, frankly, Jack Zduriencik knows that entire Brewers system inside and out. There are a ton of possibilities and I'm sure he's got a list.
The Hardy/Escobar question is fascinating, from the Brewers' perspective in particular (I agree with Baker; the M's have little use for Hardy, due to his contract). Trading Hardy would be tough for Milwaukee, because the fans and (presumably) his teammates like having him around. That said, Washburn + Escobar almost certainly wins more games than Hardy alone, and that's (probably) true even if Hardy suddenly begins hitting like he did last year (rather than like his .231/.298/.374 line this year).
But, again, I don't see Hardy being a part of any deal for Washburn. If the M's can shake Escobar loose, though? And maybe a young pitcher besides? That's probably a deal the Mariners should make.
July, 24, 2009
7/24/09
2:32
AM ET
June, 18, 2009
6/18/09
3:35
AM ET
Today's links were thrown together with great haste and little care ...
• You're not going to believe what Mark DiFelice -- who ran his record to 4-0 Wednesday night -- does to right-handed batters. Or how he does it.
• I've long disdained the notion that umpires call pitches depending on what the catcher does (rather than the pitch itself). But Wednesday night in Cleveland, Kelly Shoppach got crossed up, lunged to his right for what he thought would be a breaking ball, and wound up having a down-the-middle fastball glance off his wrist. Umpire Mike Everitt called it a ball.
• As Harvey Araton writes, Steve Wilstein -- who broke the story, in 1998, that Mark McGwire was using androstenedione -- has been nominated for the J.G. Taylor Spink Award. My first official act as a member of the Seattle chapter of the BBWAA was to second (or third, or whatever) Wilstein's nomination, and I couldn't be happier about it.
• In response to Wednesday's post about Franklin Gutierrez and his fantastic defense, a friend writes: "Another interesting thing is that Coco Crisp, who is comparable to Gutierrez defensively, was also relegated to a corner-outfield spot by Grady Sizemore, and traded to another team who made him a great center fielder. Ironically, it is Sizemore who wins the Gold Gloves."
I'm not sure if that's ironic. But it sure is interesting.
• Oh, and speaking of Wednesday's posts, I never get tired of smart guys ripping me to intellectual shreds.
• In a slightly older post, I wondered what might happen if you tried to quantify the value of every draft pick. Well, of course it had already been done. But courtesy of Baseball Analysts and Sky Andrecheck, here's the very latest on the subject.
• The Mariners might have waited too long to trade Erik Bedard and Jarrod Washburn. But if one or both of them does round into form, Dave Cameron's got some advice.
June, 8, 2009
6/08/09
4:03
PM ET
Dave Cameron on
a couple of burning questions
...
The A's may finally have a rotation.

After cycling through pitchers all year, the young hurlers currently in the Oakland rotation want to stay put. Brett Anderson, Trevor Cahill, Josh Outman, Dallas Braden, and Vin Mazzaro combined to throw 46 innings last week, giving up 35 hits and walking just seven batters while striking out 26 guys. They allowed just eight runs between them, for a nifty 1.56 runs allowed per nine innings. They obviously won't keep pitching that well, but Oakland built their preseason hopes on a young pitching staff developing quickly, and they had to enjoy this week's performance.

Jarrod Washburn continues to shine.

Early in the season, my buddy Jonah Keri wrote a piece claiming that Washburn might be this season's Cliff Lee, pointing to a greatly improved outfield defense that would help him have a significantly better year than many expected. So far, he looks like a genius, as Washburn continued to roll last week and is having the best season of his career. After two more excellent starts, his season ERA stands at 3.07, and while he's gotten help from Franklin Gutierrez, Ichiro Suzuki, and Endy Chavez, he's also just pitching really well - his FIP stands at 3.39. He's added a two-seam fastball that is destroying left-handers (LHBs are 11 for 78 with 3 walks and 26 strikeouts against him this year), and by dominating same-handed hitters, he's doing a halfway-decent Cliff Lee impersonation.
Cameron follows the M's closely, so if he says Washburn's added a two-seam fastball, he probably has. That said, I'm just a little bit skeptical about Washburn's continued success, if only because if it were easy for a 34-year-old pitcher to turn his career around by adding one variation of a pitch he throws already, more of them would do it. But Washburn's striking out more batters while giving up fewer walks and homers, and at some point we have to take his performance at least semi-seriously.
Meanwhile, for the Athletics the progress does seem encouraging. I've been documenting the struggles of the young starters this spring -- and I have to admit that at one point I almost suggested that their pitching coach be fired -- but they now have two starters with K/BB ratios better than two, and another who's close. Cahill's overall numbers are still a mess, but in his last four starts he's struck out 18 and walked four. And Mazzaro, who struck out one and walked four in his first start, struck out four and walked none in his second start.
Even on the heels of a six-game winning streak, the A's are seven-and-a-half games out of first place. But if three of their young pitchers can grow a bit more, they still have a shot at getting back into contention.
April, 22, 2009
4/22/09
2:30
PM ET
Jarrod Washburn
is 3-0 for the first time since 1998. Geoff Baker, for one, is
happy for him
:
The Washburn I've gotten to know the past few years has always pitched that way: through pain and other obstacles. His real life persona is not quite what some fans have thought about him. They are entitled to their opinions, but he really did not receive a whole lot of run support his first three seasons as a Mariner.

--snip--

"Hopefully, it never ends, this is fun," he said. "All the guys in here are having fun. It's exciting, we're looking forward to coming to the park. Winning's fun. I'm out there yelling and screaming, I don't even know what I'm doing. But I like it when it's happening."

Washburn is 3-0 with a 1.71 ERA. Not bad for a fourth starter. One big reason this first-place team is now 9-5. If he keeps this up, that $10.3 million salary might no longer be the first number quoted whenever his name is mentioned.

Now who ever would have dreamed that possible? Not him, that's for sure. But this early season has been full of surprises.
Entering this season, Washburn's record with the Mariners was 23-43. Was he really that bad? No, not really. With just average luck and opposition he would have been roughly a .500 pitcher over those three seasons. Is a .500 pitcher worth $27 million over three years? Well, no. But when Washburn signed with the M's after the 2005 season, that's roughly what they were getting. At least the durable ones, and Washburn had been pretty durable.
It wasn't a good contract. As I believe I wrote at the time, the Mariners overpaid because they thought Washburn's 3.20 ERA in 2005 meant more than 4.64 and 4.34 marks in the previous two seasons. But it wasn't a crazy contract, in the context of that free-spending time. And if Washburn wins more than a dozen games this season, it won't look crazy in this particular time, either.
April, 22, 2009
4/22/09
12:58
PM ET
Eric Karabell and Peter Pascarelli on
Baseball Today

wonder if Jarrod Washburn is this year's version of Cliff Lee.