April, 30, 2011
4/30/11
12:37
AM ET
By
Christina Kahrl
| ESPN.com
Because analysts like to worry about sample size and caution against "too much, too soon" when it comes to drawing conclusions about April outcomes, let's put the shoe on the other foot and identify an instance of an April result that has made a difference: the Indians' infield.
The specific action that brought this to mind today was the activation of
Jason Donald
from the DL -- and his immediate dispatch to Columbus. This was especially a step down for him because less than two months ago Donald was the early favorite to win the Tribe's open third-base job. It wasn't necessarily a permanent opportunity he'd be winning for himself -- already in his age-26 season, Donald's opportunities at third or second are either going to come now, or perhaps never, especially with a bat projected to deliver OBPs south of .330 while slugging less than .400. Lacking the range you ideally want from a shortstop, his every-day options were limited, and his bat rates are below ideal at the hot corner.
[+] Enlarge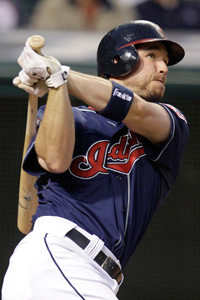 AP Photo/Amy SancettaJack Hannahan, a career .360 slugger, currently has a slugging percentage of .507.
Unfortunately for Donald, he hurt his left hand in the first week in March in Arizona, and his opportunity started to get away from him, a turn of events he could ill afford. That's because his future is now, limited not only by his own possibilities, but also because long-term the Indians are going to want to turn to a series of prospects at second or third, starting with Lonnie Chisenhall, and followed by Jason Kipnis, Cord Phelps, and perhaps Jared Goedert.
One of the great complaints about spring training performance is that it doesn't mean anything, so managers shouldn't make substantive decisions based on it. However, in a case like Donald's, there wasn't anything else to work with as far as his winning much loyalty from his manager, Manny Acta. Once Donald went down, Acta had to turn to the temporary alternatives available to him. As a result, veteran journeymen
Jack Hannahan
and
Adam Everett
got chances that, without spring training's turn of events, would never have existed. They made the most of it, both making the team as non-roster players, and now that veteran tandem is operating in a loose job-sharing arrangement at third base for the Indians.
Now, swapping in Hannahan and Everett for Donald should be far from earth-shattering in terms of the offensive value you would expect. Using True Average to aggregate their offensive contributions, none of them are projected to be anything like an average third baseman (.268), since Hannahan and Donald projected in the .230s, and Everett was down around the Mendoza Line. Hannahan and Everett are no more likely than Donald to hold the job at third for a full season. Even if you're the sort of cynic who thinks that Chisenhall's time in a
Columbus Clippers
uni is directly tied to his potential super-two arbitration eligibility after 2013, both halves of the Hannaverett combo are over 30 years old, and neither half is likely to keep cranking with OPS clips north of .800. Hannahan and Everett are both good fielders, and both have their uses, but even a platoon between the pair seems short-lived.
However, both had good Aprils, and because of that plus Donald's injury, it's going to be that duo that will be manning the Indians' infield for the next few weeks before Chisenhall's case for the job becomes too obvious to avoid. Hannahan and Everett can fend off that future for some time, like Donald might have, but Hannahan is a career .360 slugger (.131 ISO) -- betting on his keeping his SLG north of .500 is "would you also like the Brooklyn Bridge?" territory.
If the Indians are to continue winning, they must not get overly sentimental when the time comes to swap out players who got off to hot starts. That will mean accepting that Hannahan is the same hitter he's been over most of his career, and that they'll be better off with people who deliver more at the plate over the season's long march. The Tribe's front office is more than smart enough to know all this, but in the meantime, whatever possibilities Hannahan possesses have come directly at Donald's expense.
Christina Kahrl covers baseball for ESPN.com. You can follow her on Twitter.
February, 26, 2011
2/26/11
10:26
AM ET
By
Steve Buffum
| ESPN.com
If I were to tell the story of the
Cleveland Indians
' 2010 season, I would probably start with the three-run error.
[+] Enlarge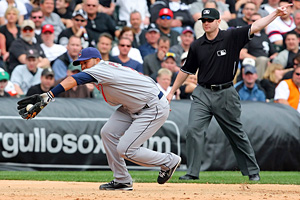 Dennis Wierzbicki/US PresswireCleveland won't miss the defensive mishaps of former third baseman Jhonny Peralta.
Every team makes errors. It's unreasonable to expect any team to make it through a season defensively unscathed. The very best Gold Glove-winning infielders make errors.
This was not one of those errors.
Tribe fans were excited to start the season with perceived defensive whiz
Asdrubal Cabrera
at short: He had played well at both middle infield positions in 2009, and was considered a sizable defensive upgrade to the rather plodding, spherically-headed
Jhonny Peralta
. Peralta slid over to third, a position that could potentially hide his below-average range while still taking advantage of his strong arm. His slow first step was not seen as an asset of comparable size.
When you think about a three-run error, you think about a diving outfielder and a ball rolling to the wall. You might think of Jose Canseco's innovative cranial fielding technique, or perhaps a marauding band of highly agitated Pennsylvania Outfield Badgers. But the outfield is involved in some way, no?
No.
With the bases loaded, the Tigers' hitter bounced a ball to Peralta's left, which he managed to knock down with a grace normally accompanied by an eyeless Muppet singing, "Bork, bork, bork!"
Thousands of Cleveland fans momentarily lost consciousness as they forgot to breathe while giving Peralta the telepathic signal
not
to rush the throw.
In my experience as a Cleveland fan, the Cleveland Fan Long-Distance Telepathic Network needs work.
Peralta's throw to ersatz first baseman
Andy Marte
was … look, it was not a good throw. Not many first basemen would have caught that throw. My point is, not many first basemen would have approached the play as Marte did, either, which is to say, to stand like a grandfather clock and … again, I cannot tell you what Marte's thought process was here, but it appeared to combine equal parts Zen, terror, and petit mal seizure. The ball rolled away. Detroit's baserunners continued to run. Right fielder
Shin-Soo Choo
, roughly 19 times the distance from the ball, ran toward the ball. The sun changed position perceptibly in the sky. Detroit baserunners continued to run.
Did I mention that Cleveland lost by three runs?
After Peralta was traded, which was
after
he broke Cabrera's arm in a collision, Cleveland fans were "treated" to the sight of
Jason Donald
playing short and waiver pickup
Jayson Nix
sliding from his natural position of second to third. As a shortstop, Donald is a perfectly adequate second baseman. As a third baseman, Nix is a perfectly adequate second baseman.
If the Indians face a lineup of
Adam Dunn
,
Jim Thome
,
Ryan Howard
and
Travis Hafner
, their innovative three-second-basemen defense will serve them well. Until this team is constructed, they will still require someone to stand closer to third base than any other player. Right now, this is likely Nix. Or Donald. Possibly
Luis Valbuena
, a man who is not quite as good as Donald, or Nix, or a sack of iguanas.
Compounding this is the fact that the two best Cleveland starting pitchers are groundball pitchers
Fausto Carmona
and
Justin Masterson
.
Other amusing anecdotes from the 2010 infield include the walk-off bunt, the four-wild-pitch opener (as least partly due to rookie catcher Tofu
Lou Marson
's inexperience with
Jake Westbrook
's sinker), the walk-off wild pitch, and the game with six infield hits.
Is there room for hope here? Of course. For one thing, the Indians are placing an increased emphasis on infield defense this season. They recognize the issue. But plenty of potential improvement can come from simple experience: Marson became much more accomplished behind the plate over the season and has a terrific arm. Nix and Donald will likely play better just by virtue of repetition. A healthy
Matt LaPorta
, if such a thing actually exists in non-theoretical space, should be fine at first. And the future of the Cleveland infield is probably Jason Kipnis, Lonnie Chisenhall, and possibly Cord Phelps, although none of them is ready to open 2011 with the Tribe.
The offensive contributions of these players (besides LaPorta) are almost irrelevant: The Indians did a decent job of scoring runs in 2010 and will likely do so again. A full season of
Carlos Santana
, any contribution better than what
Grady Sizemore
was able to struggle through, and a fully-recovered Cabrera will go a long way toward boosting the offense.
In Cleveland, the watchword is "infield defense." It will be better in 2011 … axiomatically.
Steve Buffum writes The B-List, a blog about the Cleveland Indians.