April, 19, 2014
Apr 19
11:38
AM ET
By
Christina Kahrl
| ESPN.com
Starting with the standard "just a 10th of the way into the season" caveat, one of the things that's been interesting to check out about the Indians is how much
Carlos Santana
has been inked into the lineup at the hot corner. That's because the big offseason experiment with getting Santana in gear to be their in-house answer at third base was one of those things where it would really last.
So far, the Indians have put him out there only 50 percent of the time, giving him eight starts. Five starts at DH and another three behind the plate as the backup catcher have kept him in the lineup every day.
[+] Enlarge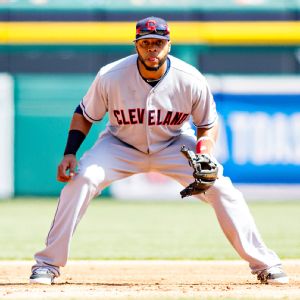 Scott W. Grau/Icon SMIEarly on, it looks like Carlos Santana has adapted to life at the hot corner.
How does that happen? Making every roster spot work for you, even in the reliever-crowded rosters of the present. The rest of the playing time at third has been spread between
Lonnie Chisenhall
(when he isn't the DH) and superutilityman
Mike Aviles
(when he isn't spot-starting at second, short or left field). There are a lot of moving parts, plus the need to spot lefty-killer
Ryan Raburn
wherever he fits in any given day (either outfield corner, DH and maybe second base in a pinch).
It's the natural outgrowth of a playing-time plan where, instead of marooning one guy in the regular DH role, Terry Francona is keeping his 11 best bats rotating through his lineup, with seven-position reserve
Elliot Johnson
representing his lone true bench player. That will change when
Jason Giambi
reprises his gray eminence gig once he's activated from the DL (reportedly Monday), but the G-man won't get more than 200 at-bats this year.
Now that the games count, Santana hasn't looked too shabby at third. A lone error, a league-average rate of plays made, nothing too appalling in terms of the early returns from Baseball Info Solutions' Plus-Minus, Baseball-Reference.com's Total Zone or FanGraphs' Ultimate Zone Rating. Yes, it's only eight games, but none of the interpretive metrics have gone Russian judge on us when evaluating Santana's performance.
So, so far so good. As one AL insider put it to me this spring, "Can he really be worse than [
Miguel Cabrera
]?" Even if Santana turns out that badly playing just half the time, he still will likely do more than enough damage at the plate to make up for it. His homer Friday got him off the schneid in that department, and the experiment's looking good early on.
Making the comparison to Miggy makes sense, because just as Cabrera's move to third base in 2012 was about adding Prince Fielder's bat to the Tigers' lineup, the Indians' decision to give Santana a shot at third is about getting their best bats into the mix. You can see it as comparable to the decisions about where to put
Bobby Bonilla
in the lineup in the 1990s: No, he wasn't a great third baseman, but if you found a right fielder who hit better than your alternatives at third base, you could still contend with Bobby Bo at the hot corner -- as the Pirates did -- or win it all, as the Marlins did.
Making a defensive sacrifice at one of the corners is more affordable than ever today, thanks to the game's offensive environment: More strikeouts than ever mean that the positions that get the fewest chances have even less of an opportunity to affect outcomes on the field. The Giants won in 2010 with a DH (
Aubrey Huff
) in the corners, the Cardinals won in 2011 with a DH on the field (
Lance Berkman
), and the Giants won again in 2012 despite Pablo Sandoval's immobility at third base. Santana? He's just the latest example of an adaptive strategy to get runs from your lineup while runs are getting more scarce.
The other half of the proposition was that
Yan Gomes
had to show he could handle playing regularly as the club's catcher. Here again, the answer's a happy one, echoing Gomes' second-half breakout for the Indians last year. At the plate, he's hitting for the same kind of power, with an Isolated Power clip in the .180s. Behind it, he's an asset, according to the new catcher framing metrics, plus he's deterring the running game, with less than one steal being attempted every nine innings, while he has thrown out 4 of 11 attempts already.
The Indians might have other issues as they try to repeat last season's success, but Carlos Santana at third base? So far, that ain't one of them.
Christina Kahrl writes about MLB for ESPN. You can follow her on Twitter.