July, 1, 2013
7/01/13
11:35
AM ET
By
Evan Brunell
| Special to ESPN.com
Over the next month, we're going to present 30 deals in 30 days: the best trade deadline deal ever made for each team. We'll start with a trade that eventually helped end a curse.
THE TEAM:
Boston Red Sox
THE YEAR:
1997

THE SITUATION:
Just two years removed from a division title, the Red Sox were hoping to reverse a third-place finish in their follow-up to winning the division. Unfortunately for Boston, their starting pitching wasn't anywhere near capable of standing up to the task, with three out of the five main starters finishing with ERAs no lower than 5.38. (In fact, this very issue would motivate the team to trade for
Pedro Martinez
following the season.) At six games under .500 on the day of the trade deadline, Boston was very much out of the playoff chase and needed to cash in its chips to make another go of it in 1998.
THE TRADE:
Coming off two straight years of 30-plus saves and ERAs below 3.00, closer Heathcliff Slocumb had struggled through 1997, walking as many batters as he was whiffing. However, the Mariners, just half a game ahead of the Anaheim Angels in the AL West, desperately needed a closer.
Norm Charlton
, the incumbent, would finish the year with a whopping 7.27 ERA, 14 saves and 11 blown saves. The Mariners sent young pitcher
Derek Lowe
-- who had already debuted with Seattle -- and catching prospect
Jason Varitek
(the team's first-round pick in 1994) in exchange for Slocumb. Urban legend has it that the Red Sox asked for Lowe OR Varitek and Mariners general manager Woody Woodward accommodated the Red Sox with both.
THE AFTERMATH:
The Mariners would go on to win the division before losing in the ALDS to the
Baltimore Orioles
, but Slocumb contributed only 0.6 WAR (FanGraphs version) to the Mariners over his 1 1/2 seasons with the team. Lowe became a successful closer and starter for the Red Sox, playing a pivotal role on the 2004 World Series champion squad by registering the win in every playoff series' clinching game. Varitek, meanwhile, ended up being the first Red Sox captain since Jim Rice in 1989 and broke Carlton Fisk's record for most games caught in a Red Sox uniform en route to 15 seasons as a Red Sox lifer. In total, Lowe and Varitek gave Boston a whopping 45.3 WAR in return (and Lowe has gone on to register an additional 21.3 fWAR since departing Boston).
--Evan Brunell, Fire Brand of the AL
June, 6, 2012
6/06/12
3:30
PM ET
In my chat on Tuesday, we briefly discussed the
all-time draft rosters for each team
that I compiled. Somebody asked: What's the all-time roster for players drafted and traded away while still minor leaguers? Some of these deals are pretty famous --
Jeff Bagwell
and
John Smoltz
being the two everyone remembers. There are some that fans think of but the player had received a cup of coffee before being traded: Ryne Sandberg and
Kenny Lofton
being two examples.
This list only includes drafted players, so Latin American free agents like
Johan Santana
(signed originally by the Astros) are not included. There are also a couple of U.S.-born players who weren't drafted who could have made the list, such as Toby Harrah or Tom Candiotti, but they weren't included either.
This post is longer than I intended, but I thought I'd fill in some details on
why
the player was traded or lost. So here's the team with Baseball-Reference's Wins Above Replacement noted. Active players who could some day make the list would include
Adrian Gonzalez
(drafted by the Marlins),
Josh Hamilton
(Rays),
Austin Jackson
(Yankees) and
Gio Gonzalez
(White Sox).
C -- Jason Varitek (career WAR: 21.3)
Drafted: Seattle Mariners, 1st round, 1994
How lost: The Red Sox acquired Varitek and Derek Lowe for Heathcliff Slocumb, July 31, 1997
One of the great deadline heists of all time. Desperate for a reliever, the Mariners gave up two of their top prospects for the mediocre Slocumb. It's difficult to understand why the Mariners were willing to deal Varitek, even though he was hitting just .254 at Triple-A Tacoma. He'd been a first-round pick and had power and solid defensive skills.
[+] Enlarge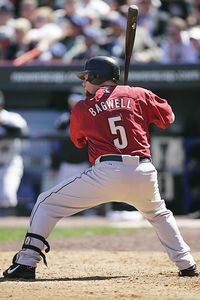 Rich Pilling/MLB Photos/Getty ImagesJeff Bagwell played 15 seasons in the majors, all with Houston, and finished his career with 449 home runs.
1B -- Jeff Bagwell (career WAR: 76.7)
Drafted: Boston Red Sox, 4th round, 1989
How lost: Astros got Bagwell for Larry Andersen on Aug. 30, 1990
Fighting for the AL East title, the Red Sox decided they needed another reliever. Andersen did pitch well, allowing three runs in 22 innings, and the Red Sox edged the Blue Jays by two wins to take the division. But for 22 innings of Andersen they gave up one of the greatest first basemen of all time.
2B -- Tony Phillips (career WAR: 48.2)
Drafted: Montreal Expos, 1st round of January secondary draft, 1978
How lost: The Expos traded Phillips to the Padres for Willie Montanez (who hit .185 with Montreal). But the Padres traded Phillips to the A's with two others for two guys who never played for the Padres.
Phillips, of course, became a standout utility player with the A's, Tigers, Angels and White Sox, posting a .374 career OBP and scoring 1,300 runs. With the Expos in Double-A in 1980, Phillips had hit .249 with five home runs, but with 98 walks and 50 steals. Trading him for the washed-up Montanez was bad as it looks. The Padres traded Phillips late in spring training of 1981, acquiring reliever Bob Lacey (who must have gotten hurt). Billy Martin is listed as Oakland's GM at the time, but I'm not sure who actually made the deals for Oakland then -- president Roy Eisenhardt, Martin or a young lawyer named Sandy Alderson, who became the team's GM in 1983. Who knows, maybe Martin saw Phillips in a spring training game. Or the A's, early converts to the value of the walk, noticed Phillips' minor league stats.
3B -- Darrell Evans (career WAR: 55.1)
Drafted: Kansas City A's, 7th round, January secondary draft, 1967
How lost: The Braves selected Evans in the Rule 5 draft on Dec. 2, 1968
Evans had actually been drafted four times previously before finally signing with the A's. Evans had some sort of injury in 1968 and hit .241 with three home runs in Double-A in just 56 games, and considering he wasn't a high pick, probably wouldn't have been considered a top prospect in the modern style of thinking. Chalk it up to good scouting by the Braves. Evans went on to hit 414 home runs as one of the more underrated players in baseball history.
SS -- Jay Bell (career WAR: 34.1)
Drafted: Minnesota Twins, 1st round, 1984
How lost: Traded to the Indians for Bert Blyleven, Aug. 1, 1985. The were other players, but it essentially ended up Bell-for-Blyleven.
The Twins had another young shortstop in Greg Gagne, so could afford to part with Bell. The deal paid huge dividends two years later when Blyleven helped the Twins win the 1987 World Series. As for Bell, he didn't hit with the Indians, who of course gave up on him even though he was just 22 years old and traded him to Pittsburgh for somebody named Denny Gonzalez.
OF: Chet Lemon (career WAR: 52.0)
Drafted: Oakland A's, 1st round, 1972
How lost: Traded to the White Sox with Dave Hamilton for Stan Bahnsen and Skip Pitlock, June 15, 1975.
Here's a case of a player who clearly was a top prospect being dealt away. In fact, I'm sure if Keith Law and Kevin Goldstein were ranking prospects in the summer of 1975, Lemon would have been one of the best in the game, considering his age (20), production (he was hitting .307/.373/.508) in Triple-A, and speed. He was, however, fielding .858 at third base. The A's were in a pennant race (they'd win the AL West) and wanted a veteran starter. But here's what's odd: Bahnsen had a 6.06 ERA at the time of the deal. The White Sox moved Lemon to center field where he became an elite defender (though, surprisingly, never won a Gold Glove) and solid hitter.
OF -- Amos Otis (career WAR: 39.2)
Drafted: Boston Red Sox, 5th round, 1965
How lost: The Mets drafted Otis in the 1966 minor league draft
I'm not quite sure of the rules at the time, but somehow Otis was exposed in the minor league draft after the 1966 season. I assume he had to be placed on a certain roster relative to his experience, since the Mets jumped him from the New York-Penn League to Triple-A. Three years later (Otis had spent most of that time in Triple-A), the Mets traded him to the Royals for Joy Foy. Otis became a five-time All-Star while Foy played 99 games with the Mets.
OF -- Willie McGee (career WAR: 30.9)
Drafted: New York Yankees, 1st round, January secondary draft, 1977
How lost: Traded to the Cardinals for Bob Sykes, Oct. 21, 1981
If Baseball-Reference's date is correct, this trade happened on the day the Yankees played the second game of the World Series, which seems a little odd. Anyway, Sykes never pitched for the Yankees; in fact, never pitched again in the majors. But McGee wasn't even the best prospect the Yankees gave away during this era ...
DH -- Fred McGriff (career WAR: 48.2)
Drafted: New York Yankees, 9th round, 1981
How lost: Traded to the Blue Jays with Dave Collins and Mike Morgan for Dale Murray and Tom Dodd, Dec. 9, 1982
Murray posted a 4.73 ERA in 62 games with the Yankees. McGriff went on to hit 493 home runs. Would McGriff have been considered a top prospect at the time? He'd hit .272/.413/.456 in the Gulf Coast Rookie League, with nine home runs in 272 plate appearances. He struck out a ton (63 whiffs) but drew walks and the nine home runs led the league. The Yankees certainly should have realized he had big power potential. Instead, he was a throw-in for a mediocre veteran reliever. Man, I miss George Steinbrenner.
[+] Enlarge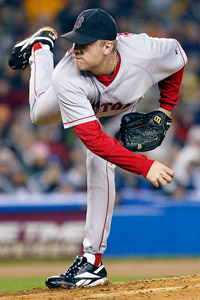 AP Photo/Kathy WillensCurt Schilling had a career postseason record of 11-2, including 4-1 in World Series games.
SP -- Curt Schilling (career WAR: 76.9)
Drafted: Boston Red Sox, 2nd round, January phase, 1986
How lost: Traded to the Orioles with Brady Anderson for Mike Boddicker, July 29, 1988
Schilling was actually traded three times before finally hitting it big with the Phillies -- the Orioles traded him to the Astros in the regrettable Glenn Davis deal and then the Astros traded him to the Phillies for (cough)
Jason Grimsley
. And then the Phillies traded him to the Diamondbacks and the Diamondbacks traded him to the Red Sox. The only deal where the team that traded Schilling actually got any value in return was the first one; Boddicker at least helped the Red Sox win division titles in 1988 and 1990.
SP -- John Smoltz (career WAR: 62.6)
Drafted: Detroit Tigers, 22nd round, 1985
How lost: Traded to the Braves for Doyle Alexander, Aug. 12, 1987)
Even though Smoltz had been a 22nd-round pick, I believe he was a highly rated prospect out of high school (he'd been an All-State pitcher in Michigan), but teams believed he was going to attend Michigan State. The Tigers took a flyer and signed him in September. At the time of the deal, he had a 5.68 ERA in Double-A with nearly as many walks (81) as strikeouts (86). Sometimes those hard-throwers do figure things out.
SP -- Cliff Lee (career WAR: 30.6)
Drafted: Montreal Expos, 4th round, 2000
How lost: Traded with Grady Sizemore, Brandon Phillips and Lee Stevens for Bartolo Colon and Tim Drew, June 27, 2002.
Forced to trade Colon the following January, that crafty Omar Minaya acquired
Orlando Hernandez
,
Rocky Biddle
and
Jeff Liefer
.
SP -- Kevin Tapani (career WAR: 26.6)
Drafted: Oakland A's, 2nd round, 1986
How lost: Traded to the Mets in a three-team deal, Dec. 12, 1987
The A's ended up getting Bob Welch in the deal. Tapani later became part of the Frank Viola deal with the Twins and was the best pitcher on the 1991 World Series champs. Yes, he was: Tapani had a 2.99 ERA that year, Jack Morris a 3.43.
SP -- Doug Drabek (career WAR: 25.0)
Drafted: Chicago White Sox, 11th round, 1983
How lost: Traded to the Yankees for Roy Smalley, July 19, 1984
Drabek was tearing up Double-A when the White Sox traded him for Smalley, who proceeded to hit .170 and was traded in the offseason to the Twins for Randy Johnson. Wrong Randy Johnson. Drabek pitched well as a rookie with the Yankees in 1986, but of course back then they always preferred an old guy on his last legs as opposed to a young guy with potential, so they traded Drabek to the Pirates for Rick Rhoden. Really, can't we get the Steinbrenners more involved in making trades again?
RP -- Trevor Hoffman (career WAR: 27.0)
Drafted: Cincinnati Reds, 11th round, 1989
How lost: Selected by the Marlins in the 1993 expansion draft
Hoffman had been drafted as a shortstop before converting to the bullpen. The Marlins would end up trading him, Andres Berumen and Jose Martinez to the Padres for
Gary Sheffield
. Somehow I doubt the Padres knew they were acquiring a reliever who would rack up 601 career saves.
March, 1, 2012
3/01/12
12:00
PM ET
February, 28, 2012
2/28/12
4:05
PM ET
The final
Baseball Today podcast

of February was a winning one as Mark Simon and me discussed myriad names and topics, including ...
1. Do you feel differently about
Ryan Braun
after the strange events of last week? Mark and I are similarly dissatisfied and explain why.
2.
Boston Red Sox
catcher
Jason Varitek
has apparently had enough, and we discuss his Hall of Fame case, such as it is. We also deviate on a few of his teammates, and hit a nerve on
David Ortiz
.
3. The Missouri catchers get a lot richer after signing contract extensions, but were the Cardinals and Royals wise to make these moves with
Yadier Molina
and
Salvador Perez
?
4. In our Simon Says segment, we play the "Superstar or Shlabotnick" game (no, really, we did!) and discuss the recent ESPN The Magazine cover story about smart
Oakland Athletics
pitcher
Brandon McCarthy
.
5. Emails pose questions about last week's memorable podcast, other books to recommend (including one from me!), the Angels third-base situation with
Alberto Callaspo
/
Mark Trumbo
and more!
So download and listen to Tuesday's fine edition of the Baseball Today podcast! It's the wise thing to do!
February, 28, 2012
2/28/12
12:20
PM ET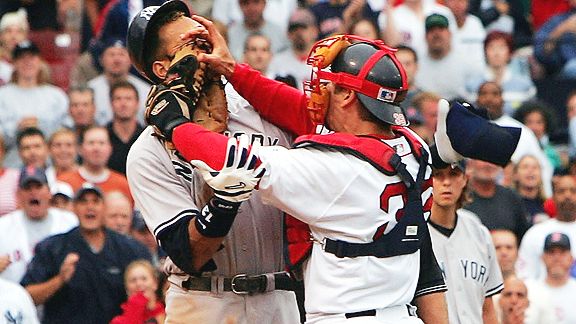 Ezra Shaw/Getty ImagesRed Sox fans will always have a soft spot for Varitek after his July 24, 2004, brawl with A-Rod.
Quick: Where does
Jason Varitek
rank on the all-time list of catchers?
Top 50? Top 40? Top 20?
Varitek is apparently
set to retire on Thursday
, calling it quits after 15 seasons with the
Boston Red Sox
, 1,546 major league games, two World Series rings and one memorable brawl with
Alex Rodriguez
.
That Varitek ended up playing his entire career with the Boston is remarkable considering the early twists and turns of his career. An All-American at Georgia Tech, the
Minnesota Twins
drafted him in the first round in 1993 but he declined to sign and returned to college. The
Seattle Mariners
made him the 14th pick in 1994 (two picks after the Red Sox had selected
Nomar Garciaparra
, his Georgia Tech teammate). With agent Scott Boras negotiating, Varitek again held out and actually signed in January of 1995 with the independent St. Paul Saints. Boras argued this meant the Mariners no longer held Varitek's rights and that he wouldn't be subject to the draft again since he was no longer an amateur.
The ploy didn't work and Varitek never played with the Saints, eventually signing with Seattle in April. In the end, Boras may have gotten Varitek a couple extra hundred thousand for his signing bonus but he cost him millions in long-term dollars. Varitek's professional career
should
have began in June of 1993; instead it didn't begin until April of 1995. Varitek's first full season with the Red Sox came in 1998, when he was already 26. His first season as full-time starter didn't come until he was 27. If he'd signed in 1993, his big league clock probably would have started a couple years earlier and he would have hit free agency in the prime of his career instead of his early 30s. Nice job, Boras.
Of course, the Red Sox stole Varitek from the Mariners in one of the best deals (or worst, depending on your viewpoint) of the past 20 years. Desperate for relief help at the 1997 trade deadline, Mariners general manager Woody Woodward inquired about Red Sox closer
Heathcliff Slocumb
, who at the time was stumbling along with a 5.79 ERA, 1.97 WHIP and nearly as many walks as strikeouts. Urban legend has it Red Sox GM Dan Duquette asked for Varitek or pitching prospect
Derek Lowe
. Woodward misheard and agreed to both as the clock struck midnight.
According to Baseball-Reference WAR, the Mariners received 0.4 wins above replacement from Slocumb. The Red Sox received 23.1 wins above replacement from Varitek and 18.4 from Lowe. Larceny of the most impressive degree.
Back to the original question. Varitek ranks 30th on the all-time list for games caught and finished with a career line of .256/.341/.435, with 1,307 hits, 193 home runs and 757 RBIs.
Among players since 1901 who spent at least 50 percent of their career games behind the plate, Baseball-Reference ranks Varitek 43rd in career WAR, alongside guys like Mike Scioscia, Rick Dempsey, Chris Hoiles and
Ramon Hernandez
.
I thought Varitek would rank a little higher and it's true that WAR doesn't account for Varitek's much-praised leadership abilities, if you want to give him bonus points for that. But it's also true that Varitek's window as a star player was pretty narrow. He was really an outstanding player for only three seasons, 2003 to 2005, when he hit .283/.369/.494 and averaged 22 home runs. He was very good again in 2007 when he posted a .367 OBP and had a few other solid-but-not-great seasons. But he wasn't much of a player the past four seasons, hitting just .218 with a .308 OBP, and his leadership skills certainly failed to help rise the sinking ship in 2011.
Red Sox fans will undoubtedly argue that Varitek was better than his numbers. That may be the case; until we know about catcher defense, for example, perhaps Varitek's game-calling skills or ability to work with pitchers is being underrated. Maybe his grit and toughness were essential keys to the Red Sox winning it all in 2004 and 2007. Sox fans will certainly tell you that, as they point with pride to the game he introduced A-Rod to the smell of his catcher's glove. That game, on July 24, 2004, is often cited as key to Boston's season. Trailing 9-4, they rallied to win 11-10 on
Bill Mueller
's two-run walk-off homer off
Mariano Rivera
. Varitek's refusal to back down
did
seem to ignite the team. The Red Sox went 45-20 the rest of the regular season, riding that momentum to a curse-ending dream, and cementing Varitek as one of the most popular players in Red Sox history.
I'm comfortable moving Varitek up a few spots, certainly ahead of Hoiles (who had a short career), Dempsey (never had 500 plate appearances in a season), Butch Wynegar and maybe a few others.
Top-35 all time? I can see that.
Not bad for a guy acquired as a throw-in at the trade deadline.
Follow David Schoenfield on Twitter @dschoenfield.
July, 25, 2011
7/25/11
1:40
PM ET
I wrote last week that very few of the game's top players were
acquired as prospects in deadline deals
(about 4 percent of the top 200 players). Of course, that doesn't means some deals turn to gems. Here are 10 in-season prospect trades that general managers of selling teams dream to make.

1. John Smoltz for Doyle Alexander. (Braves/Tigers, 1987.)
Alexander did go 9-0, 1.53 to help the Tigers win the AL East. Smoltz had a 5.86 ERA in Double-A at the time of the trade with an 86/81 SO/BB ratio, but he was in the majors a year later and an All-Star by 1989.
2. Jeff Bagwell for Larry Andersen. (Astros/Red Sox, 1990.)
Like the Smoltz/Alexander trade, this was actually an August deal. Bagwell hit .333 but with just four home runs in Double-A. But he actually had the second-best OPS in the Eastern League. A year later, he was the NL Rookie of the Year.
3. Randy Johnson, Brian Holman and Gene Harris for Mark Langston. (Mariners/Expos, 1989.)
The Mariners deal Langston in late May, knowing they wouldn't be able to sign him as a free agent. He went 12-9, 2.39 for the Expos, but they fell out of the pennant race.
4. Grady Sizemore, Cliff Lee and Brandon Phillips for Bartolo Colon. (Indians/Expos, 2002.)
Another Expos disaster, a desperate move by Omar Minaya made on June 27 when Montreal was 6.5 games out of first place and 5 games out of the wild card. (By the way, earlier in the year Minaya had traded minor leaguer
Jason Bay
to the Mets for
Lou Collier
.)
5. Jay Buhner for Ken Phelps. (Mariners/Yankees, 1988.)
Buhner hit 301 home runs for the Mariners. Phelps hit 17 for the Yankees.
6. Freddy Garcia, Carlos Guillen and John Halama for Randy Johnson. (Mariners/Astros, 1998.)
Garcia, Guillen and Halama were all key contributors to the Mariners' playoff teams in 2000 and 2001. As you can see, that original Mark Langston draft pick turned into immense value for the Mariners. Unfortunately, the chain was broken when they traded Garcia for
Jeremy Reed
(and Mike Morse and
Miguel Olivo
, although those two didn't do anything for Seattle) and Guillen for
Ramon Santiago
.
7. Derek Lowe and Jason Varitek for Heathcliff Slocumb. (Red Sox/Mariners, 1997.)
Made minutes before the deadline buzzer, Slocumb wasn't even that good of a reliever.
8. Kevin Tapani, Rick Aguilera and David West for Frank Viola. (Twins/Mets, 1989.)
Aguilera was a proven major leaguer, but Tapani developed into one of the big three Twins' starters (along with Jack Morris and
Scott Erickson
) on the 1991 World Series champs.
9. Michael Young for Esteban Loaiza. (Rangers/Blue Jays, 2000.)
Nearly 2,000 hits and seven All-Star appearances later, the Rangers are still reaping the rewards of this deal.
10. Elvis Andrus, Neftali Feliz, Matt Harrison and Jarrod Saltalamacchia for Mark Teixeira. (Rangers/Braves, 2007.)
The Rangers decided to deal Teixeira a year-and-a-half before he hit free agency, and dug into the lower levels of the Atlanta system.
There are certainly some recent deals to keep an eye on; I have a feeling
Carlos Santana
-for-
Casey Blake
will eventually enter lists like this one.
May, 9, 2011
5/09/11
11:09
AM ET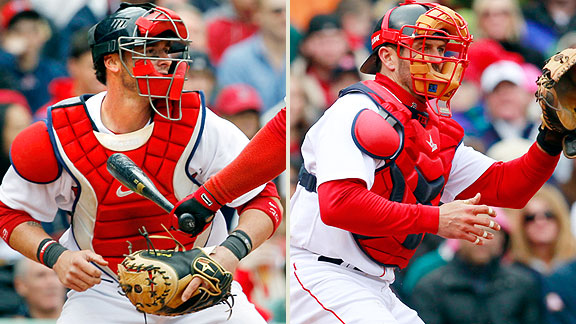 AP PhotosJarrod Saltalamacchia and Jason Varitek are hitting a combined .172 with no home runs.
The
Boston Red Sox
are hoping that
Jarrod Saltalamacchia
comes around and becomes their No. 1 catcher. However, the 26-year-old is off to a slow start, hitting just .203 with an OPS of .522 and 19 strikeouts in only 69 at-bats. Although he is improving behind the plate in calling a game and throwing out runners, it's still unclear whether he is the long-term answer.
As the Red Sox allow him to play through his slow start, they are blessed to have a veteran and a winner in
Jason Varitek
to help him out. However, the Red Sox can't wait until the trade deadline to search for a short-term or even a long-term answer behind the plate if Salty doesn't hit or improve enough to win with one of the better rotations in baseball. Therefore, the effort has to be going on now behind the scenes.
Since general managers have only 29 trade partners, it's important to stay in constant communication with each of them, constantly exploring options while communicating needs and depth. The best chance for the Red Sox making a deal for a catcher is to target teams that have multiple talented catchers. Therefore, teams such as the Reds, Yankees, Angels, Nationals, Blue Jays and Athletics are the most logical places for the Red Sox to start. Remember, trades can be done in one phone call, but most trades take weeks, months or even years to consummate. It never hurts to make trade proposals on a regular basis, even if you never end up making a deal with that club.
To make a deal for a catcher, the first thing you need to do is to look at your rankings of catchers in the minor and major leagues. Each team will have a board listing their top 50 trade targets. GMs will have these players ranked in terms of how their top executives, scouts, player development personnel and other evaluators view them.
All 30 clubs want to have a
Joe Mauer
or
Buster Posey
, but those aren't players you'll ever be able to trade for. Draft them if you want them; otherwise, lower your sights. Every club is always trying to improve their team at each position. In the case of the Red Sox, they have to figure out where Saltalamacchia fits on their rankings of catchers. For this example, let's say they view him at No. 32. To improve the team, it would then make sense to talk to the teams that have catchers who are ranked higher, ideally trying to acquire a catcher in the top 20.
Here would be an example of what the
CATCHERS TRADE TARGETS
list would look like. Note that it is a mix of major and minor leaguers. (This is not an exact order, just an example.)
CATEGORY NO. 1: DON'T WASTE YOUR TIME, THEY'RE NOT TRADING
1. Joe Mauer --
Minnesota Twins
2. Buster Posey --
San Francisco Giants
3.
Brian McCann
--
Atlanta Braves
4.
Yadier Molina
--
St. Louis Cardinals
5.
Carlos Santana
--
Cleveland Indians
6.
Matt Wieters
--
Baltimore Orioles
7.
Kurt Suzuki
--
Oakland Athletics
8. Jesus Montero --
New York Yankees
9.
Carlos Ruiz
--
Philadelphia Phillies
10.
Miguel Montero
--
Arizona Diamondbacks
11.
Hank Conger
--
Los Angeles Angels
CATEGORY NO. 2: PLAN ON PAYING A HEFTY PRICE
12. Travis d'Arnaud --
Toronto Blue Jays
13. Derek Norris --
Washington Nationals
14. Gary Sanchez -- New York Yankees
15. Devin Mesoraco --
Cincinnati Reds
16.
Wilson Ramos
-- Washington Nationals
17.
Alex Avila
--
Detroit Tigers
18.
J.P. Arencibia
-- Toronto Blue Jays
19. Wilin Rosario --
Colorado Rockies
20. Yasmani Grandal -- Cincinnati Reds
21. Max Stassi -- Oakland Athletics
22. Tony Sanchez --
Pittsburgh Pirates
23.
Jason Castro
--
Houston Astros
CATEGORY NO. 3: POSSIBLE UPGRADES
24.
Russell Martin
-- New York Yankees
25.
Geovany Soto
--
Chicago Cubs
26. Austin Romine -- New York Yankees
27.
John Buck
--
Florida Marlins
28.
Jeff Mathis
-- Los Angeles Angels
29.
Ramon Hernandez
-- Cincinnati Reds
30.
A.J. Pierzynski
--
Chicago White Sox
31.
Nick Hundley
--
San Diego Padres
32.
Yorvit Torrealba
--
Texas Rangers
33.
Chris Snyder
-- Pittsburgh Pirates
34. Sebastian Valle -- Philadelphia Phillies
35. Justin O'Connor --
Tampa Bay Rays
36.
Miguel Olivo
--
Seattle Mariners
37.
Mike Napoli
-- Texas Rangers
38.
Jonathan Lucroy
--
Milwaukee Brewers
39.
John Jaso
-- Tampa Bay Rays
40. Kyle Skipworth -- Florida Marlins
41.
Lou Marson
-- Cleveland Indians
42.
Jesus Flores
-- Washington Nationals
43.
Josh Thole
--
New York Mets
44.
Matt Treanor
--
Kansas City Royals
45. Carlos Perez -- Toronto Blue Jays
46.
Rod Barajas
--
Los Angeles Dodgers
47. Pudge Rodriguez -- Washington Nationals
48.
Chris Iannetta
-- Colorado Rockies
49.
Bobby Wilson
-- Los Angeles Angels
50.
Ryan Doumit
-- Pittsburgh Pirates
Now, let's get specific with realistic possibilities the Red Sox could be discussing:
Long-term solutions
Reds -- Devin Mesoraco or Yasmani Grandal
Blue Jays -- J.P. Arencibia or Travis d'Arnaud
Angels -- Hank Conger or Jeff Mathis
Nationals -- Wilson Ramos or Derek Norris
Athletics -- Max Stassi
Yankees -- Never mind, not happening
Possible stop-gap catchers for this year
These guys could be available if their teams fall out of the playoff race.
White Sox -- A.J. Pierzynski
Mariners -- Miguel Olivo
Padres -- Nick Hundley
Nationals -- Pudge Rodriguez
Free agent --
Bengie Molina
I hope that the combination of Saltalamacchia and Varitek will work out for the Red Sox. If not, it will be fun to watch Theo Epstein and the Red Sox try to wheel and deal in July.
Thanks for reading! I appreciate your feedback and ideas. Feel free to contact me directly at my Twitter account:
JimBowdenESPNxm
.
April, 20, 2011
4/20/11
11:09
AM ET
Eric and Keith discuss some big issues on Wednesday's
Baseball Today podcast

, including:
Joe Mauer's value as a catcher and whether the Twins should move him to a new position.
Is Josh Johnson the most dominant pitcher right now? Would you take Johnson or Roy Halladay?
Keith says the Indians aren't making the playoffs and aren't the Padres of last season.
Who should close for the Cardinals?
Ian Stewart sent to the minors and thoughts on Jonathan Herrera hitting well.
Eric is upset with the Mets designating Brad Emaus for assignment.
Plus: Wrapping up the Carl Crawford debate, the 20-80 scale for scouts, Jason Varitek and a preview of Wednesday's game.
April, 15, 2011
4/15/11
2:14
PM ET
I filled in on Friday's
Baseball Today podcast

for Eric, hosting with Friday regular Mark Simon. Let's just say it's not every podcast that references Lenny Sakata, the Corn Palace in South Dakota and
Travis Hafner
's hometown. We also discuss:
Joe Mauer heads to the DL, culminating a bad day for the Twins.
Troy Tulowitzki is on fire. Is he the one guy you'd start a team with right now?
Instant replay: Pros and cons to expanding its role.
Adrian Gonzalez's big, new contract. How does it affect Albert Pujols?
Cliff Lee's great game and an interesting comparison with Sandy Koufax.
Simon says: Correcting an error on Jason Varitek and Roger Maris, best players from North and South Dakota.
Mailbag, a look ahead to the best of the weekend, birthdays and Jackie Robinson Day.
April, 21, 2010
4/21/10
5:52
PM ET
The best source for free, non-traditional statistics just got a little better, as FanGraphs has added
catchers' Stolen Base Runs Saved
to their calculations of Wins Above Replacement (WAR). Honcho Dave Appelman:

For the most part, all catchers will remain about the same in value, especially on an individual season basis. But certain ones, like Yadier Molina, ends up with an extra 3.6 wins over the past 6 years. On the down side, Jason Varitek probably sees the biggest decrease in value, with -2.2 wins being attributed to his catcher defense since 2003.

As you probably know, 3.6 wins over six years isn't a huge number of wins. But it's both measurable and worth measuring, and I'm glad it's been added.
Of course, there is so much more we could do. Just off the top of my head, wouldn't it be wonderful to have a systematic account of how catchers handle pitches in the dirt? Sure, we can count passed balls. That's moderately interesting, except they're quite rare. What's less rare are pitches in the dirt, some of them caught or knocked down, some skipping past the catcher to the backstop. To this point, nobody's figured a way to incorporate those pitches -- 90-some percent of which might be blocked, theoretically -- into a catcher's defensive rating. The ones that get blocked (with no advance by the runner) are essentially ignored; the ones that escape the catcher (with a runner advancing) are assigned to the pitcher as a wild pitch.
But you could give credit to catchers for blocking pitches in the dirt, with the amount of credit depending on the difficulty of the play. A pitch that bounces three inches before reaching the glove is generally more difficult to corral than a pitch bouncing a foot in front of the plate. Also, a passed ball thrown by
Tim Wakefield
shouldn't be counted the same as a passed ball thrown by
Jamie Moyer
. With the Pitchf/x data, there are (or will be) ways of figuring all this stuff and more.
Evaluating catchers will always be tough. But it's not impossible, and will only become more possible in the next few years.
September, 17, 2009
9/17/09
3:14
PM ET
Jeez. October's not even here, and Yawkey Way Academy's Troy Patterson is already
worrying about next year
:
The Red Sox are facing a positional logjam heading into 2010. While later in the offse ason we'll be detailing replacement and reconfiguration ideas, a quick overview as this regular season winds down is an excellent way to start thinking towards next year. In particular, the Red Sox have two major concerns: defense and players that qualify at corner infield and DH.

Their defense has been one of the worst in the league this year, ranking ninth from last in UZR/150 at -3.2; there's plenty of blame to go around. Only Dustin Pedroia and J.D. Drew have had UZR numbers totaling more than 10, which accounts for approximately 1 win via defense. Conversely, we have seen Mike Lowell, Jacoby Ellsbury and Jason Bay cost the team upwards of -10 UZR/150 each: an entire win per player!

With the acquisition of Victor Martinez, we've seen Kevin Youkilis spend more time at third base than in recent years. His UZR/150 at third this year is -9. He used to be an extremely solid defender at third base, but his range has suffered as he began to develop more of a first baseman's frame over the past 1.5 seasons.

--snip--

How can you solve this one? All are under team control and only Youkilis has a deal for beyond 2010. Martinez has a team option for 2010, which is fairly cost efficient at $7 million dollars that will most likely be exercised. With a dreadful batting average and OBP this year, Ortiz would even be a tough sell to a non-sabermetrically inclined AL club.

The solution here is not very clear. If you move Lowell, you have to fill third base. If you use Youkilis at third you might not be gaining much in defense over Lowell and losing at first base. If you acquire an outside player to fill that spot you are still stuck with too many players between first and DH. Unless Theo can drastically change the landscape of the infield, we may have one more year of dealing with a bloated configuration at the corners.
Since the All-Star break, Ortiz has a .253/.344/.500 line. Not great, but playable. I see him playing out his contract in 2010 as the Red Sox' No. 1 DH. Perhaps platooning with Victor Martinez, perhaps not (with Martinez often catching when Papi's DHing). Lowell's under contract next year, too: $10 million, so he's probably not going anywhere, either.
No, Lowell doesn't seem to be having a good season with the glove. Actually, he seems to be having a downright lousy season. But he's been pretty good before, and we might reasonably guess that with a little luck and a little health, he'll at least improve some next year.
If the Red Sox bring Varitek back next season, they'll have four players -- Varitek, Youkilis, Martinez, and Lowell -- for three positions. Considering that one of those guys can catch and play first base, and another can play first base and third base, this seems to me a manager's pleasure rather than a problem.
The only real question I see is left field. If Jason Bay re-ups, the Red Sox are simply stuck with his defense, which has been pretty lousy for a few years. If he doesn't, the Red Sox will just have to find a new left fielder, who would almost necessarily play better defensively than Bay. I do not agree with Patterson's suggestion that Jacoby Ellsbury take over in left field, with rookie Josh Reddick perhaps replacing Ellsbury in center.
Before this season, Ellsbury's numbers in the corner outfield spots were off the charts. In center, they were adequate. If those corner numbers are accurate, Ellsbury's valuable in left field ... but if those same numbers are accurate, there's no obvious reason to think he can't thrive in center field, too. Plus, Reddick doesn't hit enough to play every day in the majors. Not yet, anyway (he's only 22).
Ideally, the Red Sox would sign a star to play left field next season. But the biggest stars who might be available are probably Bay, Matt Holliday, and Hideki Matsui, all of whom are at least somewhat past their primes, with Bay and Holliday presumably looking for long-term and huge-money contracts.
There is one other, though: Carl Crawford. Crawford can hit, Crawford can run, and Crawford can play defense. He can really, really play defense. He's just turned 28, and figures to age well. Considering that the Yankees have no obvious need for a left fielder, the Red Sox' path to a new and exciting left fielder seems to be clear ...
Correction! I misread a list of potential free agents. Carl Crawford might be a free agent this winter ... but almost certainly not. The Rays have a $10 million option that they're sure to exercise, so Crawford will be a Red Sock next season only in the (exceptionally unlikely) event of a trade.