September, 9, 2014
Sep 9
10:34
AM ET
1. The A's can't get Sean Doolittle back soon enough.
For the second day in a row, the A's blew a ninth-inning lead, as
Tyler Flowers
of the White Sox homered off Eric O'Flaherty with two outs to tie the game and then homered again in the 12th off
Jesse Chavez
to win it. Doolittle threw a bullpen session on Monday and will face hitters on Wednesday, hoping for a return at the end of the week. The A's have now lost six games they've led heading into the ninth inning (the major league average is three) and their wild-card lead is down to one game over Seattle and 1.5 games over Detroit.
Brandon Moss
hasn't homered since July 24, a span of 113 at-bats during which he's hitting .159. Maybe it's not exactly desperate times in Oakland, but it's starting to feel like desperate times.
2. Even when he's mediocre, King Felix is pretty good.
Felix Hernandez
scuffled through six innings against the Astros, walking four for the second time this season and giving up five hits. But he kept the Astros off the board in getting a no-decision. The Mariners broke open a 1-1 tie in the eighth on
Brad Miller
's two-run triple to win for the sixth time in seven games. Still, Felix hasn't been quite as dominant over his past five starts, as he's allowed seven home runs and has a 23/9 strikeout/walk ratio in 31.2 innings. He'll face the A's this weekend and the Mariners will hope to see the Felix who had that memorable 17-start stretch where he went seven innings and allowed two runs or fewer each outing.
3. Big night for the Pirates.
With a 6-4 win over the Phillies, combined with losses by the Brewers and Braves, the Pirates increased their lead for the second wild card to 1.5 games over those two clubs. While
Jeff Locke
pitched seven solid innings -- three hits, one run, nine K's -- it's the Pittsburgh offense that remains underrated. They're third in the NL in runs (just two behind the Nationals for second-most) and second in wOBA. Last year's Pirates were all about pitching, defense and
Andrew McCutchen
, but this year's lineup runs much deeper.
Starling Marte
has been huge of late. Since returning from a concussion on Aug. 5, he's hit .342/.402/.575 in 32 games, with 15 extra-base hits, getting on base and adding power from the leadoff spot.
4. Javier Baez is going to have to some interesting projections for 2015.
Baez went 0-for-4 as the Cubs lost 8-0 to the Blue Jays ... although he did strike out just once after whiffing 10 times in his previous three games. His batting average in 34 games is down to .165 and he has 62 strikeouts in 140 at-bats. Yes, he's just 21. Yes, the raw power is off the charts. But 62 strikeouts -- with just eight walks -- in 140 at-bats? That's crazy terrible. That's not even
Mark Reynolds
territory. Not surprisingly, among players with at least 100 plate appearances, Baez has the highest swing-and-miss percentage at 42.9 percent. Astros rookie
George Springer
has the second-highest at 41.1 percent. Springer, however, has hit .231/.336/.468 compared to Baez's .165/.209/.350. The big difference? Baez has a chase rate on pitches outside the zone of 40.6 percent compared to Springer's 23.3 percent. Again, Baez is three years younger than Springer, so he has time to learn the strike zone; but if he doesn't, pitchers are going to continue exploiting his aggressiveness.
5. Victor Martinez is the best hitter in the game right now.
After going 3-for-5 as the Tigers pounded the Royals 9-4 in the first game of their big series, Martinez leads the majors in wOBA, just head of
Jose Abreu
, Andrew McCutchen and
Giancarlo Stanton
. In the park-adjusted wRC+, he's also first. He's hitting .337. He has power (already with a career-high 30 home runs). He rarely strikes out (just 39 K's in 570 plate appearances). Obviously, he doesn't have much defensive value as he's started just 30 games in the field, 28 of those at first base, but shouldn't he be a factor in the MVP voting? Not saying he should win, but he's a good top-five candidate. Oh ... doesn't Tuesday feel like a big game for the Royals?
Jason Vargas
versus
Max Scherzer
. Should be a fun one.
August, 27, 2014
Aug 27
2:02
AM ET
1. Madison Bumgarner says, "Don't you forget about the Giants."
Strange question from my chat session on Tuesday: "Time to blow up the Giants? Keep Posey, Bumgarner and start over?" I mean ... the Giants
are
holding one of the wild cards and at five games behind the Dodgers remain in shouting distance of the division title.
Anyway, while
Clayton Kershaw
has owned all the publicity allowed for left-handers on the West Coast, Bumgarner has quietly put together another Bumgarner season. It seems like he must be 30 years old already, but he just turned 25 earlier this month. He's young enough that if you were to bet on one active pitcher to win 300 games, you'd probably bet on Bumgarner; him or
Felix Hernandez
, I guess.
[+] Enlarge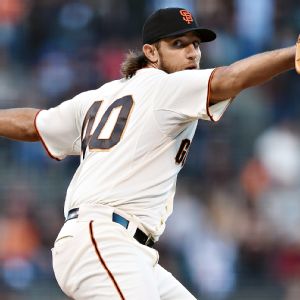 Thearon W. Henderson/Getty ImagesMadison Bumgarner mowed down the Rockies with his characteristic pitch efficiency.
All that is a way of getting to Tuesday's game. It may not have been Bumgarner's most impressive performance of his career -- he did, after all, pitch eight shutout innings of three-hit baseball in Game 4 of the 2010 World Series as a 21-year-old rookie -- but it was certainly was the most dominant from a pure statistical point of view. Bumgarner took a perfect game against the Rockies into the eighth inning (with help from a great catch in left field by
Gregor Blanco
and a close call at first base that the Rockies didn't challenge), ruined when
Justin Morneau
lined a leadoff double into the right-field corner on a 1-2 curveball. It was actually a pretty good pitch, down below the knees, but Morneau managed to hook it just fair with sort of a half swing.
Bumgarner's final line: 9 IP, 1 H, 0 R, 0 BB, 13 K's. Similar to Kershaw's no-hitter against the Rockies in which he struck out 15 with just the one runner reaching via error. Bumgarner's Game Score of 98 is second-best in the majors behind Kershaw's 102; unfortunately for Bumgarner, that's kind of par for the course for him -- just behind Kershaw. Although I'm sure Kershaw wouldn't mind owning Bumgarner's two World Series rings.
Bumgarner threw just 103 pitches against the Rockies, never more than 15 in one inning; that's his trademark, efficiency. He's usually able to pitch to deep into games without running up big pitch counts, although Bruce Bochy has taken the reins off a little this season and Bumgarner should sail past his career high of 208.1 innings in 2012. He was able to dominate the Rockies primarily with his fastball -- 30 two-seamers and 42 four-seamers, 57 of those 72 pitches for strikes. Nothing fancy going on here. It was really pitching at its most basic: Move your fastball around all quadrants of the zone, throwing nothing down the middle, mixing in a few offspeed pitches (although eight of his 13 K's came on fastballs).
While the Dodgers remain the heavy favorite to win the West, the Giants do have six games remaining against their rivals from Southern California. Certainly, the Giants' rotation is in scramble mode with
Matt Cain
out for the season and
Tim Lincecum
demoted to the bullpen -- at least for one start -- but one hot stretch by the Giants will make late September very interesting.
2. Alex Gordon: Sleeper MVP candidate.
Gordon had the biggest hit of the night in a night of big hits -- a two-run walk-off home run to give the Royals the 2-1 win over the Twins. Our pal Mark Simon writes that Gordon
has the combination of offensive and defensive numbers
to warrant MVP consideration.
Realistically, of course, Gordon has no shot. As good as he is in left field, the voters aren't going to give that a lot of emphasis. He ranks 18th in the AL in OBP, 21st in slugging, 19th in runs and 29th in RBIs. As we saw the past two years with
Miguel Cabrera
, the MVP Award is an offensive award ... although if the Royals make the playoffs, that will certainly help him finish in the top five.
3. Pennant fever slow to catch on in Kansas City and Baltimore.
The Royals and Orioles are in first place and played at home on Tuesday. The Astros outdrew both teams.
4. Javier Baez has a lot of growing to do.
In non-pennant race news, the heralded Cubs rookie went 0-for-4 with four strikeouts in the Cubs' 3-0 win over
Johnny Cueto
(
Anthony Rizzo
with his 30th home run). Baez has seven home runs in 21 games, but has also struck out an astounding 40 times in 90 plate appearances and already has four four-strikeout games. He's hitting .198 with just four walks. The talent is enormous and he's very young, but there's a chance he's more Dave Kingman in the long run or, as a reader compared on Twitter, a second-base version of the Astros'
Chris Carter
(which would be a valuable player, just not a huge star).
5. Put the fork in the Blue Jays.
Seven runs in the 11th inning? Ouch. The Jays lost 11-7 to Red Sox (they made it interesting with four runs of their own) to fall to .500. They're now 6.5 out of the second wild card with four teams ahead of them. Too many games, too many teams. The promise of early June -- they led the division by six games on June 6 -- is long gone.
August, 8, 2014
Aug 8
12:16
PM ET
After hitting the winning home run in his major league debut,
Javier Baez
followed up
with two home runs
in his third game. Not a bad start for the 21-year-old regarded as one of the top prospects in the game. Here's
the report
from ESPNChicago. He's just the fourth
Chicago Cubs
player to have a two-homer game at age 21 or younger and Cubs fans can only dream that he'll turn out as well as Ron Santo.
The two comparisons I see most often for Baez are Gary Sheffield and
Manny Ramirez
. Like Sheffield, Baez has sick bat speed and a similar pre-swing wiggle and bat wrap. His stance and follow-through echo Ramirez, who worked with him at Triple-A Iowa and has received credit for helping Baez turn it on after a miserable first six weeks to the season when he was hitting well under .200. Like both of those guys, Baez produces big power and that rare "crack" when he connects just right. I saw him hit two home runs in spring training, both mammoth shots where the sound of the blast thundered through the ballpark.
Let's make it clear, however: Sheffield and Ramirez were special hitters, two of the best right-handed hitters ever. The big difference between them and Baez is those two combined bat speed and power with excellent plate discipline, and in Sheffield's case, supreme contact skills. Baez hasn't shown near the same ability to control the strike zone.
In his career, Sheffield finished with a 13.5 percent walk rate and 10.7 percent strikeout rate. Even adjusting for the higher strikeout rates now, that's phenomenal hand-eye coordination and pitch recognition. Sheffield had this ability from the moment he turned pro. As a 19-year-old in Double-A and Triple-A, he had 56 walks and 63 strikeouts in 587 plate appearances. He walked more than he struck out as a 21-year-old for the Brewers. In his first season in the majors at 22, Ramirez had 42 walks and 72 strikeouts in 336 plate appearances and the next year he walked 75 times. At Iowa, Baez had 130 strikeouts and 34 walks in 434 plate appearances.
The good news for Baez is the strikeout-to-walk ratios improved slightly during the season:
April: 22/4
May: 41/8
June: 34/11
July/August: 36/11
There's a chance he ends up more like
Alfonso Soriano
: Lots of home runs, but with good-not-great averages and high strikeout rates and low walk rates that drag down his OBP. That's still a valuable contributor, especially since Baez should contribute more value defensively than Sheffield, Ramirez or Soriano if he can stick in the infield. But Baez is just 21; there's time to learn and improve. Even if the strikeout rates remain high, the hope is he'll eventually learn to take more walks.
There will likely be some growing pains as he adjusts to big league pitching. And Cubs fans should prepare themselves that Baez isn't guaranteed to be a star, let alone a hitter at the Sheffield-Ramirez level. But the talent is amazing and I expect in the long run he's going to be a very good player, a .260-ish hitter with 30-35 home run power (and maybe more).
July, 13, 2014
Jul 13
8:14
PM ET
MINNEAPOLIS -- Several dozen scouts travel to the All-Star Futures Game each year to watch the top prospects in baseball match skills for nine innings on a big stage. But the talent evaluators are just as immersed in the little details leading up to the game.
About an hour before the U.S. and World squads squared off on Sunday at Target Field, a National League personnel man diligently took notes from the stands while Pittsburgh prospect
Josh Bell
and San Diego minor leaguer Hunter Renfroe took balls on a hop and made throws on a line from right field. This is what's typically known as "due diligence" -- an observation to file away for a rainy day or a staff meeting to come.
The really fun, eye-popping stuff came during the U.S. Team's batting practice, when
Texas Rangers
prospect Joey Gallo peppered the outfield seats with home runs. To paraphrase
New York Yankees
play-by-play man John Sterling, they were high, they were far, and they were gone.
"He's not up there to hit singles," a scouting director for an American League team said to no one in particular.
Once the game began, pitching prevailed, for the most part. The respective offenses combined for 15 hits and 18 strikeouts and looked overmatched for extended periods, before the U.S. Team prevailed by a score of 3-2.
The most buzzworthy moments, not surprisingly, were generated by the players with the biggest thump.
[+] Enlarge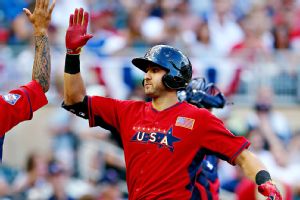 Elsa/Getty ImagesBefore smashing a go-ahead, two-run homer in the sixth inning, Rangers prospect Joey Gallo wowed the crowd during batting practice.
Cubs prospect Javier Baez sent a charge through the crowd and the World Team's dugout in the top of the sixth inning when he took a 79 mph curveball from Lucas Giolito and hit it 399 feet the opposite way over the right-field fence. It was the type of swing that prompted Baseball America, in its preseason assessment of Baez, to observe that he "hits the ball so hard, he doesn't have to square it up to hit it out of the park."
Baez, now in his fourth season with the Chicago organization, is putting up so-so numbers this season. He's hitting .240 with a .753 OPS in 84 games with Triple-A Iowa. But the Cubs have fast-tracked him to the Pacific Coast League at age 21, so it's understandable if he endures a few growing pains this summer.
The biggest long-term question about Baez revolves around where he's going to play in the majors. He's the everyday shortstop in Iowa. But at 6-foot, 200 pounds, he's a prime candidate to move to an infield or outfield corner spot long-term. The Cubs have a 24-year-old All-Star shortstop in
Starlin Castro
and just picked up Addison Russell from the Athletics in the big
Jeff Samardzija
-
Jason Hammel
deal a week ago, so something eventually has to give.
The only sure thing is Baez will be fun to watch wherever he plays.
"He has crazy power," an NL personnel man said at the Futures Game. "Like
Gary Sheffield
."
Gallo, 20, provided Sunday's other signature moment in the bottom of the sixth inning with a 419-foot blast off Houston prospect Michael Feliz. The home run was only fitting, given that Gallo is slugging .703 in 85 games with Texas' minor league affiliates in Myrtle Beach and Frisco this season. In 907 professional at-bats with the Rangers, Gallo has 93 home runs and has shown a flair for tape-measure shots that even he can't fully understand.
"I'm not a big, huge, body-builder guy," said Gallo, who's listed at 6-foot-5, 205 pounds. "I see big guys who don't drive the ball, and I'm like, 'How?' Maybe it's because I'm tall and I get leverage. Ever since I was 8 years old, I've always been able to hit the ball out of the park."
Gallo grew up in Nevada with Cubs prospect Kris Bryant, and coincidentally, they're tied for the minor league lead with 31 homers at the break. Bryant, whose monster numbers with Double-A Tennessee and Triple-A Iowa have prompted Cubs fans to begin keeping a vigil in anticipation of his arrival at Wrigley Field, went 0-for-3 with a walk in the Futures Game. He attracted the bulk of the pregame attention and easily fielded the most interview requests. But in the end, fellow Las Vegas-native Gallo took the most impactful and memorable swing.
It was also the most damaging swing. Gallo's blast cleared the seats behind the 23-foot-high wall in right field and hit a red truck that was parked on the concourse for promotional purposes. Shortstop J.P. Crawford, Gallo's teammate on the U.S. squad, called the home run "a nuke."
When a reporter asked Gallo if he used to hit parked cars in Little League, the slugger demurred.
"I don't know if I ever broke one in Little League," Gallo said. "I broke one last year in Asheville. I felt pretty bad, because that one was actually somebody's car. That one out there (today), that was like for show."
For the record, Bryant expressed faux relief that Gallo's home run Sunday didn't count, so they remain tied for the minor league lead at 31 each as they prepare to resume play with their respective teams.
"I don't expect anything else from him," Bryant said. "He puts the barrel of the bat on the ball, and it goes."
Another Gallo HR to rf power alley broke this windshield. pic.twitter.com/JCLuJCUOAT

— JJ Cooper (@jjcoop36) July 13, 2014
June, 3, 2014
Jun 3
2:51
PM ET


The awesome Eric Karabell and myself with another edition of Rapid Fire. Today's topics: Robinson Cano, Jedd Gyorko, Jose Abreu, Eric Hosmer, Starlin Castro and Javier Baez and a certain Phillies general manager.
May, 12, 2014
May 12
1:34
PM ET
It's been a rough start for some of baseball's top prospects -- three of Keith Law's top 10 have barely played or haven't played at all due to injuries (Byron Buxton, Addison Russell, Miguel Sano) and a fourth (Archie Bradley) is currently sidelined as well.

But here are some performances that have caught my eyes, mostly for the good but a few for the wrong reasons.


Gregory Polanco, OF, Pirates (Keith's No. 13 prospect)
2014: .357/.419/.564, 14 BB, 28 SO (Triple-A Indianapolis)
With Pirates right fielder hitting a pedestrian .245/.309/.344, fans are clamoring for Polanco to get the call. He leads the International League in batting average and his plus defense would essentially give the Pirates three center fielders in the outfield. But Pittsburgh is holding back for service time issues and, to be fair, he has barley 400 plate appearances above Class A.

Francisco Lindor, SS, Indians (No. 6)
2014: .293/.362/.466, 14 BB, 24 SO (Double-A Akron)
The Indians are last in the majors with -27 Defensive Runs Saved, including -2 from shortstop Asdrubal Cabrera. Considering Cabrera isn't tearing it up the plate (.246/.325/.391), Lindor and his outstanding glove are a candidate for a midseason call-up if he continues hitting.

Javier Baez, SS-2B, Cubs (No. 7)
2014: .151/.248/.280, 10 BB, 38 SO (Triple-A Iowa)
So much for Baez's quick path to stardom. After a monster spring training, maybe he's been too homer-happy at Iowa, swinging for the fences too often. Whatever the cause, his overly aggressive approach at the plate has been exploited so far at Triple-A.

Kris Bryant, 3B, Cubs (No. 15)
2014: .331/.437/.624, 20 BB, 43 SO (Double-A Knoxville)
While Baez has struggled, Bryant has flourished with 10 home runs in 133 at-bats. The strikeout rate is big, but he walks and hit home runs. There's always the chance he turns into Mark Reynolds with the K rate, but he's going to hit a lot of home runs in the majors

Oscar Taveras, RF, Cardinals (No. 5)
2014: .293/.340/.489, 9 BB, 20 SO (Triple-A Memphis)
The best thing is Taveras has remained healthy after playing just 47 games last season. Cardinals outfielders are struggling but you're not going to bench Allen Craig yet just to get Taveras' bat in the lineup. For those wanting Taveras to play center, most scouts say he's stretched defensively there (he's been playing all three outfield spots at Memphis).

Kevin Gausman, RHP, Orioles (No. 23)
2014: 0-1, 2.08 ERA, 26 IP, 23 H, 14 BB, 26 SO (Triple-A Norfolk)
For whatever reason, the Orioles have been very conservative with Gausman's pitch counts; the 77 he threw on Saturday were a season high. Combined with some control issues, he's yet to pitch more than five innings. I don't see him getting recalled any time soon unless Baltimore's rotation is hit with a rash of injuries.

Trevor Bauer, RHP, Indians (not rated)
2014: 4-0, 1.12 ERA, 40.1 IP, 27 H, 11 BB, 40 SO (Triple-A Columbus)
Bauer also pitched well in one major league start (two runs, eight strikeouts in six innings). The former No. 3 overall pick has been an enigma as a professional, but the Indians are currently using Josh Tomlin in the rotation.

Jonathan Singleton, 1B, Astros (No. 78)
2014: .293/.406/.624, 26 BB, 36 SO (Triple-A Oklahoma City)
That line includes 11 home runs and 21 total extra-base hits. While he'll be held down at least until June for service time reason, the 36 strikeouts in 36 games is also an sign that he could be exploited for now at the big league level.

Carlos Correa, SS, Astros (No. 4)
2014: .323/.379/.460, 11 BB, 22 SO (Class A Lancaster)
OK, everyone hits in the California League, but keep in mind he doesn't 20 until September. He could reach Double-A while still a teenager.

Mark Appel, RHP, Astros (No. 11)
2014: 0-0, 6.23 ERA, 13 IP, 17 H, 4 BB, 13 SO (Class A Lancaster)
I thought it a little odd that a No. 1 overall pick who was supposed to be a polished college pitcher would start in Class A. Anyway, Appel struggled enough in four starts the Astros sent him back to extended spring training.

Joc Pederson, OF, Dodgers (No. 41)
2014: .368/.482/.669, 30 BB, 42 SO (Triple-A Alburquerque)
There's a lot going on in those numbers, including 11 home runs and he's stolen 10 bases. He's walking a ton but also striking out a lot. Still, I wonder if he'll be the Dodgers' center field come August, with Matt Kemp moving over to left.

Nick Franklin, IF, Mariners (not eligible)
2014: .388/.470/.673, 16 BB, 20 SO (Triple-A Tacoma)
Chris Taylor, SS, Mariners (not rated)
2014: .360/.405/.581, 12 BB, 28 SO (Triple-A Tacoma)
With Brad Miller struggling at the plate and in the field, one of these guys may get a chance soon to play shortstop for Seattle.

Mike Fiers, RHP, Brewers (not eligible)
2014: 6-1, 1.59 ERA, 45.1 IP, 30 H, 6 BB, 64 SO (Triple-A Nashville)
Fiers came out of nowhere as a rookie with the Brewers in 2012 to impressive despite a less-than-overpowering fastball. But he bombed in 2013, allowing eight home runs in 22.1 innings. He's back to dominating in the minors with the best numbers of any minor league starter, ready if Milwaukee needs a starter.

Mookie Betts, 2B, Red Sox (No. 61)
2014: .396/.458/.597, 17 BB, 11 SO (Double-A Portland)
Betts had one of the best seasons in the minors in 2013 but his small stature, lack of power projection and position (he's not a shortstop) kept him from being rated higher. But this kid can flat hit (his .396 average leads all minor leaguers), including five home runs. He can run (15 for 18 stealing) and plays a good second base. He's blocked by Dustin Pedroia so we probably won't see him this year and you hate to trade him because he's so good.

Jonathan Gray, RHP, Rockies (No. 12)
2014: 3-2, 3.22 ERA, 36.1 IP, 32 H, 5 BB, 34 SO (Double-A Tulsa)
Last year's third overall pick gave up seven hits and six runs in two-thirds of an inning in his second start but has allowed just five runs over his past five starts. He's performed better than Tulsa teammate Eddie Butler (No. 17), who has a 3.45 ERA but a 27/11 SO/BB ratio. You know the Rockies will need a starter at some point.

March, 20, 2014
Mar 20
12:06
PM ET
SCOTTSDALE, Ariz. -- One last game in Arizona before heading back to Connecticut ... no jokes about the weather back home, please.
Salt River Fields is the home of the Arizona Diamondbacks and Colorado Rockies, a beautiful $100 million complex that opened in 2011. It includes an 11,000-seat stadium surrounded by 12 practice fields and the grass on the diamonds was baseball-green perfect, immaculately maintained and smelled like spring. A building beyond the right-field fence and seating area houses the Rockies' executive offices and clubhouse (the Diamondbacks are down the left-field line). The lobby looked like you were walking into a Fortune 500 company and the clubhouse opulence matched anything you'd see in a major league ballpark. On this night, attendance was announced at over 12,000, including the fans sitting on the grassy hill in the outfield.
I'm not sure the facility actually makes the Rockies or Diamondbacks any better but it's a great place to watch spring training baseball.
A few thoughts on the game ...
The highlight came when Cubs prospect Javier Baez slammed his fifth home run of the spring, a titanic shot to center field in the eighth inning off Rob Scahill, a right-handed reliever who appeared in 23 games for the Rockies in 2013. ESPN Stats & Information estimated the blast at 452 feet as it landed in the second row of bushes, about 30 feet above the top of the fence. That doesn't even begin to explain the impressiveness of the blast. The crowd had thinned out by the eighth inning so it was quiet when Baez connected, sending a resounding "CRACK!" echoing throughout the stadium and drawing audible gasps from some of us in the press box (similar to the home run Baez hit off Randy Wolf last week). You don't hear sounds like that in big league ballparks because there is usually too much noise or you're too far away, but when they say "it just sounds different when he hits it" about certain players, in this case that was absolutely true.
The most impressive part of the at-bat was that Baez had flailed at two breaking pitches -- presumably sliders since Scahill throws a lot of sliders -- pulling off both pitches. The count was 2-2 but based on the earlier swings I was sure Scahill would ring up Baez with another slider. So give the 21-year-old credit for adjusting within the at-bat. Baez told ESPNChicago's Jesse Rogers it was the longest home run he'd ever hit.
Baez is slated to start at Triple-A, where he'll play some second base along with his usual position of shortstop. Baez is far from polished as a hitter -- while he's hitting .308 with five home runs and three doubles in 39 at-bats, he's also struck out 12 times without a walk -- but his performance indicates he's probably not that far away from the majors. You wonder if Darwin Barney becomes trade bait a couple months into the season. Barney doesn't provide much at the plate, but he's a plus defender and a team like Baltimore that may not get much offense from second base anyway could be interested.
Both teams ran out what will essentially be their Opening Day starting lineups, minus Starlin Castro for the Cubs, who is still resting a hamstring injury, so it was a good test for starters Carlos Villanueva and Franklin Morales. Villanueva, fighting for a rotation slot (he'll pitch in relief if he's not starting), struck out eight in four innings, making one mistake that Carlos Gonzalez hit for a three-run homer. Morales could win a rotation slot with Jhoulys Chacin out until May with shoulder soreness. He missed a lot with his fastball and walked three batters in his four innings but gave up just one hit and an unearned run. He's the same Morales, with a high-effort delivery that leads to control problems. Morales, of course, came up with the Rockies during their World Series season of 2007 and made two postseason starts that year after starting just eight times in the regular season. But injuries and inconsistency have plagued him throughout his career and he's never started more than nine games in a season in the majors, doing that with Boston in 2012. He's had a good spring, however, and it appears he'll start the season in the Rockies' rotation.
The Rockies lineup will run Michael Cuddyer, Gonzalez, Troy Tulowitzki, Justin Morneau, Wilin Rosario and Nolan Arenado in the second through seven spots. The leadoff position will change depending on who plays center field -- Charlie Blackmon, Drew Stubbs and Corey Dickerson are all candidates. Dickerson is the best hitter but regarded as the weakest fielder. Stubbs can't hit right-handers, so maybe it ends up as a Dickerson-Stubbs platoon. It also will be interesting to see if manager platoons Morneau at first base against lefties (Cuddyer could slide to first with one of the outfielders moving to right). Morneau hit .207/.247/.278 against left-handers in 2013 and .232/.271/.298 against left-handers in 2012. The Rockies may want to "justify" the Morneau signing by playing him every day but it's pretty clear he's useless against lefties these days.
Mike Olt entered late in the game as a pinch-hitter and drew a walk. He's hit well this spring but hasn't been able to play the field because of a shoulder injury. He's slated to make his first start at third base today. If he proves the shoulder is OK don't be surprised if he makes the Opening Day roster.
March, 13, 2014
Mar 13
11:16
AM ET
PEORIA, AZ -- I arrived in Arizona on Wednesday night just in time to catch a few innings of the Cubs-Mariners night game in Peoria. The Mariners ran out what could very well be their Opening Day lineup, minus Felix Hernandez and Corey Hart:
Abraham Almonte, CF
Kyle Seager, 3B
Robinson Cano, 2B
Justin Smoak, 1B
Logan Morrison, DH
Dustin Ackley, LF
Michael Saunders, RF
Mike Zunino, C
Brad Miller, SS
Cubs starter James McDonald, trying to find some semblance of the pitcher he was in the first half of 2012 with the Pirates when he went 9-3 with a 2.37 ERA, struggled to throw strikes with just 26 strikes in 64 pitches, walking five batters in 2.2 innings. Cano went 2-for-2 and turned a sweet double play. Miller homered off Cubs lefty James Russell, his third of the spring. Jesus Montero came in the game and made two errors at first base.
The Cubs sent a lineup of reserves and minor leaguers and they provided the most interesting results of the night, however. Mike Olt, the former Rangers prospect acquired in the Matt Garza trade last summer, homered twice, including a deep blast to center off Mariners starter Randy Wolf. Olt battled vision problems last year and struggled in the minors but says
those issues have been cleared up
.
But the most impressive blast came from Javier Baez,
who did this
against Wolf in the fourth inning for his third spring home run, drawing gasps of admiration in the press box and from the fans as well his Cubs teammates in the dugout.
It was a terrific at-bat, as Baez fell behind on two slow curveballs that were called strikes. The biggest knock against Baez so far in the minors has been an approach that is overly aggressive at times, but he laid off two inside cutters and then crushed the 2-2 slider. Baez's bat speed has been compared to Gary Sheffield's and he used that to hit 37 home runs in the minors. It came at the expense of 147 strikeouts against just 40 walks, but if he puts at-bats together like the one against Wolf, you're going to see the spread in the ratio decrease and Baez become even more dangerous.
The Sheffield comparison isn't exactly perfect -- Sheffield had great hand-eye coordination and strike-zone judgment to go along with that bat speed (his career high in strikeouts in the majors was 83 and that was late in his career and he walked more than he struck out. Like Baez, Sheffield was a minor league shortstop, although he moved to third base and then the outfield. Baez has a better chance of sticking at shortstop and he's expected to start there in Triple-A, although some scouts believe he'll eventually end up at third base. The Cubs have said he'll get some time at second base in the Cactus League as well to improve his versatility.
Anyway, a good start to a week in Arizona. Should be fun.
February, 12, 2014
Feb 12
12:31
PM ET


ESPN Insider Jim Bowden makes a special guest appearance to discuss five rookies he can't wait to see in spring training.
June, 11, 2013
6/11/13
11:41
AM ET
Chicago Cubs
prospect Javier Baez -- the Cubs' top prospect on No. 31 on Keith Law's top 100 -- showed on Monday night why his upside is high, as he
hit four home runs
, becoming just the second player in Florida State League history to do so. (Ryan Harvey, a former Cubs prospect, was the other player, doing so in 2011.)
Before the season, Keith mentioned Baez's quick bat -- maybe the best bat speed of anyone in the minors -- and his 30-homer potential. The question was whether Baez could keep the swing under control. On Monday night, he obviously did that.
"His swing seemed a lot more under control tonight," Daytona manager Dave Keller told MiLB.com. "Sometimes he gets too aggressive. (Hitting coach) Mariano (Duncan) has spent a lot of time with him talking about keeping his balance and not swinging so hard that he can't stay on the ball. He already has tremendous bat speed and he can hit the ball a long way. After that second home run, I was telling Mariano that it was the best swing I have seen him take. It was free and relaxed and he laced that ball. It was the best swing he's taken on a pitch all year."
The big night lifted Baez's season line to .291/.339/.570 with 13 home runs in 230 at-bats. His strikeout and walk rates still need some work -- 60 strikeouts against just 11 walks -- but for a 20-year-old in a league where pitchers often dominate, the slugging is impressive.
Baez was the ninth pick in the 2011 draft --
Jose Fernandez
, now with the Marlins, was still on the board -- but the Cubs have to be happy with how the pick is working out so far. With 2012 first-round outfielder Albert Almora off to a good start in the Midwest League (.423 in 17 games after starting late recovering from a broken hamate bone in his left hand). Here's a recent
video feature on Almora
.
Almora's teammate on Kane County is 20-year-old first basemann Dan Vogelbach, who is built a bit like
Prince Fielder
but also possesses Fielder's raw power. He's hitting .273 with 11 home runs after hitting 17 in 61 games in the low minors in 2011. Vogelbach was the club's second-round pick after Baez in 2011.
With
Anthony Rizzo
looking good for the big league, Cubs fans can dream of some help on the way. Now if only
Starlin Castro
can get straightened out ...