April, 14, 2012
4/14/12
10:01
PM ET
By
Christina Kahrl
| ESPN.com
The news that the
San Francisco Giants
could lose
Brian Wilson
for the balance of the season sounds grim. It isn't as if there weren't warning signs coming into the season: Declining velocity and an increasing reliance on his slider made it clear he wasn't the same pitcher whose late-game endurance and power helped propel the Giants to a 2010 World Series win.
We'll have to see what
the second or third opinions
the Giants are seeking will reveal. But in the meantime, what will the Giants do with their late-game leads?
If manager Bruce Bochy follows up with his initial comment that he'll go with a bullpen by committee, it should mean save opportunities will go to righties
Santiago Casilla
and
Sergio Romo
, with lefties
Javier Lopez
and
Jeremy Affeldt
possibly in the mix as well. Bochy and the Giants have been here before, of course, if just for a month last season. That was when Wilson broke down in August with a strained elbow, and made it back in time for only the last 10 days of the season. Casilla notched most of the save opportunities in Wilson's absence, although since Romo was also on the disabled list that August, you can't automatically chalk this up to simple preference for Casilla.
[+] Enlarge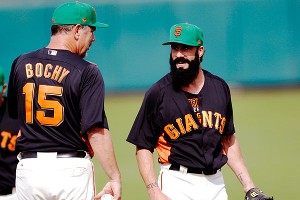 AP Photo/Marcio Jose SanchezBruce Bochy says he'll go closer-by-committee without Brian Wilson, right, but will he really?
Will we really see a closer-by-committee in action? In Bochy's long experience as a major league manager, he hasn't exactly had much chance or demonstrated any willingness to experiment with his team's save opportunities in this way. Bochy has a well-established track record of relying heavily on one designated closer, but that's largely a function of opportunity. During his 12 years managing the Padres, Bochy almost always had Trevor Hoffman to close for him.
That was true in every one of Bochy's seasons skippering the Padres save one: 2003, when Hoffman was out with shoulder surgery for most of the year. And that time around, Bochy really did compensate for the lack of a closer with a bullpen by committee, at least initially. For two months, journeymen Brandon Villafuerte, Jay Witasick, Jaret Wright, Matt Herges and Jesse Orosco all notched saves, including the last two of Orosco's long career. But even on a team going nowhere (the Pads would lose 98 games), nobody liked this solution much. Rather than stick with it, the Padres signed Rod Beck in June, and got 20 saves from the Shooter over the next three months.
That wasn't the only time Bochy has had to change gears with his closer in-season, though. In 2007, Bochy's first year managing the Giants, he once again wound up in a "manager's choice" scenario. Two months into that season, the Giants dealt Armando Benitez in the wake of a lot of public recriminations over Benitez's performance. In the absence of anyone even remotely resembling an established closer, Bochy might have gone with a committee. He didn't, making utility pitcher Brad Hennessey his stopper. Hennessey had all of one career save beforehand, but he notched 19 more before getting replaced by Wilson toward the end of the season. Wilson went on to fame, a ring and Taco Bell commercials; Hennessey never got another save in the major leagues.
So, in both of these situations, Bochy basically reverted to convention, whether that was identifying a designated temporary closer in the case of Hennessey in 2007, or having one brought in as Beck was in 2003.
What does that mean going forward? Last season, during Wilson's monthlong absence, Bochy split save opportunities between Casilla and
Ramon Ramirez
. He wound up favoring Casilla, but as I said, Romo was hurt and out of the running for part of that time. We'll see how much more than polite, for-public-consumption consideration for his top relievers Bochy's comments about a committee wind up being. But if you want to bet on what's going to happen in the next couple of weeks if Wilson really is out for the year, bet on Bochy picking one pitcher to close.
Christina Kahrl covers baseball for ESPN.com. You can follow her on Twitter.
May, 10, 2011
5/10/11
1:05
AM ET
The Minnesota Twins and Boston Red Sox battled for 11 innings on Monday night, and in the end,
Carl Crawford
's double high off the Green Monster plated
Jose Iglesias
with the winning run in a 2-1 victory.
Twins manager Ron Gardenhire, apparently waiting to take the lead before using closer
Matt Capps
, and not wanting to use
Joe Nathan
on back-to-back days, was left with somebody named
Jim Hoey
on the mound. With one out, Hoey walked
Jed Lowrie
-- not necessarily a surprise since Hoey walked 34 in 52 2/3 innings in the minors last season. Iglesias came in as a pinch-runner and Crawford hit a 3-2 pitch off the wall.
We're going to see a lot of games like that this season: low-scoring affairs decided in the late innings. With scoring down, games will be tight, and with close games, late-inning bullpen work may be more important than ever. And if you're relying on Jim Hoey in tie games, chances are you may be 12-21.
Let's do a quick overview of the state of 'pens around baseball.
Three best bullpens on contenders
1. San Francisco Giants: The unheralded secret weapon of last year's champs, the bullpen has picked up where it left off, with
Javier Lopez
,
Sergio Romo
,
Ramon Ramirez
and
Guillermo Mota
throwing lights-out. Closer
Brian Wilson
blew his first save chance but has since converted 11 in a row, despite a little wildness. The team has lefty-righty balance, with lefties
Jeremy Affeldt
and
Dan Runzler
adding solid depth.
2. Florida Marlins: Several arms were added to the Marlins' 'pen after last season's shaky performance and so far they have a 2.59 relief ERA, second only to San Diego's. I believe in this group, although stellar setup man
Clay Hensley
was just placed on the DL with a bruised rib. Closer
Leo Nunez
appeared in 17 of the team's first 32 games, so watch his usage carefully.
3.
New York Yankees
: Yes,
Mariano Rivera
had that little burp, but he's back on track. Setup man
Rafael Soriano
has struggled, but I project he'll turn it around.
Joba Chamberlain
is throwing better than he has in years, and underrated
David Robertson
has one of the nastiest curves you'll see. The 'pen has allowed just five home runs in 95 innings. The big question is whether
Boone Logan
will prove to be a reliable lefty in the absence of
Pedro Feliciano
.
Bullpen doing it with smoke and mirrors right now
Tampa Bay Rays: The Rays have a 2.69 bullpen ERA, third-best in the majors, and have allowed opponents a .203 batting average. They've allowed just 61 hits in 87 innings despite a poor 51/34 strikeout/walk ratio. Some of that is attributable to their defense, but the low strikeout rate means that .203 average will be difficult to maintain. And maybe you believe in
Kyle Farnsworth
more than I do.
Three bullpens I'm worried about
1. Texas Rangers: The Rangers will be fine at closer once
Neftali Feliz
returns, but the rest of the 'pen looks shaky, as it has allowed 16 home runs in just 94 innings and has a poor 66/43 strikeout/walk ratio. Forty-somethings
Darren Oliver
and
Arthur Rhodes
are looking more their age and have surrendered three home runs apiece, and
Darren O'Day
is on the 60-day DL with a torn labrum in his hip.
2. Detroit Tigers: The team's best reliever has been
Al Alburquerque
, and with a name like that, he'd better be good, because we want him to last a long time. Closer
Jose Valverde
is always a tightrope, but the rest of the setup crew, including high-priced free agent
Joaquin Benoit
, has looked inconsistent.
3. Milwaukee Brewers: Brewers relievers already have nine defeats. They have a few good arms in closer
John Axford
and
Zach Braddock
and
Brandon Kintzler
, but control issues have been a problem so far and lack of depth could be an issue.
Two awesome bullpens if you only need two guys
1. Atlanta Braves:
Craig Kimbrel
and
Jonny Venters
are dominant (and
Eric O'Flaherty
provides a nice third guy). We'll have to see whether Venters holds up after pitching 79 games and 83 innings last year, but so far he's been even better than he was in 2010, with a 0.70 WHIP.
2. Boston Red Sox:
Daniel Bard
's raw numbers are great (well, except that 0-3 record, which is not exactly a non-important notation).
Jonathan Papelbon
is back with an 18/2 strikeout/walk ratio. But new acquisitions
Bobby Jenks
and
Dan Wheeler
have been disastrous, leaving a gaping hole after the top two.
Bullpen that may actually be OK
St. Louis Cardinals: The Cards are tied with the Brewers with nine bullpen losses, three by deposed closer
Ryan Franklin
. And while the team may not have a set closer (
Fernando Salas
has the role for now), there are some good arms here.
Jason Motte
,
Mitchell Boggs
and rookie
Eduardo Sanchez
all average more than 93 mph with their fastballs, and Salas throws strikes. Mix in LOOGYs
Trever Miller
and
Brian Tallet
, and I think Tony La Russa will figure out roles that turn this into one of the better 'pens in the NL.
PHOTO OF THE DAY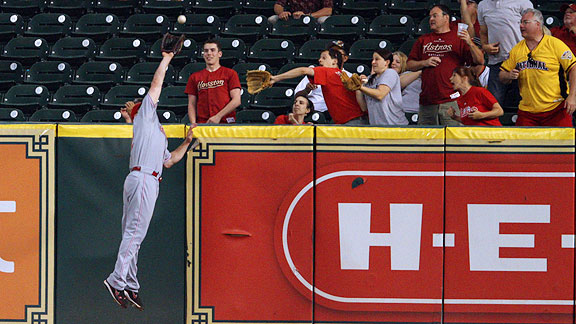 Thomas Campbell/US PresswireStretch! Jay Bruce reached as high as he could, but no dice. That one's gone.
July, 20, 2009
7/20/09
7:23
PM ET
Tony Massarotti on how to
make a great team better
:
Call me crazy, but on some level, I think the Red Sox actually miss Javier Lopez in their bullpen.

The Red Sox, who own the best record in the American League, will open the second half of the season tomorrow night in Toronto. Clay Buchholz will get the start. Behind him, manager Terry Francona will begin the most critical games of the year with a relief corps that recently has shown some signs of cracking, particularly in blowing leads of 10-1 (to the Baltimore Orioles on June 30) and 4-0 (to the Kansas City Royals) during the final two weeks of the first half.

Statistical aberration? Or a worrisome sign of things to come?

--snip--

This brings us back to Lopez, who enjoyed a fine season as the Red Sox lefthanded specialist in 2008. Last year, Lopez limited lefties to a .182 average in 70 appearances, posting a 2.43 ERA in the process. The early-season plan this year was to have Lopez in the very same role, at least until lefties belted him at a .429 clip (with a 1.110 OPS) and ushered him back to the minor leagues, where he has since posted a 4.20 ERA in 16 games. Triple A lefties are hitting .296 against him.

With Lopez out, the Sox subsequently turned to lefty Hunter Jones and, later, righthander Daniel Bard, the latter of whom is seemingly being groomed to be [Jonathan] Papelbon's successor some day. That has made [Hideki] Okajima the sole lefty in the Boston bullpen, leaving Francona without a matchup specialist for the sixth and seventh innings. Last season, of the 218 plate appearances against Lopez, 130 of them came in the sixth or seventh innings.

With roughly two weeks now remaining before the annual July 31 trading deadline, the Red Sox appear to have a need for another lefty in their bullpen, something at least one Sox official privately has acknowledged. The problem is that two lefties are a luxury that many teams covet and few possess, particularly in a world where any lefthanded pitching already is at a premium. And so, the Sox are likely to go with only one lefty [Okajima] until at least Sept. 1, when roster expansion will allow them to summon at least one specialist from a group that includes Lopez.
First, if Lopez is healthy, there's no reason to think he's any worse this year than he was last year. As you know, relievers are subject to the terrible vagaries of the small sample size, and of course specialists like Lopez are particularly vulnerable. That .429 average he gave up against left-handed hitters before getting sent down? As you also know, Bill James works for the
Boston Red Sox
. In 1994, the Montreal Expos, managed by Felipe Alou, finished with the best record in the major leagues. Somewhat amazingly, for most of the season the Expos had only five relief pitchers: closer John Wetteland, semi-closer Mel Rojas,
Gil Heredia
,
Jeff Shaw
, and Tim Scott. Aside from pitching effectively, what did those five have in common? Each of them was (and is, last I checked) right-handed. For most of the season, the best team in baseball had five relievers and zero lefty relievers.
Somehow, it worked. Here's what James wrote about that, shortly afterward:
I am certain that if you asked Felipe Alou about his lack of a lefty in the bullpen, he would tell you that he would like very much to have a lefty in the bullpen, but he doesn't have one, so he's not going to worry about it.

But the fact is, there are many managers around who don't have a good lefty in the bullpen, aren't there? What the other managers do, when they don't have a lefty, is go through eight guys in a season, trying to get somebody established in that role. Tony La Russa, the quickest hook in the American League, always has two lefties in the bullpen, often three.

--snip--

And as to the announcers' claim that this is a tremendous disadvantage to the Expos, not to have a lefty in the bullpen ... well, what's the evidence for that? They led the league in ERA and saves, and they had the best won-lost record in the majors. What did it cost them not to have a lefty in the pen?

Focusing on the stat I gave before -- the Expos' relievers had the platoon advantage on the first batter only 46 percent of the time, lowest in the majors -- what did that really cost them? One hit. They used 259 relievers, and the reliever had a first-batter edge 119 times, when he would probably have had a first-batter edge on another team about 155 times. Since that's a difference of 36 at bats with the platoon advantage, and since the platoon advantage is about 30 points (.030), there is an expected loss of one hit from not being in a position to get a lefty-on-lefty matchup.

Of course, there might be a second hit or a third hit later on down the line, but it still doesn't seem like a big deal to me. The advantages of it would seem, on the basis of what I can see, to easily outweigh the disadvantages.
This overstates the case a little bit, I think. The platoon advantage might be 30 points, generally, but it's larger than that for a significant number of relief pitchers, right? Then again, maybe not. I just checked a bunch of left-handed "specialists" and was more than a little surprised to find platoon splits that really aren't all that big.
Ron Mahay
?
Darren Oliver
?
Jeremy Affeldt
?
Alan Embree
? They all fall right in line, career-wise, with that 30-point edge.
Of course, the Red Sox aren't the Expos. While I will maintain that there's little reason for the seven-man bullpen, it's certainly true that Francona doesn't have much use for an extra hitter or two. Not with that lineup. It's not that Francona couldn't use a second southpaw, or that he doesn't have room on the roster for one. It's just not worth obsessing over until the right lefty comes along.