July, 31, 2013
7/31/13
2:20
AM ET
PITTSBURGH -- Baseball has too much on its plate these days to focus exclusively on the exploits of an inspirational team in Pittsburgh. The trade deadline is coming to a head Wednesday.
Brian Wilson
-- aka "The Beard" -- is about to pitch his way to Chavez Ravine. And there's still the little matter of that Biogenesis situation left to resolve. According to reports, multiple PED offenders are lining up to accept their suspensions and take a baseball sabbatical for the foreseeable future. They're the luncheon meat in the middle of a
Ryan Braun
/
Alex Rodriguez
contrition sandwich.
Thank goodness for feel-good stories. While
Nelson Cruz
,
Everth Cabrera
and
Jhonny Peralta
prepare to hoist the white flag, the Buccos remain insistent on waving the Jolly Roger.
[+] Enlarge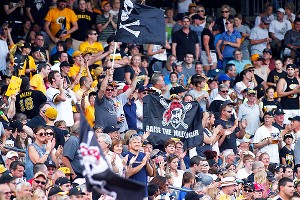 Justin K. Aller/Getty ImagesPirates fans are seeing something they've been waiting 21 years for.
If the
Pittsburgh Pirates
keep playing this well, they just might outgrow the adjective "pesky." Early Tuesday evening,
Alex Presley
hit a ricochet job off reliever Kevin Siegrist's glove in the 11th inning to give Pittsburgh a 2-1 victory in the opening game of a doubleheader with the
St. Louis Cardinals
. After grabbing a sandwich and a beverage and changing their jerseys, the Pirates came out and beat St. Louis again, 6-0, to stretch their lead over the Cardinals to 1½ games in the National League Central.
The crowd had thinned considerably by the time
Jeanmar Gomez
retired
David Freese
on a routine grounder to shortstop for the final out of the second game. But "Let's Go Bucs" chants still reverberated through the stands, as a reminder that Pittsburgh fans have overcome their reticence and embraced their team entering its dog day push for the playoffs.
Consider: In their past 17 dates at PNC Park, the Pirates have averaged 33,764 fans. The crowd of 32,084 for the opener of the St. Louis series set a record for a Monday night at PNC.
"We've had fans come in drove on the weekends," second baseman
Neil Walker
said. "But it's something else for them to come out for a doubleheader at 4 o'clock on a workday. We've always seen what it's like in places like San Francisco and Philadelphia. It can really be imposing when you go on the road and the place is packed. Now we have that here."
[+] Enlarge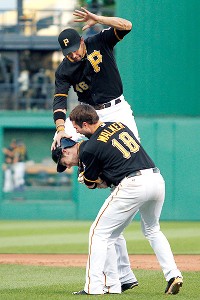 Justin K. Aller/Getty ImagesPirates players have already celebrated more wins than recent Pirates teams have notched in entire seasons.
The Pirates haven't been in first place this late in the season since they won their most recent division title in 1992. They're 34-18 at PNC and 29-17 versus the National League Central this year. They win when
Pedro Alvarez
hits home runs, and when
Andrew McCutchen
makes sliding catches, hits home runs and gracefully and breathtakingly covers the 270 feet from first base to home plate on doubles in the gap.
Most of all, the Pirates win when they pitch well -- which is most of the time. In the first three games of a five-game series against St. Louis, the Pirates have outscored the Cardinals 17-3. Manager Mike Matheny's lineup is batting .155 (16-for-103) with two extra-base hits thus far in the series.
If it's not
Francisco Liriano
dealing for the Pirates, it's
A.J. Burnett
or
Jeff Locke
or (feel free to take a break and consult Baseball-Reference.com)
Brandon Cumpton
.
When Tuesday's makeup game created the need for an emergency starter, the Pirates recalled Cumpton, a former ninth-round draft pick out of Georgia Tech, from their Triple-A farm club in Indianapolis. He throttled the Cardinals on three hits over seven innings to earn his first major league victory.
Cumpton collaborated with catcher
Tony Sanchez
, whose main claim to fame to this point in his career was going No. 4 overall in the 2009 draft -- 21 spots ahead of a New Jersey high school outfielder named
Mike Trout
. Sanchez, a Miami native and Boston College product, has been a disappointment in the minor leagues and admittedly wondered when this day would ever come. He appeared for two games as Pittsburgh's designated hitter in June, but made his first career start behind the plate against the Cardinals on Tuesday.
"I'm coming out of the bullpen and I have people fist-bumping me and saying, 'We love you Tony,'" Sanchez said. "For the last few days, everybody back home in Miami kept telling me, 'This is the biggest series the Pirates have played in the last 20 years.' I've got my uncle telling me, 'It's going to be a playoff atmosphere there.' Like I need that.
"When I came out of the dugout, it was nerve-wracking, overwhelming, all of those things. You feel like all the eyes are on you, because I'm the guy who has struggled the most and this has been such a long road for me. It doesn't help that you read Twitter and you know people are anticipating your first start."
By the end of the night, when Sanchez was hugging manager Clint Hurdle and coach Jeff Banister in celebration of the shutout, he got borderline misty. "I didn't even care that I went 0-for-3," he said.
The Pirates will get back to the grind Wednesday night when Locke takes on
Adam Wainwright
. At some point in the day, they can expect GM Neal Huntington to emerge from his bunker with a trade to report or a "stand pat" proclamation. Will Huntington add a reliever to take some of the burden off a bullpen that has logged the sixth heaviest workload in the majors, or a bat to supplement an offense that's 11th in the NL in runs scored? The Pirates have been linked off and on with the likes of Houston pitcher
Bud Norris
and Chicago outfielder
Alex Rios
. But you have to wonder how motivated Huntington is at this point to trifle with what his team has going.
Whatever moves he does or doesn't make, the fans in Pittsburgh are finding it progressively harder to remain disengaged -- recent late-season fades notwithstanding.
"I just tell them to keep coming out," said Hurdle, who celebrated his 56th birthday Tuesday. "We love the support. We love the colors. We love the flags. We love the chants."
Most of all the Pirates love the winning. That feeling is becoming contagious in Pittsburgh.
May, 31, 2013
5/31/13
12:40
AM ET
As sports fans, most of us are usually simultaneously hopeful and cynical when it comes to our teams. We think every first-round pick or highly rated prospect will become a star, that this will be
the
season, that a two-week hot streak means more than just a two-week hot streak. At the same, we panic over every blown save and every three-game losing streak.
Pittsburgh Pirates
fans know this feeling all too well. They know especially all too well that the team hasn't finished over .500 since 1992. There are Pirates fans in college who have never seen their team play a significant game in September. But the Pirates have toyed with their emotions the past two seasons. In 2011, they were 53-47 on July 25 and leading a weak National League Central; by the end of August they were 18.5 games out of first place. In 2012, they went 34-19 in June and July, were tied for first as late as July 18 and were just 2½ games out of first on Aug. 9; by the end of the month they were 10 games out and then went 7-21 in September.
But the 2013 Pirates … I think this might be a different club, a better club. On Thursday, I watched them beat the
Detroit Tigers
1-0 in 11 innings
. Here's the thing: Once the game got to the relief pitchers, I
expected
the Pirates to win. These are the games they're winning this season with that lockdown bullpen that has been so brilliant. On this night, the pen allowed just two hits in 5⅔ innings and
Neil Walker
, the walk-off hero Tuesday, started the winning rally with a leadoff single. The Pirates are 34-20, jumped past the Reds into second place in the NL Central and have won the second-most games in the majors.
I was on Pittsburgh radio on Wednesday, and host David Todd asked about the outsider's perspective on the Pirates. The two main reasons this club is better, I suggested, is that teams can ride a dominant bullpen a long way; in this day, with relievers pitching a third of every game, a decent rotation plus a great pen can equal a very good pitching staff. Here, a quick stat on why to believe in this staff more than the 2011 and 2012 versions:
2011 first-half totals: 47-43, 3.44 ERA, 16th in NL in strikeouts
2012 first-half totals: 48-37, 3.47 ERA, 14th in NL in strikeouts
2013 through May 30: 34-20, 3.12 ERA, 2nd in NL in strikeouts
The first-half success of the Pirates' pitching in 2011 and 2012 were mirages, fueled by low batting averages on balls in play -- as indicated by their low strikeouts. When their luck turned, so did the results.

But look at 2013: This staff is striking batters out. Yes, some of that is fueled by the great bullpen, and, while there are concerns that it's been overworked -- setup man
Mark Melancon
(0.93 ERA) is on pace to appear in 87 games and closer
Jason Grilli
(1.06 ERA, 22 for 22 in saves) in 83 -- Todd pointed out that relievers have been very efficient. Grilli, for example, has faced more than four batters in just three of his appearances and thrown 20-plus pitches just four times. Melancon has allowed just 21 hits and two walks in his 29 innings and is averaging 13.4 pitches per outing.
So far, manager Clint Hurdle and pitching coach Ray Searage have down a masterful job handling the staff. On Thursday, they pulled starter
Jeff Locke
at the right moment -- two runners on in the sixth, one out, Locke at 96 pitches. With the bottom of the Detroit lineup up, it would have been easy to try to get a couple more outs from Locke. But they brought in righty
Vin Mazzaro
to face
Matt Tuiasosopo
, a right-handed platoon hitter, knowing it was probably too early for Tigers manager Jim Leyland to go to his bench (especially in an NL park). Mazzaro worked out of that jam and then escaped a first-and-third, one-out situation in the seventh by getting
Andy Dirks
to pop out and
Miguel Cabrera
to ground out.
Yes, Melancon and Grilli will probably blow a lead at some point, but it's the rotation that is much improved.
A.J. Burnett
has pitched like a legit No. 1,
Wandy Rodriguez
has walked nine batters in 10 starts and
Francisco Liriano
has looked very good in his four starts. The keys have been Locke and
Jeanmar Gomez
, who are succeeding despite low strikeout rates. Thursday's game was my first extended look at Locke, and he impressed. He throws his fastball a lot -- about 66 percent of the time -- but he keeps it down in the zone and gets good late movement on it. It might not be a strikeout pitch, but when he commands it, it's an
effective
pitch. He mixes in a curveball and changeup to right-handers that he pounds low and away. If he keeps doing that, he can keep winning games.
Are the Pirates for real? Sure, I'd like to see some offense, especially if we expect a little regression from the staff. They're certainly in a tough division, and they have 30 games remaining against the Cardinals and Reds. But maybe it's fair to say the Cardinals and Reds have a lot of games left against the Pirates.
Are the Pirates for real? Let's sign off with some Twitter responses from Pirates fans.
@dschoenfield let's talk when the #Pirates get to 20 games over .500. Want to believe but still stung by last two years.

— Matthew Arnold (@SeattleMatthew) May 31, 2013
@dschoenfield I do. More nervous, too, but I do.

— J.K. Riki (@AnimatorJKR) May 31, 2013
@dschoenfield I think the pitching holds up. If the bats come around like they usually do in summer, yeah they're real legit.

— Bobby Leffard (@ibid78) May 31, 2013
@dschoenfield yes. Martin is a huge upgrade from Barajas. Marte and snider developed. Pitching unreal. Cutch isn't even playin his best ball

— Anthony Veltri (@velmel2412) May 31, 2013
@dschoenfield Yes. Skeptical of playoffs but the lineup and staff are better than last year. Could be this year's Orioles of last yr

— Jim(@Jcsteel) May 31, 2013
@dschoenfield Are you trying to taunt us???

— DJ Gallo (@DJGalloESPN) May 31, 2013
May, 10, 2012
5/10/12
12:43
AM ET
There was a time when
Jake Peavy
was mentioned in the same breath as pitchers like
Roy Halladay
and
CC Sabathia
and
Justin Verlander
. There was a time when Peavy might have been better than all of them -- the best in the game, in fact.
The last year he started 30 games was in 2007. That season he led the National League in wins, ERA, strikeouts, fewest baserunners allowed per nine innings and most strikeouts per nine. He was the only starter in the major leagues with an ERA under 3.00. He collected all 32 first-place votes in the NL Cy Young Award balloting.
"I can definitely get better," Peavy said after winning the award. "I've got a long way to go to be who I want to be." Maybe he was referring to not throwing a complete game that season. Maybe he was referring to Game No. 163, the playoff tiebreaker in Colorado. Peavy gave up 10 hits and six runs in 6 1/3 innings in a game the Padres eventually lost in the 13th inning. He was 26 years old, a Cy Young winner with two ERA titles under his belt, but he still wanted to prove he was the best pitcher in baseball.
This isn't the way he wanted it to happen, but it's May 2012 and right now Jake Peavy is back on top: He's the best pitcher in baseball. That's right: Better than Halladay or Verlander or
Clayton Kershaw
or
Jered Weaver
.
It's an amazing comeback story from a guy who has battled four years of injuries, and not just the routine battle scars that pitchers have to overcome. In 2010, he feared his career could be over. A quick look back at that list of injuries:
2008: He went on the disabled in May with a sore elbow, missed a month and ended up making 27 starts and posting a 2.85 ERA.
2009: Strained a tendon in his right ankle rounding a base in late May, an injury that eventually landed him on the DL. Traded to the White Sox while disabled, Peavy returned in September to make three strong starts. In 16 starts, he finished 9-6 with a 3.45 ERA.
2010: In July, Peavy ruptured the tendon that attaches the latissimus dorsi muscle to the rear of the right shoulder. He became the first major league pitcher to undergo an experimental surgery involving stitches and titanium anchors. His season was over after 17 starts.
2011: Missed time at the start of the season with shoulder tendinitis, later pulled a groin and then was shut down in September due to arm fatigue. He made 18 starts.
Now he's healthy for the first time in a long time. "I'm a different guy than since you've probably ever seen me, just as far as feeling OK on the mound, being able to worry about making pitches, worrying about game planning not sitting in the trainer room the whole time in between days," he told ESPN Chicago a couple starts ago.
Watching him pitch on Wednesday, he looked like the Peavy from his Padres heyday, mixing his fastball, cutter, tight slider, curveball and changeup from that slightly herky-jerky delivery of his. For all the talk of
Yu Darvish
's wide arsenal of pitchers, Peavy also throws a kitchen sink repertoire. He cruised through six shutout innings against Cleveland before surrendering a run in the seventh as the White Sox scored an
8-1 victory
. He threw first-pitch strikes to 18 of 28 batters and while he rarely topped at more than 90 mph on his fastball, he pitched with precision while changing speeds.
Best in the game? A bold statement, yes, but through seven starts nobody's been better. Check the numbers:
4-1, 1.89 ERA, with just 11 runs allowed in seven starts.

Tied with Felix Hernandez for most innings pitched.

.189 batting average allowed, .221 OBP allowed (third behind only Matt Cain and Jered Weaver), .482 OPS allowed (fifth).

Strikeout/walk ratio of 44 to 7, third-best behind Cole Hamels and Bronson Arroyo.
What's impressive about this seven-start run is Peavy has had to face most of the hard-hitting lineups in the American League: two starts against Detroit, plus Texas, Boston, Baltimore and Cleveland. He has one start against Oakland. Weaver, for instance, has faced the Twins in three of his seven starts and hasn't faced Detroit, Texas or Boston.
Now, whether Peavy can keep it going and remain healthy is another issue. Entering his Wednesday start, he was the most extreme fly-ball starting pitcher in the majors, although he has allowed just two home runs. He did induce groundballs on nine of his 15 non-strikeout outs on Wednesday, but skeptics would suggest that his home run rate isn't sustainable. That's certainly likely, but you can see from his heat maps that while he's been pitching up in the zone, he's doing a good job of keeping the ball away from hitters.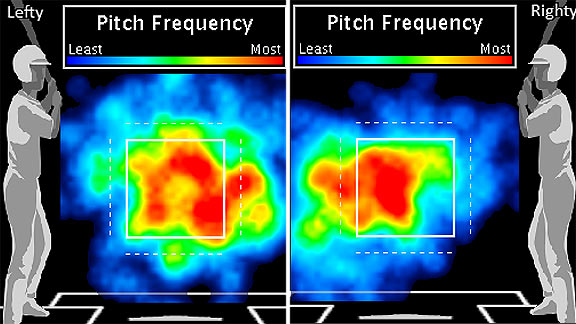 ESPN Stats and InformationJake Peavy's pitch locations versus left-handed batters and right-handed batters in 2012.
Amazingly, Peavy isn't the only comeback story for the White Sox. Designated hitter
Adam Dunn
's career appeared to be in jeopardy for other reasons after suffering through one of the worst seasons in major league history last year, with a batting average I don't even want to repeat.
Dunn, however, has been one of the most valuable hitters in the game so far, slugging his 10th home run on Wednesday, a two-run bomb off
Jeanmar Gomez
in the first inning. Dunn is hitting .243/.384/.586 and he's tied for third in the majors in homers and ranks ninth in RBIs and 15th in OPS.
Whether Dunn can keep this up is also a fair question. His strikeout rate of 34.1 percent is close to 2011's 35.7 percent, both figures well above Dunn's career mark of 27.7 percent. Basically, last year his fly balls were caught; this year, they're landing on the good side of the fence. But he's also lofting the ball more than a year ago; only four players are hitting a higher percentage of fly balls than Dunn. When you're as big and strong as Dunn, fly balls are a good thing.
Still, you have to connect with the sweet part of the wood. And White Sox fans have hearing that sweet sound so far.
PHOTO OF THE DAY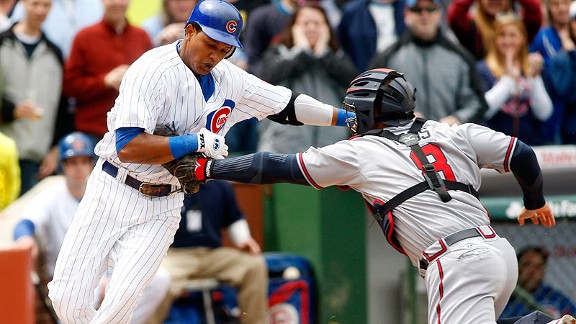 Jerry Lai/US PresswireIt might be an everyday thing for the Cubs, but Starlin Castro's out at home.
January, 26, 2012
1/26/12
8:30
AM ET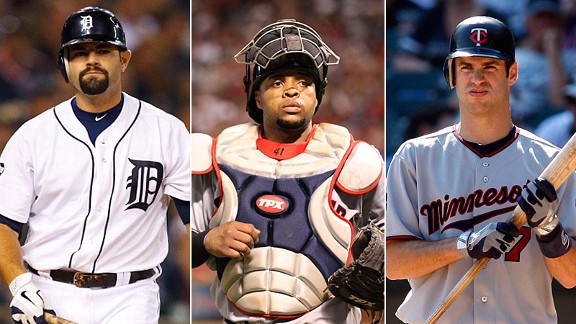 US PresswireWith Alex Avila, Carlos Santana and Joe Mauer, the AL Central is loaded at catcher.
We're back with more divisional position rankings for 2012. You can scream, you can holler, you can protest and call me names. But just because I rated your player lower than you think he deserves doesn't mean I hate your team.
(Here are the
NL East
and
NL West
rankings.)
Catcher
1.
Alex Avila
, Tigers
2.
Joe Mauer
, Twins
3.
Carlos Santana
, Indians
4.
Salvador Perez
, Royals
5.
A.J. Pierzynski
, White Sox
The AL Central might not be baseball's glamor division, but it may have three of the top five catchers in the game if Mauer bounces back from his injury-plagued campaign. Since we're not certain of his health, I'm going to give top billing to Avila, who had the best hitting numbers of any catcher outside of
Mike Napoli
and plays solid defense. I wouldn't be surprised if Santana explodes; with his power-and-walks combo, all he has to do is raise his average 30 points and he'll be one of the most valuable players in the game. Considering that his average on balls in play was .263, there is a good chance of that happening. Perez hit .331 in 39 games; OK, he won't do that again, but he doesn't turn 22 until May and puts the ball in play. There's no shame in being fifth in this group but that's where I have to place Pierzynski, who keeps rolling along and is now 36th on the all-time list for games caught.
First base
1.
Prince Fielder
, Tigers
2.
Paul Konerko
, White Sox
3.
Eric Hosmer
, Royals
4.
Justin Morneau
, Twins
5.
Matt LaPorta
, Indians
In 2009, when Morneau played 135 games, he hit .274 AVG/.363 OBP/.516 SLG. Even if he replicates that line, he may rank only fourth. Konerko has hit a combined .306 with 70 home runs the past two seasons. He's 104 home runs from 500 but turns 36 in March, so he's probably four seasons away; not sure he'll hang on that long, but who knew he'd be this good at this age. If Hosmer improves his walk rate and defense and Konerko declines, Hosmer could climb past him. If it doesn't happen this year, it will happen next. The most similar batter to him at age 21: Eddie Murray.
Second base
1.
Jason Kipnis
, Indians
2.
Gordon Beckham
, White Sox
3.
Johnny Giavotella
, Royals
4.
Alexi Casilla
, Twins
5.
Ramon Santiago
, Tigers
Well, this isn't exactly a
Robinson Cano
/
Dustin Pedroia
/
Ben Zobrist
debate, is it? Kipnis' bat is a sure thing, as evidenced by his excellent play after his call-up (.272 average and .507 slugging in 36 games). His glove was once a question mark but now appears solid enough that he looks like a future All-Star to me. Can anybody explain what has happened to Beckham? He's second mostly by default; he's gone downhill since his superb rookie season in 2009 but is only 25, so there's hope that he'll find those skills again. Giavotella has some potential with the bat (.338/.390/.481 at Triple-A), which is more than you can say for Casilla and Santiago.
Third base
1.
Miguel Cabrera
, Tigers
2.
Mike Moustakas
, Royals
3.
Lonnie Chisenhall
, Indians
4.
Danny Valencia
, Twins
5.
Brent Morel
, White Sox
We'll go with the idea that Cabrera is Detroit's starting third baseman, although I predict he'll end up starting more games at designated hitter. Manager Jim Leyland will end up doing a lot of mixing of his lineups, but for this little exercise we have to choose a starter. Moustakas didn't tear up the league as a rookie and I worry about his ability to hit lefties (.191, homerless in 89 at-bats), but he showed more than fellow rookies Chisenhall and Morel. Valencia doesn't get on base enough and he rated poorly on defense in 2011. I hope he's at least good in the clubhouse. Morel was terrible all season and then exploded for eight of his 10 home runs in September and drew 15 walks after drawing just seven the previous five months. Maybe something clicked.
Shortstop
1.
Asdrubal Cabrera
, Indians
2.
Alexei Ramirez
, White Sox
3.
Jhonny Peralta
, Tigers
4.
Alcides Escobar
, Royals
5.
Jamey Carroll
, Twins
Peralta had the best 2011 season, but he's a difficult guy to project. He had an .804 OPS in 2008 but dropped to .691 in 2009. He had a .703 OPS in 2010 and then .823 in 2011. I just don't see a repeat season, at the plate or in the field. Cabrera didn't rate well on the defensive metrics, and after a strong start he wore down in the second half. Ramirez has turned into a nice player, with a good glove and some power, and he even draws a few walks now. Escobar is a true magician with the glove. Carroll is actually a useful player who gets on base (.356 career OBP), but he's pushed as an everyday shortstop and he'll be 38. He'll be issued the honorary
Nick Punto
locker in the Twins' clubhouse.
Left field
1.
Alex Gordon
, Royals
2.
Alejandro De Aza
, White Sox
3.
Ben Revere
, Twins
4.
Michael Brantley
/
Shelley Duncan
, Indians
5.
Ryan Raburn
/
Don Kelly
, Tigers
I'm not sure what to do here. After Gordon, I just get a headache. We'll pretend to believe in De Aza after his impressive stint in the majors (171 plate appearances, .329/.400/.920). He's hit in Triple-A for three seasons now, and while he's not going to post a .400 OBP again, he should be adequate. Revere is one of the fastest players in the majors, but he's all speed and defense; he hopes to grow up to be
Brett Gardner
, which isn't a bad thing, but he'll have to learn to get on base at a better clip. Brantley doesn't have one outstanding skill so he'll have to hit better than .266 to be anything more than a fourth outfielder; Duncan provides some right-handed pop as a platoon guy. The Tigers have
Delmon Young
, but I'll slot him at DH. That leaves supposed lefty masher Raburn and utility man Kelly to soak up at-bats; both had an OBP below .300 in 2011, although Raburn has hit better in the past.
Center field
1.
Austin Jackson
, Tigers
2.
Denard Span
, Twins
3.
Grady Sizemore
, Indians
4.
Lorenzo Cain
, Royals
5.
Alex Rios
, White Sox
I can't rate Sizemore any higher since he's played just 104 games over the past two seasons, and he hasn't had a big year since 2008. Rios was terrible in '09, OK in '10 and worse than terrible in '11. I'm not betting on him.
Right field
1.
Shin-Soo Choo
, Indians
2.
Brennan Boesch
, Tigers
3.
Jeff Francoeur
, Royals
4.
Josh Willingham
, Twins
5.
Dayan Viciedo
, White Sox
Choo would like to forget 2011, but there's no reason he shouldn't bounce back and play like he did in 2009 and 2010, when he was one of the 10 best position players in the AL. I don't expect Francoeur to deliver 71 extra-base hits again, but maybe he'll surprise us. Viciedo is apparently nicknamed "The Tank," which makes me wonder how much ground he can cover. He did improve his walk rate last season in the minors and turns 23 in March, so there's still room for more growth.
Designated hitter
1.
Billy Butler
, Royals
2.
Travis Hafner
, Indians
3.
Ryan Doumit
, Twins
4. Delmon Young, Tigers
5.
Adam Dunn
, White Sox
Has there been a bigger prospect disappointment than Young in the past decade? I mean, yes, there were complete busts like
Brandon Wood
and
Andy Marte
, but those guys had obvious holes in their games, while Young was viewed as a
sure thing
, a consensus No. 1 overall prospect. But his bat has never lived up to its billing. Other than one decent year in Minnesota, he has low OBPs and he clearly lacked range in the outfield. His career WAR on Baseball-Reference is minus-0.2 (1.6 on FanGraphs), meaning he's been worse than replacement level. He's just not that good, Tigers fans.
No. 1 starter
1.
Justin Verlander
, Tigers
2.
John Danks
, White Sox
3.
Justin Masterson
, Indians
4.
Luke Hochevar
, Royals
5.
Carl Pavano
, Twins
Masterson was better than Danks in 2011, and I do believe his improvement was real. He absolutely crushes right-handers -- they slugged an anemic .259 off him. Danks had two bad months but has the longer track record of success. Even in his "off year" he had a higher strikeout rate and lower walk rate than Masterson. If you want to argue about Hochevar versus Pavano, be my guest.
No. 2 starter
1.
Doug Fister
, Tigers
2.
Ubaldo Jimenez
, Indians
3.
Gavin Floyd
, White Sox
4.
Francisco Liriano
, Twins
5.
Jonathan Sanchez
, Royals
Yes, sign me up for the Doug Fister bandwagon club. Jimenez's fastball velocity was down a couple miles per hour last season but the positives are that his strikeout and walk rates were identical to 2010; he'll be better. Floyd isn't flashy but he's now made 30-plus starts four years in a row, and he'll become a very rich man when he becomes a free agent after this season. Sanchez won't have the luxury of pitching in San Francisco (and to eight-man NL lineups).
No. 3 starter
1.
Max Scherzer
, Tigers
2.
Scott Baker
, Twins
3.
Philip Humber
, White Sox
4.
Bruce Chen
, Royals
5.
Josh Tomlin
, Indians
I could be underrating Baker, who was excellent last season, but only once in his career has he made 30 starts in a season. Tomlin's fans will disagree with this ranking, but he's a finesse guy who relies on the best control in baseball (21 walks in 26 starts). He's the kind of guy you root for, but the league seemed to figure him out as the season progressed.
No. 4 starter
1.
Felipe Paulino
, Royals
2.
Rick Porcello
, Tigers
3.
Jake Peavy
, White Sox
4.
Derek Lowe
, Indians
5.
Nick Blackburn
, Twins
Scouts still love Porcello's arm and I know he's just 23, but he's made 89 big league starts and shown no signs of getting better. His WHIP has increased each season and his strikeout rate remains one of the lowest in baseball. Paulino has an electric arm -- he averaged 95 mph on his fastball -- and
is
getting better. How could the Rockies give up on him after just 14 innings? How could the Astros trade him for
Clint Barmes
? Anyway, kudos to the Royals for buying low on the guy who may turn into their best starter. Peavy can't stay healthy. Lowe has led his league in starts three out of the past four seasons, but I'm not sure that's a good thing anymore. Blackburn is a poor man's Lowe, and I don't mean that in a good way.
No. 5 starter
1.
Chris Sale
, White Sox
2.
Jacob Turner
, Tigers
3.
Aaron Crow
/
Danny Duffy
, Royals
4.
Fausto Carmona
/
David Huff
/
Jeanmar Gomez
, Indians
5.
Brian Duensing
/
Jason Marquis
, Twins
Welcome to the AL Central crapshoot. Turner and Sale have the most upside, but one is a rookie and the other is converting from relief. Crow will also be given a shot at the rotation, but his difficulties against left-handed batters (.311 average allowed) don't bode well for that transition. Even if the artist formerly known as Carmona gets a visa, what do you have? A guy with a 5.01 ERA over the past four seasons. Duensing is another typical Twins pitcher, which means he at least throws strikes. His first full season in the rotation didn't go well, so of course the Twins brought in Marquis, yet another guy who doesn't strike anybody out.
Closer
1.
Jose Valverde
, Tigers
2.
Joakim Soria
, Royals
3.
Matt Thornton
, White Sox
4.
Chris Perez
, Indians
5.
Matt Capps
, Twins
Four good relievers plus Matt Capps. I do admit I'm a little perplexed by Perez, however. In 2009, he struck out 10.7 batters per nine innings. In 2010, that figure fell to 8.7 but he posted a pretty 1.71 ERA. In 2011, it was all the way down to 5.9, but without much improvement in his control. Perez blew only four saves but he did lose seven games. He survived thanks to a low .240 average on balls in play. He's an extreme fly-ball pitcher but didn't serve up many home runs. Bottom line: I'd be nervous.
Bullpen
1. Indians --
Vinnie Pestano
,
Rafael Perez
,
Tony Sipp
,
Joe Smith
,
Nick Hagadone
2. Royals --
Jonathan Broxton
,
Greg Holland
,
Louis Coleman
,
Tim Collins
,
Jose Mijares
3. Tigers --
Joaquin Benoit
,
Octavio Dotel
,
Phil Coke
,
Daniel Schlereth
,
Al Alburquerque
4. White Sox --
Jesse Crain
,
Jason Frasor
,
Will Ohman
,
Addison Reed
,
Dylan Axelrod
5. Twins --
Glen Perkins
,
Alex Burnett
,
Anthony Swarzak
,
Kyle Waldrop
,
Lester Oliveros
If you're starting to think I'm not high on the Twins for this season, you would be correct.
Intangibles
1. Royals
2. Indians
3. Tigers
4. White Sox
5. Twins
I like the youthful exuberance of the Royals, plus the likelihood of improvement from the young players and the possibility of some midseason reinforcements from the minors. The depth of the bullpen will help bolster a shaky rotation, and this just feels like an organization that is finally starting to believe in itself. The Indians are riding last year's positive results and enter the season knowing they might get better production from Choo and Sizemore and full seasons from Kipnis and Chisenhall. I'm not knocking the Tigers here, but they do lack depth in the pitching staff and the pressure is on them.
The final tally
1. Tigers, 65 points
2. Royals, 55 points
3. Indians, 54 points
4. White Sox, 46 points
5. Twins, 35 points
No surprise here: The Tigers will be heavy favorites to win the division with a lineup that should score a ton of runs. I don't think it's a lock that they'll win -- Verlander, Avila, Peralta and Valverde will all be hard-pressed to repeat their 2011 campaigns, for example. But the Royals and Indians appear to have too many questions in the rotations, the White Sox have serious lineup issues, and the Twins have a beautiful ballpark to play their games in.
December, 1, 2011
12/01/11
9:35
AM ET

The American League Central may have a reputation as baseball's skinflint division, but such is not the case: The White Sox, Twins and Tigers each had payrolls over $100 million in 2011 and ranked in the top 10 of highest-salaried ballclubs.
The problem was that two of those three teams didn't get much for their money. Considering the issues in Chicago and Minnesota, and the youth and unwillingness to spend big in Cleveland and Kansas City, Detroit will enter 2012 as the heavy favorite to win the division -- no matter what happens in the offseason. But even the Tigers are far from a sure thing and if the Indians can get good health from
Shin-Soo Choo
and
Grady Sizemore
in 2012, plus strong seasons from youngsters
Jason Kipnis
and
Lonnie Chisenhall
, their offense could be dramatically improved.
But that's getting ahead of ourselves. Here's a quick look at some action plans and items of interest for the five teams.
Detroit Tigers
1. Third base (
Brandon Inge
)
With Inge plummeting to a .197 average, Detroit's third-base production was among the worst in the majors. The team has already been linked to free agent
Aramis Ramirez
and trade discussions with Angels on
Maicer Izturis
. Both would be big upgrades over Inge, who still has one year remaining on his contract. The dark horse possibility: With
Carlos Guillen
($13 million) and
Magglio Ordonez
($10 million) off the books, the Tigers pursue
Jose Reyes
to fill their leadoff void, moving
Jhonny Peralta
to third base.
Likely solution: As much I love the Reyes idea, Ramirez to Detroit seems like a logical fit. The negatives are Ramirez's lack of range and Detroit's need for a little more athleticism in the lineup.

2. Middle relief
By the postseason, Jim Leyland was down to two relievers he trusted:
Jose Valverde
and
Joaquin Benoit
.
Al Alburquerque
had a strong rookie season out of nowhere and
Phil Coke
and
Daniel Schlereth
provide rare power lefty arms, but Albuquerque and Schlereth still have trouble throwing strikes. The Tigers could go after a low-cost veteran like
LaTroy Hawkins
,
Mike Gonzalez
or
Darren Oliver
, or maybe make a trade pitch for White Sox lefty
Matt Thornton
, although it seems unlikely Chicago would trade Thornton to a division rival.
Likely solution: A veteran righty-hander, with the Tigers counting on improvement from Coke and Schlereth.
3. A left-handed bat.
The Tigers missed
Brennan Boesch
's stick in the playoffs, as
Victor Martinez
and the hobbled
Alex Avila
were the only threats from the left side (granted,
Don Kelly
hit a big home run). Boesch's return will help, but Detroit could use a lefty bat to help balance out the lineup.
Likely solution:
Andy Dirks
may given another shot at that third/fourth outfielder job after hitting .251/.296/.406 as a rookie. But what about Rockies left fielder
Seth Smith
, who is on the trade block? His career .518 slugging percentage against righties has been bolstered a bit by Coors Field, but he's a solid hitter who could platoon with
Ryan Raburn
in left, or allow Raburn to play some at second base.
Cleveland Indians

1. Find a left fielder who can hit.
Michael Brantley
is a decent asset -- but as a center fielder. The plan to use Brantley as an everyday left fielder was never a great one to begin with, as he's never going to pop many balls over the fence. Brantley,
Austin Kearns
,
Shelley Duncan
and
Travis Buck
all started at least 20 games in left; Jared Head started six games there. As a group, Cleveland's left fielders hit a miserable .233 with seven home runs; only Baltimore and Minnesota received a lower OPS from their left fielders.
Likely solution: Signing
Grady Sizemore
doesn't necessarily push Brantley back to a starting role in left field. He's best used as a fourth outfielder and Sizemore insurance.
Michael Cuddyer
may end up getting priced out of Cleveland's range, so how former Twins teammate
Jason Kubel
? He can play left and step in as designated hitter when
Travis Hafner
suffers his inevitable breakdown.
2. Find at least one more starter.
Right now, the Indians can only count on
Justin Masterson
and
Ubaldo Jimenez
for their rotation.
Carlos Carrasco
is out for the season following Tommy John surgery,
Fausto Carmona
was terrible and even
Josh Tomlin
is a question mark after the league caught up to him in the second half (5.26 ERA).
Likely solution:
Jeanmar Gomez
has been roughed up in two stints in the majors (146 hits in 116 innings), but his Triple-A numbers were solid, if unspectacular. He'll be given another chance in spring training to battle
David Huff
for a rotation spot.
3. If not
Matt LaPorta
, who plays first base?
The big prospect acquired in the
CC Sabathia
deal, LaPorta just hasn't hit as expected, posting a .299 on-base percentage in 2011. The Indians seem ready to punt on LaPorta, who turns 27 in January so isn't even that young.
Carlos Santana
ended up playing a lot of first base down the stretch, but let's hope he's kept behind the plate, where his hitting value would be maximized.
Likely solution: If free agent
Carlos Pena
lowers his price, he's a possibility, and the Indians reportedly talked with Houston about
Brett Wallace
. I'm not sure Wallace is much of an upgrade over LaPorta, but at least he's younger.
Casey Kotchman
could fit nicely here as lower-cost alternative after posting a .378 OBP with Tampa. And hey, he's only two years older than LaPorta.
Chicago White Sox

1. What do you do with
Adam Dunn
and
Alex Rios
?
Dunn hit .159 with a .569 OPS. Rios hit .227 with a .613 OPS. Dunn was the least-valuable position player in baseball, according to Baseball-Reference.com, while Rios was seventh-worst. They made $24 million in 2011 and will make a combined $26 million in 2012. Both are signed through 2014.
Likely solution: General manager Kenny Williams will be busy during the winter meetings, perhaps shopping around guys like
Gavin Floyd
,
John Danks
and Matt Thornton, looking for some sort of backup plan to these two pieces of junk. The 40-man roster currently includes
Alejandro De Aza
, who probably deserves a chance to play somewhere after a nice run (if over his head) last season. Let's put it this way: he can produce an OPS higher than .613.
2. Third base (
Brent Morel
)
After struggling all season, hitting .250 with just two home runs and seven walks in 328 at-bats through August, Morel suddenly changed his approach in September, got more patient and swung for the fences. He hit just .224 the final month, but with eight home runs and 15 walks. Was it a legitimate improvement, or merely feasting off September tired arms and rookie call-ups?
Likely solution: Morel's hot September earns him another shot.
3. The new manager
This isn't so much an action plan, as a big question mark. Robin Ventura has no previous managerial experience, but the good sign for the White Sox is that respected pitching coach Don Cooper is still around to handle the pitching staff.
Likely solution: If Dunn and Rios stink it up again, it won't matter how well Ventura transitions into the job -- he'll be doomed.
Kansas City Royals

1. Fix the rotation
The Royals had a 4.82 ERA from their starters; only Baltimore was worse in the American League.
Likely solution: The Royals already made a move here, trading
Melky Cabrera
to the Giants for
Jonathan Sanchez
. The club also re-signed
Bruce Chen
. With the signing of
Jonathan Broxton
, and the emergence of rookie relievers
Greg Holland
,
Louis Coleman
and
Tim Collins
in 2011, fellow 2011 rookie
Aaron Crow
will be given a shot at the rotation. I have my doubts it will work: Crow walked 31 in 62 innings out of the bullpen and left-handed hitters tagged him for a .311 average and .538 slugging percentage. There's a reason he struggled in the minors as a starter in 2010 (5.73 ERA). He has a great arm, but won't be able to rely on his fastball/slider combo as a starter.
2. Second base (
Chris Getz
)
Royals second basemen posted a .301 OBP and .636 OPS (26th in the majors) in 2011.
Likely solution: Rookie
Johnny Giavotella
played the final two months there and hit .247 with a .649 OPS. He'll head into spring training as the favorite to win the job. He hit .338/.390/.481 at Triple-A, so the batting potential is there: Bill James projects him to hit .295/.342/.419.
3. Center field (empty -- Cabrera traded)
The Royals were smart to deal Cabrera after his career season.
Likely solution:
Lorenzo Cain
, acquired from Milwaukee in the
Zack Greinke
trade, will finally get a chance to play after spending 2011 in Triple-A. Cain is old for a guy still considered a prospect -- he turns 26 in April -- so he should be a polished product by now. He showed some power for the first time in his career, hitting 16 home runs for Omaha while batting .312. He doesn't walk much, so won't be a star, but should come closing to matching Cabrera's 2011 production.
Minnesota Twins

1. The M & M boys
After 2011's train wreck -- the club's first 90-loss season since 2000 (and at 99 losses, the most the 1982 Twins lost 102) -- it seems pretty clear this team will be dead in the water again unless
Joe Mauer
and
Justin Morneau
get healthy and regain their All-Star status. But they also can't assume these guys are going to play 140-plus games.
Likely solution: Obviously, the Twins need a better backup plan for Mauer than giving .167-hitting
Drew Butera
250 plate appearances. They already accomplished with the smart signing of
Ryan Doumit
to a one-year deal for $3 million. Doumit can catch or play right field, but his bat is good enough to warrant a regular place in the lineup even when he's not behind the plate. Of course, he's also been injury-prone throughout his career. Prospect Chris Parmalee, who impressed in a September call-up, gives the team a potentially decent backup option for Morneau as well.
2. Right field: Empty (Michael Cuddyer, free agent)
For all the attention Cuddyer is getting, let's remember that he's really just a complementary bat on a good team. Unfortunately, considering some of the other outfielders the Twins tried last season --
Rene Tosoni
,
Jason Repko
,
Trevor Plouffe
-- you realize they had nobody in the upper levels of the system.
Likely solution: Doumit may factor into their plans here, but regardless, the Twins need another bat to play a corner or DH. Smith is a trade option and free agent
Josh Willingham
is another possibility.
3. Closer: Empty (
Matt Capps
and
Joe Nathan
, free agents)
Nathan signed with Texas while GM Terry Ryan recently told the St. Paul Pioneer Press that it's likely Capps could return.
Likely solution: Capps was terrible last year, allowing 10 home runs in 65.2 innings while striking out just 4.7 hitters per nine innings. Two years ago, he had a 5.80 ERA. I can't fathom why any team would want to make Capps its closer. Sadly, however, the rest of the Minnesota bullpen is nearly as uninspiring (as is the rotation, but I don't have room to get to them here), but Capps throws strikes and there's nothing the Twins love more than a pitcher who throws strikes (velocity are ability to miss bats don't seem to be a factor). There's no reason for this team to spend big money on one of the remaining free-agent closers, so it probably will be Capps or lefty
Glen Perkins
.