January, 24, 2014
Jan 24
10:00
AM ET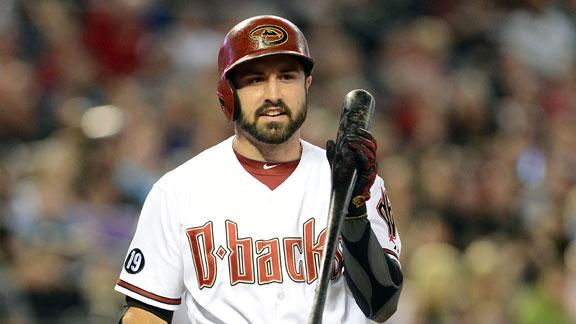 These are 10 players I like heading into the season, five position players and five pitchers. I'm calling them breakout candidates, although if you're a fantasy player, you already know about them. You always have to be wary about projecting too much growth in a young player -- many fantasy owners have been ruined by falling prey to prospect hype -- but these are 10 young players I'd love to have in 2014.
Jedd Gyorko, 2B, San Diego Padres:
He had an impressive rookie season with 23 home runs in 125 games, although a .249 average and .301 on-base percentage leaves room for improvement. Still, his season went pretty unrecognized for several reasons: (1) He plays for the Padres, and (2) it was such a strong rookie class in the National League that there wasn't much attention left over after
Jose Fernandez
,
Yasiel Puig
,
Shelby Miller
and
Julio Teheran
; (3) His splits made for an odd season, as he hit .272 with eight home runs in the first half, .226 with 15 home runs in the second half.
Gyorko needs to consolidate those two approaches. Some of that difference came from a big split in BABIP -- .325 in the first half and .245 in the second half, but he did start chasing more pitches out of the strike zone in the second half (34 percent compared to 30 percent). He was a .321 hitter in the minors, so if he can reign in the over-aggressiveness just a bit I think his average and OBP will come up. He hit 13 of his 23 home runs at Petco and hit 30 in the minors in 2012, so the power is definitely legit.
Didi Gregorius, SS, Arizona Diamondbacks:
When Kevin Towers acquired Gregorius from the Reds last offseason in a three-team deal, the trade was widely criticized since Arizona surrendered
Trevor Bauer
, the third overall pick in the 2011 draft. But Towers loved Gregorius' defense and Bauer had worn out his welcome in Arizona. Gregorius missed some time with injuries as a rookie but showed more potential with the bat than many expected, hitting .252/.332/.372, and showing the ability to turn on some pitches with seven home runs.
He's never going to be an offensive star, but he puts the ball in play, and if he can improve against left-handers (.200/267/.245), his numbers will look pretty good for a shortstop. If his defensive proves to be as strong as Towers sold us on them (the defensive runs saved metric had him at minus-1 run in 2013), he has a chance to be a very good player. His fantasy value may be limited by his lack of offensive skills, but I believe Gregorius can turn into a championship-caliber shortstop.
Kole Calhoun, RF, Los Angeles Angels:
A big reason the Angels felt they could trade
Mark Trumbo
for pitching depth was the emergence of Calhoun, who hit .282/.347/.462 in 222 plate appearances. He's older (26), so his star potential is limited. He has a decent approach at the plate and could hit 15 to 20 home runs. A left-handed batter, he has handled lefties well enough that he doesn't necessarily have to be platooned.
Josmil Pinto, C, Minnesota Twins:
You never want to count too much on a young catcher -- we've seen top hitting prospects like
Devin Mesoraco
and
Jesus Montero
struggle mightily at the big league level -- but the Twins are moving
Joe Mauer
to first base due to their confidence in Pinto. His 21-game stint in the majors was obviously impressive (.342, five doubles and four home runs in 83 plate appearances) but he has hit very well the past two seasons in the minors, including a .309/.400/.482 line between Double-A and Triple-A in 2013. I like his discipline -- 66 walks, 83 strikeouts in the minors -- and his arm is solid (threw out five of 11 basestealers with the Twins). The Twins brought in veteran
Kurt Suzuki
, but playing him would be a mistake. Pinto needs to get 450 to 500 plate appearances as the regular catcher. I think he'll hit enough and play well enough behind the plate to give manager Ron Gardenhire little option but to do just that.
Anthony Rendon, 2B, Washington Nationals:
No surprise here. Everyone has expected Rendon to hit since his college days at Rice. The big question with him has always been staying on the field. Injuries limited him to 43 games in the minors in 2012, but he stayed relatively healthy last season, playing 134 games between the minors and the majors. He may end up being more of a doubles guy with a good average than a big power hitter, but either way he's going to provide value at the plate. Rendon has good balance, quick wrists and he walked more than he struck out in the minors, an approach that should help him improve on the .265 average he hit as a rookie. His defensive transition to second base still needs work, but he's athletic enough to be acceptable.
With Rendon and
Bryce Harper
-- heck, I could have put Harper on the list except he's already such a big name -- the Nationals should score more than the 656 runs they tallied a season ago.
Nate Eovaldi, P, Miami Marlins:
Among pitchers who threw at least 100 innings in 2013, guess who had the highest average velocity on the fastball? Yep, this guy. Eovaldi averaged 96.2 mph on his heater, one of just four starters to average 95-plus, along with
Gerrit Cole
,
Matt Harvey
and
Stephen Strasburg
. It's a good weapon and proved to be a fairly effective pitch for him; he allowed a lower OPS on his fastball than
Zack Greinke
,
Julio Teheran
,
Anibal Sanchez
,
Adam Wainwright
and
Felix Hernandez
. Eovaldi still needs to improve his command, but more importantly needs to refine his secondary pitches. He threw his fastball 1,189 times out of 1,696 total pitches, relying little on his slider or curveball. He needs to turn one of those pitches into more of a strikeout pitch. He did have some shoulder problems at the start of 2013 but was fine after that. He turns 24 in February, and with 46 career starts under his belt, he's young enough to put everything together.
James Paxton, P, Seattle Mariners:
Taijuan Walker
is the Mariners' rookie starter who has received most of the attention on prospect lists, but Paxton may be more ready for the majors. A lefty with good size at 6-foot-4, Paxton brings a good fastball (he averaged 94.8 mph in his four-start stint in September in which he held batters to a .172 average) along with a curve and changeup, although with a history of shaky command. His Triple-A numbers aren't impressive -- 4.45 ERA, 158 hits in 145.2 innings -- but were better in the second half. The Mariners were a terrible defensive team last year and could be again this year, especially if they end up adding
Nelson Cruz
in the outfield alongside
Corey Hart
or
Logan Morrison
, so keep that in mind. A shaky defense can hurt a young pitcher's confidence and force him to start nibbling at the corners too much.
Corey Kluber, P, Cleveland Indians:
Kluber was pretty good in 2013 -- 3.85 ERA in 147 innings -- so this is confirmation bias as much as anything. Originally a fourth-round pick of the Padres way back in 2007, Kluber came to Cleveland in the three-way trade that sent
Jake Westbrook
to the Cardinals. He finally put everything together in 2013, improving his command and cutting his walks way down. He finished with 136 strikeouts and 33 walks, a 4.1-to-1 ratio, the sixth best in the American League behind guys named
David Price
,
Chris Sale
,
Felix Hernandez
,
Hisashi Iwakuma
and
Max Scherzer
. I'm not saying he's as good as those guys, but he's not just a finesse guy who lucked into a good year, as he owns a solid fastball (93.1 mph average velocity) and terrific curve. Batters hit .196 off it with just two home runs, 50 strikeouts and no walks.
Here's an examination
of Kluber's improvement, which even spawned the Corey Kluber Society.
Yordano Ventura, P, Kansas City Royals:
He'll rank high on prospect lists heading into the season with his high-octane heater. The Royals believed enough to give him three starts down the stretch with the club battling for a wild-card spot. Ventura isn't a lock for the rotation --
James Shields
,
Jeremy Guthrie
and
Jason Vargas
are locks, with
Danny Duffy
and
Wade Davis
also in the mix -- but the Royals should go with the potential upside of Ventura over Duffy or Davis. Ventura struck out 155 in 134.2 innings between Double-A and Triple-A and while the curveball and changeup are still works in progress, it's the fastball, which hit 101.9 mph with the Royals, that should make him an effective starter as a rookie.
Erik Johnson, P, Chicago White Sox:
A second-round pick out of Cal in 2011, Johnson dominated the high minors, posting a 1.96 ERA and allowing just 100 hits in 142 innings. He mixes in a four-seamer and two-seamer with an upper-80s slider that neutralizes right-handed batters. He needs to improve his curveball and/or changeup to become more effective against lefties and pitching in The Cell, where the ball flies, isn't easy, so don't expect a low ERA from him. But he could develop into a middle-rotation type of starter, part of a suddenly interesting young core in Chicago that includes
Jose Abreu
,
Adam Eaton
and
Avisail Garcia
.
June, 2, 2013
6/02/13
12:40
AM ET
By
Christina Kahrl
| ESPN.com
When it comes to this year's rookies, as fans I think we sort of came into this season like the kid at Christmas the year after you got the bike
and
the pony, or the new car
and
the Red Ryder BB gun. Because, let's face it, the year after
Mike Trout
and
Bryce Harper
arrived on the scene had to be something of a letdown, right?
Turns out, not so much, at least not in the National League. The difference is that this year the kids are all right on the mound.
Hyun-Jin Ryu
has been one of the few bright spots on a Dodgers team desperate for something worth bragging about beyond its price tag. But the Cardinals'
Shelby Miller
just got his ERA down to 1.82, almost a full run lower than Ryu's, while catching the Korean southpaw in the win column for at least a day, what with Ryu set to take the mound Sunday.
It's a showdown between a pair of outstanding candidates who press many of the hot-button issues about Rookie of the Year voting every season. Some fans -- and perhaps more than a few voters -- might favor the future value they anticipate when they see Miller. Some might have qualms about voting for a foreign leagues veteran, MLB-rookie status or no. But as long as Miller keeps pitching like a man who belongs with teammate
Adam Wainwright
in the conversation on who the best pitcher in the league might be, two months into the season it's Miller's race to win -- if he pitches all year.
[+] Enlarge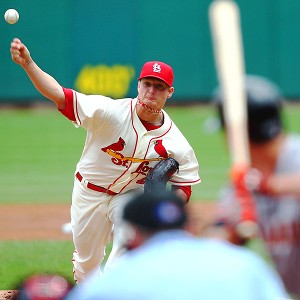 Dilip Vishwanat/Getty ImagesShelby Miller improved to 6-3, and lowered his ERA to 1.82, in the Cardinals' win over the Giants.
That said, it
is
a long season, and as the Nationals' decision to shut down
Stephen Strasburg
in 2012 reflected, pitchers might be excused for factors that have nothing to do with performance.
Happily, the NL field for first-year talent is wider than that tandem, even as Miller and Ryu contend for headlines. Just from among the hurlers,
Jose Fernandez
might have to labor in relative obscurity with the Marlins, marooned in the depths of a new-park hangover that has many Miami fans and voters asking themselves the coyote-ugly question about their franchise a year or two too late. But that has nothing to do with Fernandez's talent, on full display as he mowed down Mets on Saturday. Like Miller, he's striking out more than a man per inning, good enough to put him in the top 10 among NL starters in K/9. If it weren't for Ryu
and
Miller, even in the spring of
Matt Harvey
, we'd be talking about Fernandez a lot more. So you can imagine how
Julio Teheran
, doing well as a rotation regular on a first-place Braves team, feels.
This year, you can really only say one NL rookie position player is generating anything like the same buzz. Atlanta's
Evan Gattis
deserves the love he's getting, not for the backstory but for the production. This is not
Chris Coste
2.0 -- not that a guy like Coste wasn't as easy to root for as Gattis, but when you're slugging north of .600 two months into the season, you're not a passing fancy, you're somebody hitting so well that demoting an eight-figure salary becomes
something more than merely speculative
.
Gattis is doing for position players what Miller and Ryu have done for the pitchers in terms of sucking all the oxygen out of the room. As a result,
Jedd Gyorko
of the Padres might not merit more than a courtesy mention now, but I wouldn't count him out over the next four months. Gyorko has the power to slug .450 or better despite having to call Petco Park home as a rookie; if he cranks 60 extra-base hits while helping the Padres finish around .500, that's an amazing season.
You could say much the same for the pair of rookies starting up the middle for the Diamondbacks. However overmuch attention has been given to Kirk Gibson's clubhouse makeover or the likely big-picture penalties for trading away
Justin Upton
, the work Arizona is getting from
Didi Gregorius
at shortstop (and
A.J. Pollock
in center field) has helped propel the Snakes to first place in the NL West. As easy as it might be to say Gregorius has been helped by the D-backs' bandbox ballpark, three of his four homers have come on the road. If he starts slugging at home, too, how do you count out a slick-fielding shortstop with power on a first-place team?
Even with their delayed call-ups, by this time last year Trout and Harper had already been strutting their stuff. Trout was putting up an .887 OPS for an Angels lineup that needed all the help it could get overcoming
Albert Pujols
' slow start. Harper was hitting .274/.357/.504 in a little more than a month. They might not have been brought up until the end of April, but you already knew we were in for something special. But this year's class? Its players might not compare directly, but they're doing more than enough to pay attention to, now and down the stretch.
The American League, on the other hand ... well, you have to give the Rangers some unexpected due. I don't know if anyone really expects
Justin Grimm
or
Nick Tepesch
to still be in this conversation at the end of June, let alone September, but their contributions have clearly helped keep the Rangers' riding to the league's best record. But
Conor Gillaspie
?
Yan Gomes
? That they're among the top WAR-generating rookies in the AL so far just means that nobody has shown enough, for long enough, with the expectation that he'll still have a job at the All-Star break. I wouldn't rule out
Nick Franklin
or
Jurickson Profar
in partial seasons. I also wouldn't rule out that the eventual AL Rookie of the Year hasn't been called up yet. Or possibly even drafted yet -- who said Christmas comes just once per year?
Christina Kahrl covers baseball for ESPN.com. You can follow her on Twitter.
March, 31, 2013
3/31/13
12:30
PM ET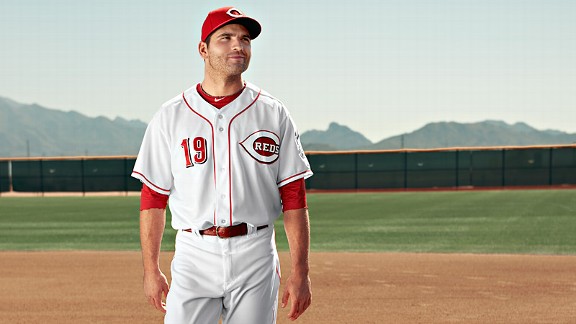 Dylan Coulter for ESPN The MagazineDoes Joey Votto see his second NL MVP Award in his future?
Earlier, the SweetSpot bloggers overwhelmingly supported
Mike Trout
for
AL MVP
and
Justin Verlander
for the AL Cy Young Award. Let's see how the predictions line up in the NL.
MOST VALUABLE PLAYER
For the second straight, the SweetSpot bloggers select Reds first baseman
Joey Votto
as their MVP favorite. Votto won pretty easily, collecting 24 of the 47 first-place votes, with the other 23 distributed among nine different players. Nationals outfielder
Bryce Harper
has big expectations in his sophomore season and he finished second in the balloting, ahead of
Ryan Braun
and
Buster Posey
, the past two MVPs. Will the Pirates make the playoffs?
Andrew McCutchen
actually received the second-most first-place votes but finished fifth in the vote.
Points on a 14-9-8-7-6 basis.
1. Joey Votto, 524 points (24 first-place votes)
2. Bryce Harper, 271 points (3)
3. Ryan Braun, 238 points (2)
4. Buster Posey, 212 points (3)
5. Andrew McCutchen, 196 points (6)
6.
Jason Heyward
, 148 points (2)
7.
Matt Kemp
, 139 points (4)
8.
Justin Upton
, 120 points (1)
9.
Giancarlo Stanton
, 65 points (1)
10.
Adrian Gonzalez
, 36 points (1)
Others --
Troy Tulowitzki
(34 points),
Paul Goldschmidt
(24),
David Wright
(24),
Allen Craig
(19),
Ryan Zimmerman
(14),
Matt Holliday
(7),
Jay Bruce
(6),
Brandon Belt
(6),
Carlos Gonzalez
(6).
CY YOUNG
The bloggers predict a two-way Cy Young race between Dodgers lefty
Clayton Kershaw
-- who won the award in 2011 and finished second last year -- and Nationals right-hander
Stephen Strasburg
, coming off a 15-6, 3.16 season in 28 starts. He received one more first-place vote than Kershaw, but Kershaw had more down-the ballot support to edge ahead. Six other pitchers received first-place votes, showing the depth of great starters in the NL.
Points on a 7-4-3 basis.
1. Clayton Kershaw, 229 points (18 first-place votes)
2. Stephen Strasburg, 214 points (19)
3.
Cole Hamels
, 56 points (4)
4.
Matt Cain
, 45 points (1)
5.
Adam Wainwright
, 30 points (2)
6.
Cliff Lee
, 17 points (1)
7.
Gio Gonzalez
, 14 points (0)
8.
Mat Latos
, 13 points (1)
Others --
Madison Bumgarner
(12 points),
Johnny Cueto
(9),
Jordan Zimmermann
(7, one first-place vote),
Yovani Gallardo
(6),
Jeff Samardzija
(3),
Roy Halladay
(3).
ROOKIE OF THE YEAR
Twelve different players received first-place votes, so this race looks wide open. Obviously, playing time weighs heavily, so
Shelby Miller
of the Cardinals and
Julio Teheran
of the Braves, who won rotation jobs out of spring training, rank 1-2 in the balloting. The Cardinals have the potential for a great rookie class as Oscar Taveras,
Trevor Rosenthal
and Kolten Wong also received votes.
Points on a 5-3-1 basis.
1. Shelby Miller, 93 points (14 first-place votes)
2. Julio Teheran, 92 points (8)
3. Jedd Gyorko, 57 points (6)
4. Oscar Taveras, 39 points (5)
5.
Adam Eaton
, 36 points (4)
6. Travis d'Arnaud, 21 points (2)
7. Gerrit Cole, 15 points (2)
Others -- Yasiel Puig (10 points), Zack Wheeler (10), Billy Hamilton (9, one first-place vote),
Tyler Skaggs
(8, one first place), Trevor Rosenthal (7),
Kyuji Fujikawa
(6 points, one first place), Christian Yelich (5 points, one first place), Nolan Arenado (5 points, one first place),
Hyun-Jin Ryu
(3),
Rob Brantly
(2), Kolten Wong (1).
March, 30, 2013
3/30/13
10:00
AM ET
Though the vast majority of roster spots are already won before spring training even begins, it is worth following every game in March down to the wire to see how teams handle those few remaining slots. Will the veteran trying to resuscitate his career beat out the up-and-coming rookie? Does the prospect with the fallen star have enough to beat out the hordes of veteran retreads known as non-roster invitees?
Now at the end of March, many of those roster questions have been answered, and some will surprise you. Here are a few that shocked me.
Rangers name Nick Tepesch as fifth starter
Nick Tepesch is 24 years old and has thrown exactly 90.1 innings above Single-A ball, yet he will be the Rangers' No. 5 starter when the regular season begins. It wasn't like the Rangers were bereft of options -- they auditioned
Robbie Ross
,
Randy Wells
,
Derek Lowe
and
Justin Grimm
, but ultimately landed on Tepesch, who posted a 6.50 ERA in 18 spring innings. The Rangers, arguably the favorite in the AL West anyway, might have given themselves some more certainty by going after
Kyle Lohse
.
Twins give the Opening Day nod to Vance Worley
If Vance Worley were still with the Phillies, he would likely start their home opener, the fourth game of the season. Now with the Twins, he is the ace of the rotation and will get the honor of pitching on Opening Day. With a rotation that includes
Mike Pelfrey
,
Kevin Correia
,
Liam Hendriks
and
Cole De Vries
(
Scott Diamond
starts the year on the DL), Worley pretty much wins by default. Still, it's shocking to see a guy who had never even been a No. 3 ascend all the way to No. 1 in a rotation, even if it is the Twins.
[+] Enlarge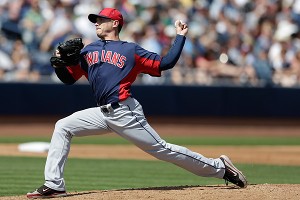 AP Photo/Gregory BullScott Kazmir, once considered an elite prospect, has won the No. 5 spot in Cleveland's rotation.
Scott Kazmir wins Indians' fifth starter job
As a can't-miss prospect with the Mets, then as part of the Rays' rotation from 2005-08, the sky was the limit for the left-handed Kazmir. A slow start with the Rays in 2009 and his pending free agency led to a trade with the Angels and Kazmir simply hasn't been the same since. Since 2009, Kazmir has a 5.54 ERA in 299 innings. He spent all of 2012 with the Sugar Land Skeeters, an independent league team, hoping to mount a comeback, but he finished with a 5.34 ERA. The Indians, though, without much to write home about in the starting rotation, were enthused by his 3.46 spring ERA and named him the fifth starter ahead of
Carlos Carrasco
. Some guys in baseball you can't help but pull for, and Kazmir is one of them. Here's hoping all of his hard work has paid off.
Padres will platoon rookie Jedd Gyorko at second and third base
Over the past two seasons in the minors, Gyorko has hit 55 home runs and posted an OPS well above .900. There was a distinct possibility, as spring training began in late February, that Gyorko could have owned the everyday job at second base. Unfortunately for the Padres, they suffered injuries at both second base (
Logan Forsythe
, plantar fasciitis) and third base (
Chase Headley
, fractured left thumb). Their solution was, surprisingly, not to put Gyorko at second or third (he's played both positions). Instead, they will shift Gyorko between second and third depending on the pitching matchups. When a left-handed starter is on the hill, as there will be on Opening Day against the Mets,
Cody Ransom
will start at third base and Gyorko will start at second. When a right-handed starter is on the hill, Gyorko will move to third and the left-handed hitter
Alexi Amarista
will start at second. Though Gyorko should get regular at-bats, the back-and-forth nature of this platoon might only slow his development on defense. For example, the Phillies over the years shifted
Domonic Brown
back and forth between left and right field -- ostensibly, two easier positions to transition between -- and his defense has lagged behind his other skills. Maybe it works out in the end for the Padres, but it would make more sense to put their prize prospect at one position, then deal with the other position with what's left.
Rockies give third base job to Chris Nelson, send Nolan Arenado to Triple-A
Nelson was impressive in a half-season's worth of plate appearances last year. He posted an .810 OPS, which included a .310 batting average, but his defensive metrics at third were terrible (-18 Defensive Runs Saved in 647 innings). Arenado is more of a power threat, but his defense still needs work, which is one reason the Rockies decided to have him start the season with Colorado Springs in Triple-A. The Rockies also don't want to start his arbitration clock earlier than is necessary. Though a left side of the infield that includes
Troy Tulowitzki
and Arenado is fun to think about, the Rockies likely aren't competing for a playoff spot this year, so there is no reason to rush Arenado.
Tigers option Bruce Rondon to Triple-A
A common claim from the numbers-savvy is that paying lots of money for an established closer is inefficient since the most important moments in the ballgame can and often do occur earlier, in the seventh and eighth innings. The Tigers were breaking from normative baseball philosophy in naming Rondon, a 22-year-old who has pitched eight innings above Double-A, their closer going into 2013. They said no to
Jose Valverde
and a host of other closers. However, early in spring, manager Jim Leyland wasn't impressed with Rondon's erratic control, which led to his being sent down on Thursday. Now the Tigers will be using a closer-by-committee -- a combination of
Phil Coke
,
Joaquin Benoit
and
Al Alburquerque
. Despite Leyland's traditional approach to game strategy, the closer-by-committee is probably the best and most efficient way the Tigers could have wound up utilizing the bullpen.
Blue Jays name JA Happ their fifth starter
The squeaky wheel gets the grease. Happ, who has the fifth-worst ERA (5.08) among starters over the
p
ast two seasons, was not happy with the Blue Jays when he found out his job in the starting rotation wasn't guaranteed. GM Alex Anthopoulos responded by not only giving him the fifth spot (thanks to
Ricky Romero
's awful spring that led to a demotion to Class A), but a two-year, $8.9 million contract extension as well. While giving Happ the rotation spot isn't by itself outrageous, the combination of the two makes me wonder what the Jays see in the lefty.
February, 13, 2013
2/13/13
7:59
PM ET
2012 in review
Record: 76-86 (75-87 Pythagorean)
651 runs scored (tied for 10th in National League)
710 runs allowed (11th in NL)
Big Offseason Moves
Acquired
Tyson Ross
from the
A's
for
Andrew Werner
and
Andy Parrino
. Re-signed free agent
Jason Marquis
. Signed free agent
Freddy Garcia
.
OK, it's the Padres. They're not sitting on a pile of money like their rivals to the north. Still, when retread veterans Jason Marquis and Freddy Garcia qualify as your big moves, that's an uninspiring offseason even if your projected payroll will be higher only than the
Astros
',
Marlins
' and
Pirates
'.
The Padres gave starts last season to
Kip Wells
,
Jeff Suppan
and
Ross Ohlendorf
after a slew of injuries wiped out much of their rotation, so adding starting pitching options was the offseason priority -- the only requirements being the pitchers be cheap and have a pulse.
Ross has long been an interesting arm, but he was never able to put it together with the A's (they won 94 games even though Ross went 2-11 with a 6.50 ERA). It's a gamble but didn't cost the Padres much.
Position Players
Here's an interesting fact: The Brewers led the NL in runs scored, but the Padres scored more runs on the road than the Brewers. With the Padres, you have to factor in the difficult hitting environment at Petco Park, especially in the power department. The Padres hit 74 home run on the road, but just 47 at home.
The offense starts with NL RBI leader
Chase Headley
, who drove in 115 runs -- even more impressive considering the Padres only had mediocre OBP numbers from their 1 and 2 hitters. Headley had that monster second half, of course, hitting .308/.386/.592 with 23 of his 31 home runs. He had a higher road OPS than
Miguel Cabrera
.
The rest of the lineup shapes up as a middle-of-the-pack offense.
Carlos Quentin
can hit when he actually plays (86 games last year) and
Will Venable
and
Chris Denorfia
make for an excellent platoon in right.
Cameron Maybin
turns 26 in April but it's probably time give up hope for a breakout season; at this point, it's safe to assume he's .250 with an OBP in the low .300s, but makes up for his mediocre offense with above-average defense in center field.
For the Padres to improve, they'll need more power from first baseman
Yonder Alonso
, who homered just nine times as a rookie. Petco or not, he'll have to slug higher than .393 or the Padres will be looking for a replacement. Catcher
Yasmani Grandal
impressed in a 60-game rookie season, but he's been suspended for 50 games for a positive test for performance-enhancing drugs.
The Padres ranked 23rd in Defensive Runs Saved (minus-24), with the biggest liabilities being the statuesque Quentin in left field and
Logan Forsythe
at second. Rookie Jedd Gyorko has a career .319 average in the minors and hit 30 homers in 2012 (24 in Triple-A). A third baseman, the Padres tried him at second and he may have a chance to win the job there at some point.
Overall, the offense is probably a little better than the raw numbers indicate, although I'm dropping the grade a bit since Maybin is really the only plus defender.
Pitching Staff
Where to start? Staff ace
Clayton Richard
led the NL in hits and home runs allowed and struck out just 107 batters in 218.2 innings. No. 2
Edinson Volquez
walked 105 batters. No. 3
Anthony Bass
had a 6.35 ERA on the road. Marquis had been let go by the
Twins
after allowing 33 runs in 34 innings. Anyway ...
OK, so it's a bad rotation, its inadequacies masked somewhat by the Padres' forgiving home park. This isn't the rotation the Padres were hoping for a year ago.
Cory Luebke
and
Joe Wieland
both underwent Tommy John surgery. Top prospect
Casey Kelly
missed three months with a strained elbow ligament, although did return to make six late-season starts for the team.
Andrew Cashner
, acquired from the
Cubs
in the
Anthony Rizzo
trade, started in the bullpen before moving to the rotation to help conserve his innings, and made a couple starts before straining a lat. He then cut his thumb in an offseason hunting accident and will begin the season on the disabled list.
No, the future of the Padres doesn't rest on Bass and Marquis, but on those four guys and younger prospects like Max Fried, Matt Wisler and Joe Ross. It's not a good rotation now, but it should be better in 2014.
Heat Map to Watch
What explains Headley's second half in 2012? For one thing, he started destroying fastballs. As you can see from the heat map, there is a lot of red. After hitting .303 with four homers against fastballs in the first half, he hit .392 with 11 homers against fastballs in the second half. From the numbers, it's hard to see exactly what happened. His swing percentage and chase percentage (on pitches outside the zone) were basically the same, so he didn't become more or less aggressive. He did improve his contact rate -- swinging and missing about 4 percent less often -- but that doesn't explain everything. Maybe he just hit the ball harder. Maybe he just got a little lucky. We'll find out in 2013.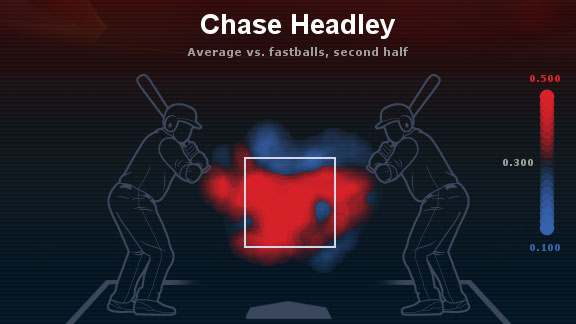 ESPNThe switch-hitting Headley feasted on fastballs in the second half of 2012.
Overall Grade

Some people view the Padres as a sleeper playoff candidate, but I have a hard time seeing it with the current makeup of the rotation. Even if some of the young guys return or suddenly mature, they need a lot of things to go right. The offense could be interesting if Alonso adds some power, Headley does his thing again, Maybin improves and Grandal returns and hits, but, again, that's a lot of ifs.
Factor in that the
Diamondbacks
have improved, the
Dodgers
have added
Zack Greinke
and get full seasons from last year's trade acquisitions, and I'm not sure I see the Padres cracking .500.
Thoughts?