July, 29, 2014
Jul 29
12:53
AM ET
By
Christina Kahrl
| ESPN.com
The Marlins' comeback to walk off against the Nationals on Monday was one of those happy reminders that you really do have to play the games. With a Miami win expectation that
FanGraphs pegged at one or two percent
with the Nats up 6-0 after six innings, this is a game the Nationals have to deliver on if they're ever going to put the Braves away in the NL East race. Instead, sometimes the "better" team winds up demonstrating it really isn't that much better than everyone else. In football, they'll talk about the notion of what can happen any given Sunday, but in baseball every day is gameday, and everything -- every move and every outcome -- matters.
Let's start with
Jayson Werth
getting thrown out needlessly challenging
Giancarlo Stanton
's arm on a leadoff single in the seventh -- again, with his team up 6-0 -- and getting injured on the play. Not too many months ago, Nationals manager
Matt Williams
was being hailed for old-school wisdom for pulling
Bryce Harper
out of a game for not hustling. Whatever you make of that, if the side benefit of old-school virtue is having a notoriously fragile regular like Werth hurt himself, maybe the Nats need less, not more of it -- especially if it helps keep their already injury-hampered lineup strong for the stretch.
OK, so maybe Werth's injury doesn't have to be the end of the world, because it's 6-0. Well, sure, except that right field probably isn't
Nate McLouth
's best position, not that he's much of a center fielder these days, either; his six starts in right for Washington this year are more than he's made in the previous five seasons combined. But he is the Nationals' notional fourth outfielder, so in he went. We can probably really only blame him for
Garrett Jones
' seventh-inning triple with two outs -- McLouth dove and didn't even get a glove on the ball. But hey, they were up 6-0, and he hustled, right? Except that scored the Marlins' first run from first base, then created a second two-out run when
Marcell Ozuna
's infield dribbler clanged off
Ian Desmond
's glove.
[+] Enlarge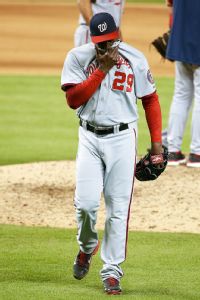 AP Photo/Lynne SladkyIt wasn't Rafael Soriano's night, but he wasn't the only National with a game to forget.
So let's go to the ninth inning: Nats still up by three, save situation, closer in -- all very playbook, all very much as it should be.
Rafael Soriano
had pitched Sunday, but it wasn't like he's been terribly overworked of late. But he simply didn't have it Monday night, generating just one swing-and-miss strike in 26 pitches, and creating trouble at the outset by walking
Casey McGehee
on four pitches. Wrapped around a lone out, Jones pulls Sori for a double to right, Ozuna plates a run on an opposite-field hit (to right),
Jarrod Saltalamacchia
pulls a fly ball for a sac fly (to right), and
Adeiny Hechavarria
triples to right to tie the game. It's enough to give some of you former Little League right fielders flashbacks to your worst day ever.
Anyway, after a hit batsman, that's it for Soriano. First and third, lefty
Chris Yelich
at bat, Williams sensibly brings in lefty
Jerry Blevins
to get the matchup, and wins it with a strikeout. And then skips the last page of the La Russa playbook by leaving Blevins in to face
Jeff Baker
. And if you love Jeff Baker for what he is, this is it, this is all he's for: to face a lefty now and again, and play five or six positions on demand. He has an .858 career OPS versus lefties, .645 against righties. The Marlins had no lefty bat left on the bench; the righty-batting Stanton and McGehee were on deck. This isn't particle physics, certainly not if you or I get it. This is where you're supposed to bore the excited few in Marlins Stadium, pause the action (again) and bring in a righty to keep the game alive.
Craig Stammen
hasn't pitched in almost a week; what's the point of carrying seven relievers if you don't use them?
Williams lets it ride with Blevins, giving Baker his best possible chance to be a hero. Baker executes. Game over, win. Or for the Nats, loss.
Now, sure, we may caution ourselves not to read too much into any one outcome, but sometimes a game in detail can make you wonder, not because it's "just" one loss. Monday's loss for the Nationals in one of those games that should have been won. They were supposed to win because they had six runs on the board and
Jordan Zimmermann
was awesome, because he's pretty reliable that way -- giving up just two runs on five baserunners in seven innings.
But maybe a night like this goes some way toward explaining why the Nationals aren't performing as well as their expected record, which is
four wins better than their current 57
, and five wins ahead of the Braves' expected record. There were things they had in their control that they failed to do. If the devil's in the details, it's interesting to mull these things, especially now when the Nats can't afford any mistakes heading into what looks like a dogfight with the Braves all the way through the next two months. If they aren't using their full roster to their best advantage, they need to start. Maybe they do need to be held accountable for doing dumb things on the bases, but perhaps not the same things Williams has voiced his disapproval about publicly. And perhaps they shouldn't have given a 30-something like McLouth almost $11 million guaranteed for two years after his first good year in five.
It's certainly more interesting to ponder than the pre-fabricated Nats narratives to explain their failures, like noting
Ryan Zimmerman
is hurt (again), that Harper hasn't hit 60 home runs yet/ever/yesterday, or that
Stephen Strasburg
hasn't already put Nolan Ryan in the shade. But if the Nationals fall short of making it into October's action, or have to settle for the one-game play-in, you can bet they'll have more people to hold accountable than just those usual suspects. And they'll need to remember games like this one.
April, 1, 2011
4/01/11
9:37
PM ET
By
Christina Kahrl
| ESPN.com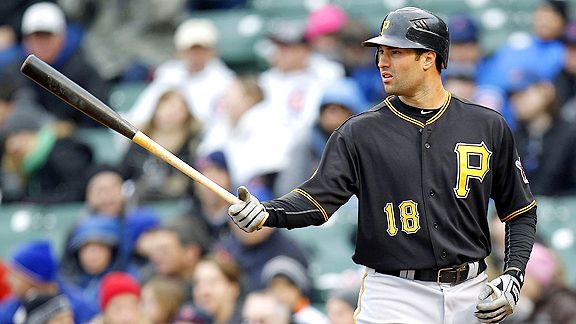 Gregory Shamus/Getty ImagesSure Neil Walker can hit, but can the Pirates stomach his defense at second?
Friday's
Chicago Cubs
home opener provided an interesting contrast. The Cubs have 2011 aspirations to try and live up to, while the
Pittsburgh Pirates
do not. Yet both teams have a similar problem: experimentation at second base.
Whatever comes out of the two teams' beakers remains to be seen -- this isn't the periodic table or your high school chemistry class, so results
will
vary.
The Cubs' situation involves one of spring training's surprising outcomes.
Darwin Barney
scrapped his way into the Opening Day gig after favorite
Blake DeWitt
handed back the job heading into Arizona action. DeWitt's difficulties with turning the double play and making good contact aren't the sort of thing you can easily overlook. As skipper Mike Quade
explained to the beat posse last month
, the ability to turn the tough double play matters to him.
DeWitt is sort of a duckbilled platypus of the infield. He has a bat that profiles better at second, with a walk rate around 10 percent and an ISO around .120, but a glove that really plays better at third. If you've got Ryne Sandberg's sort of thunder coming from second base, maybe DeWitt is somebody you could carry at third, but the 2011 Cubs aren't that team.
[+] Enlarge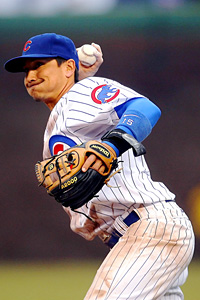 Dennis Wierzbicki/US PresswireDarwin Barney will hustle all over the diamond, but his bat is a liability.
In contrast, Barney is the sort of grinder that is easy for a manager to love. At second or short, he's rangy, strong-armed, and hustler who will chase down anything afield if you let him. But as admirable and worthwhile all that is, projecting Barney's performance via PECOTA, ZiPS, or any other forecasting model, gives you a guy who might struggle to post an OBP or SLG of .300. The glove can play, the bat ... well, did we mention he gets his uniform dirty?
The third wheel in the Cubs' keystone combo is platoon masher
Jeff Baker
, a five-position supersub with a career .908 OPS versus southpaws. Rarely given the opportunity to do more than that, Baker did manage to hit everybody in 2009 while spotting for the Cubs at second. But a career 28 percent strikeout rate versus righties -- because good right-handed off-speed and breaking stuff eats him up -- can make him a bit tough to live with. It isn't like that strikeout rate's getting traded for
Jeff Kent
-like power.
Bringing up Kent, however obliquely, takes us to the Pirates' decision to continue with the
Neil Walker
experiment at second base. Like Kent at the outset of his career, there are questions over whether Walker is nimble enough around the bag to manage at second. (Kent's bat created a fairly high tolerance for his unglovely play in the field.)
The hope with Walker is that he can do likewise, after slugging .462 as a rookie last season. If he does it, it'll be despite defense that even DeWitt would outclass. Whatever flavor of defensive metric you prefer -- Total Zone, Plus/Minus, UZR, or Colin Wyers' new Fielding Runs metric at Baseball Prospectus (best to refer to them all with caution) -- Walker's previous season at second was several shades of awful. Love the bat, hate the glove, but it isn't like the Pirates' shot at a title hangs in the balance. They can afford to experiment.
How did all this turn out on Opening Day? Barney scrapped and slapped, lucking into a second base hit on the Pirates' second muffed infield popup of the afternoon. Walker mashed, jacking a full-count slam on a
Ryan Dempster
fastball in the fifth, and then setting up another run with his two-out seventh-inning double. He also played defense about as well as you'd expect an ex-catcher, as poor infield defense created both of the Cubs' runs.
But Walker wasn't alone in being part of the problem, because one player alone didn't generate the worst defense in baseball (per Baseball Prospectus's
Park-Adjusted Defensive Efficiency metric
). How long the Pirates want to afford Walker's defense at second owes something to the decision to stick with
Pedro Alvarez
at third base for as long as possible. Alvarez's series of defensive gaffes Friday provided a reminder that he probably won't be a third baseman forever. He was responsible for the Cubs' first-inning run, with a single off his glove followed by a two-base throwing error. If Alvarez makes the move across the diamond to first later this year -- presumably after they tire of or flip one-year rental Lyle Overbay -- then Walker's trek to the hot corner seems sure to follow.
As for the Cubs' quest to find an appropriate heir to the Sandberg spot on the lineup card, you can expect more three-way shuffling. After the Arizona-inspired fascination with Barney gives way to his expected performance, Quade will have to revisit what to do with this position. Maybe DeWitt can be risked in the field when more fly ball-oriented pitchers like
Carlos Zambrano
and
Matt Garza
start, while Baker will always hurt lefties. Tinkering's well and good, but at some point, the experiment had better yield up something resembling a lasting answer.
Christina Kahrl covers baseball for ESPN.com. She helped found Baseball Prospectus in 1996, and has written her "Transaction Analysis" column ever since. She was voted into the Baseball Writers' Association of America in 2008 as one of its first four Internet columnists. You can find her ESPN archives here, and follow her on Twitter here
.