September, 27, 2013
9/27/13
11:00
AM ET
Earlier, I presented the
10 best decisions of 2013
. Here are my 10 worst decisions -- moves that were clearly questionable when made. And, no, all 10 do not involve the Phillies.
10. Angels give $125 million to Josh Hamilton.
It's easy to forget that Hamilton hit 43 home runs and finished fifth in the MVP voting with the Rangers last season. But that was fueled by a huge first half. A big increase in strikeouts compared to 2011 and an increasingly poor approach at the plate were warning signals that he could be a risky investment. Hamilton salvaged his season a little in the second half, but he's still a guy with a .304 OBP and the Angels will be on the hook for $30 million a season in 2016 and 2017 -- his age 35 and 36 seasons.
9. Rockies give rotation spot to Jeff Francis.
Francis had a 5.00 ERA with the Rockies in 2010. He had a 4.82 ERA with the Royals in 2011. He had a 5.58 ERA with the Rockies in 2012. The Rockies thought it was a good idea to give him 11 starts. Look, if three guys get hurt and you have to use Francis to fill in, OK. But 11 starts? He went 2-5 with a 6.61 ERA.
8. Yankees have no backup plan for Derek Jeter.
Knowing Jeter's return from last October's broken ankle didn't have an exact timetable, and knowing his defense was an issue even when he was healthy, the Yankees needed an alternative plan -- and, no,
Jayson Nix
and
Eduardo Nunez
weren't good ideas. I advocated early in the season that the Yankees go after defensive whiz
Brendan Ryan
, a move the team finally made in September. Nix, a .214 career hitter entering the season, didn't hit much and Nunez, a terrible fielder, rated at minus-28 Defensive Runs Saved, the worst total of any player in the majors.
7. Brewers pretend Yuniesky Betancourt is still a major league player.
Giving Betancourt 396 plate appearances is kind of like giving up. Betancourt hit .280 with six home runs and 21 RBIs in April. Fake! He was still Yuniesky Betancourt and has hit .189/.215/.287 from May 8 on -- that's 284 PAs. Once it became obvious that April was a fluke, why keep him around all season?
6. Royals count on Jeff Francoeur for more than clubhouse leadership.
The Royals believed so much in Francoeur that they traded super prospect
Wil Myers
to keep Francoeur in right field. Even though Francoeur hit .235/.287/.378 in 2012 and was worth minus-2.3 WAR. As in, way below replacement level. Francoeur played 59 games, struck out 49 times, drew eight walks, hit .208 and was mercifully released on July 5. There also was the
Chris Getz
problem at second. Or Ned Yost batting
Alcides Escobar
second for nearly 300 at-bats despite a .274 OBP. Or that
Carlos Pena
pinch-hit appearance ... if you get the idea that Yost had a bad year, well ...
5. Royals give Wade Davis 24 starts.
Part of the controversial Myers-
James Shields
trade, Davis had pitched very well for Tampa Bay out of the bullpen in 2012, but the Royals decided to return Davis to the rotation, where he had mediocre results in 2010 and 2011 (4.27 ERA). Giving Davis a chance to start wasn't the worst idea, although he wasn't that great as a starter in Tampa considering the Rays' great defense and a pitcher's park. He was better in relief because his fastball ticked up in shorter outings. The big problem here was Yost kept running Davis out there despite a 5.67 ERA and .320 batting average allowed. The Royals have allowed the fewest runs in the AL, but what if
Bruce Chen
had joined the rotation before mid-July?
4. Mariners think it's a good idea to play Michael Morse and Raul Ibanez in the outfield. Together.
OK, we'll be a little fair to GM Jack Zduriencik, who did reportedly acquire
Justin Upton
, only to see Upton veto the trade. He also pursued Hamilton. So Morse was kind of a Plan C or Plan D, the hope being his bat would make up for his lousy defense. Nope. Morse's defense was predictably awful, plus he didn't hit. When
Franklin Gutierrez
spent the year raising sheep in Australia instead of playing center field, that forced the Mariners to use Ibanez regularly in left field, giving them two of the worst (the worst?) corner defenders in the majors.
3. Giants stand pat with Barry Zito.
OK, he beat
Justin Verlander
in Game 1 of the World Series, which pretty much justified that $126 million contract all by itself. While it was understandable to open the season with Zito in the rotation -- he was at least serviceable last season before his clutch postseason performances -- you couldn't assume Zito would roll 30 starts again. Zito went 5-11 with a 5.75 ERA as the Giants gave him 25 starts. But that ERA comes courtesy of help from pitcher-friendly AT&T Park. Zito went a stunning 0-9 on the road with a 9.56 ERA and .401 average allowed. Basically, on the road, the average hitter against Zito was Ted Williams.
2. Angels sign Joe Blanton.
Considering Blanton had a 4.79 ERA in the National League over the three previous seasons, the odds that he would perform better moving over to the American League seemed slim. There may have been some belief that Blanton's fly-ball tendencies would work in Anaheim. Wishful thinking. He went 2-14 with a 6.04 ERA. Meanwhile, the Angels let
Ervin Santana
go, and he had a great year for the Royals.
1. The Phillies go Young.
Let's see.
Delmon Young
and
Michael Young
were worth a combined minus-2.8 WAR in 2012, with the Defensive Runs Saved statistic suggesting both were lousy defenders. Ruben Amaro flouted advanced metrics and acquired both players. They combined for minus-2.3 WAR while with the Phillies. On a perhaps related note, the Phillies have allowed the second-most runs in the NL.
March, 25, 2013
3/25/13
11:45
AM ET
ESPN headline: "Rockies bolster rotation with Garland signing" ... well, I'm not sure I would have used "bolster" there.
OK, let's assume
Jon Garland
is healthy after making just nine starts in 2011 and missing all of last season with shoulder issues. He was in camp with the Mariners and it appeared like he was going to make the rotation until he didn't. So he exercised an out clause in his contract and
signed with the Rockies
.
By the way, Garland's spring statistics that apparently made the Rockies decided they needed him in their rotation: 12 innings, 10 hits, five walks, four strikeouts.
Which is who Garland is: Not a strikeout pitcher. In other words, he's the
worst
kind of a pitcher for Coors Field (not that there's really a good kind). What makes Coors such a good hitter's park isn't so much the home runs, but all the gaps in the outfield: It's a
batting average
park as much as it is a home run park. Last year, the Rockies hit .306 at home, .241 on the road; their opponents hit .306 at Coors, .273 at home.
Instead of focusing on groundball pitchers, I've always thought the Rockies should focus on strikeout pitchers -- even if that means strikeout pitchers who walk guys. What you don't want at Coors is balls in play, because at Coors, balls in play tend to fall for hits. Garland allows a lot of balls in play, which means he gives up a lot of hits. And while he has a reputation as a groundball guy, he still serves up his share of home runs. In his last full season in the majors, 2010 with the Padres, he allowed 20 home runs in 200 innings. Not a bad total, but that was in San Diego. And it was three years ago. He posted a fine 3.47 ERA that year, but it was 4.01 on the road. So even if things work out perfectly here there is little upside.
It's a low-risk signing by the Rockies; if Garland doesn't pan out, they'll just get rid of him, similar to what they did last year with
Jamie Moyer
after 10 starts. The larger issue is that the Rockies still feel the need to take these stabs in the dark at veterans like Moyer and Garland, both of whom were coming off seasons missed with injuries. You don't win pennants by hoping you get lucky.
The rotation will now include
Jhoulys Chacin
,
Jeff Francis
,
Jorge De La Rosa
,
Juan Nicasio
and Garland, with young lefty
Drew Pomeranz
likely headed to Triple-A (even though he was probably the team's best starter a year ago, not that that's an award to put in your trophy room).
Some people believe the Rockies have sleeper potential in 2013 with the likes of
Troy Tulowitzki
,
Carlos Gonzalez
,
Dexter Fowler
and
Wilin Rosario
leading the offense. With that rotation, I have serious doubts.
March, 22, 2012
3/22/12
5:15
PM ET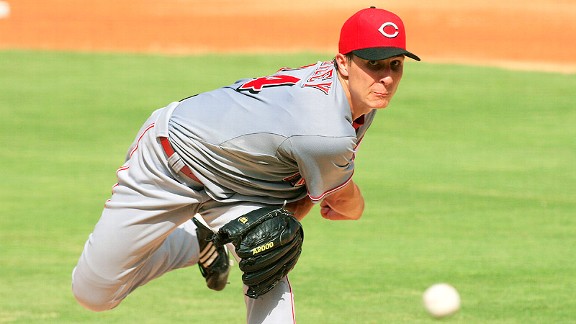 Ronald C. Modra /Getty ImagesAfter going 9-7 with a 4.43 ERA in 2011, Homer Bailey is battling for a rotation spot.
To put it delicately, Dusty Baker has a conflicted history with starting pitchers. There was that decision on the final day of the 1993 pennant race to give the ball to a rookie named
Salomon Torres
. Or handing the game ball to
Russ Ortiz
when he removed him with a lead in Game 6 of the 2002 World Series. Or letting
Mark Prior
rack up some astronomical pitch counts back in 2003.
Now Dusty has another tough decision to make: Who starts for his
Cincinnati Reds
? As I said on Thursday's
Baseball Today podcast
, it could be the most crucial decision any manager makes in 2012.
You see, Baker has options. Most managers are forced to make a decision only by a certain string of events -- one player gets hurt, you go with your next-best option or whomever management calls up from Triple-A. You rarely even see position battles in spring training anymore. But for Baker and the Reds, it's not that simple. Once you get past
Johnny Cueto
,
Mat Latos
and
Mike Leake
, the Reds have four options for the rotation:
Bronson Arroyo
,
Homer Bailey
,
Aroldis Chapman
and
Jeff Francis
. Having options is a good thing, of course. But what makes those four players so intriguing is that any of the four could work out; any of the four could blow up.
Here's a review of the four:
Bronson Arroyo:
After winning 17 games with a 3.88 ERA in 2010, the Reds' inexplicably gave him a two-year extension through 2013 at $23.5 million. Bronson did have a good year in 2010, but he was still a home run-prone pitcher with a declining strikeout rate. Among 92 qualified starters that year, he ranked 82nd in K's per nine. In 2011, he ranked 86 of 93 ... and his home runs allowed skyrocketed to 46, the third-highest single-season total ever. So while there's a very good chance he's done, he's also owed a lot of money. And he's a veteran. Dusty loves those veterans. He hasn't pitched well this spring -- nine innings, two home runs, three walks, three strikeouts.
Homer Bailey:
The seventh pick in the 2004 draft, we've been hearing about Bailey ever since, first as a prospect and then as perennial disappointment. His ERA didn't reflect it, but he did make some progress in 2011, cutting his walks to 2.3 per nine while maintaining an acceptable strikeout rate (7.2 per nine). I penciled him as a good breakout candidate. He hasn't pitched well: 11.1 innings, three home runs, six walks, three strikeouts -- although he did pitch four scoreless innings in his last outing.
Aroldis Chapman:
The big Cuban with the 100-mph fastball is being given a chance to start again after spending 2011 in the Reds' bullpen, where he was unhittable (.147 average allowed) but Ricky Vaughn-esque (41 walks in 50 innings). Does he have the stamina to last as a starter? In seven innings in big league spring games he's allowed just one walk with seven K's.
Jeff Francis:
Signed to a minor league deal, the veteran left-hander has looked good this spring with no walks and eight strikeouts in 13 innings.
What does Baker do? Bailey is out of options so has to remain on the roster. He could go to the bullpen but the Reds are already seven deep there. Chapman could be sent down to Triple-A to get more starts under his belt, although that would deprive Baker of a big bullpen weapon. Francis has said he'll report to Triple-A if required.
The easiest solution is probably to send Chapman down and let him make at least a few starts in Triple-A. The issue there: What if he's better than Bailey? What if Arroyo can't curb his gopherball issues? How long do you stick with either guy? The Reds don't project as a powerhouse, so every game could be crucial to making the playoffs or just missing the playoffs.
The spotlight is intense on Baker. I can't wait to see what he and GM Walt Jocketty decide to do.
Follow David Schoenfield on Twitter @dschoenfield.
March, 22, 2012
3/22/12
2:00
PM ET
On Thursday's
Baseball Today podcast
, SweetSpot writer Dave Schoenfield and I had loads of fun, as we always do, discussing not only the pertinent breaking news of the day, but Shoeless Joe Jackson and Jay Johnstone (he wears his shoes apparently) as well.
1.
Chipper Jones
says this will be his final season, and we aim to put his tremendous career in proper perspective, while also looking ahead for the Braves.
2. The defending champs could be without No. 1 starter
Chris Carpenter
for a little while or a long while, but should the Cardinals panic?
3.
Homer Bailey
is scuffling this spring and
Aroldis Chapman
and
Jeff Francis
are not. Is Dusty Baker on the hot seat in Cincinnati and who will be the No. 5 starter?
4. We love our emails! Dave and I reminisce about the greatest season ever voting from a few weeks ago,
Jacoby Ellsbury
's worth in baseball and to the Red Sox, and much more!
5. Why was Jay Johnstone hitting right-handed in the movie I watched this morning? Does it bother anyone else? Thankfully, when it comes to inaccuracy in flicks, I'm not alone!
So download and listen to Thursday's fun Baseball Today podcast because, let's face it, Dave and I had a good time and that's what this should be about!
February, 13, 2011
2/13/11
12:30
PM ET
By
Craig Brown
| ESPN.com
Tick, tick, tick …
The sound of another edition of "60 Minutes"? Hardly. How about the countdown on the deadline for the Cardinals to sign
Albert Pujols
to a contract extension. As you've undoubtedly heard by now, Pujols has set a deadline of the beginning of spring training for the sides to come to an agreement, or he will play out the 2011 season and hit the free-agent market at season's end.
[+] Enlarge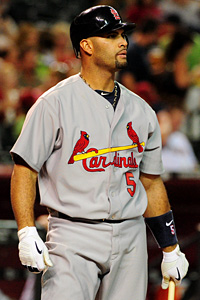 Matt Kartozian/US PresswireSt. Louis first baseman Albert Pujols can become a free agent after the coming season.
With the Cardinals pitchers and catchers reporting to Jupiter today, and Pujols due to report on Wednesday, the pressure is on both sides to reach an agreement. What's adding to the pressure is the fact
the Cardinals aren't exactly sure where the deadline falls
. Is it today? Is it Wednesday? Is it arbitrary and able to change at a moment's notice?
This is one of those negotiations where you want to grab a box of popcorn. The next couple of days should be some kind of fun.
Jason Rosenberg did an excellent job
detailing the potential suitors
should Pujols enter the market next winter, narrowing the list down to the usual suspects -- including the Red Sox, Yankees, Angels and Cubs. Of course, there could be a Mystery Team. You know the Mystery Team. They're always lurking, ready to strike when you least expect it. A team cloaked in secrecy, shrouded in inscrutability, and covered in question marks. Yet chock full of stealth, and with it's pockets lined with cold, hard cash.
According to Jeff Gordon from STLtoday,
that mystery team could be in the same state as the Cardinals
.
"But wouldn't the Royals offer the ultimate free-agency option for Pujols?

Kansas City is home for Albert and Dee Dee, to a significant degree. That is where they met. That is where Pujols played high school and college ball. It's where he worked with his hitting/training mentor to become the machine that he is.

The Royals are loaded with prospects that player development experts love. They have Tampa Bay Rays-like potential, with plenty of big arms and big bats on the way.

That team has significant money committed to just one player beyond 2011, Billy Butler. The Royals loaded up with veterans on one-year deals this season, including pitcher Jeff Francis and outfielder Jeff Francoeur.

They possess maximum payroll flexibility for 2012. More than most franchises, the Royals can afford to spend $30 million (or more) per season for one hitter."
Gordon pretty much speaks the truth. Yes, Pujols spent his formative years in the Kansas City area. Yes, the Royals system is loaded. Yes, the Royals have a number of players on one-year contracts. And yes, the Royals have payroll flexibility for 2012 and beyond.
But can the Royals afford to spend $30 million for one player?
As Jason pointed out in his post, committing more than a quarter of your payroll for one player isn't just bad business, it's potentially franchise crippling. As such, for a $30 million player to fit, the team must operate with a payroll north of $120 million.
The Royals Opening Day payroll in 2010 was a franchise record $74.9 million. Take the 25th man off the Royals roster -- say
Mitch Maier
and his $415,000 salary -- and replace him with Pujols and his $30 million, and you're looking at the first baseman gobbling up roughly 29 percent of the payroll. It's not the 25 percent that seems to be the accepted amount, but it's close. Maybe that's not a killer. Maybe that's doable.
However, that was last season. After a couple of years of escalating payroll, the Royals have sliced and diced costs in an effort to prepare for what some have termed Project 2012 -- when the majority of the team's pool of young talent is slated to reach the majors. After dealing
Zack Greinke
to the Brewers and getting the $12 million gift that was the
Gil Meche
retirement, the Royals are looking at an Opening Day payroll that will be in the neighborhood of $35 million.
To look at it another way, the Royals Opening Day payroll will be just $5 million more than Pujols is seeking for his next contract.
The Royals diminished payroll for the upcoming season is all part of The Process. With the Royals' system flush with talent in the minors, the Royals have a unique situation in which they will be able to either complement their young players with some major league free agents, or they have the flexibility to lock in those young players to club-friendly, long-term contracts. You can never say never, especially when it comes to the actions of Dayton Moore at the major-league level, but it's highly unlikely Moore will squander his flexibility with a single contract. After all, Moore has been fairly vocal about how he has gotten the Royals to this point regarding payroll, and how he plans to maintain the flexibility. Of course, he also once said he valued on-base percentage …
(Quick aside: Time for a perspective check from one Royals fan …
Pujols? Why do we need Pujols? We have Billy Butler, who can rake. Kila Ki'ahuie is a monster who is going to set the baseball universe on its axis and will undoubtedly start a streak of 10 consecutive All-Star Game appearances this summer. And then Eric Hosmer has the best looking swing in the history of whatever and will be ready for the majors in 2012.
Honestly, tell me where Pujols fits. I just don't see it.
Ummmm … Yeah. That was fun. Perspective check over.)
While the thought of Pujols driving west on I-70 might be enough to cause heartburn on the Hill in St. Louis, and while Pujols might feel the pull of his hometown should he hit the open market, Kansas City won't be a player in the Pujols Sweepstakes.
Craig Brown writes for the Royals blog, Royals Authority and about fantasy baseball for Baseball Prospectus. Follow him on Twitter.