June, 30, 2013
6/30/13
12:50
AM ET
By
Christina Kahrl
| ESPN.com
First team to 50 wins, the
Pittsburgh Pirates
? For reals? Legit? By getting there behind
Francisco Liriano
's start, a deep pen's collective hold and save, and the homers hit by
Pedro Alvarez
and
Garrett Jones
, today's Pirates might have done something no Pirates team has done since the franchise's 1960 championship squad.
Holy moly, we might be witnessing the end of professional sports' longest, dimmest dark age, not least in terms of Steel City baseball history. Praise be that it might be done for; never have so many suffered for so long to so little reward. A generation of children born in Pittsburgh since the Pirates' last winning season and postseason appearance have already been eligible to vote since the Buccos' major-sports record of 20 consecutive losing seasons -- the past six with the Nutting family running the show -- got started. Give it much longer, and they'd have been graduating from college en masse. Say what you will about Cubs fans, but they've never had to endure something like this.
It might all seem improbable enough. But by notching his seventh win in Saturday's
2-1 victory
over visiting Milwaukee, Liriano is making it clear that his initial strong start is not the flashy return from yet another injury, followed by a predictable fade. He's notched five quality starts in his past six turns. His walk rate isn't just down by 1.5 free passes per nine, it's down below 3.5 BB/9, at which it was when he was helping pitch the
Minnesota Twins
into one-game playoffs and contention. As easy as it might be to write off Liriano as flaky, this is the guy who was once the sixth-best prospect in baseball (per Baseball America before 2006), and after a year lost to Tommy John surgery on his elbow plus five different 15-day disabled-list stints for shoulder woes and arm soreness, there comes a point at which you have to stop calling the guy flaky and recognize the talent he's capable of showing when he's healthy, as infrequent as that might be.
But there's the rub: That fragility is part of what made him a Pirate, but that talent is part of why the Buccos were smart to get him. The fascinating thing about the Pirates making the leap from sub-mediocrity to best record in baseball isn't that it's a surprise. It's that they have the talent to make it so.
These Pirates aren't some ragamuffin band of misfit toys -- they are not the Oakland A's of "Moneyball" legend or present-day fact. This is a team built around past top prospects, whether they belonged to the Pirates or others. Guys like
Andrew McCutchen
and
Neil Walker
and Alvarez and
Gerrit Cole
are men that they picked and any team might envy; faded former studs like
A.J. Burnett
and Liriano and even a well-traveled veteran like closer
Jason Grilli
-- if you go back to the '90s and his pedigree as a Giants farmhand 15 years ago -- are past top prospects who they have picked up, recognizing who they've been and what they might still be capable of.
[+] Enlarge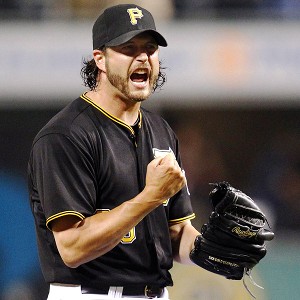 Charles LeClaire/USA TODAY SportsA Jason Grilli save is worth just as much in the standings as any other save, so why pay more than you have to?
Never mind that they're rattling off wins while either three- or four-fifths of their rotation is on the DL. (That depends on how you feel about
Jeff Karstens
' place on the depth chart.) With Burnett and
Wandy Rodriguez
due back from the DL within a week's time, that just means Pittsburgh has the kind of depth in its rotation to sustain big weeks, big months and big seasons, no matter how well or badly its lineup is doing. Add their in-season fixes like switching from the oh-so-glovely
Clint Barmes
to better everyday option
Jordy Mercer
at shortstop, and it's clear the Pirates are willing to fix things on the fly to aim for targets that might once have seemed sky-high.
But that's the thing. As much as things are going right by reaching 50 wins first, for all that, these really aren't your daddy's Pirates. And why is that? How is it that the franchise of Dave Parker, or Roberto Clemente, or Paul Waner, as proud a legacy of right-field greatness as any team this side of Babe Ruth's employers, could be producing a collective .656 OPS before Saturday's action?
That's the lowest RF mark in the National League, the worst among NL corner outfielders (even the
Juan Pierre
-hobbled Marlins), and worse production than 10 teams in the NL are getting from their center fielders. This is even more epically awful when you consider that right field is supposed to be one of your best run-producing slots, with production that bounces around the standard set by first basemen. It is a huge part of the reason the Pirates rank just 10th in the NL in runs scored per game, and it's the most obvious fix that, once addressed, would provide a platform for them to really romp in the second half, something that goes beyond just hoping that the rotation's depth and McCutchen's inevitable monster month carry them.
The Pirates' right-field issue is the biggest problem slot in any outfield in the National League, whether you're just talking contenders or not -- and the Pirates, despite their recent history for second-half fades, have earned the right to be called contenders. So this isn't just something on general manager Neal Huntington's eventual to-do list -- it's important, and it's important
right now
. This is not a problem you solve by getting
Jose Tabata
back from the DL next week; it certainly isn't something you settle for patching up by grabbing
Jeff Francoeur
off waivers and hoping he forgets he's Jeff Francoeur for a few months. This requires a bold stroke in the same way that breaking from two decades of below-.500 baseball demands something more than an 82-win season.
If you think this is a coming-of-age trade deadline coming up for the Pirates, you'd be forgiven for forgetting that Huntington has actually been fairly aggressive at the deadline in recent seasons -- striking deals for Rodriguez,
Gaby Sanchez
and
Travis Snider
last season and
Derrek Lee
and
Ryan Ludwick
in 2011.
So as far as that goes, the Pirates have proven more than willing to play in the inexpensive end of the deadline market when it comes to the self-improvement sweepstakes. But what would it mean if the people signing the checks would pony up the cash to add a premium bat for right field? Everything. Or Nutting.
The Pirates will be defined not by their ambitions, but by their actions. As brilliant as those have been on the field, here's hoping that they're matched by off-field machinations in the month to come. The good folks in Pittsburgh deserve nothing less.
Christina Kahrl covers baseball for ESPN.com. You can follow her on Twitter.
February, 15, 2013
2/15/13
3:40
PM ET
2012 in review
Record: 79-83 (78-84 Pythagorean)
651 runs scored (10th in NL)
674 runs allowed (7th in NL)
Big Offseason Moves
Signed free agents
Russell Martin
and
Francisco Liriano
. Re-signed free agent
Jason Grilli
. Traded
Joel Hanrahan
and
Brock Holt
to Boston for
Mark Melancon
,
Jerry Sands
,
Ivan De Jesus
and Stolmy Pimentel. Acquired
Clint Robinson
and
Vin Mazzaro
from the Royals. Lost free agents
Kevin Correia
and
Rod Barajas
.
What, you expected the Pirates to sign
Josh Hamilton
,
Zack Greinke
and
Kyle Lohse
? The Neal Huntington regime began in late September 2007. The GM took over a club that won 68 games and has won 67, 62, 57, 72 and 79 games. I guess that's progress. The club he inherited wasn't completely without talent, at least on offense:
--
Jose Bautista
: Traded in 2008 for
Robinzon Diaz
.
--
Jason Bay
: Traded in 2008 in a three-way deal. Pirates got
Andy LaRoche
,
Brandon Moss
,
Craig Hansen
and
Bryan Morris
. Also known as the poo-poo platter (although Moss resurfaced with Oakland last year and played well).
--
Adam LaRoche
: Traded in 2009 for
Hunter Strickland
and
Argenis Diaz
.
--
Freddy Sanchez
: Traded in 2009 for Tim Alderson.
--
Jack Wilson
: Hit .296 in '07. Traded in 2009 with
Ian Snell
for
Jeff Clement
,
Ronny Cedeno
and two minor leaguers.
Look, Huntington took over a wreck of a franchise. The farm system did have
Andrew McCutchen
and
Neil Walker
, but not much else. But Huntington had five players with some value (six if you include
Xavier Nady
, who had a decent 2007), traded all of them, and got nothing in return. That's one reason the Pirates are still where they're at today.
Huntington's first draft pick was
Pedro Alvarez
, the second overall pick in 2008. It took longer than expected, but he finally produced a decent season with 30 home runs in 2012. Still, he's hardly a star, hitting .244 last year with mediocre defense and no value on the bases.
Buster Posey
went a couple picks later. The Pirates selected catcher
Tony Sanchez
with the fourth pick in 2009, a choice widely panned at the time. He hasn't hit much in the minors (.268 AVG/.365 OBP/.403 SLG). With the second pick in 2010, the Pirates selected pitcher Jameson Taillon, who looks good, although
Manny Machado
was the next pick.
Gerrit Cole
was the first overall pick in 2011 and should reach the majors this year. Behind those two upside arms, Keith Law ranked the
Pirates' system seventh overall

.
Will that be enough to save the Huntington regime? After contending into July the past two seasons only to collapse over the final two months, this may be a make-or-break season for him.
As for the offseason moves, it was smart to trade Hanrahan while his value was high, although I don't think the Pirates got much back. Melancon is just another relief pitcher and Sands has a chance to stick as a platoon outfielder. Martin is an upgrade over Barajas, although backup catcher
Michael McKenry
actually had better numbers than Martin, and Liriano has had an ERA over 5.00 in three of the past four seasons, so good luck with that. (And now he'll miss the start of the season after breaking his arm in a freak Christmas accident, the day before he was to fly to Pittsburgh for his physical. Only the Pirates.)
Position Players
Well, McCutchen is pretty good. He may have won the MVP Award if he had better teammates.
The Pirates had four regulars with an OBP under .300 last year, but only shortstop
Clint Barmes
is back in his starting role, and he's there for his glove. Young outfielders
Jose Tabata
and
Alex Presley
flopped, so this year's flavors of the month appear to be Blue Jays former top prospect/washout
Travis Snider
and homegrown
Starling Marte
.
Marte is a 24-year-old with tools, but in his first exposure to major league pitching he struck out 50 times in 167 at-bats and walked just eight times. That approach isn't going to lead to a long and fruitful career, that's for sure. His career walk rate in the minors was abysmal, so I don't see much -- if any -- star potential here. More time in the minors may be needed, giving Tabata another chance at full-time duty.
That approach is Pittsburgh's overall problem on offense: They were fourth in the NL in homers but last in walks drawn, leading to a .304 OBP. Walks are good.
Defensively, the Pirates ranked 24th in the majors at minus-25 defensive runs saved, with Barmes being the only real plus defender. Barajas was terrible throwing out runners a year ago: 93 steals and only six caught stealing (not a misprint).
Pitching Staff
There is some potential here for an above-average rotation if Burnett repeats,
James McDonald
figures out what went wrong in the second half (9-3, 2.57 before the break, 3-5, 7.52 after),
Wandy Rodriguez
pitches like Wandy Rodriguez, and Cole makes a rapid ascension into the big league rotation. Even
Jeff Karstens
isn't a bad No. 5 starter, a soft-tosser who at least doesn't beat himself.
On the other hand, it's still
A.J. Burnett
, McDonald's first half may have been a fluke, Rodriguez could be ripe for a decline, and Karstens isn't really that good. You know things are going bad if free-agent reclamation project
Jonathan Sanchez
appears in the rotation.
The bullpen had a solid 3.36 ERA in 2012, seventh in the NL, but I'm skeptical about a repeat performance. Hanrahan wasn't always dominant, but he blew just four saves each of the past two seasons. Veteran Jason Grilli came out of nowhere to fan 90 in 58.2 innings, so if he pitches like that again he'll be fine as the closer. But guys like
Jared Hughes
and
Tony Watson
are good bets for regression, and I don't see much depth.
Heat Map to Watch
What's amazing about McCutchen's final numbers -- .327 average, 31 home runs -- is that it's easy to forget he didn't hit a home run in April. He did fall off the final two months, hitting .252 in August and .254 in September, as maybe the weight of 24 teammates on his shoulders wore him down. He tinkered with his swing mechanics last offseason and it paid off, especially against fastballs. He hit .363/.423/.676 against fastballs, with 22 of his 31 homers. He had hit .280 off fastballs in 2011. The new revamped swing allowed him to do much more damage on inside pitches.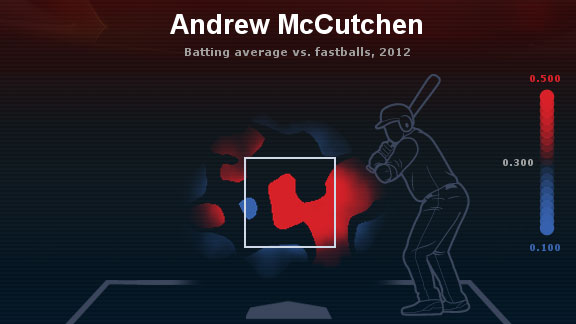 ESPN Stats & InformationAndrew McCutchen feasted on fastballs in 2012, especially those on the inner half of the plate.
Overall Grade

Is this the year? Can the Pirates finish over .500 for the first time since 1992?
I'd like to say yes. I'd like to say that Pedro Alvarez will hit .275 with 40 bombs, and both Travis Snider and Starling Marte will hit .280 (and combine for 40 home runs), and McCutchen will have another MVP-caliber year, and Burnett and McDonald and Rodriguez will win 15 games apiece, and Cole will come up from the minors in May and go 12-5 with a 3.27 ERA.
But I don't see it. The Astros aren't much competition (Pittsburgh went 12-5 against Houston) and the Reds and Cardinals look pretty tough again. But I hope I'm wrong.
December, 1, 2012
12/01/12
12:30
PM ET
By
Chris Quick
| ESPN.com
This time of year baseball news is very sluggish. Scratch that -- extremely sluggish. Outside of a few early signings, there isn't much happening in the game. However, with the non-tender deadline passing on Friday night, baseball gets a brief jolt of activity before we head to the winter meetings.
Non-tender means just that -- a team chooses not to tender a player a contract and, in turn, the player becomes a free agent, able to sign with any team. Teams will non-tender players for a multitude of reasons -- injury, cost, and roster crunches are among the most popular -- but savvy teams will be able to cruise this new pool of free agents to find value. And make no mistake, there is value to be had among the recent crop of non-tendered players.
Let's take a look:
[+] Enlarge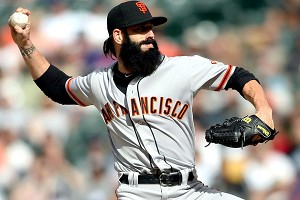 Chris Humphreys/US PresswireIf Brian Wilson wants to close again, it likely won't be in San Francisco.
Brian Wilson, P --
Probably the biggest and most widely recognized non-tender, Wilson's days as a Giant appear to be all but over. The team can still negotiate a contract with the bearded Wilson, but most reports indicate that Wilson is unlikely to remain. Wilson -- rehabbing from his second Tommy John surgery -- looks to find a new team to call home. As a two-time TJ survivor, Wilson carries significant risk, but if there was anyone who could overcome those odds, it would be Wilson. From 2009-2011, Wilson ranked as the fourth-best reliever in the majors by FanGraphs' WAR (5.6), throwing 202 innings with a 2.50 ERA. He'll most likely have to settle for a lower base salary with performance incentives. The talent is there. The big question is: Is the health?
Mark Reynolds, 1B/DH --
Rather than paying him about $9 million through arbitration, the Orioles decided to let the home run masher and strikeout accumulator walk. Over the past three years, Reynolds ranks 14th in the majors in home runs at 92. (That's more than
Matt Kemp
,
Robinson Cano
or
David Ortiz
.) But while Reynolds' power is prodigious, it comes at a great cost: strikeouts. Piles and piles of strikeouts. Only
Adam Dunn
has whiffed more over the past three seasons, and while Reynolds is still an asset with the bat, he's a complete liability at third base (although he was acceptable at first when the Orioles moved him there). He'll find work -- guys that can launch 30 home runs annually almost always do -- but he should stick in the American League where his defensive issues can be minimized.
Nate Schierholtz, RF --
This might seem to be Giants-centric, but Schierholtz, another ex-Giant, profiles as a fringe starter on lower-tiered teams and a fine fourth outfielder on higher-tiered teams. You can boil Schierholtz down to the following: slightly below average bat, great glove, good baserunner. Schierholtz owns a career batting line of .270/.319/.409 while playing half his games in a park (AT&T Park) that's mighty tough on left-handed batters. The advanced fielding metrics, such as Ultimate Zone Rating, peg him as about a half-win net on defense each year, and it's hard to imagine anyone playing a better right field. And he's shown himself to be an adept baserunner. When you add everything up, it's a nice package that will attract a few teams needing outfield depth.
Tom Gorzelanny, P --
Pitching his first year as purely a reliever, Gorzelanny found success in Washington in 2012. Gorzelanny tossed 72 innings with adequate peripherals (20.1 percent strikeout rate; 9.8 walk rate) to pair with a 2.88 ERA. Being a left-handed pitcher, he's naturally been tough on left-handed batters, holding them to a career line of .227/.295/.367. He profiles as a middle reliever, or lefty specialist. It's possible that a team hurting for starting depth might take a look at him as a starter.
Jeff Karstens, P --
Jeff Karstens was limited to just 15 starts in 2012 because of shoulder inflammation. He doesn't throw exceptionally hard, strike out scads of batters, or look like an ace pitcher. What he does, however, is throw strikes (career 6.1 walk percentage). He'd be great filler for a rotation that might need a little extra time for prospects to develop, or for a rotation (or bullpen) that needs more depth. Over the past two seasons, Karstens has posted the following numbers: 3.59 ERA, 253 IP, 252 H, 101 ER, 48 BB, 162 SO. That's pretty much the definition of a fungible starter.
Andres Torres, OF --
Torres is clearly no longer the batter that he was with the Giants from 2009-2010 when he hit .269/.343/.492 over 740 plate appearances; since then, Torres has batted a meager .226/.320/.334 in 832 PAs. The decline in Torres' bat moves him from a starting role to a bench role. The good news for Torres is that despite some health issues, he still profiles as an above-average defender in center field and an above-average baserunner. Every team needs a guy like Torres on its bench.
None of the players listed above -- outside of Brian Wilson, maybe -- will draw the sort of attention that the marquee free agents will receive. And rightfully so. However, teams looking to fill certain needs would be smart to check in on some of the recently non-tendered players. If used properly, there's value to be had in this year's crop of non-tendered players.
July, 23, 2012
7/23/12
9:00
AM ET
First base: Lester loses again.
It was a brutal weekend for the
Boston Red Sox
as they got swept at home by the
Toronto Blue Jays
by the scores of 6-1, 7-3 and 15-7.
Jon Lester
was terrible again,
allowing 11 runs in four innings on Sunday
, including four home runs. He's the first Red Sox pitcher to allow 11 runs since
Tim Wakefield
did it in 1996. Lester fell to 5-8 with a 5.46 ERA. "It's embarrassing," Lester said. "I've let my teammates down a lot this year. It's hard for me to walk around this clubhouse and look guys in the eye right now." Of 43 qualified AL starters, Lester now ranks 39th in ERA and has allowed 22 runs his past three starts without getting past the fifth inning. He's also allowed fewer than four runs just twice in his past 10 starts against AL teams -- and those starts were against the A's (in Oakland) and Mariners. Maybe Bobby Valentine needs to put
Franklin Morales
back in the rotation.
Second base: Cy Young Cueto?
With all the attention given to
R.A. Dickey
and
Matt Cain
this year, the new NL Cy Young favorite may now be the
Cincinnati Reds
'
Johnny Cueto
, who improved to 12-5 with a 2.23 ERA after pitching seven strong innings in the
2-1 victory over the Milwaukee Brewers
. Cueto ranks second in the NL in ERA to
Ryan Dempster
(and only three of Cueto's 36 runs have been unearned) although he ranks just 23rd in the NL in strikeout (37 behind league
Stephen Strasburg
and 29 fewer than Dickey). The big statistical edge Cueto has, however, is that he's compiled his numbers pitching in Cincinnati's home run bandbox. Dickey and Cain ply their trades in pitcher's parks. Impressively, he's allowed just five home runs and has now gone 10 straight starts without allowing a long ball.
Third base: Pretty in Pittsburgh.
I love this quote from
Jeff Karstens
after pitching seven scoreless inning in the
Pittsburgh Pirates' 3-0 win over the Miami Marlins
: "I was kind of playing Whiffle ball out there. I just think to when I was a little kid, honestly, to make them take unorthodox swings -- really bad swings. That's all I'm trying to do. I'm not trying to blow fastballs by people; I'm just trying to keep people off-balance, and when they do hit the ball hard, hopefully it's right at us." The Pirates pulled off the sweep as
Pedro Alvarez
hit his fourth home run in six games and, yes,
Andrew McCutchen
got two more hits. You think Pirates fans are getting pumped? They had a sellout on Saturday and near-sellouts on Friday and Sunday. As for the Marlins ... see ya later. They have five straight losses, a worse run differential than the Padres and they're now eight games out of the wild-card (shared by the Pirates and Braves).
Home plate: Tweet of the day.
Barry Larkin
entered the Hall of Fame (along with the late Ron Santo), leading to this tweet from Reds beat writer John Fay:
I don't think anyone has ever been happier to get in the Hall than Barry Larkin. #reds

— John Fay (@johnfayman) July 22, 2012
June, 27, 2011
6/27/11
1:25
AM ET
The
Pittsburgh Pirates
couldn't complete a series sweep of the
Boston Red Sox
, but taking two of three and knocking the Sox out of first place qualifies as one of the biggest moral victories for the franchise in years.
A year ago, the Pirates were a disaster. Nothing new there, of course, but even for them their 57-105 season was below standards -- the 105 losses were the most in the majors since the Royals lost 106 in 2005, and they allowed the most runs in the majors and scored the second-fewest. Considering their big offseason moves were to sign
Lyle Overbay
,
Matt Diaz
and
Kevin Correia
, expectations were not high, but here stand the Pirates at 39-38 and just four games out of first place in the NL Central.
It's enough to make them my biggest surprise story of the first half.
But ... can they keep it going? The Central remains wide open: The Cardinals have lost 12 of 15, the Brewers struggle on the road (15-24), and the Reds haven't put it together (tied with the Pirates). Let's look at four key reasons why the Pirates are a game over .500 and whether they can improve in the second half.
1. Andrew McCutchen is awesome.
According to FanGraphs' WAR (wins above replacement), McCutchen has been the sixth-most valuable position player in baseball, trailing only
Jose Bautista
,
Adrian Gonzalez
,
Jose Reyes
,
Matt Kemp
and
Curtis Granderson
. His defense has improved, his on-base percentage is up 35 points from a year ago, and his slugging percentage is up a bit. Last season, he was a good player. He's become a superstar.
Likelihood to continue: Excellent.
2. The team's defense has improved dramatically.
Last season, UZR (Ultimate Zone Rating) ranked the Pirates as the worst defensive team in the majors. This season it ranks them ninth. Other than McCutchen, no individual Pirate rates as especially spectacular; they're just solid across the board.
Neil Walker
and
Ronny Cedeno
appear improved from last season and the fewer innings
Pedro Alvarez
plays at third base only makes the defense better.
Likelihood to continue: Fair. Of course, the defensive numbers are tied into the next category ...
3. The starting rotation has been solid.
The Pirates are sixth in the NL with a 3.70 ERA from the rotation. Let's take a closer look at the five starters.
Jeff Karstens: Currently ranks fifth in the NL with a 2.66 ERA, despite allowing 14 home runs in 84 2/3 innings. No offense to Jeff Karstens or his family, but he's not this good. As a finesse righty with an 88-89 mph fastball, there's only a fine line of success for him. So far he's managed to toe that line: Thirteen of those homers have come with the bases empty and he's held hitters to a .151 average with runners in scoring position.
Paul Maholm: He's been the biggest beneficiary of the improved defense, as his batting average on balls in play, .308 over his career, is at .250 in 2011. His K and walk rates aren't really any different than his career norms. While his home run rate has dropped, it seems unlikely he can maintain a 3.21 ERA over the second half.
Kevin Correia: We've discussed him in the blog before. He's cut way down on his walks at the expense of fewer strikeouts, but the new approach has worked. As long as he continues walking two batters per nine, he can remain successful even with his low strikeout rate. As with Maholm, however, any decline in defense will be especially problematic for him.
Charlie Morton: He's not that good. Among 113 qualifed major league starters, he's 62nd in ERA ... but 110th in runners allowed per nine. OK, he's gotten a lot of groundballs so far and has allowed just two home runs. Call me skeptical.
James McDonald: He's 112th among those 113 starters in runners allowed per nine. Until he stops walking four or five batters a game, he's not going to be anything more than a fifth starter.
Likelihood to continue: Poor. Clint Hurdle has expertly managed the rotation and seems to understand their limitations. The Pirates have pitched the fewest 100-pitch games in the league and rank 14th among NL teams in innings by the starters. Even though Hurdle has done a nice job with them, I don't believe they'll sustain this level.
4. Joel Hanrahan has been lights out as closer.
Hanrahan should make the All-Star team with a 1.24 ERA and a perfect 22-for-22 in save opportunities. Hanrahan has always had the big fastball, but like Correia, he seems to have been benefited from some simple advice from pitching coach Ray Searage: throw more strikes, walk fewer guys. Last season, Hanrahan blew hitters away, fanning 12.9 per nine. He walked 3.4 per nine, which was actually way down from his previous season with the Nationals. This year, his strikeouts are down but so are his walks. He's throwing his fastball more and his slider less, and it's resulted in more groundballs.
Likelihood to continue: Excellent, although he will blow a save or three in the second half.
As you can see, the Pirates will be hard-pressed to stay in the race, or even finish .500. But they've been a terrific story so far and, who knows, maybe they will stay in this thing and have their first .500 season since 1992. I certainly hope so.
SERIES OF THE WEEK


Boston at Philadelphia, Tuesday through Thursday
Tuesday:
Josh Beckett
(6-2, 1.86) vs.
Cliff Lee
(8-5, 2.87)
Wednesday:
John Lackey
(5-6, 7.36) vs.
Vance Worley
(2-1. 2.83)
Thursday:
Jon Lester
(9-4, 3.66) vs.
Kyle Kendrick
(4-4, 3.23)
The pitching matchups fall in Boston's favor as right now the Sox are scheduled to miss
Cole Hamels
and
Roy Halladay
, although Hamels could start Thursday on regular rest if Charlie Manuel decides to move around his rotation. Beckett hasn't pitched since June 15 due to an illness but leads the majors in ERA, WHIP (0.92) and opponents' batting average (.174). Lee, meanwhile, is coming off consecutive shutouts and has allowed just one run his past four starts.
The Phillies have struggled to score runs in interleague play, with just 17 runs in nine games against Texas, Seattle and Oakland. The Red Sox lead the majors in runs scored, but will presumably be without DH
David Ortiz
, although Terry Francona has mentioned the possibility of playing Adrian Gonzalez in the outfield so Big Papi doesn't sit for nine straight games. I wouldn't make the move -- you're making defense considerably worse at two positions while risking injury to Gonzalez -- but it's something to watch for.
PITCHING MATCHUP OF THE WEEK

Kershaw
Saturday:
Clayton Kershaw
(8-3, 2.93) vs.
Jered Weaver
(9-4, 1.97), Dodgers at Angels
There are several must-see duels this week -- including the above Beckett-Lee game, a
Tommy Hanson
-
Michael Pineda
matchup in Seattle on Tuesday that could go 19 scoreless innings, Cole Hamels-
Ricky Romero
on Friday -- but this one I'll be sure to watch, record or check out the replay on MLB.TV. By the way, considering the mess with the Dodgers, are the Angels now L.A.'s No. 1 team?

Weaver
After "slumping" in May with a 3.38 ERA, Weaver has a 1.76 ERA in June. He hasn't allowed more than four runs in a game this season and has now gone 24 consecutive starts allowing four runs or fewer dating back to last August. Kershaw -- who had a 31-start streak of four runs or less of his own from May 2009 to April 2010 -- leads the majors in strikeouts.
From
Baseball-Reference.com
, the longest such streaks of allowing four runs or fewer since 2001:
1.
Jake Peavy
, Padres, Aug. 2003-May 2005: 39 starts (20-7, 2.39 ERA, 244 IP)
2.
Johan Santana
, Twins, July 2006-July 2007, 35 starts (21-8, 2.60 ERA, 238 IP)
3. Johan Santana, Twins, May 2004-May 2005, 32 starts (23-5, 2.04 ERA, 229 IP)
4. Clayton Kershaw, Dodgers, May 2009-April 2010, 31 starts (9-7, 2.33 ERA, 177 IP)
5.
Josh Johnson
, Marlins, April 2009-Sept. 2009, 29 starts (13-5, 3.10 ERA, 182 IP)
5.
Roger Clemens
, Astros, Sept. 2004-Aug. 2005, 29 starts (14-4, 1.35 ERA, 199 IP)
It's a good reminder of how dominant Santana was over those three seasons for the Twins, when he went 55-19 with a 2.75 ERA and WHIP under 1.00.
THREE SWINGS

Hamilton
1.
Josh Hamilton
is right about one thing -- he
doesn't
hit in day games. He tried new contact lenses on Saturday and went 0-4 with four strikeouts (he wasn't wearing sunglasses at the plate) and Ron Washington didn't play him Sunday. Is there any truth to his "blue eyes in day games" theory? From the Elias Sports Bureau, here are the top 10 active hitters with the biggest night/day batting average differential (minimum 2,000 plate appearances):
1. Hamilton: .333 night, .240 day (-.093)
2.
Delmon Young
: .307 night, .249 day (-.058)
3.
Casey Blake
: .277 night, .229 day (-.048)
4.
Denard Span
: .302 night, .263 day (-.039)
5.
Michael Bourn
: .277 night, .239 day (-.038)
6.
Rickie Weeks
: .270 night, .232 day (-.038)
7.
Luke Scott
: .276 night, .239 day (-.037)
8.
Johnny Damon
: .298 night, .261 day (-.037)
9.
Craig Counsell
: .269 night, .232 day (-.037)
10.
Prince Fielder
: .294 night, .258 day (-.036)
Based on this limited sample size, let's just say Hamilton's blue-eye theory doesn't quite hold up. Clearly, he does have a real problem during day games -- his split is 35 points worse than Delmon Young, the No. 2 guy.
But what's more interesting is six of the 10 guys on the list have played primarily for dome/retractable roof teams -- Young (domes in Tampa and Minnesota), Span (Metrodome), Bourn (Houston), Weeks (Milwaukee), Counsell (Arizona and Milwaukee) and Fielder (Milwaukee). Makes you wonder if the lighting during day games in those places isn't very good. Worth a more in-depth study, perhaps.
2. Through June 25, MLB attendance was down 325,000 from a similar point in 2010. You'll hear this hammered home all season long by baseball haters. That's about 282 fans per game. Of course, what the haters won't mention is the Dodgers by themselves are down about 371,000 -- and can you blame Dodgers fans for not showing in droves? The second-biggest drop? The Mets, down about 144,000 fans. So take out the two troubled ownership groups and attendance is up over a year ago. The biggest increases? The Rangers and Giants. And Sunday's games saw six crowds over 40,000-plus. Don't let them tell you baseball is dying.
3. Brien Jackson, who writes for our Yankee blog, had a couple tweets on Saturday night that I couldn't agree with more. It's time the New York media (and to a certain extent, Yankee fans) realize that
A.J. Burnett
is what he is -- an overpaid No. 3 starter. It's time the media stops setting Burnett up for its wrath by saying he has great stuff. Burnett's a two-pitch pitcher without great command, and his fastball isn't even what it used to be. Look, Burnett's had a nice career -- 117 wins, ERA better than league average -- but he's never been a
great
pitcher. Yes, he led the AL once in strikeouts, but the last four seasons he's ranked 90th, 48th, 50th and 29th among major league qualified starters in ERA.
RANT OF THE WEEK
Entering Sunday, the quality start percentage across the major leagues was 55 percent, up two percent from last season and seven percent from 2008 and 2009. It's the highest total since 1988's 56 percent. Complete games are up, on a pace of 207 for the season, which would be the most since 209 in 2003. Starters are averaging 6.1 innings per start, the most since 6.1 in 1998.
All this is a way of saying starters are pitching better and going deeper into games than a long time. OK, no surprise there. But few teams are adjusting to this -- most are still carrying 12, or even 13, pitchers. Managers are gaining slight tactical advantages out of the bullpen ... but giving up perhaps bigger tactical advantages with a smaller bench of position players. If starters are going 6-7 innings per start, it's very difficult to get seven or eight relievers regular work. Let's see teams cut down to six or seven relievers and carry an extra bat on the bench that you can use to pinch-hit against that LOOGY or ROOGY in the middle innings. Runs are scarce these days; having more pinch-hitters available could be a nice little edge.
Follow David on Twitter @dschoenfield and the SweetSpot blog on Facebook.
PHOTO OF THE DAY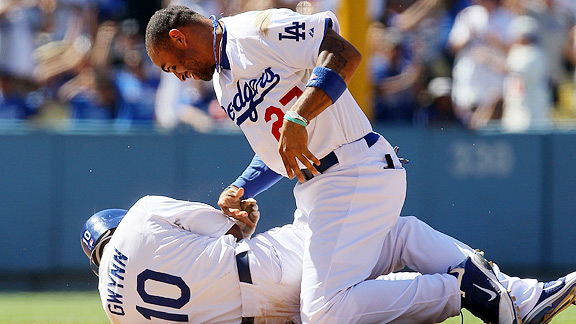 Stephen Dunn/Getty ImagesMatt Kemp has Tony Gwynn Jr. down, and he's not letting him up until the rest of his teammates can dog-pile on top. But that's what happens when you score the winning run, as Gwynn did Sunday.