September, 18, 2013
9/18/13
12:08
PM ET
By
Christina Kahrl
| ESPN.com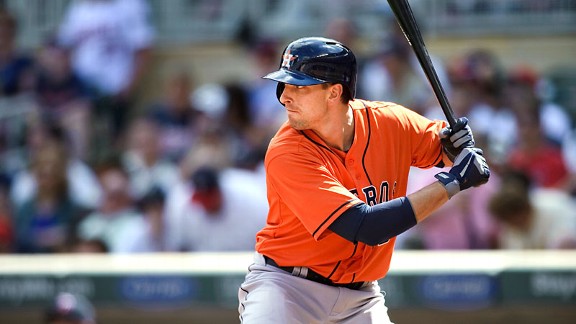 Hannah Foslien/Getty ImagesJason Castro, 26, posted an .835 OPS before a knee injury prematurely ended his season.
The
Houston Astros
took their 100th loss of the season on Tuesday night, making it three years in a row beyond the century mark in the loss column. Before this run of ignominy, the Astros had
never
lost 100 games in a season, no easy feat for any team, especially an expansion club. It might have seemed a singularly awful day in Astros history,
taking a 10-0 shellacking
from the
Cincinnati Reds
after they'd already had to shut down All-Star catcher
Jason Castro
for the season
because of knee problems
.
And nevertheless, things are looking up for the Astros as an organization. As general Jeff Luhnow, with his usual relentless pragmatism, reflected a few weeks ago, "If I look at our organization and where we are today versus where we were a year ago, I think we've made substantial progress towards our ultimate objectives."
Ultimate objectives? These presumably including not losing 100 games a year every year in the Luhnow era, right? Nothing so modest: "Our objective is to develop our own talent and win multiple championships, and I think we've gone a long way towards that," said Luhnow, leaving you to think the unspoken third bullet point involves lasting world domination. Just give him time; it's probably on the list, with a secret volcano fortress on the list of options.
But kidding aside, Luhnow is right, about this year and about the organization he's rebuilding: The shape of things to come is already here. All four of the Astros' full-season affiliates made the playoffs; Quad Cities won the low Class A Midwest League's title and Tri-City won the short-season Class A New York-Penn League. Take these bits of glory won on distant, dusty fields as further proof of Luhnow's ability to rebuild a farm system. Already. Because remember, this marks the completion of just the second season with the new regime in charge, and this past June was just his second bite at the apple of the Rule 4 draft with the Astros. Given the speedy results and a farm system that has already gone from one of baseball's worst to one of its 10 best, if the draft is supposed to be a crapshoot, Luhnow apparently plays with loaded dice.
Luhnow looks at the immediate of results matter-of-factly: "Our draft from last year is really faring well, the players are doing well in competition. It's kind of like stocks, you're not always going to pick all of the ones that go up and all of the ones that go down, but most of our prospects have gotten better, guys like [outfielder George] Springer and [shortstop Carlos] Correa."
Rookie mania
[+] Enlarge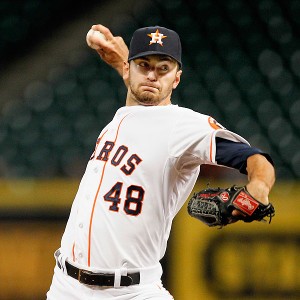 Bob Levey/Getty ImagesJarred Cosart has a 1.95 ERA in 10 starts since being promoted to the majors in July.
Which is not to say that the Astros aren't also interested in what their big-league team has been doing, although they deliberately blurred the lines between the majors and minors as the season progressed. In August, before rosters expanded, the Astros already had 14 rookies on the team.
"That was done by design. We brought some guys in here in spring training to lend some veteran presence and some leadership," manager
Bo Porter
commented, remembering Opening Day Astros like
Carlos Pena
,
Ronny Cedeno
and
Jose Veras
. "At the beginning of the year, that was needed, but as we moved towards the back end of the season, we really needed to identify who our key pieces are, based on major league performance. We knew coming into the season that our number one goal was to properly evaluate our talent at the major league level. And to be able to do that, we had to allow them to play."
Does Luhnow feel any reservations about a ballclub staffed with so many rookies right now? As if.
"In the past, an organization might bring up one guy at a time, to limit their exposure," Luhnow said. "For us, this might mean some more losses now, but I think that ultimately it speeds up our development cycle. We learn a lot more about these players, and the players themselves develop more quickly."
Take the development of third baseman
Matt Dominguez
, a 2007 first-round pick of the Marlins who came over a year ago in the
Carlos Lee
trade. He's hit 20 home runs in a .241/.284/.408 season. That won't float you're fantasy team, but so what? As an investment in Dominguez's upside, it's easy to see how he might turn into a
Joe Crede
-type of player, someone you can win with.
"He's only 23 years old," said Porter. "You may be looking at a 30 home run, 90 RBI guy, playing Gold Glove defense -- that's a pretty good player."
More clinically, Luhnow observes, "The power is nice, I think we've discussed it with our coaches in that he still has some gaps in his game -- like his on-base percentage -- but the defense has been excellent this year. He's just a very unique player, because his sabermetric defensive ratings aren't as good as what you see when you watch him. You have to understand that analytical measures are flawed, they aren't perfect. Different metrics give you very different answers, but you talk to our coaches, pitchers, opponents, they all think he's an above-average third baseman."
Arms race
The pitching staff has taken a beating, but it too has looked better of late. Looking over his roster, Luhnow says, "
Brett Oberholtzer
was a surprise for some of our people internally, in terms of how well he has performed and how consistent he's performed well. Those are the types of guys who we're going to need; he might not be considered a No. 1 because of his stuff, but he can sit there in your three or four spot, chew up 200 innings, win 15 games, that's exactly what you need."
And Oberholtzer is far from alone.
"Jared Cosart, everybody thought that he had the stuff to eventually be a dominant starter," Luhnow said. "He came out of the gate dominating, and that's fun to see. But I don't think we need a number one yet. All six of these young guys we're starting believe that they can be the number one, and that's probably the best position that we could be in."
Which is another way of saying that the Astros are starting to assemble a team of players that their fans should start committing to memory. Take
Jonathan Villar
, added from the Phillies, and just 22 years old. Since coming up in late July, Villar has given the Astros a strong OBP and a needed bit of energy, and being able to evaluate him now is one of the big components for the Astros deciding what they'll have to work with in 2014.
"He's one of those players with a lot of tools," Luhnow notes, "and my experience is that a lot of times players with a lot of tools may or may not translate into actual performance at the major league level. He's becoming a complete player: He's taking walks, he's able to play small ball, steal bases, defensively he has all the tools and capabilities to be an above-average shortstop. That's huge. He just injects an energy into the club that was needed and important, because you want guys to really feel that they've got a chance to win."
Wait, what? Win? The Astros? Luhnow isn't that surprised by the idea.
"It's definitely coming together," Luhnow said. "It's not entirely reflected in the record. We're hoping we finish strong, but the final record probably isn't going to be much different than it was last year. I think we're much more poised now to have a better year. There's a lot of excitement internally; I've had some coaches come up to me and tell me, like it's a secret, we might improve by 20-30 games next year. That's excitement."
Christina Kahrl covers baseball for ESPN.com. You can follow her on Twitter.
February, 3, 2012
2/03/12
9:30
AM ET
By
Christina Kahrl
| ESPN.com
Where were you when the game embraced the new bad? Not the old bad, mind you -- depending on which generation you're in, that could mean the
Major League
Indians in the '80s, or it might be the Kansas City A's. Those were teams so hapless and hopeless they became legendary for it.
No, what did you think about the state of the game a decade ago, when we got to see four different teams lose 100 games in the same season for the first and only time? In 2002, the Brewers, Tigers, Devil Rays and Royals all managed the dubious feat.
What will you think if that happens again -- say, what if it happens again in 2012?
This might seem surprising to bring up now, because competitive balance in baseball is doing really well. To borrow from the immortal Chico Escuela, baseball has been very, very good to us lately -- most of us, at any rate. Go back to 2001, when the Diamondbacks upset the Yankees and overthrew the game's last dynasty, and you'll find that 25 of baseball's 30 teams have made the postseason over the past 11 years since. Nine different teams have won the World Series. For competitive balance, it might seem like it's hard to do much better than that.
And at the outset of this new age that spread Bud Selig's well-worn mantra of teams and fans having hope and faith, you've also got that quartet of hundred-loss teams. You've also got the 119-loss Tigers of 2003, the worst modern-era team since the 1962 Mets. You've also got the 2004 Diamondbacks and their 111 losses, the worst mark in National League history in the era of divisional play.
If you refer to the chart generated by Dan Szymborski of ESPN Insider after simulating the 2012 season repeatedly to test the likelihood of the outcome, you can see that there are five teams with a one-in-five shot or worse at suffering their own 100-loss season. How in the new era of competitive balance could that come to pass?
We know that
the Mets have had to shed a record amount of payroll
, and we know why:
The Wilpons are pinched for pennies
. As David Schoenfield
noted on Thursday
, what sort of hope can Orioles fans really work up about their current crew when they simply don't have the talent to really run with the big dogs?
In the case of these two teams, it's worth remembering that the Orioles and Mets are each marooned in the two hypercompetitive Eastern divisions. However, with the initiative to add a fifth playoff team to each league, suddenly finishing third in either division no longer seems such an impossible goal for the Nationals, Marlins or Blue Jays.
The Athletics and Mariners have a similar problem. While the Angels and Rangers embark on a multiyear duel fueled by star power and a ton of expense in their race to claim the AL West for themselves, the unbalanced schedule means that the luckless squads in Seattle and Oakland have to look forward to playing almost a quarter of their schedules -- 38 of 162 games -- against their two now-even-more-powerful division rivals. Indeed, in the face of that kind of competition, the A's leadership has seemingly chucked any ambition for their near-term future while they wait to see how their latest bid to move to San Jose works out.
At the bottom of the barrel, at least the
Houston Astros
might be able to look forward to the benefits of regime change in the front office. That goes for the Cubs, as well, and the presence of Theo Epstein in Wrigleyville or former Cardinals exec Jeff Luhnow in Houston, but both franchises are bogged down in long-term rebuilds. More importantly, they advertise the fact, and it's that very hopelessness that suggests how much things have changed over the past decade.
It's this seeming immediate hopelessness of so many teams that seems particularly strange, because who's running these organizations? Jack Zduriencik came to Seattle from the Brewers organization with an exceptional track record in player development. The Mets' Sandy Alderson was the architect of the A's late-'80s mini-dynasty. The Orioles' Dan Duquette was once one of the game's top-rated executives for his work in Montreal and later Boston. Luhnow comes to Houston
highly recommended and worthy of generating high long-term expectations
. And while the Cubs' shot at losing 100 games in 2012 might only clock in at 5 percent, the team's grim near-term future hasn't dimmed Chicago's enthusiasm for the Cubs' new team president, Epstein of Red Sox fame.
Which brings us back to Oakland. Billy Beane completes this set of franchise honchos, who might be the perfect pitchmen for the team's immediate lack of hope and faith. Beane completes this set of franchise honchos, who might be the perfect pitchmen for their teams' immediate lack of hope and faith. The A's dealt away
Gio Gonzalez
,
Trevor Cahill
and
Andrew Bailey
, none of whom were on the verge of leaving as free agents, merely as a matter of paring payroll to the bone and abdicating any intention to run with their division's now even bigger big dogs.
This can be seen as interesting because these days we're now far into the post-"Moneyball" world. You might have heard the movie is up for a few Oscars, but you can certainly mark the occasion by getting the DVD, the book and the T-shirt. Wait around long enough, and you might even get the action figure -- the
Scott Hatteberg
bobblehead
will be released on August 18
to commemorate "
the Streak
." But now it's 10 years later, and these are still about as high as the highlights for "Moneyball" get.
In all the hype about the "new" mindset "Moneyball" gave us, if there's one catchphrase you've had to listen get beaten to death by baseball smarties, inside the game or out, it may well be "market inefficiency." Whether that market inefficiency has been OBP or defense or performance analysts or adequate fifth starters or high school pitchers in the draft, wait around long enough and you can bet that there's going to be some new dynamic in which some fraction of a win might be gained on the cheap side of the Hot Stove league. Those who reap those gains are sure to harvest hosannas.
This was neat to think about 10 years ago, especially when there might have been more variety between management mindsets. But perhaps in today's game, we don't have that variety that created those market inefficiencies -- instead, you have a generation of GMs hunting for market inefficiencies, trying to stretch their dollars as far as they can go, and only too aware of what everyone else is up to.
In the face of that kind of competition, it's understandably harder to change a franchise's fortunes entirely, no matter how smart Billy Beane is, or Jeff Luhnow. Even the smartest GMs have to buckle in for long-term rebuilds, and that means accepting patches as rough as 100-loss seasons might represent. And maybe
that's
the paradigm change that "Moneyball" really heralded a decade ago: that even the smartest GMs have to ride out a team hitting bottom as it rebuilds -- and being able to package that message to fans waiting to see progress. In the meantime, the message isn't "Wait til next year," it's "Trust me, I've got a track record."
If we see some or all of the Astros and A's, the Mariners and Mets, or the Orioles lose 100 games in 2012, that may not mean the game's competitive balance is broken. Instead, it might reflect the penalties of rebuilding in the hypercompetitive present, especially as the number of teams with a shot at postseason play expands. Opt out of being in one season's race, and your team might just risk getting run over.
Christina Kahrl covers baseball for ESPN.com. You can follow her on Twitter.
December, 15, 2011
12/15/11
10:30
AM ET
By
Christina Kahrl
| ESPN.com
Hiring a general manager is a unique, defining opportunity for an organization. The AL-bound Astros may have done exactly that, defining themselves and their future by hiring minor league honcho Jeff Luhnow from the Cardinals to be their new GM. He gives them the executive they've needed for years.
It isn't really a secret that the Astros are now one of baseball's disaster franchises. They may not have the Pirates' 19 consecutive losing seasons to apologize for, but they were already a franchise headed for trouble when they fired general manager Tim Purpura in 2007. Four years under Ed Wade in the front office did not immediately put them on a rebuilding track, delaying the inevitable collapse while costing the Astros time they didn't have.
As the Cardinals' vice president of scouting and player development, Luhnow was simultaneously successful and unconventional, reflecting the benefits of a man who doesn't come purely from either side of the overdrawn divide between scouts and analysts. Instead, Luhnow's background was in business, with an MBA from Northwestern and fluency in Spanish after growing up in Mexico City.
Rational management techniques helped make him a successful consultant and business executive, a broader tool kit than just an appreciation for stats and analysis. His training, experience and success provided Luhnow with the insight to reorganize the Cardinals' scouting department in entirely new ways. Evaluators were assigned to specific conferences, or sub-specialized in pitchers or position players. The wider net his farm system cast didn't just score early-round successes like
Chris Perez
or
Colby Rasmus
, it also produced later-round successes like
Jaime Garcia
and
Luke Gregerson
.
Every team's trying to pursue and achieve competitive advantages over the others, and every team already has some level of awareness of statistical analysis. "Moneyball" may have reached theaters, but its message had long since been received throughout the game. The stats vs. scouts divide has long since gone from concern to overdrawn cartoon. Teams understand the need to utilize both methods, and Luhnow's an effective representative of a generation of leadership who understands that, but also does more than work with scouts
and
stats.
Luhnow's unusual background perhaps also contributed to his popularity with Cardinals owner Bill DeWitt, another MBA holder. DeWitt promoted Luhnow against the wishes of then-GM Walt Jocketty, and deserves his own share of the credit in recognizing the value Luhnow brought to the table. If owners are almost always successful businessmen, you can see how being a man from a similar background would be helpful. Luhnow's track record for solving problems and achieving results in player development in unconventional ways would have already suggested him to new owner Jim Crane. So you can also credit Crane — another businessman — with having the sense to include Luhnow, and then quickly take to him.
The last time around, in 2007, the Astros had the opportunity to make this kind of high-impact hire. They certainly needed it. The roster that had helped propel the team to a pennant in 2005 was already one of the league's oldest. The farm system was undisputedly baseball's worst. Things have not gotten that much better since. In the last 13 years, the organization has drafted exactly nine players who have generated a career WAR value of 1.0 or more. Not just for the Astros, for anybody, anywhere. The top two sound nice enough:
Hunter Pence
and
Ben Zobrist
in 2004, but things go south in a hurry.
Bud Norris
and
Brian Bogusevic
are the only players on this list likely to do the Astros much good in the future.
It gets worse: Two of these players, Sampson and Bogusevic, acquired their value after moving to or from the mound (respectively) -- in both cases, career hail marys to salvage something from a draft pick gone wrong. Also keep in mind that Zobrist didn't produce any of that value for the Astros -- he was traded away to Tampa Bay for
Aubrey Huff
in 2006, in part because he was being defined by what he couldn't do well -- play shortstop every day -- instead of what he can (just about everything else a player can possibly do).
Unfortunately, the draft will take years to yield measurable results, so there's no reason to rush to judgment about Luhnow. It's not like there's a lot of low-hanging fruit in the world of player development left to be easily picked. In the '80s and '90s the Astros were industry leaders in scouting Venezuela, but that advantage disappeared more than a decade ago as every team invested in scouting and acquiring Venezuelan talent. You may have noticed there were no Latin players on the Astros' list of nine farmhands who have produced more than one win above replacement.
Achieving better results in player development isn't the only thing Luhnow will have to address. Part of being a GM is being able to make the sale on a vision for the organization: First to the people who have to hire you, then almost immediately to the fans and media folk who are going to judge everything you do for the team forever after, and then finally -- critically -- he has to be able to get buy-in from the people who report to the GM. That doesn't just mean the players or the manager, it also means to the people who work in player development and baseball operations.
Inevitably, there's going to be some turnover — an ability to select good subordinates is a critical criterion for an effective GM. There will be some defections from the Cardinals in the months to come. But even on the Astros, Luhnow has inherited some front-office talent. What will be critical in the time to come for Luhnow will be not just identifying the talent on the field for the Astros, but people associated with the organization off the field.
So Luhnow will have to sort out who and what he needs to bring in off the field as well as on, working with what he's got to work with. Bobby Heck has been credited with an improved player development program since he became scouting director in 2008 on Wade's watch, but expectations are high with a new owner's investment and relying on Luhnow's track record. Some of Heck's most recent products -- notably
J.D. Martinez
,
Jordan Lyles
and
Jason Castro
-- provide reason for hope.
On some level, the moves to come on the major league team are easy by comparison, because the hand that Luhnow's been dealt is extraordinarily weak. He'll make of it what he can, but
the return from his first trade
, getting infielder
Jed Lowrie
and pitcher
Kyle Weiland
from the Red Sox for reliever
Mark Melancon
, was a great start. His best bargaining chips are veteran rotation workhorses
Wandy Rodriguez
and
Brett Myers
; whether they get dealt now, soon or at the trade deadline, they will not be sold cheaply. Like Melancon, they're the best chances Luhnow has to add young talent to an organization so short of it. Given time, it won't be his last.
Christina Kahrl covers baseball for ESPN.com. You can follow her on Twitter.
April, 8, 2009
4/08/09
4:00
AM ET
You might be wondering, "Rob, what does this slightly different blog format mean for me, the Dear Reader?"
To which I might answer, "Not a whole lot, Dear Reader. If you had the old blog bookmarked, you'll have to update your bookmarks. If you had the old blog RSS'd, you'll have to update your feed. And since I'm now posting straight to the site -- from my fingers to your eyes, as it were -- I should be able to react a bit quicker to breaking stories.
For the most part, though, I'm the one who has to adjust; now it's a lot easier for me to get into serious trouble.
With that happy thought in mind, today's Link-o-Rama ...
• Allen Barra on how baseball has changed in the last 50 years.
• Via Beyond the Box Score, a solid interview with Cardinals VP Jeff Luhnow; did you know the Cardinals have four full-time employees devoted solely to objective analysis? I didn't.
• Yesterday, I briefly touched on Trey Hillman's idiocy -- I mean, I'm sorry, but what he did was idiotic -- and today you can read more about the excruciation from Rany Jazayerli and Joe Posnanski (and don't let the funny names fool you; they know their stuff!).
• Worried about CC Sabathia? Don't be. As R.J. Anderson demonstrates in great and graphical detail, Sabathia's Opening Day stuff was fine; he just missed with a few pitches. And that'll happen sometimes, even to him.
• Just wondering ... How did we live before pitchf/x? Case in point: Dave Allen's look at how umpires' strike zones change significantly, depending on the count.
• Victor Wang looks at projecting playing time; and while he certainly hasn't figured out how to it perfectly -- an impossible task, of course -- he does a great job of laying down the issues involved.
• The winningest program in college baseball history? You'd never guess.
• To celebrate the first full day of this format and my editorial freedom (to a point) -- oh, and because you demanded it -- I present to you (courtesy of UniWatch) ... Carlos Zambrano's stage-left nipple!