December, 28, 2011
12/28/11
1:00
PM ET
By
Christina Kahrl
| ESPN.com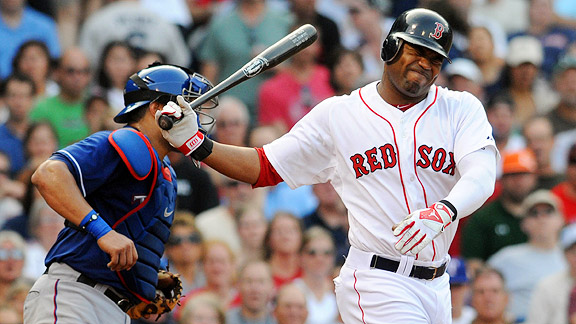 Darren McCollester/Getty ImagesCarl Crawford's first season in Boston was not what he had hoped it would be.
Baseball's a zero-sum game on the field: Somebody wins, and somebody loses. Off the field, it isn't always as cut and dried, but when you want to talk about the season's goat of the year, sometimes it's a lose-lose proposition: for the free agent who gets big-time money and for the team that signs him.
Welcome to
Carl Crawford
's world because, after an ugly 2011 season, he's the player who gets the unhappy label of our goat of the year. Seen as perhaps the biggest prize of last winter's free-agent crop, Crawford agreed to a seven-year, $142 million contract with the Red Sox at last year's winter meetings in Orlando, Fla. His arrival in Boston was part of the reason the Red Sox were overwhelming favorites to win the American League East, the AL pennant and -- for more than a few prognosticators -- the World Series.
None of that happened, and although the Red Sox's ultimate ignominy was achieved on
an epic final day of the season
, that was just the last note in a six-month-long sad song for their left fielder. Crawford finished the year hitting a pathetic .255/.289/.405 with the Red Sox, his worst season at the plate since he was a 21-year-old regular with the then-Devil Rays.
This was a season so disappointing that, by the time the Sox lost him for 30 days and 24 games to a strained hamstring at midseason, it was almost a relief. At the time, he was hitting just .243/.275/.384. But even after he returned from the DL, Crawford didn't hit anything like the Carl Crawford of old, delivering a .267/.304/.428 line thereafter.
Dive into Crawford's performance, and you can see he was set up for some measure of disappointment from the get-go. Whatever your brand of wins above replacement (bWAR, fWAR or WARP), he had put up a career year at the plate for the Rays in 2010. Considering it was his age-28 season, that was right around when you'd expect a hitter is supposed to deliver better than ever, falling within that age 25-29 sweet spot that sees most players deliver their best seasons.
That breakout led to the big payday, and the equally exaggerated expectations. Per Baseball-Reference.com, the value of his 2010 at the plate with the Rays was 5.6 wins, which is made only more remarkable by the fact that he had
never
topped 3.2 in any other season across 8½ years in the majors. It couldn't have been better timed, considering his impending free agency, of course, but what's a guy supposed to do, say no to $142 million?
Some of the drop might have been associated with the leg injury, of course. And some of it involved his having to hit against the Rays, against whom he struggled in 2011 (.541 OPS) after owning the Red Sox in 2010 (.847). It's also worth noting that Crawford, a very good fastball hitter, saw a lot fewer fastballs for Boston than he had in Tampa Bay (dropping from 41.4 percent of pitches seen to 39.5 percent). And perhaps you can blame some of this on Crawford's role. With the Rays, he'd been a star, batting second or third in the order. The Red Sox initially had him up top, but a slow start got him kicked toward the back of the order before the end of April. As much as it's easy to say a player should just deliver wherever he's put, you couldn't blame the guy for wondering about his place on a new team and in a different lineup.
To be fair, Crawford was not solely responsible for the Red Sox's epic collapse in 2011. He wasn't the guy on the mound for five late-game losses in September;
Daniel Bard
was. As bad as Crawford's 2011 season was, the Red Sox got even worse numbers out of their right fielders (.652 OPS) than they did out of Crawford & Co. in left (.723). To conjure up a collapse as epic as Boston's, it took a village.
But for all that, it's Crawford's lot to be the signature player of a Red Sox team that achieved none of the things foreseen for it before the season. If just one player has to wear the horns as baseball's goat of the year, they belong on Crawford's head.
Dishonorable mention
Again, sticking with players, we can start out with already-mentioned
Daniel Bard
of the Red Sox because of his September: three blown saves, four losses and 14 runs allowed in 11 innings. It ruined what had been a tremendous season for the setup man.
Adam Dunn, White Sox:
Jayson Stark has already done
a great job of noting some of the truly ghastly things
about the 2011 season of the South Side's DH. For those of us here in Chicago, it was even worse to have to witness, and added up to the worst season via bWAR among big league hitters, at minus-2.7. When Kenny Williams' White Sox went "all-in" for 2011, this wasn't what they expected from the slugger for whom they had shelled out $56 million for four years.
Jeff Mathis, Angels:
An easy target because of his putrid season at the plate because a .484 OPS is just not something anybody should carry as a lineup regular and expect to win.
In all of these cases, you have to hope they have better 2012 seasons, not just for the fans of their teams but for their own sake.
Christina Kahrl covers baseball for ESPN.com. You can follow her on Twitter.
August, 5, 2011
8/05/11
1:30
AM ET
By
The Common Man
| ESPN.com
I'll be honest that I'm shocked -- shocked! -- the Los Angeles Angels have made it this far. With
Kendrys Morales
out for the season and
Vernon Wells
racking up outs by the dozen, there was almost no doubt in my mind before the season started that the Angels were going to fall off. Yet here we are, 112 games into the season, and the Angels are just a game back of the
Texas Rangers
for the AL West lead. Good for them.
At this point, it's essentially a toss-up as to who wins the division, given that there are 10 contests left to play between the two rivals, including the last three games of the season in Anaheim. Provided they maximize the resources on hand, there's no reason the Angels can't pull past the Rangers.
In part, that's going to mean making sure that
Jered Weaver
and
Dan Haren
, one of the top one-two punches in all of baseball, start as many times as possible. Weaver has been incredible, going 14-5 with a 1.88 ERA and walking fewer batters than ever. Haren (12-6, 2.81) has also been incredibly impressive. Prior to Haren's start against the Twins, they had combined for 9.5 wins above replacement, according to Baseball Reference, while the rest of the pitching staff has just 5.0 WAR. And since June 1,
Ervin Santana
has stepped up to provide the Angels with a viable third option, posting a 2.52 ERA and tossing a no-hitter.
It's fortunate that the pitching has picked up the slack, because the Angels' offense ranks just 12th in the American League in runs scored per game. In July, when offenses are supposed to be at their hottest, the Angels hit just .229/.295/.371 as a team. This is a team that struggles to get on base and needed a bat at the trade deadline to shore up their offense. Of course, they did not get it. Standing pat, the Angels decided to live with their offense that is 11th in the league in OBP and 10th in slugging percentage.
After moving
Joel Pineiro
(14.85 ERA in his last four starts) to
the bullpen
, there's only one obvious move left for the Angels to make. They must free
Hank Conger
.
As bad as the Angels' offense has been, it's their catching that has been especially atrocious in 2011.
Jeff Mathis
has started more than half the games behind the dish while hitting just .184/.229/.263 in 214 plate appearances. Among players with more than 200 PAs, he has the lowest OBP in the game. According to FanGraphs, he's been worth -0.8 WAR this year alone. It's not like this is a fluke. In 218 plate appearances last year, Mathis hit .195/.219/.278, for just a 37 OPS+. Indeed, the evidence is simply overwhelming that Mathis is just not a good baseball player. Nor is his current backup,
Bobby Wilson
, who has just 57 plate appearances on the year despite being active all season, and has a career line of .212/.279/.359.
The good news is that Conger is ready to help at Triple-A. The 23-year-old was the 62nd-best prospect in baseball according to Keith Law before the season began, when
he wrote
, "Conger could step in and catch every day for any number of clubs right now, and if he doesn't beat out Jeff Mathis for a roster spot, there's something very wrong with the Angels' decision-making process." Conger did break camp with the club, hitting a somewhat disappointing .214/.297/.357 in 173 plate appearances, and was sent down to Triple-A Salt Lake City on July 19.
Before that demotion, Conger was never truly put in a position to succeed by manager Mike Scioscia. He didn't start until the fifth game of the Angels' season. After that, he entered an odd job-sharing arrangement with Mathis, where he and Conger basically alternated starts for much of May and June, never allowing Conger to get in a rhythm at the dish. Since his demotion, as he's gotten a chance to play every day, Conger has dominated minor-league pitching, hitting .333/.397/.614 with four homers in 63 plate appearances. In other words, he's done exactly what you'd expect a major league-caliber hitter to do. And perhaps more importantly, even though his results were below what the Angels hoped for from their rookie, Conger was still demonstrably better than Mathis.
There's no doubt that Conger is ready. If the Angels are going to hang tough in the AL West, they need all hands on deck. Their best nine must be out on the field every day to pass and hold off the Rangers. That means benching Mathis and installing Conger as the everyday catcher. They have already wasted enough time with a player who actually makes their team worse when he's on the field. It's time for Scioscia to simultaneously embrace the future and the present. Conger is better than he's shown, and he needs a fair opportunity to prove it. If that proof helps them to slide past the Rangers, that's excellent. But if they don't make the move and finish just a game or two back of Texas, there's no doubt who is to blame.
PHOTO OF THE DAY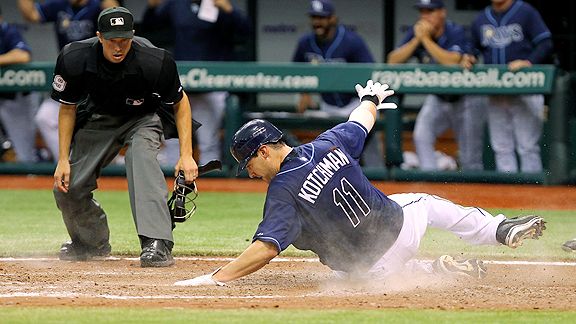 Kim Klement/US PresswireEverything is illuminated: Casey Kotchman makes sure he scored, with a witness.
The Common Man writes for The Platoon Advantage and fights the good fight on Twitter.
May, 12, 2011
5/12/11
12:24
PM ET
Sad news for the Angels, as
Kendrys Morales will miss the entire season
after needing further surgery on the ankle he broke last year.
Morales
In the big picture, it's a tough blow, as Morales' had been one of baseball's top sluggers in 2009, hitting .306/.355/.569, and now it sounds like his career could be in jeopardy. On the positive side, the Angels have a capable replacement in
Mark Trumbo
, who is hitting .263/.303/.474 with six home runs. The numbers are right in line with his projections -- Baseball Prospectus projected him to hit .276/.320/.488. He's too much of a free-swinger (six walks, 29 strikeouts) to ever be
really
valuable with the bat, but at least he provides some power. Morales was about a 3.5 WAR-level player in 2009, while Trumbo has been about a 0.6-WAR player so far, so the difference isn't as extreme you may think -- maybe a win over a full season if Trumbo keeps up his current level.
The Angels are 21-17, good enough for first in the AL West right now, despite no Morales, terrible production from
Vernon Wells
, the desire to keep giving at-bats to
Jeff Mathis
and the fact that their cleanup hitters are batting .239 with a .292 OBP. While it's easy to give all the credit to
Jered Weaver
and
Dan Haren
, the offense actually hasn't been that bad, ranking ninth in the AL in runs scored. But if you adjust for Angels Stadium being a pitcher's park, it actually ranks a little higher, more middle of the pack.
The problem comes with future performance:
Howie Kendrick
,
Maicer Izturis
and
Alberto Callaspo
are all hitting over .300 and
Peter Bourjos
is hitting .290 despite 40 strikeouts in 131 at-bats. Bourjos, Kendrick and Izturis rank fifth, sixth and eighth in the AL in batting average on balls in play. Bourjos, in particular, is due for a decline in production unless he cuts way back on those strikeouts. Right now, rookie catcher
Hank Conger
is splitting time with the offensively inept Mathis. While it's understandable not wanting to give the full-time job to a rookie, Conger's bat may be needed on a five-day-week basis, rather than three.
I think the Angels can hang in there. They play great defense (second-best UZR in the majors) and have two aces. And while the offense isn't great, remember that it's 2011 ... not many are.
Follow David on Twitter: @dschoenfield. Follow the SweetSpot blog: @espn_sweet_spot.
June, 18, 2010
6/18/10
4:43
PM ET
With
Jeff Mathis
coming off the DL and the Angels short a first baseman,
Mike Napoli
's going to
give it a go
. A good idea?
Aaron Gleeman's take
:

Napoli admitted that moving to first base "felt a little strange" initially, but he's by far the Angels' best option offensively and did play there some in the minors. In fact, this could be Napoli's best chance at everyday playing time, as Scioscia has often gone with Mathis' glove over his bat when choosing his starting catcher.

Napoli has a lifetime .848 OPS, which is above average for big-league first basemen, and he's averaged 30 homers per 500 at-bats for his career. Assuming he can be somewhat passable offensively, Napoli is very capable of giving the Angels the same type of production they'd get from a midseason pickup like Paul Konerko.

Well, yes ... but whatever you gain with Napoli at first base, you lose with Jeff Mathis behind the plate. Mathis is a
terrible
hitter, one of the very worst hitters in the major leagues who is blessed with regular playing time. Obviously, Scioscia -- coincidentally or not, an ex-catcher -- has great affection for Mathis' defense, and given the Angels' success you can't really hold it against him. It's incredibly difficult to quantify, but perhaps Mathis' defensive contributions balance (or more than balance) Napoli's hitting. Particularly considering that "a midseason pickup like Paul Konerko" wouldn't be free.
If Napoli really can play a passable first base, this is not an unreasonable move. Especially if the Angels don't want to give up a couple of prospects or add a few million dollars to their payroll.