September, 19, 2014
Sep 19
11:08
AM ET
Facing the
Los Angeles Angels
' Triple-A lineup Thursday (all the starters rested after the Angels clinched the AL West title Wednesday night),
Felix Hernandez
crushed: 7 IP, 3 H, 0 R, 2 BB, 11 K. He lowered his ERA to 2.07.
And he didn't get the win. The Mariners did
finally capture the victory
when
Logan Morrison
hit a three-run homer in the ninth, but Hernandez was left with a no-decision.
That's now three no-decisions this season for Hernandez in games in which he allowed zero runs, on top of four no-decisions and a loss when he allowed one run. Plus two no-decisions and two losses when he allowed two runs. You get the idea: The Mariners don't score many runs for their King.
[+] Enlarge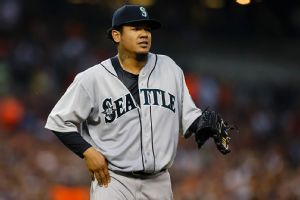 Rick Osentoski/USA TODAY SportsWhat more can Felix Hernandez do? (Maybe his run support would improve if they let pitchers hit in the American League.)
From ESPN Stats & Info: This was the 16th time in his career that Hernandez has fanned 10 or more batters, allowed zero earned runs and did not receive the win. The pitchers with the most such games over the past 100 years:
Nolan Ryan: 19
Chris Short: 18
Vida Blue: 17
Felix Hernandez: 16
Jake Peavy
: 16
Sam McDowell: 16
Bob Veale: 16
Also, from ESPN Stats & Info: The Mariners have scored three runs or fewer in more than half of his career starts. Highest percentages since 1969:
Jon Matlack: 54.1 percent (172 of 318)
Steve Rogers: 52.7 percent (207 of 393)
Felix Hernandez: 52.5 percent (158 of 301)
Mike Scott: 52.1 percent (166 of 319)
Nolan Ryan: 51.7 percent (390 of 754)
Interesting list. Matlack spent his best years in the 1970s with some mediocre Mets clubs, pitching in Shea Stadium, a low run-scoring environment. In 1974, he tossed seven shutouts and still went just 13-15. He then finished with some bad Rangers teams in the late '70s and early '80s. Rogers pitched his entire career with the Expos from 1973 to 1985. They were well above .500 from 1979 to 1985, so a lot of those games must have come early in his career. He led the NL in losses in 1974 (even though he was an All-Star that year) and 1976, when he had a 3.21 ERA. Scott and Ryan both pitched in the Astrodome, where runs were hard to come by. Ryan spent a lot of years in Anaheim, another pitchers' park, and he had some awful offenses behind him in his early Angels seasons. He went 19-16 in 1972 for a team that averaged just 2.93 runs per game, an offense that makes the 2014 Mariners look like the 1927 Yankees.
Then we have
Jeff Samardzija
of the A's. On Wednesday, he tossed eight scoreless innings, left with a slim 1-0 lead and then saw
Sean Doolittle
cough up the lead in the ninth. He's now 6-12 despite a 2.98 ERA. You know how many pitchers have ever started 30 games, had an ERA below 3.00 and won six or fewer games? One! Some poor sap named Fred Glade for the 1905 St. Louis Browns. His nickname: Lucky.
(Actually, Glade wasn't
some poor sap
. He came from a wealthy family who owned a milling business that would eventually become part of ConAgra.)
Samardzija has allowed zero runs five times this year -- twice with the A's, three times with the Cubs -- and has received a no-decision each time. He's allowed one run five times and is just 2-0 in those games.
Going back to 1969, here are the pitchers with the most starts in a season of allowing no runs without getting the win:
Dustin Hermanson
, 1997: 6 (33.1 IP)
Roger Clemens
, 2005: 6 (40 IP)
Clayton Kershaw
, 2009: 6 (38.2 IP)
Jimmy Key, 1985: 5 (27 IP)
Chris Young
, 2007: 5 (25 IP)
Jeff Samardzija, 2014: 5 (35 IP)
Samardzija has eight games where he allowed no runs or one run and failed to get a win. Since 1969, two pitchers have had nine such games in a season: Kershaw in 2009 and Jose DeLeon in 1991. (Felix also has eight such games this year.)
Talk about two unlucky pitchers.
And yet we still hear some people talk about how there is an "art" to winning games.
Sure, it's called pitching well and getting run support.