April, 7, 2012
4/07/12
8:35
PM ET
This is what will have American League pitchers and managers waking up in cold sweats all season long: Those stretches when
Miguel Cabrera
and
Prince Fielder
are both raking, eyes bulging as they pummel meaty fastballs over fences and into outfield seats.
Josh Beckett
become the first pitcher to experience these forces of nature in action, as both hit two home runs off him in Detroit's
10-0 victory
Saturday over Boston. Fielder hit one out to left field and a low, screaming bullet to right for his pair. Going the opposite way is nothing new for him; 11 of his 38 home runs in 2011 went to left or left-center. There were some concerns that Fielder would lose a few home runs moving from Miller Park to the more spacious environs of Comerica, so hitting one out to left is a good, early sign.
How dynamic is this pair? A season ago, Fielder hit .299/.415/.566 with 38 home runs; Cabrera hit .344/.448/.586 with 30 home runs. The last team with two players to hit 30 home runs with a .400 OBP? The 2006 Red Sox with
Manny Ramirez
and
David Ortiz
. Twelve teams since 2000 have had such a duo (or in the case of the 2004 Cardinals, three players):
[+] Enlarge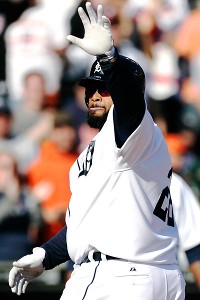 AP Photo/Duane BurlesonPrince Fielder waves after hitting the first of his two home runs off Boston's Josh Beckett.
2006 Red Sox: Ramirez, Ortiz
2005 Yankees:
Alex Rodriguez
,
Jason Giambi
2004 Cardinals:
Albert Pujols
,
Jim Edmonds
,
Scott Rolen
2003 Yankees: Giambi,
Jorge Posada
2002 Astros:
Jeff Bagwell
,
Lance Berkman
2001 Rockies:
Todd Helton
,
Larry Walker
2001 Cardinals: Pujols, Edmonds
2000 Cardinals: Edmonds,
Mark McGwire
2000 Angels:
Tim Salmon
,
Troy Glaus
2000 Astros: Bagwell,
Moises Alou
2000 Mariners: Rodriguez,
Edgar Martinez
2000 Giants:
Barry Bonds
,
Jeff Kent
Of course, all of those pairs or threesomes did this during the high-offense steroids period. Six other teammates did it between 1995 and 1999. But before that? That previous team to have two such players was the 1969 Oakland A's with Reggie Jackson and Sal Bando. Throughout baseball history there have been only 34 such pairs. Here's another way to do this. Let's add OPS+ (adjusted on-base plus slugging percentage) as a third measuring stick. OPS+ adjusts a player's offensive production for home park and era. In 2011, Cabrera's OPS+ was 181, second in the American League. Fielder's was 164, fourth in the National League. Let's set a minimum of 30 home runs, .400 OBP and 150 OPS+.
This takes away some of steroids-era pairs and leaves us with 24 such teammates in baseball history. And six of those 24 were Babe Ruth and Lou Gehrig.
And that, my readers, is the kind of company Cabrera and Fielder have the chance to join.
A few more notes from today's early games:
December, 20, 2011
12/20/11
10:00
PM ET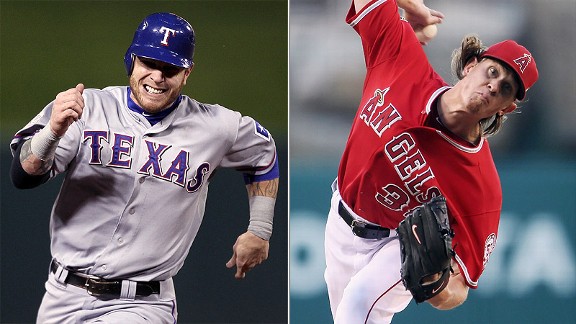 Getty ImagesWith stars like Josh Hamilton and Jeff Weaver, the Rangers-Angels rivalry may be baseball's best.
This exercise has no scientific value whatsoever. But it's fun. Let's go position by position and see whether the
Texas Rangers
or
Los Angeles Angels
rate higher. For the purpose of this discussion, we'll assume the Rangers will sign Yu Darvish.
Catcher: Mike Napoli vs. Chris Iannetta
Here's the thing about Napoli: He actually hit better on the road in 2011, so his monster season wasn't just a result of changing to a better park. After hitting .187 through May 27, Napoli finished at .232 in the first half and crushed the ball after the All-Star break, hitting .383/.466/.706 (wait, why was he batting eighth in the World Series?). Napoli cut his strikeout rate over 7 percent from 2010 and increased his walk rate. He did have a .344 average on balls in play compared to his career mark of .303, even though his line-drive percentage was only 1 percent higher, so some regression is no doubt in order. Still, his booming bat makes this a clear selection.
Advantage: Rangers.
First base: Mitch Moreland vs. Albert Pujols
Moreland had a disappointing sophomore season, although he played through a wrist injury that required surgery in November. He also requires a platoon partner against left-handers. He does, however, ground into fewer double plays than Pujols. OK, I managed to write one paragraph attempting to compare Mitch Moreland to Albert Pujols.
Advantage: Angels.
Second base: Ian Kinsler vs. Howie Kendrick
Kinsler hit 32 home runs, stole 30 bases in 34 attempts and turned the double play as pretty as anybody in the game . Kendrick had his best season with that bat and with the glove, with the defensive metrics giving him an outstanding rating. Overall, FanGraphs.com rated Kinsler as the
sixth most valuable position player in the majors in 2011
, and Kendrick 18th. Now, I don't believe Kinsler is the sixth-best player in baseball and the big argument against that is he hit just .214 on the road and owns a career average 67 points higher at home. It would be interesting to see Kendrick hitting at Rangers Ballpark. Still, Kinsler's power, defense and speed gives him the edge.
Advantage: Rangers.
Third base: Adrian Beltre vs. Alberto Callaspo
You could probably dig up enough numbers to make this an interesting argument. For example, Callaspo had the higher on-base percentage in 2011, .366 to .331. Callaspo hit .309/.368/.436 on the road in 2011 while Beltre hit .271/.297/.440. But let's not get too silly here.
Advantage: Rangers.
Shortstop: Elvis Andrus vs. Erick Aybar
This is one probably closer than you think. Or maybe not. But it does show Andrus' level of national exposure is pretty high for a guy who hit five home runs and made 25 errors. Andrus led in FanGraphs' WAR, 4.5 to 4.0, while Aybar led in Baseball-Reference WAR, 4.7 to 3.5. Andrus has the better range and on-base skills and is one of the best baserunners in the league, but his lack of power helps tilt the comparison toward Aybar. Andrus did increase his extra-base hits from 18 to 35 and he just turned 23, so maybe that slight increase in doubles power is arriving. Aybar had an excellent 2009, a poor 2010 and a solid 2011. Both are good players. A close call, but I like Andrus' chances of raising his game a bit in 2012.
Advantage: Rangers.
Left field: David Murphy vs. Vernon Wells
Murphy wasn't actually very good in 2011. But he was better than Wells. (In fact, for all the talk about the Rangers going after
Prince Fielder
to upgrade first base, why no talk about upgrading left field?) Of course, they could slide
Josh Hamilton
to left if
Leonys Martin
is ready for center, but Martin seems ticketed for at least half a season in Triple-A.
Advantage: Rangers.
Center field: Josh Hamilton vs. Peter Bourjos
Here's the deal: If the Rangers called up the Angels and said, "We'll offer you Hamilton for Bourjos," who hangs up first? Certainly, if you consider the contracts of each, the Angels hang up. But what if we ignore the financial circumstances? What do the Angels say? You have a supreme flychaser in Bourjos who had a solid year with the bat in his first full season. Hamilton was awesome in his 2010 MVP season, but his OBP in 2009 was .315 and in 2011 it was .346, hardly sterling figures for playing in a hitter's paradise. And he's injury prone. In fact, both FanGraphs and Baseball-Reference rated Bourjos as the better player in 2011. And, no, that's not because he played more often -- Bourjos only had 14 more plate appearances. Hamilton had only 12 more extra-base hits and drew only seven more walks. He outhit Bourjos .298 to .271. Hamilton was better at the plate, but not by a large margin. Anyway, I give Hamilton the edge since Bourjos has to prove he can do this again and Hamilton's mammoth 2010 still buzzes our memories.
Advantage: Rangers
Right field: Nelson Cruz vs. Torii Hunter
Cruz is another example of why the Texas lineup is a bit overrated: He posted a .312 OBP in 2011, which placed him 112th out of 148 regulars with 500 plate appearances. Now, when he gets hot -- as we saw in the ALCS -- he can be unstoppable, but when he's off he'll chase pitchers out of the zone. His career season in 2010 appears fueled by a higher than normal .348 average on balls in play. While he has a strong arm, Rangers fans unfortunately saw his lack of range on display in Game 6 of the World Series. Hunter, on the hand, is getting old and didn't hit right-handers very well in 2011. Still, his .313 OBP against righties was higher than Cruz's season total. Factor in Hunter's durability and defense and Cruz's annual aches and pains, and I'll go Hunter.
Advantage: Angels.
Designated hitter: Michael Young vs. Mark Trumbo
Hey, it's 2011's two most overrated players!
Advantage: Rangers.
Although I'd like to see home many home runs Trumbo could hit in Arlington.
Bench: Yorvit Torrealba/Craig Gentry/Julio Borbon vs. Hank Conger/Maicer Izturis/Bobby Abreu/Kendrys Morales
Big edge here to the Angels. And while the Rangers have Martin on the horizon, the Angels can counter with
Mike Trout
.
Advantage: Angels.
No. 1 starter: Yu Darvish vs. Jered Weaver
Weaver has been one of baseball's top 10 starters the past two seasons. Darvish may be good, but as good as Weaver? That's expecting a lot.
Advantage: Angels.
No. 2 starter: Matt Harrison vs. Dan Haren
The ERA difference between the two was small -- Harrison's 3.39 versus Haren's 3.17, and once you factor in the home parks, Harrison actually had the better adjusted ERA. On the other hand, Haren had a 192/33 strikeout/walk ratio compared to Harrison's 126/57. While he benefits from being in the perfect park for him, we have to go with Haren's proven record of success and durability.
Advantage: Angels.
No. 3 starter: Derek Holland vs. C.J. Wilson
Wilson had a 2.31 ERA on the road in 2011. Don't be surprised if he contends for the Cy Young Award in 2012.
Advantage: Angels.
No. 4 starter: Colby Lewis vs. Ervin Santana
Unlike Haren, as a flyball pitcher Lewis is probably in the worst park for him. He gave up 35 home runs in 2011, and 23 of those came at home. On the road, he went 9-5 with a 3.43 ERA. The underlying results of the two are pretty similar, although Santana has better stuff. I get the feeling that if you switched parks, they'd post each other's numbers.
Advantage: Draw.
No. 5 starter: Neftali Feliz vs. Jerome Williams
In his first promotion to the majors in 2009, Feliz averaged 11.3 K's per nine with a 4.9 strikeout-to-walk ratio. In 2010, those numbers fell to 9.2 and 3.94. In 2011, they fell again, to 7.8 and 4.3. Why is he getting worse? Will a move to the rotation help? Did he throw his fastball too much? Will he recover from blowing the clinching game of the World Series? All intriguing questions without answers to be determined. Jerome Williams -- yes, the kid who came up with the Giants in 2003 when he was just 21 -- is still just 30 years old. He made it back to the majors after beginning the year in independent ball.
Advantage: Rangers.
Closer: Joe Nathan vs. Jordan Walden
From June 28 on, Nathan pitched 28 innings, allowed a .190 average and struck out 28 batters with just five walks. You can't read too much into 28 innings, but it's a good sign that it just took him some time to recover from Tommy John surgery. Walden led the majors with 10 blown saves, but his underlying numbers were all strong. I love his power fastball and with a little better command, he should be dynamite.
Advantage: Angels.
Bullpen: Alexi Ogando/Mike Adams/Koji Uehara/Scott Feldman/Mark Lowe vs. Scott Downs/LaTroy Hawkins/Hisanori Takayashi/Rich Thompson/Bobby Cassevah
With Ogando apparently slated to move back to the pen and a full season from Adams, the Rangers' pen looks deep although it currently lacks a reliable left-hander.
Advantage: Rangers.
Manager: Ron Washington vs. Mike Scioscia
It's hard to give Washington the edge after his postseason performance. On the other hand, Scioscia gave Wells 500 at-bats.
Advantage: Draw.
The final score: Rangers win 9-7 with two draws. But if the Angels do the same thing and ignore Wells' fat salary and play Mike Trout in left field, that would give them the edge there and even our score at 8-8. In other words, how many days until Opening Day?
June, 19, 2009
6/19/09
11:00
AM ET
If, as planned,
Jeff Weaver
faces
Jered Weaver
Saturday night, according to the
Los Angeles Daily News
:
It will be the first time brothers have faced each other in a big-league game since 2002 when Alan Benes of the Cubs faced Andy Benes of the Cardinals. Brothers have squared off against each other 20 times in history, with Joe and Phil Niekro matching up nine of those times. In 1996, the Dodgers' Ramon Martinez faced his brother Pedro of the Expos.
Cool. I've already set my DVR. But the one thing I want to know, I don't yet: which
set
of brothers will the Weavers be? The Niekros, the Beneses, and the Martinezes account for at least 11 of the 20 previous matchups.
Because you pay good money (not) to read this blog, I did a little research of my own, and discovered that:
• Virgil Barnes and Jesse Barnes faced off for the first time in 1924, and would meet three more times;
• Greg and Mike Maddux met twice, first in 1986 when both were rookies, and then again two years later;
• by special arrangement, Pat Underwood's major league debut in 1979 was against his brother Tom (and what a matchup it was!);
• the Underwoods, the Martinezes, and the Beneses faced off just the once,
• as did Gaylord and Jim Perry, in 1973.
So that's the whole list, right? Wait, let me run through the math ... Nope, still missing one. We've got seven sets of brothers accounting for 19 matchups: the Niekros nine times, the Barneses four times, the Madduxes twice, and four other sets once apiece. Nineteen. Assuming that I didn't miss a game for one of the aforementioned pairs, a lovely No-Prize goes to whomever can identify the eighth brothers and drop them into the comments.
Postscript: For a long time the most famous pitching brothers -- until the Perrys and the Niekros, I guess -- were the Coveleskis, Stan and Harry. Stan's in the Hall of Fame, and Harry was notorious as "The Giant Killer" after beating John McGraw's New York Giants three times in the last two weeks of the 1908 pennant race. As Stan later recounted to Larry Ritter in The Glory of Their Times:
"Giant Killer" Coveleski they called him after that. They say McGraw never forgave Harry for that. A lot of nonsense. They also say that the Giants ran Harry out of the league next season. Something about harmonicas or bologna or something. Supposed to have gotten Harry's goat. What a load of bull that story is.

Nobody ever ran Harry out of any league. What happened is that he got hurt the next season. Went back down to the minors for a few years. But his arm came back later, and he came back up with Detroit and did fine. He was with Detroit when I was with Cleveland. They always wanted us to pitch against each other, but we refused. Wouldn't do it. And they never forced it. Hard to say what would have happened if they had.
That was nearly a century ago, and managers had a great deal of leeway with their starters, who might pitch after one day of rest or six days, depending largely on the opponent of the day. So if a pitcher simply refused to pitch for a personal reason, it wasn't any great imposition to accomodate him ... except that teams in those days were always looking for ways to draw a crowd, and Coveleski vs. Coveleski would have been a good draw.
Apparently it never happened, though.
Post-Postscript: If you've hung around for all this historical claptrap, you deserve a nugget ... One of my all-time favorite little baseball factoids ... Joe Niekro pitched in the majors for 22 seasons and came to the plate nearly 1,200 times ... and homered just once ... against his brother. And it wasn't a meaningless home run, either. In the seventh inning of a tight game, Joe's homer made the score 2-2 and he eventually won, 4-3.