March, 17, 2013
3/17/13
8:15
PM ET
By
Christina Kahrl
| ESPN.com
I wrote
a short bit
about how the
Oakland Athletics
are that rare team that still has pretty major decisions to make this spring, about who's going to start in their infield and why. You can find this column over in ESPN's Spring Training blog, where I'll be checking in from Phoenix every day on different teams and their outlook as we approach Opening Day.
No sooner had my story gone up than today's A's-Cubs game finished up. Jesse Rogers of ESPN Chicago has
a rapid reaction
up already on the Cubs' side of things --
Scott Baker
did not do well in his debut,
Brent Lillibridge
homered to help his bid to be the last man on the bench -- but from the A's perspective, the infield plot thickened just that wee bit more after
Eric Sogard
had another good game at the plate in his start at second base, while utility infielder
Adam Rosales
ripped a pair of home runs. Curiouser and curiouser, but you can bet
Jemile Weeks
and
Scott Sizemore
are starting to hear footsteps with just two weeks left until Opening Day.
Christina Kahrl covers baseball for ESPN.com. You can follow her on Twitter.
August, 4, 2012
8/04/12
7:47
AM ET
By
Doug Kern
| ESPN Stats & Information
Theme of the week: Late-game drama.
[+] Enlarge

Thearon W. Henderson/Getty ImagesThe Athletics on Friday won their second 15-inning game in the span of five days.
Statistical support for this column provided by Baseball-Reference.com and the Elias Sports Bureau.
July, 26, 2012
7/26/12
4:25
PM ET
If you're a fan of one of these teams, you know of what I speak. For all the hype and attention given to the trade deadline, the biggest area of improvement for playoff contenders usually needs to come from players already on the roster. Here are 10 who need to step it up:
Ervin Santana, Angels (4-10, 6.00 ERA)
At this point, I'm not sure why the Angels are still running Santana out there. Simply replacing him with any decent fourth or fifth starter would be a huge improvement, and you wouldn't have to pay the hefty price to acquire, say,
Zack Greinke
. (Although adding Greinke would certainly bolster the playoff rotation.) After a terrible April in which he surrendered 10 home runs, Santana pitched a little better in May and June, but has been trending downward lately. In his past four starts he has a total of four strikeouts.
Santana's numbers are down across the board -- higher walk rate, lower strikeout rate, way too many home runs -- but it appears his primary problem has been too many hanging sliders. In 2011, batters hit .161 with seven home runs off his slider; this year they're hitting .199 but with 12 home runs already. Overall, he's allowed 23 home runs, despite pitching in a good pitcher's park.
[+] Enlarge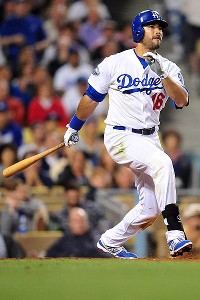 Gary A. Vasquez/US PresswireThe Dodgers need Andre Ethier to find his early season form.
Andre Ethier, Dodgers (.289/.362/.481)
I mentioned Ethier in Wednesday' blog about the Dodgers. While his overall numbers are solid, since May 22 he's hitting .259/.346/.377 with just two home runs in 45 games. The Dodgers need more production from their cleanup hitter.
Jemile Weeks, A's (.216/.302/.300)
While the A's might look to boost their offense by adding a shortstop or third baseman (good luck with those positions), they'll likely ride with Weeks at second. So promising as a rookie in 2011 when he hit .303 with 26 doubles and eight triples in 406 at-bats, Weeks has actually doubled his walk rate while striking out less, but a .248 average on balls in play has hurt him. That's not all bad luck -- he's hitting fewer line drives and more groundballs than last season, and clearly he isn't driving the ball much. But the talent is there to have a strong final 60 games.
Reds leadoff hitters (.200/.247/.304)
That's mostly courtesy of rookie shortstop
Zack Cozart
with
Drew Stubbs
appearing there a few times of late. But that means Dusty Baker usually just moves Cozart down to the No. 2 hole. So, yes, Baker apparently believes it's a good idea to start your lineup with two sub-.300 OBP guys hitting first and second. He just doesn't get it, and why the front office hasn't told him to stop that nonsense is beyond me. The Reds would be better off with
Brandon Phillips
and
Jay Bruce
hitting 1-2. At least that way your better hitters are getting more plate appearances.
Michael Young, Rangers (.270/.299/.346)
For all the talk about the Rangers seeking another starting pitcher with
Colby Lewis
out for the season and
Roy Oswalt
struggling, Young is the one guy in the lineup who's been a big, fat zero. As a designated hitter with an empty .270 batting average despite playing in the best hitter's park in the American League, Young has been one of the least valuable hitters in the league. In fact, based on Baseball-Reference offensive WAR, only
Ryan Raburn
and
Justin Smoak
rank worse than Young. And he's getting worse; he hit .326 in April, but has a .270 OBP in July and hasn't homered since May 7.
Tim Lincecum, Giants (4-11, 5.88 ERA)
This one goes without saying. After two good starts (against the Triple-A Astros and Phillies), Lincecum was roughed up again on Wednesday, allowing 11 runners and two home runs to the Padres in less than five innings. I don't want to hear about his FIP or xFIP -- Lincecum has been terrible, can't locate his fastball, and when he does throw strikes he gets lit. The potential is there for improvement, of course, but it's starting to look more and more like a lost season. The Giants will undoubtedly look to upgrade the offense -- amazingly, Bruce Bochy hit
Brandon Crawford
fifth on Wednesday -- but Lincecum could provide a bigger left than any hitter they might acquire.
Philip Humber, White Sox (4-5, 6.25 ERA)
Was that this year that Humber threw his perfect game? The White Sox are still hoping that
John Danks
can return at some point, but considering he just threw 20 pitches off a mound on Tuesday in testing his left shoulder, he's still a long ways away. Humber has been burned by the long ball (16 home runs in 76.1 innings).
Tommy Hanson, Braves (11-5, 4.39)
Hanson's win-loss record is nice thanks to great run support when he's started, but he's hardly pitching like an ace right now, with a 5.54 ERA over his past 11 starts while averaging less than six innings per start. Maybe that hasn't resulted in losses, but it has taxed the bullpen. Injuries have cut into Hanson's once-promising potential, and the truth is his stuff doesn't grade out as high as it once did. His average fastball velocity is down 3 mph from where it was two seasons ago, and he now sits around 90. He's allowed 19 home runs this season -- 15 off his fastball.
Cardinals bullpen (10-15, 4.17 ERA)
This story sounds familiar: It took the Cardinals four-plus months last season to figure out their bullpen. The Cardinals rank 10th in the NL in bullpen ERA, and all the teams below them have losing records. Cardinals relievers have allowed 34 home runs, third-worst in the league; only the Rockies and Astros have allowed more. The arms and ability are here, as we saw last October.
Jon Lester (5-8, 5.46 ERA) and Josh Beckett (5-9, 4.57 ERA), Red Sox
You can take apart the Red Sox a thousand different ways -- injuries, clubhouse issues, Bobby Valentine and so on -- but consider this: Despite the multitude of injuries, the Red Sox are still second in the AL in runs scored. If these two were instead 8-5 and 9-5, they'd be 56-43 and 3.5 games behind the Yankees instead of 4.5 out of the wild-card standings.
July, 18, 2012
7/18/12
8:42
PM ET
By
Christina Kahrl
| ESPN.com
The Oakland A's beat the Texas Rangers Wednesday in the ninth on
Brandon Hicks
' first big league home run. A former Atlanta Braves' shortstop prospect, Hicks was claimed off waivers this spring and is just the latest refugee from someplace else to wash up in Oakland, and potentially provide a solution in a long-shot bid for contention.
In a season that has seen its share of improbable runs -- the Los Angeles Dodgers and Baltimore Orioles being the poster children for surprise starts -- the A's might be more surprising still. In their first full season after the release of the movie
Moneyball
, they're winning despite ranking next-to-last in the league in OBP (bettering only the Seattle Mariners) and last in scoring. And while the movie didn't get into the other really big reason those old A's teams won, this club lacks the strong rotation that made Oakland a contender a decade ago.
[+] Enlarge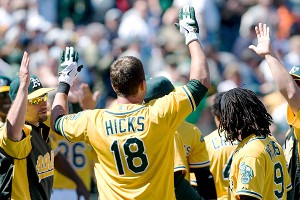 Ed Szczepanski/US PresswireBehind a patchwork offense, the Athletics are surprisingly in contention nearing the trade deadline.
The rotation's been a surprise thanks to the contributions of trade pick-ups
Jarrod Parker
and
Tommy Milone
; two completely different prospects. Parker was the highly touted teen phenom in the D-backs' system, while Milone is a finesse lefty with burglar's guts and precise command. They're not alone, though, as the A's rank third in the league in quality starts thanks also to the contributions from the well-traveled
Bartolo Colon
and the discard duo of
Brandon McCarthy
(when healthy) and
Travis Blackley
. The only brag-worthy home-grown hurler starting games for the A's has been
A.J. Griffin
. If there were questions about the A's front office losing its touch in trades and scraping up talent, this is a group doing plenty to redeem that reputation.
To look at the offense, the problem isn't the absence of walks or power, so they're not really an anti-Moneyball offense. They're fourth in the league in walk rate, after all. While key sluggers such as
Yoenis Cespedes
and
Josh Reddick
don't contribute much OBP, they're generating plenty of power. This is why the A's Isolated Power (slugging minus batting average) rates ninth in the AL, directly behind the much-vaunted Tigers' attack.
What's killing the A's is a dearth of help from their up-the-middle quartet: catcher
Kurt Suzuki
, second baseman
Jemile Weeks
, shortstop
Cliff Pennington
and center fielder
Coco Crisp
. At .620, Weeks has the highest OPS in the group. Add third base to the problem list with
Brandon Inge
providing nothing better than slack-batted temp work (.616 OPS). Unlike the luckless Mariners, the A's home park isn't really hurting them -- with a .659/.689 home/road OPS split.
They're just bad at getting base hits. Because they're one of the most free-swinging teams in baseball (striking out 21.4 percent of the time), their shortage of singles isn't going to get that much better. Fewer balls in play means fewer chances to see that number "regress" up to league average.
So they need to be a bit aggressive about fixes, and to their credit, they have been. Five weeks ago, the A's lineup had a problem at first base problem. They had cycled through bunting fool
Daric Barton
. What other term is there for a first baseman who bunts on his own, and sets the highest single-season mark for players at that power position since bunt-happy Gene Mauch ordered Rod Carew to lay down 16 sac bunts in 1982? They'd also looked at and laughed off the Kila Monster.
Kila Ka'aihue
proved to be another somebody who wasn't going to be the next Ken Phelps -- the minor league slugger immortalized by Bill James in the '80s and by the Mariners by their belated recognition that the guy had a hammer.
Instead, the A's have once again turned to something as anti-Moneyball as it gets.
Brandon Moss
, former Boston Red Sox prospect before he became a Pittsburgh Pirates washout, got sucked into the first-base job simply because nature abhors a vacuum. His unintentional walk rate in the minor leagues is below 9 percent. So what does he do? Rip 11 homers in less than a month. Of course, because that's exactly what you expect from a guy who put a .667 OPS with the Pirates.
Rather than let that ride, they finally brought up
Chris Carter
, something A's fans have been waiting for at least three years, if not longer. Ever since Carter was picked up in the deal that sent
Dan Haren
to the D-backs, their fans have wondered what the payoff was supposed to be. With four of the six players the A's got in that deal (including
Carlos Gonzalez
) long since in other uniforms, it's down to Carter and the occasionally healthy
Brett Anderson
.
So, after making Carter spend parts of four seasons in Sacramento, enough time to get streets named for him, what did he do? Not let himself be outshone by the likes of Moss: He has clouted five homers in little more than a week's worth of games.
Now sure, in a month we won't be talking about how this quick-fix platoon is slugging more than .600. Moss might outperform his Pirates seasons, but he's still just Moss. But Carter ought to start absorbing more of the job. At a high-offense position it's a fix akin to what the A's success did with their DH platoon of
Seth Smith
and
Jonny Gomes
this season. You can hope or wonder whether they'll be similarly creative in addressing their other lineup issues, because if even a shot at the one-and-done wild card is going to last, they'll need to be.
It's a reflection of this season's mayhem that the A's -- the A's! -- might very well be buyers at the deadline. Given the presumably parlous state of their finances, they may be shopping with little more than pennies and good intentions, but for a franchise some people were pegging for 100 or more losses back in February, it's a surprisingly happy state of affairs.
PHOTO OF THE DAY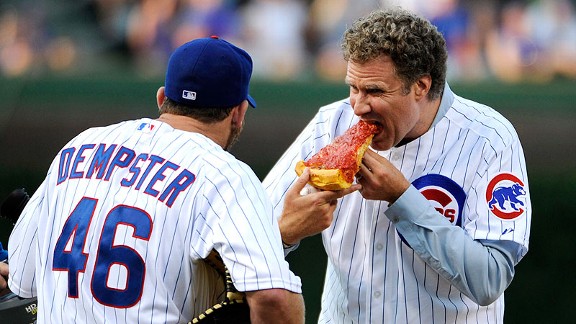 David Banks/US PresswireWhat's a first-pitch hurler like Will Ferrell to do, if not eat the world's best pizza in Chicago too?
Christina Kahrl covers baseball for ESPN.com. You can follow her on Twitter.
January, 29, 2012
1/29/12
9:00
AM ET
By
Christina Kahrl
| ESPN.com
As we discussed in
the first installment yesterday
, performance at different positions invariably moves around a bit from year to year, but what about at the skill positions up the middle?
It seems as if not a winter goes by when you won't wind up reading stories about the shortage of good catching (followed by the arrival of
Koyie Hill
on your team's roster), or how landing people who can contribute at shortstop in the major leagues is difficult.
It's sort of nonsense, because when you get right down to it, the standards for offense at catcher are stronger now than they were when we had just 26 or 28 teams. The amount of offense you can expect from your shortstops relative to league offense is higher now than it was in the glory days of the shortstop trinity of the '90s, when
Nomar Garciaparra
,
Derek Jeter
and
Alex Rodriguez
seemed to redefine offense from a position where
Barry Larkin
and
Cal Ripken
had been the standard.
But at the same time, we're seeing players like
Robinson Cano
and
Dustin Pedroia
rank among the best players in baseball at second base, while
Jacoby Ellsbury
and
Matt Kemp
might have deserved their leagues' respective MVP awards for their seasons in center.
First, let's start with the performance levels from second base, shortstop, catcher and center field, from 1987-2011, using
Clay Davenport's Equivalent Average
as our rough year-to-year guide. As noted before, .260 is the single-season baseline for the major leagues.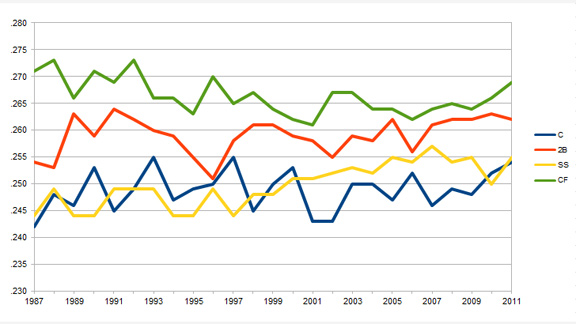 Christina Kahrl/ESPN.comUp the middle performance at the plate, 1987-2011
Straightaway, you can see how on one level the skill position versus corner position distinction comes across as a bit arbitrary, because it's clear that center field isn't like the other skill positions. Indeed, last year it ranked as the third-most productive position, behind first base and right field. With that in mind, what does this mean?
Center field is strong, but not that strong.
Historically, center fielders have always delivered more at the plate than all of the other up-the-middle slots, and also more than third basemen have in the past 25 years, averaging .269 over that time to the .267 teams have gotten from the hot corner.
What's unusual these days is that center fielders did more good on offense in 2011 than third basemen and left fielders, something fairly rare. The last time anything like that happened was in 1984 -- a year when center fielders led both leagues in homers,
Tony Armas
winning the AL crown outright with 43 bombs for Boston, while Dale Murphy tied Mike Schmidt with 36 in the NL. But that was also a season when both leagues boasted a half-dozen really good players in center.
However, the standards for excellence in center field were higher,
much higher
, in the late '60s and early '70s, and were of course higher in the '50s, when Mickey Mantle, Willie Mays, Duke Snider and Larry Doby ruled the middle pasture. In 1954, center field was baseball's premium offensive position, with a .287 EqA. So, not to knock Kemp or Ellsbury, or
Curtis Granderson
and
Andrew McCutchen
, but as good as they are, this isn't a new golden age for center fielders.
Second base has passed third base.
I got into this a bit yesterday, and this might be considered a transient phenomenon, because it has been historically. However, do you really want to bet against Cano, Pedroia and
Ian Kinsler
? What if
Jemile Weeks
and
Dustin Ackley
break out as sophomores? What if
Dan Uggla
,
Kelly Johnson
and
Aaron Hill
all have great bounce-back seasons? What if
Rickie Weeks
and
Chase Utley
were healthy all year? But that last point is part of the problem for sustained greatness at the keystone: It's a physically demanding position, and being a great player for any length of time at second base requires a huge element of skill and a little bit of luck when it comes to staying healthy.
Now, if they all come through, then sure, we could see a multiyear run for second base to wind up as a bigger impact offensive position than third base. But I'll believe it after we see it.
Who needs the Trinity at short?
The offensive standard for short has been higher over the past decade than it ever was at any point since division play started back in 1969. Remember, that's despite four rounds of expansion.
Looking back, what really made Jeter and A-Rod and Nomar stand out, as Larkin and Trammell or Ripken and Robin Yount had stood out, was that they were pretty much alone. That's because there were superstars and then there was a lot of reason to love
Omar Vizquel
or
Edgar Renteria
, because things got ugly fast. You don't really want to remember
Neifi Perez
, do you?
Desi Relaford
? I've probably brought up
Rey Ordonez
one time
too often for polite conversation
.
Today, you still have the lamentably necessary guys like
Yuniesky Betancourt
or
Ronny Cedeno
, or Alcides Escobar's on-the-job education in the major leagues, but if these represent the worst, they're better than the bottom of the heap that existed in the past. The floor has come up, and we still have the true superstars, like
Troy Tulowitzki
and
Jose Reyes
. Let's revel in their time, and also remember the Trinity, Ripken and Larkin as fondly as they deserve.
Catcher's deep, still.
Or, consider this another reason to not pardon the Angels for handicapping themselves with
Jeff Mathis
all these years, because there's a difference between respecting a good receiver and ignoring his other responsibilities to playing baseball. (While we're at it, there's even less excuse for
Drew Butera
.)
Admittedly, being able to get
Mike Napoli
away from that kind of decision making and putting him in Texas is one way to improve matters. But keep in mind, with
Victor Martinez
moving out from behind the plate while
Buster Posey
and
Joe Mauer
missed big chunks of the season, catchers overall did a better job of contributing on offense in 2011 than they had in any year since 1997, so the overall depth behind the plate looks pretty good.
As you'll notice from the chart, there's been a lot of zigzagging around in catcher performance; it often drops behind shortstop, but sometimes tops it, and these days the two positions are running in tandem. Folks might still swear by Johnny Bench, but here again, we've got a lot of legitimate star-level talent out there; not just Posey and Mauer and Napoli, but also
Brian McCann
,
Alex Avila
,
Miguel Montero
,
Carlos Santana
and
Yadier Molina
. Then you can add in the durable catch-and-throw guys from the Jim Sundberg set, useful contributors at the plate and good receivers behind it:
Carlos Ruiz
,
Matt Wieters
,
Russell Martin
, and even
Kurt Suzuki
.
Put all of that together, and while we haven't punched up this generation's reputations with any special mystique, they can let their production be our guide. This may well be the deepest generation of catching talent in the history of the game, and there's more coming, even with prospects like Wil Myers and
Jesus Montero
moving out from behind the dish. We still haven't seen
Jarrod Saltalamacchia
really bust out.
Austin Romine
,
Wilin Rosario
, Derek Norris and Tony Sanchez are all on the way. If you love catching, you should love the present.
Tomorrow, to wrap things up we'll have some fun talking about who best represents an average player at their respective positions.
Christina Kahrl covers baseball for ESPN.com. You can follow her on Twitter.
November, 14, 2011
11/14/11
12:55
AM ET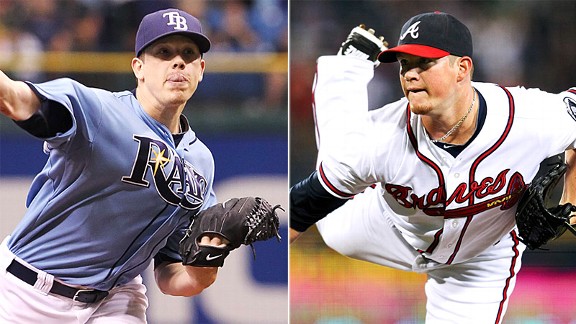 US PresswireTampa Bay's Jeremy Hellickson, left, and Atlanta's Craig Kimbrel led the SweetSpot rookie balloting.
The American League rookie crop has a chance to be one of the deepest, most exciting groups of rookies one league has produced in a long time (although the 2010 NL group with
Buster Posey
,
Jason Heyward
,
Mike Stanton
,
Starlin Castro
and
Jaime Garcia
was an excellent one as well).
On the hitting side,
Dustin Ackley
,
Eric Hosmer
,
Desmond Jennings
and
Brett Lawrie
all have All-Star potential, and guys like
Mark Trumbo
,
Jemile Weeks
,
Jason Kipnis
,
Mike Moustakas
,
Lonnie Chisenhall
,
J.P. Arencibia
and
Salvador Perez
aren't far behind or showcased plenty of potential. Pitchers included
Jeremy Hellickson
,
Ivan Nova
,
Michael Pineda
,
Zach Britton
and
Jordan Walden
. Those lists don't even include prospect studs
Mike Trout
and
Jesus Montero
, who will both remain rookies next season.
It makes for a crowded rookie race, especially since several of the hitters excelled after in-season promotions, which limited their overall numbers. Here are the voting results from the SweetSpot network (based on the same structure as the real voting: five points for first, three for second and one for third):
1. Michael Pineda, Mariners: 77 points (13 first-place votes)
2. Jeremy Hellickson, Rays: 51 points (6)
3. Eric Hosmer, Royals: 25 points (3)
4. Dustin Ackley, Mariners: 23 points (1)
5. Ivan Nova, Yankees: 11 points
(tie) Mark Trumbo, Angels: 11 points (1)
7. Brett Lawrie, Blue Jays: 8 points
8. Desmond Jennings, Rays: 5 points
9. Zach Britton, Orioles: 1 point
In our vote, it was essentially a two-player race; I suspect that in the actual vote, Nova will receive much more support. Let's start by looking at the three starting pitchers, all three of whom were regulars in their team's rotations most of the season.
Hellickson: 13-10, 2.95 ERA, 189 IP, 146 H, 117 SO, 72 BB, 21 HR, 1.15 WHIP
Pineda: 9-10, 3.74 ERA, 171 IP, 133 H, 173 SO, 55 BB, 18 HR, 1.10 WHIP
Nova: 16-4, 3.70 ERA, 165.1 IP, 163 H, 98 SO, 57 BB, 13 HR, 1.33 WHIP
Despite that glossy record, I think it's pretty easy to dismiss Nova. He doesn't have Hellickson's ERA or Pineda's peripherals; he pitched 24 fewer innings than Hellickson; he pitched in the AL East, but so did Hellickson. (We can ignore win-loss record, right? We all learned that last year when
Felix Hernandez
won the Cy Young Award, correct?) As important as Nova was to the Yankees, I think he's pretty clearly No. 3 here.
So let's compare Hellickson and Pineda.
Baseball-Reference WAR
Hellickson: 4.2
Nova: 3.6
Lawrie 2.8
Pineda 2.8
Ackley 2.5
Jennings 2.3
Trumbo 2.1
Hosmer 1.3
FanGraphs WAR
Pineda: 3.4
Lawrie: 2.7
Ackley: 2.7
Nova: 2.7
Jennings: 2.4
Trumbo: 2.3
Hosmer: 1.6
Hellickson: 1.4
Hellickson's season was an anomaly in one important regard: He allowed just 7.0 hits per nine innings while striking out 5.6 batters per nine. How odd is that combo? Since 2000, only six other pitchers have thrown at least 150 innings while allowing 7.5 hits or less per nine innings
and
fewer than six strikeouts per nine. The others:
Johnny Cueto
(2011),
Tim Hudson
(2010),
Trevor Cahill
(2010),
Barry Zito
(2003),
Derek Lowe
(2002) and
Damian Moss
(2002).
Hellickson succeeded because his BABIP (batting average on balls in play) was .223, the lowest among major league starters. That explains the difference in his WAR total between the two sites. FanGraphs' WAR is based upon FIP (fielding independent pitching), which attempts to remove defensive support from a pitcher's performance and assesses "a pitcher's talent level by looking at things a pitcher can control: strikeouts, walks, hit by pitches, and home runs."
So while Hellickson's ERA was 2.95, FIP looks at his mediocre 117-72 strikeout/walk ratio and 21 home runs allowed and projects a 4.44 run average. Pineda, meanwhile, had a 173/55 strikeout/walk ratio and 18 home runs allowed, and his FIP comes in at 3.42 -- lower than his actual ERA.
Basically, FIP regards Hellickson as being hit lucky; indeed, if you were projecting which pitcher will have the lower ERA next season, Pineda is the obvious choice (assuming Hellickson doesn't ramp up his strikeout rate). As a projection system, FIP is much better than simply looking at ERA.
But when evaluating a current season, do you simply dismiss Hellickson's results and say he wasn't that good? Personally, I think that's a big leap. Hellickson's run prevention may have involved a degree of luck -- it's worth pointing out that Pineda also allowed a low .258 BABIP, ninth-lowest among MLB starters (both were also extreme flyball pitchers, which can lower a pitcher's BABIP) -- but he
did
allow a 2.95 ERA over 29 starts, pitching in the tough AL East. He made eight starts against the Red Sox and Yankees (3-2, 3.73 ERA in 48.1 innings). Pineda only had to make one start each against the Red Sox and Yankees. Yes, Hellickson benefited from him his home park and an excellent Tampa Bay defense; but Pineda also benefited from a pitcher-friendly home park and good defense.
Hellickson had a left-on-base percentage of 82 percent -- second-best in the majors behind Jered Weaver's 82.6 percent. He allowed a .167 average with runners in scoring position, with just three home runs in 144 at-bats. Again, there is some good fortune involved here -- a .167 average allowed is not a repeatable skill -- but it
did
happen. It was a real result that helped the Rays win games and I can't so easily dismiss what happened on the field.
In some aspects, while last year's AL Cy Young debate was billed as the battle of new numbers (win-loss record for pitchers is overrated), it wasn't really the battle of new numbers: King Felix excelled in all the other conventional statistics like ERA, strikeouts and innings pitched. To deny Hellickson the rookie award would be the real shout-out to sabermetrics, ignoring his ERA and attributing his numbers completely to luck and defense. I don't think that will happen in the real vote; in fact, I'll be surprised if Pineda finishes in the top three, since -- let's face it -- win-loss record still means something to a lot of voters.
I'm a Mariners fan. I watched Pineda pitch 10-12 times this season and he and Ackley provided two bright hopes in a miserable season. If he stays healthy, the big right-hander is going to be a Cy Young contender in the future. But I put Hellickson No. 1. As for the rest of my ballot, Lawrie and Jennings were great in short stints (Lawrie's WAR includes a positive rating for his defense, which goes against the scouting reports as he came up through the minors), Ackley in a little longer stint, Hosmer over 128 games. Both B-R and FanGraphs hate Hosmer's defense (going against the general scouting reviews of his glovework), and thus affecting his WAR rating. Trumbo's 29 home runs and 87 RBIs led all rookies, but that .291 on-base percentage is damaging. Trumbo had some big hits for the Angels, but I can't put a guy with a .291 OBP in the top three.
My ballot
1. Jeremy Hellickson
2. Michael Pineda
3. Eric Hosmer
Predicted results
1. Jeremy Hellickson
2. Ivan Nova
3. Mark Trumbo
* * * *
In the National League, Braves closer
Craig Kimbrel
is expected to cruise to the award after leading the NL with 46 saves, posting a 2.10 ERA and striking out 127 batters in 77 innings, the sixth-highest strikeout rate ever with at least 50 innings pitched. (By the way, fellow rookie
Kenley Jansen
had the best rate ever, with 16.10 per nine innings.)
Here is the SweetSpot network voting results:
1. Craig Kimbrel, Braves: 108 points (18 first-place votes)
2.
Freddie Freeman
, Braves: 35 points (3)
3.
Danny Espinosa
, Nationals: 26 points (3)
4.
Vance Worley
, Phillies: 16 points
5.
Brandon Beachy
, Braves: 14 points
6.
Wilson Ramos
, Nationals: 13 points
7. Kenley Jansen, Dodgers: 2 points
8.
Josh Collmenter
, Diamondbacks: 1 point
(tie)
Lucas Duda
, Mets: 1 point
I suspect the actual voting results will follow a similar pattern, with Kimbrel possibly emerging as the unanimous winner. Espinosa flew under the radar all season, but hit for power (21 home runs) and played a very good second base. Like Hosmer, Freeman's glovework doesn't rate well by the fielding metrics. Overall, Espinosa's package of power and defense at a premium position makes him more valuable than Freeman. Worley and Beachy were terrific in partial seasons and Ramos gave the Nationals a second foundation piece for the future.
My ballot
1. Craig Kimbrel
2. Danny Espinosa
3. Freddie Freeman
Predicted results
1. Craig Kimbrel
2. Freddie Freeman
3. Danny Espinosa
June, 30, 2011
6/30/11
5:10
PM ET
By
Christina Kahrl
| ESPN.com
Seeing
Mark Ellis
get dealt away is sort of a bittersweet thing if you have any rooting interest in the A's. It's been a little more than 10 years now since Oakland got him in the huge three-way deal that put
Cory Lidle
,
Johnny Damon
and Ellis in Oakland. The deal also sent
Ben Grieve
-- once considered proof of the A's draft-day genius -- to the then-Devil Rays, and dispatched
Roberto Hernandez
,
Angel Berroa
and A.J. Hinch to the Royals. It was huge news at the time, and another example of Billy Beane's willingness to wheel and deal.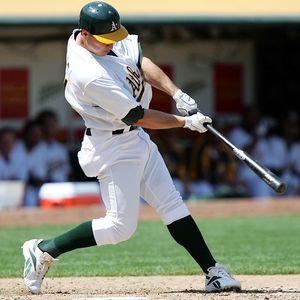 Phil Carter/US PresswireMark Ellis owns a career batting average of .265 after nine seasons in Oakland.
In retrospect, it was a deal that left almost everyone disappointed. Grieve's power evaporated in Florida, leaving the D-Rays stuck with a slow twenty-something DH who didn't "H." The Rays realized all of 2.0
WAR
, wins above replacement, from adding Grieve -- across three seasons, and the former first-round pick was out of the majors before he was 30. In Berroa, the Royals briefly possessed the blue-chip prospect they thought they'd gotten in the deal. He gave them 4.0 WAR in 2003, he won the Rookie of the Year, and all seemed well. Berroa then "contributed" -0.2 WAR over the next three years, making him less valuable over his Royals career than he was in his first season. Hernandez gave the Royals 1.4 WAR across the last two expensive seasons left on his old deal, costing the Royals $12 million for an adequate performance as the team's closer. Hinch was the definition of doing no harm, or much good (0.0 WAR) before earning his release from the Royals' backup backstop duties.
Not that the A's had much to brag about. Damon was in his age-27 season and a year removed from free agency, so if you thought he was going to break out because of his age or his walk year, you were disappointed -- his 2.7 WAR was decidedly worse than his two previous seasons for the Royals. However, it was everything
else
the A's got in the deal that made this a massive win for Beane and for Oakland. Damon's departure as a free agent to Boston gave the A's the pick they used on
Nick Swisher
in 2002, and Swisher eventually became
Gio Gonzalez
,
Ryan Sweeney
, and
Fautino De Los Santos
. Lidle was more valuable than Damon per year in his first two full seasons in the rotation (6.6 WAR, 3.74 ERA in 59 starts) before his final year of arbitration eligibility priced him out of the A's budget. He was dealt to the Jays for junk, so not every offshoot of this trade blossomed.
Then there's Ellis. At the time he was acquired, he was a minor-league shortstop whose arm and range were perhaps a bit short for short. But he was a patient hitter with a line-drive bat and managed a .302/.406/.409 season in Wilmington in the Carolina League, a tough park. The A's had him skip Double-A in 2001, and in 2002 he was ready to take the place of aging scrappers like Frankie Menechino and
Randy Velarde
. He'd miss time to injuries over the years, but between his modest power and plus defense, he gave the A's 21.8 WAR, or 3.3 per 162 games -- more valuable than Damon had been, certainly, and not shabby for a tacked-on talent in the transaction. You didn't have to be an A's fan old enough to remember Dick Green, but it helped, and watching Ellis play, you were almost certainly a fan.
So, Ellis has been shipped off to Denver as a 34-year-old with a slowing bat and a spotty track record for staying healthy. That's not a bad thing in itself.
Jemile Weeks
owns the keystone in Oakland these days. While the A's had to eat some of Ellis' $6 million in salary, they had more use for the roster spot than wait out the end of his deal and send him on his way. He wasn't going to be offered arbitration, so there was no possibility of picks to reap. Getting a PTBNL and
Bruce Billings
, a 25-year-old organizational arm with low-90s heat and a low upside outside of situational ROOGY-dom is a decent return as these things go; this year Billings held Double-A righties to a .670 OPS with a 26 percent strikeout rate. Billings may never don an A's uniform outside of spring training, but that's what you get in most deals these days. Expectations for who the PTBNL might be ought to be set low, but you never know.
As a fan, seeing Ellis wind up a Rockie gives me some small additional cause to hope the Rox make one of their second-half charges back into contention and beyond. His glove should be an asset -- especially now that the brief, mad
Jonathan Herrera
craze has long since worn out its welcome -- and hitting in Coors and in the National League might help put some life back in Ellis' bat. Getting both Ellis and Lidle in the big three-way trade of January 2001 became yet another minor coup, one of the many things behind Beane's reputation as a canny trader before
Moneyball
, and it makes for a nice reminder that sometimes it isn't the name players in the deal who deliver -- or have to.
Christina Kahrl covers baseball for ESPN.com. You can follow her on Twitter.
June, 22, 2011
6/22/11
12:15
AM ET
NEW YORK -- David Forst, assistant general manager of the Oakland A's, was checking out batting practice before Tuesday's game against the
New York Mets
and ticking off reasons for the team's recent surge when the conversation turned to rookie second baseman
Jemile Weeks
.
A brief scouting report on Weeks: He's a burner on the basepaths, a doubles-and-triples slasher type of hitter and a high-energy player who is still refining his game around the second-base bag.
Does the kid have plate discipline?
"Absolutely,'' Forst said. "He's a first-round draft pick of the A's. He better have it.''
As if on cue, Weeks proceeded to draw two walks, steal two bases, mix in a single and score three runs to help the resurgent A's beat New York 7-3 at Citi Field. It was Oakland's sixth straight victory and kept the A's within 5½ games of first-place Texas in the equal opportunity American League West.
It's been an interesting couple of weeks in Oakland -- and we're not just talking about the trailer for "Moneyball'' finally making the rounds. The A's have weathered a rash of injuries, and they're hoping things will continue to round into shape with pitchers
Rich Harden
and
Brandon McCarthy
moving closer to returning from the disabled list.
The players' collective mood has already shown a noticeable improvement since general manager Billy Beane fired manager Bob Geren and replaced him with Bob Melvin. The last time two Bobs were linked this closely, there was workplace havoc in the movie "Office Space.'' But the managerial change has clearly had the desired impact since one Bob left the premises and another took his place.
The A's found their stride over the weekend with a three-game sweep of San Francisco in the Bay Bridge Series and were so wary of upsetting team karma that they've continued to wear their Fort Knox gold jerseys on the road. Steve Vucinich, Oakland's equipment manager, packed the home jerseys for the trip after consulting the Major League Baseball style guide and finding they're permissible in away games under the rules. Gold jerseys don't blend very well with the A's road-gray pants, but when a team is on a 6-0 run, clashing hues can make for sartorial elegance.
"It's not our best look,'' Weeks said. "But it's part of our winning right now, so I guess we'll keep it until it wears itself out.''
The A's don't hit much even in the best of times, and they ran out a nondescript lineup against New York. With team home run leader
Josh Willingham
bothered by a sore Achilles and the slumping
David DeJesus
forced to the bench by designated hitter
Hideki Matsui
's outfield cameo, Melvin did some nifty improvisation. Center fielder
Coco Crisp
made his 11th career start in the No. 3 spot in the batting order. And
Conor Jackson
and
Ryan Sweeney
-- who have combined for one homer in 277 at-bats this season -- hit in the fifth and sixth spots.
Oakland's table setters alleviated any concerns by setting the tone from the outset against Mets starter
Dillon Gee
. Weeks and shortstop
Cliff Pennington
reached base seven times in their first eight plate appearances and scored five runs, and that was more than enough offensive support for A's starter
Josh Outman
.
Weeks now is hitting .362 with a .400 OBP since his arrival from the minors June 7 and is showing some admirable selectivity at the plate.
"He looks like he's been leading off for 15 years,'' Melvin said. "He takes changeups just off the plate in two-strike counts, and he takes pitches when it's 3-1. A lot of young players are going to want to swing there because that's a good count to hit. But he just makes them throw another strike.''
Barely a week into his new job, Melvin already has a big decision to make. Veteran
Mark Ellis
, whose hamstring injury prompted the A's to call up Weeks from Triple-A Sacramento two weeks ago, is eligible to return from the disabled list Wednesday. The A's aren't saying precisely how they plan to resolve the traffic jam at second base. But Weeks sure isn't playing like a kid who's interested in seeing more of the Sacramento skyline.
"I'm certainly not going to do anything until I talk to the players,'' Melvin said. "It's a great problem to have. One of them is up-and-coming and probably our best prospect. And the other guy has probably meant as much to this organization as anybody in the last 10 years. It'll be nice to have them both on the team, but it'll be a difficult proposition either way.''
Regardless of what happens in the short term, Weeks is carving out an identity beyond that of "Rickie Weeks' little brother.'' While Rickie sneaked up on people at Southern University before going to Milwaukee as the second pick in the 2003 draft, Jemile is a product of a baseball factory at Miami. At a rock-solid 5-foot-10, 215 pounds, Rickie looks as if he should be blowing up offensive backfields on a safety blitz. Jemile, in contrast, is a scant 5-9 and 160 pounds. But when he's raising havoc on the bases, with those braids spilling out from beneath his cap, he can certainly look intimidating.
Jemile has already earned an ardent following in a short time in the Bay Area. When Hall of Famer and stolen base king
Rickey Henderson
recently showed up to work with the Oakland position players on base stealing and pronounced Weeks "exciting,'' it was enough to make a rookie's head spin.
"It was just flattering,'' Weeks said. "You just sit back and say, 'Wow. Rickey Henderson said that about me.' It's just a great feeling. I can't really put it into words.''
Two weeks and 47 at-bats into his tenure with the A's, Jemile Weeks doesn't need many words to express himself. His game is speaking quite eloquently on his behalf.
Jerry Crasnick is a senior writer for ESPN.com. Click here to purchase a copy of his book, "License to Deal," published by Rodale. Crasnick can be reached via email.
Follow Jerry Crasnick on Twitter: @jcrasnick
PHOTO OF THE DAY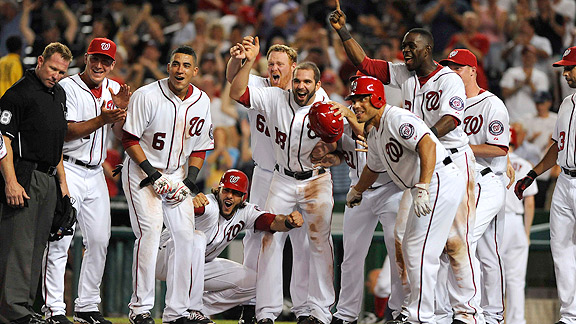 Brad Mills/US PresswireWell, we're waiting. The Nats' Wilson Ramos should be coming 'round soon to finish his walk-off.