SweetSpot:

Jeremy Guthrie
August, 11, 2013
8/11/13
10:30
PM ET
The baseball season is a lot more interesting in Kansas City than it was two weeks ago, when general manager Dayton Moore assessed the limited options at his disposal and turned Kauffman Stadium into a news-free zone at the trade deadline.
Sure, the Royals made a minor deal on July 31 to acquire outfielder
Justin Maxwell
from Houston for minor league pitcher Kyle Smith. More notably, they decided not to trade away starter
Ervin Santana
, who will be eligible for free agency in November. Santana could have fetched a prospect or two in return, but moving him would have sent a signal that the Royals were ready to punt on the 2013 season. With no directive to shed salary from Royals owner David Glass, Moore simply wasn't ready to make that step.
And that's a good thing for Royals fans: Contending for a playoff berth is far more entertaining than the alternatives -- like obsessing over the 30th anniversary of the Pine Tar Game, keeping a daily vigil to monitor manager Ned Yost's job security or busting out in tears every time
Wil Myers
' name appears in a
Tampa Bay Rays
box score.
[+] Enlarge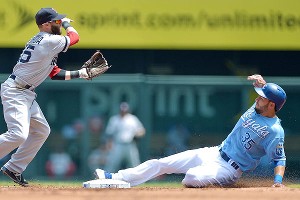 John Sleezer/Kansas City Star/MCT/Getty ImagesEric Hosmer is one of the homegrown hitters leading the charge for the Royals.
While the
Pittsburgh Pirates
are bound for the playoffs despite a rough weekend in Colorado, the Royals are suddenly crafting their own upbeat, small-market narrative in the American League Central. They've won 18 of 23 since the All-Star Game, and they made a major statement over the weekend by taking three of four from the
Boston Red Sox
.
Although one of the games at Kauffman Stadium was a sellout, the Royals averaged 25,180 for the other three -- a sign that the locals are not yet ready to go full-fledged bonkers over their team. At 61-54, the Royals are 4½ games out in the wild-card race and have a 22 percent chance of making the playoffs, according to coolstandings.com. The next few weeks will determine if they're a team coming of age at the optimal time or just a temporary diversion from the
Los Angeles Dodgers
,
Max Scherzer
and
Alex Rodriguez
's Biogenesis suspension appeal.
Regardless of the duration, Kansas City's recent run has to be gratifying to Moore, who bet big on this team when he sent Myers and
Jake Odorizzi
to Tampa Bay in that daring December trade for
James Shields
. And it has to be heartening for prospect watchers who root for young, homegrown players to overcome obstacles and become fantasy-league heroes.
You can cite a lot of reasons for the Royals' surge. Closer
Greg Holland
has converted 25 straight save opportunities and is averaging 14.5 strikeouts per nine innings, and Kansas City's other relievers come at opponents in hard-throwing waves. Shields, Santana,
Jeremy Guthrie
and Kansas City's starters go deep enough into games that the Royals bullpen has logged a mere 320 innings, the lightest workload in the majors.
But the Royals wouldn't be here if not for a welcome revival by their young, marquee position players. First baseman
Eric Hosmer
ranks second to
Yasiel Puig
among major league hitters with 84 hits since June 1 and resembles the confident prospect who finished third in the American League Rookie of the Year balloting at age 21. After George Brett resigned as Kansas City's interim hitting coach three weeks ago, he downplayed his acumen as a Mr. Fix-it type. But Brett and assistant hitting coach Pedro Grifol apparently did a nice job ingraining more confidence in Hosmer, who slugged .465 in 2011 before slipping to a
Yuniesky Betancourt
-like .359 in his second season.
"He's getting back to the swing he had two years ago," an AL scout said of Hosmer. "He was using that inside-out approach, and he had gotten so contact-conscious, and now, he's back to letting the bathead go and driving balls."
Third baseman
Mike Moustakas
is also back among the living. He's raised his average from .177 to .231 since June 9, although Royals people say he's still fighting a penchant to be overly hard on himself and take bad days to heart.
Yost takes his share of dings in Kansas City -- and occasionally invites criticism when he's in a mood to tangle with the media -- but he and the Royals deserve credit for running the kids out there day after day until they figured things out. Major league teams have to determine if their young players are mentally strong enough to handle failure on the biggest stage, and Hosmer and Moustakas are trying to pass the same test that
Alex Gordon
passed on his way to becoming an All-Star at age 29.
Lo and behold, the seemingly minor trade that Moore swung at the deadline has had a positive impact; Maxwell has three homers and a .900 slugging percentage in his first eight games with Kansas City. And when you look around the field, the Royals are doing it precisely the way major league teams should. In Sunday's game against Boston, seven of the nine players in Yost's batting order were drafted and developed by Kansas City. The only exceptions were shortstop
Alcides Escobar
and second baseman
Elliot Johnson
, both of whom came over in trades.
The Royals took another step forward in an eventful week for the division. When last week began, the
Cleveland Indians
stood three games behind the
Detroit Tigers
with a four-game series on the docket at Progressive Field.
Chris Perez
blew a ninth-inning lead Monday, and the Indians dropped six straight before rallying to salvage the finale of their homestand with a 6-5 win against the
Los Angeles Angels
on Sunday.
It's not going to be easy for either Cleveland or Kansas City to make a playoff push with Detroit so far ahead in the AL Central, the
Texas Rangers
and
Oakland A's
both playing well in the West and Boston, Tampa Bay and Baltimore all sporting better records in the East.
But, as the Indians begin a monster nine-game trip to Minnesota, Oakland and Anaheim on Monday and the Royals take on Miami in a three-game series Tuesday, Detroit's two pursuers are both still part of the conversation. Moore even made a trade Sunday, acquiring veteran infielder and strong character guy
Jamey Carroll
in a deal with the Twins.
The Royals have to feel good being a buyer in August, regardless of the magnitude of the transaction. After nine straight losing seasons, it's nice just to be relevant.
May, 5, 2013
5/05/13
11:19
PM ET
There are worse ways to spend a Sunday afternoon than watching
Yu Darvish
and
Justin Verlander
pitch. Especially if you're not at the ballpark and you can set up a laptop outside, put up your feet, soak in those first warm rays of early May and imagine what it's like to throw a baseball like these two guys.
Darvish faced the Red Sox and struck out 14 batters in his seven innings -- and in some ways this was a bad start for him, as he gave up two home runs and three runs. But he showed why he's been so tough this season: four strikeouts on his fastball, six with his slider, three on his curve and a 14th on a pitch classified as a splitter (a 93-mph pitch that
David Ortiz
swung through in the sixth inning). Who knows; it could have been a gyroball or some other exotic pitch Darvish made up on the spot. On his 127th and final pitch, he fanned
Pedro Ciriaco
on a 3-2 slider that moved wickedly away from the plate. Rangers manager Ron Washington took him out, and he ended up with a no-decision in
Texas' 4-3 victory
, but I have no doubt he could have pitched another inning or two.
Verlander, meanwhile, cruised through the Triple-A lineup known as the
Houston Astros
,
taking a no-hitter into the seventh
while rarely pumping up the velocity on his fastball. He didn't need to. He averaged 92.8 mph on his heater, but on this day that was enough. He pitched seven scoreless frames, allowing two hits and striking out nine.
With apologies to
Clay Buchholz
(great start but inconsistent career),
Matt Harvey
(too soon),
Jordan Zimmermann
(getting there),
Adam Wainwright
(amazing control so far) and a few others, the battle for best right-handed starter in baseball right now is between Darvish, Verlander and
Felix Hernandez
, who
pitched his own must-watch gem
on Friday, shutting out the
Toronto Blue Jays
over eight innings.
Let's take a quick look at how the three have fared in 2013.
The statistics
Darvish: 5-1, 2.56 ERA, 45.2 IP, 27 H, 15 BB, 72 SO, 3 HR, .169 AVG
Verlander: 4-2, 1.55 ERA, 46.1 IP, 38 H, 13 BB, 50 SO, 1 HR, .222 AVG
Hernandez: 4-2, 1.60 ERA, 50.2 IP, 39 H, 7 BB, 51 SO, 3 HR, .212 AVG
Hernandez has pitched the most innings; Verlander and Hernandez have the lower ERAs; but Darvish has been the most dominant, averaging 14.1 strikeouts per nine innings, a mark that would shatter Randy Johnson's record for starters of 13.4, set in 2001. Darvish has also been the toughest to hit with that .169 batting average against and has to pitch in the best hitter's park of the three. Hernandez, however, has faced a slightly tougher slate of offenses, mostly because he's had to pitch against the Rangers and Tigers while the other two haven't. All three started once against Houston ... and none allowed a run.
Edge:
We can't put too much emphasis on ERA this early in the season. Hernandez has the edge in durability and command, but Darvish's strikeout rate has been off-the-charts phenomenal. Edge to Darvish.
Issues entering the season
Darvish: Command, especially of fastball; he must prove he can be a 200-inning workhorse (threw 191.1 in 29 starts last season).
So far, it's mixed reviews on this. His walk rate is down from 11.9 percent to 8.4 percent, so that's good. His percentage of fastballs in the strike zone, however, is actually just 42 percent, down 10 percent from last season. He has the killer wipeout pitches when he gets to two strikes -- 20 K's in 31 plate appearances ending with his curve, 29 K's in 69 plate appearances with his slider -- which makes it scary that he's been so good without consistently throwing his fastball for strikes. In part, this works to his advantage -- kind of an effective wildness that makes it hard for hitters to attack his fastball (or his cutter, which hasn't been a great pitch for him) but can lead to some high pitch counts and fewer innings.
Verlander: Durability after leading AL in innings the past two seasons and throwing 50 more in the postseason. Would there be a letdown after two great seasons?
I'd say a 1.55 ERA answers the second question. He hasn't pitched more than seven innings yet, which is unusual for him, but that's not just because of a tight leash. He's had games of 126, 116, 114, 111 and 111 pitches. He did throw 120-plus in nine regular-season starts in 2012, so Jim Leyland has maybe been a little conservative so far, but Verlander has also pitched in a lot of cold weather. Plus, Leyland may hold back a bit, trying to make sure Verlander remains stronger for a possible October run.
Hernandez: Concerns about declining fastball velocity and late slump last season (0-4, 6.62 ERA in six September starts).
So far, his average fastball is down one mph from last season (92.1 to 91.1), which, in turn, is down two mph from 2011 and down from the 93.9 he averaged in his 2010 Cy Young season. Put it this way: His fastest fastball this season was 94.1 -- pretty much his average just three seasons ago. That said, he's been as good as ever, thanks to that Wiffleball changeup and showing that whatever happened last September was an aberration.
Edge:
Even though he doesn't throw as hard as he once did, Hernandez looks
better
than ever with one of the best stretches of his career. Sure, it helps pitching in the dead air of the West Coast ballparks, and maybe some day the lack of separation betweeen his fastball and changeup will catch up to him, but we're not there yet.
Stuff
Darvish: Off the charts. He is basically unhittable when he gets to two strikes, thanks to that curveball/slider combo. In 112 plate appearances with two strikes, batters are hitting .088 with 72 strikeouts, eight walks and two extra-base hits. Ouch.
Verlander: Speaking of fastball velocity, Verlander has yet to unleash one of his famous 100-mph heaters and has averaged just 92.2 mph with a peak velocity of 97.1. That doesn't mean it's been any easier to hit: Batters are hitting .192/.289/.256 against his fastball, which is actually worse than the .215/.291/.362 line in 2011.
Hernandez: There might not be a better pitch in the game right now than Hernandez's changeup, which moves away from lefties and jams righties. Batters are hitting .130 off it. He mixes in some sliders and curveballs, making him a four-pitch guy with great command of all four pitches.
Edge:
It's hard to suggest somebody has better stuff than Verlander, but right now that's the case with Darvish's deep arsenal of weapons. Verlander doesn't necessarily have to crank it up 95-plus regularly -- we know that he's learned to conserve that until he needs it -- but until he
does
start doing that more often, nobody can match the electric arsenal of pitches that Darvish possesses.
Who is the best?
This is like picking between Mays and Mantle at their peaks. There's only one way to answer: If all three are pitching at the same time and you can watch only one -- and you don't have a rooting interest in one of the specific teams -- who are you watching? Right now, I'm watching Darvish. Put him in a neutral park and I think he's the best right-hander in the game.
But I might change my mind next week.
REST OF THE WEEKEND

Three stars
1. Marcell Ozuna, Marlins.
A
controversial call-up
earlier in the week, considering he'd played just 10 games in Double-A (although he hit five home runs), Ozuna didn't look overmatched his first week in the majors, hitting .478 with five extra-base hits in his first six games. He
hit his first home run
off
Cole Hamels
in Saturday's 2-0 win -- a nice easy swing off a 92-mph fastball -- and then went 4-for-5 with two doubles, three runs and three RBIs on Sunday.
2. Jeremy Guthrie, Royals.
Guthrie's three-year, $25 million free agent deal with Kansas City was widely panned, but so far, so great. Guthrie threw a four-hit shutout in Saturday's 2-0 win over the White Sox -- yes, a manager who let a pitcher go the distance in a close game! -- and improved to 4-0 with a 2.40 ERA.
3. Jon Jay, Cardinals.
A few days ago, Jay was hitting .204 and he'd lost his leadoff spot in the lineup. Now he's had four straight two-hit games and is batting a respectable .252/.339/.393. He drove in two runs on Friday, hit a three-run homer off
Yovani Gallardo
on Saturday and scored two more runs on Sunday. The Cardinals won all four in Milwaukee.
Clutch performance of the weekend
Rangers pitching staff.
The Red Sox entered the weekend leading the AL in on-base percentage, slugging percentage and wOBA (weighted on-base average) -- in other words, the best offense in the league.
Derek Holland
,
Alexi Ogando
and Darvish held the Red Sox to four runs in 21 innings, striking out 27, as the Rangers swept. That's an impressive three starts against any lineup, but especially against a red-hot lineup in a pitcher's park like Texas'. The Rangers moved into a tie with the Red Sox for the best record in the AL, and it's been all about their pitching -- they've allowed the fewest runs in the AL. Kudos once again to pitching coach Mike Maddux for building a staff that appeared to have some holes entering the season (and especially when
Matt Harrison
underwent back surgery).
Best game
Giants 10, Dodgers 9, 10 innings (Saturday).
On Friday night,
Buster Posey
hit
a walk-off home run
off
Ronald Belisario
on a 3-2 fastball to give the Giants a 2-1 win. On Saturday night, it was an unlikely hero for the Giants: Backup catcher
Guillermo Quiroz
lined a pinch-hit homer
on an 0-2 pitch from
Brandon League
to give the Giants a 10-9 victory. The crazy game included the Giants blowing 5-0 and 6-1 leads, the Dodgers scoring seven runs in the fifth inning, the Giants tying it up, the Dodgers turning a 4-3 double play on Posey with the bases loaded in the bottom of the ninth and then Quiroz hitting that sinker from League just over the fence in left for his third career home run and first against a right-hander. It wasn't a terrible pitch from League, as you can see from the pitch location map below; sometimes, the hitter just gets good wood on a good pitch.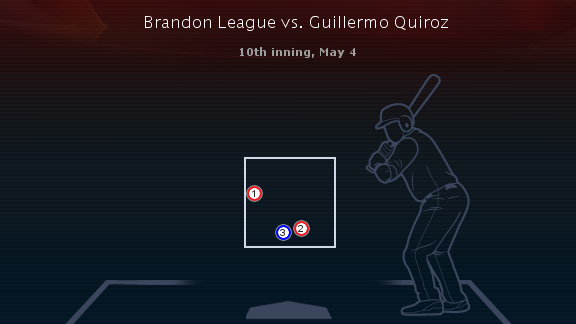 ESPN Stats & InformationBrandon League's 0-2 sinker wasn't that bad of a pitch.
As for the Giants, they continue to win despite poor performances from the rotation.
Ryan Vogelsong
was the victim in the seven-run inning, and he is 1-2 with a 7.20 ERA with just one quality start in six games.
Matt Cain
has a 5.57 ERA (
lowered
from 6.49 after Sunday night's win), thanks to nine home runs allowed. And
Tim Lincecum
has scuffled along with a 2-1, 4.41 ERA mark. Vogelsong and Cain should fare better -- their strikeout/walk ratios are good -- if they curb the home runs. But it's time to recognize that the 2013 Giants -- like the 2012 Giants -- are built as much around an underrated offense and bullpen (second-best ERA in the majors) as they are around their starting pitchers.
Hitter on the rise: Mark Trumbo, Angels
Miguel Cabrera
had a monster RBI week (and even
played some sweet D
) and
Ryan Raburn
had an amazing three-game stretch during which he went 11-for-13 with two two-homer games, but we already know Miggy can hit and we know Raburn will revert back to being a role player off the bench. The Angels had another bad week, but don't blame Trumbo, who blasted five home runs. Importantly, he also drew six walks, a sign that perhaps he's gaining some respect (and that
Albert Pujols
and
Josh Hamilton
have not been on base much in front of him) but also that he's laying off those pitches outside the strike zone. We know Trumbo has big-time power -- 29 home runs as a rookie in 2011, 32 last season -- but low on-base percentages have held down his value. He has too much swing-and-miss to ever hit .300, so he needs to draw some walks to increase his overall offensive value.
Pitcher on the rise: Hisashi Iwakuma, Mariners
It's time to start believing in Iwakuma as the real deal. With wins over the Angels and Blue Jays this week (one run allowed in each game) he's now 3-1 with a 1.61 ERA and hasn't allowed more than three runs in a start. Since he joined Seattle's rotation on July 2, only
Kris Medlen
and
Clayton Kershaw
have a lower ERA than Iwakuma's 2.32 mark. Check out the heat map on his splitter -- hitters just can't distinguish from his two- and four-seam fastballs as they're 9-for-51 (.176) against it with 23 strikeouts, one walk and two extra-base hits.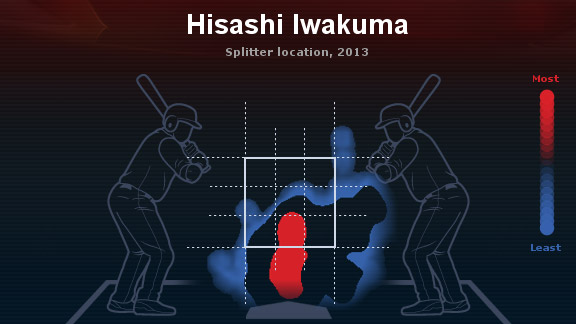 ESPN Stats & Information Hitters have not been able to read Hisashi Iwakuma's low splitter.
He can't hit but, he sure can field
The obligatory
Brendan Ryan
defensive play of the week
.
Team on the rise: Cardinals
The Rangers sweeping the Red Sox at home was big, I'll rate the Cardinals' four-game sweep in Milwaukee as the weekend's most impressive series. The Brewers are tough at home -- 9-6 before this series, 49-32 in 2012, 57-24 in 2011 -- so the Cards made a big statement by hitting .322 and scoring 29 runs and twice holding Milwaukee to one run. With the Braves just 3-7 over their past 10 games, the Cardinals have staked their claim as the NL's best team. Besides the NL's best record and best run differential, the Cards' bullpen is starting to sort itself out, with
Edward Mujica
as closer,
Trevor Rosenthal
in the eighth and
Mitchell Boggs
now back in the minors. Here's how good the rest of the team has been: St. Louis is 19-6 when the relievers don't get the decision.
Team on the fall: Phillies
Two losses to the Marlins can make a team look bad. First, rookie
Jose Fernandez
threw seven one-hit innings in a 2-0 win on Saturday for his first major league victory (tell him that pitcher wins don't matter). That was followed by Sunday's embarrassing 14-2 loss in which
Roy Halladay
got battered around by what is essentially another Triple-A lineup.
Adeiny Hechavarria
tripled to drive in three and then
hit a grand slam
(video review changed the call from a double to a home run), part of his seven-RBI day. Let's say that again: Adeiny Hechavarria knocked in seven runs against Roy Halladay. Halladay used to go entire months giving up seven runs. With his ERA at 8.65, it appears the shoulder
is
a problem and he may be headed to the DL. But, hey,
Delmon Young
is back, so that should fix the 14-18 Phillies.
May, 5, 2013
5/05/13
12:25
AM ET
By
Christina Kahrl
| ESPN.com
After beating the
Chicago White Sox
2-0
with a complete-game shutout Saturday,
Jeremy Guthrie
is now 9-3 as a
Kansas City Royal
, and that's at a time when it hasn't been easy to do anything of the sort wearing a Royals uniform, even with the vagaries of run support and how much a win-loss record for any one starting pitcher can amount to a series of coin tosses.
From disappointing high expectations as a top prospect in Cleveland, to being stuck as an innings-eater in Oriole irrelevance, to the brief horrors of a mile-high exile as a Rockie, Guthrie has paid his dues and deserves a good turn. That he's given the Royals more than one in kind is one of those happy developments. With the additions of
James Shields
and
Ervin Santana
to the rotation, Kansas City general manager Dayton Moore can reasonably brag that he's managed to cobble together a better-than-average rotation in short order despite limited supply and limited cash. Thanks to their rotation, the Royals are in that gaggle of teams fighting for bragging rights to be second in the American League to the
Detroit Tigers
in quality-start percentage so far -- just a tick or two below 60 percent -- even as they fight to keep up with the heavily favored Motor City Kitties in the AL Central.
One thing to always keep in mind is the separation between "how things would be if everything goes our way," and how things are. That's worth keeping in mind because while the Royals are 16-10, the really interesting thing about the team at this point of the season is the number of things that
haven't
gone entirely its way -- and yet Kansas City is competing just the same. Anybody can win when everything you thought would happen, does, but the Royals haven't been nearly that fortunate.
The biggest problems are to be found in the lineup, which has a number of bats that have gone MIA so far -- and for far longer than a mere month. Starting third baseman
Mike Moustakas
is on the wrong side of the Fermin line for OPS (which is .600, since I just made it up; Felix Fermin's career mark was .608). If the Royals had an alternative, a punitive trip to Omaha would have been long since earned. Former Brave
Jeff Francoeur
, briefly a source of bragging rights for an organization run by a former Braves exec, is now a month into a second season of brag-unworthiness as an outfield regular. Catcher
Salvador Perez
has yet to really get on track. Overhyped wunderkind
Eric Hosmer
is slugging a whopping .350, which would be considered terrible if he hadn't already slugged just .359 last year. In his age-23 season, Hosmer obviously has nowhere to go but up, but that's just because he's dug himself a hole; he needs to prove he isn't merely the Midwest variation on an unslugly
Justin Smoak
theme for massive first-base disappointments of his generation. And after four years of ghastly production at second base, it's time for the franchise to be honest with itself: It (
Chris "Getz"
) better? No, no it does not, at least not for this guy.
[+] Enlarge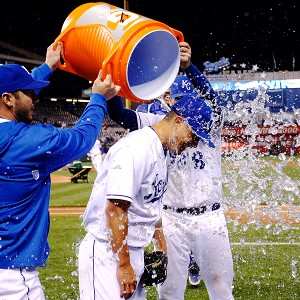 AP Photo/Colin E. BraleyJeremy Guthrie gets an early shower after his shutout of Chicago, leaving him 4-0 and the Royals right on Detroit's heels in the AL Central.
Admittedly, this kind of caustic snapshot of an offense is easy in the season's fifth week. If or when most of these guys start hitting -- and once the team replaces Getz with
Johnny Giavotella
, a move that's at least a year overdue -- they could propel the Royals' offense toward the top of the AL in runs scored per game, which would mean cashing in many more great games from Shields, Guthrie and Santana for wins. But Francoeur, Hosmer and Moustakas all need to rebound sooner rather than later if the Royals are going to keep alive their case for either unseating the Tigers or making a run at one of the two wild-card slots.
In the meantime, barring any major moves to fix these problems on offense, it's going to be up to the Royals' rotation to make sure the team can survive until its fixed, which makes for narrow margins to work with and tight games. More big games like Guthrie's will help, but how well the rotation lasts over the next five months is an open question. After all,
Wade Davis
has one quality start in five turns, Santana broke hearts all over Anaheim, and fifth starter
Luis Mendoza
is a cipher at best or a placeholder due to be bumped at worst. Maybe
Bruce Chen
or
Luke Hochevar
will have to swing back to starting, and maybe that would merely lead to more of the same after counting on them as rotation regulars the previous three seasons.*
In the big picture, it's important to keep in mind how transient this window of opportunity being bought by Kansas City's rotation might be. Santana is a free agent at season's end, while Shields is here for one more year if the Royals spring for his option ($13.5 million). Santana was available in part because he has been so reliably maddening; Shields was available because, like much of the Rays' statistical thaumaturgy, not everyone believed they could reproduce the same success in their own home laboratory. The Royals were sufficiently desperate to take a chance.
Which is where the Royals are now: Desperate to deliver, and deliver now. Young talents like Hosmer and Moustakas have plenty of time to develop, but it remains to be seen if the Royals' leadership can afford the time it will take for them to fulfill their promise. Clearly, they couldn't wait on Wil Myers, having dealt him away to land Shields (and Davis).
The Shields trade is a reflection of win-now desperation, but one armed by the knowledge that it has never been easier to make the postseason. If the Royals finally do make it to October and buy Moore more time to deliver on whatever master plan he might have beyond self-preservation, he'll have bought himself continued opportunity to try to make people forget that he traded away a stud prospect to land just two seasons of Shields at near-market pricing.
With so many of their remaining top talents struggling even as the Royals get off to a good start, the Shields deal might sound like a defensible exchange, but just as you can't judge the Royals on the basis of their getting off to a good start now, it remains to be seen if the full potential benefits of trying to win now will be realized. If the Royals get more than a boost in ticket sales in June and July, good on them. If they get to sell tickets in October, good on Dayton Moore -- he'll have bought himself another several seasons worth of tomorrrows in the Royals' front office. The odd thing is, that might add up to hope and faith in KC for many loss-addled Royals fans after decades of irrelevance, even as it frustrates those who'd rather still have Myers and the promise of an even better tomorrow.
* Yes, the Royals have at least four guys on this staff you'd call swingmen, if you count Mendoza and Davis as well as Chen and Hochevar. But hey, if you want to stick with the current fashion and pretend nobody's employing swingmen, by all means, keep playing make-believe.
December, 11, 2012
12/11/12
12:17
AM ET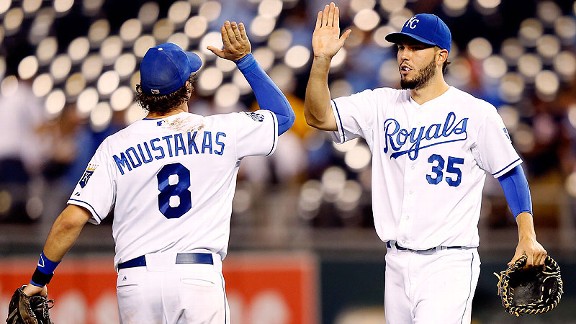 Jamie Squire/Getty ImagesImprovement from Mike Moustakas and Eric Hosmer, right, could lift the Royals into contention.
What would it take for the
Kansas City Royals
to unseat the
Detroit Tigers
, overtake the
Chicago White Sox
and hold off the
Cleveland Indians
and
Minnesota Twins
to win the American Central in 2013?
Over the past three seasons, the AL Central champions finished the season with a roster totaling about 38 wins above replacement.
The 2012 Royals finished the season 25 wins above replacement, so there is a gap to be closed. We're going to see if we can come up with the combination of numbers to close it.
Position players
The chart on the right shows
MLBdepthcharts.com
's projected Royals lineup for 2013 along with 2012 WAR total for those players.
Let's take the youngest players in that group and give them some room to grow. Let's bump Lorenzo Cain, Alcides Escobar, Billy Butler, Mike Moustakas and Salvador Perez up an average of half a win each. And let's work off the idea that Alex Gordon and the
Chris Getz
/
Johnny Giavotella
platoon will match in 2013 what they did in 2012.
Then, let's make two leaps of faith.
1. That Jeff Francoeur goes from being the lowest-valued position player in baseball (minus-2.7 WAR) to borderline-replacement level (minus-0.7 WAR) by getting his defensive game back to something reasonable and by improving slightly as a hitter and baserunner (remember, he'll be only 29 when the season starts).
2. That Eric Hosmer fixes what ailed him during his sophomore slump and gains back the WAR that he lost from 2011 to 2012, pushing him back up to 1.3 for 2013.
If all of that was to happen for the Royals, that lineup would be worth a collective 22.8 WAR, up 6.5 wins from what it was worth in 2012.
The Royals are not projected to have a strong bench in 2013, and most of their top-prospect position players are projected to start the season in Double-A or below.
So we're going to presume that when they do go to reserves, they are hurt by replacement-level-or-less players more often than they are helped by
Jarrod Dyson
and
Irving Falu
.
Let's subtract 2.0 WAR over the course of the season for the time seen by the bench.
That gives the Royals a position-player group worth 20.8 WAR.
Pitchers
The Royals basically have a No. 2 starter (
James Shields
) filling a No. 1 role, a No. 3 starter (
Jeremy Guthrie
) filling a No. 2 role, and a No. 4 starter (
Ervin Santana
) filling a No. 3 role. They have
Wade Davis
as their No. 4, which seems about right, and
Bruce Chen
as the No. 5.
Again, remember that we're creating a scenario in which the Royals win the AL Central. So let's take a rosy view of this fivesome and hand them 140 starts.
Let's peg Shields as a 4-WAR pitcher, Guthrie as a 3-WAR pitcher and Santana as a 2-WAR pitcher.
That's not a horrendous reach. Those numbers would rate as the third-, fourth- and fifth-best seasons for those pitchers, respectively.
Davis was a 1.1-WAR starter in 2010, so let's plug him in for 1.0 in 2013.
With Chen set to turn 36 in June and trending downward, we'll drop him from -0.2 to -1.2.
We'll split up the remaining 22 starts among
Luis Mendoza
,
Luke Hochevar
,
Guillermo Moscoso
,
Will Smith
, Tommy John-recoverees
Felipe Paulino
and
Danny Duffy
and whichever prospects (and they still have a few) emerge from the minors.
The big thing here is that if those top five Royals starters are healthy, their fill-ins can't do too much damage. We'll subtract 1.0 WAR for their work.
Now to the bullpen -- and we know that relief pitching is volatile. But again, we're trying to establish what the Royals need to win, not what they will do.
Among
Greg Holland
,
Kelvin Herrera
,
Aaron Crow
,
Louis Coleman
and
Tim Collins
, two will probably struggle to duplicate their 2012 numbers, and maybe one of the others gets hurt.
As a group, those five guys were worth 6.8 WAR last season. That's pretty good and strikes us as hard to duplicate. But again, this is a young group, so maybe the drop-off isn't so great.
Let's give them 5.0 WAR this time around and take away 1.0 WAR for anyone else who fills in for a time (the starters listed above, and
Everett Teaford
get the first crack).
Let's add it all together. The lineup has a value of 20.8 WAR. The starting rotation is worth 8.0 WAR and the bullpen is worth 5.0 WAR.
That gets us to almost 34 wins above replacement.
Our target was 38.
So we still have four wins to make up.
How do we do that? We change a few numbers.
Let's add a win to Shields and make him a 5-WAR pitcher, something he has done once before in his career. That means he should be getting some Cy Young votes.
Let's make Guthrie a 3.5-WAR pitcher, meaning he basically does what he did in 91 innings for the Royals in 2012 for 200 innings in 2013.
Let's make Davis a 1.5-WAR pitcher, which is better than he has done before, but he's young enough to improve.
That takes care of half of the win gap. Now we need to find two more wins among the position players.
There are a number of ways to do this, such as adding 0.2 WAR to every regular (boring), taking a couple regulars and making them a bit better (also boring), making Francoeur into an almost-average player (meh) or hand all of that WAR to one player (fun!).
I like the last option, even though it's a bit reckless.
I'm going to give those 2 WAR to Hosmer and make him a 3.3 for 2013.
Hosmer rated 26th in WAR among the 30 players with 300 at-bats who played at least half their games at first base last season. Bumping him to a 3.3 would jump him 20 spots, to the point of being viewed among the better first basemen in the game.
So, Royals fans, that's what you're looking at. Unrealistic? Probably.
But here's the key point: No one said this was going to be easy.
November, 21, 2012
11/21/12
7:00
PM ET
It's time for the old columnist staple: Random thoughts!
1.
Mike Trout
turned 21 years old in August, so the common axiom about young players as applied to Trout: He'll get better. But is that even possible? His 10.7 WAR was one of just 20 such seasons by a position player since 1950. If he repeats this season 10 more times he'd be over 100 career WAR -- a valuation just
19 position players have achieved
. Now, unless he's the second coming of Willie Mays, Trout isn't going to be a 10-WAR player every season. His baserunning and fielding ability may have already crested, but is there room for development as a hitter? I think it's possible. He has a walk rate of 10.5 percent -- while above the AL average of 8.0 percent -- could improve, boosting his on-base percentages over .400, even if he's more .300 hitter than .330. Of course, maybe he is more Mays than
Rickey Henderson
. Mays had a .384 career OBP and walk rate of 11.7 percent that didn't grow much from a 10.9 percent rate as a rookie.
What about power? Trout wasn't projected as more of 20-homer guy coming up, so the 30 home runs was a big surprise, especially in a tough home run park. According to the ESPN Home Run Tracker, eight of Trout's 30 home runs
were "just enough"
-- a figure that wasn't near the league-leading figures of
Miguel Cabrera
(16) and
Adrian Beltre
(15). Trout's home run percentage on fly balls was 21.6 percent, which ranked 15th in the majors among those hitters with 300 plate appearances. Remember, as fast as is he, Trout isn't a small guy, at 6-1 and over 200 pounds. He's bigger than Mays or Hank Aaron. I believe the power is legit; that doesn't mean he's going to turn into a 40- or 45-homer guy. Eddie Mathews hit 47 as a 21-year-old and that was his career high. A friend of mine who plays in a simulation league owns Trout and was offered
Bryce Harper
for him. He asked my thoughts, wondering if it's possible Trout will never do this again. I suppose that's possible, but answered: He doesn't have to get better. He's already the best all-around player in the game.
[+] Enlarge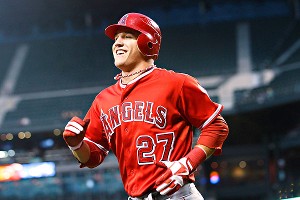 AP Photo/Elaine ThompsonMike Trout doesn't have to get better to be great.
2. Does anybody sign
Delmon Young
?
3. Dave Cameron of FanGraphs broke down the
Jeremy Guthrie
signing here
. Buster Olney also
wrote about the Royals
. I like the move a little more than Dave does. I understand the readers who said the Royals could have spent the money more wisely, but that ignores that in all likelihood none of the really good pitchers
want
to come to Kansas City. Guthrie has thrown 175-plus innings six straight years; yes, he'll be 34 in April, so that's not a guarantee to continue, but durability is no sure thing with any pitcher. But to a club like the Royals, getting an innings eater is a pretty valuable addition. Over those six seasons, the Royals have had just 11 seasons where a starter reached 175 innings -- and only five with 200 (three by
Zack Greinke
, two by
Gil Meche
). For the Royals, half the problem has been not having good starters, but half the problem has been not having durable ones, which leads to the necessity of using even more bad ones, and the deeper you go, the worse they get.
4. Some days I like
B.J. Upton
and some days I don't. For what it's worth, his Defensive Runs Saved figures the past three years are NOT very good: minus-19, minus-7, minus-4.
5. Are the Rockies really counting on
Todd Helton
to play first base again?
6. Excellent column from Jeff MacGregor on stats guru Nate Silver and how the
quantification of sports impacts some of our enjoyment of the games
. Jeff isn't saying the numbers and analysis are bad or evil; this isn't a terrible Mitch Albom column here (you can find it easily enough). Jeff is raising a fair and honest question: "The game exists to produce joy or sadness or distraction or love or hate or a thousand sensations unrelated to common sense or business or efficiency. Not even money. So to what end do we go to WAR over VORP?"
7. Joe Posnanski with a blog entry
comparing MVP winners
-- which he equates to the best narrative -- to the HOW winners (Heroes of WAR). Fun piece. As Joe points out, there are many seasons where a pitcher could have been in the MVP discussion, but the only one to win in the past two decades was
Justin Verlander
. If anything, Verlander's MVP stands out as the biggest outlier in recent MVP voting. Not that he wasn't deserving, but there have been many starters just as deserving --
Pedro Martinez
,
Randy Johnson
,
Roger Clemens
,
Greg Maddux
-- but only Pedro came close to winning. This is certainly an inconsistency to the MVP voting, which is really the reason it's so fun to argue over.
8. Rumors out there the Tigers are interested in
Stephen Drew
and would then trade
Jhonny Peralta
to Arizona. I agree with the Tigers' desire to upgrade defense at shortstop, but is Drew the answer? He'll be turning 30, an age when many shortstops start to lose range. His Defensive Runs Saved was not good last year -- minus-7 runs. There is some upside here -- Drew was a 4-win player in 2010, but there is the possibility he's not really an improvement over Peralta and more of an injury risk (Peralta has never been on the DL). The Tigers defense wasn't great in 2012, but I don't think Peralta was the main reason why. His DRS the past two seasons has been +2 and minus-1. Sometimes steady and reliable is OK.
9.
Anibal Sanchez
: $100 million? I can't see it. I mean .. it's Anibal Sanchez. Nice No. 3.
10.
Chase Headley
's road numbers, doubled: .300, 36 home runs, 128 RBIs. Miguel Cabrera's road numbers, doubled: .327, 32 home runs, 128 RBIs.
11. Joey Matschulat looks at the
Rangers' 2013 payroll situation
, which he estimates at $110 million and counting. Assuming an estimated $120-$130 million payroll that has been reported in the Dallas media, Joey points out why the team didn't make a qualifying offer to
Mike Napoli
(he may have accepted it) and writes:
I think this should also serve to temper some of the expectations being bandied about as far as the Rangers making a serious run at a marquee free agent such as Zack Greinke -- sure, they could backload the hell out of such a deal in anticipation of another $30-plus million in expiring contracts coming off the books next winter (and, for that matter, in anticipation of their coffer-filling TV deal with FOX Sports Southwest that begins in 2015), but they would still end up around $125-130 million for 2013 just by adding Greinke alone, and before addressing any of their other roster holes. To make that work, ownership would need to be prepared to move above and beyond the $140 million mark for next season, or they would need to shed some of their existing payroll obligations.
Based on this analysis and assuming the Rangers aren't going to break that $130 payroll mark, it does seem unlikely the team will sign Greinke and one of the big free agent outfielders (whether
Josh Hamilton
, B.J. Upton or somebody else). A
Craig Gentry
/
Leonys Martin
platoon would probably be adequate for center field and
David Murphy
can hold down left field or
Ian Kinsler
could move to the outfield. Remember, the team still has a big hole at catcher, especially if
Geovany Soto
is non-tendered.
12. Jason Linden looks at
Jay Bruce
, who said he'd like to play his whole career with the Reds.
Of course he would.
Bruce is a career .280 hitter at home with 82 home runs versus .231 on the road with 52 home runs (same number of PAs). Bruce is already signed through 2016 with a 2017 club option. There's no reason to extend him for seasons beginning with his age-31 season. My personal take is that Bruce is one of the more overrated players in the majors (which isn't the same thing as saying as he's a bad player; he's not). But it does seem that Bruce benefits from the cozy confines at GAB more than most hitters (certainly more than
Joey Votto
, whose splits are pretty even). Look at how
Ryan Ludwick
fared in 2012. Anyway, Jason looks at some comparable to players to Bruce to see how they fared from ages 31 to 35. Check it out.
13. I think the Dodgers end up with Greinke.
14. Finally, Happy Thanksgiving to everyone. Thanks for reading and enjoy the long weekend.
November, 18, 2012
11/18/12
1:15
PM ET
One lesson to take away from the 2012 season is that parity is as strong as ever.
The
Baltimore Orioles
, after 14 consecutive losing seasons, improved by 24 wins over last season and made the playoffs for the first time since 1997. While the Orioles' impressive record in one-run games helped them finish 24 games over .500 despite outscoring their opponents by just seven runs, the Orioles did make a drastic improvement over 2011, allowing 155 fewer runs.

The Oakland A's improved by 20 wins and captured the AL West, despite featuring an all-rookie rotation late in the season. Oakland's improvement came on both sides of the ball: The A's scored 68 more runs and allowed 65 fewer than they did last season.
If the Orioles and A's can make such dramatic gains in one season, why not the
Kansas City Royals
and
Seattle Mariners
, two other downtrodden AL franchises? The Royals have suffered nine consecutive losing seasons and have just one winning season during the wild-card era. The Mariners have had two winning seasons in the past nine and haven't outscored their opponents in a season since 2003. But with the right moves, either team -- or both -- could end up the 2013 version of the Orioles or A's.
Let's discuss the Royals today and the Mariners on Monday.
Kansas City Royals
2012 runs scored: 676
2012 runs allowed: 746
We start with the currency of wins: runs scored and runs allowed. The Royals won 72 games in 2012, but their run totals project to a 74-win team. In order to project them as an 88-win team (the Tigers' win total in 2012), we'd have to get them to 766 runs scored (plus-90) and 696 runs allowed (minus-50).
On offense, the good news is the Royals should have scored more than 676 runs. Their offensive statistics say they created 709 runs, but due to inefficient timing of that production, they scored 33 fewer than that. (A main culprit appeared to be their hitting with the bases loaded: .283 in 113 plate appearances, but with just one home run, three doubles and two walks.)
So if we consider the Royals a 709-run offense, we need to find 59 more runs. There are three obvious spots they can improve:
Eric Hosmer
,
Mike Moustakas
and right field. Hosmer hit .232/.304/.359 in his disappointing sophomore campaign, worth about 62 runs created. It's not difficult to project him with an additional 25 runs -- players with about 87 runs created in 2012 included
Justin Upton
,
Andre Ethier
and
Bryce Harper
.
Moustakas had a big first half before falling apart after the All-Star break. He created about 71 runs in 149 games. As another young player, we can project offensive growth; let's say 15 more runs created.
The other area for improvement is right field, where
Jeff Francoeur
was one of the least valuable players in the majors, playing every day while posting a .287 on-base percentage. Francoeuer created just 56 runs, while using up way too many outs. Dan Szymborski projects top rookie prospect Wil Myers to hit .266/.330/.450, which would be a big improvement over Frenchy. In fact, factor in a full season from catcher
Salvador Perez
and you can see why the Royals should be optimistic about scoring a lot more runs.
The trouble is finding gains on the pitching staff, specifically the starting rotation. The five likely starters as of now --
Ervin Santana
,
Luke Hochevar
,
Bruce Chen
,
Luis Mendoza
and
Chris Volstad
-- all project to ERAs over 5.00 in Szymborski's system. It will help if
Danny Duffy
and
Felipe Paulino
can return sometime after the All-Star break following Tommy John surgeries, but neither can be counted on. Assuming the bullpen is once again stellar, that means the Royals need to improve by 50 runs in the rotation.
Is that possible? Last season, Kansas City starters allowed 527 runs in 890 innings, or 5.3 runs per nine innings. We're talking 10 runs per rotation spot, which seems easy to achieve, but is more difficult than it sounds. One
Jonathan Sanchez
-type result, and suddenly the other rotation slots have to pick up the margin of error. If they allow 477 runs over the same number of innings, that's 4.8 runs per nine innings -- which would have ranked ninth among AL rotations in 2012, right between the Rangers and Orioles.
This is why you've seen the
Billy Butler
trade rumors out there (including some involving the Mariners, who reportedly covet the designated hitter). After hitting .313 with a career-high 29 home runs, Butler is the one Royals hitter who may regress a bit in 2013. But trading Butler would give the Royals a big gap at DH to fill -- without an obvious in-house candidate (
Clint Robinson
?). But maybe the Royals believe they can get enough offensive improvement from Hosmer, Moustakas, Myers, Perez and perhaps second baseman
Johnny Giavotella
(.404 OBP at Triple-A Omaha) and center fielder
Lorenzo Cain
to part with Butler.
If the Royals do trade Butler, it would likely be for a major league ready pitching prospect -- and the Mariners happen to have one in
Danny Hultzen
. The Royals could also sign a veteran starting pitcher such as late-season acquisition
Jeremy Guthrie
, who posted a 3.16 ERA in 14 starts with Kansas City. A bounce-back year from Santana and a full season of Guthrie leaves the Royals short of that 50-run improvement -- but in the vicinity. Guthrie would be worth about 10 to 15 runs over the likes of a
Will Smith
over half a season; if Santana posts an ERA closer to 4.00 than 5.00 over 200 innings, that could be a 20- to 25-run improvement over Hochevar. With slight improvement from Chen and Mendoza, we get close to that 50-run mark. If you trade for somebody like Hultzen, the Royals improve their depth as they wait for Duffy and Paulino to return.
It can be done, and the Royals don't have to wait until 2014 to do it. Make at least one more move in the rotation, dump Francoeur and watch Hosmer and Moustakas start hitting line drives all over Kauffman Stadium. In the new world order, anything is possible.
June, 19, 2012
6/19/12
8:40
PM ET
By
Jorge Arangure Jr., ESPN The Magazine
| ESPN.com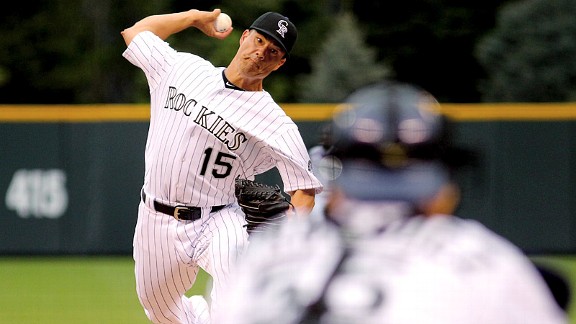 Doug Pensinger/Getty ImagesJeremy Guthrie's struggles contributed to a surprising decision by Jim Tracy.
PHILADELPHIA -- Those in search of baseball innovation and groundbreaking roster management rarely go to a Jim Tracy manager media session to find it.
If anything, Tracy is often criticized for being bland and predictable. Yet in an unexpected, bizarre and puzzling session with reporters prior to Tuesday's Rockies game in Philadelphia, Tracy delivered what might be the most unorthodox baseball decision made in years.
In what amounts to an overhaul of his pitching staff, Tracy first said Colorado would send the struggling
Jeremy Guthrie
to the bullpen (OK, so far pretty normal), and that instead of replacing him in the rotation, the Rockies would go with a four-man rotation, with each starter limited to 75 pitches per start -- what!?!
Smart? Umm, who knows? Bold? For sure. It's a decision that might have been made only by a manager with
an "indefinite" contract
.
[+] Enlarge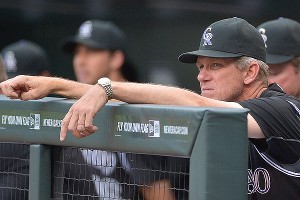 Doug Pensinger/Getty ImagesRockies' skipper Jim Tracy is frustrated enough to change things up.
"We had to do something that was unconventional," Tracy said.
This is as unconventional as it gets.
First, the why: This season, major league starters have averaged a 4.14 ERA and 1.316 WHIP, have pitched 5.96 innings per start, and have allowed a .735 OPS. In contrast, Rockies starters have combined to average a 6.29 ERA and 1.728 WHIP, have pitched only 5.2 innings per start, and have allowed a whopping .915 OPS, which would be like facing
Andrew McCutchen
(.923 OPS) during every at-bat.
Two Rockies relievers are in the top five of most innings pitched by a reliever this season, including
Josh Roenicke
, who leads the majors with 41 bullpen innings pitched. Collectively, Rockies relievers have pitched a National League-high 234 innings.
Guthrie is in the running for worst starter in the majors. "It's not benefiting him or the club [to be in the rotation]," Tracy said of why Guthrie was moved to the bullpen. "We're throwing too many bullpen innings."
So if this is the new era of the pitcher, well, somebody forgot to tell the Rockies' staff.
Secondly, how exactly is a four-man staff going to limit the number of bullpen innings pitched? That's the tricky part. The answer is that it likely won't. In fact, Rockies relievers are likely to throw even more innings with this alternative.
But Colorado's plan is to limit the innings pitched by its more important and effective relievers. So instead of Roenicke and
Matt Belisle
having to soak up multiple innings or having to pitch in lopsided games, now Guthrie and
Guillermo Moscoso
will become long relievers who will pitch regularly.
It's quite stunning for a manager to, in essence, make the admission that his rotation stinks and probably will continue to stink, enough so that the team might as well have two mop-up guys assigned regular work. The kink in the plan, of course, is that Colorado will have to monitor the innings pitched by rookies
Drew Pomeranz
and
Christian Friedrich
, hence the 75-pitch limit.
"We have two rookies in the rotation, so you have to be very careful," Tracy said. "You can't just throw them loose on three days' rest."
Tracy said the Colorado coaching staff had been thinking about this plan for the past few weeks after watching Guthrie struggle. Certainly the last straw had to have been Guthrie's last start, a three-inning, eight-hit, three-run performance against Detroit that bumped his ERA to 7.02, the worst of any pitcher with more than 10 starts.
Tracy seemed almost stunned when talking to reporters about the plan. Obviously, this is not what he expected prior to the season when the Rockies were a trendy pick to win the NL West. Instead, just minutes before taking the field for batting practice Tuesday, Tracy gathered his pitching staff and told the players the surprising news.
The asterisk in the plan is that nothing is definite. Tracy conceded that anything could be modified should one of his starters excel during a particular start. The 75-pitch limit could be ignored. Heck, if Guthrie pitches well in relief, it's not inconceivable to think that he would be placed back in the rotation.
For the past several weeks, Colorado reportedly has been looking to trade Guthrie -- who is making $8.2 million this season, the highest salary on the pitching staff, excluding the injured
Jorge De La Rosa
. A demotion to the bullpen won't help his trade market. But the only way for Guthrie to reclaim any trade value is to pitch well, and maybe pitching out of the bullpen is the solution.
"We don't know what's going to come out of this," Tracy said.
Hey, credit Tracy -- at least it wasn't bland and boring.
June, 17, 2012
6/17/12
1:30
AM ET
By
Christina Kahrl
| ESPN.com
Suffice to say that these days, Orioles starter
Jason Hammel
is making room for himself. Having shut down the Braves with
a one-hit shutout
Saturday, Hammel is redefining his career. The win was his first shutout, the first nine-inning complete game of his career. He posted the highest
Game Score
(91) of any turn in his career.
Hammel has had to come a long way to get to this point, though, because it wasn't so long ago that he was just an extra guy, a fringe guy, a fifth man. The sort of pitcher who has to hear that he'll have to pack his bags because there's no room for him. That's despite the big, 6-foot-6 frame scouts love in a right-hander and a fastball that sits around 93 mph. But Hammel's mixed fortune was that he began his pro career in the Rays' system, where if you weren't a blue-chipper with Cy Young potential, you were trade bait.
That effectively was Hammel's lot. As a pitching prospect in the Rays' system, being pretty good was nice, but it wasn't enough, certainly not with as many top pitching prospects as that system has been cranking out. When Hammel debuted for Tampa Bay in 2006, he was in the same cadre as
James Shields
and
Edwin Jackson
, not to mention
Andy Sonnanstine
and
J.P. Howell
, all useful guys to stock a rotation behind an already-there
Scott Kazmir
. Then the Rays brought in
Matt Garza
in 2008, with
Jeff Niemann
and
David Price
coming into the picture. Now there really wasn't much space for "pretty good" in Tampa Bay. Even after Jackson was dealt to the Tigers (for
Matt Joyce
), Hammel just wasn't going to stand out in this crowd, not even at 6-6. He didn't rate among the Rays' front five. Or six. Or seven.
So, as Opening Day 2009 approached, the Rays decided they needed Hammel's spot on the roster more than they needed Hammel's brand of pretty good. They gave him the most bittersweet of liberating opportunities to start every fifth day in the big leagues by sending him to Denver and baseball at altitude, perhaps with the standard expectation that the pitcher-munching environment would chew him up as it had so many other pretty good pitchers, going all the way back to David Nied. Who survives that long enough to make the team dealing a pretty good pitcher look bad?
But Hammel endured and survived and stayed pretty good, giving Colorado three years of useful mediocrity (including a definitively average 100 ERA+ and a 4.63 ERA). Perhaps that sort of damnable consistency can bore even the most pitching-hungry team, because the Rockies decided they needed more than pretty good this winter, flipping him (with the reliably disappointing
Matt Lindstrom
) to the Orioles for rotation workhorse
Jeremy Guthrie
.
Credit Rockies general manager Dan O'Dowd with this much: A front-of-the-rotation starter was getting moved in this deal. Unfortunately, his Rockies weren't the team getting one -- the Orioles were, and Saturday night's start merely represented the latest in kind as Hammel turns in a season that redefines his upside and his value.
Consider what he's throwing and the results he's generating. Despite moving into the vaunted American League East, he's striking out a career-high 22.7 percent of batters, a jump of roughly 40 percent over his career rate. He's generating 40 percent more ground balls, and his ratio of ground ball outs to flies has moved to a career-high 1.53. What's he doing differently? Ditching his changeup, for starters.
If you look at PitchF/X sites that try to break down fastball types into four-seam, two-seam and cut fastballs, you'll find Hammel seems to be throwing fewer four-seam fastballs, which might help explain the jump in ground ball outs. More simply, he's becoming a quality sinker-slider guy, and that reliance on a classic power assortment is paying off with a career-high clip for swinging strikes, 18 percent, the first truly above-average mark of his career.
As a result of all this good stuff, unlike so many first-half performers providing surprises, Hammel isn't being tagged with the dreaded "regression" label. His FIP isn't much different from his actual ERA, so analysts might have to accommodate themselves to the notion that Jason Hammel isn't just pretty good anymore -- perhaps he's flat-out good.
The timing of this turnaround couldn't come at a better time for Hammel; he's a viable All-Star starter on a contending team. Among the Orioles, only center fielder
Adam Jones
(2.6) and shortstop
J.J. Hardy
(2.1) had higher wins-above-replacement values than the 1.8 Hammel was sporting before his shutout. He might be a long-shot selection, but on a personal level, it would be icing on the offseason cake he's already baking as he heads toward a last spin with arbitration and a fine shot at leveraging that into multiyear money.
In the meantime, he is giving the Orioles a better season than Guthrie ever had and seems poised to deliver more of the same. At 29, he's proved to be durable, having never suffered a major arm injury as a pro -- his one career trip to the disabled list was caused by a strained groin in 2010.
Put all of that in one package, and you can still ask whether it adds up to an All-Star, a 10-figures-per-year pitcher or a reliable No. 2 in anybody's rotation. But the way Hammel is going, we won't have to ask much longer, because he's providing the answer one turn after another. How good is that? Pretty good.
PHOTO OF THE DAY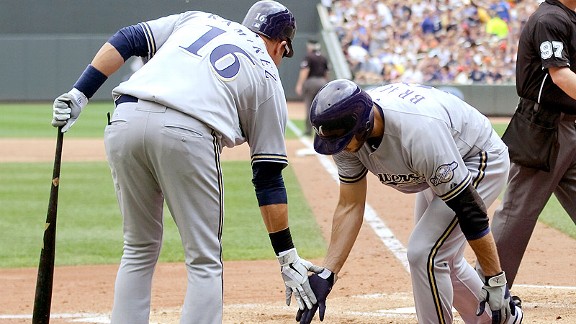 Hannah Foslien/Getty ImagesHigh or low, Ryan Braun's reliably able to celebrate another cheap-seat souvenir.
Christina Kahrl covers baseball for ESPN.com. You can follow her on Twitter.
April, 14, 2012
4/14/12
1:48
PM ET
By
Doug Kern, ESPN Stats & Information
| ESPN.com
Austin Jackson scored a run in each of the Tigers' first six games this season. That was the longest streak by a Detroit batter to start a season since Darrell Evans crossed the plate in each of the first eight contests in 1986. And it's the longest streak by a Tigers leadoff hitter since 1939, when one of Jackson's center field predecessors, Barney McCosky, also scored in the first eight games of the season. In game seven on Friday, however, Jackson was on base only once (he walked in the eighth) and was stranded at third.

[+] Enlarge

Duane Burleson/AP PhotoAustin Jackson is having a solid season for the Tigers early on.

The Red Sox managed to blow a three-run lead in the ninth and a two-run lead in the 11th in losing a wild one to Detroit on Sunday, 13-12. It was the first time Boston had scored a dozen runs and lost since May 31, 1970, when they were on the wrong end of a 22-13 slugfest with the White Sox at Fenway.

Alfredo Aceves gave up all three ninth-inning runs in Sunday's game without retiring a batter, making him just the second Red Sox pitcher in the live-ball era to work zero innings pitched in each of his first two appearances of the year. Guido Grilli faced one batter each in the first two games of the 1966 season, and didn't get either of them out.

The Tigers used eight pitchers in that 13-12, come-from-behind win over the Red Sox. It marked just the second time in 70 years that Detroit had come back to win a game in which their starter surrendered seven-plus runs without getting through the third inning. Omar Olivares was the starter in 1997 when the Tigers rallied to beat Baltimore 11-8.

On Sunday, the Yankees managed just three hits -- all doubles. That same day, the Twins had just two hits as Jason Hammel posted the longest no-hit bid of the year so far. Both Minnesota knocks were doubles. It's the first time in almost three years that two teams have done that on the same day. But then … the Royals did it against Oakland (three hits, three doubles) on Monday … and the Athletics did it against Kansas City (one hit) on Tuesday.It's the first time since at least 1917 that there have been three straight days where a team had every hit be a double.

On Sunday, Jeff Samardzija (making just his sixth career start) was afforded the chance at a complete game. He had to be pulled after giving up a two-out homer that pulled the Nationals to within a run. Four days later, Matt Garza was en route to a shutout against Milwaukee, but was pulled after committing a two-out error that allowed the inning to continue. So the Cubs had two pitchers this week leave the game after 8.2 innings pitched.The Cubs hadn't had two pitchers work exactly 8.2 innings in the same season since 1995 (Jaime Navarro and Frank Castillo).

In Sunday's Cardinals-Brewers game, you could say the teams spread it around. In the 9-3 Milwaukee victory, the 12 runs were charged to eight different pitchers. In fact, every hurler who appeared in the game ended up with at least one earned run on his record.It's the first game in eight seasons where the teams combined to use eight or more pitchers, and every single one of them got charged with at least one earned run. The last time that happened was on Sept. 9, 2004, when the Royals erupted for a 26-5 victory over the Tigers in the first game of a doubleheader.

James Shields got called for a balk Wednesday on an illegal pickoff throw to third. That was in the bottom of the fifth -- after Justin Verlander had been called for his own balk in the top of the fifth.It was the first MLB game to feature balks by both teams in the same inning since Aug. 16, 2004, when the Rangers' Mickey Callaway and then-Indian CC Sabathia committed them in the fourth inning of a 5-2 Texas win.

In that same game, Verlander threw eight shutout innings before getting tagged for four runs and the loss in the top of the ninth. He became the first pitcher to throw eight scoreless innings, then surrender four (or more) runs in the ninth to take a loss since Tim Hudson did it for the Braves on Sept. 22, 2005. Hudson allowed a three-run homer to Shane Victorino of the Phillies for most of that damage before Macay McBride had to come in and get the final out.

In Monday's Yankees-Orioles game, Derek Jeter went a perfect 4-for-4 for the visitors, while Matt Wieters went a perfect 4-for-4 in the home dugout. It was the first game this year to feature two players with four-hit games.Since the start of 2010, there's been only one other MLB game where a player for each team went a perfect 4-for-4 or better -- and it was between the Orioles and Yankees. On July 30, 2011, Vladimir Guerrero's 4-for-4 was the bright spot for Baltimore as the Yankees -- led by Robinson Cano's 5-for-5 -- demolished them 17-3.

In Yu Darvish's much-anticipated major league debut on Monday, he allowed five earned runs, four walks, hit a batter, threw one wild pitch -- and won the game because the Rangers spotted him eight runs.He's the first pitcher in the live-ball era to win his major league debut while giving up all of those stats (or worse). Even take away the wild pitch, and only one other hurler has hit five earned runs, four walks, one HBP and a win in his debut. That was the Blue Jays' Matt Williams on Aug. 2, 1983.

Jeff Gray of the Twins earned the first one-pitch victory of the season on Wednesday. Gray threw his one and only pitch to Peter Bourjos to end the top of the seventh, after which the Twins took the lead in the bottom of the inning. The Twins, conveniently, recorded the last one-pitch win last season, by Matt Capps on Sept. 23.

Speaking of pitching oddities, the Royals-Athletics game was finally called in the top of the eighth inning on Tuesday after its second rain delay. Aaron Crow, who had pitched the seventh for the Royals, was credited with his first career save. Technically, he does meet the save criteria set forth in the rule book, notably that of being the "finishing pitcher" in a game his team won.The last player to be credited with a save prior to the ninth inning was Tony Sipp of the Indians, who received one in a rain-shortened affair with Tampa Bay on July 23, 2010. That also remains Sipp's only career save.

On Tuesday, Freddy Garcia of the Yankees famously threw five wild pitches to tie the single-game American League record for such a thing. He was also the first pitcher to throw five-plus wild pitches in an outing of less than five innings. But two of those wild pitches scored runs for Baltimore. Another run scored on an error. That made the Orioles the first team in two years to score four-plus runs with one or fewer RBI. (The one RBI they did get came on a home run.)For the Orioles, it was just the second time since moving to Baltimore that they scored four runs on one or zero RBI. The other was in their inaugural year: On June 27, 1954, they scored three times on errors by the Athletics before finally walking off on an RBI single in the bottom of the 11th.

Oakland "walked off" in unusual fashion on Wednesday when Jonathan Broxton plunked Yoenis Cespedes and Jonny Gomes to force in the winning run in the bottom of the 12th. It was the first game to end with back-to-back hit batters since Sept. 2, 1966, when Stu Miller of the Orioles hit Al Weis and Tommie Agee of the White Sox in the bottom of the 11th. (I admit that Elias found this a lot quicker than I would have.) However, Gomes became the first Athletics batter to get hit by a pitch with the bases loaded in extra innings since at least 1947. (It had never happened in the Baseball Reference "play index" era.) It's also noteworthy that Oakland scored its two runs in the 12th without a base hit. The three runners ahead of Cespedes reached on two walks and an error.

Before Friday, there had been 36 double-digit strikeout games by teams this week (including seven games where both teams did it) but not one by a single pitcher. Max Scherzer's 11-strikeout outing on Friday afternoon broke that string.

In Wednesday's 17-8 eruption between the Giants and Rockies, there were four pitchers (Tim Lincecum, Jeremy Guthrie, Guillermo Mota, Jeremy Affeldt)who all gave up at least six hits and at least five runs. It's the first time that that has happened since July 17, 1998, when Seattle dropped an 18-5 score on the Royals at the Kingdome.(It is also very intriguing that, in that game, both teams posted a seven-run inning. Except I don't know of a good way to search line scores.)

By the way, on their next two games on Thursday and Friday, the Giants promptly had two pitchers (Madison Bumgarner and Matt Cain)carry no-hit bids into the sixth inning. The only team to have bids in consecutive games last season was also the Giants. That happened on May 8 and 10 by Ryan Vogelsong and Lincecum.

The Orioles and Blue Jays combined to hit seven home runs in Baltimore's 7-5 victory on Friday. All were solo shots. It's the first game with seven-plus home runs that were all solo since a July 20, 2010 game at Camden Yards between the Rays and Orioles.

There's always one guy left out.In the 10-9 "pitchers' duel" between the Twins and Angels on Thursday, 17 of the 18 starters recorded at least one base hit. Howard Kendrick was the lone collar, going 0-for-4 plus a walk.

It's the first nine-inning game this season to have 17 different starters record a base hit. There were three games last season where all 18 did.

Minnesota got a four-hit game from Denard Span and three-hit games from Joe Mauer, Josh Willingham and Danny Valencia. It's the first time the Twins have had four players with three hits, including at least one with four, since they dropped a 20-1 score on the White Sox on May 21, 2009.
February, 6, 2012
2/06/12
1:04
PM ET
Jeremy Guthrie
has pitched the past five seasons for the lowly
Baltimore Orioles
, facing the tough lineups of the
New York Yankees
and
Boston Red Sox
several times per season, pitching in a good home run park for hitters and throwing in front of generally mediocre-to-poor defenses.
His reward for finally getting traded out of Baltimore ... Coors Field!
Some guys never catch a break.
[+] Enlarge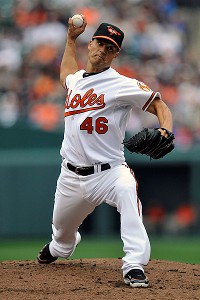 Joy R. Absalon/US PresswireStarting pitcher Jeremy Guthrie is headed to Colorado after starting his career in Baltimore's rotation.
With Guthrie facing free agency after the 2011 season, the
Orioles traded the veteran right-hander to the
Colorado Rockies
for starter
Jason Hammel
and reliever
Matt Lindstrom
. A quick look at the basic stats would suggest there isn't a lot of difference between Guthrie and Hammel:
Guthrie, 2007-2011: 2.6 BB/9, 5.5 SO/9, 1.2 HR/9, 1.27 WHIP
Hammel, 2009-2011: 2.7 BB/9, 6.3 SO/9, 1.0 HR/9, 1.40 WHIP
Despite the similar numbers, I like the deal from Colorado's perspective. Guthrie has performed in a tougher division, facing tougher lineups. He's pitched 200-plus innings each of the past three seasons while Hammel has averaged 175 in his three seasons as a starter, reaching the 170-180 range each year. Hammel has had to pitch in Coors Field and has compiled a better road ERA during his three years starting for the Rockies -- 4.30 versus 4.95. However, his strikeout rate took a big dip in 2011 from 7.1 strikeouts per nine innings to 5.0, so that's a red flag. I just don't see much upside for Hammel pitching in the AL East.
The Orioles do get two years of team control with Hammel plus a salary savings -- Guthrie signed for $8.2 million, while Hammel will make $4.75 million. Lindstrom still throws hard -- he averaged 96 mph on his fastball in 2011, although he still hasn't done much with that power heater. He did have his best season in 2011 despite a low K rate (6.0 K's per nine) because he threw more strikes. I don't see him as much more than a back-of-the-bullpen arm, but he'll likely serve in the late-innings mix with
Jim Johnson
and
Kevin Gregg
.
I do wonder whether the Orioles could have held Guthrie until the trade deadline and flipped him to a desperate contender for a couple of prospects. I would think a durable innings-eater like Guthrie would have been an attractive trade commodity.
Guthrie steps into the No. 2 spot in the Rockies' rotation behind
Jhoulys Chacin
. There is one cause for concern: Guthrie is an extreme fly-ball pitcher. Which means: (a) He can be prone to the home run (and this is Coors Field); (b) You need good outfield defense behind him.
The good news is Guthrie moves from a team that ranked last in the majors in outfield defense in 2011, according to Baseball Info Solutions' defensive runs saved (23 runs below average), to a team that ranked 12th (plus-18). However, the addition of
Michael Cuddyer
to the Colorado outfield is unlikely to improve that metric.
Guthrie should add stability to the Rockies' rotation. Now the club just needs to figure who the third, fourth and fifth starters are from a group including
Juan Nicasio
,
Drew Pomeranz
,
Jorge De La Rosa
(rehabbing from Tommy John surgery),
Tyler Chatwood
,
Josh Outman
,
Guillermo Moscoso
,
Alex White
and
Jamie Moyer
.
December, 2, 2011
12/02/11
12:18
PM ET

Welcome to the National League West, baseball's most unpredictable division. I wouldn't be surprised if all five teams finished 81-81 in 2012.
Here are three fixes or action items for each club.
Arizona Diamondbacks
1. Rotation (
Joe Saunders
, eligible for arbitration)
Arizona's rotation posted a 3.84 ERA, only ninth in the NL, but a strong figure considering it had to pitch half its games in the desert. Most impressive, only the Phillies received more innings from their starters. If there's a red flag, it's that the rotation ranked 14th in the NL in strikeouts per nine innings. Saunders is in his final year before free agency, after posting a solid 3.69 ERA over 212 innings, and Arizona might not want to pay him the big increase he'll get from his 2011 salary of $5.5 million. The back of the rotation has an opening as well.
Likely solution: Look for the D-backs to re-sign Saunders to a two-year deal. He doesn't strike out many guys, but Arizona's outfield of
Justin Upton
,
Chris Young
and
Gerardo Parra
might cover the most ground in baseball. Rookies
Jarrod Parker
,
Wade Miley
and 2011 No. 1 pick Trevor Bauer should battle for the No. 5 spot out of spring training.

2. Find a leadoff hitter
Arizona's starting eight looks set, but nobody on the roster profiles as a quality leadoff hitter. Arizona leadoff hitters compiled a .314 OBP, with light-hitting
Willie Bloomquist
leading off most often, 75 times.
Likely solution: Kirk Gibson needs to think outside the box here, with a lefty/righty platoon perhaps necessary. How about Young leading off against lefties? He posted a .392 OBP against them in 2011, and Justin Upton and
Paul Goldschmidt
can provide power lower in the order. Parra might be the best option against right-handers.
3. Bullpen depth
The bullpen ERA improved from 5.74 in 2010 (worst in the NL) to 3.71 (10th). It helped that it didn't have to throw many innings, but there's no guarantee the rotation will carry such a heavy workload again. Plus, closer
J.J. Putz
has been injury-prone in his career and guys like
Micah Owings
and
Bryan Shaw
were surprising contributors.
Likely solution: Arizona won't spend big here, although a guy like
Jonathan Broxton
would have been a nice gamble. Look for them to troll for a veteran lefty or make a minor deal.
San Francisco Giants

1. Finder another bat -- one who can hit
The Giants' offensive woes were well-documented, of course -- last in the NL in runs scored, with the lowest on-base percentage. Some of that is the ballpark, some of it was injuries, but there's no denying it was a terrible offensive team.
Likely solution: No,
Melky Cabrera
is not the only answer. Or shouldn't be. While he had a career year with the Royals, his .339 OBP is hardly star level, and he hit 30 points above his career average. The other outfielders on the roster are
Andres Torres
and
Nate Schierholtz
. That's not a division-winning outfield. Brian Sabean: You need
Carlos Beltran
back. How many more years can you get out of that great young rotation before somebody gets hurt or leaves via free agency? You have to win now. Sign Beltran.
2. Shortstop (
Brandon Crawford
)
The ill-advised idea to sign
Miguel Tejada
last season predictably didn't work out. Crawford has the goods on defense, but his .204 batting average is an accurate indicator of his offensive abilities. Crawford remains the default option right now, and while the Giants got into a bizarre bidding war for Bloomquist, Giants fans would love to see a different free-agent shortstop in the Bay Area.
Likely solution: You never know, but there are no signs the Giants are pursuing
Jose Reyes
or Bay Area native
Jimmy Rollins
. The Giants signed
Javier Lopez
to a two-year, $8.5 million deal and picked up
Jeremy Affeldt
's $5 million option. Why not use some of that money for a shortstop? In the end, unless the Giants sneak in for a second-tier shorstop like
Rafael Furcal
, it looks like Crawford will be the guy.
3. No. 5 spot in the rotation
The two candidates on the roster right now are
Barry Zito
(5.87 ERA in 53 innings) and
Eric Surkamp
(5.74 ERA in six starts as a rookie). As good as
Tim Lincecum
,
Matt Cain
and
Madison Bumgarner
are, and as good as
Ryan Vogelsong
was in 2011, the rotation is one major injury and Vogelsong regression from looking a little shaky.
Likely solution: Surkamp had great numbers at Double-A -- 142.1 IP, 110 hits, 44 BB, 165 SO -- and the Giants skipped him past Triple-A in promoting him to the majors. He's a lefty who isn't overpowering with a fastball that averaged just 87.9 mph in his stint in the majors. Look for Zito to get the job out of spring training: "I'm not gonna hide from it: Barry Zito is our fifth starter next year," Bruce Bochy told KNBR radio station in November.
Los Angeles Dodgers

1. Find a new owner
While the Dodgers were allowed to sign
Matt Kemp
to a $160 extension, until Frank McCourt sells the club, the bankrupt Dodgers will be hamstrung on moves. McCourt has agreed to sell the team by April 30.
Likely solution: The bidding process starts next week and
Mark Cuban says he'll participate
. Dodgers fans should love that idea, but baseball previously balked when Cuban looking into buying the Cubs and Rangers. A team of investors fronted by ex-Dodgers Orel Hershiser and Steve Garvey is one possibility. Former agent Dennis Gilbert, who also pursued the Rangers, fronts another group of partners.
2. Infield
Here's how bad the Dodgers' offense was in 2011:
First base: 27th in majors in OPS
Second base: 28th in majors in OPS
Third base: 24th in majors in OPS
Shortstop: 19th in majors in OPS
Likely solution: The Dodgers have already signed
Mark Ellis
to play second base and
Adam Kennedy
to help at third, low-cost fixes but hardly great solutions. It looks like another year of
James Loney
at first base, but maybe it's time to punt on him and try prospect
Jerry Sands
. Loney has hit just 48 homers over the past four seasons and doesn't walk much. He's a .281 hitter without anything to go with it, and he's due a raise in arbitration over the $4.88 million he made in 2011. The lone bright spot is speed demon shortstop
Dee Gordon
, who looks to show his .304 rookie season wasn't a fluke. (
Juan Uribe
is also still around, at $16 million over the next two seasons. Yay.)
3. Rotation (
Hiroki Kuroda
, free agent)
GM Ned Colletti has indicated the club can't afford to re-sign Kuroda, unless he's willing to take a big cut. (Kuroda has said he'll either sign with the Dodgers or return to Japan). After
Clayton Kershaw
,
Ted Lilly
and
Chad Billingsley
, there are two spots to fill.
Likely solution: Cheaper free agent veterans like
Aaron Harang
or
Chris Capuano
are possibilities. Trading
Andre Ethier
for a starter is another option. Look for the No. 5 spot to be filled from within -- somebody like Nathan Eovaldi, Allen Webster or Chris Withrow.
Colorado Rockies

1. Third base (
Ian Stewart
)
Rockies third basemen hit a combined .222/.281/.348, among the worst production from the position in the majors, as
Ty Wigginton
earned the majority off the playing time after Stewart collapsed. Stewart hit .156 with zero home runs in 122 at-bats, although he found his stroke at Colorado Springs (of course, everyone finds their stroke at Colorado Springs). Here's the thing about Stewart: Even when he was good, he wasn't that good -- his park-adjusted OPS from 2008 to 2010 still places him as a below-average hitter.
Likely solution: It's possible Stewart gets non-tendered; there's also rumors off a Stewart-for-
Blake DeWitt
deal with the Cubs (your abscess for our canker sore). Top prospect Nolan Arenado, the Arizona Fall League MVP, hit .298 with 20 home runs at Class A Modesto, but he's just 21 in April and probably needs another season in the minors. The Rockies have also asked about Atlanta's
Martin Prado
, reportedly offering outfielder
Seth Smith
.
2. Starting pitcher (
Jorge De La Rosa
out for at least half the season)
As 2011 proved, it's still difficult to build a consistent rotation in Colorado. The Rockies' rotation compiled a 4.73 ERA, ranking 15th in the NL. Yes, Coors Field is a hitter's park, but it's no longer the Coors Field of old. It was a bad rotation. Right now,
Jhoulys Chacin
is the only starter who looks like a reliable option for 2012.
Likely solution: What the Rockies have done is collect young, power arms. They got
Drew Pomeranz
and
Alex White
for
Ubaldo Jimenez
; they just picked up
Tyler Chatwood
from the Angels for
Chris Iannetta
.
Esmil Rogers
is still around, and still very raw. A veteran starter acquired via trade is a possibility to line up behind Chacin and
Jason Hammel
; one guy the Rockies have pursued is
Jeremy Guthrie
, offering closer
Huston Street
.
3. Second base (Mark Ellis signed with the Dodgers)
Jonathan Herrera
is still around, but the .300 average he posted in April looked more and more like a fluke as the season progressed. He finished at .242, and considering he has no power, isn't a viable short-term or long-term solution.
Likely solution: Look for the Rockies to make a trade pitch for Padres second baseman
Orlando Hudson
. There isn't much left on the free-agent market, although
Kelly Johnson
would make for an interesting risk in the thin air if he doesn't re-sign with the Blue Jays.
San Diego Padres

1. Bullpen/closer (
Heath Bell
, signed with Marlins;
Chad Qualls
, free agent)
Welcome to San Diego, Josh Byrnes. The new GM will have to figure out how to build a winning club on a payroll of $53-55 million. But you know what? The Padres aren't
that
far behind the Diamondbacks. The Padres had a run differential of minus-18; the Diamondbacks had a run differential of plus-69. The Padres would have been expected to win 79 games based on their differential; the D-backs 88. With the departure of Bell and last season's trade of
Mike Adams
, the Padres will be looking for bullpen depth.
Likely solution: Ernest Frieri and
Luke Gregerson
are the best internal candidates, but Frieri needs to improve his control and Gregerson is more of a righty specialist. Rookie
Brad Brach
, a one-time 42nd-round draft pick who signed for $1,000 has dominated in the minors but probably needs time in middle relief. The Padres won't spend big on a free agent, so look for a trade.
2. Power (empty)
Ryan Ludwick
led the team with 11 home runs. Nobody else reached double digits. And don't blame the deep canyons of Petco Park -- the Padres hit 45 home runs on the road, fewest in the majors.
Likely solution: None. The Padres' "big" moves have to been bolster the bench with
Mark Kotsay
and
John Baker
. Prospect
Anthony Rizzo
, who hit 26 home runs in 93 games at Triple-A Reno, will be given another shot at first base after hitting .141 with one home run in 128 at-bats with San Diego.
Kyle Blanks
is still around, but at 270 pounds, his lack of range in the outfield is a problem. Third-base prospects Jedd Gyorko and
James Darnell
are both close to big-league ready and provide some hope for punch down the road.
3. Starter (Aaron Harang, free agent)
Mat Latos
,
Cory Luebke
and
Tim Stauffer
are a solid top three, with Luebke's season in particular flying under the radar (154 strikeouts in 139.2 innings). The Padres got good work out of
Dustin Moseley
and
Clayton Richard
over 38 combined starts, but both guys delivered just 4.8 strikeouts per nine innings and are good bets to regress, even pitching in Petco.
Likely solution: The Padres have offered Harang arbitration, but he'll probably get a two-year offer from another team. Otherwise, it's hoping that Moseley and Richard hold their own and that prospects Casey Kelly and Robbie Erlin (acquired in the Adams trade) are ready by midseason.
April, 11, 2011
4/11/11
2:45
PM ET
Less than two weeks into the 2011 season and we're already seeing starting pitching performances that could make 2010 look like the year of the hitter and stat lines that could read like an old Times Square scrolling news marquee that would resemble a 1940s version of Twitter for passersby: "Germany surrenders ...
Josh Beckett
vs. Yankees Sunday night: 8 IP, 2 H, 1 W, 10 K in 4-0 BoSox win ... Ray Milland wins Oscar for "The Lost Weekend."
Beckett's performance Sunday night was his best since his signature win with Boston: his start in Game 5 of the 2007 ALCS at Cleveland, with Boston trailing 3 games to 1, when he dominated as the epitome of a postseason ace, forcing the series back to Fenway Park for an eventual AL pennant and World Series championship. He and
Jon Lester
combined to pitch 15 scoreless innings with five hits and 19 strikeouts in their latest starts.
Sunday against the Blue Jays,
Jered Weaver
struck out a career-high 15 batters, the most by an Angels pitcher in 16 years. Weaver's season line reads like a misprint: 3-0, 0.87 ERA, 20.2 IP, 9 H, 2 ER, 9 BB, 27 SO, 0.83 WHIP.
[+] Enlarge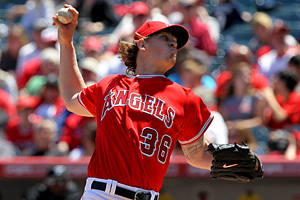 Stephen Dunn/Getty ImagesJered Weaver recorded his third victory of the season on Sunday.
After a search of several months, the nickname for the Phillies' rotation may have finally been found: "The Dubee Brothers," after Philadelphia pitching coach Rich Dubee.
Cole Hamels
silenced the Braves Sunday, with eight strikeouts over seven innings of four-hit ball. Hamels' performance came just three days after the White Sox's
Edwin Jackson
and Oakland's
Trevor Cahill
combined, in separate games, to allow just two runs and seven hits over 16 innings while striking out 20 and walking only one. However, it's not just the Times Square marquee names that have stood out.
If you like the "Dubee Brothers" nickname, how about "The Narvelous"? That's what Brewers closer
John Axford
has called Milwaukee starter
Chris Narveson
. Here's another impressive stat line: how about an ERA of zero? Narveson pitched seven scoreless innings in Saturday's 6-0 win over the Cubs, helped by all the work he's put in on his changeup. "The Narvelous" has pitched 13 scoreless innings and is challenging Jim Slaton's Brewers record of 20.2 scoreless innings by a starting pitcher to open a season, set in 1976. Not bad for a guy whose Cactus League ERA was 6.23.
The Red Sox, who sent
Justin Masterson
to Cleveland in the 2009 trade deadline deal for
Victor Martinez
, have reportedly been trying to bring Masterson back to Boston (according to
Paul Hoynes of the Cleveland Plain Dealer
). Masterson certainly has hit some bumps in the road as an Indians starter after his tenure as a promising and reliable Red Sox reliever, but he had manager Manny Acta calling him "filthy" after a dominant start in Seattle. Masterson's sinker/slider repertoire, combined with sharp movement on his fastball, have put up a 2-0, 1.35 ERA.
Kevin Correia
as an Opening Day starter might make anyone shrug, but Correia has been very effective leading what has been a surprisingly competitive Pirates rotation (3.39 ERA, fifth-best in the NL). Correia is 2-0 and has his fielders behind him admiring the late movement on his pitches.
Baltimore's Opening Day starter was
Jeremy Guthrie
, who earned the respect of his manager, Buck Showalter, on Sunday when he threw six innings of four-hit ball at the Rangers only days after being hospitalized with pneumonia. Guthrie's ERA and WHIP so far both sit at 0.64.
One day earlier in that series, Texas' 6-foot-4, 240-pound lefty
Matt Harrison
retired 18 straight Orioles. His velocity has been impressive and he's 2-0 with a 1.29 ERA and 11 K's in 14 IP.
The Mets have made the 1-year, $1.1 million signing of
Chris Young
look like a steal so far. Shoulder problems kept Young to just 18 starts over the previous two seasons in San Diego but he's allowed only six hits in 12.1 innings with 12 strikeouts and a 0.97 WHIP. On Sunday, Young held the Nationals to one hit over seven innings while retiring 18 of the last 19 he faced.
I'll see you all this week on "Baseball Tonight" at 10 p.m. and midnight ET.
Follow me on Twitter
.
Steve Berthiaume is a regular anchor for "Baseball Tonight" and "SportsCenter." He'll be contributing all season to the SweetSpot blog.
February, 25, 2011
2/25/11
4:03
PM ET
By
Darryl Johnston
| ESPN.com
The American League East division is a beast. At one point in 2010, the top three teams in baseball were New York, Boston and Tampa. No other division in baseball can keep pace or boast that type of firepower.
This offseason, Boston made waves by signing and trading for big-time hitters and bullpen arms. In one fell swoop they became the pre-eminent favorites in the AL East and perhaps all of baseball.
The
New York Yankees
floundered around in the winter and lost out on
Cliff Lee
, prompting the Yankees' fan base to split among depression, denial and anger.
And despite spending over $200 million, guys such as
Mark Teixeira
and GM Brian Cashman refer to themselves as underdogs (tell that to Orioles fans) while all of this hoopla in Boston runs rampant.
So that now means that the AL East winner is already a foregone conclusion. It will be the Red Sox and they could very well win 100 games in the process. The Yankees will take second and probably win the wild card. No need to play the games. Just look at the rosters and move on.
[+] Enlarge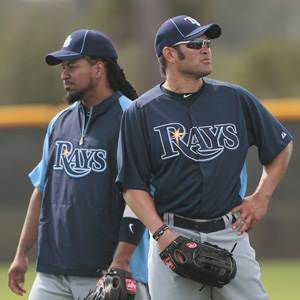 AP Photo/Dave MartinThe Rays brought in Manny Ramirez and Johnny Damon to help shore up an offense that lost Carl Crawford and Carlos Pena.
That is of course until you get to the "lowly" Tampa Rays who watched their star outfielder,
Carl Crawford
, defect to Boston. Wasn't this team supposed to be bad? They lost Crawford,
Dan Wheeler
,
Rafael Soriano
,
Carlos Pena
and traded
Matt Garza
. No way can they compete.
But in what was supposed to be the year that the Rays returned to insignificance, they have quietly (and cheaply) revamped their offense by adding
Johnny Damon
and
Manny Ramirez
. Their pitching staff is fully stocked and loaded with high-impact arms and they boast one of the best managers in baseball as well as one of the smartest front offices.
Maybe it's time we stop trying so hard to overlook them.
Up in Toronto, (where lately fly balls and home runs are more abundant than hockey pucks) the mood is high after the organization brought John Farrell in to manage the team. The Jays, while not as well put together as Tampa, also boast some great players and have some young arms that should flourish under Farrell, the former Red Sox pitching coach.
But Toronto's calling card last year was what chicks dig the most -- long balls. The Jays' plate approach -- put the ball in the air -- helped carry
Jose Bautista
to a 54-home run season. Anyone want to take the over on 40 homers in 2011?
While the Blue Jays could cause some headaches for the Red Sox and Yankees, it's highly unlikely that enough stars will align to propel them to a division championship this year.
And how about the Orioles in Baltimore? Is there any reason to "Fear the Bird"?
Short answer: no. But that offense has been stacked up with some nice offensive pieces and Camden Yards is pretty favorable for home run hitters. The additions of
Vladimir Guerrero
,
Derrek Lee
and
J.J. Hardy
will certainly help them score runs and
Mark Reynolds
may even churn out 30 homers this year (with 250 strikeouts). How many times will
Clay Buchholz
strike Reynolds out this year? Seven, eight times maybe? Reynolds is already 0-for-3 against him with three strikeouts.
The real problem for Baltimore is that pitching staff. Good luck keeping opponents to fewer than five runs per game when you are trotting
Jeremy Guthrie
to the mound as your ace. Sure he might give you 200 innings, but that's about all you're getting unless he can continue to post sub-30 percent hit rates.
O's fans better hope that
Brian Matusz
can wear the crown as he's been anointed (much like
Matt Wieters
) but the team is built as a dichotomy -- offense for today and the pitching for tomorrow. It's doubtful that Baltimore will win 65 games in 2011.
So, can anyone knock off the Yankees or Red Sox? Probably not -- they are both fully loaded with deep war chests.
But don't sleep on Tampa just yet.
Darryl Johnston contributes to Fire Brand of the American League, a blog about the Boston Red Sox. You can follow him on Twitter.