December, 26, 2012
12/26/12
3:05
PM ET
By
Christina Kahrl
| ESPN.com
The Pirates' side of the
Joel Hanrahan
trade is a fairly classic pump-and-dump gambit when it comes to talent management: Acquired with
Lastings Milledge
from the Nationals in 2009 for
Sean Burnett
and
Nyjer Morgan
, Hanrahan became the top commodity exchanged in the deal via his two seasons of success as a closer.
From the Pirates' perspective, did Pirates GM Neal Huntington capitalize on that value and get good swag? A quick review of the quartet received from the Red Sox suggests that he did:
First baseman/left fielder Jerry Sands: Sands would initially appear to be the headline-worthy prospect, because he was ranked by Baseball America as the No. 6 prospect in the Dodgers' system heading into the 2011 season before later coming to Boston in the Adrian Gonzalez/Carl Crawford monster swap.However, I'd take that ranking with a few grains of salt. He's already heading into his age-25 season, and the big numbers he racked up (.296/.375/.524 last year) owe plenty to Albuquerque's Isotopes Park, where he mashed for a .952 OPS. In the rest of the still hitter-friendly PCL, his OPS was .860. Both Bill James and Baseball Prospectus forecast a hitter with an OBP in the .320s and a slugging around .470-.480 in the future -- which is fine, but it's barely above MLB-average performance for first basemen and right fielders. He's more Garrett Jones Lite than the next Jeff Bagwell -- playable, but replaceable.
Reliever Mark Melancon: He has the talent to potentially make the exchange a push. His FIP in a bad season in Boston (4.54) was almost the same as Hanrahan's in Pittsburgh (4.49), and he's the pitcher heading out the AL East into the easier NL Central, as well as the guy whose unusual spike in homers per fly ball should come back down. With a fastball that sits around 93 mph, he won't wow the scoreboard speed gun as much as Hanrahan does, but setting up or closing for the Pirates, he wouldn't need to. And he's under Pirates' club control for four more years.
Middle infielder Ivan De Jesus Jr. was once billed as a solid prospect, but time and more than 400 games at shortstop have shown he's a step short there without showing the bat to really stick at second base. He's shown better patience at the plate in the lower minors than recently, but he's already drifted well towards a utilityman's career track, not that there's anything wrong with that.
Right-hander Stolmy Pimentel's a nice arm, but he's far from a sure thing. The 22-year-old Dominican has a relatively clean bill of health, and his fastball has been clocked as high as 97. He's yet to really thrive above A-ball after two spins through Double-A and has had trouble finding consistency with his off-speed offerings, but there's always the bullpen if he doesn't find it.
Considering that Hanrahan also came with just a single season of club control before he becomes eligible for free agency, it wasn't like Huntington had a lot to work with beyond Hanrahan's quickly compiled stack of saves and the expense of arbitration-boosted 2013 paydays. A bad month or two at the start of 2013 could have seriously undermined Hanrahan's value at the deadline. Add in Hanrahan's problems leaving pitches over the plate last season, only to see an increasing number of them sent into the stands -- contributing to a FIP almost two runs higher than his ERA -- that risk was only too real.
So you could understand why the Bucs exec was willing to strike a deal sooner rather than later. Tossing in organizational player Brock Holt doesn't hurt the Pirates any. While cashing in Hanrahan while he could, Huntington struck a nice deal -- not a great one, but given what he was working with, a solid exchange.
Christina Kahrl covers baseball for ESPN.com. You can follow her on Twitter.
June, 4, 2011
6/04/11
12:00
PM ET
By
Christina Kahrl
| ESPN.com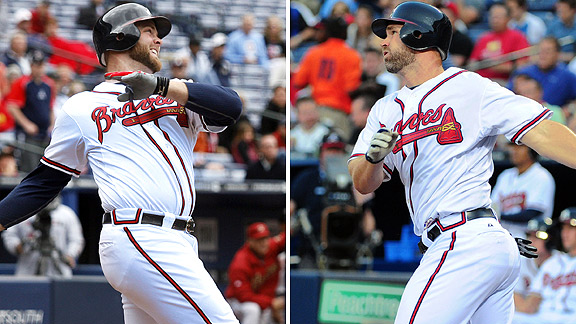 US Presswire/Getty ImagesThe lefty/righty catching platoon of Brian McCann and David Ross has been the NL's best this season.
If the American League has very few stable platoons but a few identifiable platoon players getting work, is the National League any better off? Even with today's bigger bullpens, the absence of a DH gives NL skippers and GMs a little more freedom to carry a player whose primary value is to platoon, since they have five reserves, so even if one is a catcher and another is someone who can play short, that still leaves space for the odd guy. Say, that journeyman who can knock a situational lefty right out of the box, or who can help put up a crooked number against that tiring right-handed starter in the fifth or sixth inning. And it doesn't hurt that these kinds of guys are handy for double-switches.
As in the American League, you find a few catching platoons of convenience, in which the backup backstop bats from the other side and conveniently gets his starts on the days the starter needs a rest. The Braves' setup with
Brian McCann
and
David Ross
is the best of the lot, but when Atlanta afforded itself Ross, it did so knowing it was getting more than a platoon player. The Mets' young/old and lefty/righty combo of
Josh Thole
and
Ronny Paulino
has its virtues. Charlie Manuel has the benefit of a slight inversion of the paradigm when
Brian Schneider
is healthy -- a lefty-batting backup is a lot easier to spot when
Carlos Ruiz
really does need a rest, since most pitching is right-handed -- but he's on the DL.
Stable platoons beyond those behind home plate are surprisingly limited in the Senior Circuit. I'd divide the current group of platoons in the league into three groups: committed, accidental and diffident, reflecting the level of planning and commitment that went into constructing them, and whether or not they're going to last more than a couple weeks.
Among the few we'd call committed, Clint Hurdle's stolidly running out his right-field combo of
Garrett Jones
and
Matt Diaz
. It isn't hitting all that well, but that was the plan, and so far, they're sticking with it. The Phillies anticipated a right-field platoon before the season, but
Domonic Brown
's injury kept that from becoming a reliable feature of Manuel's lineup cards until recently, pressing
Ben Francisco
back into an everyday role he handed back.
[+] Enlarge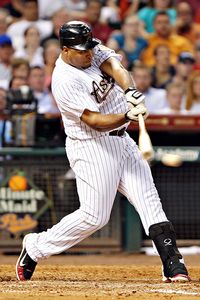 Troy Taormina/US PresswireThe Astros are 10-8 against lefties this season, which could be partly because that matchup allows them to move Carlos Lee out of left field.
In the infield, San Diego manager Bud Black has been reliably sticking with
Brad Hawpe
and
Jorge Cantu
as his first-base arrangement, but there's only so much Can'tu at the plate that even the Padres can endure. The rare multi-position platoon that's a matter of design, but also a certain diffidence is found in Houston, where Brad Mills is moving
Carlos Lee
between left and first base, but not every time out.
Brett Wallace
sits against a few lefties,
Jason Michaels
plays left and Lee moves to first and keeps getting to play every day. The 'Stros might have a 10-8 record vs. lefties, but getting Michaels into the lineup isn't the reason why. But re-potting the increasingly immobile Lee someplace other than left field might be a contributing factor.
Alone among their NL brethren, the Marlins have stuck with an infield platoon someplace other than first base, and they platoon at third without actually finding a set right-handed half of the platoon. Edwin Rodriguez has damned the defensive torpedoes to run
Greg Dobbs
out there every day against right-handers, while leaving his partner du jour as a matter of mystery -- sometimes it's
Wes Helms
, sometimes it was
Donnie Murphy
, and now sometimes it's the roving
Emilio Bonifacio
. Those happy few who root for the Teal Deal are no doubt on their seat's edge when their Fish face a lefty.
Among the accidental platoons, three NL West teams have setups they didn't necessarily expect. To the credit of both Bruce Bochy and Black, they've proven reliably willing to platoon, and they're assembling new ones on the fly after their initial designs broke down. Black got plenty of mileage out of his outfield platooning last year, but
Will Venable
flopped this spring, handing back his half of the right-field job. In his desperation, Black is pairing
Eric Patterson
with
Chris Denorfia
, which isn't helping matters.
While Bochy isn't trying anything quite as inspired as last year's mid-season lineup platoon between
Travis Ishikawa
and
Aaron Rowand
-- with
Aubrey Huff
moving to the outfield against righties and returning to first base against lefties -- he has been aggressive in getting
Nate Schierholtz
into the lineup against right-handers while playing
Cody Ross
daily. Rowand is getting platoon time with
Andres Torres
in center, but
Pat Burrell
hasn't been entirely reduced to Schierholtz's platoon partner.
Then their is the Dodgers' Don Mattingly. Some combination involving
Jay Gibbons
in left field was probably going to be part of the program at the outset, but Gibbons' spotty health, a passing interest in
Tony Gwynn
's speed, and
Marcus Thames
' breakdown opened up an opportunity for first baseman
Jerry Sands
to win the job. But like so many other thundersticks from Albuquerque in Dodgers history, his stick fell still in Chavez Ravine, and now Sands is in an accidental platoon with Gibbons until they decide there's a better alternative.
Injury created the Braves' temporary replacement platoon setup for
Jason Heyward
, as the
Eric Hinske
/
Joe Mather
platoon is working out nicely -- but it's also clear that pair will head back to pine time as soon as Heyward's healthy. In contrast, some managers look like they'd like to platoon more, but injuries have gotten in the way. The Brewers' Ron Roenicke appears committed to a
Nyjer Morgan
/
Carlos Gomez
platoon in center because of the speed 'n defense combo it provides, but Morgan's injury got in the way at the outset. If it sticks, that's the circuit's lone platoon arrangement up the middle someplace other than catcher.
The Pirates' loose platoon at the infield corners reflect what I mean by "diffident platooning." In contrast with his greater faith in his right field platoon, at the infield corners Clint Hurdle's sort of futzing around with
Steven Pearce
at both first and third vs. lefties to give him something to do, and sometimes
Brandon Wood
gets time at third. But it isn't an everyday sort of devotion, and has as much to do with
Pedro Alvarez
's career-stunting slow start and
Lyle Overbay
's offensive indifference than any abiding faith in Pearce or Wood.
I'd also chuck Kirk Gibson's first-base set-up into this category as well --
Xavier Nady
and
Juan Miranda
are platooning, sort of, but Gibson isn't exactly being a stickler about it. Since neither are hitting the people they're supposed to, and since neither plays first base all that well, it's more first base by coin toss at gunpoint than a straight platoon.
Platooning isn't automatically a good idea, after all, and if as Casey Stengel put it, "I could'na dunnit widdout the players," that's just as true today -- skippers can only use what they've got, no matter how clever they might be in how they employ it.
Christina Kahrl covers baseball for ESPN.com. You can follow her on Twitter.
April, 19, 2011
4/19/11
3:19
PM ET
By
Christina Kahrl
| ESPN.com
The Dodgers' decision to call up
Jerry Sands
to play left field might seem like too much, too soon for the prospect. But it reflects the virtue of
not
making a commitment to any particular left-fielder in the offseason. Consider who the Dodgers walked into camp with as their "established" choices:
Jay Gibbons
,
Marcus Thames
, and useful fifth-outfielder type Tony Gwynn Jr. That was a possible platoon of two former DHs and their defensive replacement, and while that's not an awful fill to a bopper's slot in the lineup, you'd move them of the way as soon as you've got a better option.
Enter Sands
(as Dodger Thoughts wrote, maybe a memorable moment in Dodger history), who can be that better option. He was rated as one of the Dodgers' best hitting prospects coming into the season because of his outstanding power potential after hitting 35 homeruns between the Low-A Great Lakes Loons and the Double-A Chattanooga Lookouts last year. That was an aggressive promotion schedule, but he didn't falter, and now he's up after already sending five pitches over the fence in Triple-A, four of them at home for the Albuquerque Isotopes.
Now, generally speaking, you may not want to get too excited about that last fact -- Isotopes Park retained the dimensions of Albuquerque's old stadium, the one that helped generate inflated expectations of Mike Marshall (the PCL triple-crown winner, not the pitcher) and Franklin Stubbs in the '80s. There are also the ongoing questions from some scouts over whether or not Sands can handle advanced breaking stuff.
The other element to keep in mind is that while Sands might be the left fielder of the present, his limited range might also make him the team's first baseman of the near future. That reflects the Dodgers' variety of fall-back options. Sands' teammate in the Isotopes' outfield, center-field prospect Trayvon Robinson, should also have a 2011 ETA. Whether the Dodgers' brass decides to stick with
Matt Kemp
in center or not, they have a quality alternative, but Robinson's bat is good enough for left if Kemp sticks in center. They may also decide to notice that James Loney's RBI tallies aren't anything more than a reflection of his batting fourth or fifth over the majority of his career, and that first basemen who slug .431 aren't very hard to find -- or replace.
As a result, whether he struggles initially or not, Sands' time won't run out quickly. The organization is high on him for all the right reasons, so even if he falters, competing with players like Loney, Thames, Gwynn or Gibbons will definitely favor the kid with the loud bat.
Christina Kahrl helped found Baseball Prospectus in 1996, is a member of the BBWAA, and covers baseball for ESPN.com. You can follow her on Twitter here.