June, 14, 2013
Jun 14
12:24
AM ET
Jesse Chavez
is essentially the 25th man on the Oakland A's roster. He started the year in Triple-A, got called up, got sent down, got called back up and is working as the low-leverage guy out of the bullpen. Before Thursday, he hadn't pitched since June 5, and the final scores of games he'd appeared in (without a decision) were 6-1, 10-2, 11-5, 6-2, 6-1, 6-3, 10-2, 9-6 and 8-1.
Chavez is the definition of a journeyman right-hander, having pitched for the Pirates, Braves, Royals and Blue Jays before the A's purchased him from Toronto last August. He was a typical Billy Beane acquisition: He has a pretty good arm, fastball in the low 90s, but what Chavez hadn't had was much success at the major league level, with a 5.74 ERA over 191 career innings.
But sometimes you need that 25th guy to come through, and Chavez's other asset is that he had started for Triple-A Sacramento. That ability to pitch multiple innings came into play in Thursday's 18-inning marathon in Oakland, the A's finally pushing across the winning run with a blooper and broken-bat flare off
Mariano Rivera
, winning
3-2
. Chavez was the big hero, however, pitching 5.2 innings of one-hit, scoreless relief. He has a starter's repertoire, with a cutter, curve and changeup. He got two big outs when he entered with two runners on in the 13th, striking out
Kevin Youkilis
and
Vernon Wells
on curveballs.
In the 14th, A's manager Bob Melvin had the guts to intentionally walk
Robinson Cano
with runners on first and second;
Mark Teixeira
popped out to shortstop, missing a hittable fastball. From there it was smooth sailing, as Chavez retired the side in order in the 15th, 16th, 17th and 18th innings. Not bad for your garbage-time reliever.
[+] Enlarge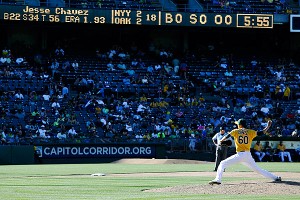 AP Photo/Eric RisbergJesse Chavez got the win for the A's in 5.2 innings of scoreless relief, with one hit and seven strikeouts.
"The last guy they threw was the best guy we faced all day," Teixeira told MLB.com. "That guy is nasty."
It's one of those games that will be remembered if the A's end up winning the American League West. It's that kind of bullpen depth that fueled their second-half surge last season and has fueled their strong start this season. The A's are 33-0 when leading heading into the ninth inning. They're 6-2 in extra innings. When tied through seven innings they're 8-1. This is a tough team to beat late in a game.
The A's have won 11 consecutive games at home and 21 of their past 26, and while they were 7 games behind the Rangers in mid-May, they now lead the division by two games, after the Blue Jays beat
Yu Darvish
and the Rangers
3-1
, dropping the Rangers to 4-8 in June. Injuries to
Ian Kinsler
and
Mitch Moreland
have hurt, but that gets us back to roster depth.
Who is the favorite to win the West? Here's a quick rundown comparing the two teams.
Lineups
Oakland: .246/.328/.397
Texas: .264/.327/.436
Entering Thursday's games, the Rangers had the higher wOBA, but the A's had the slightly better park-adjusted offense. The A's have gotten huge performances from
Josh Donaldson
and
Coco Crisp
, and while some regression might be in order, Donaldson also looks like a much-improved hitter from last season,
as Jerry Crasnick wrote
. On the other hand,
Josh Reddick
(.187) and
Chris Young
(.169) should improve.
For the Rangers, the offense is trending downward. In 2011, they averaged 5.3 runs per game; in 2012, 5.0; this year, 4.4.
Adrian Beltre
and
Nelson Cruz
are doing Adrian Beltre- and Nelson Cruz-type things, but
Elvis Andrus
and
David Murphy
are struggling right now. If Murphy doesn't pick it up, the Rangers might look to add an outfielder.
Advantage: A's.
Starting pitching
Oakland: 29-24, 4.01 ERA; .249/.298/.398; 6.1 innings per start
Texas: 25-21, 3.77 ERA; .251/.311/.391; 5.9 innings per start
The rotations have posted similar numbers, but once you adjust for ballpark, the Rangers' staff has performed better, led by Darvish and
Derek Holland
. FanGraphs WAR rates the Rangers' starters at 8.6 Wins Above Replacement, third-best in the majors, and the A's 12th-best at 5.0.
The good news for the A's is that
Jarrod Parker
pitched well again Thursday. After posting a 7.34 ERA through his first seven starts, he's gone 4-1 with a 2.40 ERA over his past seven, with a .183 average allowed and WHIP under 1.00. His changeup is back to the deadly weapon it was last year, as batters have hit .118 against it in those most recent seven games.

The Rangers have succeeded even though
Matt Harrison
has spent most of the season and the disabled list and
Colby Lewis
all of it.
Alexi Ogando
is also
out again with shoulder inflammation
. The Rangers received some solid work from
Nick Tepesch
and
Justin Grimm
early on, but those two haven't been quite as strong lately, and you have to wonder if the injuries won't catch up to the rotation at some point, at least until Lewis and Harrison return.
Edge: Even. The Rangers have been better so far, but moving forward I think the A's close the gap.
Bullpen
Oakland: 12-3, 2.89 ERA; .227/.289/.358
Texas: 13-7, 3.29 ERA; .240/.313/.368
The Texas bullpen has also been outstanding, especially the back three of
Joe Nathan
,
Tanner Scheppers
and
Robbie Ross
.
Neal Cotts
has added some depth as well. Scheppers has been the big surprise, with a fastball that sits at 94-96 mph and touches 98; he's always had a good arm but might finally be putting it together. He doesn't have a big strikeout rate (21 in 32.1 innings), and I do wonder if he keeps pitching this well. Batters are hitting just .170 off his fastball even though Scheppers' strikeout/walk ratio with the pitch is just 10.9.
Edge: A's. The Rangers have a good pen, but once you get into the fifth, sixth and seventh guys, I think the A's have the advantage.
Defense
Oakland: minus-20 Defensive Runs Saved
Texas: plus-8 Defensive Runs Saved
Ultimate Zone Rating has the clubs essentially even -- Texas at minus-0.3, Oakland at minus-1.3. The big problem area for the A's has been shortstop
Jed Lowrie
at minus-8 DRS. Chris Young, who usually rates very well in the outfield, has also rated poorly at minus-5 DRS. Of course, if he doesn't start hitting, he's not going to get much playing anyway behind Crisp, Reddick and
Yoenis Cespedes
.
Edge: Rangers.
The A's were my preseason pick to win the division, and they look like the better team right now. What do you think?
June, 16, 2012
6/16/12
1:50
AM ET
By
Christina Kahrl
| ESPN.com
A little more than a week ago, things looked so very different for the
Toronto Blue Jays
.
Brandon Morrow
had just delivered
a complete-game shutout
of the White Sox in the Cell, and the Jays were 30-26. In the early going, they were a reasonable candidate within baseball's newly expanded wild-card picture.
And a big part of the reason why they deserved that consideration was a "no-name" rotation that had delivered more quality starts than all but two American League rivals, the
Los Angeles Angels
and the
Chicago White Sox
.
What a difference a week makes, because first they lost Morrow to an oblique injury on Monday, his next turn. On Wednesday,
Kyle Drabek
tore up his elbow and might need Tommy John surgery. And on Friday night, rookie
Drew Hutchison
had to leave his start early with his own dose of elbow trouble. Within the space of four ballgames, the Jays might have three of five starting pitchers on the disabled list.
Perhaps no team could withstand that sort of rotation wipeout, but at least the Jays still have
Ricky Romero
in working order -- for now. How good were these three starters?
Morrow: He'd delivered a league-leading three complete-game shutouts as well as eight quality starts in his first 12, striking out 22 percent of opposing batters while cutting his walks to a career low, below 8 percent. All of the expectations that Morrow's selection as the fifth overall pick of the 2006 draft looked like they were on the verge of being fulfilled as he began to earn ace status.

Drabek: As highly touted as Morrow back in the day, and another canny trade pickup by the Jays, Drabek has had to work his way past wildness on and off the field. He came into 2012 having to pitch for his job, no matter how rosy his former promise had been, but he looked like he'd come around after five quality starts in his first nine, posting a 3.27 ERA. Allowing 34 walks in those 52.1 IP reflected that location was still an issue, but you could hope he was getting back on track.

Hutchison: Ranked before the year as the organization's sixth-best prospect by Kevin Goldstein of Baseball Prospectus and ninth-best by Baseball America, Hutchison was pressed into action with just six starts above A-ball. The 21-year-old didn't lack the stuff or touch to make it, however, showing excellent touch on a fastball-slider-change mix. He'd cranked out quality starts against the Yankees, Orioles and Red Sox in recent weeks.
These three already have company to keep on the rehab trail, unfortunately enough: The perennially promising and reliably broken
Dustin McGowan
's on the DL as well, dealing with shoulder woes. Counting on McGowan hasn't been a good idea since 2007.
Pickings are slim as far as what else the Jays can do after losing three of their front five in such short order. If Hutchison joins Drabek on the "wait 'til next year" list, that's two slots to fill for the remainder of the year, as well as the month-plus of turns that will have to go to Morrow's replacement while he's out.
Brett Cecil
is slipping into Morrow's slot Sunday, and you can hope the young finesse lefty can recapture some of his former promise. Long reliever
Carlos Villanueva
might help, but his track record as a starter isn't great.
They don't really have a promising kid like Hutchison to turn to; Deck McGuire's getting drubbed in Double-A, leaving the cupboard relatively bare. You get into wondering what well-traveled
Jesse Chavez
or former rotation stalwart
Scott Richmond
have left. The borderline bid of convention just got rolled back into borderline bad ballclub possibilities. The sabermetric construction of "replacement level" is a handy fiction -- there's certainly no guarantee that the Jays will get replacement-level work from their available replacements.
The Jays probably don't get their fair share of sympathy or schadenfreude, which is a pity considering the remarkable job general manager Alex Anthopoulos has done. Whoever gets the call beyond Cecil, in the meantime the Jays still have Romero and farmhand
Henderson Alvarez
to rely upon. But that isn't what the Jays' slender hopes for contention were based on. If they're excused early, it's a shame, but in divisional races as tight as either East boasts, you can't afford this kind of misfortune.
PHOTO OF THE DAY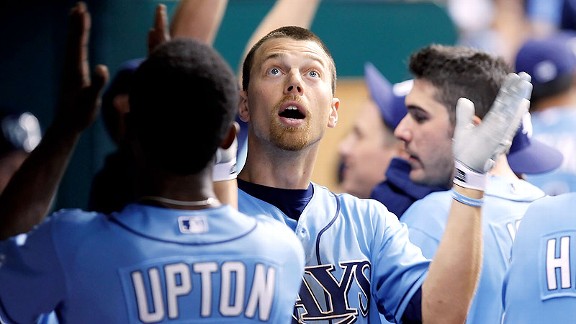 J. Meric/Getty ImagesBen Zobrist must still be looking for his home run to come down.
Christina Kahrl covers baseball for ESPN.com. You can follow her on Twitter.
July, 23, 2011
7/23/11
3:00
PM ET
By
Charlie Saponara
| ESPN.com
With trade rumors hitting us in full force as the deadline approaches, let's take a look back at some of what happened at the 2010 trade deadline and see how many of those players are making an impact for their new teams.
Cliff Lee traded to the Rangers; Mariners acquired Justin Smoak, Blake Beavan, Matthew Lawson and Josh Lueke
Despite a solid BB/K rate, Smoak continues to struggle with consistency at the big league level. He's still only 24, so there is time for him to improve, but he's not the instant impact bat that the Mariners were hoping for. Both Beavan and Lueke have pitched in spots for the Mariners this season. The Rangers rode Lee's contributions to the World Series and have since moved on from Smoak seamlessly, relying instead on the likes of postseason hero
Mitch Moreland
,
Michael Young
and
Mike Napoli
.
[+] Enlarge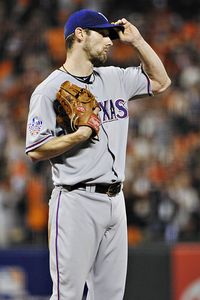 Scott Rovak/US PresswireThe Rangers acquired Cliff Lee in a 2010 deadline deal and rode his arm to a World Series appearance.
Dan Haren traded to the Angels; Diamondbacks received Joe Saunders, Tyler Skaggs, Patrick Corbin and Rafael Rodriguez
Haren has thrived for the Angels this season, and Saunders has held his own with the surprise contenders in Arizona. However, the big score for the D-Back may not arrive until late next season or 2013, as Skaggs has continued to impress all those who have seen him pitch. Recently, he earned a promotion to Double-A after posting a 3.22 ERA, 2.65
FIP
and 3.7 K/BB rate at High-A Visalia in the hitter-friendly California League. Corbin has had his struggles at Double-A, but he has posted an impressive 4.5 K/BB rate and should see the big leagues one day.
Edwin Jackson traded to the White Sox; Diamondbacks received Daniel Hudson and David Holmberg
This move was sort of a head-scratcher at the time, and the way Hudson has pitched for the D'backs ever since confirms that confusion. The Snakes have Hudson under team control through 2016 while Jackson will hit the free-agent market this winter.
Roy Oswalt traded to the Phillies; Astros acquired J.A. Happ, Anthony Gose and Jonathan Villar
Oswalt pitched brilliantly for the Phils in the 2010 postseason. However, career-long back problems may have finally caught up to him. On the Astros' side, Happ was plugged right into the rotation, but his struggles with command and allowing the long ball have led to an ERA nearing six. Gose never played a game in the Astros' system as he was flipped to the Blue Jays for first baseman
Brett Wallace
; the 24-year-old Wallace has been unimpressive in his young major league career, though he does sport an above-average OBP. Villar continues to struggle with strikeouts in the minor leagues.
Lance Berkman traded to the Yankees; Astros received Mark Melancon and Jimmy Paredes
While Berkman is in the midst of a late-career renaissance with the Cardinals, Melancon has taken over as the Astros' closer with a 2.91 ERA, 3.33 FIP and ground-ball rate of 60 percent. Jimmy Paredes is now in Double-A and continues to steal bases, but he also continues to struggle with his lack of plate discipline.
Matt Capps traded to the Twins; Nationals received Wilson Ramos and Joe Testa
Capps pitched well for the Twins down the stretch in 2010, but his huge regression in strikeout rate has hurt him big-time this season. In the meantime, despite some ups and downs in his first full big-league season, Ramos has established himself as the Nationals' catcher of the now and the immediate future.
Jhonny Peralta traded to the Tigers; Indians received Giovanni Soto
Peralta re-signed with the Tigers last offseason and has been worth every penny of the $5.25M he is making this season. Over the past two seasons, Peralta has improved his contact rate, which has helped to lower his strikeout rate. Meanwhile, the 20-year-old Soto continues to show good strikeout ability at the lower minor-league levels of the Indians' organization.
Ted Lilly and Ryan Theriot traded to the Dodgers; Cubs received Blake DeWitt, Brett Wallach and Kyle Smit
Lilly pitched well for the Dodgers down the stretch in 2010, but his issues with the gopher-ball have hurt him this season. With the Dodger's financial situation in shambles, the three-year $33 million deal Lilly signed last offseason only makes things worse. Overall, this deal has helped no one, though the Dodgers did at least acquire league-average reliever
Blake Hawksworth
in exchange for Theriot this past offseason.
Octavio Dotel traded to the Dodgers; Pirates acquired James McDonald and Andrew Lambo
After being acquired by Los Angeles, Dotel appeared in 19 games, allowed seven earned runs and was then traded to the Rockies in September. The Pirates landed the high-upside, inconsistent McDonald, who has been once again inconsistent. However, his 4.15 ERA (4.57 FIP) have at least contributed as a back-end rotation piece to the surprising Pirates. Lambo was once a top-end prospect with the Dodgers, but his prospect status is all but gone now. He's hitting .206/.278/.326 between Double- and Triple-A this season.
Kyle Farnsworth and Rick Ankiel traded to the Braves; Royals received Tim Collins, Jesse Chavez and Gregor Blanco
Both Farnsworth and Ankiel moved on from the Braves in the offseason, and Blanco was traded to the Nationals this past May. Collins made the Royals out of spring training and has continued to prove that he can miss bats (24.3 percent whiff rate), but his control has really tailed off at the big-league level. Collins is only 21 years old, so his future may still be as a consistent late-inning reliever someday.
Charlie Saponara writes for SweetSpot blog, "Fire Brand of the AL." You can find all of his writing adventures by following on Twitter.
May, 25, 2009
5/25/09
11:56
PM ET
Just saw
Matt Capps
get nailed in the pitching elbow by one of
Geovany Soto
's few hard-hit balls all spring. Capps was hurting bad and left the field almost immediately, and we can only hope that he didn't suffer some sort of fracture. Capps, one of the Pirates' few bright spots these last few years, has been knocked around pretty good this season but enjoyed his best outing of the season on
Sunday against the White Sox
.
Now he might be out for a while, which means something's going to change. Obviously (at least to me), the best candidate for Capps' replacement -- if the Pirates need one -- is Jesse Chavez, who throws hard and strikes people out. Granted, Chavez has not been a real setup man -- that job's been held mostly by John Grabow and Sean Burnett. Chavez is pretty clearly the best pitcher left in the bullpen, though.
But before anyone thinks, "Hey, no problem" there's this: Chavez has pitched more innings than Capps this season. So while his innings presumably haven't been as high-leverage as Capps', the fact is that someone's going to have pitch Chavez' "old" innings, and those count, too. And I don't see anyone on the roster who's up for that job.