April, 7, 2012
4/07/12
8:35
PM ET
This is what will have American League pitchers and managers waking up in cold sweats all season long: Those stretches when
Miguel Cabrera
and
Prince Fielder
are both raking, eyes bulging as they pummel meaty fastballs over fences and into outfield seats.
Josh Beckett
become the first pitcher to experience these forces of nature in action, as both hit two home runs off him in Detroit's
10-0 victory
Saturday over Boston. Fielder hit one out to left field and a low, screaming bullet to right for his pair. Going the opposite way is nothing new for him; 11 of his 38 home runs in 2011 went to left or left-center. There were some concerns that Fielder would lose a few home runs moving from Miller Park to the more spacious environs of Comerica, so hitting one out to left is a good, early sign.
How dynamic is this pair? A season ago, Fielder hit .299/.415/.566 with 38 home runs; Cabrera hit .344/.448/.586 with 30 home runs. The last team with two players to hit 30 home runs with a .400 OBP? The 2006 Red Sox with
Manny Ramirez
and
David Ortiz
. Twelve teams since 2000 have had such a duo (or in the case of the 2004 Cardinals, three players):
[+] Enlarge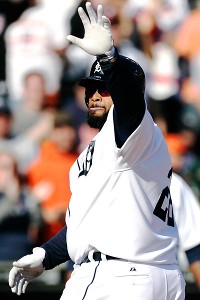 AP Photo/Duane BurlesonPrince Fielder waves after hitting the first of his two home runs off Boston's Josh Beckett.
2006 Red Sox: Ramirez, Ortiz
2005 Yankees:
Alex Rodriguez
,
Jason Giambi
2004 Cardinals:
Albert Pujols
,
Jim Edmonds
,
Scott Rolen
2003 Yankees: Giambi,
Jorge Posada
2002 Astros:
Jeff Bagwell
,
Lance Berkman
2001 Rockies:
Todd Helton
,
Larry Walker
2001 Cardinals: Pujols, Edmonds
2000 Cardinals: Edmonds,
Mark McGwire
2000 Angels:
Tim Salmon
,
Troy Glaus
2000 Astros: Bagwell,
Moises Alou
2000 Mariners: Rodriguez,
Edgar Martinez
2000 Giants:
Barry Bonds
,
Jeff Kent
Of course, all of those pairs or threesomes did this during the high-offense steroids period. Six other teammates did it between 1995 and 1999. But before that? That previous team to have two such players was the 1969 Oakland A's with Reggie Jackson and Sal Bando. Throughout baseball history there have been only 34 such pairs. Here's another way to do this. Let's add OPS+ (adjusted on-base plus slugging percentage) as a third measuring stick. OPS+ adjusts a player's offensive production for home park and era. In 2011, Cabrera's OPS+ was 181, second in the American League. Fielder's was 164, fourth in the National League. Let's set a minimum of 30 home runs, .400 OBP and 150 OPS+.
This takes away some of steroids-era pairs and leaves us with 24 such teammates in baseball history. And six of those 24 were Babe Ruth and Lou Gehrig.
And that, my readers, is the kind of company Cabrera and Fielder have the chance to join.
A few more notes from today's early games:
April, 13, 2011
4/13/11
12:48
PM ET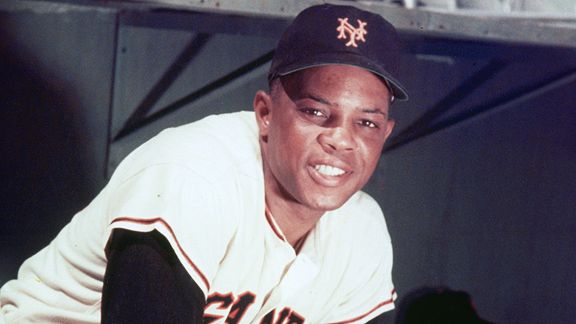 MLB Photos/Getty ImagesDid Willie Mays headline the golden era of center fielders when he played for the New York Giants?
This is somewhat shocking to me: A center fielder hasn't won an MVP Award since Ken Griffey Jr. in 1997. (
Josh Hamilton
played some there last season, but the majority of his games came in left field.)
Before that, it was Robin Yount in 1989.
Since Yount won his MVP Award, a first baseman has won 11 times – sure, three of those trophies belong to
Albert Pujols
, but
Frank Thomas
(twice),
Jeff Bagwell
,
Mo Vaughn
,
Jason Giambi
,
Ryan Howard
,
Justin Morneau
and
Joey Votto
have also won.
This hasn't always been the case. Willie McGee won the NL MVP Award in 1985 with a terrific all-around season. Dale Murphy won back-to-back trophies in 1982 and 1983. Fred Lynn won in '75 and if you go back further, you get all-timers like Willie Mays, Mickey Mantle and Joe DiMaggio.
Anyway, I always thought of center field as baseball's glamour position -- the guys who get to making leaping grabs at the fence, steal bases and belt home runs. More than any other position, center fielders are expected to do everything. As Nick Loucks discovered, however, 2010 was the first season of the live-ball era
that no center fielder hit .300
. Searching through Baseball-Reference's wondrous
Play Index
, I also discovered that 2010 was the first season since 1944 that no center fielder recorded a WAR of 5.0 or better.
Are we in a lull of great center fielders? Maybe so. We have a nice group of power/speed guys like
Chris Young
,
Drew Stubbs
and
Andrew McCutchen
, but none of them are MVP-caliber hitters right now. A decade ago we had guys like Griffey,
Jim Edmonds
,
Carlos Beltran
,
Andruw Jones
and
Bernie Williams
out there. Everybody knows about Willie, Mickey and the Duke patrolling center field in New York in the mid-'50s. It made me curious: What
was
baseball's golden age of center fielders?
Using B-R's search functions, I checked every individual season back to 1901, looking for center fielders who posted a WAR of 5.0 or better. I also broke each decade into five-year increments (2006-2010, 2001-2005 and so on) and checked cumulative WAR for center fielders over those five-year periods.
I think we're only talking about
good
center fielders here -- nobody cares who the 23rd best center fielder is right now. So I focused on the top one-third – the top 10 center fielders in this era (30 teams), but adjusted downward to the top six when there were only 16 teams.
Best single years:
[+] Enlarge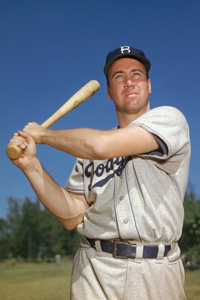 Hulton Archive/Getty ImagesDodgers center fielder Duke Snider had a .341 average with 40 home runs and 130 RBIs in 1954.
1954:
Willie Mays (10.2 WAR), Mickey Mantle (7.8), Duke Snider (7.7), Richie Ashburn (6.2), Larry Doby (5.6). These guys all made the Hall of Fame, Mays won the NL MVP Award, Snider finished fourth in the voting. Doby finished second in the AL vote, and Mantle somehow finished 15th despite leading the AL with 129 runs and generally scorching the baseball. After those guys, you had the original Frank Thomas (23 home runs), Wally Moon (106 runs), Jackie Jensen (92 runs, 117 RBIs) and Gus Bell (104 runs, 101 RBIs). Not bad for a 16-team league.
1992:
This was the final season before offense began jumping up. There were fewer runs per game in '92 than any season between 1982 and 2010. The depth was extraordinary: Andy Van Slyke (6.9), Kirby Puckett (6.7),
Kenny Lofton
(5.7),
Marquis Grissom
(5.6), Ken Griffey Jr. (5.4),
Devon White
(5.3),
Steve Finley
(5.3),
Ray Lankford
(4.3), Brett Butler (4.3). And you had solid players like Lance Johnson, Mike Devereaux (107 RBIs), a young
Juan Gonzalez
(led the AL with 43 home runs) and an aging Yount.
1999:
Andruw Jones (7.0),
Brian Giles
(6.7), Kenny Lofton (5.9),
Carl Everett
(5.9),
Brady Anderson
(5.4), Steve Finley (5.1), Bernie Williams (5.0), Ken Griffey Jr. (4.8),
Chris Singleton
(4.6), Carlos Beltran (4.4),
Doug Glanville
(3.9),
Garret Anderson
(2.7). Griffey led the AL with 48 home runs, knocked in 134 runs and scored 123 – and he rates as only the ninth-best center fielder that season (B-R gives him a very poor defensive rating). The list doesn't even include Edmonds, who was injured that season.
OK, those are nice lists, but I think we're looking more for an era, not a single season. One way to look at this was to simply average the five-year chunks of WAR for our groups of center fielders.
Under this method, it does show 2006-10 as the weakest era for center fielders since Joe DiMaggio headlined a nondescript group from 1936-40 (we didn't count the 1941-45 war period). Carlos Beltran (26.3) had the best WAR over this period, followed by
Grady Sizemore
(20.5),
Curtis Granderson
(20.3),
Torii Hunter
(15.6) and
Mike Cameron
(14.6). A nice group of all-around players, but no future Hall of Famers.
OK, using WAR as the baseline, looking at things like MVP votes and making a few personal judgments as I desired, here are my top golden eras for center fielders:
5. 1986-1990
Top five: Kirby Puckett,
Eric Davis
, Andy Van Slyke, Lenny Dykstra, Brett Butler.
Next five: Robin Yount, Dave Henderson,
Ellis Burks
, Devon White, Gary Pettis/Willie McGee.
Great depth as the top six all accumulated 20-plus WAR. Lacks a signature superstar, but what gloves you had out there: Van Slyke, White and Pettis were all supreme flychasers.
4. 1916-1920
Top five: Ty Cobb, Tris Speaker, Edd Roush, Happy Felsch, Benny Kauff
Next five: Max Carey, Cy Williams, Hi Myers, Clyde Milan, Amos Strunk
You have two of the greatest center fielders of all time each compiling over 7.0 WAR per season, two other Hall of Famers (Roush and Carey) and a slew of other good players.
3. 1966-1970
Top five: Jimmy Wynn, Willie Mays, Paul Blair, Tommie Agee, Reggie Smith
Next five: Willie Davis, Matty Alou, Rick Monday, Curt Flood, Adolfo Phillips
Mays was starting to age but still racked up 28.0 WAR, just behind Wynn's 28.3. There are those who will argue that Blair is the greatest gloveman ever in center. Smith later moved to right field, but he came up with the Red Sox as a power-hitting center fielder. Alou hit .327 over the five years.
2. 1996-2000
Top five:
Ken Griffey Jr.
, Bernie Williams, Andruw Jones, Kenny Lofton, Ray Lankford
Next five: Jim Edmonds, Brady Anderson, Steve Finley, Mike Cameron, Lance Johnson
The top six all accumulated over 20 WAR. Griffey hit 249 home runs, Williams hit .324, Jones covered ungodly amounts of ground, Lofton brought speed and on-base skills and Lankford was one of the most underrated players of his era.
1. 1956-1960
Top five: Mickey Mantle, Willie Mays, Richie Ashburn, Duke Snider, Jim Landis.
Next five: Jim Piersall, Bill Bruton, Bill Virdon, Vada Pinson, Larry Doby.
I guess the song has it right. This era rates a little better than the 1951-55 period due to more overall depth. Doby and Snider had their best five-year stretch in 1951-55, but Mantle and Mays were dominating their leagues. Ashburn was a leadoff guy who rivaled Mays for defensive excellence and guys like Landis, Piersall and Bruton, while forgotten today by all but the most dedicated seamheads, were excellent players. And remember -- this came in a 16-team league.
Follow David Schoenfield on Twitter at @dschoenfield. Follow the SweetSpot blog at @espn_sweet_spot.
March, 18, 2011
3/18/11
9:36
AM ET
By
Bill Parker
| ESPN.com
Our friend Craig Calcaterra had a very interesting post over on Hardball Times the other day, in which he attempted to identify the
greatest living player from each team
. His answer for the Angels really caught my eye:
Angels: Another toughie for me. Jim Edmonds, unless you think he had too much time in St. Louis. Tim Salmon? Yikes.
And it's true that the Angels haven't really had a great player who has stayed with the team for long enough to really jump out as you as their greatest ever, but Edmonds and Salmon? That seems a stretch. Nolan Ryan?
Chuck Finley
?
The answer that came to me right away, though, was Jim Fregosi, a shortstop who made six All-Star teams, won a Gold Glove and was mentioned on MVP ballots in eight different seasons with the team. Fregosi's largely been forgotten today, in part because he was done as a full-time player at just 29 and never came particularly close to compiling a Hall of Fame career, and in part because he wasn't flashy. His .268/.340/.403 Angels line was great for a 1960s shortstop (116 OPS+), but certainly isn't eye-catching, and he didn't have the defensive wizardry or speed of a Luis Aparicio. Fregosi was simply a very good player and for a fairly long time.
[+] Enlarge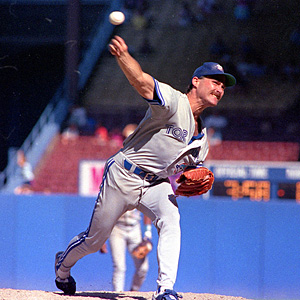 AP Photo/Tony DejakDave Stieb won 175 games for the Blue Jays during his career.
It happens that that's one of my favorite subjects: players who may not be Hall of Famers, but who were very good (sometimes great) players who have been unfairly forgotten by fans. This ignores guys who I think are terribly underrated but SHOULD be in the Hall -- Bobby Grich, Alan Trammell -- but those players are talked about often enough in Hall discussions.
So here's a randomly ordered and by no means exclusive list of players -- all still living and all active at a time when many of us were around to see them -- who, like Fregosi, were very good players who I think should be remembered more than they are:
Dave Stieb
: My personal crusade. In my opinion, Stieb was both the
greatest player in Blue Jay history
and the
greatest pitcher of the 1980s
-- leading the decade (minimum 1,500 innings) with his 127 ERA+ and his 45.2 WAR -- but he never gets credited as either. Stieb had a legitimate case to win the Cy Young Award three different times, but never finished higher than seventh.
Reggie Smith
: One of those guys who did everything pretty well, but nothing exceptionally well. He hit for a high average, but didn't hit .300; had good patience, but didn't post .400 OBPs; had good power, but topped 30 homers only twice and 100 RBIs only once (he did post 90-plus three other times); he played pretty good defense, but wasn't a Gold Glover. That's pretty much the recipe for an underappreciated player.
Jim Wynn
: Much the same story as Smith, but then add in that he was hitting in the Astrodome, which pulled his numbers down across the board. Put him in Enron/Minute Maid over the past decade and he's a superstar.
Robin Ventura
: We haven't "forgotten" him, but his 1.3 percent showing on the 2010 ballot shows how quickly we've forgotten (if we ever really appreciated) how much his on-base ability, power and (especially) defense brought to the table. I wouldn't have voted for him with so many better third basemen on the outside looking in, but he's closer than he's ever been given credit for.
Kevin Appier
: He suffers from having his best years with Kansas City (which was better than it is now, but still not great), and from not being Maddux, Unit, Pedro, Clemens, Mussina or Schilling. But he was brilliant from 1990-97 and was robbed of the '93 Cy Young.
Keith Hernandez, Will Clark and John Olerud
: I consider them as about the same player. All three are underrated because they didn't do much of the one thing first basemen were expected to do: hit home runs. They did almost everything else very well, though, and you could make Hall cases for each (I think they fall just short).
Shane Mack
: Yes, there are much more deserving candidates for this last spot than Mack. Plug in
Eric Davis
or even
Ray Lankford
for the same reasons (similar to the reasons Smith and Wynn get overlooked). But as a Twins fan, it pains me to see how quickly Mack has been forgotten even by my fellow fans. He was a key part of the 1991 champs, and you could make a good argument that he was the team's best player throughout his four-and-a-half seasons with the club.
That's 10 total names (including Fregosi), but doesn't purport to be a top 10 (the exercise is much too subjective for that). Let me know in the comments section if you've got any great non-Hall players YOU think need to be recognized.
Bill Parker blogs at The Platoon Advantage and rants about Dave Stieb and Shane Mack quite regularly on Twitter.
March, 3, 2011
3/03/11
11:17
AM ET
By
The Common Man
| ESPN.com
The last time we were here, Bill made a strong case for
Jim Edmonds
as
a Hall of Famer
. It's fair to say that there was a lot of disagreement in the comments. The recent passing of Duke Snider, however, gives us an important reason to revisit the debate.
Snider spent 18 years in the majors, almost all of them with the Dodgers. In that time, he posted a .295/.380/.540 batting line, and a 140 OPS+. He hit 407 homers, which was 10th all time by the time he retired. Between 1940-1975, he produced the
13th-highest Wins Above Replacement of any player in baseball
. As you can see from this list, every single player in front of him is an inner-circle Hall of Famer. But during his career, Snider was pretty clearly the third-best center fielder in the game, behind Willie Mays and Mickey Mantle. Heck, between Mays and Mantle, he was the third-best center fielder in his own city.
[+] Enlarge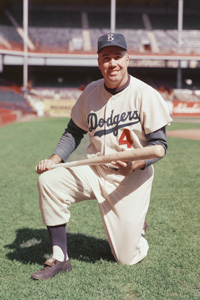 Getty ImagesDuke Snider finished his career with a 295/.380/.540 batting line and 407 homers, similar to Jim Edmonds' career numbers.
But does anyone really want to argue that Duke Snider doesn't belong in the Hall of Fame? Of course not -- his statistical record is overwhelming. And so was his impact on the game in the 1950s, when he played in five World Series.
But here's the crazy part, you know who was almost exactly as good as Duke Snider was? Jim Edmonds. Roughly the same number of homers, the same batting average, OBP, and slugging percentage. Edmonds played in a better offensive era, so his OPS+ is roughly 8 percent worse than Snider's, but his excellent defense makes up the difference. In fact, according to Baseball Reference, Edmonds barely edges Snider in Wins Above Replacement, 68.3 to 67.5, despite playing a full year less. And both Snider and Edmonds tallied six seasons in which they finished in the top 10 in their league in WAR.
What's the problem with Edmonds' candidacy? Aside from the "milestones" problem, there's the prevailing notion that Edmonds was never the best player in the National League. But just as you can't hold it against Snider that he wasn't better than Willie Mays and Mickey Mantle, two of the 20 best baseball players of all time, you similarly can't hold it against Edmonds that he wasn't as good as
Barry Bonds
or Ken Griffey Jr. Because those players are so good, so transcendent, that they rise above even "ordinary" Hall of Famers like Snider and Edmonds. Plus, that analysis doesn't even take into account how much more difficult it is to be one of the best players in today's game, given that Hall of Fame candidates are competing against roughly twice as many players, due to baseball's expansion.
Duke Snider debuted on the BBWAA Hall of Fame ballot in 1970 and got 17 percent of the vote. It took Duke Snider 11 years before the voters fully recognized his greatness. And today, that greatness is universally celebrated and recognized as we celebrate his full life and career (which included these
fun appearances
on the old "
What's My Line?
", by the way). Hopefully, Jim Edmonds will get that same chance to prove his worth and gain your recognition for everything he did on the diamond too.
The Common Man writes obsessively on The Platoon Advantage and you can follow him on Twitter.
February, 21, 2011
2/21/11
1:02
PM ET
Jim Edmonds announced his retirement on Friday, and in this space,
Chad Dotson was all over it
, making a very good argument that Edmonds belongs in the Hall of Fame (and that it's not all that close). Commenters largely disagreed, a couple slapping the tired old "Hall of Very Good" label on him. (Why is that a thing, incidentally? "Fame" and "Very Good" are not related terms, not even the same part of speech. But I digress.)
Chad was right, though; Edmonds should (but won't) be a no-doubt Hall of Famer. I think the biggest problem is one Chad didn't have space to address; people don't realize quite how rare it is to find a player who can hit like Edmonds did and play great defense at an important position like center field.
[+] Enlarge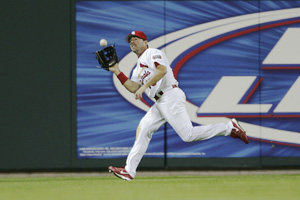 Elsa/Getty ImagesCenter fielder Jim Edmonds won eight Gold Gloves during his 18-season career.
Contrary to what its detractors will tell you, absolutely nobody views Wins Above Replacement (WAR; using the version found on baseball-reference.com here) as an infallible, be-all and end-all measure of a player's worth. It's also certainly not necessary to see Edmonds as the great player he was; his 132 OPS+ and eight 30-homer seasons at a primarily defensive position, his eight Gold Gloves and his .874 OPS is 64 postseason games all speak to that, too. What WAR is, however, is a really convenient way to get an idea of how different skills like that come together to give a player value. And by WAR, among all players who played at least 50 percent of their games in center, Edmonds comes in eighth all-time, behind Ty Cobb, Willie Mays, Tris Speaker, Mickey Mantle, Joe DiMaggio, Ken Griffey Jr. and Billy Hamilton -- six Hall of Famers, one no-doubt future Hall of Famer, and that's it. Edmonds comes in just ahead of Duke Snider, and well ahead of several other Hall of Famers.
You can find ways to quibble with WAR -- doubt that his defense was really worth nearly 100 runs above average for his career, for instance, or punish him more than WAR does for all that time he missed to injury (totally unnecessary, but to each her own) -- but I don't think you can find a way to argue that Edmonds was any less than the 10th greatest center fielder of all time.
There are currently 50 Hall of Famers (among those selected as players) who primarily played in the outfield, and of those, 16 were primarily center fielders. Given that, it seems to me that if a player ranks among the top 10 all-time at the most important outfield position, there's little room to argue that he doesn't belong.
Don't believe in judging him by the position he played? OK, judge him by where he fits among the players at large. This is a
list ranking all non-Hall of Famers according to career WAR
. Edmonds sits 14. The only players ahead of him who are Hall-eligible are Bill Dahlen and Lou Whitaker (both clearly deserving Hall of Famers who have been criminally overlooked) and Barry Larkin, who very likely will be voted in next January. The nine active or recently retired players ahead of him all are clearly Hall of Famers. And Edmonds is ahead of likely Hall of Famers like Manny Ramirez, Ivan Rodriguez and Craig Biggio (not to mention a host of already-Hall of Famers like Willie McCovey, Eddie Murray, and Ernie Banks).
Even if you're a "small Hall" person, Edmonds' almost historically rare combination of very good (often elite) offense and great defense fits comfortably within your boundaries. You just might not realize it yet.
Bill writes for The Platoon Advantage on ESPN's SweetSpot Network. You can follow him on Twitter.
February, 20, 2011
2/20/11
3:30
PM ET
By
Jason Rosenberg
| ESPN.com
Jim Edmonds
announced his retirement on Friday, his 17 season career finally grounded by an Achilles' tendon injury. Edmonds is best known for his highlight reel catches in center field, but the remainder of his play has been oddly underrated over the years.
So we can begin the debate on whether Edmonds is Hall of Fame worthy. Some say yes (as Chad Dotson
did here Friday
), others no.
When we look at Edmonds' Hall of Fame credentials, we're struck by the numbers he put up in the five years after he was traded by Anaheim to St. Louis . Between 2000 and 2004, Edmonds put together a string of seasons that ranked him with baseball's elite. During this stretch, Edmonds averaged 7 Wins Above Replacement (WAR) annually, and posted an OPS over 1.000. Consider that during this same period, a guy named
Alex Rodriguez
was putting together some of his best seasons as a ballplayer; only during this stretch A-Rod's OPS was 14 points below that posted by Edmonds.
During the complete sweet spot of Edmonds' career (1995-2005, which includes his abbreviated 1999 season when he only played in 55 games), Edmonds was among the very best in the game, ranked by cumulative WAR (from B-R.com):
Any random slice of data creates issues, we acknowledge this. So if you're curious about Edmonds' career numbers, his 68.3 WAR places him eighth all time among center fielders. Filtering for center fielders who played since baseball integrated (1947- present), Edmonds ranks fourth in WAR, behind Willie Mays, Mickey Mantle and Ken Griffey Jr., and sixth in OPS+ at 132. Nice company.
[+] Enlarge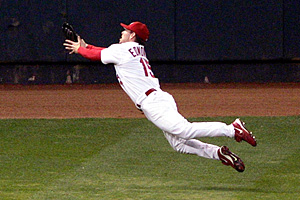 Stephen Dunn/Getty ImagesJim Edmonds was known for diving catches like this one for St. Louis in Game 7 of the 2004 National League Championship Series against Houston.
One unfortunate thing about the table above: Unless the attitudes of the Hall of Fame voters change dramatically, very few of these players are going to make it to the Hall of Fame.
Chipper Jones
and
Vladimir Guerrero
have excellent chances to make it to the Hall.
Jim Thome
is a good bet to be elected to the Hall, thanks to what will likely be 600-plus home runs, not to mention being a Hall of Fame person. Bagwell's first year of HOF eligibility was shrouded in hints and allegations, putting him at 41.7 percent in his debut.
Todd Helton
might struggle, given concerns that his numbers were inflated by playing home games at Coors Field. [
Larry Walker
received a low 20.3 percent of Hall of Fame votes this year, presumably because of the Coors Field factor]. Pudge Rodriguez was named in
Jose Canseco
's book and will face increased scrutiny as a result. But
Barry Bonds
,
Manny Ramirez
,
Jason Giambi
, A-Rod and
Sammy Sosa
will likely be barred because of these players' association with performance-enhancing drugs, again, unless the attitudes of voters change. An entire generation of fans will have very few of the era's best hitters represented.
Edmonds might not have been the greatest player of his generation; he never finished higher than fourth in Most Valuable Player voting. He did not have 2,000 hits for his career, or 400 home runs, or hit .300, milestones that Hall of Fame voters tend to focus on. Still, it seems to us that this generation of players needs Hall of Fame representation -- if not Bonds and Sosa, then why not Edmonds?
Jason Rosenberg writes It's About The Money, Stupid, a blog about the New York Yankees. IIATMS can be found on Facebook, and you can follow Jason on Twitter. Larry Behrendt greatly contributed to this article and can also be followed on Twitter.
February, 18, 2011
2/18/11
5:05
PM ET
By
Chad Dotson
| ESPN.com
Jim Edmonds
announced
his retirement
Friday at age 40, after 17 brilliant years in the majors:
In a statement released by the Cardinals today, Edmonds said that after he spoke to (Dr. George Paletta, supervisor of the Cardinals' medical staff) "and a number of doctors about the potential risk of future permanent damage, I have decided to retire. Although I feel I can still play and contribute, the risk of permanent injury is too much for me to chance.

"As much as I regret this announcement, I feel that it is for the best."
You may recall that Edmonds injured his right achilles tendon last season on a home run trot, of all things. The foot wasn't responding well to treatment, so Edmonds decided to hang up his cleats.
Let the discussion over Edmonds' Hall of Fame credentials commence.
Take a quick look at his numbers and you might be surprised: a career OPS+ of 132, 68.3 wins above a replacement player (placing him in the top seven center fielders of all time), eight Gold Gloves, a career line of .284/.376/.527 with 393 homers. Frankly, Edmonds has a much better case for enshrinement than many players that have already been elected (I'm looking at you Andre Dawson).
Further,
as Aaron Gleeman notes
, Edmonds is one of just seven center fielders in baseball history to have slugged more than 350 homers. The other names on that list include some immortals: Willie Mays,
Ken Griffey Jr.
, Mickey Mantle, Duke Snider, and Joe DiMaggio (and let us not forget
Andruw Jones
).
I don't think there should be much of a discussion: Edmonds is a Hall of Famer. Unfortunately, things aren't that clear-cut, and I'd be surprised if Edmonds received much support among the baseball writers.
Prepare to read a lot of commentary saying things like, "He just didn't seem like a Hall of Famer when I was watching him."
That will be a shame, because Edmonds enjoyed a Hall of Fame-type career, even if many people didn't realize it at the time. Perhaps all the online scribes who were so instrumental in Bert Blyleven's election can pick up Edmonds as their next cause. Sign me up.
Chad Dotson writes
Redleg Nation
, a blog about the
Cincinnati Reds
. Follow him on
Twitter
.
February, 11, 2011
2/11/11
2:00
PM ET
By
Jason Rosenberg
| ESPN.com
This is normally something the fine guys at
The Platoon Advantage
do every day during the season (and twice a week in the offseason), but I wanted to co-opt their idea to bring you some of the best, recent work from around the SweetSpot Network. I asked
Bill
and
TCM
if it was OK for me to borrow their feature and they were thrilled to have the day off.
Jason Rosenberg is the founder and lead writer of "It's About The Money, Stupid," a SweetSpot Network member. IIATMS can be found on Facebook and on Twitter.
August, 9, 2010
8/09/10
2:37
PM ET
Hey, a Hall of Fame-caliber player was just
traded to a contender
!
There's a lot to like about Chris Dickerson. His career line is .274/.367/.421 and he can play anywhere in the outfield without hurting you much.
Of course, he's also 28 and figures as a fourth outfielder for the Brewers. This move is just about the Brewers getting
something
for Edmonds while they still can.
For the Brewers, that is. For the Reds, it's about getting one of the better 40-year-old outfielders we've seen in a while. Based on his numbers, anyway. In fact, Edmonds has played so well that it's at least a little surprising the Cardinals didn't claim him, if only to keep the Reds from getting him. As
Craig writes
, "Because from my point of view, this strengthens the Reds at a time when the Cardinals are in a dogfight with them."
A left-field platoon consisting of Edmonds and
Jonny Gomes
(or
Chris Heisey
) could be highly productive.
August, 6, 2010
8/06/10
6:22
PM ET
By Jack Moore, Disciples of Uecker | ESPN.com
Why will the Brewers contend in 2011?
1. The Brewers have already patched up their bullpen.
On opening day, the Brewers' bullpen contained (among others)
Trevor Hoffman
and
Claudio Vargas
. After two awful starts,
Jeff Suppan
joined this awful duo. Those three all had ERAs above 6.90 in April and May, and they combined for a stunning minus-2.96 WPA – mostly via Hoffman and his five blown saves, but also from the general incompetence of the trio. That means that this group was three wins worse than merely average relievers.
Since then, Hoffman has been replaced as closer by
John Axford
, Suppan has been replaced in the rotation by
Chris Narveson
and in the bullpen by
Kameron Loe
.
Zach Braddock
has taken the role of top lefty from
Mitch Stetter
(a middling-at-best LOOGY who was utterly incompetent against RHB). Vargas's low-leverage innings have been split between players like
Chris Capuano
, who is an interesting project if nothing else, and
David Riske
, who is merely biding the time until his contract expires.
Axford, Braddock, and Loe have been fantastic since joining the Brewers, combining for plus-2.22 WPA in their time on the team, largely coming after Jeff Suppan's June 7 release. All three will be under team control next year, making them near locks to be important bullpen pieces next season, added to relievers
Carlos Villanueva
and
Todd Coffey
.
2. The Brewers have a favorable payroll situation.
With the toxic contracts of Jeff Suppan,
Bill Hall
, and others coming off the books, the Brewers will shed roughly $45 million in contracts after this season. After arbitration raises, I estimate that the Brewers will be about $25 million below the 2010 opening day payroll, even if
Prince Fielder
remains a Brewer. That means they'll have some money to play with.
The Brewers aren't losing much, either. The only important player from 2010 who's on his way out is
Jim Edmonds
, but he can be replaced in-house by either
Carlos Gomez
or
Lorenzo Cain
. At every other position, the Brewers are solid. CHONE's August update projects the Brewers with one above-average player (+2.0 WAR per 150 games) at each position.
That means the Brewers can spend most, if not all, of that "extra" $25 million on their weakness: starting pitching. The market this winter isn't great, but
Javier Vazquez
,
Brandon Webb
,
Ted Lilly
,
Jon Garland
(likely to decline his mutual option),
Jake Westbrook
, and
Kevin Millwood
, among others, are all interesting options. Perhaps a better move would be to use some of that cash to deal with a team like the Marlins, who might attempt to move
Ricky Nolasco
's high arbitration award in the offseason. They could also trade Prince Fielder for pitching, as
Mat Gamel
could step in and likely be an average first baseman. For the right pitcher, trading Fielder could actually make the Brewers better in 2011.
The roster certainly isn't perfect, but much of it is returning and there's money to fix the holes.
3. The NL Central is weak.
St. Louis has a good team this year, certainly, but it's not without its holes. Perennial All-Stars
Albert Pujols
,
Adam Wainwright
,
Chris Carpenter
, and
Matt Holliday
form an excellent core, but there are question marks after those four players. The back of the rotation has struggled mightily, as the Cardinals have attempted patches with
Blake Hawksworth
and Jeff Suppan, eventually trading
Ryan Ludwick
away for Jake Westbrook. Losing Ludwick, one of the better right fielders in the NL, will hurt next year, and Westbrook will be a free agent. They also lose
Brad Penny
, who has been injured much of the year, and
Felipe Lopez
, who was an absolute steal in last year's free-agent market. The Cardinals have played like an 89-win team this season according to
Beyond the Box Score's power rankings
(looking at cW%). They have a modest amount of money to spend this year, but they are losing enough to the point where I wouldn't feel comfortable projecting any sort of major increase, especially given that St. Louis's top financial priority will be locking up Albert Pujols past 2011, the last year of his current contract.
The
Cincinnati Reds
have played about as well as the Cardinals so far this year, but there's really only one word to describe why I'm not super high on this team heading into next year:
regression
. Will
Scott Rolen
continue to be a power threat in his mid 30s? Is
Mike Leake
a sub-4.00 ERA pitcher despite skipping the minor leagues? Is
Arthur Rhodes
really one of the best left-handed relief pitchers in baseball? I'm inclined to say "no" to all of these questions. There's enough young talent on this Reds team to still be solid next season, and they might add Aroldis Chapman to the mix as well, and they won't have
Edinson Volquez
recovering from Tommy John surgery for half a season. That said, there's no reason to believe that the Reds are anything more than an 89-win team themselves, and simple regression says that we should expect something closer to 86 or 87.
4. "Contending" doesn't mean favorites.
The favorites to win the division next year will be, barring the unforeseen, Cincinnati and St. Louis, in some order and for good reason. However, they're not elite teams, and given the crazy things that can happen during the course of the season, they could each just as easily end up as .500 squads as 95-win teams. The Brewers look like a true talent 81-win team right now. They've played .519 baseball since releasing Suppan, and that's just above what the Beyond the Boxscore rankings expect (a .505 cW percent). I would feel pretty confident calling the roster on hand an 81-win team for next season.
The Brewers had a similar projection opening the season last year, and were given playoff odds of about 17 percent by
Baseball Prospectus
prior to the season. With the money available to plug holes in the rotation, the Brewers can definitely make themselves a preseason contender (say, 30-40 percent playoff odds) prior to the season, even if they're not favorites.
Jack Moore writes about the Brewers at Disciples of Uecker, a member of ESPN.com's SweetSpot Network
.
January, 20, 2010
1/20/10
4:19
PM ET
Is
Jim Edmonds
serious? Does he really want to
play baseball again
?
That's what his longtime agent, Paul Cohen, expressed to FoxSports.com recently, when he told the Web site his 39-year-old client has formally asked him to speak on his behalf "with a series of particular teams about his comeback."

"He feels great," Cohen was quoted as saying on Tuesday. "He would love to get back to the playoffs and reach 400 home runs. Those are the two goals he's talking about right now."

--snip--

On Sunday night at an annual benefit for Cardinals manager Tony La Russa's Animal Rescue Foundation, Edmonds "challenged" La Russa to let him return to the Cardinals in 2010 and play for the league minimum. At the time, it was thought that Edmonds -- out of baseball in 2009 -- could be joking.

But during the Cardinals' Winter Warm-Up on Monday, several of his former St. Louis teammates said they're sure the four-time All-Star was serious. And La Russa said he'll at least consider the offer.

"What I told him was, I had not figured on this development," La Russa said at the time. "Out of respect, we'll have a serious discussion about it. But he hasn't played in a year. There's a lot of obstacles there. But we'll talk about it."
What about 2,000 hits? Edmonds is 18 homers short of 400, and 119 hits short of 2,000. Seems to me that if he makes a comeback -- or a
return
, as
Norma Desmond
would prefer -- he's as likely to hit one mark as the other.
I'd like to see him hit both. I don't suppose it'll make any difference because Edmonds simply hasn't done the things that impress Hall of Fame voters. He's sort of our version of
Bobby Grich
. Like Grich, Edmonds retired (so far, anyway) while still in his late 30s. Like Grich, Edmonds finished (so far, anyway) short of 1,900 hits. Like Grich, Edmonds was an outstanding up-the-middle defender. And like Grich, Edmonds was a big on-base guy with real pop.
And not for nothing, but Sean Smith has Grich with 67.6 Wins Above Replacement, Edmonds with 66.6; 63rd and 71st best in
major league history
.
WAR or no WAR, Grich isn't in the Hall of Fame and won't be. But I sure wish I'd have seen him play more than I did. For much the same reasons, I wouldn't mind seeing Edmonds get another go-round, either.