September, 6, 2012
9/06/12
1:35
AM ET
By
Christina Kahrl
| ESPN.com
"That really pops" is usually a phrase you're more likely to see on Bravo than ESPN. But these days, it's what you can say about the Nationals' lineup, because for a second consecutive night, it put up another power display that might have made you wonder whether they'd really put away the batting cages.
There were six home runs hit off Nats bats Tuesday and then the six more they hit Wednesday. Checking with Baseball-Reference.com can tell you that a team has done that just twice before since 1918. The Dodgers did it June 29 and 30, 1996, in Denver, in Coors Field, pre-humidor -- although even that is not doing the trick at altitude so much anymore, a story for another night. And the other time? That was in 2003, by the Angels against the Expos in rinky-dink Hiram Bithorn Stadium in Puerto Rico. Two crazy parks where crazy stuff was supposed to happen.
The Nats have been their own kind of crazy, but it has had nothing to do with the dimensions of Nationals Park. Starting with the "now you see him, but soon you won't" saga of
Stephen Strasburg
, they've been nothing but fun from Opening Day on, to
Bryce Harper
's lauded arrival and beyond. Want some sour grapes? You can keep sniping about
Jayson Werth
's paydays, although with an on-base percentage better than .400, he's a 6-foot-6 leadoff man who delivers what's needed instead of being a tower of power. A pitching staff whiffing 22 percent of opposing hitters, third best in the league? A lineup that ranks third in homers hit?
Gio Gonzalez
notches his 18th win Wednesday to keep pace with
R.A. Dickey
for the league lead? Gotta squeeze that in there somewhere, too.
Put all of that together, and the Nats have been as action-packed as any team in the league. And if you need off-field drama, how about a war of words between general manager Mike Rizzo and manager Davey Johnson? That's the sort of thing that might make you wonder whether chemistry is just something you talk about when all the other stuff isn't happening.
But it's the power that deserves the headline right now. Perhaps the signature slugging feat in Wednesday's cornucopia of clouts was Harper's pair of home runs. Maybe that can help end worries that his second-half slump will be something he'll have to carry into October. After a low-wattage July (during which he powered just one homer and had a .313 slugging percentage), followed by a fading walk rate in August but better bopping (six homers), Harper seems to be slowly asserting his ability to dominate at the plate. Before Wednesday, he'd been OPS'ing at a .999 clip since Aug. 17. You can parse any hot streak to make a man a statistical hero, of course, but ESPN Stats & Information provides a peek at where he's been doing damage lately.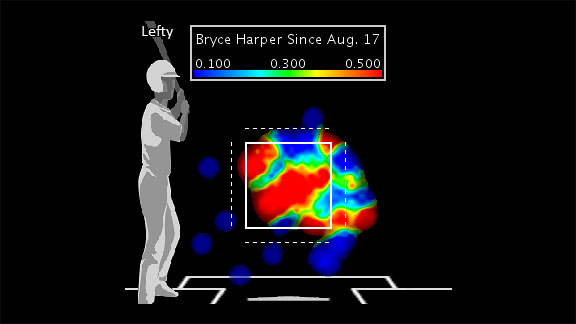 ESPN Stats & InformationBryce Harper's heat map during his recent hot streak.
That's a lot of red, of course, but it's also interesting that he's clobbering stuff on the outside corner as well. For more on that, check out
Stats & Info's blog post
from Wednesday night's action.
Harper hasn't been the only hero, however. First baseman
Adam LaRoche
, so long the target of derisive "he's so average" catcalls from the stathead community, combined for three across Tuesday and Wednesday nights. In a day and age when he was dismissed for not being
Albert Pujols
, he's leading National League first basemen in home runs with 28, his highest single-season tally since 2006, when he belted 32 bombs and slugged .561. That helped him catch the eye of the Pirates, who dealt him for
Mike Gonzalez
and
Brent Lillibridge
, a lose-lose move that might turn up only in a never-to-be-released Braves documentary, "John Schuerholz: The Blunder Years." As a Pirate, Red Sox, Brave and Diamondback through 2010, LaRoche slugged .478, with a mediocre isolated slugging number of .208. But this year, he's the resident steady Eddie in the Nats' lineup while coming back from an injury-ruined 2011. Even now, he's managing to be a background hero on a power-laden lineup, but that's a nice problem to have.
Now, admittedly, a good chunk of the Nats' feat is just the genuine pleasure big league hitters will get stepping in against these Cubs these days. They're on an 8-26 tumble since July 31, and this isn't Wrigleyville's midseason staff with
Ryan Dempster
and
Matt Garza
or even
Paul Maholm
out there. Instead, it's the legacy of former GM Jim Hendry's player development program on display, as Theo Epstein's management crew riffles through the farm system's upper-level options in a pitch-or-ditch test to see what the team has to work with. The Nats aren't going to be stepping in against
Blake Parker
or
Chris Rusin
or
Rafael Dolis
in October, after all.
Even so, the Nationals have a lineup packed with top-to-bottom power, and guess what? They get to face the Cubs again Thursday. Could a team hit six or more homers three nights in a row? As with so much else about this club, you can ask, "Why
not
the Nationals?" Look around and then look back, because on the baseball landscape, face it, the Nats just pop.
PHOTO OF THE DAY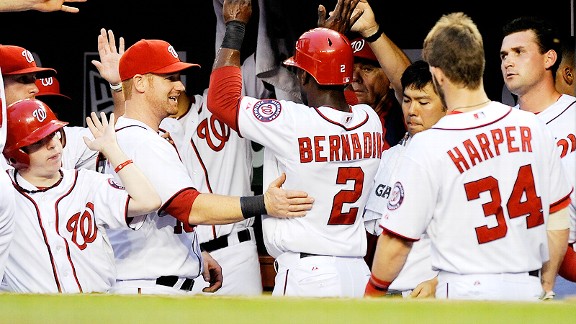 Patrick McDermott/Getty ImagesRoger Bernadina may well be coming back to the dugout asking who hasn't hit a home run lately.
Christina Kahrl covers baseball for ESPN.com. You can follow her on Twitter.
August, 19, 2011
8/19/11
2:17
PM ET
Just a few minutes before we closed the week on
Baseball Today
we were given breaking news about one of the league's struggling teams, but Mark Simon and I had plenty of other topics to discuss as we made lots more friends on Friday's show:
1. The
Chicago Cubs
need a new GM, and certainly Jim Hendry deserves some of the blame for the team's plight, but what can really be done?
2. On a Thursday full of aces,
Tim Lincecum
couldn't earn a victory because his sad-sack offense couldn't score a single run. Other aces, like
CC Sabathia
and
Josh Beckett
, didn't pitch better, but won anyway.
3. Mark analyzes the Frisbee pitch
Vinnie Pestano
threw to strike out
Gordon Beckham
in a critical situation Thursday, as the
Cleveland Indians
win a crucial game.
4. On the 60th anniversary of one of Bill Veeck's wildest experiments, why couldn't the Eddie Gaedel situation get repeated today?
5. Some big series dot the weekend schedule, but we tell you which one carries the most importance!
Plus: Excellent email, Joe Magrane's place in history, visitors from England,
Michael Young
, baseball's best 10th men and so much more on a packed Friday edition of Baseball Today! Have a great weekend, everyone!
August, 19, 2011
8/19/11
12:21
PM ET
Some positive things happened under Jim Hendry's tenure: In his first season as Chicago Cubs general manager in 2003, the club won 88 games and reached the NLCS. The Cubs won another NL Central division title in 2007 and in 2008 won 97 games, the most for the Cubs since 1945. Unfortunately, both seasons ended in depressing sweeps in the first round of the postseason and were then followed by three disappointing seasons with bloated payrolls. In the end, Hendry followed the same path as Andy MacPhail and Ed Lynch and Jim Frey and Dallas Green and Bob Kennedy and Salty Saltwell and John Holland: He failed to get the Cubs to a World Series.
It was time for the Cubs to fire Hendry. Although you can give him credit for building the 2008 team that won the most games in the National League, it was his failure to understand how that team was a house of cards ready to collapse and how that led to the current situation: The Cubs have the sixth-highest payroll in the majors and are 54-70, sitting in fifth place in a weak division. Last season, the Cubs had the third-highest payroll and finished 75-87. No GM is going to keep his job with high payrolls and losing records, but to make matters worse, the Cubs are a boring, old team without an obvious bright future. The only regulars younger than 28 are Matt Garza, Starlin Castro and Darwin Barney, and Barney is not a championship-level player long-term. Even signing Albert Pujols this offseason wouldn't fix the Cubs.
[+] Enlarge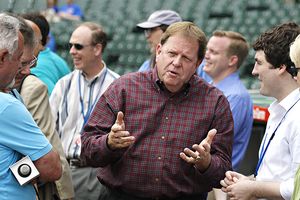 AP Photo/Charles Rex ArbogastThe Cubs fired GM Jim Hendry on July 22, but he wanted to help the team by staying on through the July 31 trading deadline.
How did the Cubs get here? Let's turn back to 2007. That was the year Hendry signed Alfonso Soriano to an eight-year, $136 million contract. Soriano had been terrific with the Nationals in 2006, posting the best season of his career with 46 home runs, 41 steals and a .277/.351/.560 (batting average/on-base percentage/slugging percentage) line. But he was also a player who had posted a .316 OBP the previous two years in Texas and came with a mediocre glove. There was no way to justify that kind of contract; simply put, Soriano was not an elite player. No player who fails to get on base 35 percent of the time can be paid like one of the best players in baseball. Although Soriano helped the Cubs in 2007 and 2008, the contract is now an albatross bigger than the hole in Soriano's swing -- he'll make $19 million per season through 2014. With a .283 OBP, it's difficult to justify a bench position for him, let alone a starting job.
In 2007, Hendry signed Carlos Zambrano to a contract extension in August. "His best years are ahead of him, and the Cubs know that we have one of the top pitchers in baseball for a long time," Hendry said at the news conference. One of the top pitchers in baseball? Really? Zambrano had posted a 3.41 ERA in 2006 and led the major leagues in walks with 115. At the time of his signing he had a 3.86 ERA, on his way to again leading the league in walks. But Hendry made him one of the highest-paid pitchers in baseball -- and this despite Zambrano complaining all season about his contract and getting into a brawl earlier in the season with teammate Michael Barrett. Considering his hothead reputation and the number of innings he pitched at a young age, Zambrano's decline into mediocrity and knucklehead reactions were all too entirely predictable. Everybody saw it except Hendry.
Six of the eight regulars on the 2008 roster were older than 30, with only 25-year-old Geovany Soto and 28-year-old shortstop Ryan Theriot on the "young" side. Yet the only addition Hendry made for 2009 was to add ... Milton Bradley. Yes, that one didn't work too well. The Cubs have been too right-handed at the plate for years, a problem Hendry was unable to fix. He traded Ted Lilly and got nothing but Blake DeWitt, who couldn't beat out Barney. He failed to build any pitching depth in Triple-A, meaning the Cubs had to resort to guys like Casey Coleman and Doug Davis in the rotation this year, guys who predictably got hammered. The minor league system hasn't been productive.
So, yes, it was time for Hendry to go. He's well-liked in baseball circles, and I'm sure he'll get a job with another organization. As for the Cubs, it's back to the drawing board. Assistant GM Randy Bush takes over for now, but I'm sure owner Tom Ricketts will go outside the organization for a new GM. I wish the guy a lot of luck ... after all, the Cubs are already paying $65 million next season just for Soriano, Zambrano, Ryan Dempster, Marlon Byrd and Carlos Marmol.
Follow David Schoenfield on Twitter @dschoenfield.
June, 14, 2011
6/14/11
12:41
AM ET
So Cubs general manager Jim Hendry says manager Mike Quade is
"certainly doing a fine job here."
According to registered sabermetricians, that proverbial kiss of death means Quade has a 96.7 percent chance of being fired by the end of the week.
Now, I don't know if Mike Quade is a good manager. Hard to say when he's running out a lineup on Monday that included
Darwin Barney
,
Jeff Baker
hitting third,
Luis Montanez
, somebody named
D.J. LeMahieu
and
Tony Campana
.
The point is: In modern baseball, the importance of a manager to an organization is way overstated. I'd arrange the pecking order like this:
1. The players. Obviously.
2. The general manager. He builds the team and acquires the players.
3. The scouting department. Responsible for drafting young talent.
4. Ownership. Approves budget and payroll for signing free agents and draft picks.
5. Minor league development people. Helps turn prospects into major leaguers.
6. Training staff. Must help keep multi-millionaire major leaguers healthy.
7. Manager. Meets with the media, discusses game strategy, tries not to screw up the bullpen.
8. Business and marketing operations. Help bring in more fans, which can lead to bigger payroll.
9. Local media. Can influence public opinion on team and players.
10. Mascots, vendors, concessions, scoreboard operators, guy who selects the at-bat music for each player, PA announcer. All part of the ballpark experience.
So to me, the question isn't if Mike Quade is doing a fine job, but rather: Is Jim Hendry doing a fine job?
Hendry became Cubs GM in July of 2002, making him one of the longest-tenured GMs in the game. His first full season, of course, was a success: Inheriting a pitching staff led by
Mark Prior
,
Kerry Wood
and a young
Carlos Zambrano
, the Cubs famously were five outs from reaching the World Series. The next year, the Cubs won 89 games giving them their first back-to-back winning seasons since 1971-72. They won NL Central division titles in 2007 and 2008, although they were swept in the playoffs both seasons.
Those are the positives. The negatives:
Since 2003, the Cubs are barely over .500 at 688-671, despite ranking in the top 10 in the majors in payroll each season except 2003 (when they were 11th).

Despite all those high payrolls, the Cubs have won 90-plus games just once in his tenure, in 2008.

Eight years, $136 million for Alfonso Soriano. Yes, there is still three years remaining at $18 million per year.

He once signed Neifi Perez to a multi-year contract.

Signed Carlos Zambrano to a $91.5 million extension in August of a season in which he posted a 3.95 ERA and led the NL in walks.

Signed Carlos Pena, a player who had just hit .196, to a $10 million deal for 2011.

He's paying John Grabow $4.8 million this season. JOHN GRABOW! For a reliever who's had an ERA under 3.30 ONCE in his career and a career WHIP of 1.46.

The team hasn't drafted well under him: Its first-round picks since 2003: OF Ryan Harvey (sixth overall, never reached majors); P Mark Pawelek (20th, never got past Class A); OF Tyler Colvin (13th, no plate discipline, currently hitting .105 for Cubs); C Josh Donaldson (48th, traded to A's); 3B Josh Vitters (3rd, hitting .289 in Double-A, but has just eight walks, drafted ahead of guys like Matt Wieters, Madison Bumgarner, Jason Heyward and Rick Porcello); we'll see what happens with the more recent draftees like Ryan Flaherty and Brett Jackson.
Here's an amazing stat: the Cubs rank last in the NL in walks drawn, even though Carlos Pena ranks second in the NL in walks and
Kosuke Fukudome
is 11th. Trouble is, those two guys have nearly half the team's total. That's been a repeated problem for the Cubs throughout Hendry's tenure, as exemplified by the signings of guys like Perez and the overpaying for a low OBP slugger like Soriano.
Are we getting to an answer yet? The Cubs' farm system isn't rated very high. The long-term outlook is bleak: The only decent players younger than 28 are pitcher
Matt Garza
and the middle-infield combo of
Starlin Castro
and Darwin Barney. The trouble with that combo is that Castro's fielding may turn him into a second baseman and Barney isn't really that good or even that young (25).
Sure, the team has had a few injuries this year. So have a lot of other teams. But a team with the sixth-highest payroll in the majors should have the depth to overcome injuries. Instead, the Cubs offer up
Doug Davis
and D.J. LeMahieu.
So the Cubs can fire Mike Quade if they want. But that's not going to fix things.
PHOTO OF THE DAY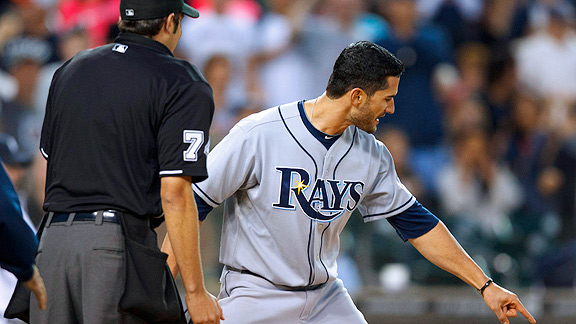 Rick Osentoski/US PresswireLook, now, what I am trying to tell you … hang on, what I am saying is … will you listen?
May, 12, 2011
5/12/11
6:02
PM ET
By now you've probably seen the
hug heard 'round the world
between Albert Pujols and Cubs general manager Jim Hendry. However, Major League Baseball has rules against tampering with free agents -- and also frowns upon fraternization between opposing clubs. Frankly, I don't quite get the uproar. After all, baseball has a long and storied history of hugging.
Albert Pujols and Barack Obama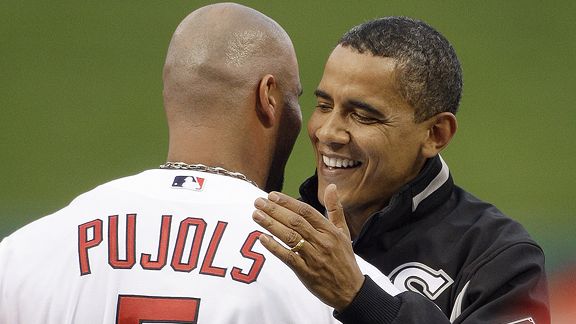 AP Photo/Morry GashSorry, Cubs fans, you really think Pujols wants to sign with the Cubs? Looks like he may be a White Sox fan to me.
Barry Bonds and Albert Pujols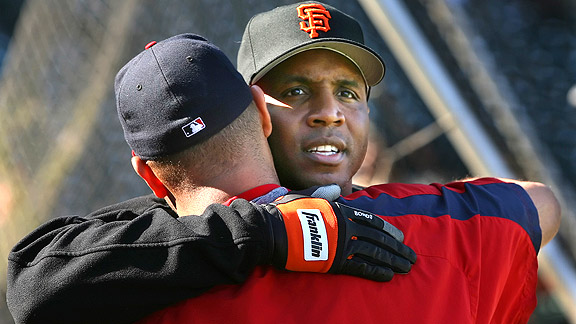 AP Photo/Dino VournasThat's Pujols and the all-time home run king embracing. Maybe Barry told him about the time he left small-market Pittsburgh for a bigger market in San Francisco. At least, let's hope that's all they talked about.
Derek Jeter and Alex Rodriguez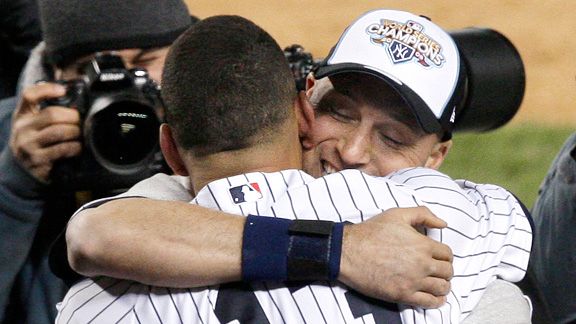 AP Photo/Julie JacobsonWho says The Captain and A-Rod don't get along? They look like best friends to me.
Joe Torre and Manny Ramirez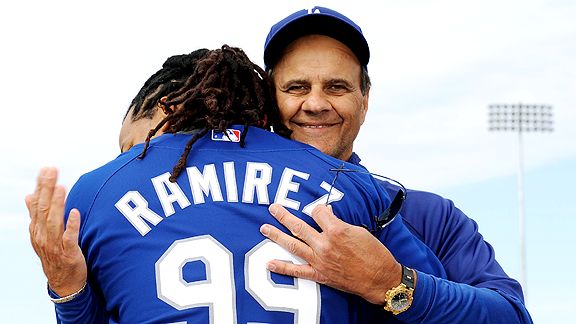 Kevork Djansezian/Getty ImagesTorre certainly symbolized the new breed of manager. Can you imagine Earl Weaver or Billy Martin hugging their players?
David Ortiz and Bernie Williams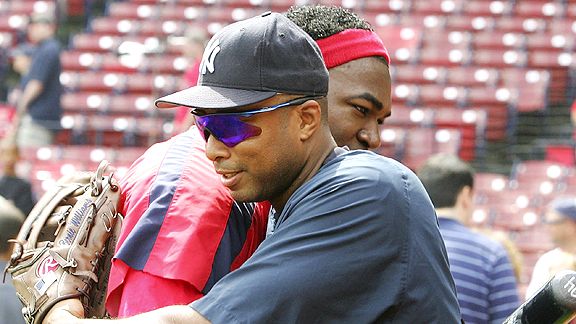 Jim McIsaac/Getty ImagesPersonally, I find the idea of Red Sox and Yankees hugging revolting. Why didn't MLB suspend both of these guys?
Marisa Miller and Lou Seal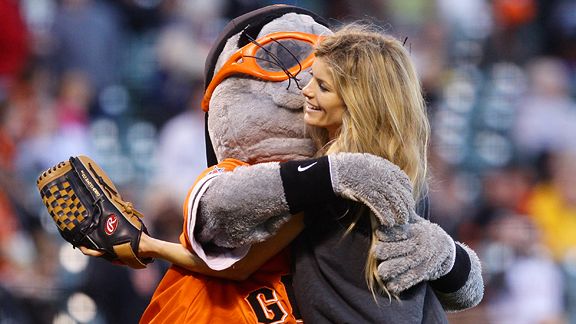 Ezra Shaw/Getty ImagesIf you ask me, the Giants' mascot got a little too close to the supermodel. Not that we blame him.
Mark McGwire and Sammy Sosa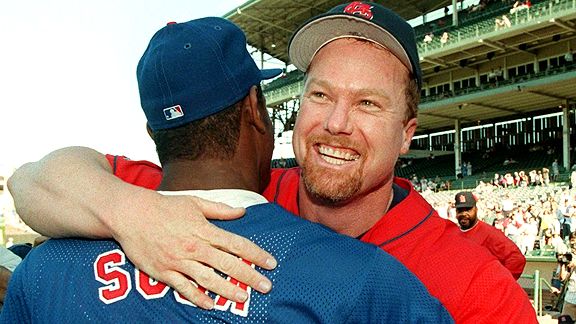 AFP/Getty ImagesWhatever happened to these guys?
Reggie Jackson and Billy Martin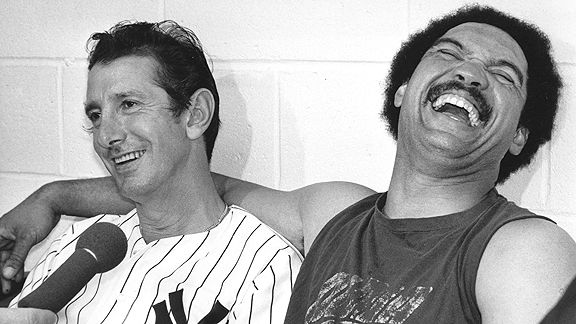 AP PhotoAlmost a hug. C'mon, Billy, you can do it. There you go, I see a little smile ...
Babe Ruth and Lou Gehrig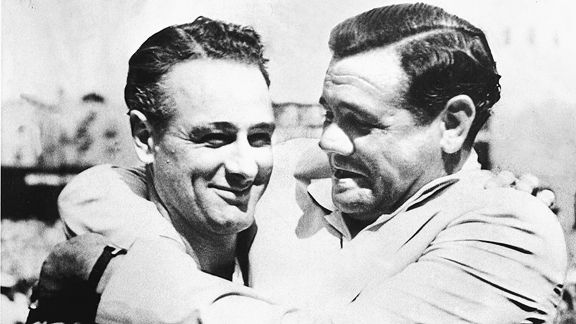 AP PhotoBefore Babe Ruth, there were no hugs. He invented the baseball hug. He had the biggest hugs of all time. Nobody hugged 'em like the Babe. He once called his own hug.
Anna Kournikova and Brian Giles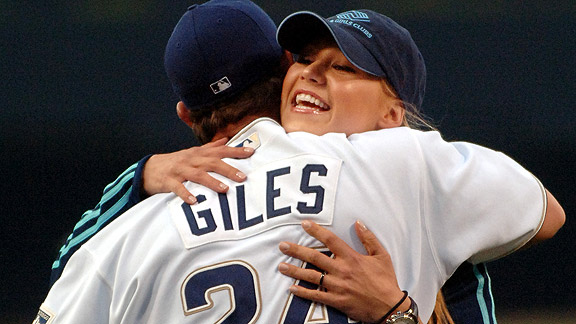 AP Photo/Denis PoroyThe highlight of Giles' career, other than playing with the Pirates.
Chicago Cubs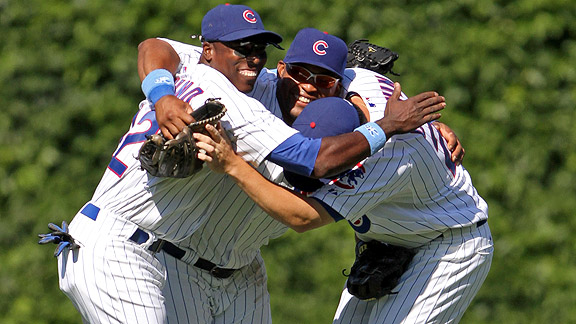 AP Photo/Charles CherneyHow are the Cubs ever going to win with an attitude like that? This is
serious
business, not a playground.
Hugs for everyone!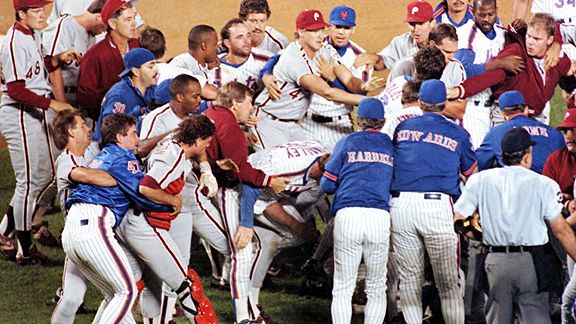 AP Photo/Ron FrehmThey don't call Philadelphia the City of Brotherly Love for nothing. They even love the Mets!
Follow David on Twitter: @dschoenfield. Follow the SweetSpot blog: @espn_sweet_spot.
September, 22, 2009
9/22/09
4:44
AM ET
Shocking news
: the Players Association might appeal
Milton Bradley
's suspension. You know, because there's very little precedent for suspending a player for two weeks for popping off to a few baseball writers. If there's an appeal the Cubs will probably lose, and in fact I suspect Bradley will simply be reinstated before season's end to forestall any appeal.
In the end, it's not going to matter much. Bradley wants out and the Cubs want him out, so whether he shows up again before season's end is mostly irrelevant. If there is an appeal and Bradley does win, though, it'll be seen as a victory of sorts for both him and the union. And thus a loss for Jim Hendry and the Cubs. Which I suspect would be just fine with Joe Sheehan:
In something of a surprise, the Cubs have suspended Milton Bradley for the rest of the season for conduct detrimental to the team. There are about two weeks left in the season, so in the midst of the big pile-on, I'd like to ask one question: Who the hell has ever been suspended for two weeks for what they said to the media? This is a severe and unwarranted overreaction, a cynical public-relations ploy designed to curry favor with fans and the media and distract both groups from a Cubs season that is ending with a whimper.

--snip--

Hendry can do this because he's the general manager of a team that woke up on Sunday 11 games out of first place and seven games out of the wild-card race, effectively eliminated from contention. Let's be very clear that this suspension would not be happening if the Cubs had continued their late charge to the fringe of the race, or if they had any kind of chance of making the postseason. Let's also be very clear that this suspension would not be happening had Bradley's stats been comparable to last year's. Bradley isn't being suspended because of what he said; he's being suspended because he did so with a .240 batting average and the Cubs are buried in the standings.
I hate to disagree with my friend Joe. This time, though, I'm going to.
Oh, not about that last bit. Not completely, anyway. Joe's probably right: If the Cubs were playing well and contending for a spot in the World Series derby, it's not likely that Bradley would have been suspended. But I think it's a leap from saying that Bradley's been suspended while the Cubs are playing poorly to saying he's been suspended because the Cubs are playing poorly.
Bradley's been suspended because of his behavioral issues. This is no secret. It's no secret now, nor was it a secret when Jim Hendry committed $30 million to Bradley for three seasons. So, yes: most of the blame for this whole fiasco rests on Hendry's shoulders. You give a man with a history of uneven performance and personality $30 million ... What do you think is going to happen?
Mostly, though, I think Joe misses the mark when describes Bradley's suspension as "a cynical public-relations ploy." Are we to believe that Hendry convened a meeting with the Cubs' crack PR staff, and after a round of intense discussion everyone agreed to send Bradley home for the rest of the season?
Maybe. I don't really believe that, though. I believe this was little more than an emotional reaction to a truly distressing situation. A human reaction. Can you really blame Jim Hendry for wanting to get Milton Bradley away from his club? If Bradley wasn't doing anything to help your team, would you want him around? Wouldn't you look for any good excuse to get him out of your sight?
Of course, you're not a general manager. One might argue that a real general manager shouldn't behave so rashly as this. But when you're making a list of mistakes that Jim Hendry's made with Milton Bradley, this one definitely doesn't top the list.
September, 21, 2009
9/21/09
5:24
PM ET
Al Yellon runs through
all the gory details
of
Milton Bradley
's suspension, setting up this big finish:
The final words, since this is my site, go to me. As noted above, this move was doomed to fail from January 6, the day it happened, for both on- and off-field reasons. It's almost certain that Milton Bradley has played his last game in a Cubs uniform, and for that I am glad. He's been a distraction and did not produce on the field. Why would you want a guy like that on your team? The situation is somewhat comparable, though more extreme, to the situation seven years ago involving Todd Hundley, also signed as a big-name free agent and who had the same production and complaining problems, although he simply complained TO the media, not ABOUT them, and didn't affect his teammates as negatively as Bradley has.

Jim Hendry was able to turn Hundley into two productive players who helped the Cubs win the NL Central in 2003. Perhaps he can perform the same thing with Bradley; it's been suggested by some that the Cubs might be able to send him to Toronto for Vernon Wells. Though Wells' contract is almost as onerous as Alfonso Soriano's, I'd do it. There's at least a chance that Wells will return to previous levels of production, and the alternative is probably simply to send Bradley home and pay him for doing nothing.

I never rooted against Milton Bradley when he was wearing a Cubs uniform. Had he produced, he would have helped the Cubs win games and that would have been a good thing. But starting from the injury in Milwaukee and the brief suspension that resulted from his tirade in his first Wrigley Field at-bat, Bradley was never a good fit for the Cubs, either emotionally or in the lineup. I'll be very happy when this chapter in Cubs history is just that -- history.
Committing $30 million to Milton Bradley was obviously risky because he's started more than 100 games in the outfield just once in his career. Committing $30 million to Milton Bradley was obviously risky because he's displayed serious behavioral issues throughout his career.
The sum of those risks meant Bradley was worth perhaps a one-year contract for $8 million -- hey, why not take a chance on a guy coming off a fantastic season in the American League? -- or maybe even a two-year deal for $15 million. But three years and $30 million? Madness. I didn't like the deal when it happened, and I terribly underestimated how awful it would be. (Meanwhile -- as Dave Cameron points out -- to make room for Bradley the Cubs dumped Felix Pie ... who's now thriving with the Orioles.)
It's true that Hendry convinced the Dodgers to give him two decent players -- Mark Grudzielanek and Eric Karros -- for Todd Hundley, who was coming off a couple of lousy seasons. But 1) Karros was coming off a couple of lousy seasons of his own, and 2) Grudzielanek had just posted a .301 on-base percentage, and 3) in addition to Hundley, Hendry relinquisted a decent prospect in Chad Hermensen (who never panned out, but still).
More to the point, general managers are generally smarter than they were in 2003. Yellon's got a good point about Vernon Wells; at least he doesn't get suspended twice per season. I just wonder if any general manager -- let alone a GM whose job seems to always be in danger, like J.P. Ricciardi -- will be willing to take Bradley, regardless of the circumstance. Almost no player with any demonstrated talent is untradeable, no matter what his salary; we've seen this proved many times over. But Bradley might actually be one of those rarities. Either way, the Cubs are going to take a big financial hit. And there was never any good reason for it.
July, 13, 2009
7/13/09
1:30
PM ET
From David Laurila's recent
interview with Jim Hendry ($)
:
DL: When the decision was made to sign Milton Bradley, were you, [manager of baseball information Chuck] Wasserstrom, [assistant general manager Randy] Bush, and Lou Piniella all on the same page regarding his value?

JH: It was one of those things where we were looking for the best possible hitter, left-handed or switch, and if you're going by the statistical analysis way of looking at it, he fit the bill perfectly. He led the American League in on-base percentage and almost won the batting title; he played in the All-Star Game. He was exactly what we were looking for. Unfortunately, right now his production hasn't been what it was last year. We looked at all of the other people too, and felt like, in our spot, in right field, that he was the best fit.

DL: Your background is more scouting-oriented, while Wasserstrom's is more statistical-analysis based. Are you finding that the two of you generally come to similar conclusions regarding the projectable future performance of players you look at?

JH: Absolutely. At the end of the day, I make the final call, but we put months into that decision. Obviously, what [Bradley] did the last couple of years, offensively, was exactly what we were looking for. Of course, they're not all robots and they don't always do what you want them to do. We had eight guys in the All-Star Game last year, who are [with] this team right now, and I don't know if any of those eight are going to make it this year. It's hard to put your finger on that and predict.
Eight All-Stars is a lot, and the figure is correct:
Geovany Soto
,
Alfonso Soriano
,
Kosuke Fukudome
, Bradley,
Aramis Ramirez
,
Ryan Dempster
,
Carlos Zambrano
, and
Carlos Marmol
.
It's probably worth mentioning that Soto and Fukudome were rookies -- and Fukudome was not playing well last summer, at all -- while Bradley and Dempster both were big surprises. Still, it's fair to say that a lot of Cubs are playing worse than just about anyone expected. The Cubs figured to be one of the best teams in the National League. Instead they're 43-43, and it's appropriate for Hendry to make reasonable excuses.
This, on the other hand, would scare me a little if I were a Cub fan:
DL: Are defensive metrics an important part of your evaluation process or do you rely primarily on scouting?

JH: It's scouting for me. People scout players and they rate their defense, and that's what I go by -- and the personnel that we have in our own dugout.
If Hendry really has no regard for the use of defensive metrics, he begins every single decision-making process at a disadvantage, because defense comes into play not only when evaluating fielders, but also pitchers. My friend Rany Jazayerli -- more from Rany later today, by the way -- has suggested that the Cubs could be the National League's Red Sox, if only they had good and stable ownership.

I'm sure that would help. It would also help if the Cubs had a general manager who's not stuck in the 20th century.