July, 26, 2014
Jul 26
5:20
PM ET

COOPERSTOWN, N.Y. -- The Hall of Fame voting process can wear on the emotions of a candidate who lingers on the ballot for a number of years. But it's unseemly for that candidate to state his case too vigorously, lest he appear arrogant, or complain about the judgment or the intelligence of the baseball writers, in which case he stands a good chance of alienating the people entrusted with determining his legacy.

Few players had their nerves taxed on a big stage more consistently than Bert Blyleven, who passed through stages of anxiety, frustration, resignation and jubilation during his time on the ballot.

At the beginning, Blyleven waited for congratulatory phone calls that never came. He later expressed frustration over being excluded despite 287 career wins, 242 complete games, 60 shutouts and 3,701 strikeouts -- still the fifth highest total in baseball history.

By the time his 10th appearance on the ballot rolled around, Blyleven threw up his hands and spent election day having his truck serviced.

The public water torture finally ended in 2011 when Blyleven made it to Cooperstown on his 14th try. So he seemed like the ideal person to assess the latest directive from the Hall of Fame's executive board, which condensed the waiting period for potential inductees from 15 to 10 years Saturday. If a decade isn't enough for a player to crack 75 percent, his name is passed on to the Hall's Era Committee in perpetuity.
[+] Enlarge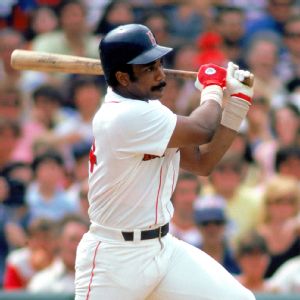 Rich Pilling/Getty ImagesVoters took the full 15 years to put Red Sox slugger Jim Rice into the Hall of Fame.

The Hall's decision might expedite the process, but it still isn't going to satisfy observers who think the Baseball Writers Association of America is clueless, has too many personal agendas, or is too selective or not selective enough. And the wait, while shorter, will remain stressful for the person being judged.

"What helped me is that guys like Bob Feller and Harmon Killebrew said, 'You're going to get in. Be patient,'" Blyleven said. "It's a tough thing to crack. This [change today] might put more pressure on the Veterans Committee.

"Maybe if the wait is only 10 years, the writers will look at the numbers a little bit better and quicker. I hope so. I've wondered over the years about some of the guys who have the opportunity to vote. You have guys like Tony Gwynn and Cal Ripken and you wonder, 'How can they not be on 100 percent of the ballots?' Writers got more publicity for not voting for them than the guys who did it in a legit way. Maybe they ought to look at that more than the number of years [on the ballot]."

Jane Forbes Clark, chairman of the Hall's board, praised the baseball writers Saturday for their "excellent" job in the voting. In a follow-up interview, Hall President Jeff Idelson said the likelihood of a player being elected after 10 years on the ballot was "incredibly minimal," and the overriding goal is to keep the process "relevant." If the new system is more humane, helps unclutter the ballot and forces writers to come to grips with players from the steroid era more quickly, those will be significant fringe benefits.

Still, the process could be further improved by eliminating the 10-man limit on the ballot each year. The ballot continues to get more crowded as Roger Clemens, Barry Bonds, Mark McGwire and other real or alleged PED users stick around but can't generate enough support to make it to Cooperstown. Meanwhile, other candidates are being judged by factors beyond their individual merits. When Jack Morris slipped from 67.7 percent to 61.5 percent in his 15th and final appearance last year, it didn't help his cause that some voters simply didn't have enough room to vote for him.

The Hall's new system will add a sense of urgency to the candidacy of Tim Raines, who received 46.1 percent of the vote last winter and now has three more cracks at Cooperstown rather than eight. The same sense of urgency applies to Alan Trammell, Lee Smith and Don Mattingly, all of whom fall in the 10 to 15 year netherworld and will receive the full 15 years of eligibility under a grandfather clause. Trammell received a strong endorsement Saturday from Tigers Hall of Famer Al Kaline.

"I've always thought that he should be in the Hall of Fame," Kaline said. "He should certainly get more recognition than he's gotten. I'm not being prejudiced because I'm a Detroit Tiger. I watched him play for over 20 years. He was an outstanding fielder and a very clutch hitter. He was MVP of the World Series and a leader of the club. I've been totally shocked that he hasn't gotten more votes."

Many fans and Hall-watchers wonder how a player's Hall case can change so drastically years after he's hit his final home run or recorded his final strikeout. It's a valid question. Blyleven received 17.5 percent of the vote in 1998 and 14.1 percent in 1999. Twelve years later, he was celebrating his election with almost 80 percent of the vote.

Blyleven benefited from a concerted lobbying effort by the sabermetric community, and human nature invariably enters into the process. Some writers change their minds with time or loosen their standards when they know a player is nearing his final appearance on the ballot. The makeup of the electorate also changes slightly each year as new voters attain the requisite 10 years of BBWAA service time and are added to the rolls.

But every time a player makes it to Cooperstown after a lengthy wait, it debunks the notion that "A Hall of Famer is a Hall of Famer, and you shouldn't have to think too hard to figure it out." Some of that distinction might lie in the philosophical divide that separates writers who think Cooperstown should be a place for only the true elite and others who advocate a "Big Hall" approach.

Among the Hall of Famers in Cooperstown this weekend, Jim Rice and Bruce Sutter can best understand the ordeal that Blyleven endured. Sutter waited 13 years to be inducted, and Rice went the full 15. Five years after his election, Rice still questions whether the baseball writers are the best arbiters and would be open to a system in which the writers and current Hall of Famers both have a say on new inductees.

As for the question of time on the ballot, Rice insists that he never worried about it because his fate was beyond his control.

"What's the difference between 10 years and 15?" Rice said. "The bottom line is, if the numbers are there, it doesn't matter if it's 10 or 15 years. The numbers aren't going to change."

But the rules just did.
October, 20, 2013
10/20/13
3:15
PM ET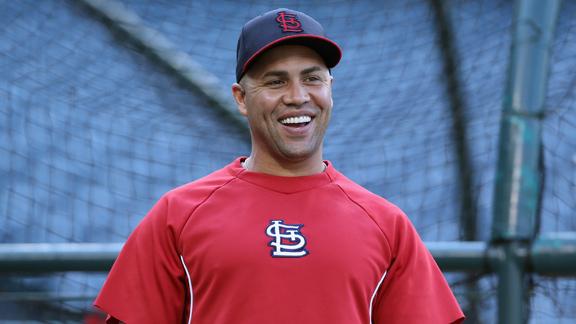 As
Carlos Beltran
delivers more big postseason hits this October for the St. Louis Cardinals, talk about him as a potential Hall of Famer has increased, carrying over from discussions that began in the regular season. ESPN.com's Jerry Crasnick wrote about
Beltran's Hall of Fame case
back in August, while Dave Cameron of FanGraphs
wrote about Beltran and
David Ortiz
the other day.
Basically, Beltran's case goes something like this: He kind of snuck up on everyone as a Hall of Fame candidate, he fares very well in advanced metrics, such as WAR, but not quite as well in more conventional measurements, such as counting stats and MVP voting results. Certainly, two more strong seasons will help his case.
Comparisons have been made to Andre Dawson, another guy who did a little of everything. In terms of career WAR, they're similar: Beltran 67.5, Dawson 64.4. One major difference: There was a time when Dawson was considered maybe the best player in the game, something that has never been said of Beltran. Dawson also won an MVP Award (though ridiculously undeserved), and that undoubtedly helped get him elected to Cooperstown.
It all means Beltran is a borderline candidate. Which gets us to this: How much should his great postseason numbers (.337 BA, 16 HR, 37 RBIs, 1.173 OPS) factor in?
Case study: Jim Rice versus Bernie Williams
Rice: 382 HR, 1451 RBIs, .298/.352/.502, 47.2 WAR
Williams: 287 HR, 1257 RBIs, .297/.381/.477, 49.5 WAR
[+] Enlarge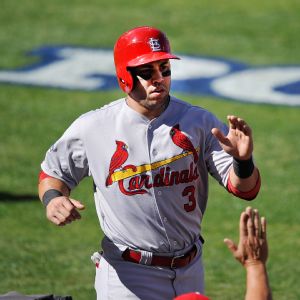 Robert Hanashiro/USA TODAY SportsCarlos Beltran's exceptional postseason numbers could bolster his Hall of Fame case.
After a long and heated debate, Rice finally made it on his 15th and final year on the ballot. Despite similar career value, Williams fell off the ballot after one year. Williams was a key performer on four World Series champions, hitting .275/.371/.480 in his postseason career, with 22 home runs and 80 RBIs in 122 games (he's the all-time postseason leader in RBIs). To be fair, neither are strong Hall of Fame candidates, but in Williams' case his postseason numbers clearly had no effect on the voters.
Verdict:
Postseason doesn't help.
Case study: Curt Schilling versus Kevin Brown
Schilling: 216-146, 3.46 ERA, 127 ERA+, 80.7 WAR
Brown: 211-144, 3.28 ERA, 127 ERA+, 68.5 WAR
In their raw stats, these two are nearly identical, right down to innings pitched (Schilling had five more in his career). Neither won a Cy Young Award, although Brown should have won in 1996 when he had a 1.89 ERA for the Marlins and arguably for the Padres in 1998, when he led the National League in WAR. Schilling finished second in the voting three times, twice to teammate
Randy Johnson
, once to
Johan Santana
. They're not exactly the same: Schilling does have the edge in career WAR (he spent more time in good hitter's park) and strikeouts.
The difference, of course, is Schilling was one of the great postseason pitchers ever, going 11-2 with a 2.23 ERA in 19 career starts, winning three rings. Brown went 5-5 with a 4.19 ERA in 13 starts and one ring. Brown fell off the ballot after one; Schilling received 39 percent of the vote last year on his first year on the ballot, actually a pretty good starting point to eventual election.
Verdict:
Postseason helps.
Case study: Jack Morris versus Dennis Martinez
Morris: 254-186, 3.90 ERA, 105 ERA+, 43.8 WAR
Martinez: 245-193, 3.70 ERA, 106 ERA+, 49.5 WAR
Pretty similar numbers. Morris' win-loss record is slightly better, but he also generally pitched on much better teams. Martinez's best years came in relative obscurity with the Expos, with whom he went 100-72 with a 3.06 ERA in eight seasons. This is more like the Rice-Williams case, in that neither really has a strong Hall of Fame case.
Except that Morris has those World Series rings. Martinez pitched in two World Series, but his teams lost both times. Morris' career in the playoffs: 7-4, 3.80 ERA (13 starts). Martinez: 2-2, 3.32 ERA (seven starts). Martinez received 16 votes and was knocked off the ballot. Morris received 68 percent last year and has one year left on the ballot with a good chance of getting the final-year push like Rice did.
It should pointed out that Morris' overall postseason record isn't that special. He did win two games in the 1984 World Series, but other pitchers have had spectacular World Series and didn't get in to the Hall of Fame (Lew Burdette, Mickey Lolich). For Morris, his candidacy really comes down to voters putting a huge value on his Game 7 performance in 1991.
Verdict:
Postseason helps.
Case study: Kirby Puckett versus Larry Walker
Puckett: 207 HR, 1085 RBIs, .318/.360/.477, 50.8 WAR
Walker: 383 HR, 1311 RBIs, .313/.400/.565, 72.6 WAR
This one is a little more complicated. Puckett's career was ended early by the eye injury, although an injury is an injury, no matter how freakish (voters seemed to give him a pass on his shortened career, however). Walker's numbers were inflated some by Coors Field. Still, Puckett was a Gold Glove center fielder; Walker was a Gold Glove right fielder. Puckett had some power and rarely walked; Walker had power and walked much more often. Walker won an MVP Award, Puckett didn't. Career WAR? Not close.
Puckett sailed in on the first ballot. Walker has been right around 22 percent his three years on the ballot. Puckett played in two World Series and won both; he hit .309/.361/.536 in 24 career playoff games, and had that memorable walk-off home run in Game 6 of the 1991 World Series. Walker played in one World Series and lost. Puckett was lovable, Walker injury-prone. That certainly influenced voters, but Puckett's postseason heroics must have helped get him elected.
Verdict:
Postseason helps.
Case study: Tony Perez versus Keith Hernandez
Perez: 379 HR, 1652 RBIs, .279/.341/.463, 53.9 WAR
Hernandez: 162 HR, 1071 RBIs, .296/.384/.436, 60.1 WAR
Another interesting one in that they were completely different types of players. Perez was a power-hitting first baseman who drove in a ton of runs (it helped having Pete Rose and Joe Morgan hitting in front of him). Hernandez didn't have the same power but hit for a higher average, got on base more and is regarded as maybe the best fielding first baseman of all time.
Perez had the reputation of being a clutch hitter, and the Reds won two World Series titles with him. But Hernandez also won two titles, with the Cardinals and Mets. Here's the kicker, though: Perez was a terrible postseason player, hitting .238/.291/.378 with six home runs and 25 RBIs in 47 games. Hernandez hit .265/.370/.359 but with 21 RBIs in 30 games and was also terrific in two Game 7s (2-for-3, two walks, two RBIs in 1982; three RBIs in 1986).
Of course, in this case, voters probably didn't get past the career RBI totals.
Verdict
Postseason doesn't help, unless you're part of a famous team (unless you're Bernie Williams).
OK, one more. These are kind of fun.
Catfish Hunter versus Orel Hershiser
Hunter: 224-166, 3.26 ERA, 104 ERA+, 36.6 WAR
Hershiser: 204-150, 3.48 ERA, 112 ERA+, 51.7 WAR

Hunter basically got in because he was a famous anchor of Oakland's three straight World Series champions (and a lesser part of two Yankees World Series winners). Hunter went 9-6, 3.26 in his postseason career. His regular-season numbers aren't all that impressive, especially when looking at the advanced metrics such as ERA+ and WAR. Hershiser went 8-3, 2.59 ERA in his postseason career, carried the Dodgers almost single-handedly to the 1988 World Series title (unlike Morris, his team won in five instead of seven). Hershiser fell off the ballot after two years. If only one of his Indians teams had won a championship.
Verdict:
Postseason helps only if the voters want it to.
In the end, you've seen what I've done: compared some of the more marginal Hall of Famers or Hall of Fame candidates to similar players. There is certainly inconsistency from the voters, except perhaps in one main narrative: fame. Rice was
famous
as an active player, while Williams was always overshadowed by other teammates. Schilling's fame rose with the bloody-sock game and titles in Boston. Morris was certainly more famous than Martinez, Puckett more so than Walker, Hunter probably more than Hershiser, Perez maybe more than Hernandez (although that one is more debatable).
As for Beltran, that's what will probably ultimately make his Hall of Fame case an uphill climb: He comes up a little short on the "fame" side of things (unlike, say, David Ortiz). Plus: He's about to just play in his first World Series.
April, 19, 2013
4/19/13
9:00
AM ET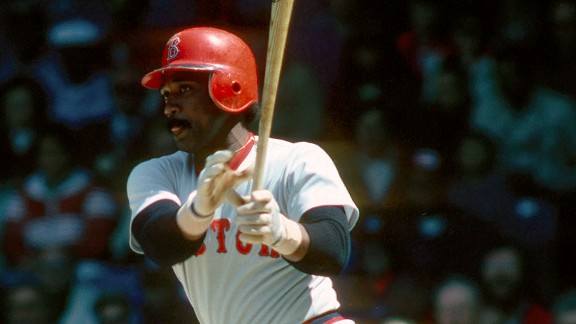 Malcolm Emmons/US PresswireJim Rice may not have made the Hall of Fame had he not played for 16 years in Fenway Park.
One of the first major impacts Bill James made as a sabermetrician was pointing out the huge effect that ballparks had on statistics. I mean, people always knew that Fenway Park and Wrigley Field were good hitting parks, or that the Astrodome was a lousy place to hit home runs, but that doesn't mean people in the game properly accounted for these factors. For decades, the Cubs always overrated their hitters and underrated their pitchers. That was one reason they were the Cubs.
Obvoiusly, a park can drastically effect our view of a player if we're not aware of the advantage he's receiving from his home park. Here are a few historical players who received a big boost from their home park or parks.
Jim Rice
When Jim Rice hit the Hall of Fame ballot after his 16-year career with the Red Sox, the debates got ugly. Rice was feared, argued his supporters; Rice was overrated, a beneficiary of Fenway Park, argued his detractors. During most of Rice's career in Boston, Fenway
was
a terrific hitter's park, the traditional Fenway of "no lead is safe" lore. Overall, Rice hit .320 with 208 home runs at Fenway but .277 with 174 home runs on the road. In his 1978 MVP season, Rice hit .361/.416/.690 with 28 home runs at home and .269/.325/.512 with 18 home runs on the road. The debates lasted until Rice's 15th and final year on the ballot when he made it in.
Sandy Koufax
Through 1961, Koufax was 54-53 in his career with a 3.94 ERA, a talented but erratic left-hander. Suddenly, in 1962, he put it all together, and over his final five seasons in the majors went 111-34 with a 1.95 ERA, leading the NL in ERA all five seasons. Koufax's control did improve dramatically, but something else happened in 1962: The Dodgers moved out of the L.A. Coliseum and into Dodger Stadium. In 1961, Koufax had a 2.77 ERA on the road … but 4.22 at home. In 1960, he had 3.00 ERA on the road … but 5.27 at home. In 1962, Koufax had a 3.53 ERA on the road … but 1.75 at home. In 1963, he was 2.31 on the road … and 1.38 at home. He had always been pretty good on the road, but the difference was he became unhittable at Dodger Stadium.
Nolan Ryan
Before finishing his legendary career with the Rangers, Ryan spent eight seasons with the Angels and nine with the Astros; that's 17 years in parks that heavily favored pitchers. Check out his career home/road splits, including his days with the Mets and Rangers: 189-136, 2.77 ERA at home; 135-156, 3.73 ERA on the road. Yes, Ryan had a career road record 21 games under .500.
Ryne Sandberg
Sandberg made the Hall of Fame in his third year on the ballot, with his reputation as an all-around player -- power, speed, defense -- overcoming some career counting stats that might be considered marginal for a Hall of Famer: 2,386 hits, 282 home runs, 1,061 RBI and a .285 average. But those totals would look even more marginal without a little help from Wrigley Field. Sandberg hit .300/.361/.491 with 164 home runs at home and .269/.326/.412 with 118 home runs on the road. (Ernie Banks, by the way, had a similar split: .290 at Wrigley and .259 on the road.)
Mel Ott
Ott hit 511 career home runs and led the NL in homers six times but took advantage of the short porch at the Polo Grounds to do so. He hit 323 home runs at home and 188 on the road. He was still a great hitter, however; on the road, he hit more doubles and triples and hit for a higher average, so his overall batting line was still an impressive .311/.408/.510 compared to .297/.422/.558 at home. But he wouldn't be a member of the 500-home run club if he'd played elsewhere.
Carl Yastrzemski
Fenway Park isn't the hitter's park it used to be. It's believed that renovations in 1988, which moved a new press box above the stadium club seats behind home plate, changed the air currents. It's also underrated as a good park for left-handed hitters, especially those who can go the opposite way and take advantage of the Green Monster. Yaz hit 237 home runs at home and 215 on the road, but he
loved
hitting at Fenway, with a .306 average there compared to .264 on the road. His OPS was 125 points higher at home than on the road. (Ted Williams hit .361 at Fenway and .328 on the road.)
Don Sutton
Like Koufax, Sutton enjoyed pitching at Dodger Stadium. He went 169-119, 2.81 at home in his career and 155-137, 3.77 on the road. Thirty-nine of his 58 shutouts came at home. Pulling out Dodger Stadium individually (which includes some road games when he pitched for the Astros), Sutton posted a 2.66 ERA there. Despite winning 300 games, he was a somewhat controversial Hall of Fame selection; he might have still won 300 games for another organization, but his ERA might have been a bit higher.
Would any of these guys
not
be a Hall of Famer without their home parks? It's difficult to say. Extreme talents can learn to take advantage of unique situations. But maybe Koufax's curveball was better because of the high mound at Dodger Stadium, or Ryan's fastball harder to pick up in the gloomy indoor lighting of the Astrodome. Rice, in particular, had a weak Hall of Fame case as-is; if he hadn't played for the Red Sox, I doubt he'd be in Cooperstown.
January, 3, 2013
1/03/13
1:38
PM ET
Jerry Crasnick has a nice story on Dale Murphy and the
push his family made
for him on his final year on the Hall of Fame ballot.
Murphy has no shot at getting elected after receiving just 14.5 percent of the vote a year ago; his family needed to start the campaign five years ago. Murphy doesn't have a strong Hall of Fame case despite his two MVP Awards, but you do wonder why his support never built after getting 19.3 percent and 23.2 percent of the vote his first two times on the ballot. Jim Rice, a contemporary and player of similar career value -- Baseball-Reference has Rice at 44.3 WAR and Murphy at 42.6 -- started a little higher than Murphy, but not that much higher at 29.8 percent, and slowly built Hall of Fame momentum until he got elected in 2009, his final year on the ballot.
[+] Enlarge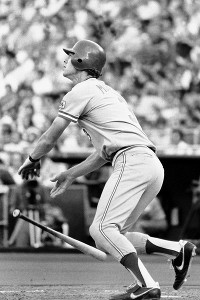 AP Photo/Rusty KennedyDale Murphy was voted the NL MVP after the 1982 and 1983 seasons.
The Rice/Murphy comparison is even more difficult to understand when factoring that Rice could be a bit surly at times and wasn't really well-liked by the media while Murphy is universally regarded as one of the class individuals in the game's history. It certainly isn't a "fame" thing; yes, Rice played in Boston, but Murphy was one of the biggest stars of the '80s, with Braves' games broadcast all over the country on TBS.
Rice has some statistical advantages in his favor -- he hit .298 lifetime versus Murphy's .265 mark, had eight 100-RBI seasons to Murphy's five -- but Murphy played center field, got on base at nearly the same rate since he walked more, ran better and Rice received a big advantage from Fenway Park. Neither player reached 400 home runs (Rice had 382, Murphy 398) or 1,500 RBIs (1,451 for Rice, 1,266 for Murphy), but Rice got the support.
Of course, you can't really create a Hall of case around a Jim Rice comparison, since Rice is one of the weakest Hall of Famers the baseball writers have elected. Let's compare Murphy to two other 1980s outfielders: Hall of Famer Andre Dawson and Tim Raines. Many think Raines has a better Hall of Fame case than Rice, Murphy or Dawson.
If we look at each player's "Hall of Fame" seasons -- what I'll call a season with 4.0 WAR or greater -- we get this:
Rice: Five seasons, 29.2 total WAR
Murphy: Six seasons, 36.2 total WAR
Dawson: Six seasons, 37.3 total WAR
Raines: Six seasons, 37.5 total WAR
So, yes, at his peak Murphy was awesome. He even compares favorably to first-ballot outfielders like Dave Winfield (six seasons of 4-plus WAR, total of 32.6) and Tony Gwynn (seven seasons, total of 39.6 WAR). What Murphy lacks are some of those 2-win and 3-win seasons, seasons that add to a player's career totals and help cement a legacy. Those aren't really Hall of Fame seasons, but they are seasons that Hall of Fame voters factor in. Jay Jaffe has a more
in-depth statistical look
at Murphy's career.
There is one interesting side note to Murphy's case. As many voters decline to vote for PED-tainted candidates, or rebel against all these fancy new stats, you might think they would be more inclined to vote for "clean" players like Murphy (if we can assume anybody was clean, even in the '80s, it would be Murphy), but that hasn't been the case at all. Sometimes you just can't please the Baseball Writers Association of America. And sometimes it elects Jim Rice.
February, 24, 2012
2/24/12
7:20
PM ET
It's Friday, so here's one last list of links for the weekend.
February, 9, 2012
2/09/12
4:06
PM ET
Every baseball nerd my age loves Dwight Evans, even if they weren't Red Sox fans back in the '70s and '80s: The underrated, better-than-Jim Rice, stiffed-in-the-Hall-of-Fame-voting Dwight Evans.
What, don't believe the Jim Rice comment? Here, their career stats:
Pretty similar, no? Rice had the higher batting average, but Evans drew so many walks that he actually got on base at a better rate. I included the outs column because outs are important. (Evans made more outs than Rice but also played over 500 more games.) As Bill James writes in his
Grantland opus on making a Hall of Fame case for Evans
, "If you make more outs, you have to produce more runs." If you factor in the runs created and the outs made for each player, Evans created 6.2 runs per every 27 outs he made over the course of his career; Rice created 6.0 runs per every 27 outs. And then we get to defense and length of career, and Rice isn't going to win those discussions.
Anyway, James doesn't compare Evans to Rice in his piece, but he does compare him to Dave Winfield. In comparing their 1982 seasons, James writes, "Perhaps I shouldn't say that Evans was 'obviously' the class of the group in 1982; Dave Winfield was pretty good that year, too. But Evans drew 67 more walks than Winfield did (112 to 45), and, because of that, he scored 38 more runs (122 to 84). Those are big, big differences. If you are a pitcher, 67 walks will lose
a lot
of ballgames for you."
It's a fun piece to read and it's fun to see Dewey getting a little recognition 21 years after his last season.
January, 5, 2012
1/05/12
8:00
AM ET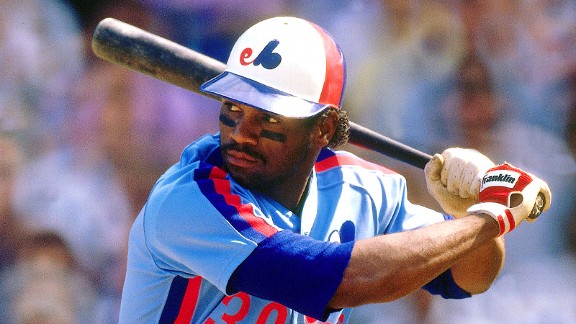 Ronald C. Modra/Sports Imagery/Getty ImagesTim Raines is often cited as the second-greatest leadoff hitter in MLB history.
There are a lot of columns and analysis out there advocating the case for Tim Raines for the Hall of Fame. I probably won't add anything new to the discussion, but let me start here:
Player A is Raines. Player B is Tony Gwynn. That final column is times reached base. Yes, Raines reached base more often in his career than Gwynn, in just slightly more plate appearances. I'm not the first writer to come up with that comparison. Joe Posnanski, among others, is especially fond of this factoid. The point of the statistic isn't to bring down Gwynn, rather to show how potent and devastating an offensive player Raines was. The arc of his game was a little different than Gwynn's but the results are similar: Gwynn got more singles, Raines walked more and had a little more power. He was one of the great base stealers of all time and scored more runs in his career than Gwynn.
That's what Raines did: He scored runs. He's 51st on the all-time list and of the 50 players ahead of him, all eligible candidates are in the Hall of Fame except for Jimmy Ryan and George Van Haltren, two 1890s outfielders; turn-of-the-century shortstop Bill Dahlen; and Rafael Palmeiro.
A common refrain about Raines from his advocates is that he was one of the best players in baseball over a span in the 1980s. This isn't some after-the-fact hocus-pocus going on. It was widely believed at the time. In a 1984 Sports Illustrated piece on Raines, Pete Rose said: "Right now he's the best player in the National League. Mike Schmidt is a tremendous player and so are Dale Murphy and Andre Dawson, but Rock can beat you in more ways than any other player in the league. He can beat you with his glove, his speed and his hitting from either side of the plate." In his annual Baseball Abstracts, Bill James often argued the case of Raines' all-around brilliance. Raines finished fifth, sixth and seventh in MVP votes, despite playing for mediocre Expos teams.
Raines' five-year peak was 1983 to 1987. According to Baseball-Reference's WAR ranking, the top five players during those years were Wade Boggs (39.7), Rickey Henderson (34.1), Cal Ripken (33.3), Schmidt (31.4) and Raines (30.7). Pretty nice company. (The next five were Alan Trammell, Gwynn, Eddie Murray, Murphy and Keith Hernandez.)
To be fair, this alone doesn't make him a Hall of Famer. I checked every five-year period since 1969 (1969 to 1973, 1970 to 1974, etc.) and not all of the names that appear in the top five are Hall of Famers or future Hall of Famers. Heck, Sal Bando rated as the best player in baseball from 1969 to 1973.
Some characterize Raines as having too short of a peak level of dominance. From 1988 to 1995, he averaged .283/.375/.409, with 81 runs and 33 steals per season. Maybe not an MVP candidate anymore, but still a good player, top leadoff hitter and valuable contributor. He's hardly alone in this aspect. He had six seasons with an OPS+ of 130 or higher, the same as Jim Rice, Dawson and Ernie Banks, and more than Kirby Puckett, Roberto Alomar, Johnny Bench, Carlton Fisk, Yogi Berra, Tony Perez or Robin Yount.
Maybe Raines doesn't have a slum-dunk case. But he has a case. Maybe voters have forgotten his great years in Montreal (and they have forgotten; he received only 37 percent of the vote last year). Maybe they remember his final seasons with the Yankees, when he became a part-time player on two World Series champions. Maybe they can't believe he compares favorably with Tony Gwynn.
Believe.
January, 2, 2012
1/02/12
8:30
AM ET
There are a lot of misunderstandings about the Hall of Fame and its voting procedures and results, beginning with the little fact that baseball was not, of course, actually invented in Cooperstown, N.Y., in 1839 by a future Civil War general named Abner Doubleday.
For example, many voters and fans divide themselves into "big Hall" and "small Hall" camps. This seems like a reasonable split of opinion. There, is however, a problem with those who advocate for the small Hall premise: the Hall of Fame is not -- and has never been -- a small Hall of Fame, a shrine memorializing only the elite of the elites.
The first Hall of Fame vote was conducted in 1936, when Ty Cobb, Babe Ruth, Honus Wagner, Christy Mathewson and Walter Johnson became the initial five inductees. The next year, a special Centennial Committee elected some 19th-century pioneers and executives. An Old Timers Committee in 1939 elected Cap Anson, Old Hoss Radbourn and others. Throughout the 1940s, the Old Timers Committee elected many more players from the 19th century and early 20th century, some obviously strong candidates and others of far less quality. Meanwhile, the Baseball Writers Association essentially stopped electing anybody; between 1940 and 1946, it voted in only Rogers Hornsby.
[+] Enlarge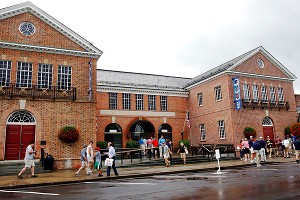 AP Photo/Mike GrollWith baseball writers stingy with their ballots, the Hall of Fame has sought ways to get more members in.
This eventually led to the two means of current entry into the Hall of Fame: the annual Baseball Writers vote, in which a player must obtain 75 percent of the ballots cast; and the Veterans Committee, which considers players bypassed after 15 years on the regular ballot, plus managers, umpires, Negro Leaguers, executives and owners. At the actual Hall of Fame in Cooperstown, there is no distinction made between means of enshrinement, no mention of vote percentage or years spent on the ballot. All Hall of Famers are equal, with a small plaque in the main gallery of the museum, ordered by year of election.
And thus the reality is that we have a large Hall of Fame, one encouraged by the board of trustees with its various incarnations of the Veterans Committee through the years. In so many words, it's saying to the writers, "You're not electing enough Hall of Famers; you're too tough and we believe in a big Hall, so we want another means to elect players you missed." When the Veterans Committee failed to elect any candidates from 2002 to 2007, the Hall revised the committee in attempts to get more inductees.
Despite this, the small Hall versus large Hall debate persists. The writers -- and there were 581 who voted last year -- collectively hold a small Hall mindset, not surprising considering the 75 percent threshold. The writers have essentially averaged between one and two players elected per year for six-plus decades:
2010-2011: 3
2000-2009: 17
1990-1999: 15
1980-1989: 18
1970-1979: 13 (plus Roberto Clemente in a special election)
1960-1969: 6
1950-1959: 15
While this may
appear
to establish a level of consistency, in reality it suggests a toughening of standards -- the number of teams (and players) has increased through the years since baseball's first expansion in 1961, so the writers are electing a lower percentage of eligible players than 30 or 40 years ago. (A near doubling of teams would indicate a doubling of Hall of Famers.)
So the writers have been tougher in recent years; ironically, this span coincides with some of the
weakest
Hall of Fame selections by the writers -- Andre Dawson (2010), Jim Rice (2009), Bruce Sutter (2006) and Kirby Puckett (2001) would all rank near the bottom of the 108 BBWAA Hall of Famers.
That doesn't even get into the inexplicable psychology in Hall of Fame voting. Why does Rice receive 29.8 percent of the vote in his first year, remain stuck at 29.4 percent by year five, languish in the 50 percentile for six years and then ramp up to 76.4 percent and election over his final four years on the ballot? Why does Don Mattingly begin at the same place as Rice -- 28.2 percent -- and slowly slide backwards from there? Why does Sutter start at 23.9 percent and later gain momentum and enshrinement after 13 years on the ballot, but Lee Smith start at 42.3 percent and after nine years remain at 45.3 percent?
It doesn't make sense. And that's why Hall of Fame debates are contentious, spirited, sometimes mean, sometimes logical, sometimes emotional ... but always fun to read and argue about.
Over the next week, leading up to next Monday's 2012 Hall of Fame announcement, I'll be examining some of the players on this year's ballot.
We'll start with Barry Larkin
.
June, 22, 2011
6/22/11
5:37
PM ET
OK, maybe that's overstating things a little bit, but one statistic that rarely gets mentioned is a batter's double plays grounded into. You hear a lot of talk about pitchers with ground ball tendencies (and thus the ability to induce more double plays), but not much about hitters who have a propensity to ground into double plays. If you ground into a lot of them, this affects a player's hitting value in a way that doesn't show up in a triple-slash line.
Three players in particular are grounding into
a lot
of double plays this season:
Torii Hunter
has 18 GIDPs (a pace of 38 for the entire season),
Albert Pujols
had 17 before his injury, and
Adrian Gonzalez
has 16 (a pace of 35). Here's the
complete GIDP leaderboard
.
What kind of pace are those guys on? The bad kind. Only 16 times has a player grounded into 30 double plays in a season -- including three by Jim Rice, who holds the top two single-season marks of 38 in 1984 and 35 in 1985.
Billy Butler
grounded into 32 last season, tied for third-most all time with
Miguel Tejada
(2008),
Ben Grieve
(2000),
Cal Ripken
(1985) and Jackie Jensen (1954).
A double play doesn't count against your batting average or on-base percentage, even though you're responsible for making two outs. Take Gonzalez, for example. Heading into Wednesday's game, he was hitting .350/.403/.603. He had 330 PAs. What if you added an extra 16 "outs" to his ledger? That line becomes .332/.384/.573.
Compare that to
Miguel Cabrera
. I've argued that Cabrera is having a better season at the plate than Gonzalez, due to a higher on-base percentage and similar power numbers. Those who disagree point to Gonzalez's higher batting average and RBI total. Cabrera entered Wednesday hitting .323/.445/.567. He's grounded into nine double plays, "changing" his line to .312/.433/.548.
It's another reminder that a hitter's key objective is to not make outs. Gonzalez has created about 67 runs this season based on his hitting statistics. He's done that while using 213 outs. We have a stat on our site called
Runs Created per 27 outs
-- you can view it as how many runs per game a lineup of nine Adrian Gonzalezes would produce. Gonzalez's RC/27 is 8.2. Miguel Cabrera, based on his hitting statistics, has created about 66 runs -- but has used up only 186 outs. So he's created as many runs as Gonzalez but used up 27 fewer outs. His Runs Created per 27 outs is 9.2. My view is Cabrera has been the slightly more valuable hitter. (Remember that RBIs are team-dependent.) I'm
not
saying Cabrera is the better player -- Gonzalez has a huge advantage with the glove.
Anyway, double plays are a main reason Rice is one of the most overrated players of recent generations, and why many statheads were against his Hall of Fame induction. Rice produced a lot of runs, but did it with the help of a good hitter's park, but also did while consuming a large number of outs. His on-base percentages were always high since he didn't walk much and he compounded that by grounding into a ton of double plays in some seasons -- 38, 35, 31, 29.
By the way, three players with at least 500 plate appearances have grounded into ZERO double plays in a season since 1950 (GIDP data not available for all seasons prior to that) --
Craig Biggio
(744 PAs in 1997), Dick McAuliffe (658 PAs in 1968) and Rob Deer (511 PAs in 1990). Obviously, some of that is opportunity: A cleanup hitter is going to have more men on base than a leadoff hitter. But as you would surmise, fast left-handed hitters ground into fewer DPs than slow, right-handed sluggers. (
Ichiro Suzuki
has had seasons of 1, 2, 3, 3, 3, 4 and 5 GIDPs, with a career-high of 8.)
Follow Dave on Twitter @dschoenfield.
March, 23, 2011
3/23/11
11:35
AM ET
I don't actually remember the first baseball game I attended, but in the spring of 1973 my father assures me we went to see a local high school phenom named Floyd Bannister, who would go 15-0 with an 0.00 ERA and three years later become the first pick in the draft by the Astros.
The first major league game I saw in person was Mariners versus Red Sox, Kingdome, May 1977. Must have been backpack night or tote bag night because the attendance totaled more than 52,000, and back then the Mariners drew that many fans only on Opening Day or for promotional giveaways. Jim Rice and Carlton Fisk hit home runs and, of course, the Mariners lost.
[+] Enlarge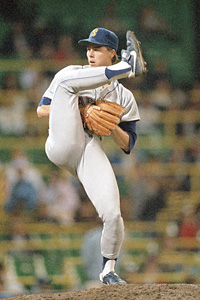 AP Photo/Fred JewellFormer Seattle ace Mark Langston's high leg kick was a staple at Mariners games for years, like during this 1987 shutout of the White Sox.
While I suffered through endless defeats, I witnessed plenty of exciting moments, like Ruppert Jones hitting an inside-the-park home run against the Yankees that first season that propelled everybody into a "Rupe! Rupe! Rupe!" chant at the top of our lungs. Or bat night in 1981, when Tom Paciorek beat the Yankees for the second night in a row with a ninth-inning home run and we started banging our bats against the metal bleachers in a deafening celebration. I was there with my father when Gaylord Perry won his 300th game and later that season when Perry was ejected for the only time in his career for throwing a spitball (Boston's Rick Miller swung and missed a pitch by about two feet and charged the mound, leading to an impressive melee).
I've seen Mark Langston two-hit the Tigers, compelling Sparky Anderson to call him the best young left-hander he'd seen since Sandy Koufax. I loved Langston and his high leg kick, but the Mariners couldn't afford him and he was later traded for a tall, gangly rookie named
Randy Johnson
, and I was there in the upper deck when Johnson beat the Angels (and Langston) in the 1995 tiebreaker to put the Mariners into the playoffs for the first time in franchise history.
I've sat in primo box seats at Fenway Park (thanks, Rob), watching
Pedro Martinez
strike out 17 Devil Rays … and lose 1-0 because
Steve Trachsel
pitched a three-hit shutout. I've seen Clemens throw a bat at Piazza, squinting from the upper deck at Yankee Stadium, not sure I saw what I thought I saw. I've seen
Tino Martinez
and
Scott Brosius
hit bottom-of-the-ninth homers to tie World Series games, and I definitely couldn't believe what I saw.
I'm just one fan, with my own chamber of baseball memories. You have your own, but we all keep going to the ballpark or watching on television or checking updates on our phones for the same reasons: We still love the games. We want to know who wins, who loses, hope for a game-winning home run or a young left-hander who throws 95 and makes us believe he's the next Koufax.
So with the 2011 season soon upon us, I can't wait for the games to begin, to see more memories formed.
To see what
Buster Posey
and the Giants will do for an encore.
To see whether
Jason Heyward
will explode in his sophomore campaign.
To see
Carl Crawford
going first to home on an
Adrian Gonzalez
double off the Monster.
To see if the Rays can again shock the baseball world and win the AL East for the third time in four seasons.
To see Cardinals fans give
Albert Pujols
a five-minute standing ovation the first time he steps to the plate.
To see
Joey Votto
deliver more big hits for Reds. (Note: I have a man crush on Joey Votto.)
To see
Troy Tulowitzki
range deep in the hole and rob a batter of a sure single. And then blast a 425-foot home run later in the inning.
To see
Joe Mauer
spray line drives all over the field.
To see
Justin Verlander
and
Josh Johnson
blow away hitters.
To see the artistry of
Roy Halladay
.
To see Yankees fans panic if
Derek Jeter
starts the season 1-for-14.
I can't wait to see the late game on Opening Day:
Tim Lincecum
versus
Clayton Kershaw
, the little righty with the funky motion and two Cy Young Awards versus the big lefty who could win one this season.
If our memories of games are a tangled web of neurons, well, that's kind of how baseball works, too. Langston was drafted in the second round with a pick acquired from the Rangers after they signed Bill Stein as a free agent. The Mariners picked Stein in the expansion draft from the White Sox, who had acquired him for Jerry DaVanon, who had been traded for Roger Repoz, who was acquired for Jack Sanford, who came up on the unlucky end of a 1-0 loss for the Giants in Game 7 of the 1962 World Series. The Giants didn't win a World Series in San Francisco until 2010, led by their ace Lincecum, who grew up in the suburbs of Seattle -- maybe the first game
he
ever saw featured Mark Langston -- using a pitching motion his father taught him, a motion modeled on the delivery of Sandy Koufax.
The SweetSpot blog will be here all season, writing about and discussing and analyzing the web that is a baseball season. Join myself and other contributors as we discuss the news, have some fun and give you a chance to interact. Mostly, we'll be watching a lot of games, as the moments of 2011 unveil themselves.
I can't wait. How many hours until the first pitch?
Follow David Schoenfield on Twitter at @dschoenfield. Follow the SweetSpot blog at @espn_sweet_spot.
July, 28, 2010
7/28/10
1:30
PM ET
Joe Posnanski outlines the biggest problem with
electing marginal (at best) Hall of Famers
. We've all trod that ground before, but Joe's really good and if we can't re-trod, where are we? But it's this last little bit that I wanted to show you, because our own Keith Law makes a cameo appearance ...
One last thing … my friend Keith Law seems to be taking a beating because he has said that Omar Vizquel is not a Hall of Famer in his book. I certainly don't want any of Keith's angry e-mail, but it's just worth pointing out that one argument I often hear for Vizquel is that he compares well with Ozzie Smith. I really don't think that's true. I think Ozzie Smith was a much better player than Vizquel. There's no question that Omar was a defensive wiz, but he was certainly no Wizard. He did not have Ozzie's range, his remarkable ability to make the great play, his double play talents, etc.

This is no knock — Ozzie is the best defensive shortstop in the history of baseball, I believe. And while Vizquel was a terrific defensive player, I don't think he's anything close to second-best — I think he's in a massive pile with a lot of terrific defensive players ranging from Belanger to Burleson to Bowa to Barry ... and those are just the Bs. And though Smith was widely viewed as a weak hitter ... he was actually a better offensive player in context than Vizquel. I'm using WAR a lot here, which might simply not be persuasive to you. But Ozzie Smith ranks 74th all-time among every day players in WAR. Vizquel ranks 209th. I simply don't think if Ozzie Smith is a Hall of Fame standard, that Vizquel has a great Hall of Fame case.*

If Jim Rice is the standard, however ...

* Update: Since several people have misunderstood the paragraph, let me clarify here: I am NOT saying that I will not vote for Vizquel. I am not ready to make that judgment yet … Vizquel has been a fabulous player and I'll take the five years after retirement to let his career settle. I am only saying that the Ozzie Smith comparison, to me, does not hold up. Ozzie Smith is not my line of demarcation when it comes to Hall of Fame shortstops.

I'm NOT saying I won't vote for Vizquel, either.
Joe's right, though: Based on the information that's available to us NOW, Vizquel isn't anywhere close to Ozzie Smith, or for that matter the great majority of the other Hall of Fame shortstops.
Sure, Rice won an MVP Award and Dwight Evans didn't ... but Dale Murphy won
two
MVP awards and hasn't drawn nearly the support Rice did. Sure, Andre Dawson, for all his faults, was for a time an impressive blend of power and speed. So were Jimmy Wynn and Bobby Bonds and Reggie Smith.
There was something
different
about Rice. Something
different
about Dawson. And perhaps -- we'll known in seven or eight years, I guess -- something
different
about Omar Vizquel. But it's hard to find the differences in the raw numbers. I'm convinced that if you want to figure out how Jim Rice was deemed a Hall of Famer by 30 percent of the voters in 1995 and 76 percent in 2009, you'll have to engage in a sort of archaeological and anthropological expedition. Because in strange cases like these, your usually considerable powers of logic just won't be enough.
July, 24, 2009
7/24/09
2:32
AM ET
April, 10, 2009
4/10/09
1:57
PM ET
Keith Woolner speaks
(and I recommend the whole interview, for sure) ...
Andrew (Nueva York): Keith, thanks for taking the question. What advice would you offer someone desiring to work in a major league baseball front office?

Keith Woolner: I get this question a lot, and I always struggle with how to answer it. My path into baseball was so atypical that it's hard to use that as the basis for a recommended strategy. But if my case has any instructive value, I'd say that the best way to break into baseball analytics is to start doing it on your own. Don't have any expectations that it will lead to anything, just do what interests you, and it will lead you to other topics and questions. Build up a base of knowledge, and complement that with the technical skills (Excel/database/stats) that you need to answer your own questions well. Write, write, and write some more. If you develop a reputation as an expert in something, teams will notice.
That's exactly it. I'm sure there's a set career path upon which a wise 16-year-old might embark, and wind up working for the New York Yankees eight years later. What's different between now and, say, 10 years ago is that a 16-year-old has any number of examples to follow. But the key is the passion, first. Best-selling novelists don't start out wanting to make a million dollars; they start out wanting to tell a good story. It's the same with working in baseball; or more specifically, with working in baseball operations and doing objective analysis. You have to love the game and the work first, because only the love might carry you through the dead ends and the rejection letters and (if you're lucky) the pitiable wages. Another always-popular topic:
john (chicago): Jim Rice - Hall of Famer?

Keith Woolner: Before I answer, let me acknowledge that (a) Jim Rice was my favorite player growing up, and (b) I'm a "big Hall" kind of guy.

With that context, I disagree with what seems to be the prevailing sabermetric opinion, including here at BP, that Rice was obviously unworthy as a HOF selection. I don't think he's a no-brainer Hall of Famer, but I think he has a legitimate argument.

--snip--

Among players with exactly 6 Top 10 finishes, 11 are in the HOF, 6 are active or too recent, and only 4 are not in the Hall (Vern Stephens, Dave Parker, Andres Galarraga, Fred McGriff). Even among those with just 5 such finishes, the ratio is 17 HOF, 6 not HOF, 5 active. There's a reasonable case that players with Rice-like peaks get into the Hall about 2/3rd of the time.

Of course, all of Rice's Top 10 finishes were in fact Top 5 finishes. All of the players with 6 such rankings are in the Hall (4) or obviously qualified barring PED-externalities (Frank Thomas, Albert Pujols, A-Rod). Of those with exactly 5 Top 5 MVP years, only Pete Rose and Dave Parker aren't in the Hall or active.

Sorry for taking so much time to answer this one, but I think Rice looks better through contemporary views than through a modern analytical lens, and I don't think it's silly to consider that perspective.
I agree 100 percent. It's not silly to consider that perspective. It's just silly to value that perspective as highly as 76.4 percent of the Hall of Fame voters did last winter. And as I've mentioned at least a few times already, when Rice was first eligible for the Hall of Fame in 1995 -- the single year in which the contemporary views were
most fresh
in the minds of the voters -- Rice got 29.8 percent support. So now I'm left wondering exactly what "contemporary" means.