November, 8, 2012
11/08/12
11:53
AM ET
By
Christina Kahrl
| ESPN.com
Baseball used to be the most thoughtful of industries when it came to recycling, at least where managers are concerned. But the Rockies'
surprise decision to hand the job
to former shortstop Walt Weiss is the latest instance of a baseball team choosing someone that nobody else might have considered. Much like Robin Ventura with the White Sox or Mike Matheny of the Cardinals last season, Weiss is an idiosyncratic organizational choice.

Weiss
That's because Weiss, however much he wasn't going to be on anybody else's radar, is no mystery to the Rockies -- he's someone they're very familiar with from his work within the organization as a special assistant to former head honcho Dan O'Dowd. Even so, as reported, the circumstances read like a dare trumped by a double dare topped by a double-dog dare. The reason Weiss was under consideration at all? Not because the Rockies had thought of him, but because he picked up the phone. Having retired to the area and keeping busy coaching high school baseball, Weiss apparently suggested himself for the job.
Call that equal parts chutzpah or self-confidence from Weiss, but it's the first big product of the Rockies' newly shaken-up front office now that Bill Geivett is calling the shots, with Dan O'Dowd kicked in a direction to be named later to serve in an advisory capacity. (Jonah Keri's
interview with Geivett
,
in two parts
, is worth reading if you missed it at the tail end of the regular season.)
If you're looking for
Moneyball
-style drama, where the executive and his skipper argue over who's playing and how often, you can wonder if this isn't designed to circumvent that, reflecting a desire to craft a leadership team that integrates front-office and dugout decision-making. Geivett has already taken a fairly active role as the newfangled "director of major league operations," right down to planting his office within the clubhouse and taking on some of the field manager's duties. Maybe that's what motivated Jim Tracy's resignation, maybe not; a veteran skipper used to being a lone wolf "decider" might just not see the job the same way, or care for seeing his role changed.
Ventura and Matheny represented in-house hires of younger guys and former stars with their respective teams, and if you think of them and only them, this might sound like a pretty good setup. Ventura guided a White Sox rebound that almost produced an AL Central title, while Matheny's Cardinals made it to the NLCS. Like them, Weiss has no pro managing experience going into his rookie season on the job. But not all of these insular, collaborative designs work out so well. Remember how Arizona's decision to hire A.J. Hinch turned out? A smart guy and former big-league catcher with a strong player development record within the organization, Hinch was seen as a disaster in the dugout in his two partial seasons before being replaced by Kirk Gibson.
So you've got a brazen self-selected skipper and an activist GM. Stroke of genius or crazy? Well, here's where the Rockies really take it up a notch: They're giving this leadership mix exactly one year to prove that it's going to work. Having talked his way into the job, that's how long Weiss' contract reportedly runs. That's about as conditional an endorsement as you could imagine, like Geivett and friends said, "So you really think you can run this team? OK, you're on, show me, starting
now
."
Christina Kahrl covers baseball for ESPN.com. You can follow her on Twitter.
May, 24, 2012
5/24/12
6:56
PM ET
May, 18, 2012
5/18/12
8:00
AM ET
First base: Home-field disadvantage.
Owners added the one-game wild-card game in part to reward teams that won a division title. However, they've just taken away some of that advantage by
changing the layout of the Division Series
from 2-2-1 to 2-3. Instead of starting at home, the higher seed will play the first two games on the road before heading. Look, it's not
huge
deal and might revert back to 2-2-1 next year, when the regular season begins earlier, thus providing more potential off days in October. Still, I don't see why 2-2-1 would have been an issue, even with the need to have fewer off days this season. But why do we need so many off days anyway? Obviously, teams play in different cities on back-to-back days all the time.
Also buried in that story is something that will get fans much more upset: Two Division Series games will shift from TBS to MLB Network, which is available in about 30 million fewer homes.
Second base: Reddick-hot.
Josh Reddick
plays for the Oakland A's, so he's not exactly going to be leading the SportsCenter highlights. But he's quietly putting together a nice season, hitting .283 with 10 home runs. His big home run off
Alexi Ogando
tied the game in the seventh inning Thursday and the
A's then beat the Rangers in the 10th
. The A's are a game over .500 at 20-19 and another key to their surprising success has been reliever
Ryan Cook
, who threw two hitless innings to get the win. Cook has yet to allow run and has allowed just four hits in 19.2 innings.
Third base: Feel-good stories.
A couple of nice stories to highlight. The Blue Jays sent down former 35-homer man
Adam Lind
and called up
Yan Gomes,
who became the first Brazilian-born player to reach the majors. Gomes went 2-for-3 in
Toronto's win
over the Yankees. Gomes is a catcher/third baseman and not a top prospect, although he was hitting .359 for Las Vegas (of course, everyone hits .359 at Las Vegas). Gomes moved to the U.S. with his family when he was 12 and was drafted out of Barry University in Florida.
Rich Thompson
is a 33-year-old outfielder who had one at-bat with the Royals back in 2004. He's been in the minor leagues ever since, including the past five seasons with Lehigh Valley, the Phillies' Triple-A club, where he became a fan favorite. Earlier this week, the Phillies traded him to the Rays, who
called up him to the big leagues
. On Thursday, he started in left field and picked up his first major league hit and RBI. Dreams do come true.
Home plate: Tweet of the day.
Ahh, good ol' Jim Tracy.
As a #SFGiants fan, I'd like to see Jim Tracy stick around as #Rockies manager. As a sane person, I don't see how he does.

— Wendy Thurm (@hangingsliders) May 18, 2012
May, 3, 2012
5/03/12
12:18
AM ET
Baseball is awesome. Did we need to say anything else? Do we need to hire Terry Cashman to write a ballad about this day? Do we need to pen epic poems about
Chipper Jones
and
Jered Weaver
and
Bryce Harper
and the intentional walk?
Man, I need to catch my breath.
How do you sum up the wildest game of the season so far? I guess pretty simply: The Phillies, a team that scores runs with about the same frequency of a Serie A soccer team, totaled 13 runs ... in a game
Roy Halladay
started ... and lost.
The Phillies led 6-0, the Braves scored six off Halladay in the fifth (including a
Brian McCann
grand slam) and then took an 8-6 lead (the first time he's allowed eight runs in a game since Aug. 24, 2009). The Phillies surged back ahead 12-8, the Braves took a 13-12 lead with five runs in the bottom of the eighth (as Phillies closer
Jonathan Papelbon
apparently isn't allowed to pitch more than one inning or three days in a row), the Phillies tied in the ninth on
Shane Victorino
's two-out infield single, and then ...
Well, then, Larry Wayne Jones stepped to the plate in the bottom of the 11th inning. He hammered a 2-2 slider from
Brian Sanches
down the right-field line, but it hooked a few feet line. I tweeted, "Dang, a Chipper walk-off would have been pretty cool on this wild day."
Two pitches later, he crushed a 3-2, 88-mph meatball over the center-field fence, watching the ball fly away into the Atlanta evening and flipping his bat in a dismissive swagger. "I may be 40 years old with creaky knees, but don't try and slip that mediocre slop by me," he seemed to say.
Braves 15, Phillies 13.
It was the 458th regular-season home run in his career. Few have felt sweeter, especially since the Braves had lost eight straight games to the Phillies.
"I wish everyone could experience that feeling right there," Jones said on postgame on-field TV interview, trying to catch
his
breath after enduring the mosh pit at home plate. "That game, without a doubt, takes the cake as far as my career goes. You figure with Halladay and [Tommy] Hanson, it's going to be a 2-1 game."
When Jones says he's never seen a game like it, you know what it was something amazing.
And here are a few more adventures from not just another Wednesday in early May:
Oh, yeah, as I was finishing this piece, Jered Weaver was flirting with a no-hitter through the sixth … seventh … into the eighth … and he did it. You know, Weaver is pretty good at baseball. The highlight: MLB Network cameras showed Weaver leaving the dugout in the eighth inning to use the bathroom. How do you risk a no-hitter by leaving the bench? As he said after the game, "I had to pee so bad."

In an afternoon tilt at Coors Field, we saw the worst call of the season (Jerry Hairston Jr. was called out on this play) and Carlos Gonzalez homered twice off Clayton Kershaw (only the second time Kershaw has allowed two home runs to one player in a game, Adam Dunn having done so in 2010). But that stuff was merely a prelude to a wacky ninth inning. With two outs and a runner on first, Jim Tracy elected to intentionally walk Matt Kemp to pitch to Dee Gordon. You can debate the merits of the decision -- Kemp's home run rate was three times that of Gordon's extra-base hit rate, and extreme fly ball pitcher Rafael Betancourt was on the mound -- but Gordon hit a soft liner into right-center. Third-base coach Tim Wallach sent Kemp, who should have been thrown out by 10 feet, but Troy Tulowitzki biffed the relay with a wormburner throw home. Game tied and Tracy looked like the goat until the ancient Jason Giambi hit a three-run homer off Scott Elbert in the bottom of the ninth. How awesome is that the Giambino is still swatting game-winning home runs at age 41?

The Nationals ended a five-game losing streak in dramatic, walk-off fashion as well. Wunderkind Harper -- who had just missed his first major league homer earlier in the game with a double off the top of the wall in right-center -- led off the bottom of the ninth with another double to center, his third hit of the game. With Nationals fans dreaming delirious dreams of Harper's future, J.J. Putz then struck out Wilson Ramos and Rick Ankiel. But Ian Desmond blasted a 1-1, 93-mph fastball over the fence in left-center. Only one of the best wins in Nationals' history.

The Royals looked like they were going to beat Justin Verlander, leading 2-0 in the eighth, only to have Brennan Boesch tie the game with a two-run homer. So they settled for a victory off Joaquin Benoit in the ninth, the go-ahead run scoring on Chris Getz's two-out infield single.

Jake Arrieta threw eight shutout innings against the Yankees in one of the best outings of the year for a pitcher: 8 IP, 5 H, 0 R, 0 BB 9 SO. The Orioles took two of three in the series, they're 16-9, and Baltimore fans are starting to believe.

Jeff Suppan made his first major league start since 2010 and tossed five shutout innings as the Padres blanked the Brewers 5-0.

Johnny Damon played his first game for the Indians, and while he went 0-for-3 with a walk, having Damon back in the bigs is certainly worthy of a round of applause.

Carlos Beltran had seven RBIs through three innings and for a time we could conjure up scenarios where he would drive in 10 ... 11 ... maybe even a record-tying 12 runs.

Lost in the excitement of Chipper's dramatic walk-off homer, Phillies catcher Carlos Ruiz also had seven RBIs.
One day in baseball. I say we do it again.
Follow David Schoenfield on Twitter @dschoenfield.
PHOTO OF THE DAY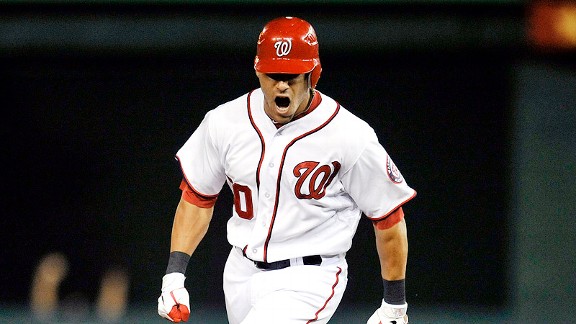 Joy R. Absalon/US PresswireAs Ian Desmond comes home after his game-winning walkoff shot, he was understandably pleased.
January, 31, 2012
1/31/12
11:17
AM ET
With the Rangers giving
Ron Washington a two-year extension
and the Rays reportedly close to extending Joe Maddon for three years, it's time to take a look at those managers who don't have the same kind of job security.

Tracy
Jim Tracy, Rockies:
Tracy took over for Clint Hurdle in 2009 after the team started 18-28 and the Rockies went 74-42 to win the wild card. But since then they've fallen from 92 wins to 83 wins to 73 wins. The additions of veterans
Michael Cuddyer
,
Marco Scutaro
,
Ramon Hernandez
and
Casey Blake
indicates the Rockies are in "win-now" mode despite a shaky rotation. Throw in the fact that Tracy isn't exactly regarded as a tactical genius and that GM Dan O'Dowd fired Hurdle less than two years after guiding the team to a World Series appearance, and Tracy might be on a short leash.
Dusty Baker, Reds:
Baker has managed the Reds four seasons now and has one division title ... and three losing seasons. The departure of
Albert Pujols
from St. Louis and the additions of
Mat Latos
,
Ryan Madson
and
Sean Marshall
to the Cincinnati pitching staff means another division title will be expected. Young guys like
Jay Bruce
and
Drew Stubbs
haven't developed as predicted. With Terry Francona sitting out there, the pressure is on Baker and the Reds to get off to a good start.

Gardenhire
Ron Gardenhire, Twins:
The Twins are arguably the most conservative organization in baseball. Gardenhire has been there since 2002 and won six division titles, and Tom Kelly managed for 15 seasons before him. But a disastrous 2011 and little hope for much improvement in 2012 puts Gardenhire in the crossfire for the first time. Plus, considering the Twins are 2-15 in their past five playoff appearances, it's not like he's had success
in
the postseason. It might do the organization good to make some philosophical changes; it survived for years on a rotation of mostly finesse-type guys who throw strikes, but the AL Central is getting stronger, and that approach might not be enough moving forward.
Don Mattingly, Dodgers:
Once the new ownership group takes over during the season, Mattingly immediately becomes a candidate to get canned, especially if the Dodgers have a losing record. I can see the new owner wanting to bring in somebody with Dodgers ties or making a splash with a bigger personality.
Bobby Valentine, Red Sox:
Hey, it's a long shot, but isn't there a small chance this turns into a disaster, with the Red Sox struggling out of the gate, the media getting on Valentine, Bobby V saying something ridiculous,
Josh Beckett
getting caught eating fried chicken in the fifth inning of a blowout defeat ...?
August, 2, 2011
8/02/11
2:39
PM ET
One emailer had venison on his mind for Tuesday's
Baseball Today podcast
, and Keith Law answered the question, but we also discussed many pressing baseball matters as well, among them ...
1. The
Arizona Diamondbacks
fired the first salvo in their big NL West showdown with the defending champs ... can
Justin Upton
's bunch stick around?
2. With the trade deadline still fresh on our minds, we debate
Ubaldo Jimenez
,
Hunter Pence
, risk versus reward and more.
3.
Justin Verlander
apparently doesn't like people bunting on him, and KLaw and I are pretty clear in our assessment of Sunday's sideshow.
4. The
Texas Rangers
rotation certainly seems to match up well with other teams -- and we know the bullpen is first rate -- but just
how
well?
5. Should players adjust their on-deck circle strategy? KLaw discusses a Wall Street Journal report that bunks tradition!
Plus: Excellent emails,
Doug Fister
's value, the awesome Jim Tracy, Houston's minor league lineup, how KLaw cooks a lean meat (no, seriously) and a preview of Tuesday's awesome action, all on a packed Baseball Today podcast. Download now!
November, 18, 2009
11/18/09
2:55
PM ET
No real surprises
here
, huh?
Jim Tracy of Colorado has won the NL Manager of the Year award and Mike Scioscia of the Los Angeles Angels has been selected for the AL honor.

Tracy became the second manager to win the award after taking over in midseason, joining Jack McKeon for Florida in 2003. Scioscia also picked up the AL award in 2002.

Tracy received 29 first-place votes and two seconds for 151 points in balloting released Wednesday by the Baseball Writers' Association of America. Scioscia got 15 first-place votes.
Tracy was an easy choice. He took over an 18-28 team -- a team that went 74-88 the year before -- and went 74-42 the rest of the way. I would have voted for him even if the Rockies hadn't won the wild card. Since they did, there was simply no other reasonable choice. Tony La Russa got two first-place votes, and Joe Torre one. I certainly can understand the argument that La Russa and Torre both had good years ... but better than Tracy? The Dodgers were supposed to win the West -- yes, I know they lost
Manny Ramirez
for a while -- and the Cardinals were supposed to be pretty good, at least. The Rockies were
nothing
before Tracy took over.
Anyway, it's silly to quibble when 29 of 32 voters get it right.
It was obviously closer in the American League, with Scioscia picking up only 15 of 28 possible first-place votes. The others: Ron Gardenhire (6),
Joe Girardi
(4), Don Wakamatsu (2) and Ron Washington (1). Oddly, Wakamatsu picked up two first-place votes, two second-place votes, and three third-place votes, while Washington was one, one ... and 11 third-place votes. Consensus-wise, Scioscia was the best manager, Gardenhire was the second-best manager, and Washington was the third-best manager (though he actually tied for fourth in the results).
I'm not sold on Scioscia. As a fine manager, sure. But the manager of the year? Yes, winning 97 games and yet another division title was a real accomplishment. I certainly didn't think the Angels would win so many games this year. The Angels were as good as they were because of
Kendry Morales
(their second choice at first base),
Torii Hunter
, and budget acquisition
Bobby Abreu
.
Wait, wait ... I do know
this
: "Scioscia's job in 2009 included keeping the Angels focused following the April 9 death of pitcher
Nick Adenhart
, who was killed in an automobile crash."
I will argue that you simply can't find any correlation between tragedy and performance, aside from the quantitative loss of the player's actual performance. This isn't football. A manager can't give a "Win one for the Gipper!" speech in April and expect results for six months.
All that said, I don't have a problem with Scioscia winning. Shoot, I might even have voted for him. The Twins didn't do anything special, Girardi did have some pretty good players, and Wakamatsu's Mariners weren't as impressive as you might think, considering their poor luck last year and their good luck this year. I might have voted for Ron Washington, but the Rangers' big gains in run prevention this year were partially offset by losses in run scoring.
The problem with managers is that so much of what they do is beyond our reach as analysts, and what's not beyond our reach -- all the bunts and pitching changes and lineups -- is overwhelming in its detail. The annual
Bill James Handbook
counts all sorts of managerial things ... but there's no attempt to tie them all together with a tidy bow, and the last three columns in each manager's entry are the old stand-bys: wins, losses, and winning percentage.
So we turn to what's obvious, the managers who win when they're not supposed to, or guide their team through troubled waters. By that standard, Tracy and Scioscia both were fine, solid choices this year.