June, 26, 2012
6/26/12
9:00
AM ET
By
Christina Kahrl
| ESPN.com
First:
One might be the loneliest number and all that, but it was enough on the scoreboard to turn rookie
Tommy Milone
into an eight-game winner, as he combined with
Grant Balfour
and
Ryan Cook
to spin a shutout.
[+] Enlarge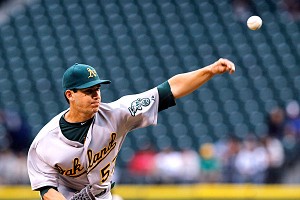 AP Photo/Elaine ThompsonTommy Milone pitched 190 innings last season, the most on the A's staff.
Now sure, you can kibitz over it being a shutout of the Mariners, or a shutout thrown in pitcher-friendly Safeco. And maybe that's because it's easy to pick on Milone because he's one from that legion of lefties who "just" throws strikes, changes speeds (averaging just 87 mph in his case), and mixes in the odd curveball. And he's a fly-ball guy. And in a world full of analysts happily harping on the virtues of power ground-ball pitchers, there's not going to be a ton of love for a soft-tossing lefty armed with little more than the proverbial guts of a burglar.
But for all that, sometimes it's worth remembering what a guy does and can do, and not treat player performance with cavalier disdain for less than perfection. Look at what Milone is, and there's a lot to like: He's bold when it comes to working inside despite his less-than-overpowering stuff; he attacks weaknesses aggressively, having learned to live low in the zone from three seasons pitching in USC's rotation in college; and with his Bugs Bunny-like slowball delivery, his low-temp heat plays up.
Most importantly, Milone has given the A's an innings-eater capable of pitching into the seventh inning or later, having done so in seven of his last nine turns. That's especially handy in an A's rotation that has lost
Bartolo Colon
to a strained oblique and
Brandon McCarthy
to his latest injury (a shoulder this time, for the second time this year, the fourth season he's had shoulder woes in his run of seven straight seasons with DL service).
So A's fans can thank their lucky stars for Tommy Milone, even if he's "just" a finesse lefty whose FIP bleats regression. He may not reliably dent bread with his fastball, but if you wanted to assemble a list of key features for any pitcher's success, Milone owns at least two: the ability to throw strikes and health. It's something lots of teams like to work with.
Second:
If you want a line score you won't see every day, check out
Alex Cobb
's
eight-inning, eight-run disasterpiece
against the Royals, the sort of game you might expect from the sports pages a century older. But the reasoning wasn't that shabby: The Rays had played a Sunday doubleheader with a pen start led off by
Cesar Ramos
in the second. He'd thrown just 53 pitches through the first three frames despite being down 6-0, so why tax your 'pen just then? It's a losing cause and just one ballgame you can't lose more than once no matter how bad it gets, so why not see if Cobb can give the relievers some rest? Cobb took a bullet for the team, but that's going to be worth something in the Rays' games to come this week.
Third:
With Tuesday marking
Anthony Rizzo
Day in Wrigleyville, one thing that might have missed your attention unless you're punishing yourself with Cubs boxscores first thing in the morning is how many platoons, strict or loose, that Dale Sveum's running these days.
Bryan LaHair
's move out to right field to platoon with
Reed Johnson
already gave them a second outfield platoon, with
David DeJesus
moving over to form the lefty half of a center-field platoon with
Joe Mather
. OK, that's semi-cool, but it was also semi-cool about the 1987 Cubs, who platooned Jerry Mumphrey and Brian Dayett in left while platooning Dave Martinez and Bob Dernier in center. (This did not lead to bigger and better things for any of them, but it was cool, even as it made for a busy scorecard.)
However, Rizzo is probably looking at the occasional day off against tough lefties so that
Jeff Baker
can fulfill the lefty-mashing role that has defined his career, so that's a loose trio of platoons in a single lineup. Heck, maybe Sveum will use
Steve Clevenger
often enough behind the plate, spotting for
Geovany Soto
to make it four platoons.
That's no easy feat in the age of seven-man bullpens. However, that's Sveum's bench in a nutshell: Everyone has his uses, even newly-minted fifth outfielder
Tony Campana
-- as a ready defensive replacement for DeJesus or LaHair.
Bringing it home:
Our own Eric Karabell has the tweet of the night, on the subject of forgiveness when it comes to closers after the Marlins' late-inning loss to the Cardinals …
To be fair to Heath Bell, he hadn't allowed a run in a month, covering 10 outings. He had 16 Ks and 2 walks in last 9.1 innings. Keep him.

— Eric Karabell (@karabellespn) June 26, 2012
April, 8, 2012
4/08/12
8:00
AM ET
By
Christina Kahrl
| ESPN.com
With initial active rosters picked, we've seen a few of the same long-term trends perpetuate themselves in terms of roster set-up. Despite the less crowded April schedule that might seem to make carrying seven relievers, let alone eight, unnecessary, 23 of 30 teams went with the now-standard 13-12 split between position players and pitchers.
If you're one of those people who loved the more aggressive brand of in-game management from the '70s and '80s, with managers reaching into deeper, well-stocked benches to pinch-hit for defensive specialists or pinch-run for basepath slugs, you might be ready to rail against the seven-man bullpen. But you can do that for only so long before you have to come to the grudging concession that it's here to stay like other unpleasantries like interleague games, 10 playoff teams per season or Simon Cowell.
The extent to which conformity to the 13-12 is a fact of life is reflected in who most of the odd ducks were. The old school 14-11 spread -- "old" if you can hardly remember the '90s -- is being used by just five teams: the Tigers, Angels, Athletics, Pirates and Rockies. If you think this means any one of their managers want to create more opportunities in their lineups or any of
their
general managers have elected to let them, guess again. All five clubs are just exploiting the lighter schedule and not carrying their preferred fifth starter of the moment. Give them a week or so, and they'll more than likely be down at 13-12.
That leaves two teams who weren't at 13-12 or 14-11: The Astros and Red Sox, who have both gone with eight-man bullpens. In April. That's while the Sox get to play 12 games in the first 16 days of the season, while the Astros play just six in their first nine days. Even allowing for the questions both teams have about their rotations, that's a lot of guys standing around in the bullpen instead of the dugout, and the body account alone might seem to be a logistical challenge for Bobby Valentine in Boston and Brad Mills in Houston. Pitchers need work to stay sharp, the same as any other kind of ballplayer, and giving guys reliable time on the mound might not wind up being the highest priority for the two skippers.
The Astros have the excuse of carrying a Rule 5 pick, hard-throwing
Rhiner Cruz
from the Mets' organization (as well as shortstop
Marwin Gonzalez
from the Cubs). That's a straightforward reflection of new GM Jeff Luhnow's priority: adding talent to an organization short on it, by whatever means necessary.
But the Red Sox situation is obviously a reflection of the injury stack they've endured. Closer
Andrew Bailey
out for months, reliever
Bobby Jenks
still hurt, and lefties
Andrew Miller
and
Rich Hill
are also on the shelf. To some extent, the early weeks might represent a form of live-fire extended spring training, as Valentine gets to sift through what he has left to pick his seven relief keepers once left fielder
Carl Crawford
is ready to come off the DL.
From among the opening rosters, here are a few situations that should be interesting to follow to see how they work out in terms of playing time.
Christina Kahrl covers baseball for ESPN.com. You can follow her on Twitter.
June, 4, 2011
6/04/11
12:00
PM ET
By
Christina Kahrl
| ESPN.com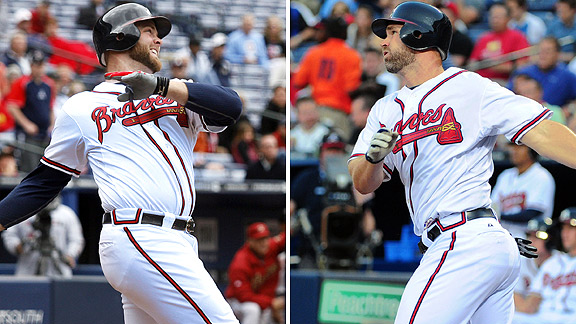 US Presswire/Getty ImagesThe lefty/righty catching platoon of Brian McCann and David Ross has been the NL's best this season.
If the American League has very few stable platoons but a few identifiable platoon players getting work, is the National League any better off? Even with today's bigger bullpens, the absence of a DH gives NL skippers and GMs a little more freedom to carry a player whose primary value is to platoon, since they have five reserves, so even if one is a catcher and another is someone who can play short, that still leaves space for the odd guy. Say, that journeyman who can knock a situational lefty right out of the box, or who can help put up a crooked number against that tiring right-handed starter in the fifth or sixth inning. And it doesn't hurt that these kinds of guys are handy for double-switches.
As in the American League, you find a few catching platoons of convenience, in which the backup backstop bats from the other side and conveniently gets his starts on the days the starter needs a rest. The Braves' setup with
Brian McCann
and
David Ross
is the best of the lot, but when Atlanta afforded itself Ross, it did so knowing it was getting more than a platoon player. The Mets' young/old and lefty/righty combo of
Josh Thole
and
Ronny Paulino
has its virtues. Charlie Manuel has the benefit of a slight inversion of the paradigm when
Brian Schneider
is healthy -- a lefty-batting backup is a lot easier to spot when
Carlos Ruiz
really does need a rest, since most pitching is right-handed -- but he's on the DL.
Stable platoons beyond those behind home plate are surprisingly limited in the Senior Circuit. I'd divide the current group of platoons in the league into three groups: committed, accidental and diffident, reflecting the level of planning and commitment that went into constructing them, and whether or not they're going to last more than a couple weeks.
Among the few we'd call committed, Clint Hurdle's stolidly running out his right-field combo of
Garrett Jones
and
Matt Diaz
. It isn't hitting all that well, but that was the plan, and so far, they're sticking with it. The Phillies anticipated a right-field platoon before the season, but
Domonic Brown
's injury kept that from becoming a reliable feature of Manuel's lineup cards until recently, pressing
Ben Francisco
back into an everyday role he handed back.
[+] Enlarge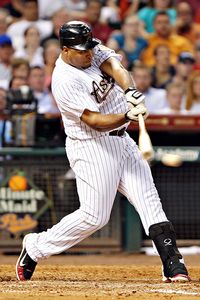 Troy Taormina/US PresswireThe Astros are 10-8 against lefties this season, which could be partly because that matchup allows them to move Carlos Lee out of left field.
In the infield, San Diego manager Bud Black has been reliably sticking with
Brad Hawpe
and
Jorge Cantu
as his first-base arrangement, but there's only so much Can'tu at the plate that even the Padres can endure. The rare multi-position platoon that's a matter of design, but also a certain diffidence is found in Houston, where Brad Mills is moving
Carlos Lee
between left and first base, but not every time out.
Brett Wallace
sits against a few lefties,
Jason Michaels
plays left and Lee moves to first and keeps getting to play every day. The 'Stros might have a 10-8 record vs. lefties, but getting Michaels into the lineup isn't the reason why. But re-potting the increasingly immobile Lee someplace other than left field might be a contributing factor.
Alone among their NL brethren, the Marlins have stuck with an infield platoon someplace other than first base, and they platoon at third without actually finding a set right-handed half of the platoon. Edwin Rodriguez has damned the defensive torpedoes to run
Greg Dobbs
out there every day against right-handers, while leaving his partner du jour as a matter of mystery -- sometimes it's
Wes Helms
, sometimes it was
Donnie Murphy
, and now sometimes it's the roving
Emilio Bonifacio
. Those happy few who root for the Teal Deal are no doubt on their seat's edge when their Fish face a lefty.
Among the accidental platoons, three NL West teams have setups they didn't necessarily expect. To the credit of both Bruce Bochy and Black, they've proven reliably willing to platoon, and they're assembling new ones on the fly after their initial designs broke down. Black got plenty of mileage out of his outfield platooning last year, but
Will Venable
flopped this spring, handing back his half of the right-field job. In his desperation, Black is pairing
Eric Patterson
with
Chris Denorfia
, which isn't helping matters.
While Bochy isn't trying anything quite as inspired as last year's mid-season lineup platoon between
Travis Ishikawa
and
Aaron Rowand
-- with
Aubrey Huff
moving to the outfield against righties and returning to first base against lefties -- he has been aggressive in getting
Nate Schierholtz
into the lineup against right-handers while playing
Cody Ross
daily. Rowand is getting platoon time with
Andres Torres
in center, but
Pat Burrell
hasn't been entirely reduced to Schierholtz's platoon partner.
Then their is the Dodgers' Don Mattingly. Some combination involving
Jay Gibbons
in left field was probably going to be part of the program at the outset, but Gibbons' spotty health, a passing interest in
Tony Gwynn
's speed, and
Marcus Thames
' breakdown opened up an opportunity for first baseman
Jerry Sands
to win the job. But like so many other thundersticks from Albuquerque in Dodgers history, his stick fell still in Chavez Ravine, and now Sands is in an accidental platoon with Gibbons until they decide there's a better alternative.
Injury created the Braves' temporary replacement platoon setup for
Jason Heyward
, as the
Eric Hinske
/
Joe Mather
platoon is working out nicely -- but it's also clear that pair will head back to pine time as soon as Heyward's healthy. In contrast, some managers look like they'd like to platoon more, but injuries have gotten in the way. The Brewers' Ron Roenicke appears committed to a
Nyjer Morgan
/
Carlos Gomez
platoon in center because of the speed 'n defense combo it provides, but Morgan's injury got in the way at the outset. If it sticks, that's the circuit's lone platoon arrangement up the middle someplace other than catcher.
The Pirates' loose platoon at the infield corners reflect what I mean by "diffident platooning." In contrast with his greater faith in his right field platoon, at the infield corners Clint Hurdle's sort of futzing around with
Steven Pearce
at both first and third vs. lefties to give him something to do, and sometimes
Brandon Wood
gets time at third. But it isn't an everyday sort of devotion, and has as much to do with
Pedro Alvarez
's career-stunting slow start and
Lyle Overbay
's offensive indifference than any abiding faith in Pearce or Wood.
I'd also chuck Kirk Gibson's first-base set-up into this category as well --
Xavier Nady
and
Juan Miranda
are platooning, sort of, but Gibson isn't exactly being a stickler about it. Since neither are hitting the people they're supposed to, and since neither plays first base all that well, it's more first base by coin toss at gunpoint than a straight platoon.
Platooning isn't automatically a good idea, after all, and if as Casey Stengel put it, "I could'na dunnit widdout the players," that's just as true today -- skippers can only use what they've got, no matter how clever they might be in how they employ it.
Christina Kahrl covers baseball for ESPN.com. You can follow her on Twitter.
April, 1, 2010
4/01/10
2:11
PM ET
OK, so here's
a real trade
... and here's Joe Strauss on what it means for
the Cardinals' roster
:
The Cardinals have traded infielder Julio Lugo to the Baltimore Orioles for a player to be named or cash considerations, pending approval by the Commissioner's Office.

Manager Tony La Russa and Lugo confirmed the deal. La Russa felt confident enough about it to have already notified outfield candidates Joe Mather, Allen Craig and Nick Stavinoha that they all have made the Cardinals' season-opening roster.

--snip--

The deal creates an avenue for the Cardinals to retain all three contenders for what was previously believed to be two outfield spots. Craig and Mather have experience at third base while Lopez is considered an option at second base, third and shortstop.
I admire the Cardinals for 1) somehow finding room on their roster for
three
extra outfielders, and 2) not holding a grudge.
Let me explain.
Nick Stanvinoha turns 28 in a few weeks. He's gotten a couple of shots with the Cardinals, and after 152 plate appearances, he's got a .215/.232/.313 line. A lot of teams would have dumped in the 4-A bucket by now. But not the Cardinals.
Joe Mather was awful last year. The last player cut in spring training, he wound up batting .176 in 39 Triple-A games but missed most of the season on the DL, thanks to food poisoning and a couple of wrist surgeries. In 59 at-bats this spring, he's hitting .220 with one home run. He turns 28 this season, too. A lot of teams would have seen enough already. But not the Cardinals.
Compared to those guys, Allen Craig is a baby; he'll be 26 in July. He thrived last season in his first exposure to Triple-A, and is good enough to start for a lot of teams. But not the Cardinals, who are profoundly set at both left field and first base (Craig's best positions).
A lot of teams, when filling out their roster with spare players, would look for some real balance. But not the Cardinals. Stavinoha, Mather, and Craig are all right-handed hitters who don't throw (or field) particularly well.
I'll tell you what, though: When those enemy managers bring in those left-handed relief pitchers in the eighth inning, Tony La Russa will be
ready
.